Inspiration comes in a multitude of sizes, shapes and styles, and you do not always need millions of dollars to find that tranquil, inspiring refuge. While we already looked at one such soothing home today, this simple and charming cabin in the woods explores an entirely different direction. Located in a serene little niche on the historic coast of Normandy, France, the cabin is all about once again reconnecting with nature and leading a life without frills and distractions. The interior of the cabin has an area of just 70 square meters, and Camille Hermand Architectures made the best use of the available space.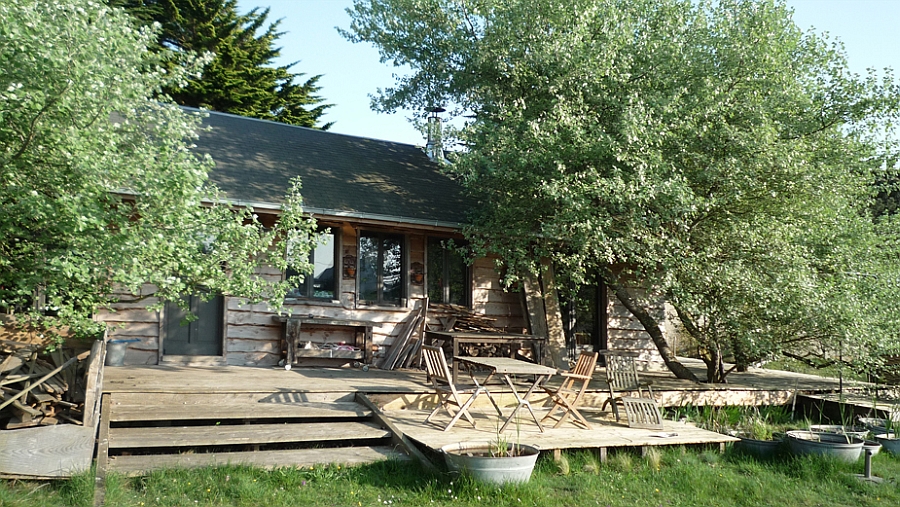 Step inside this cool cabin and you find a small living area, a surprisingly spacious dining area that is the heart of the home and a small kitchen in the corner. The high vaulted ceiling of the cabin ensures that the narrow rooms feel a lot larger than they really are, while ample natural ventilation helps in keeping the interior airy. A tiny kids' bedroom with a couple of beds and another cozy bedroom for adults complete the lovely cabin. Smart shelves, wall-mounted cabinets and the clever use of mirrors to create additional visual space ensures that you never feel cramped inside this natural retreat.
A large deck outside offers unabated views of the landscape surrounding the cabin, and one cannot help but fall in love with its unassuming appeal. In a time when most modern cabins are turning out to be extravagant and indulgent affairs, we love this stripped-down and budget-conscious design. A getaway that most of us would be glad to call our own!