Looking for a summer escape? What if you could create an exotic getaway inside of your own home? Give your bathroom a tropical update, and that dream just might be a reality! Today we spotlight 12 tropical bathrooms that celebrate summer style. From powder rooms featuring the colors of the sea to spa-like bathrooms surrounded by lush plants, these spaces will take you to another place…and hopefully inspire you to create a special interior of your own!
Inspired by the Sea
What better way to celebrate tropical powder room style than by channeling the mystery of the sea… And that's exactly what the bathroom below does, with the help of custom-designed glass mosaic tiles that evoke the blues of the Caribbean. Note how a gradient of color is created from ceiling to floor. [from Susan Jablon Mosaics]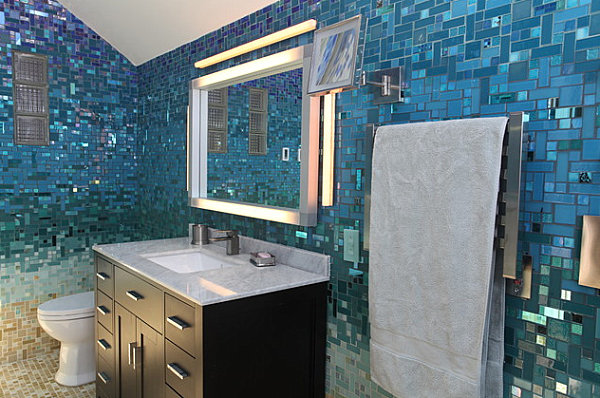 Next we see the softest shades of blue in this beachy space. Add a capiz shell chandelier and fishnet-style draperies, and the sea has truly been brought indoors. Of course, it doesn't hurt that the sea is right outdoors as well… [from Interiorholic]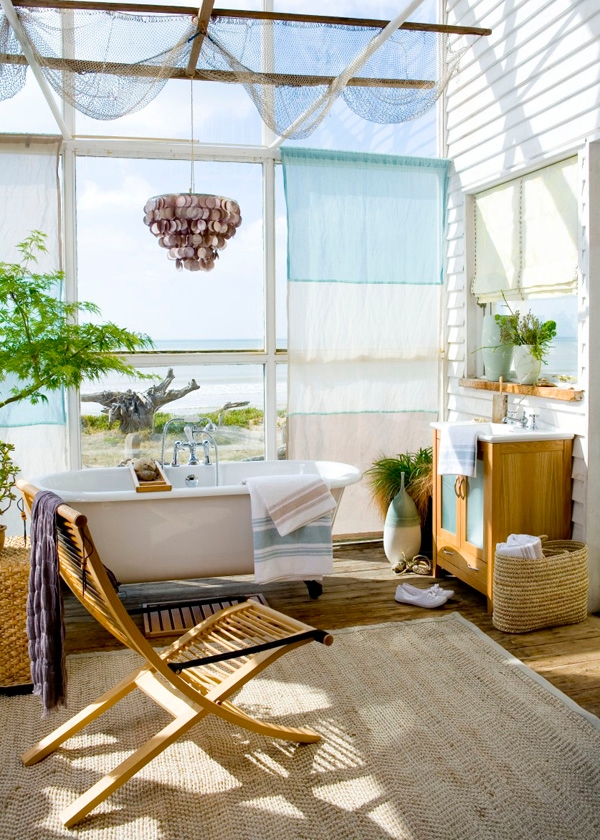 Even if your powder room doesn't feature an ocean of tropical references, a couple of special touches can get the job done. Try adding guest towels in shades of turquoise, and incorporate a mirror that's as magical as an enchanting sea creature, as shown in the beachy bathroom below. [from Lonny]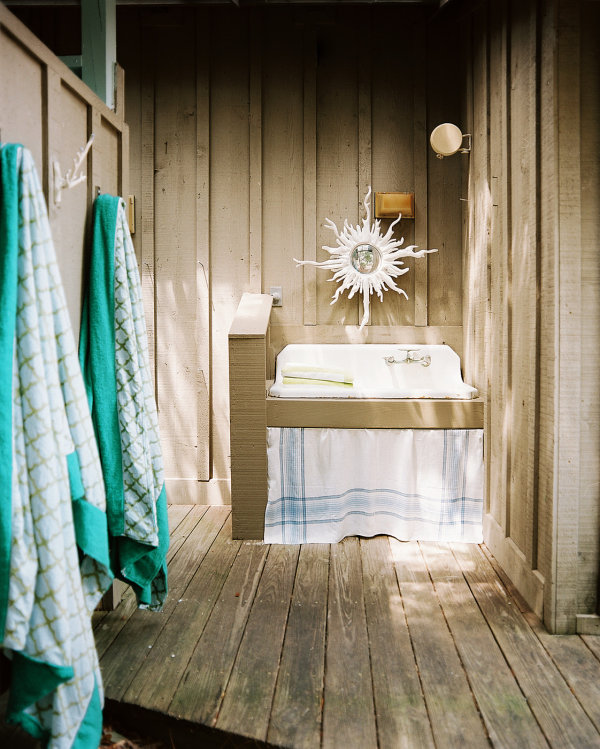 Two easy sea-worthy updates: seashell botanical prints and apothecary jars filled with nature's nautical bounty! And don't you love those splashes of coral, thanks to the bathmat and towel?! [from Lonny]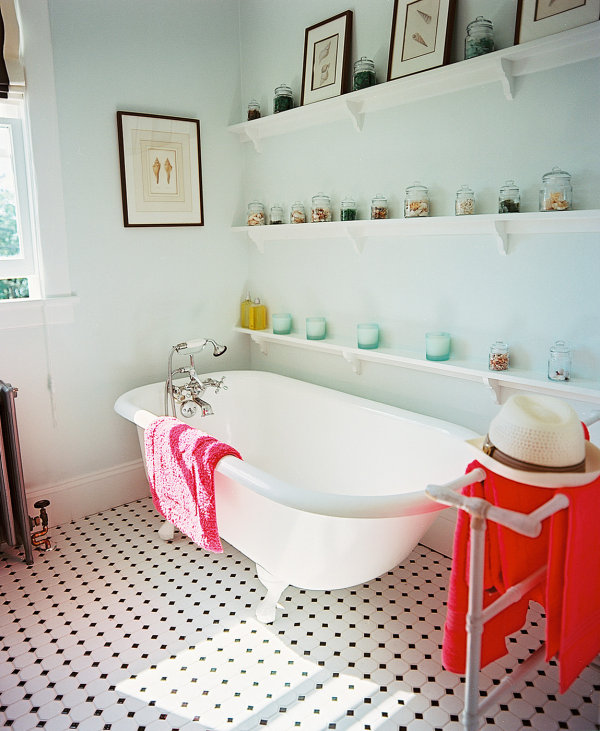 Surrounded by Plants
Next we feature a series of powder rooms that take the addition of plant life to a whole new level. In the Hualalai home below, the bathing area opens up to a patio filled with tropical greenery. Take a vacation from the comfort of your tub! [from Knudson Interiors]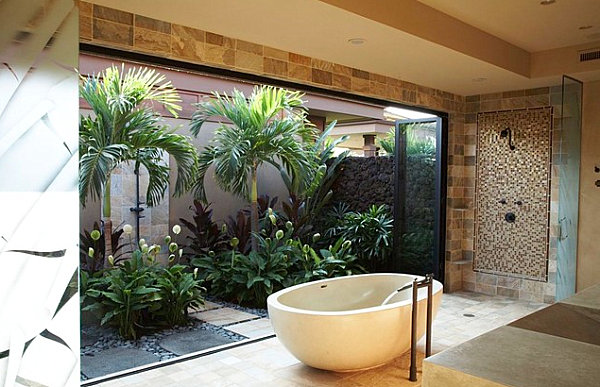 We see a similar effect in the next featured space, although there's as much plant life inside the room as there is outdoors. It never hurts to include an exotic arrangement of tropical flowers! [from Comfortable Home Design]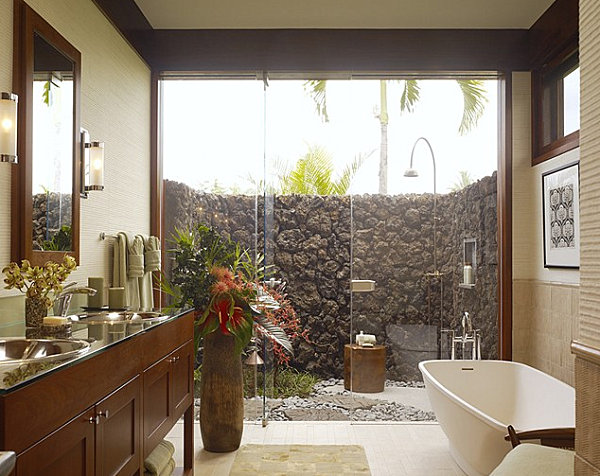 Oh, if only every bathroom opened onto its own tropical garden! When the area just outside of the powder room is this good, it almost doesn't matter what's indoors. Nevertheless, this space celebrates the power of verdant greenery with mosaic-style green tiles. [from Lonny]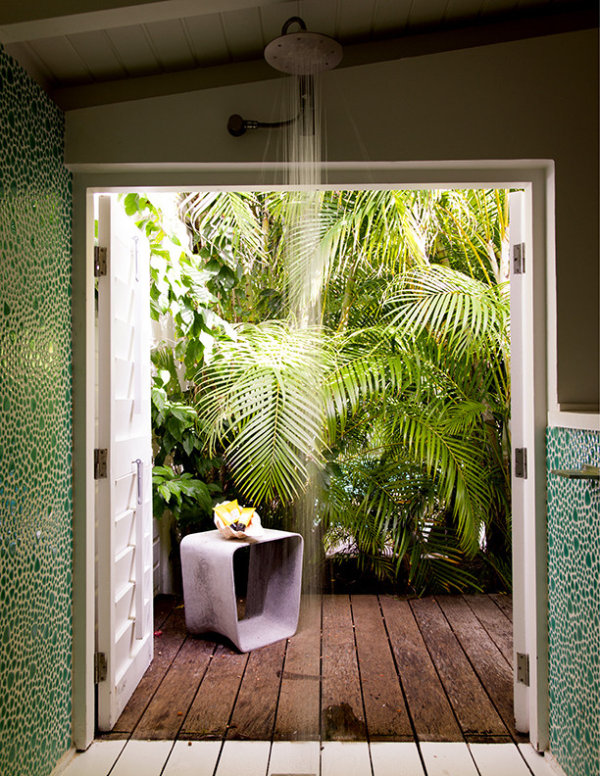 Then there are the spaces that bring the garden inside! This next featured bathroom includes a range of indoor tropical greenery, including the leafy plant Licuala, which adds an emerald green glow to the space. There's nothing like taking a bath in the rain forest! [from Eduarda Correa]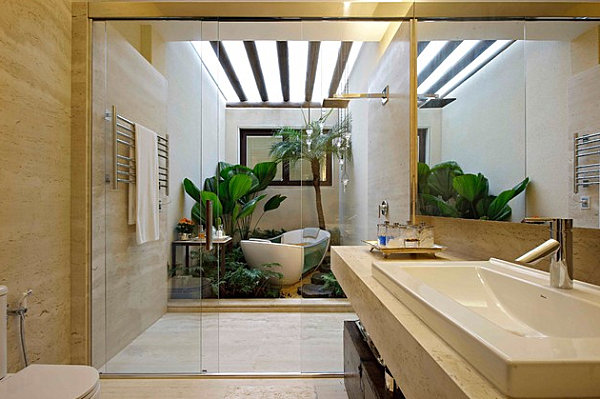 Decked out in Wooden Details
We end with a group of powder rooms that celebrate the art of incorporating tropical, earthy touches into the mix. This bathroom from Zak Architecture is filled with natural details, such as cabinetry and ceiling beams in shades of golden brown: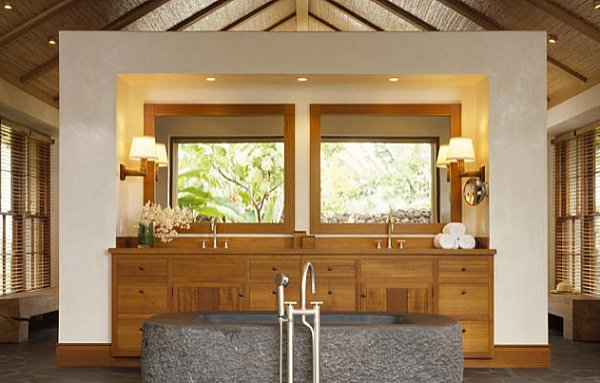 The next tropical space has a nautical vibe, thanks to a model sailboat and wicker baskets. In fact, natural materials such as wicker and rattan can go a long way toward bringing tropical style home. [from Lonny]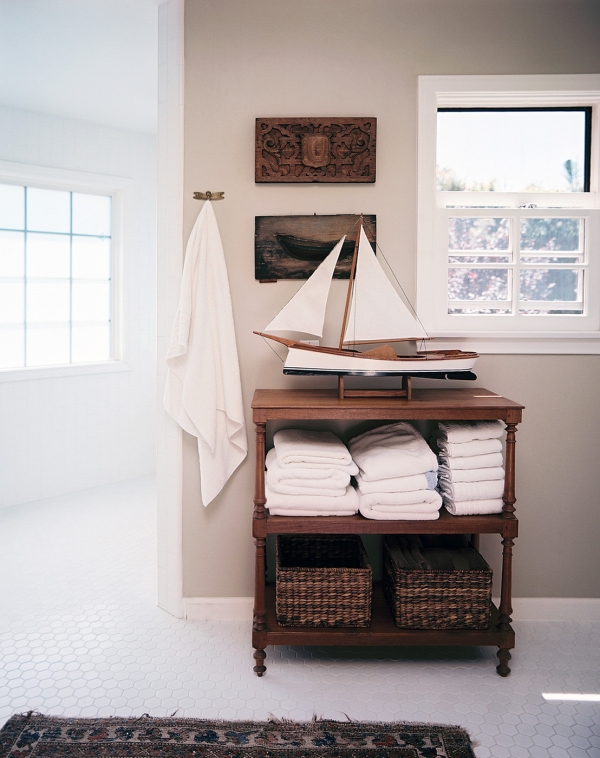 Wooden countertops and masks highlight the space below, which also features exotic blooms. Note how even with an abundance of deep, rich details, crisp accents such as white towels and glass containers give the space a refreshing feel. [from Archinspire]
Our final featured space showcases slatted woodwork on the walls, as well as a vase of lush blooms. Wooden cabinetry and an earthy basket in the corner completes the look. [from Building Scheme]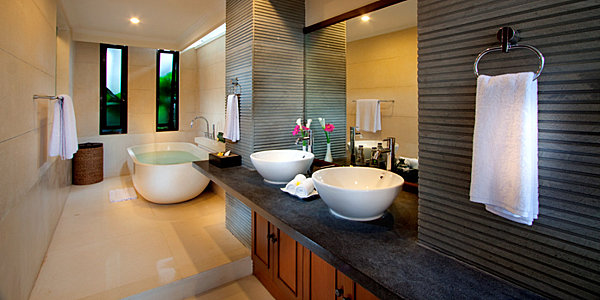 Earthy touches, an abundance of lush greenery, and the colors of the sea all add tropical flair to your interior. Do you have a favorite technique for adding tropical style to your powder room? Share your thoughts by leaving a comment below…
Liked the story? Share it with friends.