Slanted ceilings are often difficult to work with, and most of us are flummoxed on how to decorate a room with sloped walls. And no longer is this design conundrum relegated to attic rooms alone. Considering how every inch of space is invaluable, there are many modern homes and penthouses where the residents have to put up with slanted ceilings on a daily basis. But decorating a room with a slanted ceiling can be as much fun (if not more) as planning for a home with a 'plain old ceiling'. The essential difference, though, is in the way you treat the ceiling and how you use the special contours of the room to your advantage.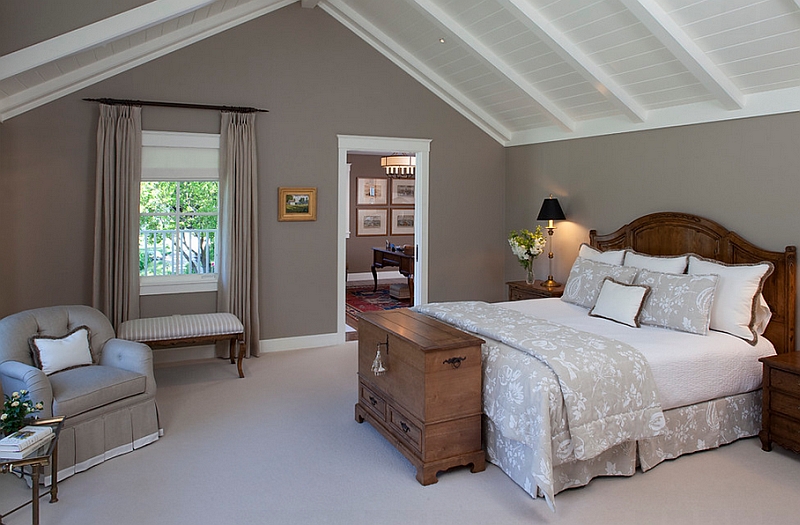 by Julie Williams Design / Eric Rorer Photography
Making a slanted ceiling stand out while ensuring it adds to the overall appeal of the room is what truly makes such spaces appealing. Here are a few tricks and pointers that help you beat those odd angles with elegance and ingenuity –
1. A Sense of Drama and Excitement
One of the first things you need to do to decorate a room with a slanted ceiling is accept the overall ambiance it already has and then accentuate it with design. Slanted ceilings vary from small attic rooms that are short on space to amazing vaulted ceilings that house the entire living area of your loft. The idea is to play off of the already existing proportions instead of trying too hard to introduce a different style that is alien to the room. Dramatic in their appearance, slanted ceilings present the perfect opportunity to turn the ceiling into the showstopper of the room!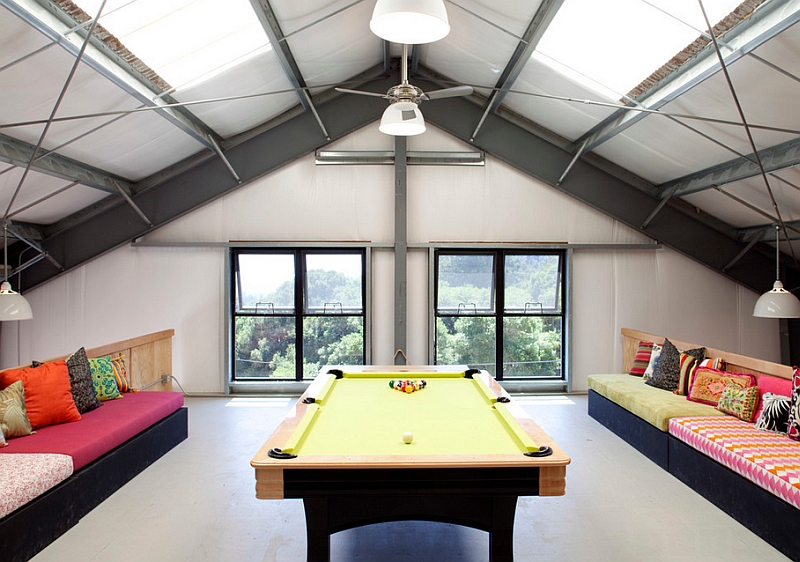 by CCS Architecture
2. Skylights and Windows
Tap into the many benefits of slanted ceilings by adding additional windows and skylights that let in ample natural ventilation. This is the easiest and best way to beat the claustrophobic look that the slanted ceiling might present. Modern skylights come in an amazing array of shapes and sizes, and they add a sense of amazement to the room even after sunset by bringing the night sky indoors. Combine these skylights with the right blend of ambient and focused lighting to ensure that the room appears bright and airy at all times. Uplighting with floor lamps and pendants also adds allure to the slanted ceiling.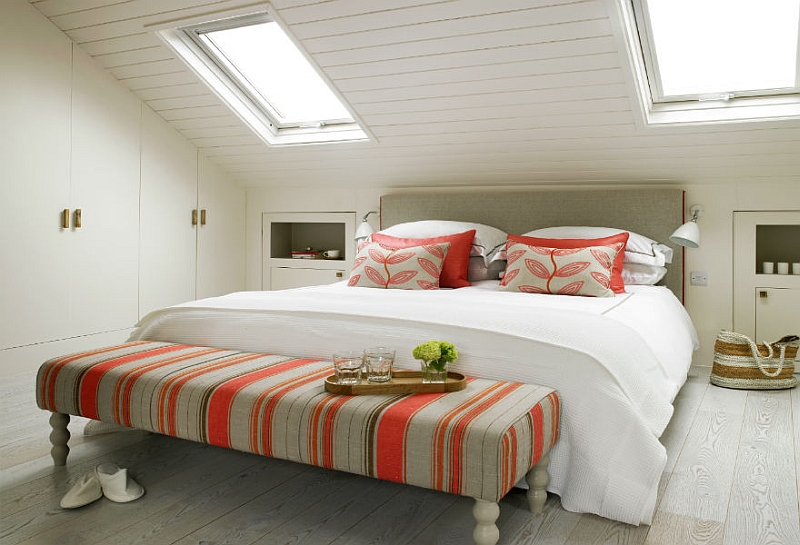 3. Light and Airy Colors
When it comes to the color scheme, it is best to stick to a simple and neutral color palette that is not too harsh on your eyes. But think of the size of the room and the scale of the slanted ceilings before making this call. Contrary to popular perception, a two-tone color scheme with a painted ceiling looks cool in small attics with slanted walls. You can even induce some visual brilliance by painting the rest of the room in cool white and using a single black wall as an accent addition.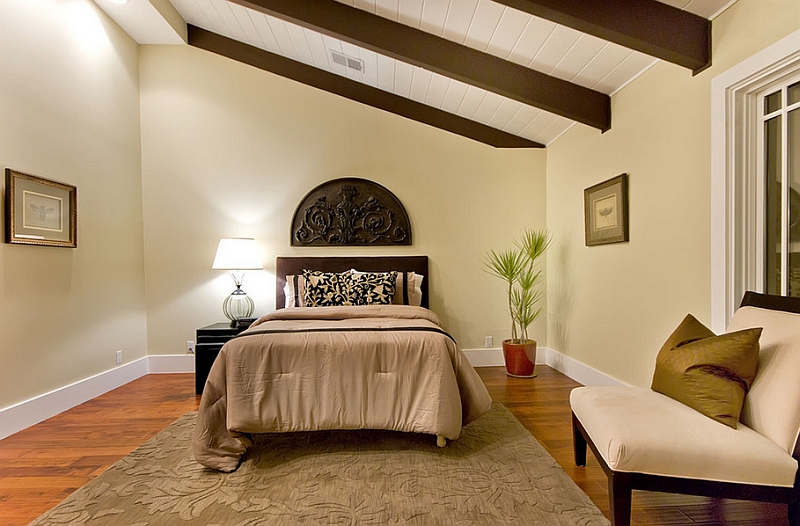 by mark pinkerton – vi360 photography
Slanted ceilings often create interesting angular features and slanting additions that can be highlighted using bright colors and simple stripes. Just remember that white is not your only choice here and a tone-on-tone approach to wall color is equally pleasing. Just make sure, though, that you do not use too many colors in the same space, as this could lead to visual fragmentation and clutter.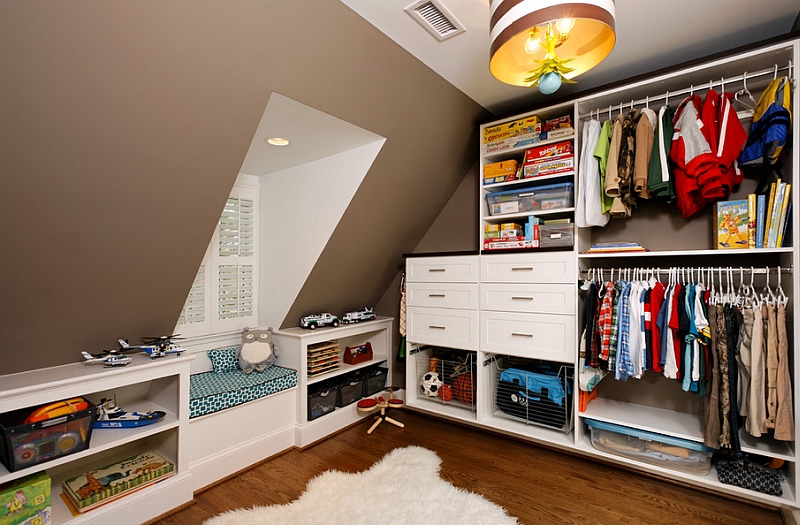 by Harry Braswell
4. A Theme of Its Own!
Earlier we did discuss accepting the overall ambiance of the room, and we go a step further now by giving the room with a slanted ceiling a theme and a look of its own. Rooms with slanted ceilings are a great way to bring in that cozy cottage look or cool industrial style. Exposed steel or wooden beams tend to automatically guide us toward these styles and give the room a coherent appearance. Instead of trying to blend it with the rest of your home by forcing a clean, contemporary look, go for a farmhouse, rustic or even eclectic style to give the space a sense of uniqueness.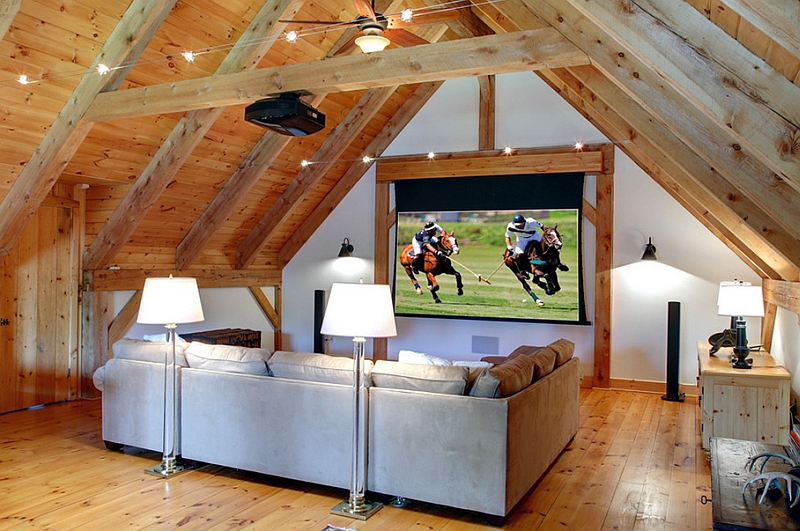 5. Cozy Nooks and Peripheral Storage
Do not worry about filling a room that has a slanted ceiling with too many cabinets and shelves. But compensate for the lack of wall-mounted storage by filling the periphery of the room with smart bookshelves and cool storage units. This not only creates the perception of a 'room within a room', but also cuts down on the steep angle of the slanted walls and makes the room far more appealing. The snug reading and relaxing window nook is another perennial favorite in rooms with a sloped ceiling (even if it is not the attic), and this classic never fails to impress.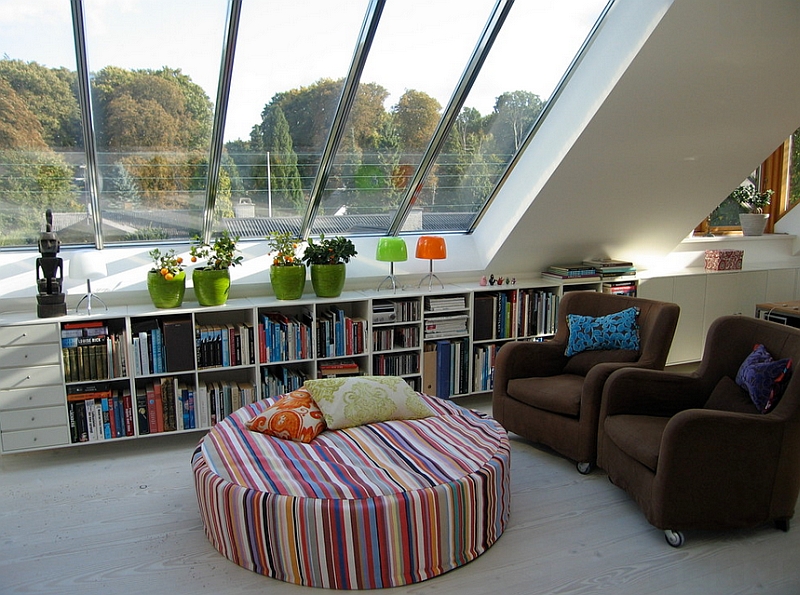 by Josina Bergsøe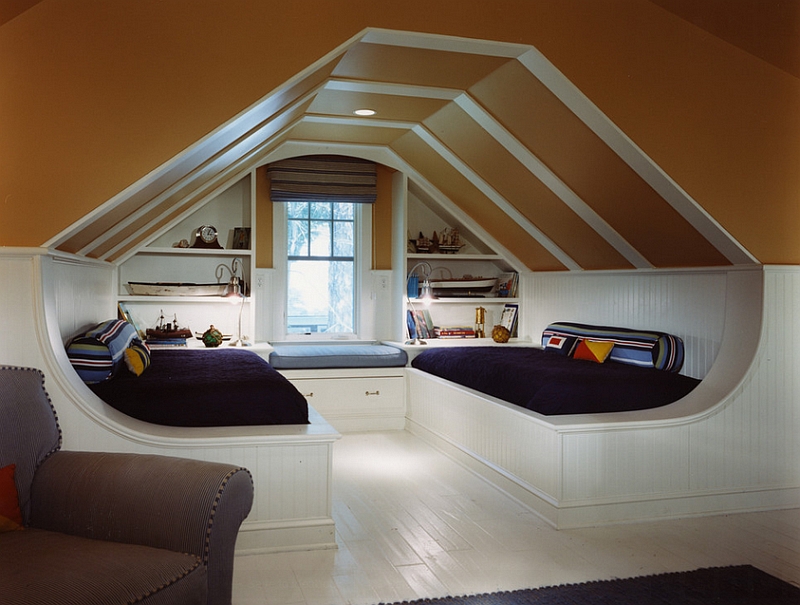 6. Decor That Is Proportional!
If you have a small room with low, slanted ceilings, going low with decor makes complete sense. Decorating a space with low ceilings, even if they are not slanted, presents a whole different set of challenges that can often be solved with this simple approach, along with even lighting. But for a giant loft with a slanted roof and a double-height ceiling, using decor that is a touch taller than usual is a trendy and smart choice. Oversized pendants and floor lights are quickly becoming a popular way to decorate such homes. Also, think of adding an extensive mezzanine level that allows you to tap into all that vertical space under the slanted roof.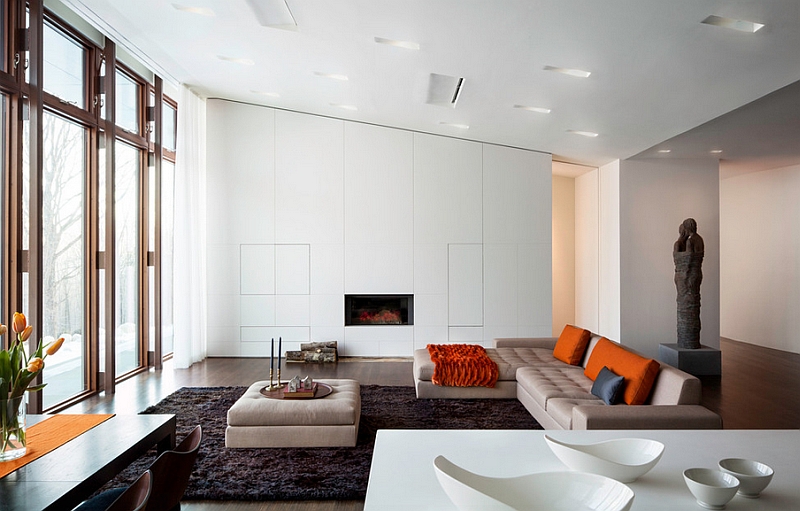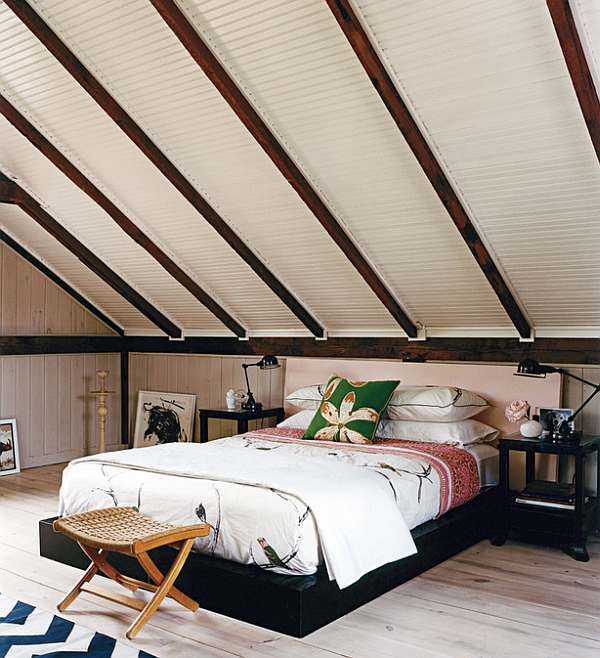 7. A Touch of Textural Contrast
Whether it is exposed beams or beautiful wall paneling, wood seems to turn even the most sterile of spaces into an inviting, pleasant hub. Adding wooden textures with decor also has a similar effect and can give that little room with a slanted ceiling a relaxed, cozy ambiance. For those looking for more exciting options, wallpaper, custom murals and even fabric canopies offer creative alternatives. No matter what material you choose to usher in textural contrast, remember that the room with slanted ceilings needs a distinct focal point as much as any other space in your house.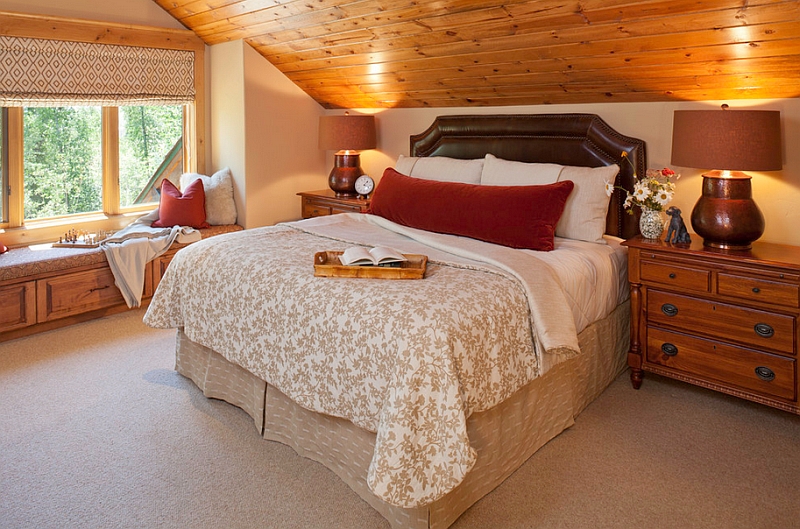 by Rumor Design + reDesign – Valerie Stafford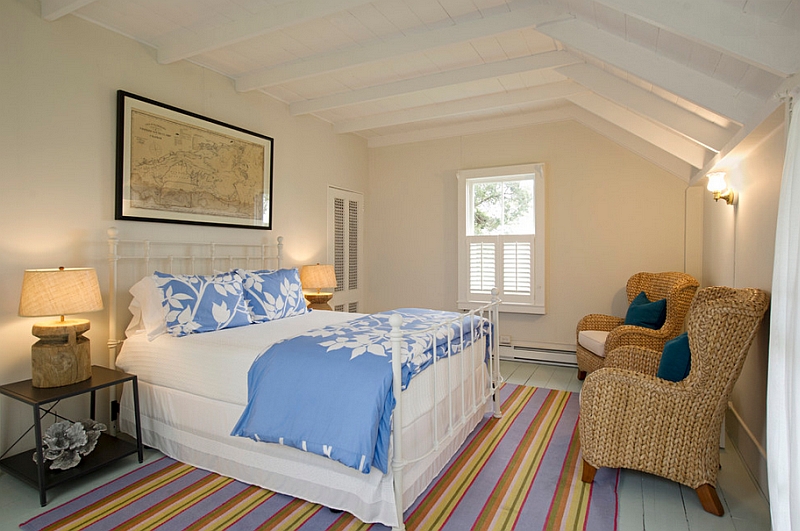 by Schranghamer Design Group
Do not be afraid to explore varied and exotic themes (such as Moroccan or Mediterranean) for the room with sloped walls. When done right, spaces with slanted ceilings can be playful, elegant and impressive while bringing forward a distinct flavor of their own. All you need to do is unlock this hidden potential!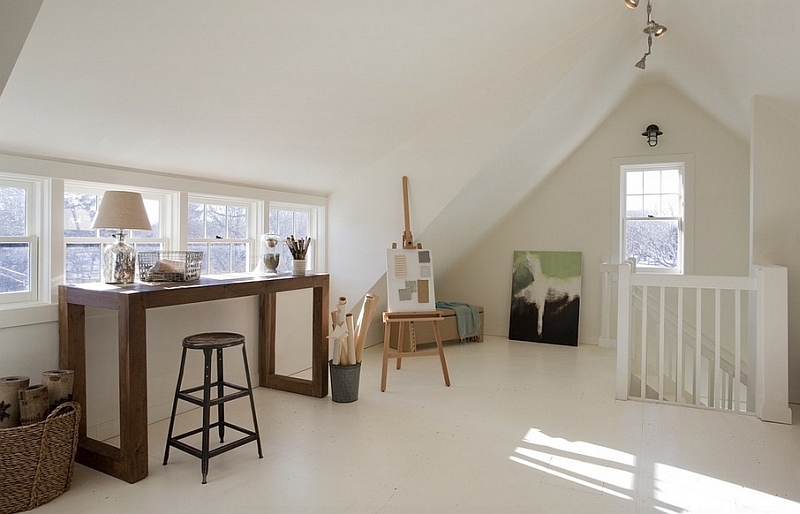 by ZeroEnergy Design