Choosing the right dining table can be an overwhelming affair, especially if you do not know exactly what you're looking for. The options are simply endless, and going into a store uninformed means depending on the judgment of the salesman. Most often, that strategy leads to bringing home a table that is a complete misfit. There was a time when picking up a new dining table was a pretty simple affair. You went ahead and brought home a table depending on the size of your dining room and also your own budget constraints. Picking matching chairs was not even an issue, as most of these tables came with a pre-existing set of chairs.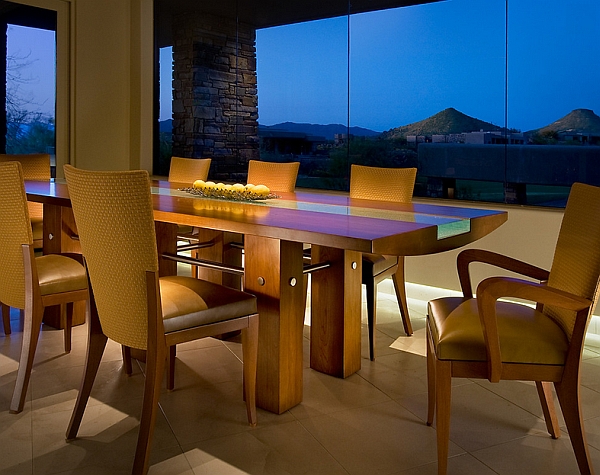 But those decades are well behind us, and the modern home is all about a wonderful amalgamation of several different styles, trends, textures and shapes. Add to this the popularity of the open floor plan and the conventional dining room seems like a thing of the past. Worry not though, as we here at Decoist will get you through your decor conundrum with this simple and effective dining table buying guide. Delve in to find out more…
The Classic Rectangular Look
One of the first decisions that you need to make is regarding the shape of the dining table that you wish to purchase. Believe it or not, this aspect is relatively simpler than choosing the style of the table! The rectangular dining table is obviously the most popular among the lot. It is universally loved, both for its form and functionality. View the rectangular table as an option that brings together the 'best of both worlds', as it offers the visual of clean and well-defined straight lines while serving your needs flawlessly. Whether it is a lovely evening dinner with the family or grand holiday celebrations, this table plays the ideal host!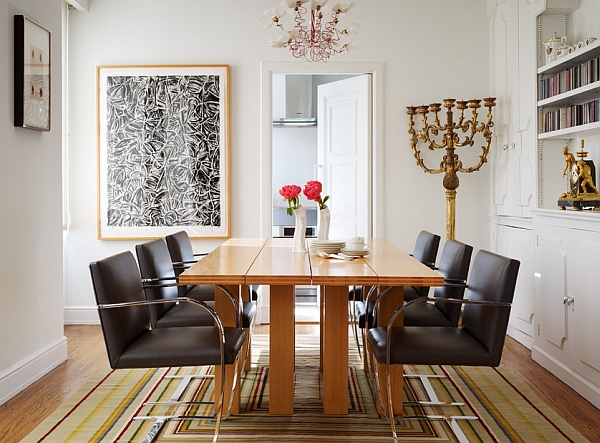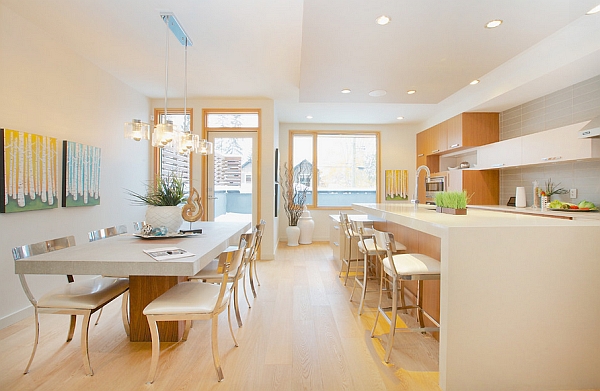 Round Tables: Space-Saving Delights
If the rectangular dining table is the most popular option, the round and oval dining tables are the favorites in the small dining room category. It is not a coincidence that most compact dining spaces feature a beautiful circular dining table, preferably with pedestal legs. And if you are looking for an iconic classic in this department, we can even safely suggest that you consider taking home the fabulous and everlasting Saarinen Tulip Dining Table. Round tables also help create a more intimate setting, and in a world dominated by straight lines, the curves offer a welcome change.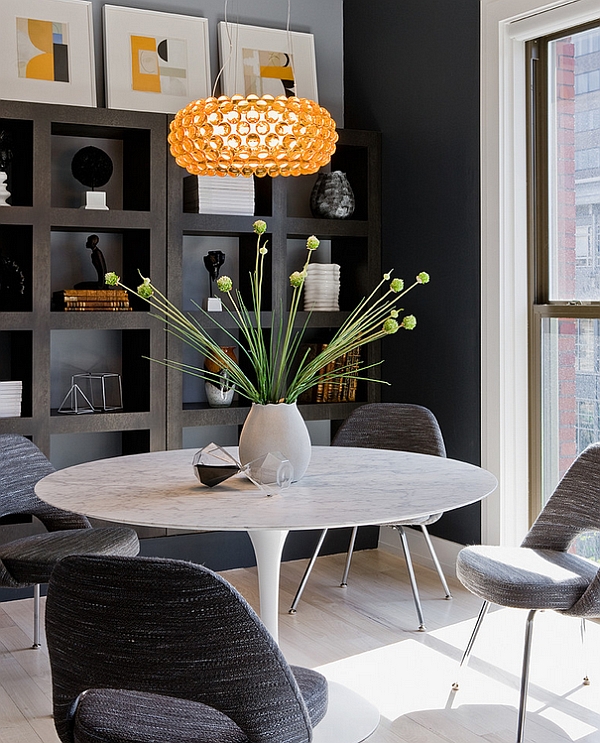 It is best to opt for a round dining table only when you need to seat six or people or less. Larger round dining tables make both conversation and serving a touch inconvenient. But add a stunning pendant light above, along with two plush chairs, and these small, rounded wonders can fashion a warm and romantic setting that is simply magical.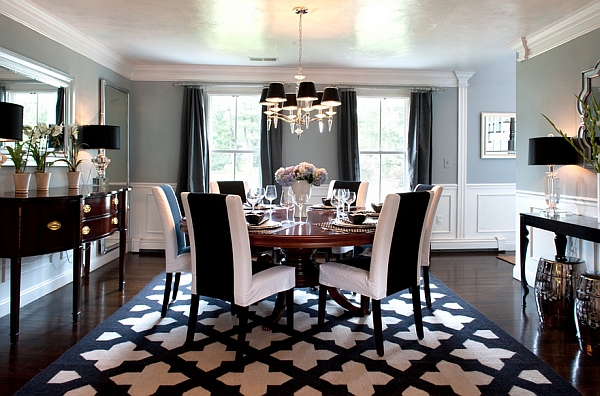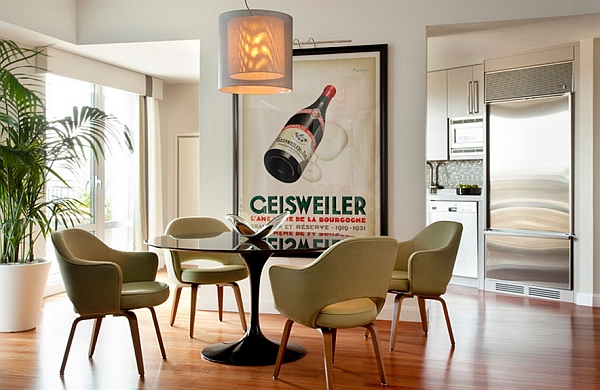 by Eleven Interiors
The Perfect Square!
A square dining table is probably the least preferred option, and it is not very often that you see designers adding one to a lavish dining room. Just like the round version, here is another case of 'small is beautiful'. Large square tables also make serving a hassle, so pick one of these only when you are hosting four to six people at most. However, some square tables can seat larger numbers, such as eight. Square tables look good in long, narrow rooms, as they offer a sense of proper proportion, or you can even couple them with a rug to create a space that appears like a 'room within a room'.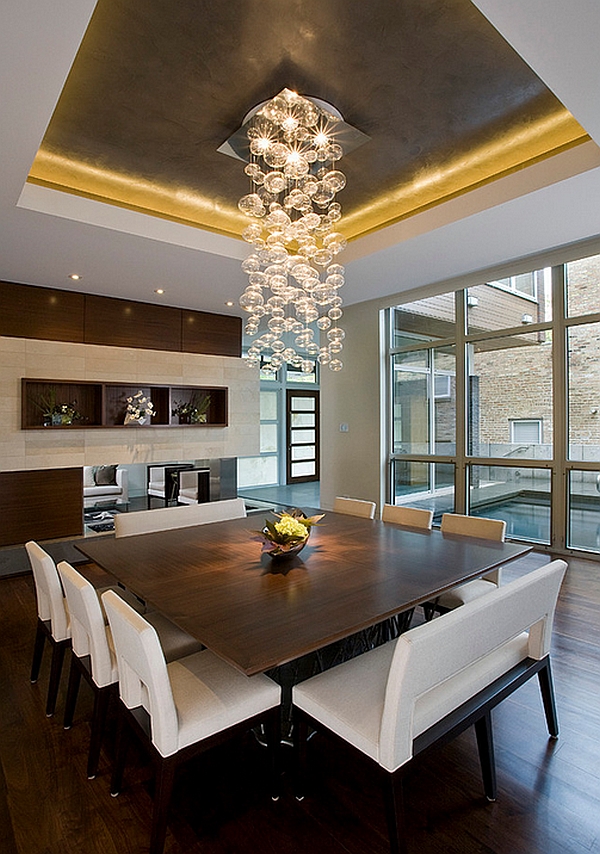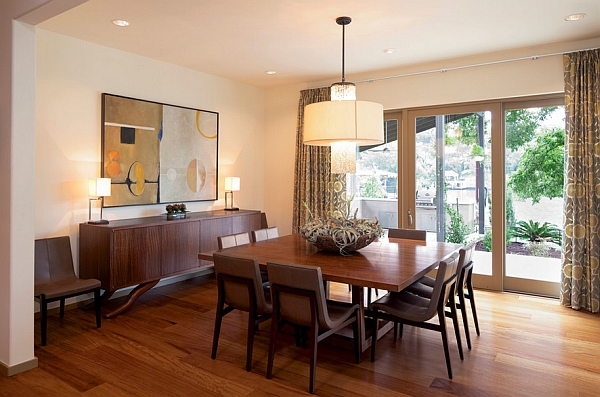 by Cravotta Interiors
What is Your Style?
Crafting that brilliant dining room is all about getting the theme and the style right. When it comes to dining tables in an open floor plan, it is best to opt for one that seems like a natural extension of the remainder of the living area. Some might want to add chic contrast by using a rustic table in a modern space or even a minimalist metal table in a room dominated by warm wooden tones. This looks amazing as well and can create an instant focal point when combined with the right lighting. If you own a small studio apartment, glass and acrylic tables seem ideal, while those who play the perfect host on weekends might want the comfort of an extending table.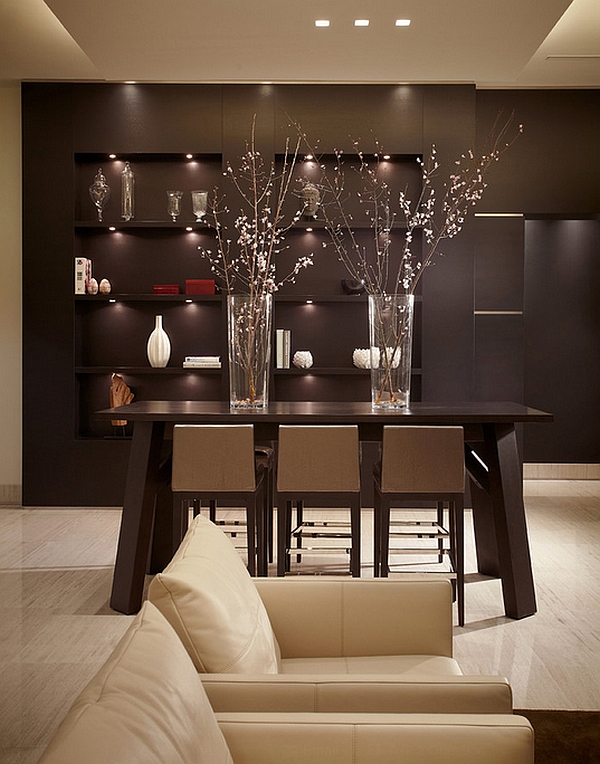 by Pepe Calderin Design
Salvaged wood tables are currently one of the hottest design trends, and with a growing eco-consciousness among consumers, they seem like a logical choice for the green at heart. Whether you are a traditionalist or a design aficionado who loves Mid-Century modern, remember that the table you choose will set the tone for the entire dining area.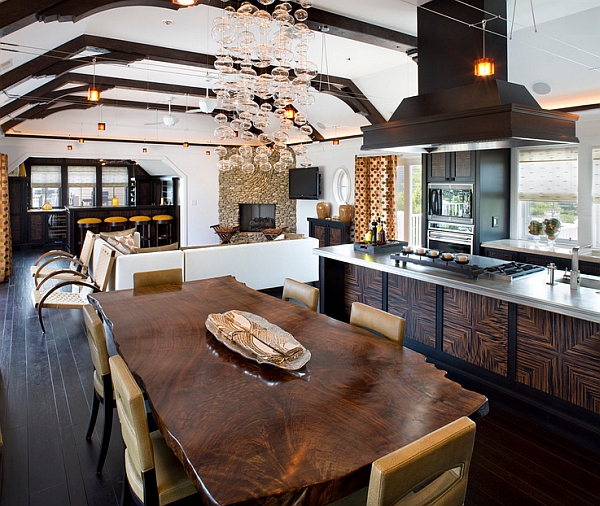 by Dewson Construction Company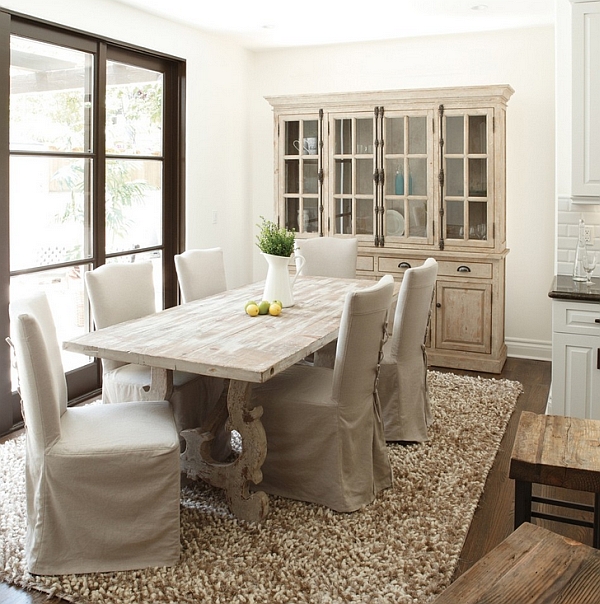 by Zin Home
Sizing Up Your Table
After making up your mind on both the style and the shape of the table, it is time to move ahead to the all-important size. There are a few simple and standard numbers that will get you through this difficult part. The golden rule here is to ensure there is at least 42-48 inches of space between the table and the edge of the adjoining walls or furniture. This will give you adequate room to move around and will ensure that the diners can get up and sit down without having to cramp themselves into the chair.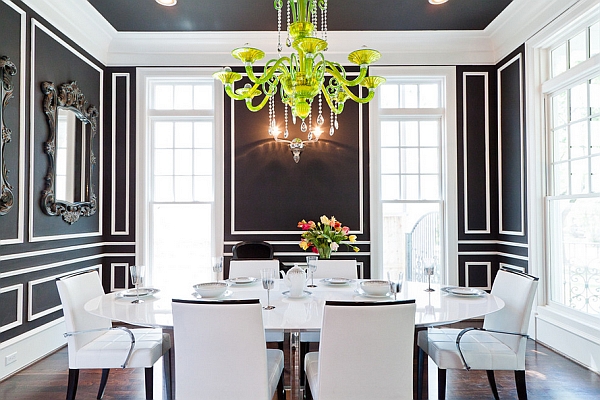 by JONATHAN CALVERT Interiors
We suggest you chalk out this area, cover it with a tablecloth or bed sheet, and then use it as a template for the maximum and minimum size of the table you intend to purchase. A simple and practical way that makes the entire process far easier! While the gap between the table and the walls can be larger, try not to opt for one that looks diminutive in an overwhelmingly large room.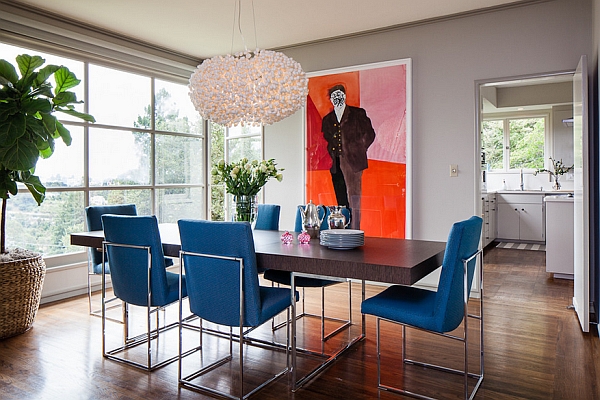 Consider Your Audience
Have a clear idea regarding how often you are going to use the table, and if it will see even a bit of outdoor action during the holiday season. If so, then pick a table that is light, movable and is made out of a durable material. This way, you can shift it easily into the adjoining yard or balcony to host an unforgettable Thanksgiving or Christmas dinner under the stars! Exclusive dining rooms often demand something more sturdy and timeless in its appeal.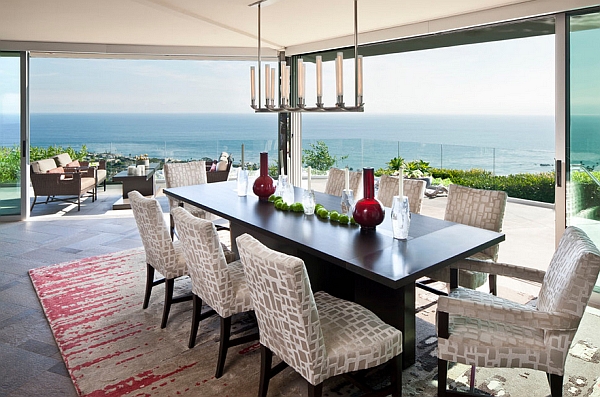 by Harte Brownlee & Associates Interior Design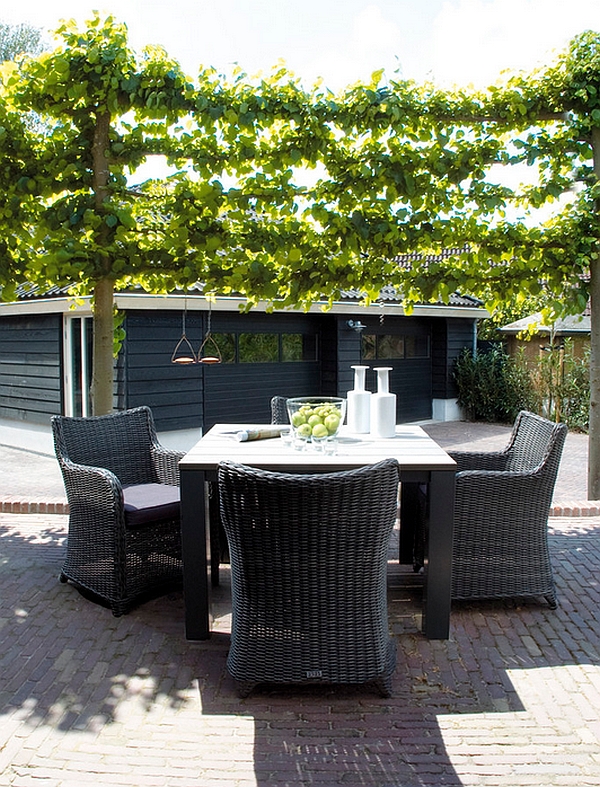 by HUISSTYLING
Form, Seating and Lighting
Most often, people tend to think about chairs, lighting and maybe even the area rug after committing to a table. Do not make this cardinal error that pretty much paints you into a corner. Try out the table along with the chairs you fancy before buying it. Think of it as one big and coherent combination, with the table being the central piece. You do not want to put yourself in a place where you will bring home a boring chandelier or dining room chairs that you are not really comfortable with, just because they go along with the table you already have.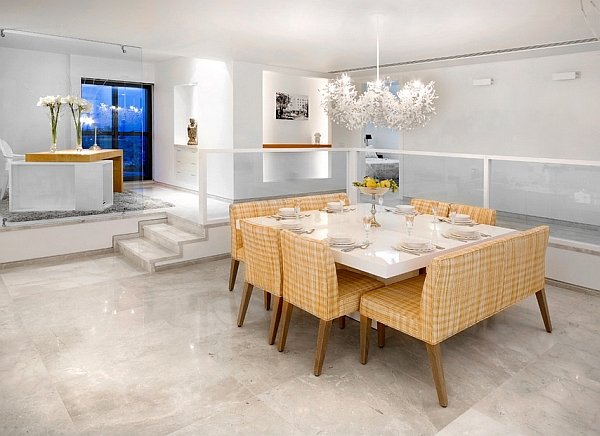 by Elad Gonen
Picking the right dining table is not all that hard once you are aware of exactly what you need. Always try sitting at a table before making a purchase, and do not let the slick salesman talk you into buying a piece that is bigger than what you really need. While this might sound silly, it is the biggest reason why most people come home with dining tables that seem out of place… Shop smart!