Nothing says "elegant" like a glossy glass-top dining table! The majority of glass dining tables are modern, and you'll be surprised by the innovative models and styles. From round pieces with chrome bases to rectangular finds with glossy legs, we've rounded up the best of the best, including purchasing information if you're in the market for a new table!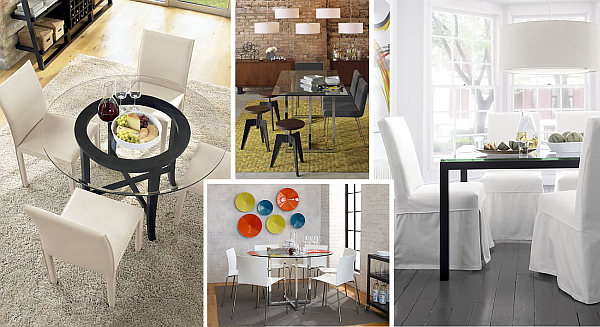 When selecting a glass dining table, consider the size of your space. The good news: as with acrylic furnishings, the transparent nature of these pieces gives them a "barely there" look that makes interiors seem bigger than they truly are! What a lifesaver for small spaces! If you're fortunate to have a large dining room, these shiny finds will add glamour and contemporary flair, while leaving visual room for additional pieces.
Round Glass Dining Tables
We start with round glass tables, which are ideal for small spaces. Take the Source Oryx Dining Table from West Elm, designed by South African husband and wife duo Trevyn and Julian McGowan of Source. The piece's cast iron base is inspired by an African antelope horn.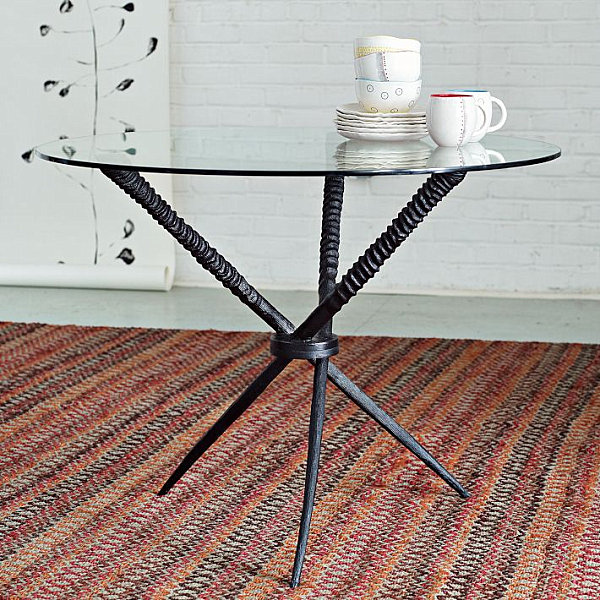 A chestnut wood base with a circular top anchors the Halo Ebony Dining Table with 48″ Glass Top from Crate & Barrel. This item is versatile, especially since it also comes in a cognac finish and offers three glass tabletop size options.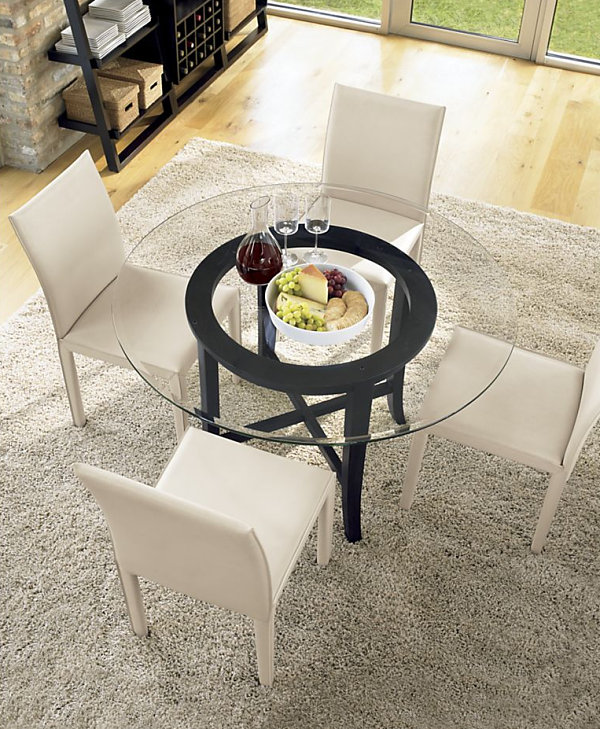 The Luxo by Modloft Bennett Dining Table Base has a unique slatted form crafted of environmentally sustainable materials. Made in Brazil, the piece is made of steel with wood panels and is available in finishes of white or dyed brown. The glass top is not included.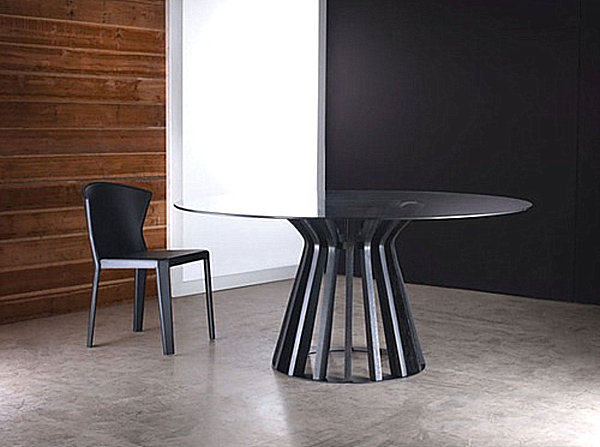 We now enter shiny territory with the Silverado Round Dining Table from CB2, complete with a round glass top and chrome-plated iron legs. The 2-piece steel base allows for flexibility in configuration.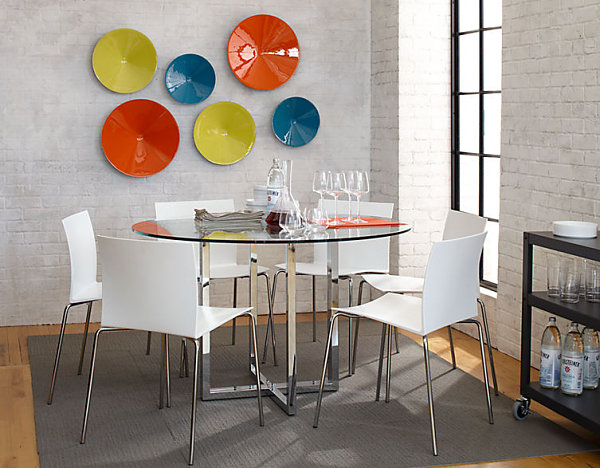 Stainless steel is the material of choice for the Chintaly Sabrina Dining Table, available at AllModern. A stainless steel, three-tier base is vibrantly metallic and super glam.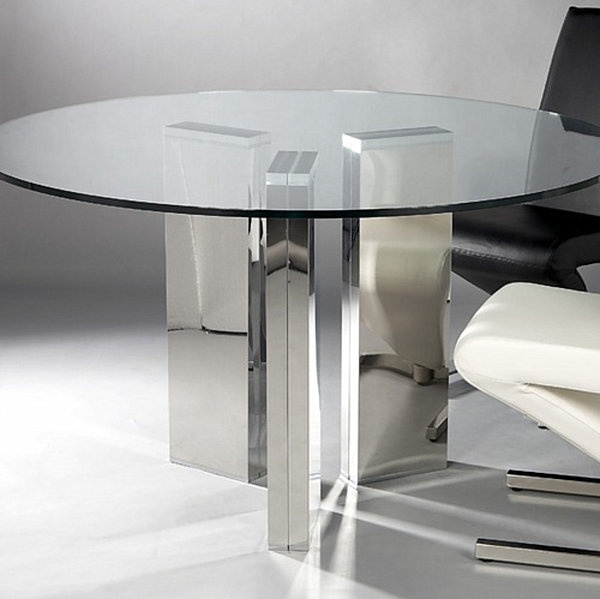 The round glass dining table from LaFlaT features curving legs that give the piece a one-of-a-kind look.: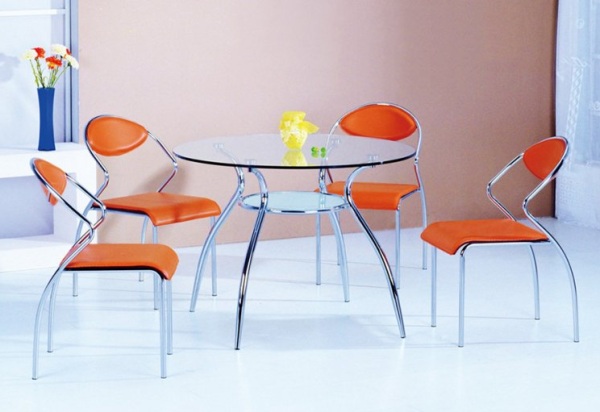 The reflective fun continues with the Calligaris Planet Small Table with Tempered Glass Top, available at AllModern. The piece is complete with a round chrome pedestal base, which is also available in glassy black lacquer. Not to mention, the top can be ordered in frosted coffee, frosted black or transparent tempered glass.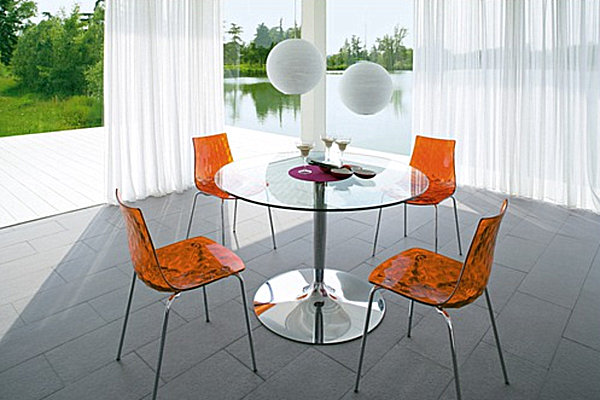 Circular form is further celebrated in the Mini Round Glass Dining Table with 4 Chairs from Furniture Italia, shown below. A tempered glass top is matched by a fabulous toughened glass base, adding an extra dose of clear style.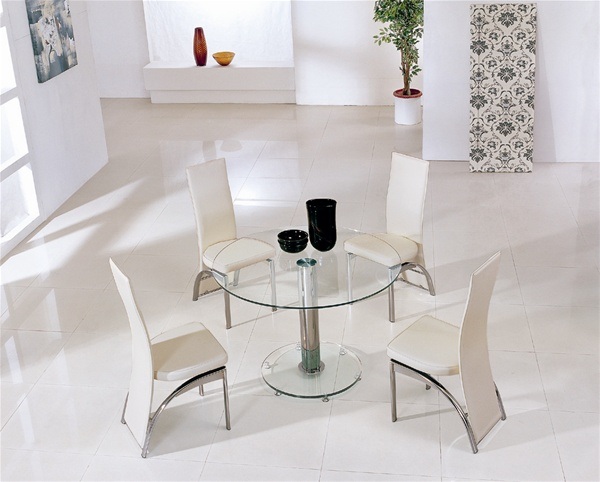 With a shape that resembles a double helix, the Twirl Clear Glass Dining Table from Furniture Italia swirls from floor to tempered glass tabletop. The stunning base is tempered glass as well, proving that all glass is high-class!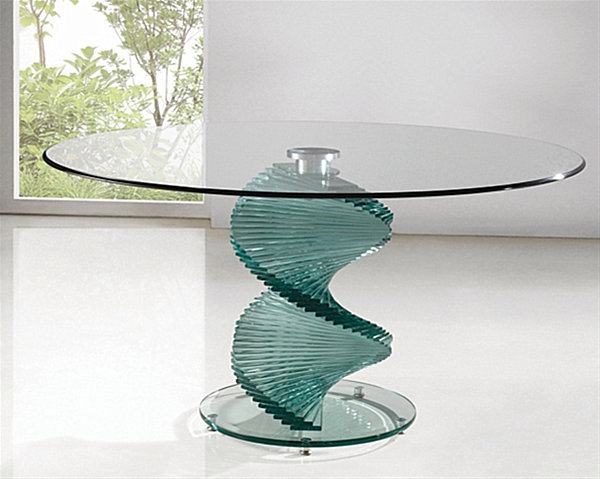 Rectangular Glass Dining Tables
Rectangular glass tables are solid yet light in appearance, thanks to the transparency of the clear surfaces. For example, the LY-Elaine DT Modern Dining Table from LaFlaT is long and lean, yet it features an interesting chrome double-arch base.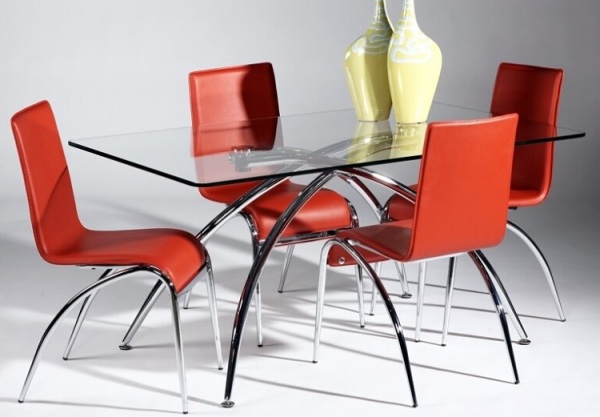 A 2-piece base that can be adjusted for stability is a true highlight of the Silverado Rectangular Dining Table from CB2. Note how each sturdy piece is placed at an end of the table in the picture below.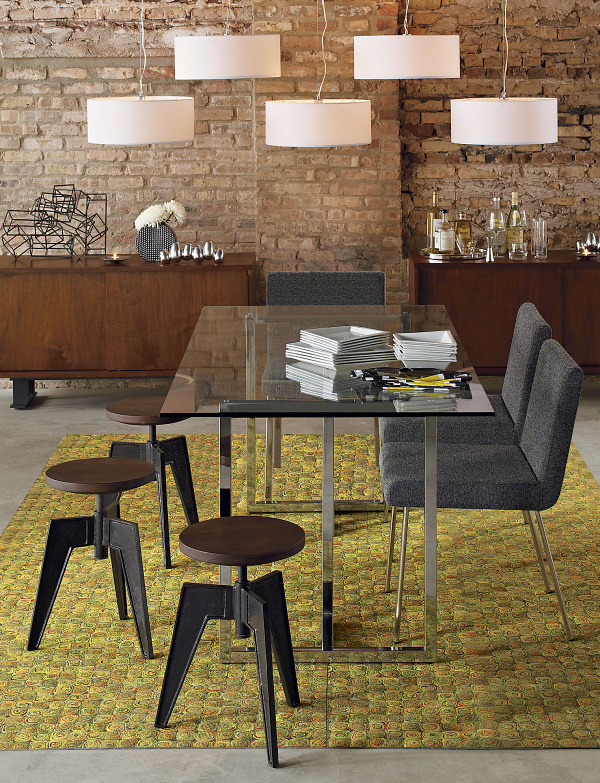 The Parsons Glass Top Dining Table With Stainless Steel Base from Crate & Barrel features a matte finish. This timeless substantial piece accommodates a variety of design styles and can happily seat six.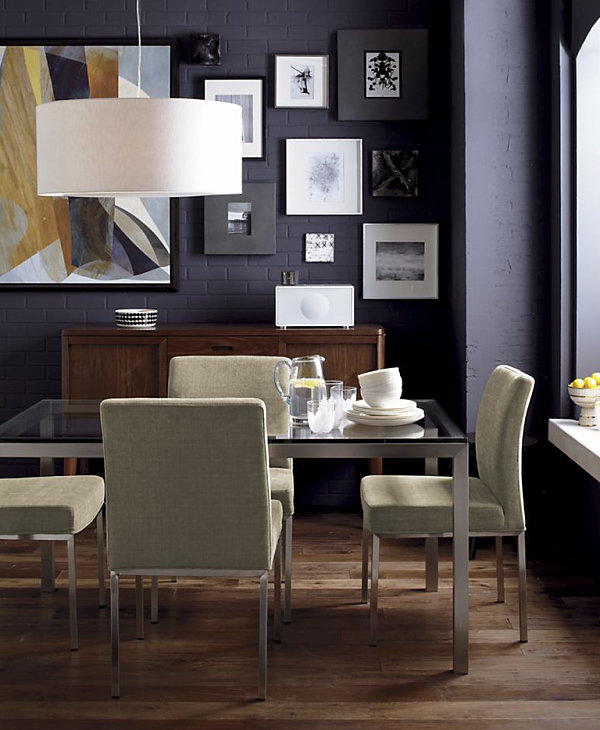 For a different take on the same model, check out the Parsons Glass Top Dining Table With Natural Dark Steel Base from Crate & Barrel. A frame crafted of natural dark tubular steel is a striking contrast to white walls and seating, as shown below.: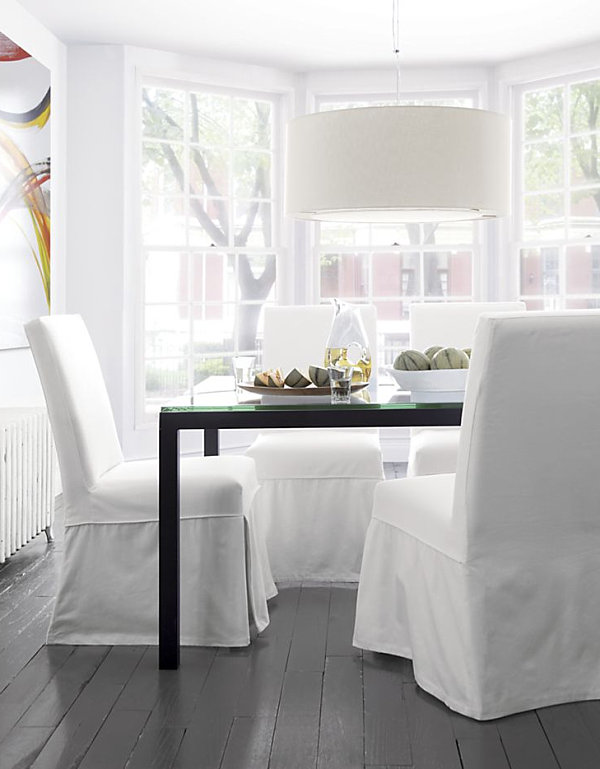 Hello, modern! This glass dining table from LaFlaT has an industrial look and curved supports that add intrigue to a contemporary dining space.: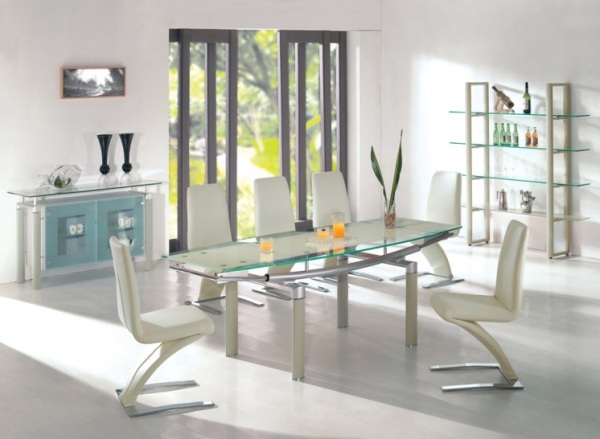 On a similar note, the Chemistry White Dining Table, also from LaFlaT, boasts a glass top and steel legs, as well as a white center strip to illuminate the top.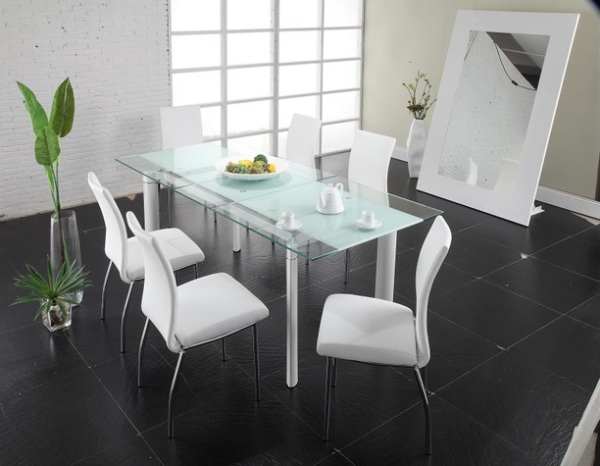 We now explore the wonders of dark, shiny surfaces with the Neo Extending Glass Dining Table from Furniture Italia. This glass and chrome table has a W-shaped chrome base. Even though the piece is ultra-modern, it glistens under a formal chandelier!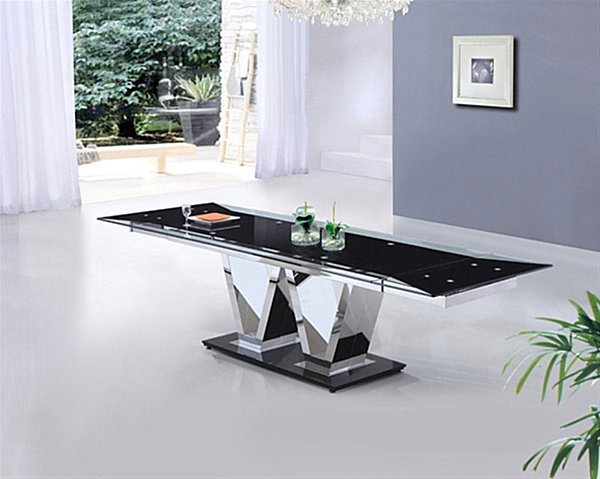 Solid rectangular glossy legs add character to the Star International Ritz Tiffany Rectangular Dining Table in White, available at AllModern. What you may not know is that the tabletop is crafted of crackle glass!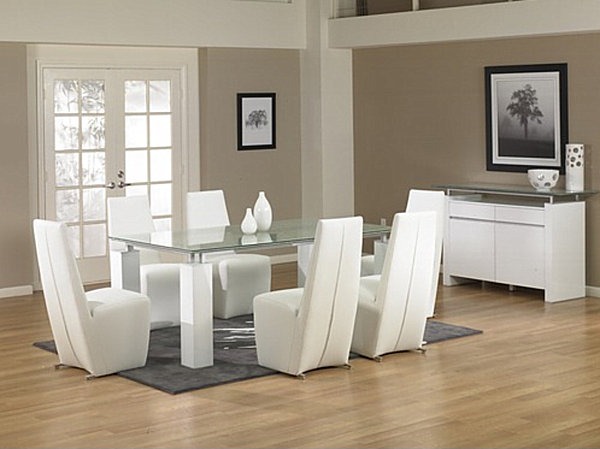 We end with the two-tone Monaco Large Glass Dining Table from Furniture Italia, complete with a sculptural gloss and chrome base that may as well be a work of art!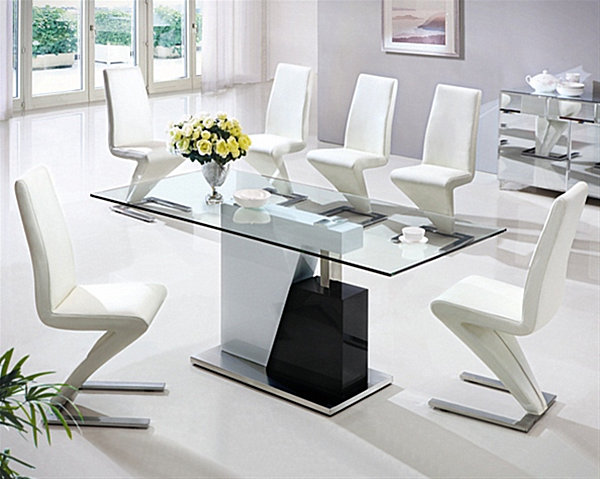 If your dining room is small, consider a compact round glass table. A lack of corners will help the piece fit neatly into the space. If size is not a challenge, go all out with a substantial rectangular piece and enjoy the sheen it brings! Don't forget to complement the table with interesting chairs. You'd be surprised at how a neutral glass dining table can be paired with a wide variety of seating styles, including antique. Have fun mixing and matching!