Ever since the hit American television show Mad Men first aired in 2007, it has captured the attention of audiences with its detailed depiction of Mid-Century Modern style. From the fashion to the interiors, the series' 1960s-inspired design is as sleek as it is glamorous. Set in the world of New York's Madison Avenue advertising scene, Mad Men captures the essence of an era when clean-lined furnishings were all the rage.
With the passage of time, '50s and '60s Modern styles have become mainstream, and many retail chains and upscale shops regularly offer furnishings influenced by Mid-Century design. In conjunction with the much-anticipated premiere of Mad Men's Season 5, we explore several of the program's interiors and show you how to get a '50s/'60s Modern look with decor both vintage and new.
Mid-Century Modern Office Furniture
Don Draper's Office
Don Draper (played by Jon Hamm) is a skilled ad agency creative director with a mysterious past. His no-nonsense attitude is mirrored in the decor of his classy, no-frills office, which oozes style with a neutral palette.
Shades of cream and tan may dominate, but pops of color accent the space. A teal glass bowl rests on the wooden coffee table, and at the other end of the room, hot orange chairs brighten meeting times: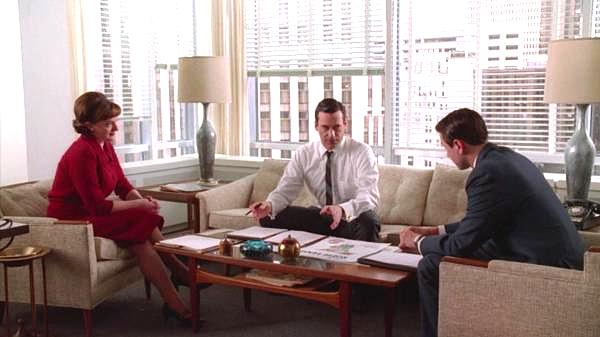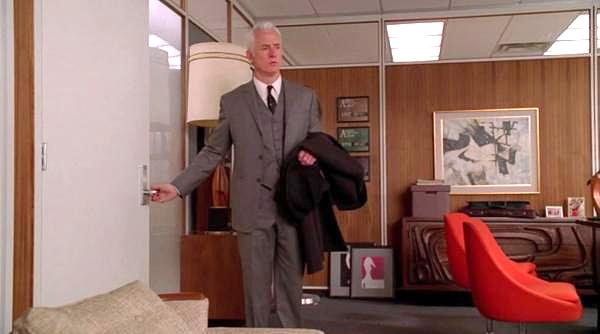 To get the '60s look of Don's office, start with the Arden Sofa by Jonathan Adler (shown below). Its tapered legs give a nod to Mid-Century style, but new materials make this piece fresh.

To bring color into your own space, turn to some vintage glassware of the Murano variety! This beloved line of Italian glass was particularly popular in the '50s and '60s, and avid collectors still treasure it today. Note the retro bubble glass on the piece below, which sold at Fine Vintage Design.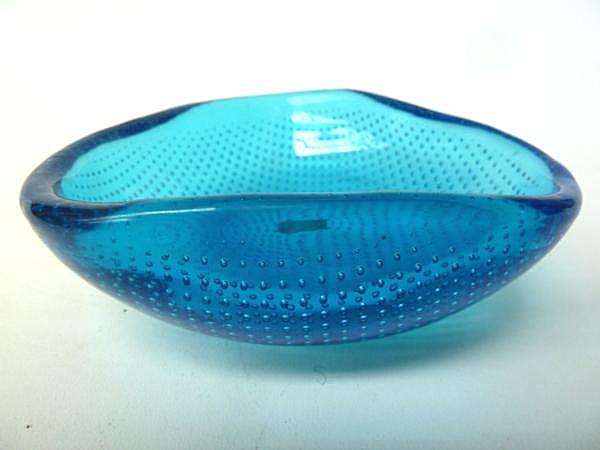 Finally, add some fire to the mix with executive chairs in tones of red-orange. Design Within Reach features two swiveling selections by noted designer Eero Saarinen. The Saarinen Executive Side Chair with Casters (left) and the Saarinen Executive Armchair with Casters (right) are both shown in crimson.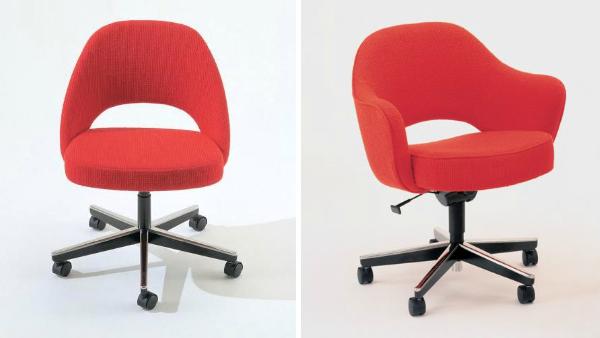 Roger Sterling's Office
Speaking of Saarinen, the office of ad agency partner Roger Sterling (played by John Slattery) is filled with the work of this famous designer. Note the table and stools below. Also of interest is the curved chrome floor lamp, as well as the black and white painting, created for the show in the tradition of works by Op Artist by Bridget Riley.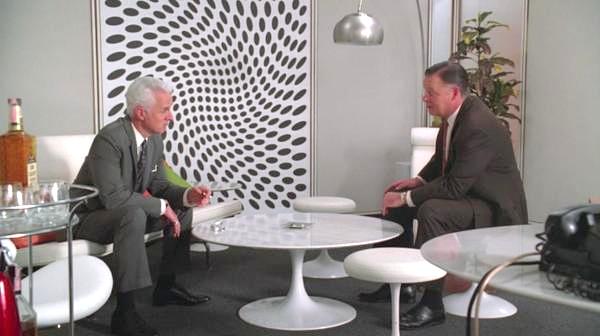 To add some gloss to your space, check out the Saarinen Low Oval Coffee Table from Design Within Reach (shown below). Though the piece displays a marble top, it's available in a variety of colors and materials. In other words, Roger Sterling's white-top table can be yours!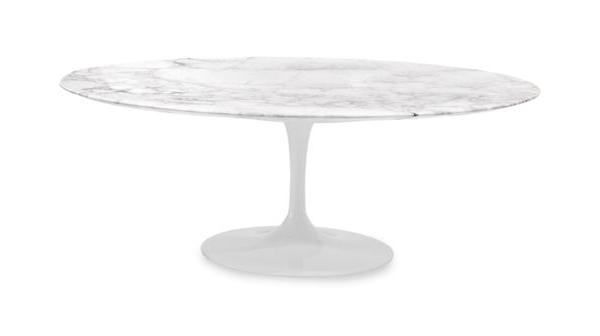 Spotlight your Mid-Century finds with a replica of the iconic Arco floor lamp, originally designed by Achille and Pier Giacomo Castiglioni in 1962. This version comes from Iconic Lights.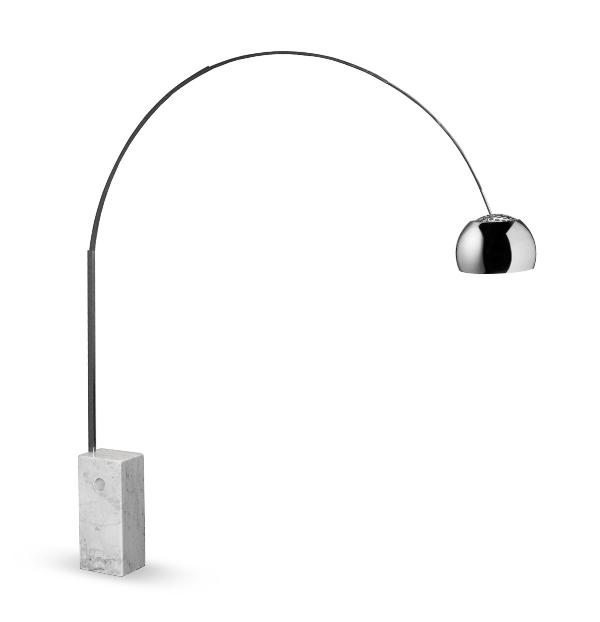 Mid-Century Meeting Room
When it's time to brainstorm, Sterling Cooper Draper Price employees head to a vibrant room where bright advertising copy is displayed as art, and orange-hued furnishings contrast steel gray walls.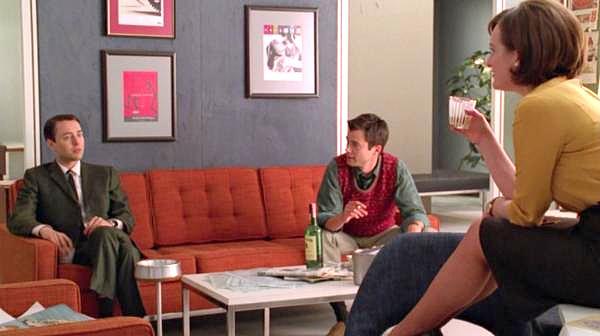 A popular Mid-Century color of choice, orange is still alive and well in the design world of today. For a modern take on the sofa above, check out Ted Boerner's Theatre Sofa in Ultrasuede, available at Design Within Reach. The couch's chromed steel base gives it a striking similarity to 1960s office furniture.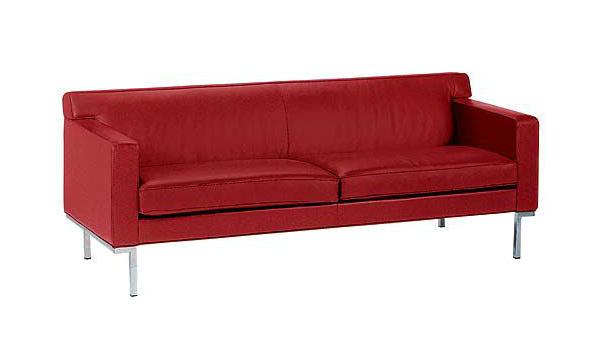 To incorporate a shiny coffee table, check out IKEA's KLUBBO Coffee Table in white (shown below). The metal legs make it timeless, but if paired with the right sofa, this piece screams Mid-Century.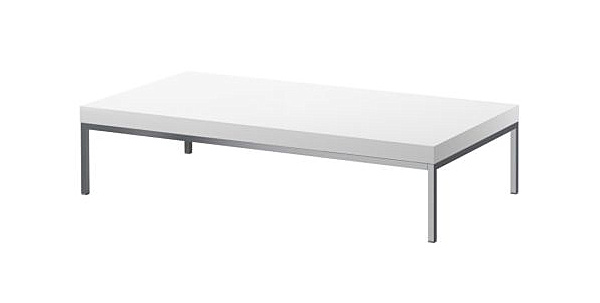 Mid-Century Modern Home Furnishings
Don and Betty Draper's Living Room
When work is done, it's time to relax at home. Where does Don Draper live? In upstate New York, of course. In Season 3 of Mad Men, Don's wife Betty (played by January Jones) hires an interior designer to update the family's living room. The result includes "a Dunbar Japanese-influenced sofa," "silk dupioni drapes," and a "classic Drexel end table." We're drawn to the upholstered chairs in a lattice print (shown below)!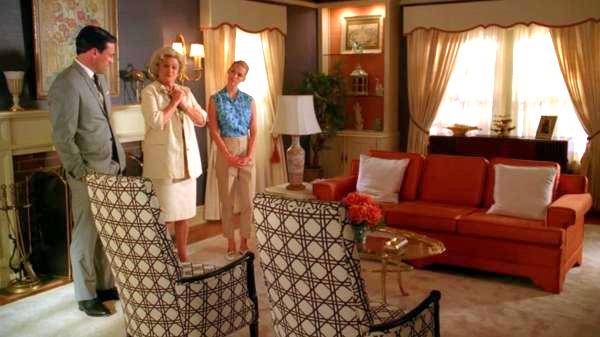 To celebrate the power of geometric patterning, pick up a pair of Morrow Slipper Chairs by Jonathan Adler. The Ibiza Mocha pattern blends earthy tones with modern flair: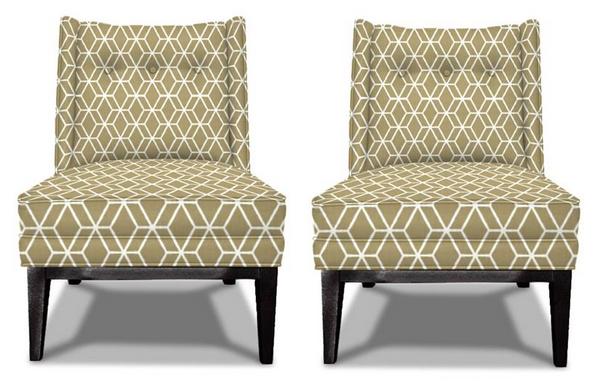 Pete and Trudy Campbell's Dining Room
The New York City apartment of Pete and Trudy Campbell (played by Vincent Kartheiser and Alison Brie) has a youthful vibe, and modern artwork and collectibles enhance the space. Equally eye-catching are the pointy edges of the couple's dining room chairs and the built-in room divider/screen that separates the living and dining areas.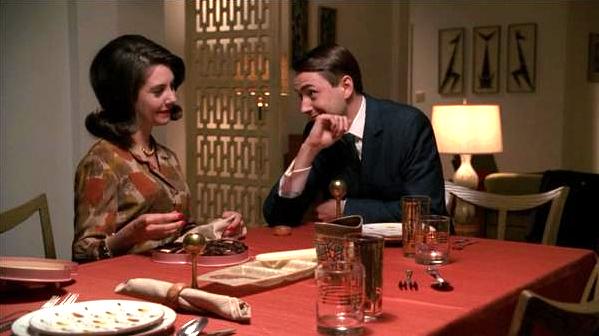 For a contemporary take on room dividing, check out the Desmond Wooden Screen from Jonathan Adler. These hinged treasures are available in both white lacquer and walnut.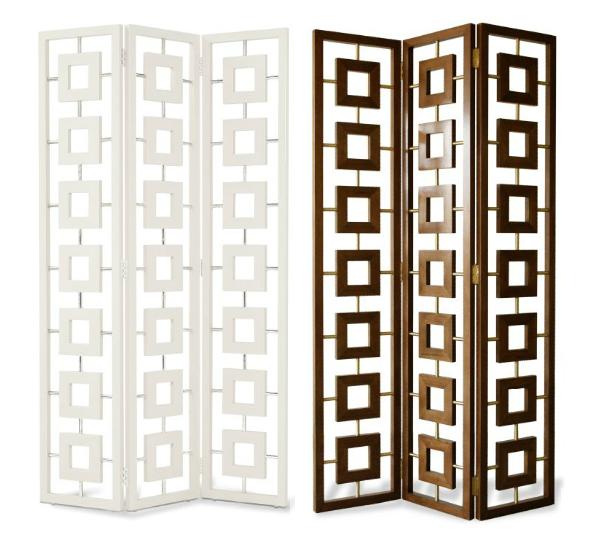 The unique shape of Pete and Trudy's dining room chairs is echoed in recent designs from Dwell Studio. The angles and curvature of the Selma Arm Chair and Selma Side Chair can't help but conjure Mid-Century form.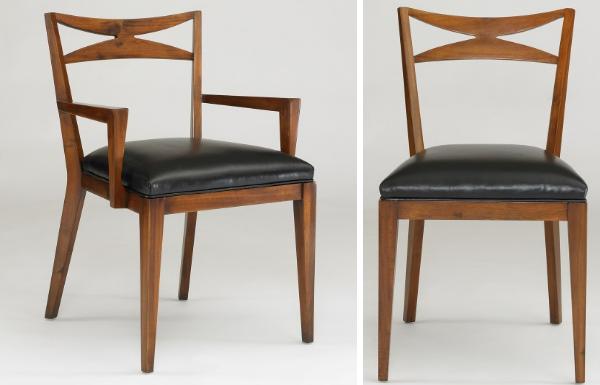 Joan and Greg Harris' Color Scheme
Joan Harris (played by Christina Hendricks) is one of Mad Men's more colorful characters, and the apartment she shares with her husband Greg (Samuel Page) is equally vibrant. We end by exploring the dwelling's palette of coral-toned orange and minty slate blue.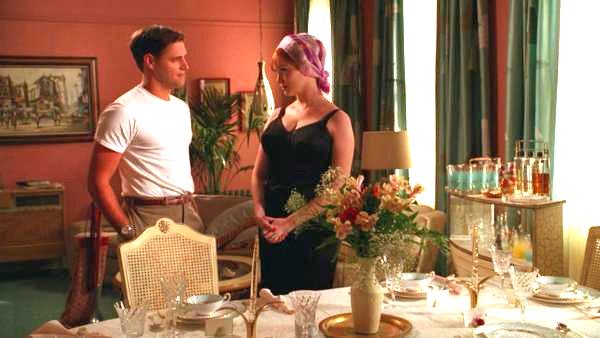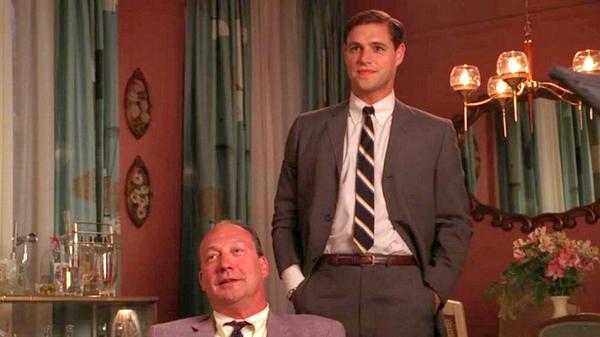 To fully enjoy the possibilities of this color combination, we've handpicked a few '50s/'60s Modern-style finds from today's retailers and designers. Below, the Brighton Sofa from Z Gallerie is soothing in aquamarine.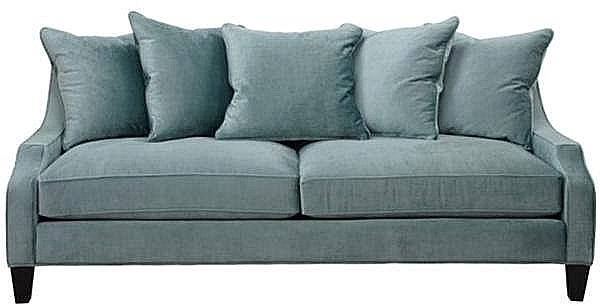 To add a touch of orange, incorporate pillows in shades of coral rose from West Elm: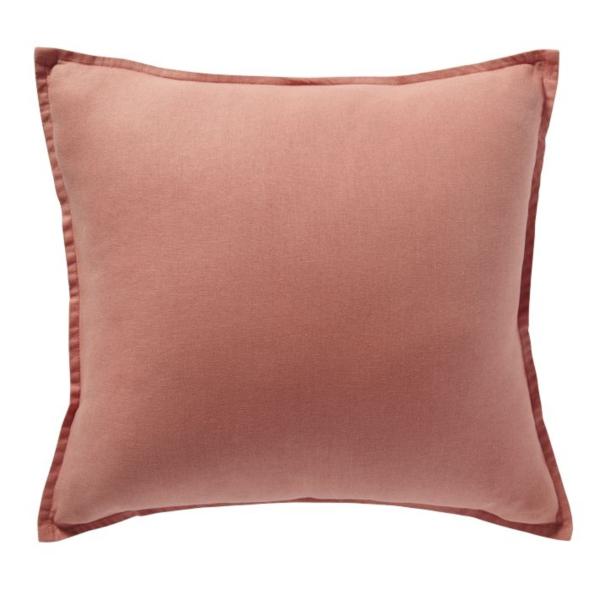 Last but not least, Jonathan Adler's Large Jade Bird Bowl is pottery at its finest, while the Lava Bud Vase Set introduces stylish elements of texture and form: