Are you hosting Thanksgiving dinner this year? Or perhaps you're invited to a potluck and you've been put in charge of the decor… We've been quite taken with the large number of non-traditional Thanksgiving table setting ideas that have popped up this year! People are clearly ready to put a unique spin on seasonal decor, and we've got the pictures to prove it!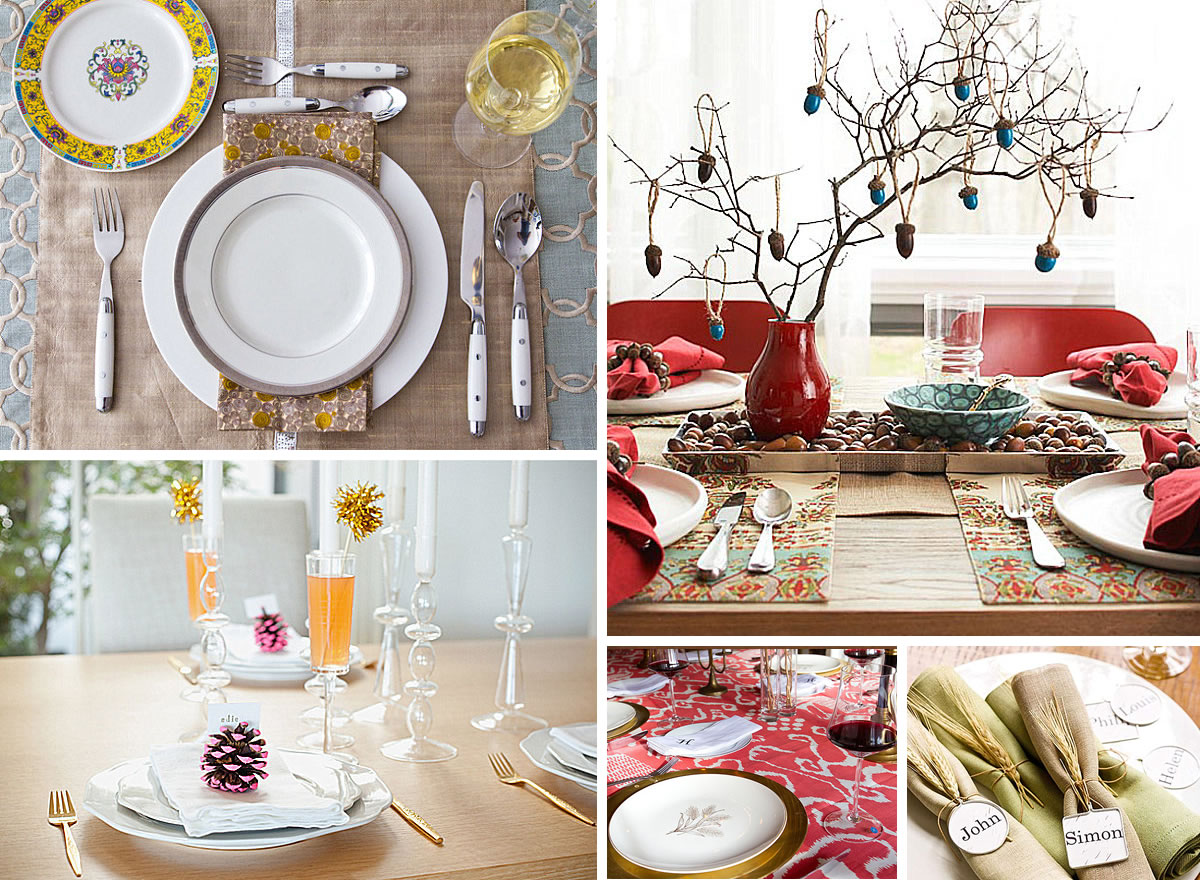 From monochromatic creations to a touch of neon style, the table settings below are rich in unexpected flourishes. Let them spark your imagination! And remember that many of today's featured ideas come from decor and craft supplies that the designers found in their own homes. Yes, it's time to dig out those vases that haven't seen the light of day in months. Get creative, and don't hesitate to use what you have!
A Monochromatic Thanksgiving
Our first featured idea plays up the monochromatic look, and for good reason. Designed by Christiane Lemieux, founder of DwellStudio, this table revels in neutrals so the rich colors of the Thanksgiving foods can speak for themselves. A grouping of the designer's own vases and vessels beautifully pairs with spray painted pumpkins and gourds for a light, bright centerpiece. [details at Design Public]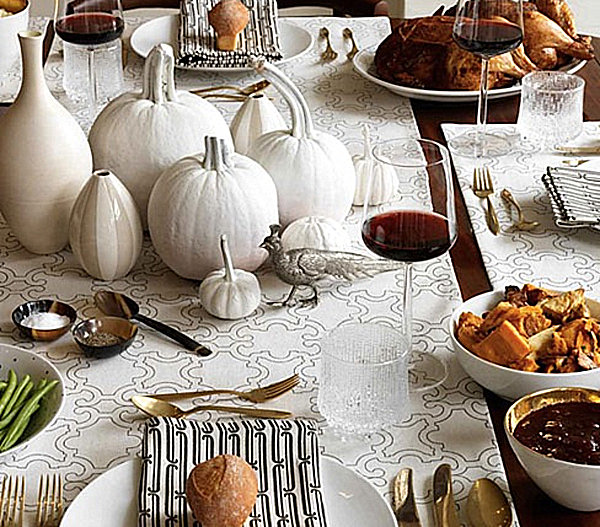 Geometric Glamour
This unconventional twist on the traditional Thanksgiving table makes a statement with red roses and geometric plates. Designed by Devin Kirk from Chicago home goods store Jayson Home, the table settings also feature clever touches like brass lamp shades used as candle holders, hand towels used as napkins, and a Polaroid that serves as a place card. [photo by Davin Youngs via Design Sponge]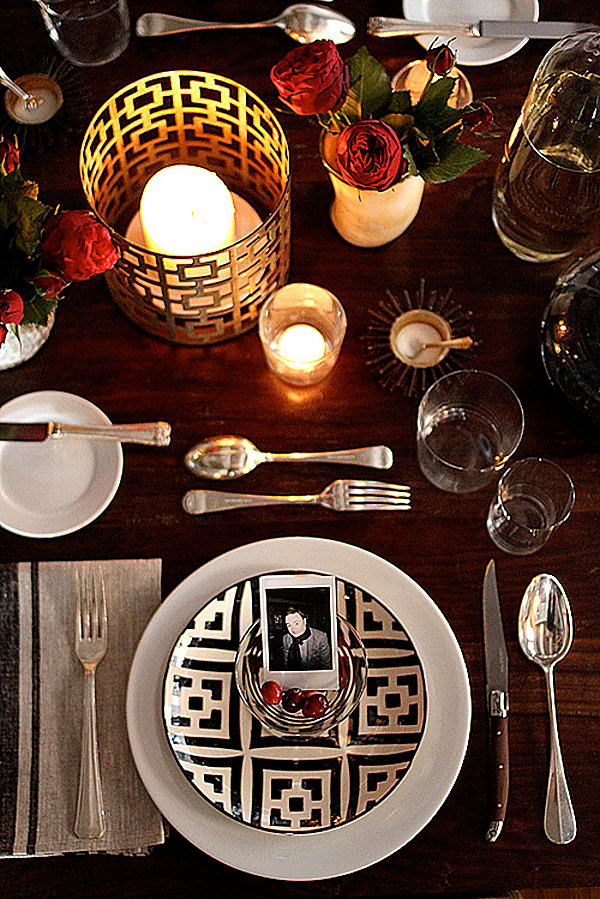 Neon Accents
You didn't think we'd forget about the current neon craze, did you? The next featured table setting idea comes from the creative mind of blogger and event planner Camille Styles, who had a hankering for neon-dipped pine cone place card holders. Fluorescent acrylic paint to the rescue! Check out the full tutorial at Camille Styles. [image by She-N-He Photography via Camille Styles]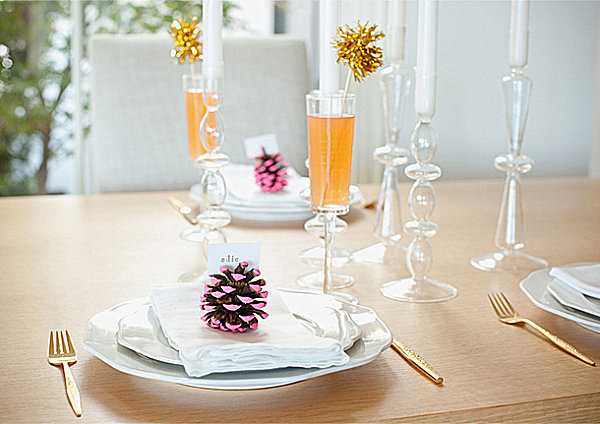 Earthy Thanksgiving Decor
Want to bring in a traditional symbol of the harvest? Incorporate wheat stalks! But keep it modern by adding personalized metal pendant frame place cards that double as napkin ring embellishments. [from Better Homes and Gardens]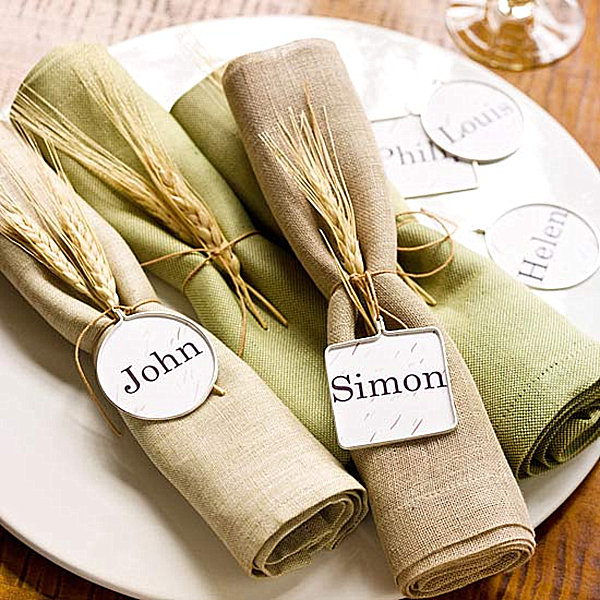 Formal Flair
Want to go fancy? Feature eye-catching color combinations, such as blue and orange. Designed by Eddie Ross, the Thanksgiving table below incorporates a geometric tablecloth, formal china, and a hand-carved, hand-painted pumpkin vase that reinforces the vignette's golden glow. [from Lonny]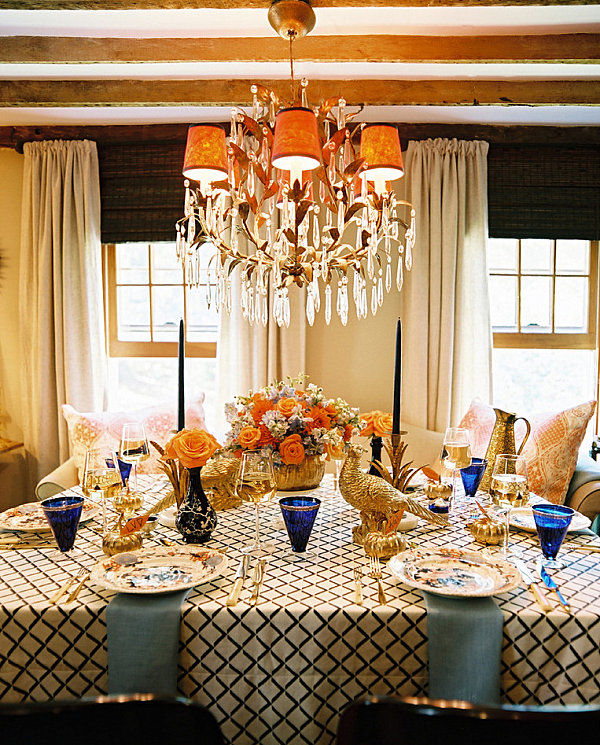 Elegant and Crisp
Who says orange, rust and green have to appear on the Thanksgiving table? The setting in the next image utilizes refreshing, soothing shades of blue and yellow. This crisp, elegant design comes from Manvi Drona-Hidalgo of Mochatini. Note how shades of yellow and tan truly stand out against the pale blue tablecloth. [photo by Lawrence Luk via HGTV.com]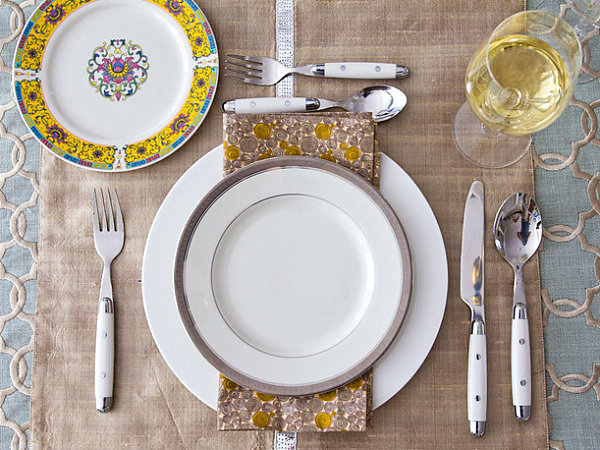 Worldly Eclectic
Another Eddie Ross creation, the spread below features a Persian rug tablecloth, brass goblets from Goodwill, Spode Indian Tree china from the 1920s, and tall taper candlesticks. Ross polished off the vignette the next morning with a bowl of fresh flowers.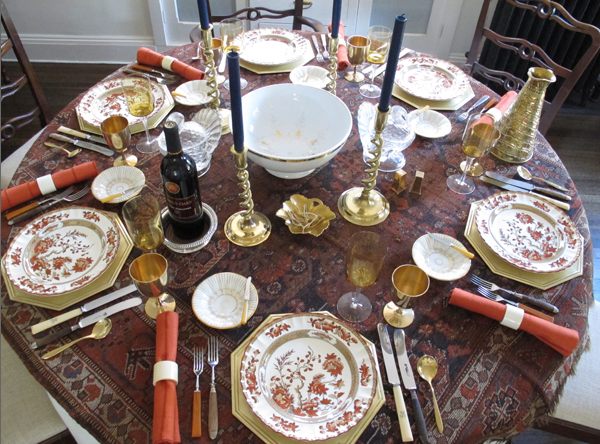 An Exotic Thanksgiving
Bold hues and interesting patterns combine to create our next table setting designed by Manvi Drona-Hidalgo of Mochatini. Exotic, vibrant, and truly interesting, the look is brought to life with metallic chargers and a Kazakh tablecloth. [photo by Lawrence Luk via HGTV.com]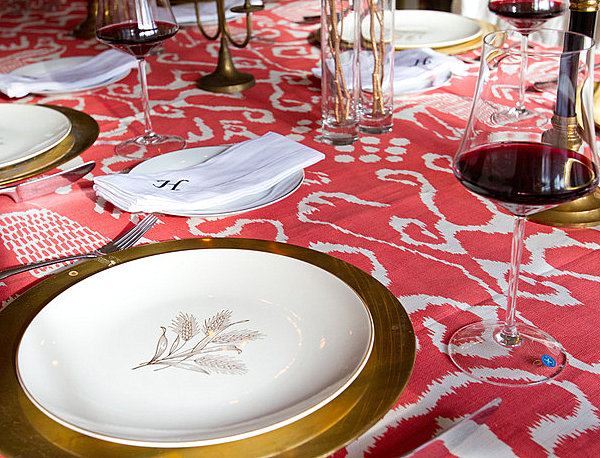 Cleverly Crafty
Keep it crafty by creating an acorn tree centerpiece! This clever table vignette is the result of painted acorns with looped string glued to the caps. Don't forget to check out the acorn napkin rings at each place setting… [from Better Homes and Gardens]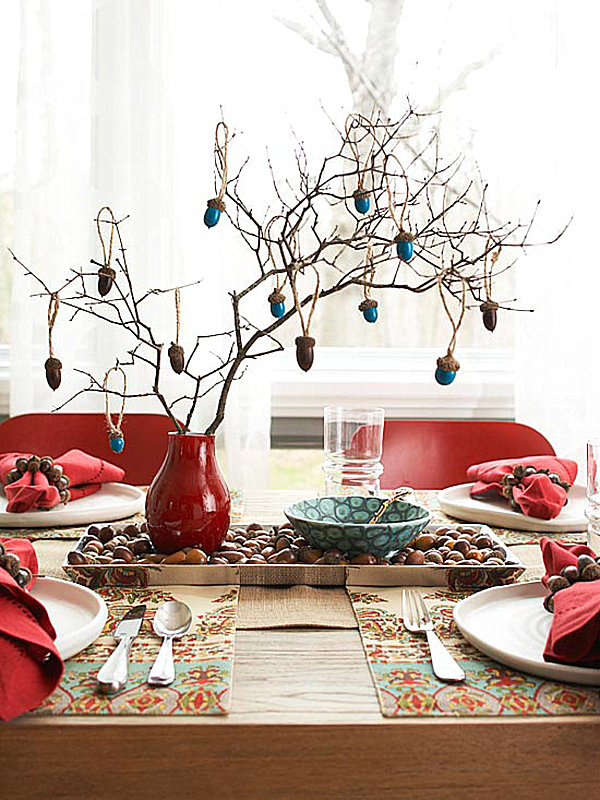 Thanksgiving Buffet Style
Table design isn't just for place settings. If your Thanksgiving gathering will feature a buffet table, celebrate the look of a bountiful feast by layering edibles with the help of pieces like a 3-tier stand. Perfect for a spread of appetizers, this "cup runneth over look" proves that sometimes more is more! [from Pottery Barn]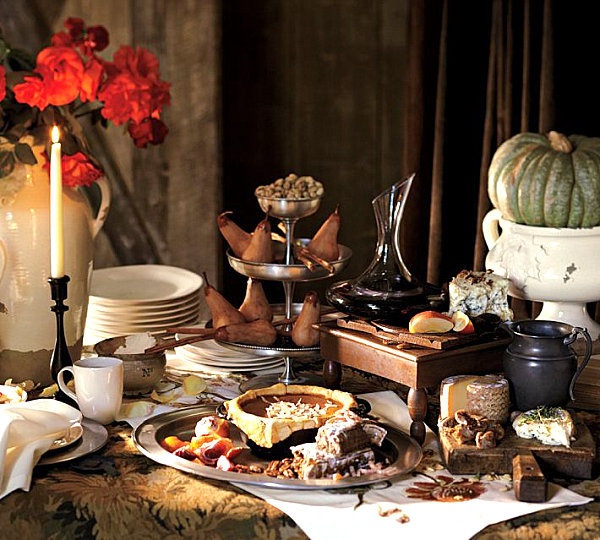 A Sparkling Feast
'Tis the season to shimmer! Want to add some sparkle to your table? Include radiant pieces like the Pebble Dinnerware from Z Gallerie. shown below. Silver accents play up the metallic shine.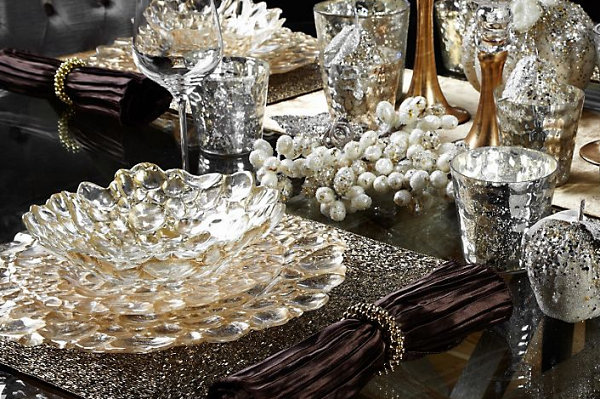 A Kid-Friendly Table
This one's for the kids… Let them have a hand in the decorating this year by offering them paper in shades of fall. Invite them to create their own Thanksgiving placemats by listing that for which they're thankful. Letter stamps add charm and interest to the design. [from Better Homes and Gardens]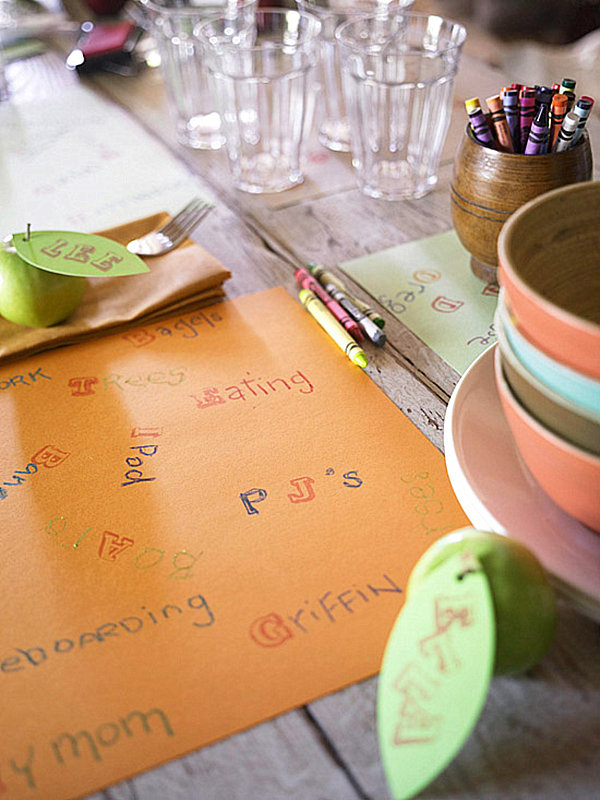 Earthy. Modern. Glitzy. Crafty. There are so many directions you can take with your Thanksgiving table. Don't forget about "eclectic"! That's right–you don't have to force your decor to fit into a theme. Sometimes throwing an assortment of styles together can produce the most interesting results. Have a Happy Thanksgiving!