The entryway of your home is the first area seen by your guests. It welcomes them to your dwelling, and it welcomes you each time you walk through the front door. Does your entryway have a "style"? Is it modern? Traditional? Rustic? Eclectic? When it comes to selecting entryway decor, there are many possibilities for this inviting space. Today we explore a range of ideas that will help create a grand entrance at home.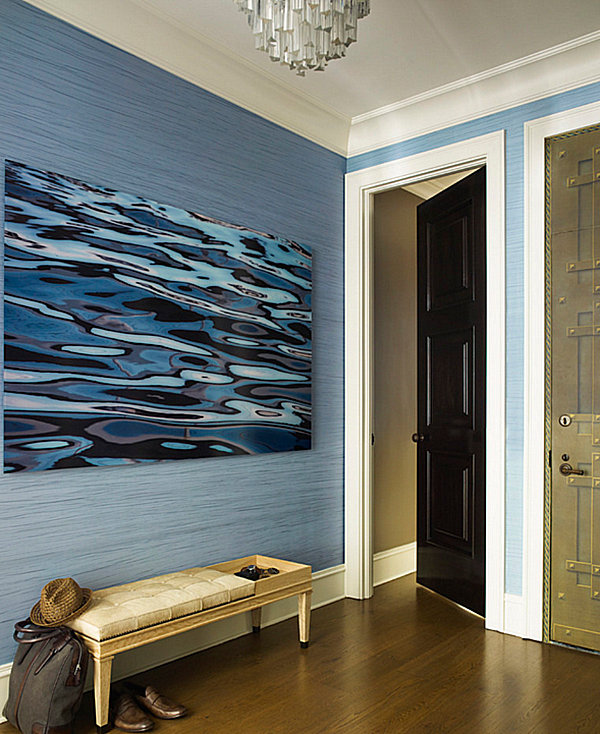 [photo by Eric Piasecki, from Mendelson Group]
Beginning this January, Decoist launched a makeover series. We've explored ways to refresh your living room, bedroom, bathroom and front porch. Today it's all about the entryway. Check out the images that follow and see if a concept, furnishing or accessory grabs your attention. Don't forget to tell us about your favorites at the end of the post!
Your Entryway's Purpose
Begin your entryway makeover by defining the needs of your space. Will this area of your home help you organize your belongings, as shown in the modern entry below? [from Jennifer Weiss Architecture]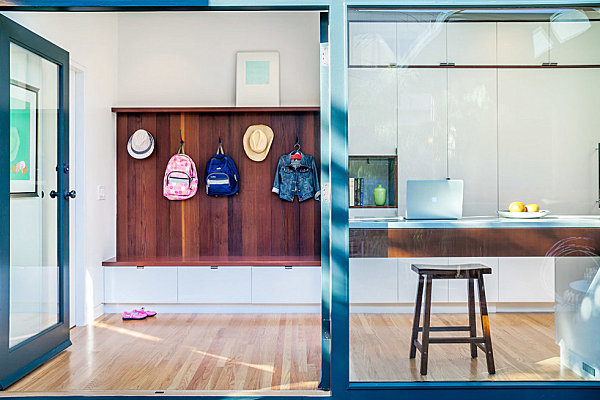 Or perhaps your entryway will be a display area–a home for art and creative vignettes… [from Lonny]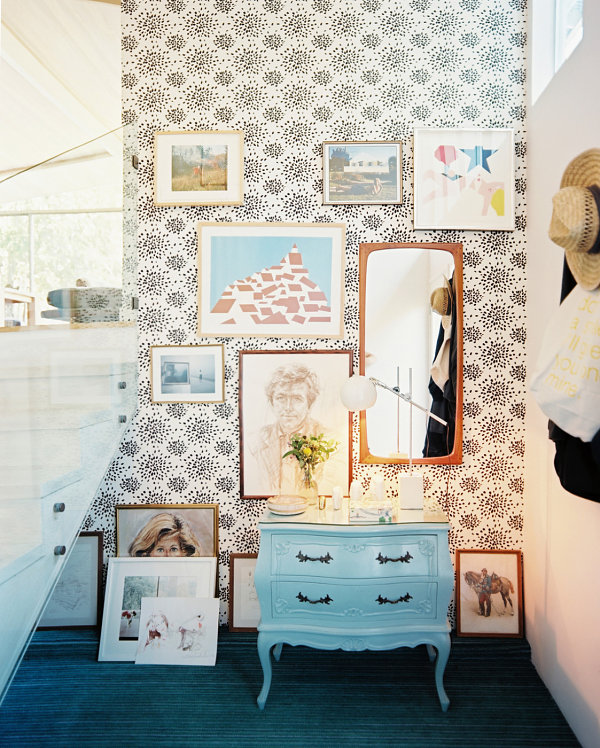 Maybe your entryway will be a little bit of both. If you need a place to stash items such as keys, shoes and a purse, there's no reason why your entry can't be stylish as well as practical! [from Lonny]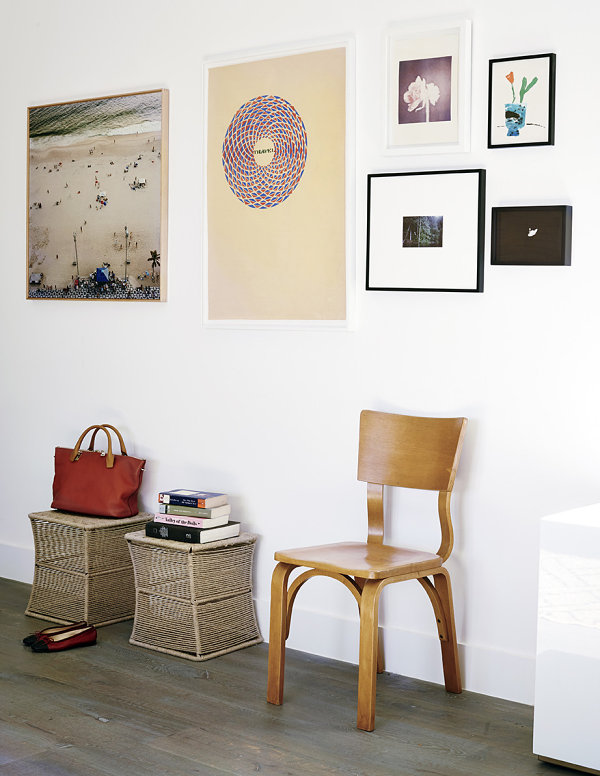 Entryway Artwork
When it comes to specific decor ideas, we'll begin with the artistic possibilities your entryway holds. No matter how big or small, your entry likely gives you some wall space to work with. Even if your entryway is nothing more than a gallery, enjoy this area of your home to the fullest. Start your makeover with a spectacular piece of art. Sometimes one large piece makes the biggest statement, as shown below. [from Teton Heritage Builders]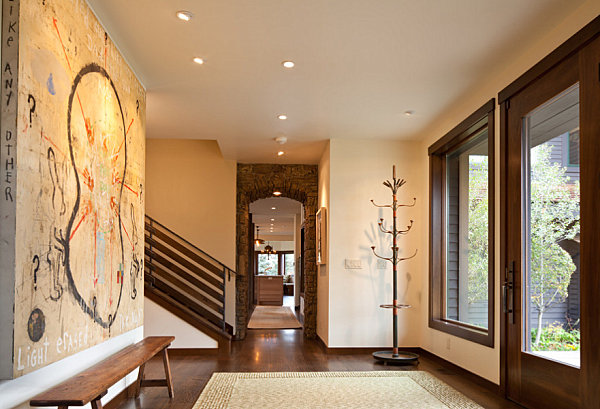 Now is your chance to strategically use color. Can you paint your entry an eye-catching hue? Or maybe you will decide to select a vibrant painting that introduces one or more bright shades to your interior… [from MAK Design + Build, Inc.]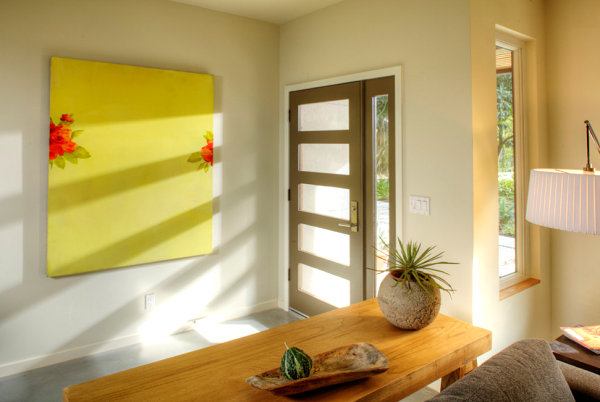 One work of art speaks volumes. But so does a gallery-style collection of framed pieces, as shown below. [from Lonny]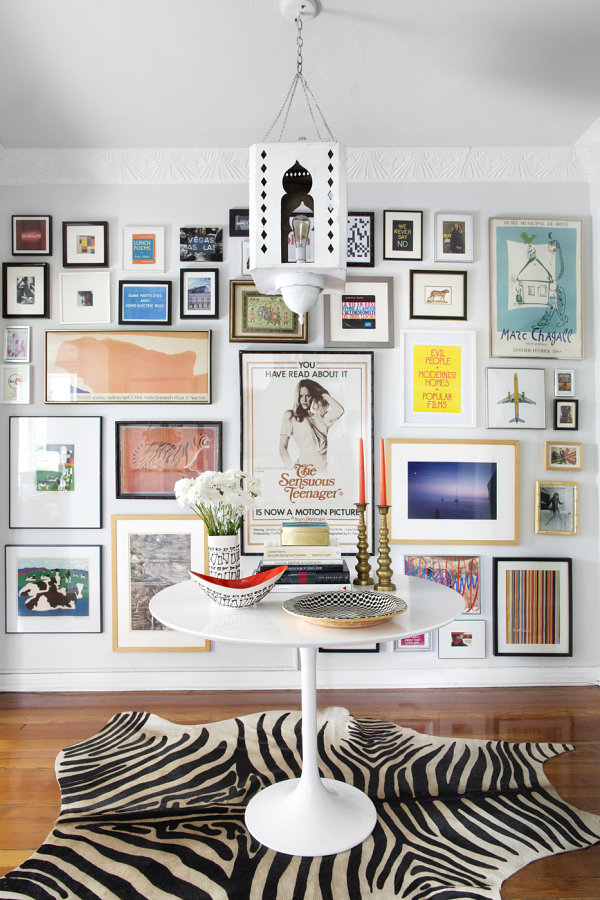 There's no rule that says your art has to be framed. In the next featured image, we see the striking appeal of a grouping of tribal masks. [from Gatling Design]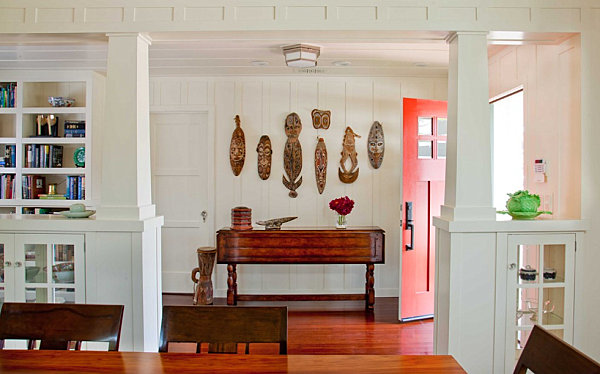 Entryway Furnishings
Console tables, benches and stools are three popular furniture choices for the entryway. Continue your makeover by selecting a new furnishing. Of course, what you add to your entry will depend on the amount of space you have available. For example, larger areas can accommodate substantial pieces like the chest of drawers below, which also serves as a "bar cart" of sorts… [from GR Interiors]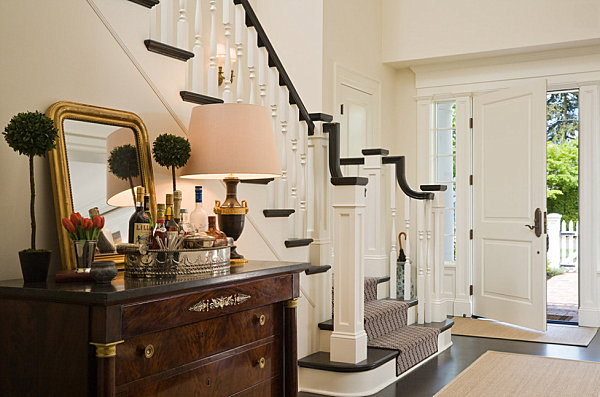 If your entry can only hold one key furnishing, make sure it's an eye-catching selection. The eclectic space below features a unique table from a Paris flea market. [from Duffy Design Group]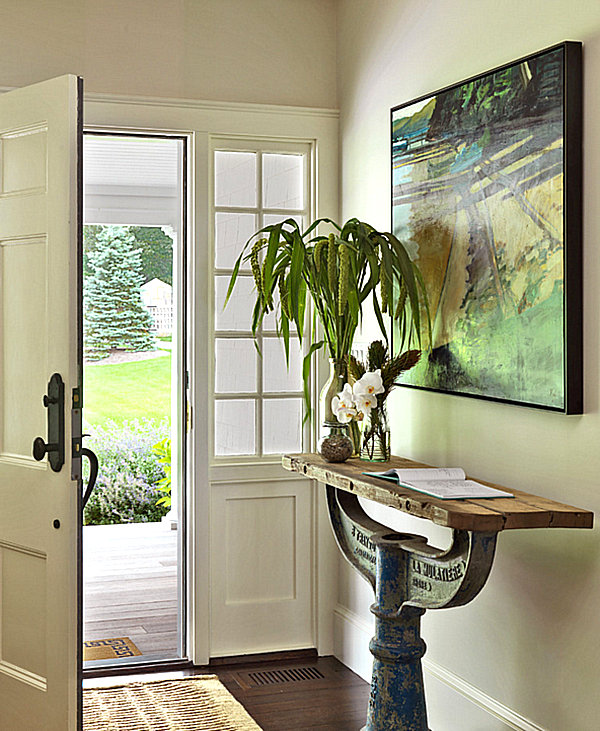 If you're pressed for space, consider a floating console, which conveniently mounts on the wall, freeing up floor space underneath. [from Lonny]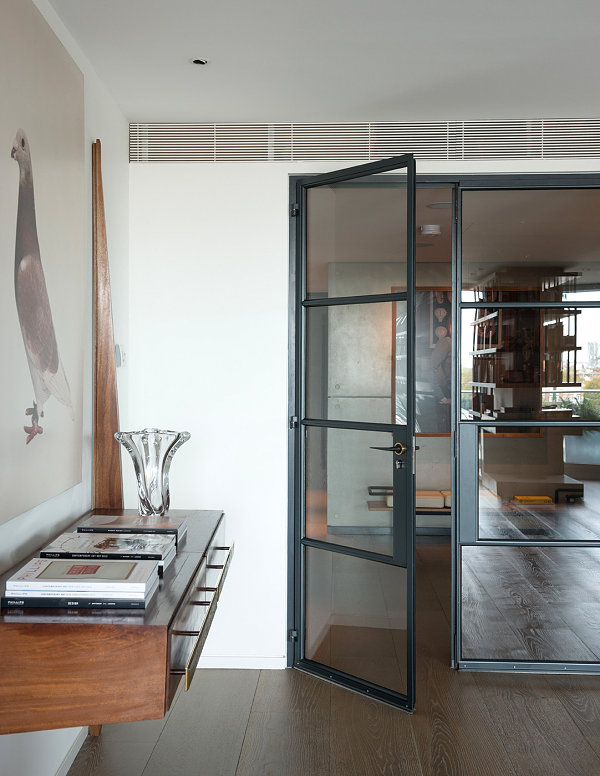 In fact, a slender table is an ideal choice for small entryways. Even with limited space, you can still choose colors and furnishings that make a big impact, as shown in the next featured image. [from Kaleidoscope Design Build]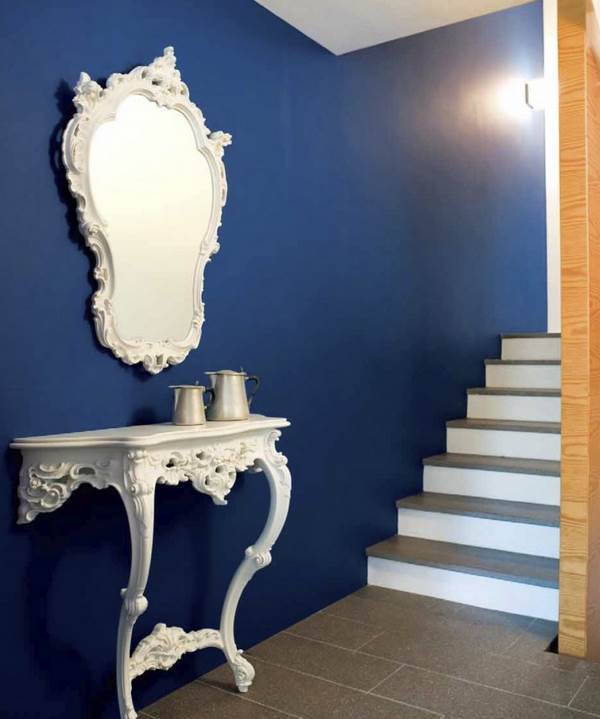 Do you ever leave the house in a hurry? Sometimes you need a place to sit while rummaging through your purse for the keys. Or a place to zip up those boots and tie your laces. An entryway chair provides an ideal spot for regrouping before heading out. Or a place to crash and take a deep breath at the end of a long day! [from Meyer & Meyer Architecture and Interiors]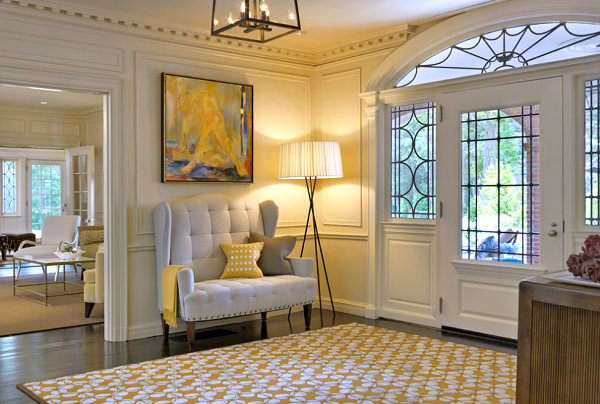 Benches are popular seating choices for the entryway. Not only will a bench save you space, this piece can help cement the style of your entry, whether you're going for a modern look, an ornate feel or an earthy vibe. [from Heather Merenda via Houzz]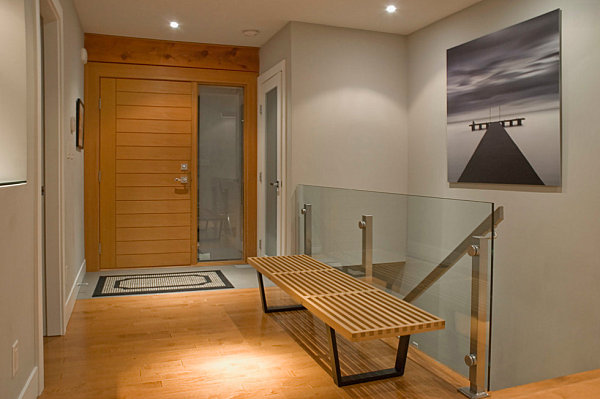 Entryway Accessories
Don't forget about the icing–those accessories and special touches that really help your space come together! In fact, your entryway may already hold the basics. Perhaps your makeover will consist of filling in the gaps with a few flourishes. Like pendant lighting. There's nothing like a grand light (or two) to set a stylish tone. [from HGTV.com]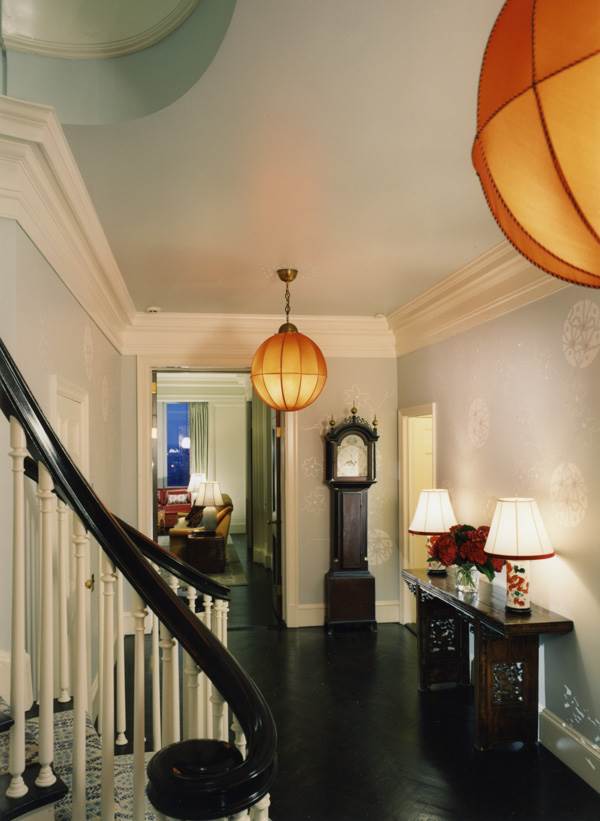 Then there are the practical details, like a place to put your wet and muddy boots during the winter. How about a boot tray?! [from Ez Puweda via Going Home to Roost]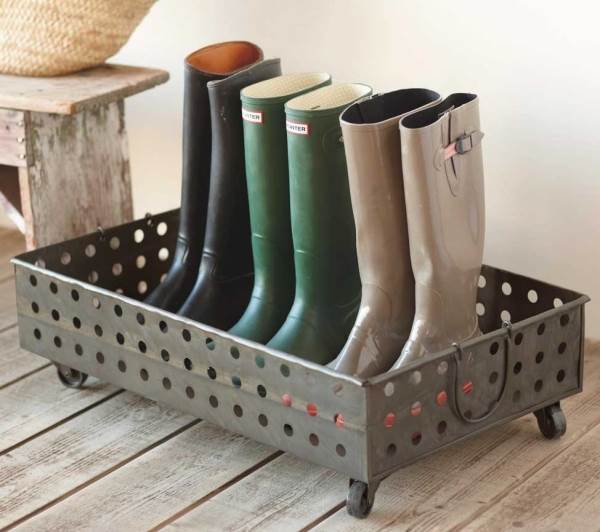 An entry rug can set a strong foundation for your home and make a big first impression. As the entryway is a high-trafficked area, just make sure you select a rug as durable as it is stylish! [from Design Shuffle]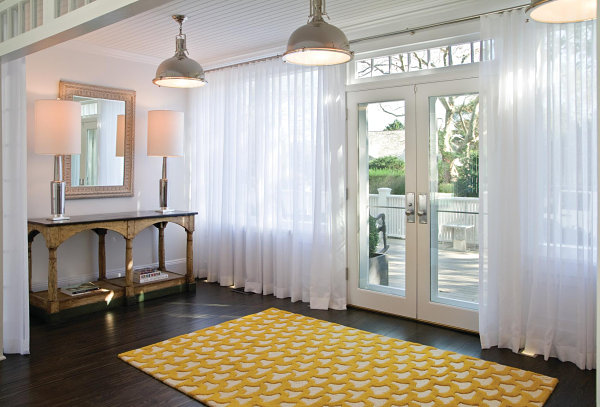 A fresh coat of paint. A new piece of artwork. A bench. A table. A pendant light… So many possibilities for your entryway makeover! Which will you choose? Share your thoughts by leaving a comment below…