This month at Decoist, we've featured a range of ideas for giving your home a fresh look in the new year. Last week we showcased an array of easy bedroom makeover ideas. Today we turn our attention to the powder room…
Are you planning a more detailed bathroom renovation? Next week we'll present a checklist to guide you through a project of that magnitude. Today it's all about the little things you can do to make a big difference. We're talking about easy bathroom makeover ideas. From purchasing an exciting new product to engaging in a weekend DIY project, the possibilities are endless! Read on for details about how you can refresh your bathroom on any budget.
Create a New Look for the Walls
Let's start with the walls. Since bathrooms are typically smaller spaces, a repainting project in this room doesn't seem quite so overwhelming. If you want to keep it simple, try painting an accent wall. Or get fancy with some decorative painting, as shown in the pink and red powder room below. [from Lonny]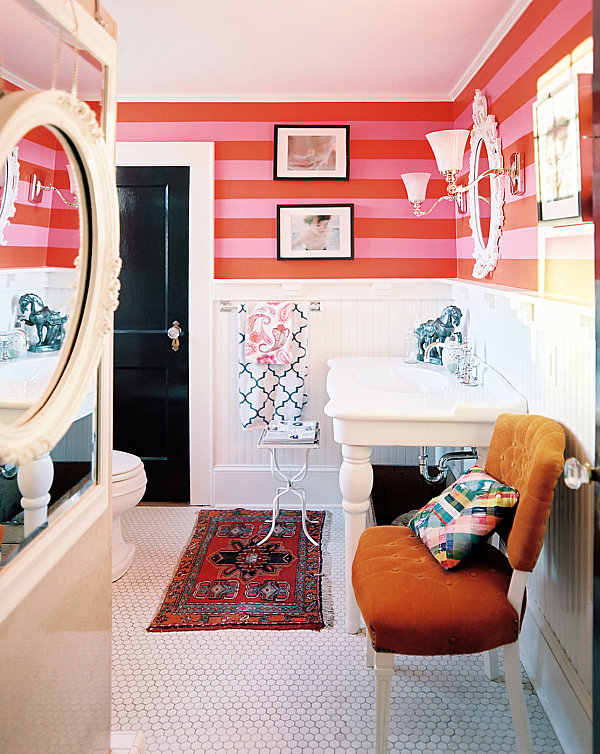 No time for painting? Instead of embellishing the wall, embellish your shower with a bold curtain. The result is similar to the effect of a patterned accent wall–instant style! [from A Beautiful Mess]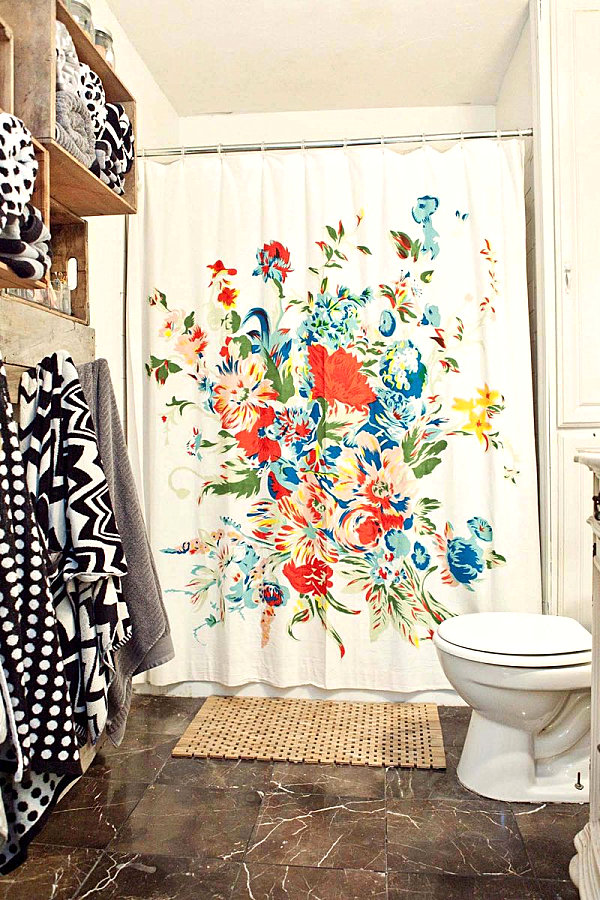 Another easy way to make a big impact on your wall is to add a bold piece of artwork. Try selecting a piece that serves as a strong contrast to the room, or choose a selection that reinforces the look of your space, as shown with the marble-style artwork below. [from LaRue Architects]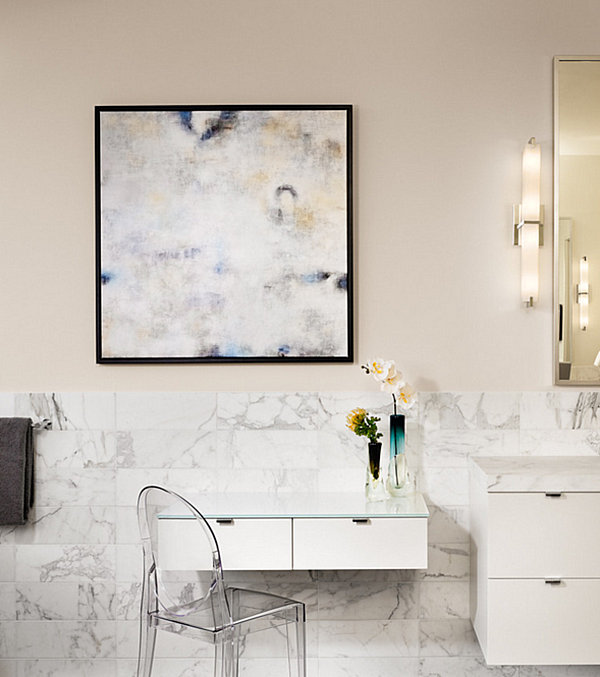 Add a New Piece of Furniture
A new piece of furniture can change the look of your powder room and provide extra storage. Are you dealing with a small space? Try a small table that can hold items such as towels and flowers… [from Lonny]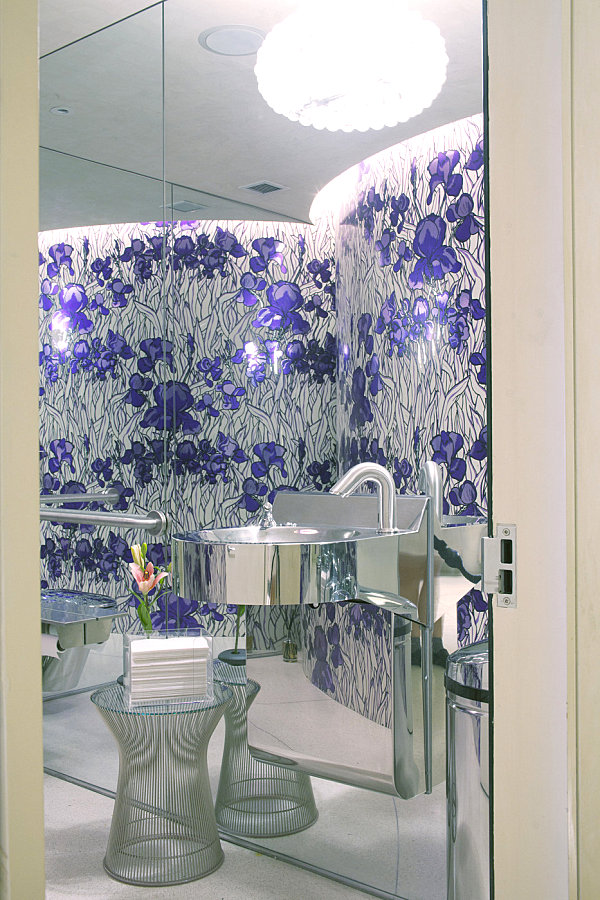 Wire furniture and accent pieces are all the rage this season. Not only can they add a dose of color and geometry, they are see-through, which makes them appear to take up less space than they actually do! One hot item to consider? The Wire Basket from ferm LIVING, which can be displayed as-is or capped with a smoked oak top and turned into a handy table.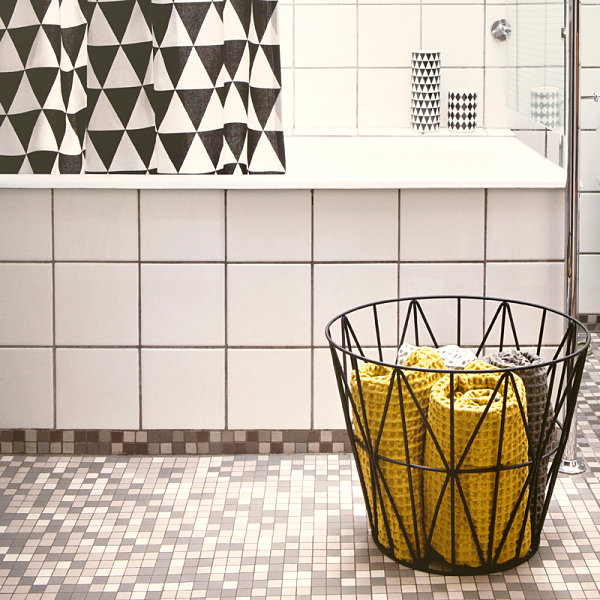 No room for furniture on the floor? Try mounting a piece on the wall. A towel rack is a great way to add function and style to your space. Select a piece that reinforces the look of your powder room. Got a modern bathroom? Go contemporary with your towel rack. [from A Sense of Style]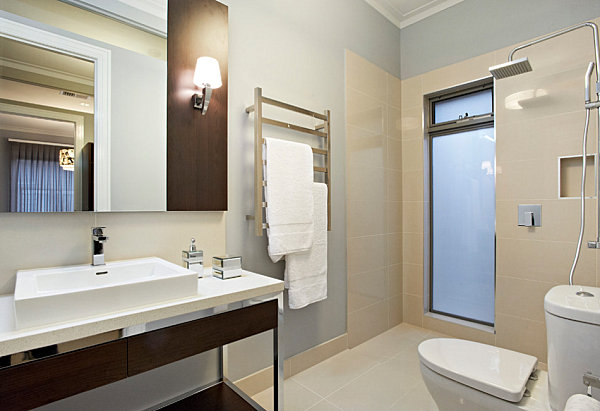 Refresh Your Space with Greenery
An easy way to refresh your space? Add a plant! Sometimes one touch of greenery can make all the difference. If you have a windowsill, place a plant in this light-filled area. [from Lonny]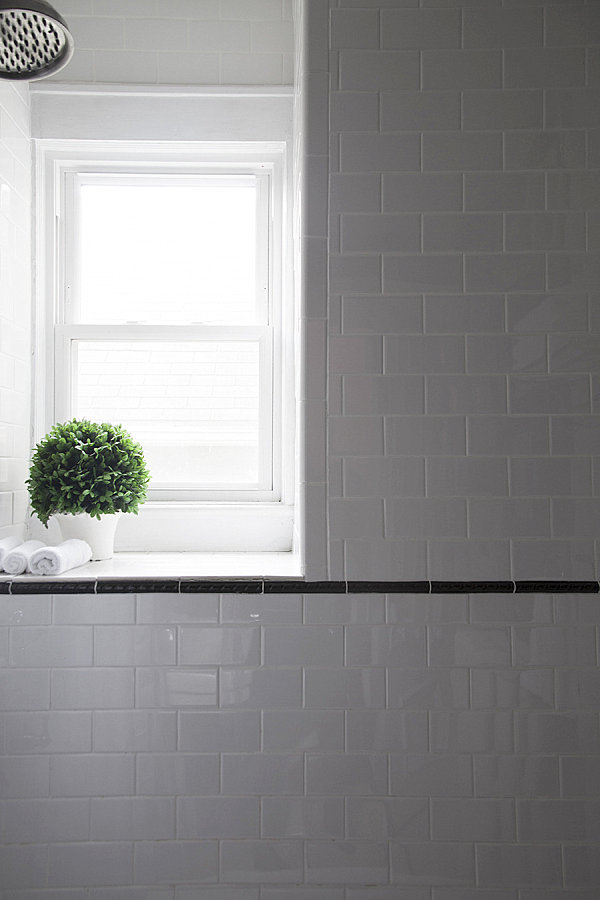 If you love the crisp, fresh look of your all-white bathroom but you want to add an accent without detracting from the spa-like vibe, try greenery! Plants can add color and texture without interrupting your color scheme of choice. In the posh powder room below, there's a glass shower, a chic tub and a chaise lounge. But it's the plants that serve as true focal points. [from EuroCraft Interiors]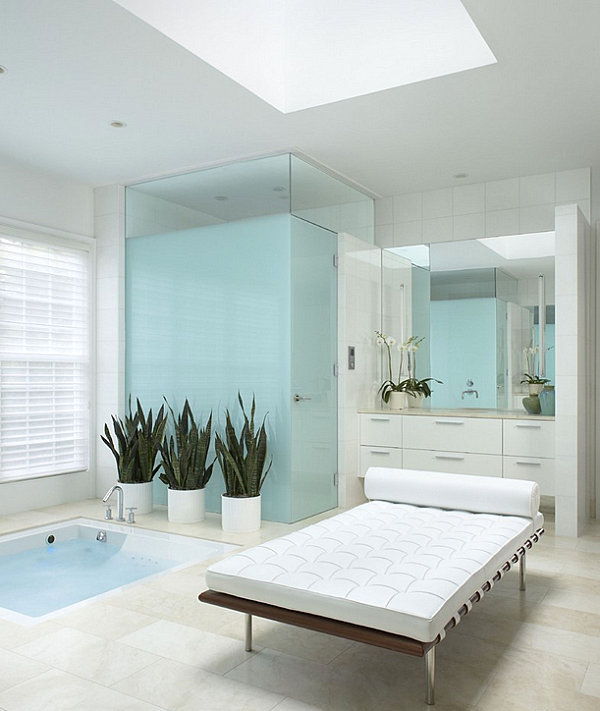 No counter space for a pot of succulents? Try a plant stand that takes up little space on the floor! This plant stand from ferm LIVING is constructed of iron with powder coating and features a tripod base…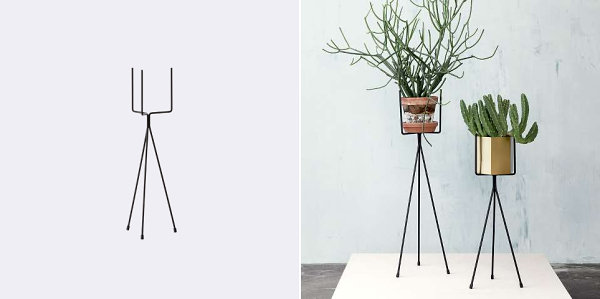 Change up Your Accessories
Another easy way to give your bathroom a new look is to refresh your accessories. Buy some new bath towels, and color-coordinate them with other items, such as a decanter and a decorative storage box… [from Lonny]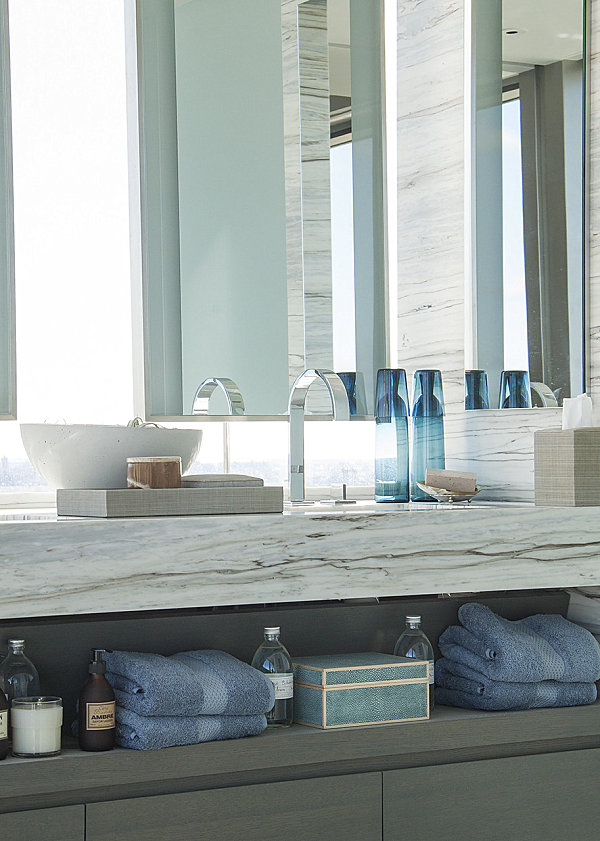 If you were previously holding back on bold colors, try making a big statement with a vivid hue such as red. Pay attention to the background colors of your space as you select accent shades to complement the room. For example, colors such as red and yellow are ideal for black and white spaces. [photo by Gordon King Photography for Georgina Godin, via Houzz]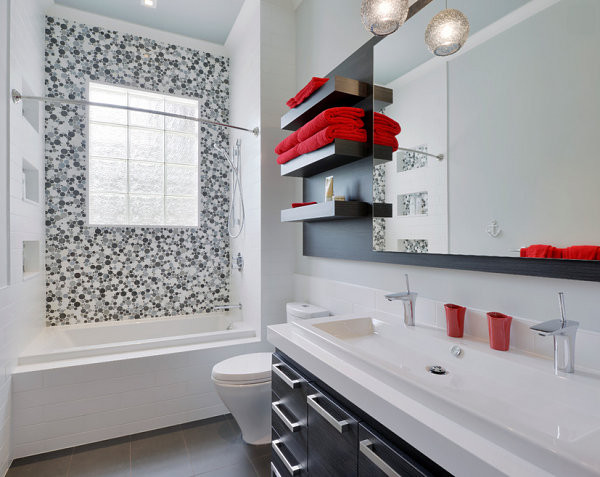 These Rubber Coated Orange Bath Accessories from CB2 are an affordable way to add vibrancy to your powder room. Bathroom accessories are practical, and we all need them. Why not have a little fun with these pieces? Coordinate your soap pump, canister and toothbrush in a vivid shade of red-orange…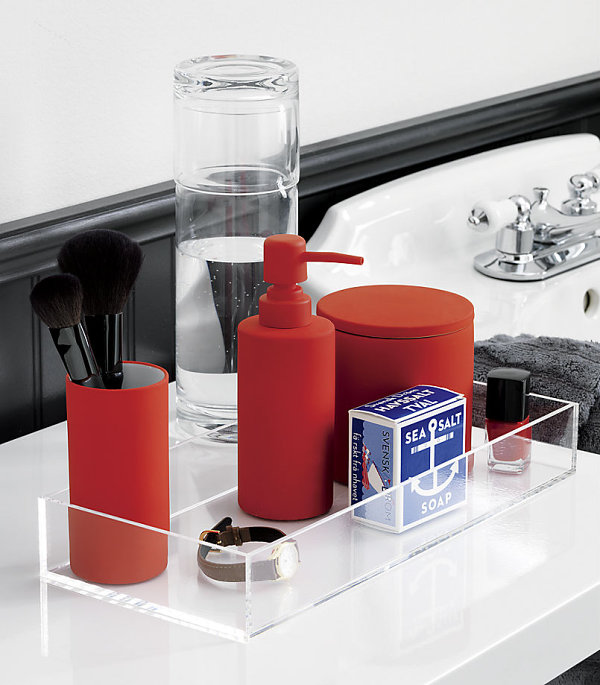 Give Your Medicine Cabinet a Makeover
Time to get practical. Really practical! If you go to the trouble of giving your powder room a makeover as you strategically arrange items such as bath products and wall art, shouldn't you make sure your space is well-organized?… All of your hard work in the decorative realm shouldn't be overshadowed by stray grooming products falling from medicine cabinet shelves every time you slide open that mirrored door. [from Lonny]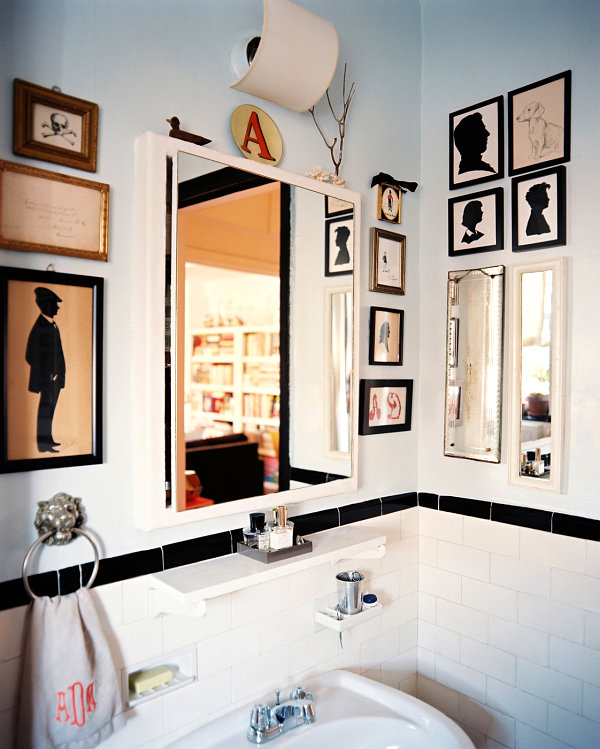 Now is a great time to remove products you don't need and organize the ones that remain. Toss old grooming items and transfer products from unsightly bottles to sleek containers, such as glass jars. A little effort can make a big difference, putting a smile on your face as you get ready for the day each morning and wash your face before bed each night. [from Grand Woodworking]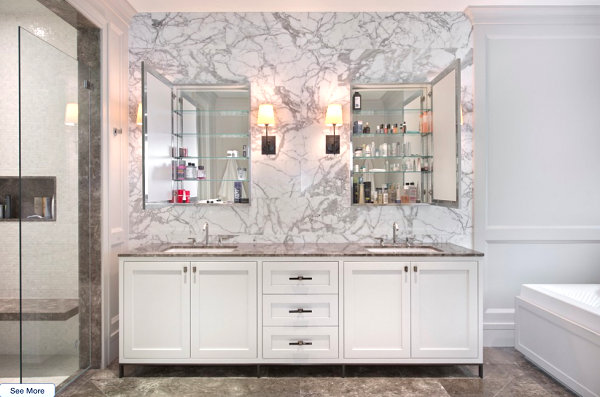 The same strategy applies to bathroom closets and drawers. In addition to organizing your items, try jazzing up the inside of cabinets and compartments with a coat of paint or some colorful contact paper. It's like unleashing a little ray of sunshine every time you open the drawer… [from De Meza + Architecture]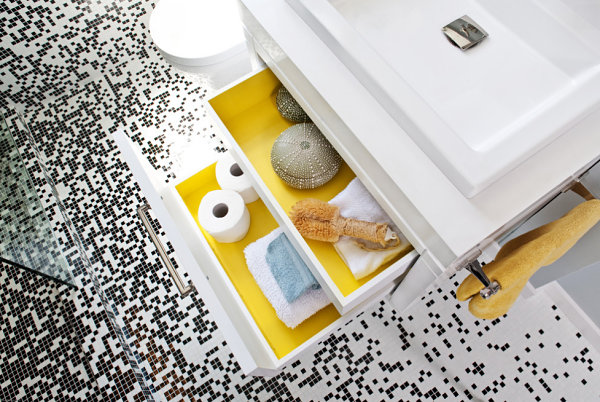 A new shower curtain. A potted plant. A handy towel rack. A fresh soap pump. An organized drawer. It's the little things that make a big difference in your powder room. Give your bathroom a makeover for the new year and enjoy creating a rejuvenating space that's as stylish as it is functional!