As a companion piece to our recent living room makeover post, today we highlight 5 easy bedroom makeover ideas. It's a new year, and even though there are still some cold weeks ahead, spring is on the way. As seasons change and fresh starts are among us, design lovers often look to the home–are there rooms that need a little lift? Are there items that we can do away with?
And we can't ignore the fabulous January sales, often prompted by the new year and the need to clear inventory in order to welcome the spring collections. Today we celebrate 5 easy ways to refresh the bedroom. We're not talking dry wall or the installation of new flooring. We're talking easy steps you can take to give your sleeping space a new look, from purchasing bedding on sale to switching out that dull light fixture for something more dazzling. There are even a couple of DIY projects thrown in for good measure! Enjoy…
Purchase New Bedding
Let's start with the bedding. After all, your bedding has the power to set the tone for your bedroom. Changing colors or patterns can give your room a whole new look! We're loving the soothing tone of the Linen Cotton Duvet Cover + Shams in Storm Bay from West Elm: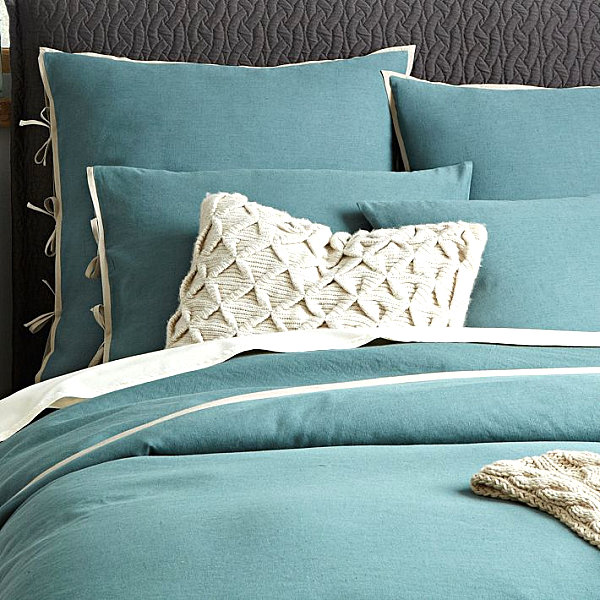 And there's something undeniably crisp about the Twisted White Bed Linens from CB2, woven of soft cotton/linen and featuring a subtle pattern of flowing ribbons. If your bedding is a solid color, you can always change the look with the easy, affordable purchase of a few bright throw pillows!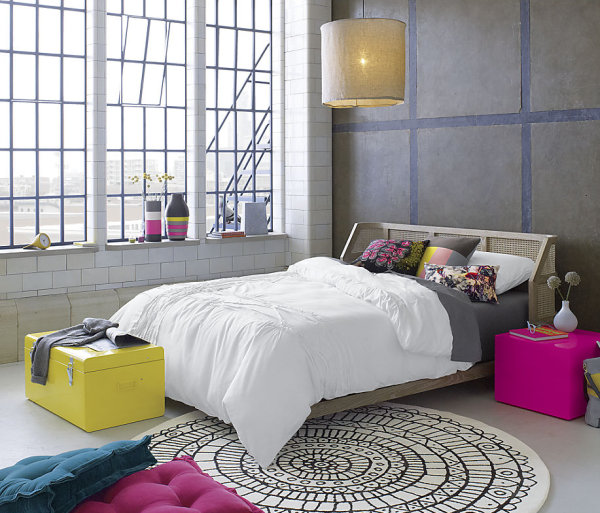 If you've played it safe in the past with solid bedding, this may be the year to go bold. And nobody presents bold bedding quite like Jonathan Adler! This Gio Duvet Cover is sure to be the statement piece of your sleeping space…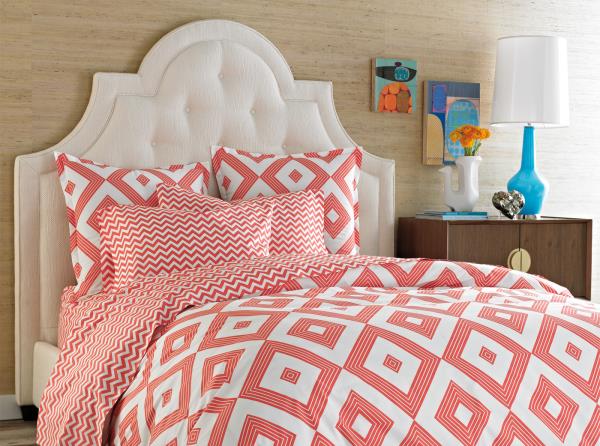 Our last featured bedding selection manages to be bold and soothing at the same time! Designed by Shannon Clark for DENY, this Softly Duvet Cover from Urban Outfitters will put you in a dreamy state: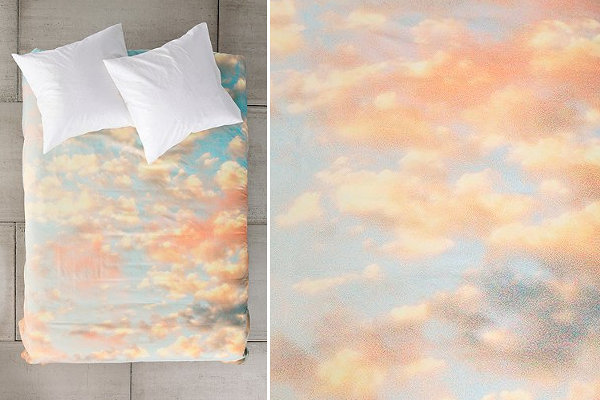 Add a Pendant Light
Have you been staring at that boring light fixture on the bedroom ceiling since you moved into your home? This is the year for bold embellishments! Try replacing your current fixture with a pendant light (or another fixture with a bit more pizzazz)! [from Suite 102]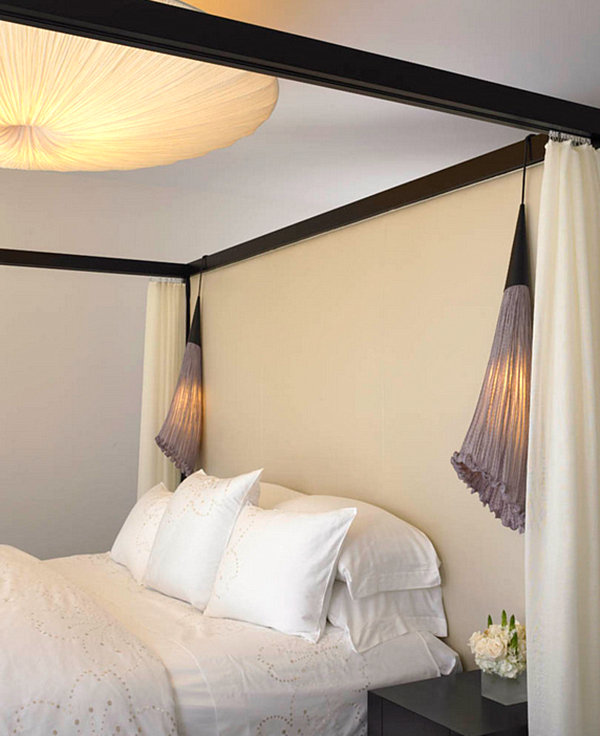 Pendant lights have a way of adding instant style to a bedroom and elevating the space to new heights. There are plenty of online tutorials on how to install a pendant light (such as this handy piece from Lowe's), but if you have any doubts, hire a professional to do the job safely. [from Michael J. Lee Photography for Katie Rosenfeld Interior Design]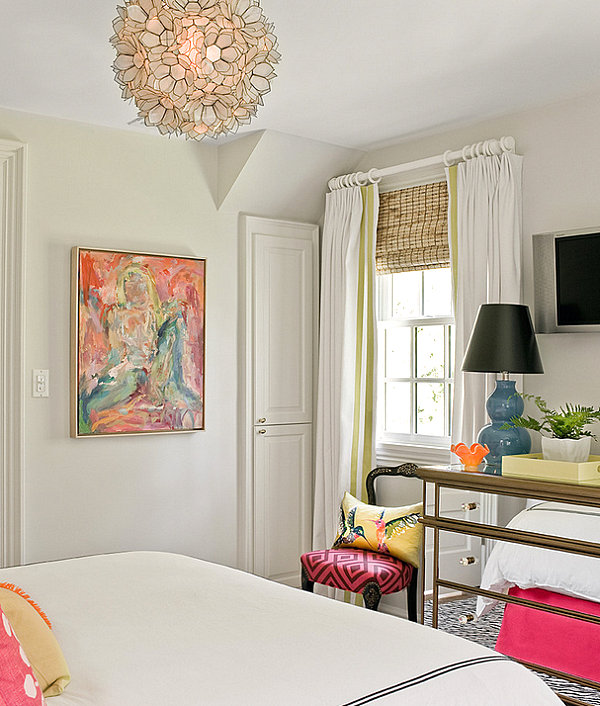 In addition to one pendant light over the bed, many rooms feature two pendant lights–one over each bedside table! The globular selections below (from Arteriors) are simply fabulous! [from Abode Interiors]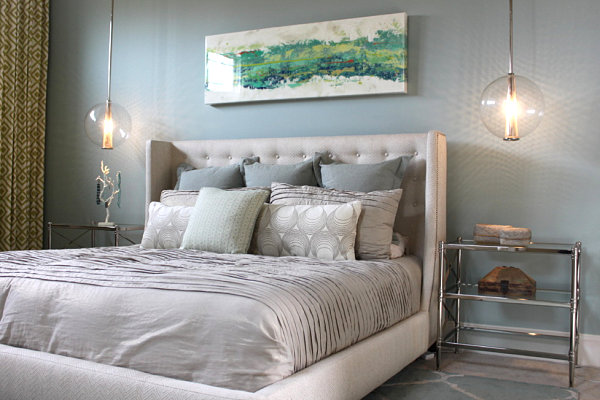 Buy a New Rug
Like new bedding, a new rug can inject a bold dose of color and pattern to your sleeping space. When selecting a new rug, be sure to consider the details of your bedding. After all, you don't want to overpower the room with clashing hues or busy patterns. This popular Souk Wool Rug from West Elm would complement a variety of comforters and duvet covers, especially since it pulls off the difficult task of being bold and subtle at the same time!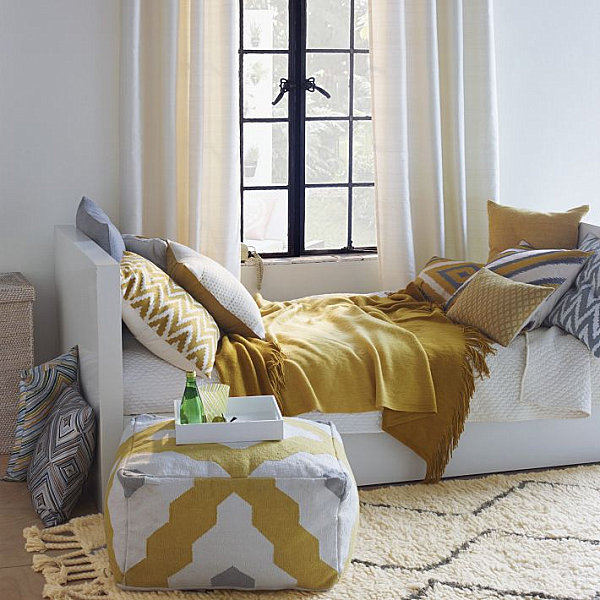 There's nothing subtle about this Marque Chindi Rug from CB2. Which is exactly why it might be just the vibrant focal point your bedroom needs…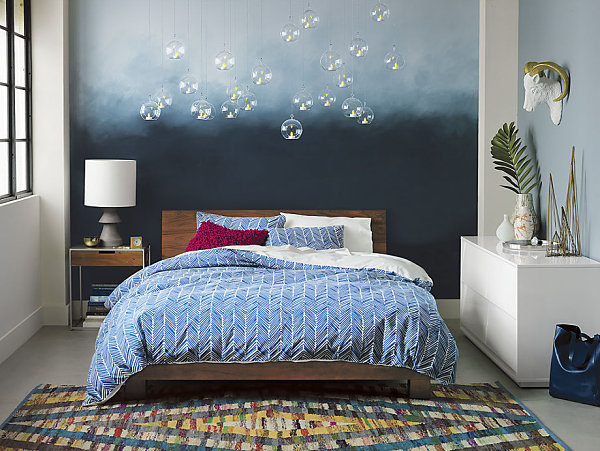 Note the placement of the rug above. It can be difficult to find a spot for a rug in a room that is dominated by a bed that covers most of the floor. We think the diamond-pattern rug is in just the right spot! But if you're short on floor space, you can always go with a narrow runner. The Andes Wool Rug from West Elm (shown below) is available in many different sizes and colors: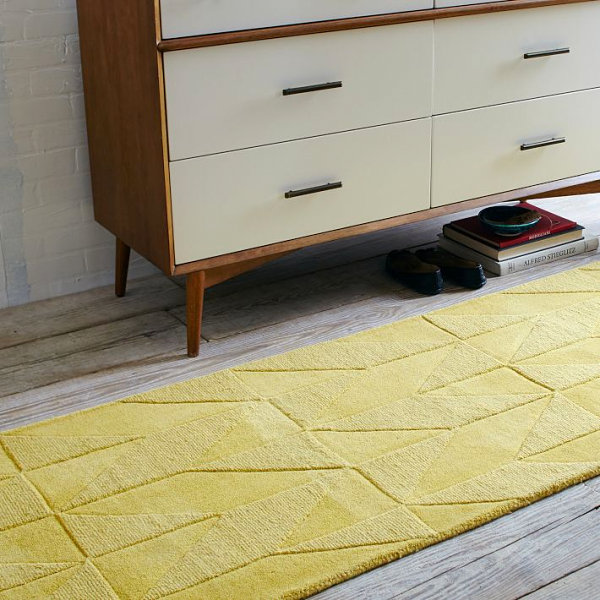 Get Crafty with the Bedside Tables
Two of the most important pieces of furniture in your bedroom are the bedside tables. They flank your bed in style, providing a place to set books, flowers and that soothing cup of tea. Buying new furniture–even small tables–can be expensive, especially if you want something truly unique. If you have the time, why not save a few bucks by getting creative? We can't stop admiring the DIY Studded Tree Stump Side Table below. Check out a full tutorial at A Beautiful Mess…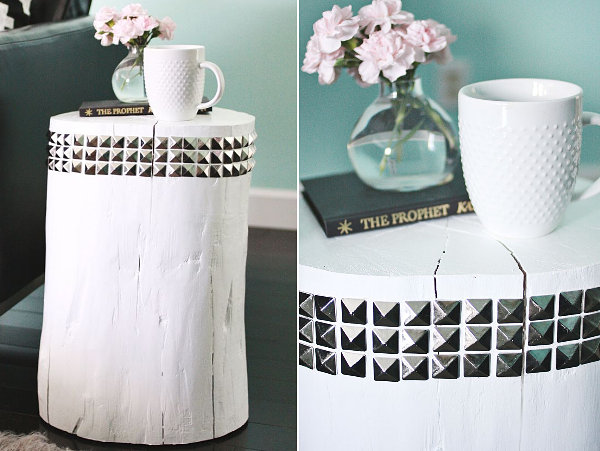 Looking for another fabulously unique DIY table tutorial from A Beautiful Mess? These brass and wood side tables were inspired by a popular Jonathan Adler design. Plus, they celebrate brass's big comeback! To adapt them to side table status, make sure they're the same size and place one on either side of the bed. Perfect for the bedroom with retro style…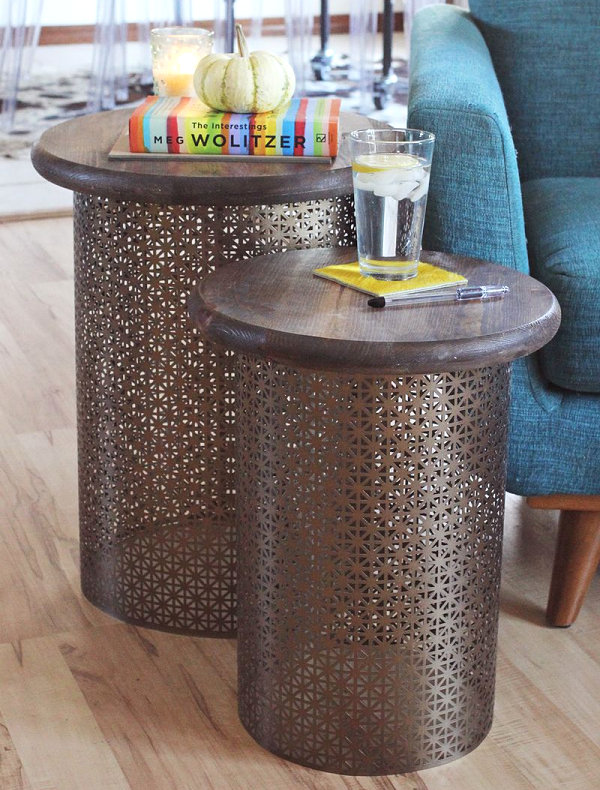 Another easy side table update? Simply repaint the bedside tables you have. Or find a pair of affordable pieces at a yard sale and make them over with a can of spray paint! We're loving how the "bedside table" below doubles as a dressing table! [from Lily Dong Photography for Nicole Benveniste Interior Design]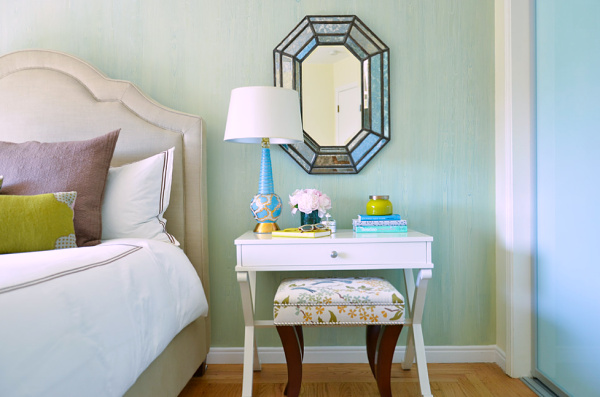 Brighten the Room with a Mirror
We end today's post with a selection that's sure to brighten your bedroom: Add a mirror! Mirrors reflect the natural light and create the illusion of space. Try leaning a tall mirror against the wall for a bold accent. [from Mikel Irastorza Interior Designers & Decorators]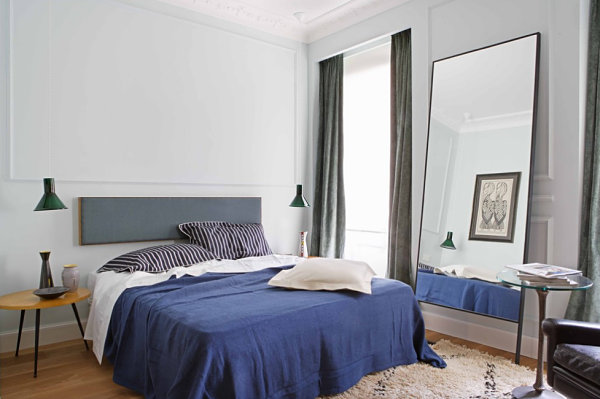 Then again, a small mirror can make just as big of an impact. Especially if it's situated above the bed. The sun-motif mirror below takes the place of a headboard. [from Lonny]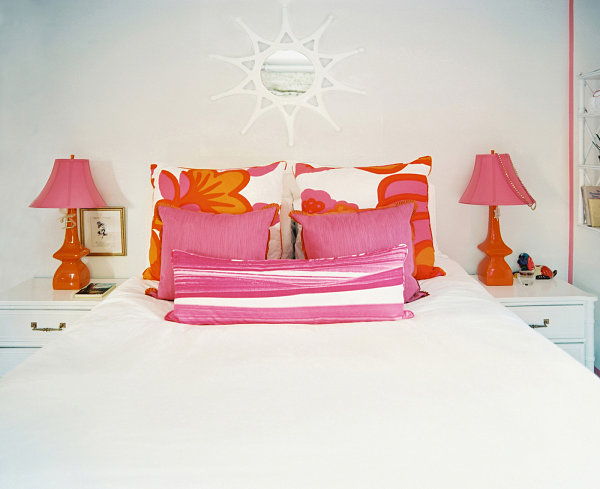 Sometimes more is more when it comes to mirrors… A grouping is a great way to add reflective style to your sleeping space. Check out the trio of round mirrors in the rosy bedroom below. [from DKOR Interiors Inc]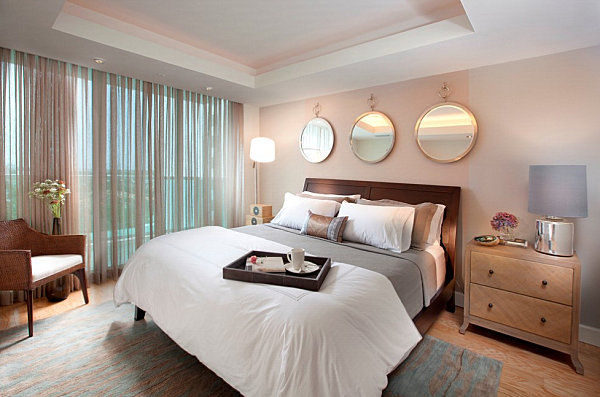 Or go with an entire wall of mirrors! This chic bedroom takes our breath away… [from John Bentley]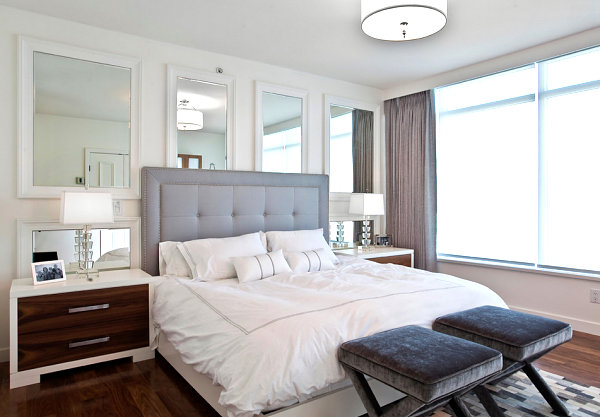 Ready for more makeover fun? Next week we head into bathroom makeover territory! Stay tuned for more fabulous ideas for a fresh 2014…
Liked the story? Share it with friends.