Your home's entrance–it's the first thing you and your guests see when approaching your front door. It's an opportunity to set a stylish tone for your entire abode. It's a chance to make a big statement with a few key choices. Today we celebrate the art of the grand entrance with a collection of front porch makeover ideas.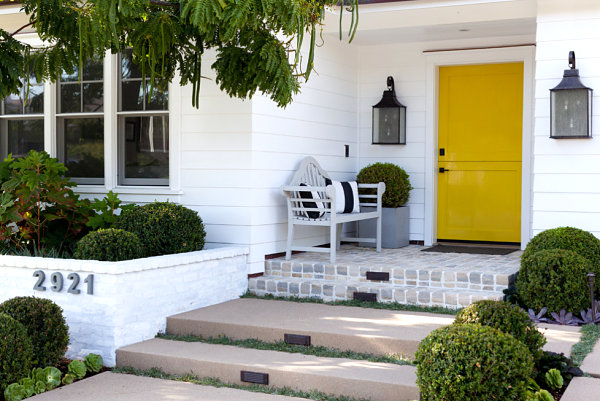 [from Garden Studio Design]
If you don't have a front porch, you can still take inspiration from today's post. Many of the tips below can be adapted to the area right outside of your front door, even if it's a compact patch of sidewalk. Enjoy browsing the images and suggestions that follow, and stay tuned for our upcoming post on entryway makeover ideas!
The Path to Your Door
We start with the big picture…the path that leads from the street to your door. In some parts of the world, it's starting to warm up after a very cold winter. As you find yourself walking to your door from the car (rather than running to escape the chill), perhaps you've had time to notice what's working and what needs work at your home's entrance. Are there plants you've lost during the winter freezes? Is there a porch light in need of a new bulb? Are there opportunities for landscaping? Take this time to assess the path to your door… [from KBC Developments]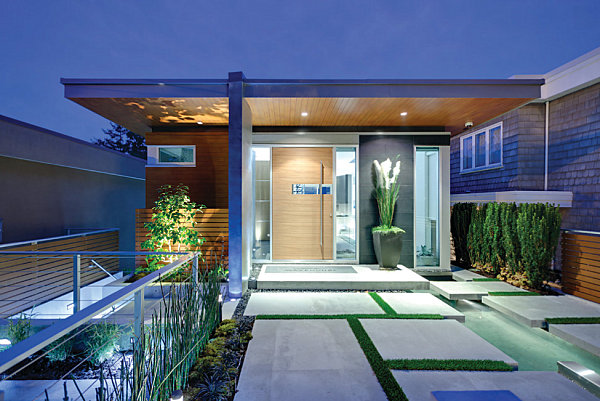 Does your front door need repainting? Are there areas leading to your home that can be landscaped to make the entrance even more welcoming? Is there room for a bench on your porch? [from Stephanie Wiley]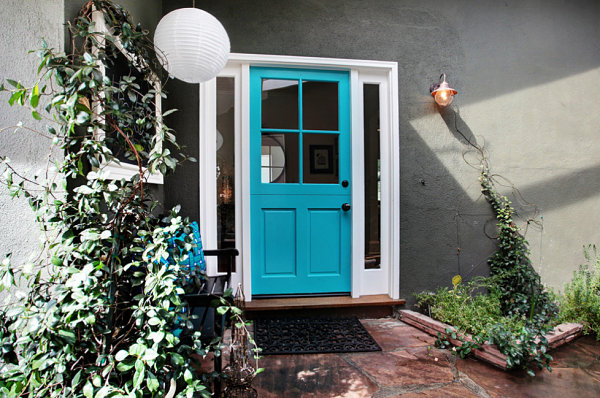 If you think of your home's entrance as an unofficial "welcoming committee" for guests, embellishing this area becomes a fun challenge. For example, can you line the walkway and porch with colorful plants? The exquisite home below features a range of billowing plants that draw the eye upward. [from Sutton Suzuki Architects]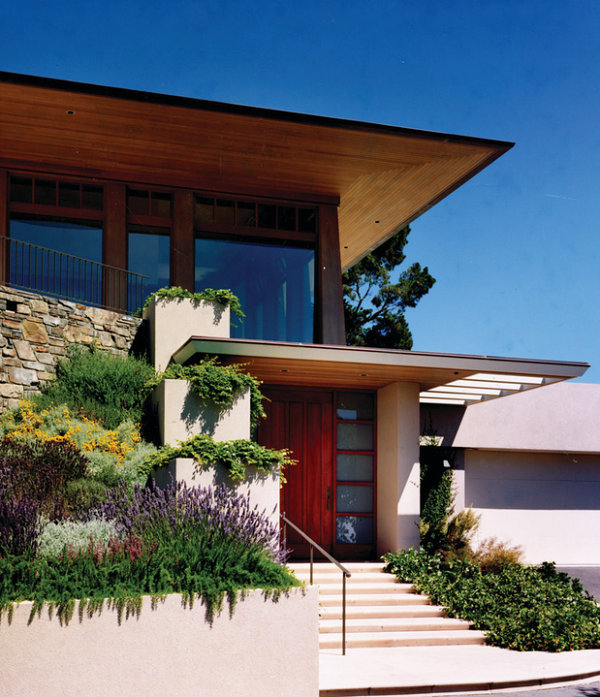 Then there's the path itself. Is it a sidewalk? If the pathway is dirt, is there an opportunity to add gravel and stepping stones?… [Photography by Bob Greenspan for Alan Mascord Design Associates]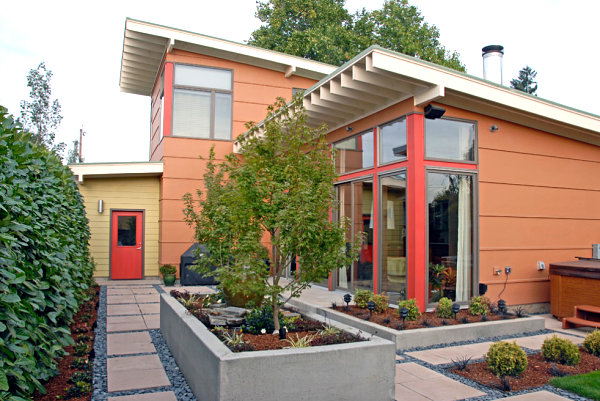 As we move closer to the front porch and entrance, we zone in on the area immediately surrounding the front door. Stay tuned for more details in the next section… [from Debora Carl]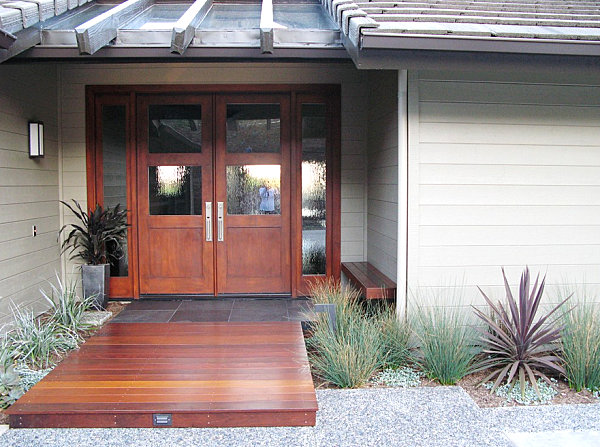 A Door That Gets Noticed
Let's talk doors. There's nothing like a front door that gets noticed! Perhaps it's an interesting design. Or a vivid paint color. This spring, try refreshing your door with a new hue. The eye-catching door below is decked out in Orange Parrot from Benjamin Moore. [from Jesse Im/bugonmyleaf]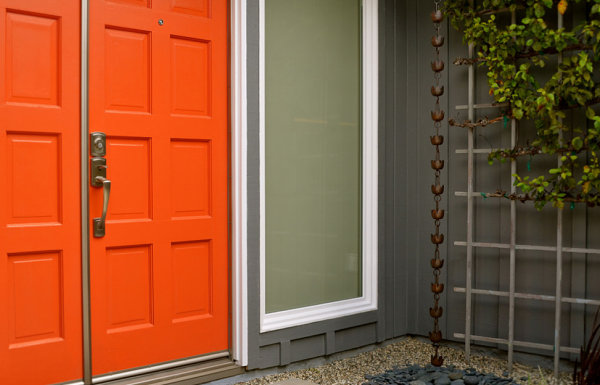 Painting the frame of a glass door is a great way to add a touch of color without overpowering the facade of your home. The bold orange hue below cheerfully wakes up this beige ranch-style home: [from Bud Dietrich, AIA]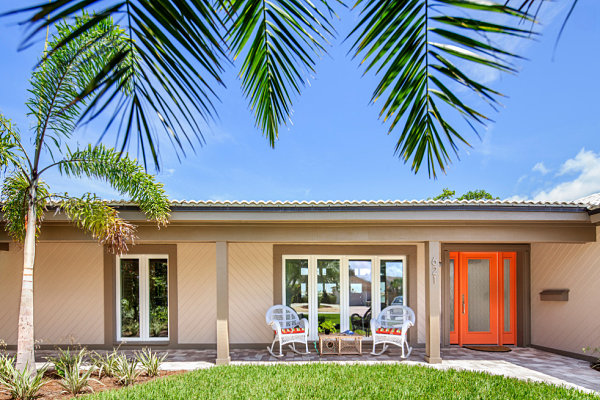 Below we see a similar effect, this time with a radiant shade of lime green, which nicely complements the neutral tones of the modern exterior. [from Steve Zagorski]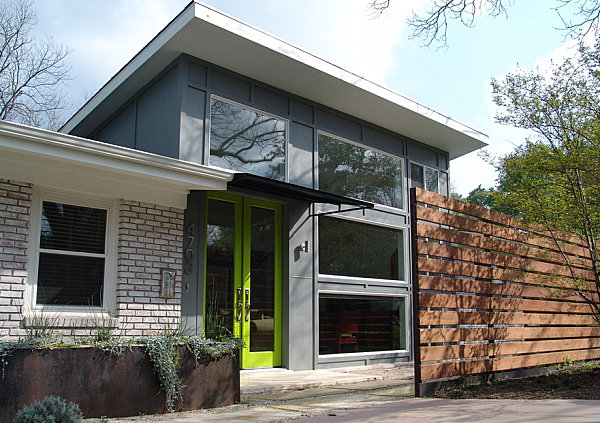 Remember that you can paint both sides of your door. What catches your eye on the outside can also be a bright focal point on the inside! [from A Beautiful Mess]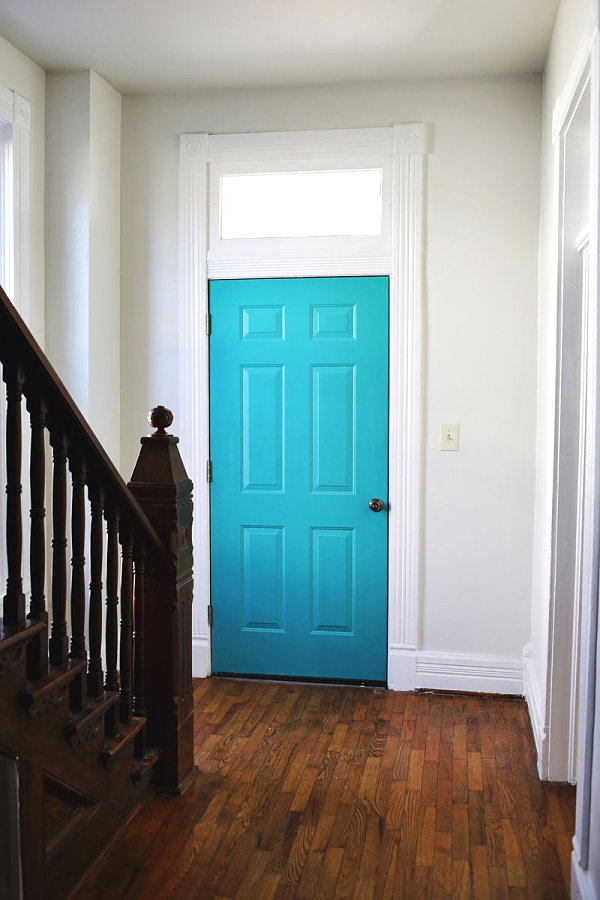 Eye-Catching Seating
If you're fortunate to have an entrance with a porch, don't overlook the benefits of stylish seating. Outdoor seating is a visual reminder that home is a place to stop and smell the roses! Seating near the entrance is a welcoming sign for guests, as well as an opportunity to add pizzazz to the exterior of your home. [from David Wakely Photography for Ana Williamson Architect]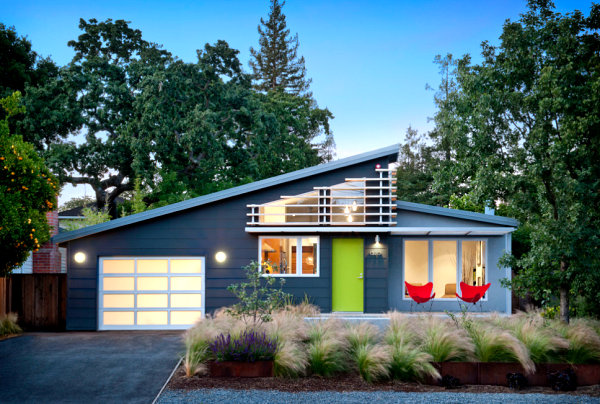 Adding seating to your home's entrance is a fabulous way to give your front porch a makeover. Choose from a range of online retailers to find the seating that suits you, or head to garage sales, thrift stores and estate sales to hunt for bargains. Once you've selected chairs or a bench, you can jazz up your seating with a few elements of comfort, such as pillows and a throw… [from Stephanie Wiley]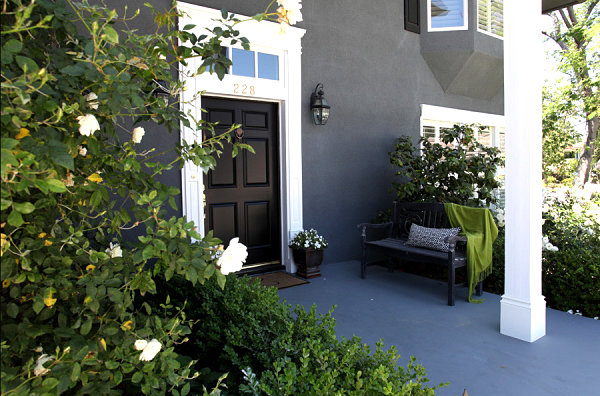 Don't hesitate to choose seating that mirrors the style of your home. If your house is contemporary, select a sleek bench, as shown on the front porch below. [from Debora Carl Landscape Design]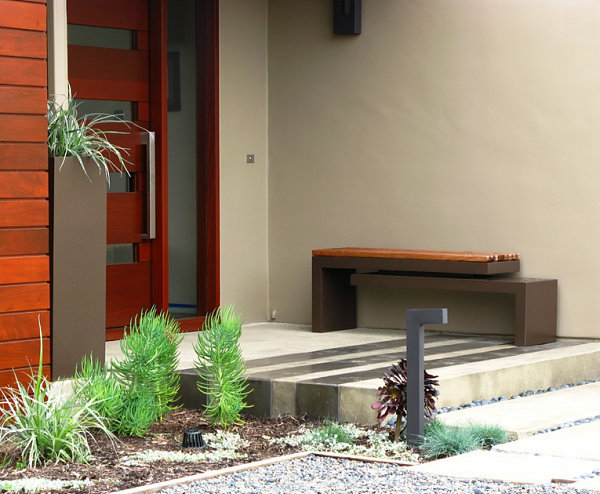 The next featured entrance is filled with memorable details, from the sunny yellow door to the wall-mounted bench that enhances the architectural style of the home. [from Kevin Wells Photography for LANDline Design]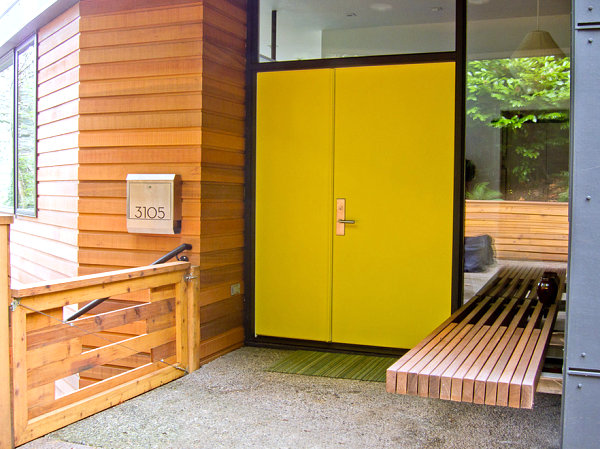 Finishing Touches
Don't forget the finishing touches! Light fixtures, address numbers and planters are a few details that can give your home's entrance a true boost. [from RW Anderson Homes]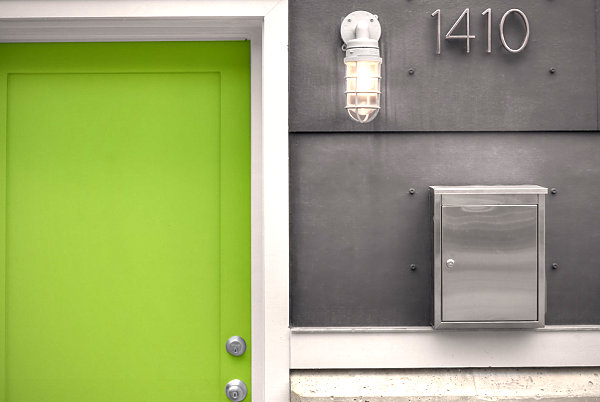 When it comes to planters near the front door, choose colors and styles that enhance the architecture and exterior paint of your home. [from Verge Architecture & Design]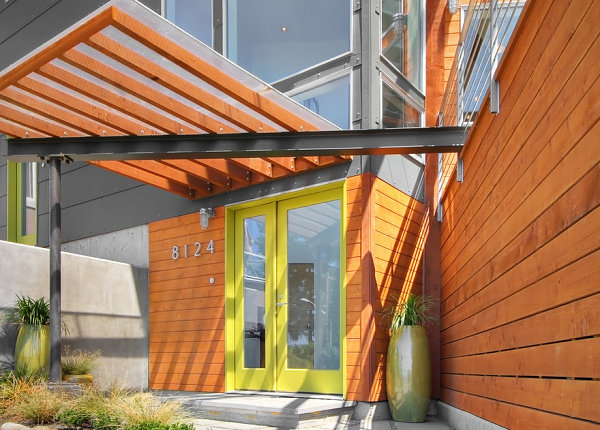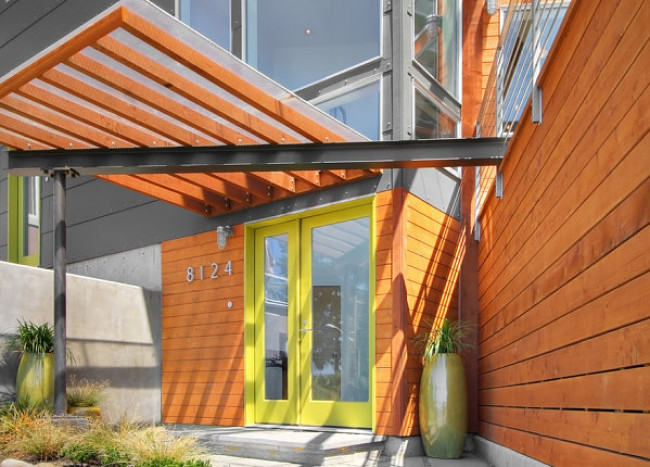 You can even add flair with an unexpected feature such as a pendant light. The Mid-Century modern selection below channels the sunburst forms and atomic style of '50s/'60s design. [from Ketchum Photography for H3K Design]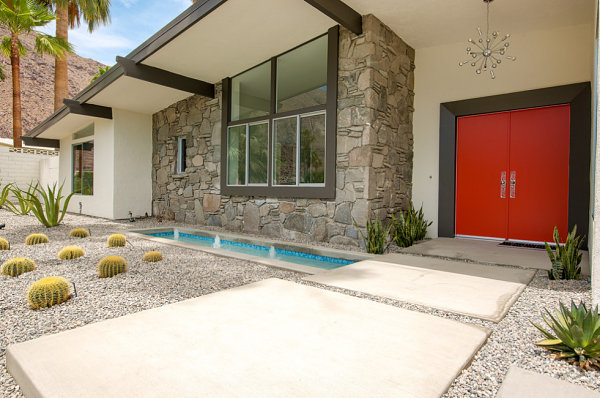 Enticing pathways. Stunning landscaping. A freshly painted door. Comfy seating. Stylish light fixtures. Greenery-filled planters. These are a few of the many ways you can give the front porch of your home an unforgettable makeover. Are you planning on beautifying your home's entrance this spring? Share your thoughts and ideas below… 
Liked the story? Share it with friends.