Happy New Year, Everyone! Kate here, and you may have noticed that I just can't stop writing posts about making a fresh start in 2014! Can you tell I love this time of the year?! It's a season of new beginnings, setting goals and looking forward to the months ahead. Do any of you set design goals with your home in mind? When those holiday decorations come down, it's clear just how empty a room can look without a little bit of sparkle. There are ways to keep the shimmer all year long, such as incorporating radiant string lights into your decor. But sometimes when the tree and garlands have been packed away, the living room becomes a clean slate that's filled with endless possibilities…
That sentiment is exactly what inspired today's post! On a personal note, I'm staring at a big blank space against my living room wall–a space that was once filled with a shiny tinsel tree and colorful ornaments. Suddenly it's clear that a large potted palm would be the perfect accent to occupy the area. And somehow my muted green and white rug looks like a total mismatch next to the colorful vivid artwork that hangs nearby. Why didn't I notice that before?! And there's surprisingly little color on our gray couch. Can anyone relate here? After the holidays, we're all on a budget. But what if a few easy design tricks could help you get the living room makeover of your dreams?! Today we share 5 simple ideas to get you started. Pick one, or choose them all!
Paint an Accent Wall
We begin with the most involved makeover task on today's list. Why? Because if this is an option for you, you'll want to do it before you incorporate the other elements suggested below. The good news about painting an accent wall is that you can do it over the weekend, and it's not too taxing. The excitement of adding a new color to your space will outweigh the tedium of the painting process. And before you know it, you'll be done–it's just one wall, after all! Below we see a chocolate accent wall that perfectly offsets unique collectibles such as coral. [from Pleasant Living]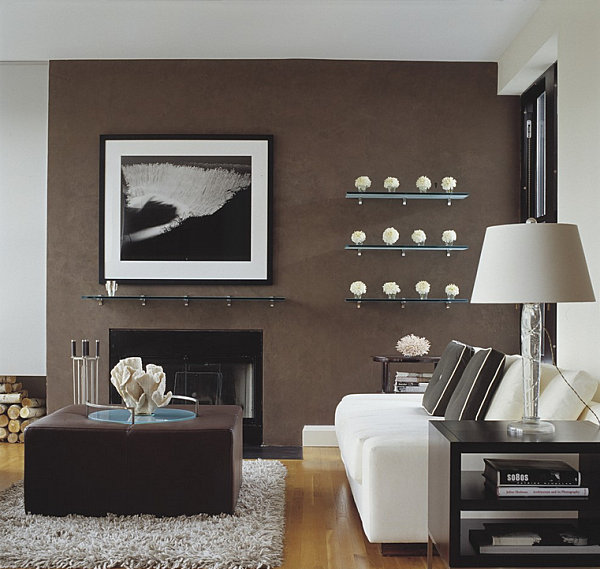 Should an accent wall always match the decor in your space? Not necessarily! Don't worry if your accent color of choice has no counterpart shade on the couch, rug or shelving. Sometimes a unique wall color can stand alone, as shown in the space below from Raine Heidenberg Interior Design: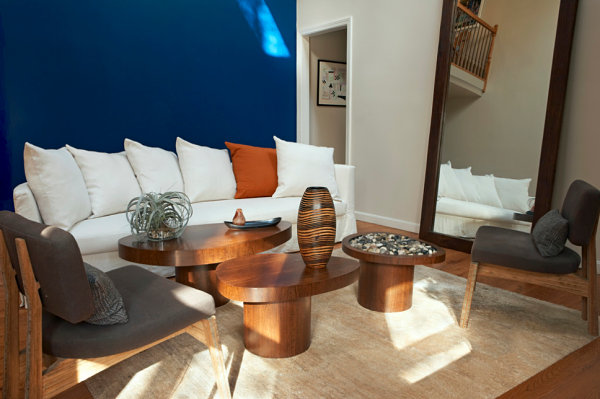 Then again, an accent wall can mirror colorful decor already in place…or inspire a few new purchases, such as rugs and throw pillows. Red is a popular accent color, as you can see in the next featured image [from K2 Design Group]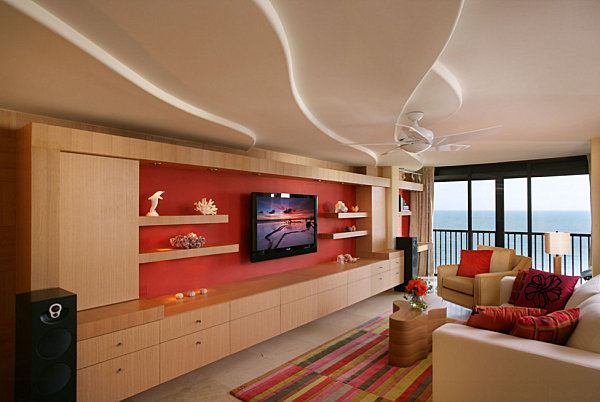 While you definitely want to select a shade that you love and can live with, don't be afraid to push the boundaries. Often the most unusual choices make the biggest impact. Below we see a gorgeous violet wall in a modern space featuring the Arne Jacobsen Egg Chair. [from Stardust Modern]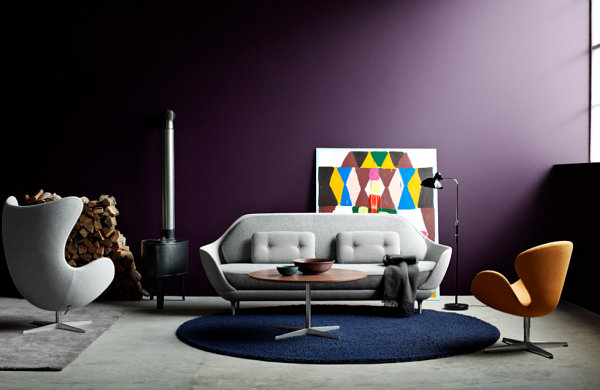 Buy a New Rug
Yes, sometimes it's just that easy, folks! A new rug can lay the foundation for a thoughtfully designed space. And sometimes when you get the rug that's just right for you, it can call attention to the other design elements in the room that don't quite work. Below we see my latest obsession (or shall we say "rug-session"?)… It's the Square Tile Block Printed Cotton Dhurrie, hand block printed by artisans in Jaipur. Did I mention that this lovely rug is on sale, and the 5′ x 8′ version is only $69.99?!!! I just ordered it, and I can't wait to see how it looks in my space…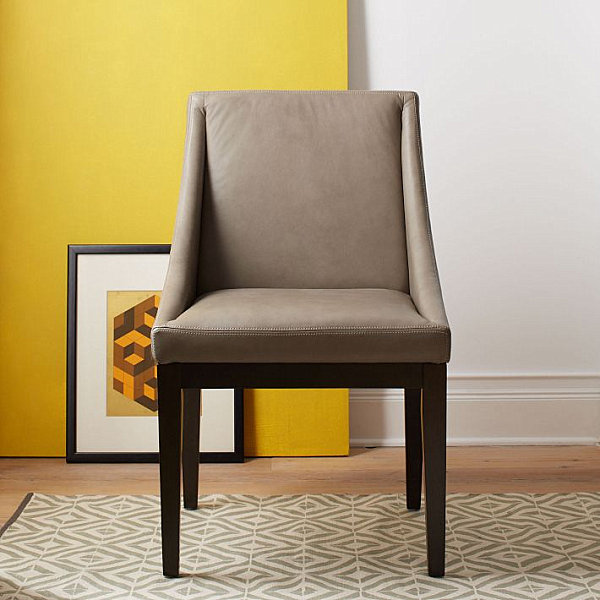 For another dhurrie rug that's available at a great price, check out this 9-stripe dhurrie from CB2. Notice how the colorful bands create an instant palette for the work space in the image. Don't hesitate to let your rug help define your living room color scheme…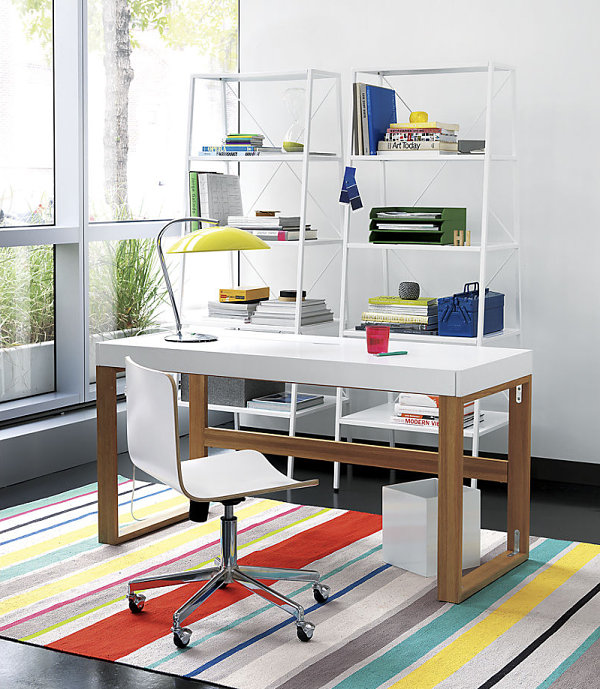 This next rug isn't exactly on sale, but we predict it will be one of the season's biggest hits! And why wouldn't it be? Check out those colorful zigzag lines, beautifully delivered with the help of super-soft handwoven New Zealand wool! It's the Beni Rug from CB2, and it can add some much-needed texture to your winter white space or add a dash of neutral to a room filled with color. Yummy, don't you think?!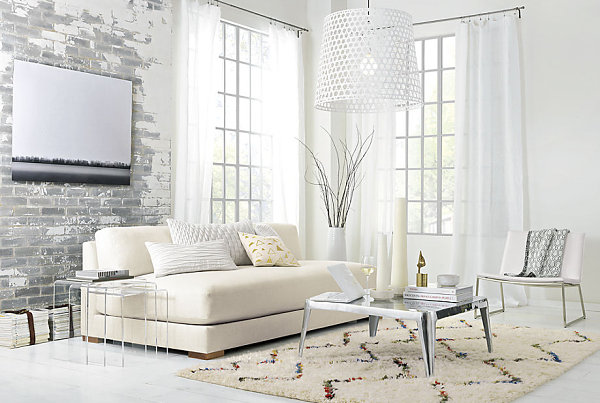 Sometimes the right rug can help introduce a much-needed pattern to your living room.The Pembetatu Cotton Dhurrie Rug from CB2 takes its name from the Swahili word for triangle. The piece features a vivid pattern, as well as vibrant colors. Hues such as orange, red and aqua add a subtle yet powerful dose of color to the living room.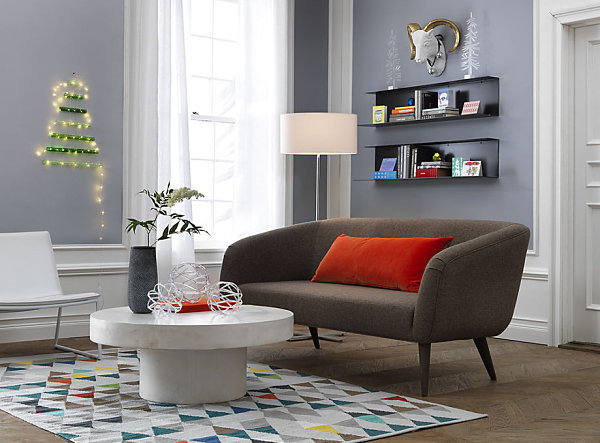 We end this section with an image that proves there's a rug for every space–no matter what size or layout you're working with! And don't forget that colorful and/or patterned rugs are perfect for rooms with white walls. A powerful rug can really anchor the space, as shown below. [photo by John R. Rogers for Watermark & Company]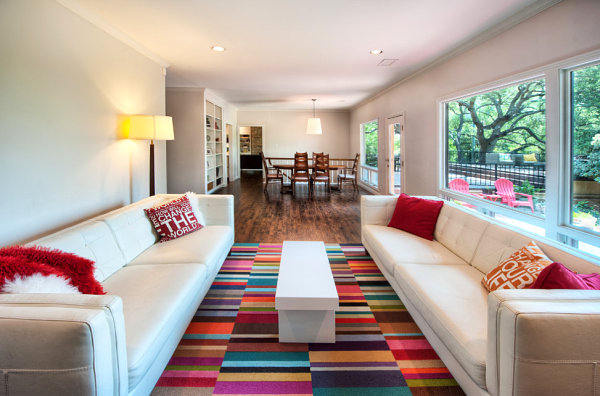 Change Your Color Palette
The wall is painted, and a new rug is in place. Now is the perfect time to change your color palette. But shouldn't you have done this first and foremost? Not necessarily! For starters, you can change your palette without involving a paint can or a new color on the floor. If you skip the two steps above, this is the perfect place to jump in! And if you've just added an accent color to the wall or a new rug to your living space, continue the makeover by switching out one or more of your accent colors to freshen up the room. The easiest way to do this: with throw pillows, blankets and small decor such as vases! Below we see coral accents from West Elm: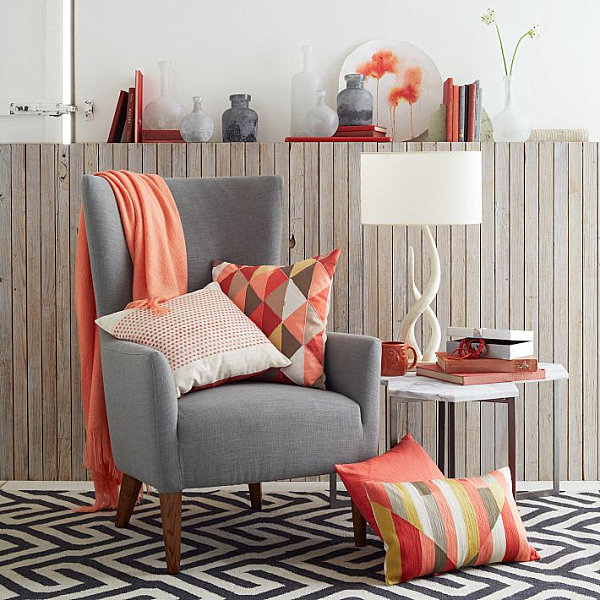 I'm on the hunt for a new living space accent color… When I look at this shot of the home of Jonathan Adler and Simon Doonan, I can't help but be inspired! An interesting palette of teal, gold and royal blue is unexpected, luxe and harmonious–all at the same time! [from Lonny]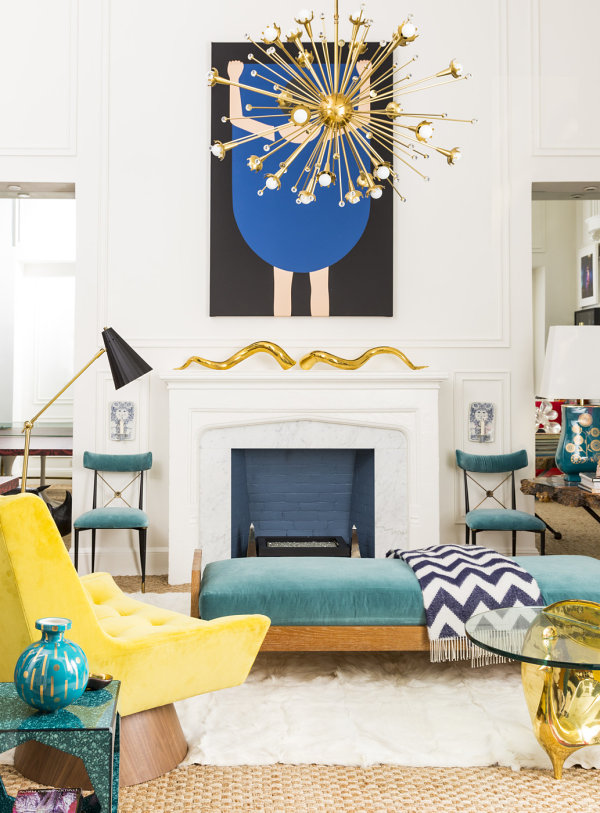 In addition to throws, pillows and vases, you can also make a big statement with floor lamps in your living space. I'm particularly drawn to the newest blue selections from Crate & Barrel, including the Mick Blue Floor Lamp shown below (far right):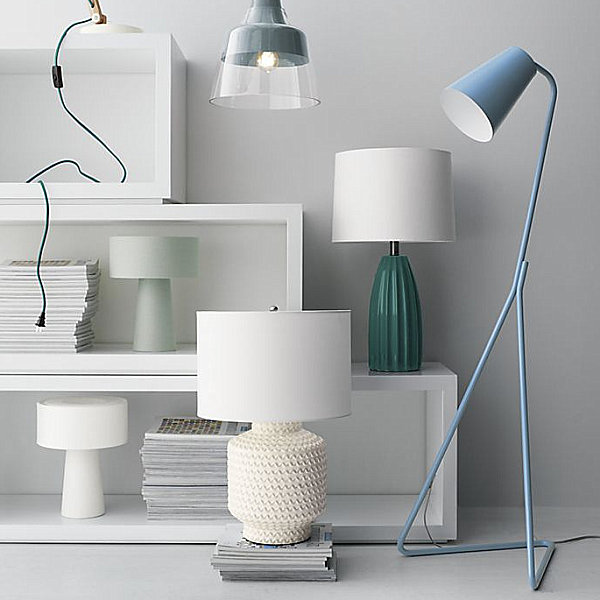 Accent colors are a great way to spruce up a neutral interior. Don't feel the need to stick with only one or two shades. A rainbow of colors enhances the gray living room below. However, it never hurts to select one or two main standout hues. The orange-red of the coffee table and the bright yellow of the lamps definitely serve as focal points… [from Lonny]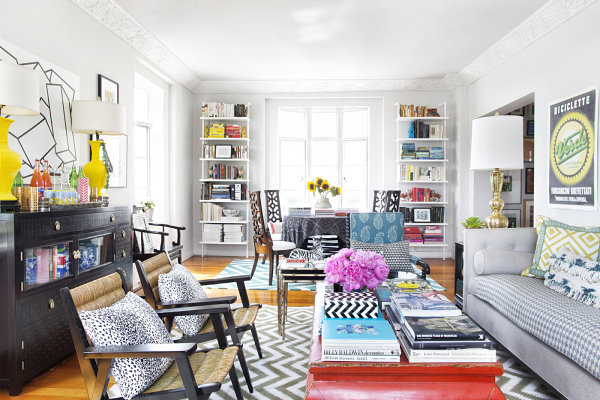 Purchase a New Furnishing
Another great way to change the look of your living room? Buy a new furniture piece! Whether you switch out your end table with a more colorful version to enhance your new palette or you buy the long-awaited media console that finally solves your storage and display issues, one new piece can do wonders to breathe life into a room. Let's start with some color, like these vivid furniture finds from Jonathan Adler…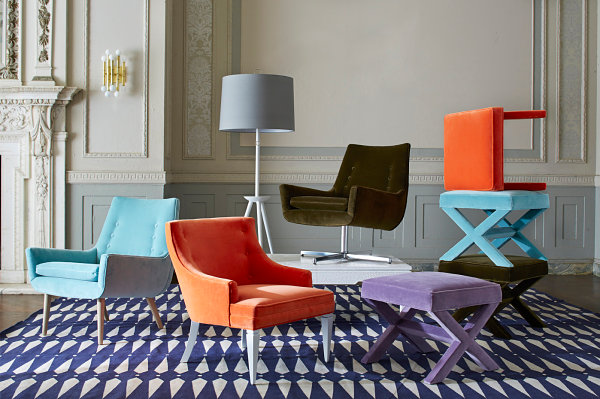 Sometimes a new furniture purchase can be more about fitting the space well than making a big impact. For example, the living room below is filled with colorful furniture and functional items. The media area needs to be kept in check with style. The answer: a sleek storage solution that doesn't attract too much attention. Enter the Chill White Mini Media Console from CB2…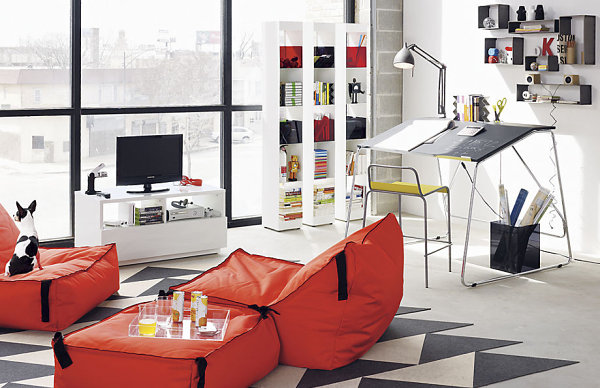 Need a place to put your small decor and collectibles? How about one or two eye-catching bookshelves? The Go-Cart Aqua Five-Shelf Bookcase from CB2 is tall, lean and colorful. Not to mention, affordable! Doesn't it add a vibrant dash of color to the next featured space?!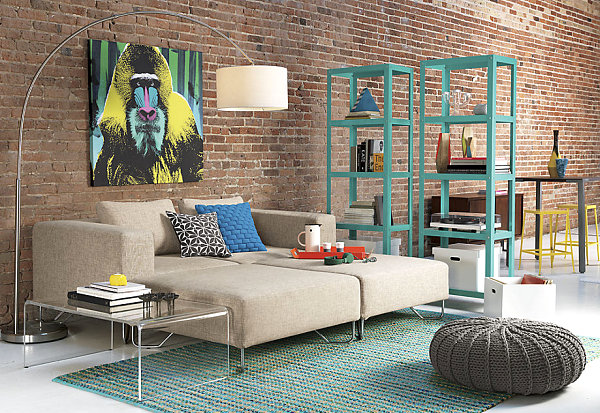 Pay Attention to the Details
Are you on a budget? That makes two of us! If new furniture isn't in the cards, or if you rent and you aren't able to use paint to your advantage, here's an interior design tip: little things mean a lot! That's right–sometimes the boldest changes we can make are actually small, affordable ones. Start by using what you have. For example, if you're like me and you have a bookshelf filled with knick-knacks that are randomly arranged, spend an afternoon creating artful vignettes. It's amazing how putting the same "stuff" in different places can make everything look new! [from Jonathan Adler's "100 Ways to Happy Chic Your Life" via Sterling Publishing]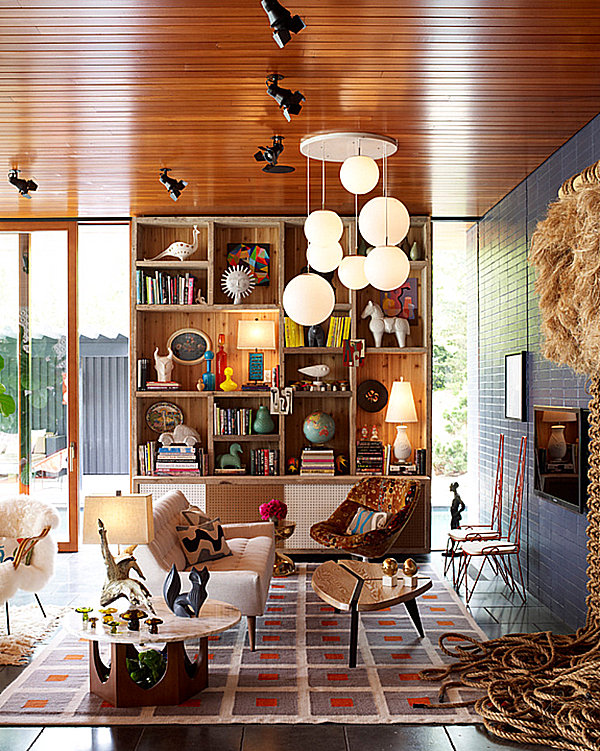 While the plants in the next picture are quite substantial (love them!), don't forget that even a small tabletop plant can make a big difference. Opt for a grouping of succulents in a modern planter, or display a spherical terrarium on your coffee table. [from John Lum Architecture]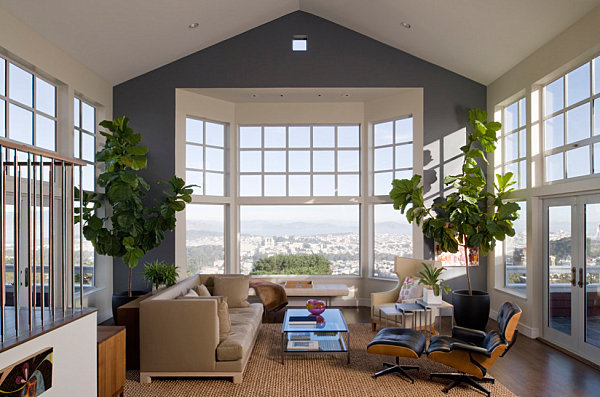 And don't forget that one small purchase such as a vibrant vase can wake up a tired space. Next we see two radiant pieces on the windowsill of a modern bedroom. These vases are new offerings from CB2. The color combination is quite striking! I have my eye on the Xystum Color Block Vase, shown below to the right: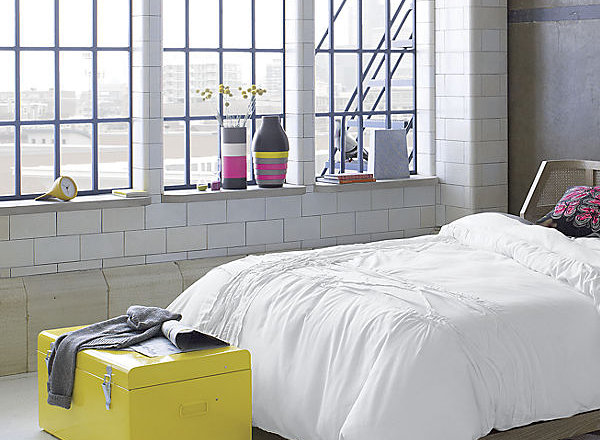 So many ideas… My plan of attack: start with an affordable rug, then add one or two small decor pieces to incorporate new colorful accents. I also hope to spend some time rearranging the items that are haphazardly placed on my built-in bookshelves. If the results are good, I just might share them with you later this month… Best of luck with your living room makeover as well! I'd love to hear about what you're planning. Don't hesitate to leave a comment below!