They're a vision in blue! Today's featured finds are striking precisely because they showcase a range of azure shades, from peacock to steel. That's what we love about blue–it can be soothing, powerful, or electrically jolting! Yes, it's definitely a versatile hue… We at Decoist love shining the spotlight on furnishings in a rainbow of colors. So far in our series, we've enjoyed bold red, radiant orange, sunny yellow and chic green furniture finds. In this post, we're all about the blue!
We've grouped today's finds by furniture type, starting with seating and ending with a series of accessories to ice the cake that is your beautifully designed room. If you're a fan of blue, you are definitely in luck this season! It's one of fall's hot colors, thanks to Pantone's color predictions, as well as a renewed interest in vibrant hues.
We've included helpful links within the text below–in case you're in the shopping mood! Enjoy, and don't forget to share your favorite shade of blue by leaving a comment after you've finished browsing…
Fabulous Blue Seating
Let's start with some comfy seating! This Avec Peacock Apartment Sofa from CB2 boasts a ton of' '50s style. We like it so much, we've featured it in a variety of our posts–there's just something about that color, those clean lines, the tufted back, and the piece's size (which makes it perfect for compact rooms)!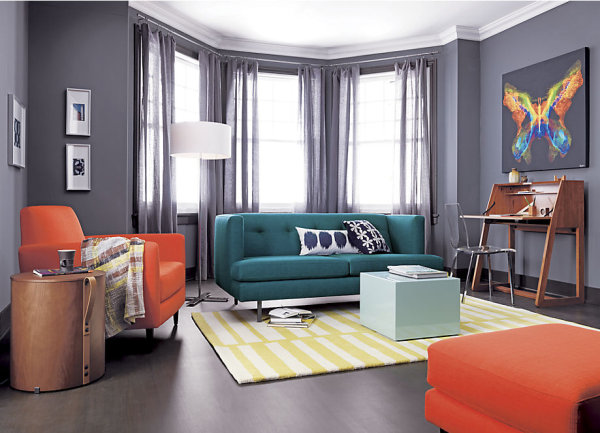 For another take on tufted seating, check out this Chester Tufted Upholstered Sofa from West Elm. A deep blue color, curvy silhouette and tapered legs make it ideal for elegant spaces.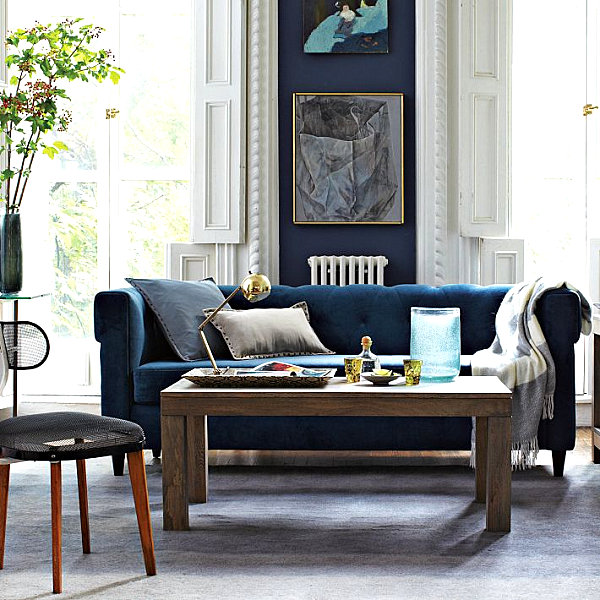 For a smaller take on luxury upholstered seating, you can always go with a comfy chair! This Curved Upholstered Chair in Steel Blue from West Elm is celebrated for its sweeping form, glam look and soft velvet finish…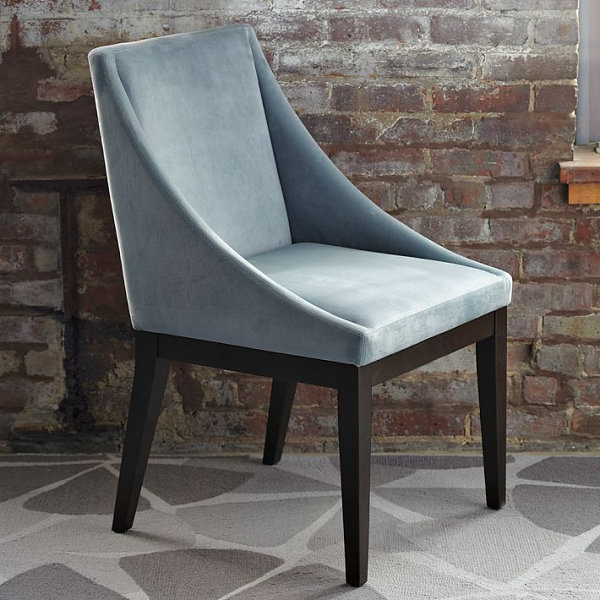 Do you know someone with a blue and white kitchen? Or an all-white culinary space with blue and white accents? These French Cafe Barstools in Blue from Pottery Barn would be the perfect complement to a bistro-style room. There's just something Parisian about them… Plus, with all-weather wicker seats, they're great for the outdoors!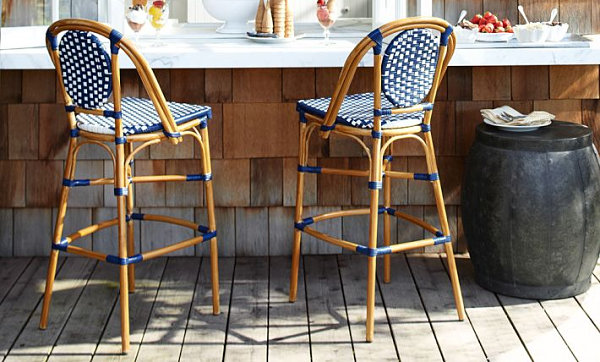 Geometric style is all the rage. Anything that mimics the faceted shape of a gemstone is undeniably hot in today's design world. Which is why this Facetta Chair from CB2 makes a big statement in light blue. Designed by Manuel Saez, the piece features a Mid-Century look, a cyan poly-weave tweed, and the ability to swivel! Below we see the piece pictured with the Shroom Side Table, another blue find: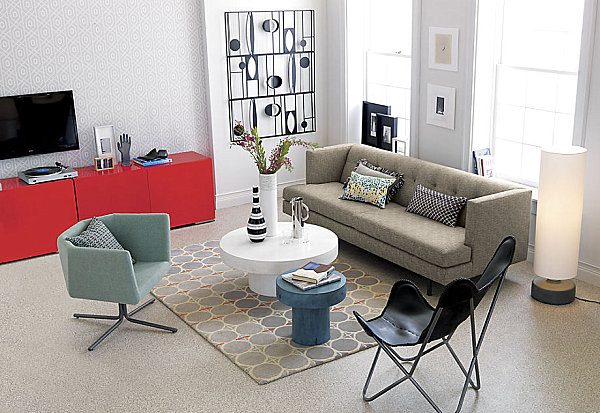 Tables in Shades of Blue
Speaking of tables, now it's time to turn our attention to a collection of blue tables that wow with their bold hues. We're talking vivid blue reminiscent of Pantone's Monaco Blue, a hot color choice for 2013! Check out the Circuit Electric Blue Coffee Table from CB2, which showcases a vibrant blue lacquer that's applied by hand to accentuate the wood grain of the piece: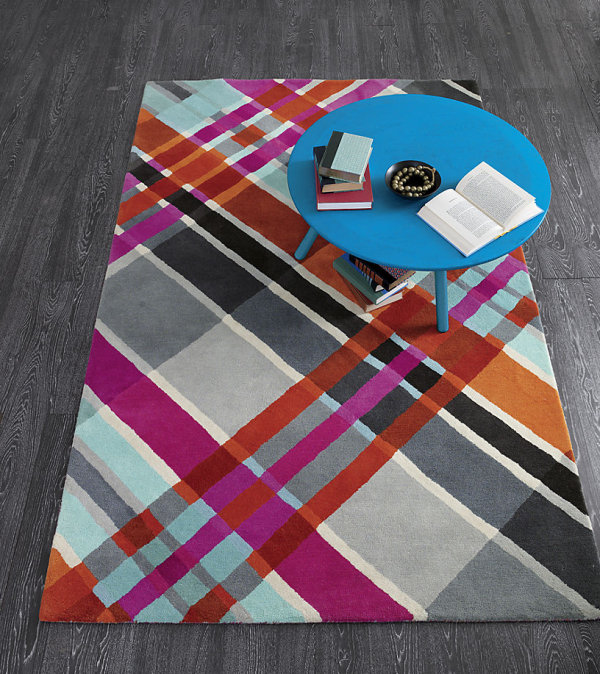 What's better than a stylish blue table? A stylish blue table on wheels! This PS 2012 Coffee Table from IKEA includes casters that make it conveniently mobile. If you're in a small space, you know the importance of being able to wheel your furniture to the side when company arrives… [via Remodelista]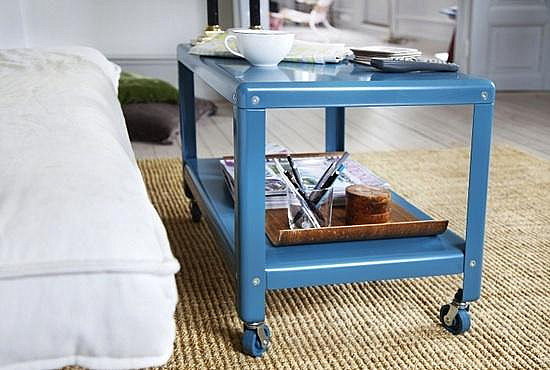 Okay, so technically this next piece is a dresser rather than a table! But like a table, it offers plenty of surface-top space. Say hello to the Latitude Slate Low Dresser from CB2, complete with long lines and a glossy blue finish. Anyone else noticing how CB2 is making a BIG statement with blue pieces this season?!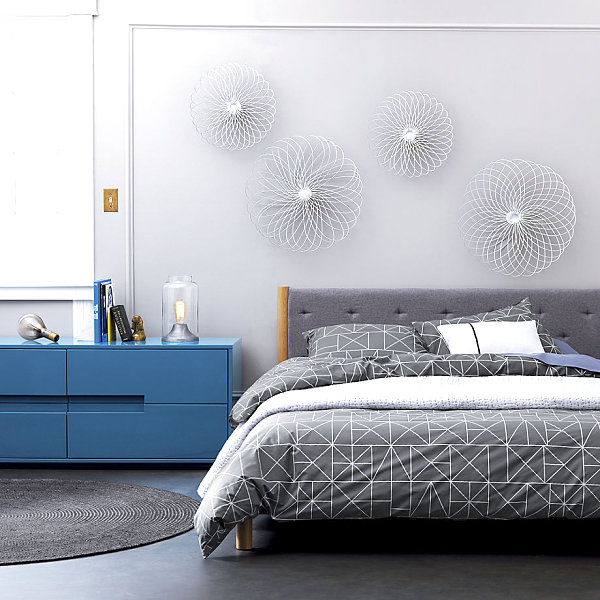 The Mid-Century Nightstand in Thai Blue from West Elm combines a distinct shade with the signature style of '50s and '60s furniture. Note that the piece's knobs boast an antique bronze finish for a warm touch…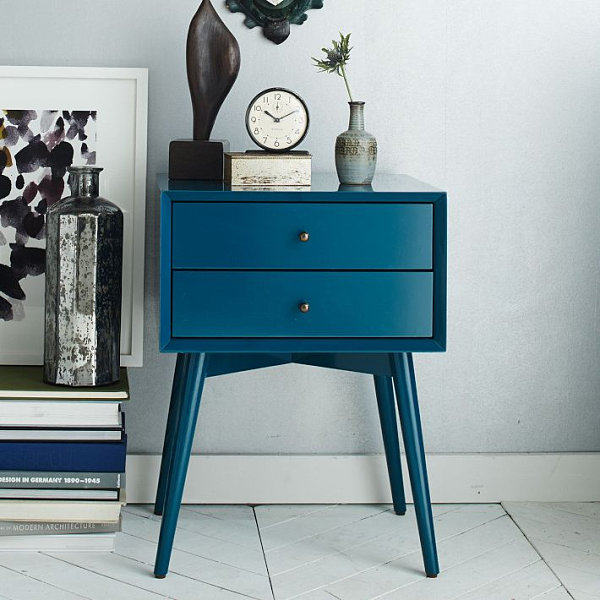 For a slightly tropical take on the blue furniture craze, check out the Kruger Harbor Blue Side Table from Crate & Barrel. With a bamboo-like lattice design, the piece incorporates resin wicker over a powder-coated aluminum frame. In other words, you can use this eye-catching find inside or out!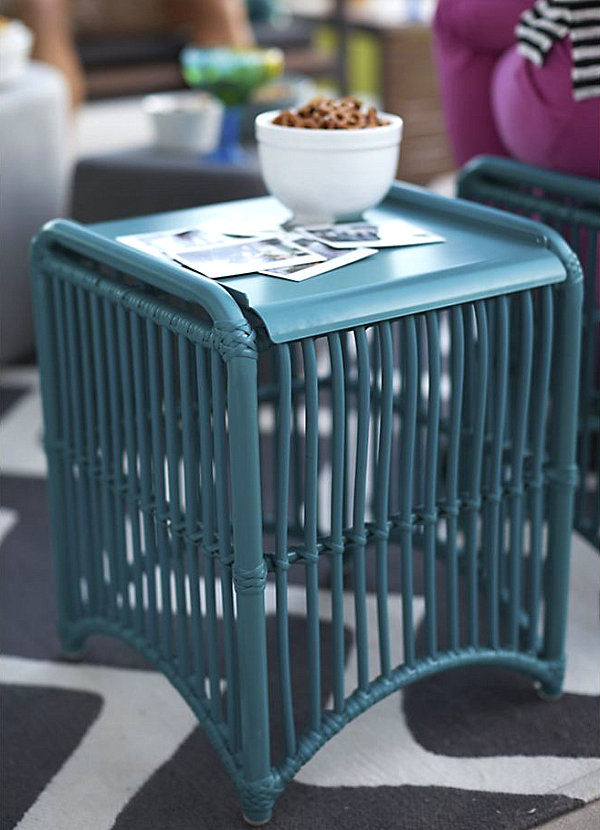 We end our blue table roundup by profiling the Gates Lacquer Side Table in Thai Blue from West Elm, which offers a new take on traditional Thai bamboo tables. Crafted of engineered wood with a lacquered finish, the piece's cylindrical form and rich teal-meets-cobalt tone makes it perfect for accenting a neutral space (and complementing other bold finds, such as throw pillows):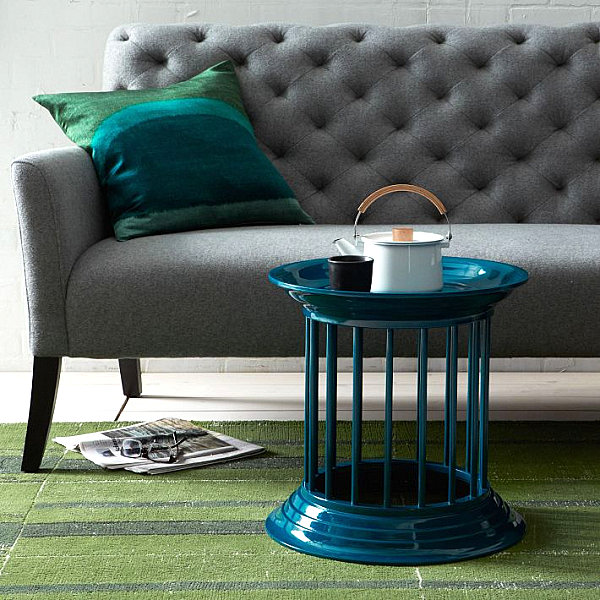 Blue Accessories to Top It All Off
With your blue furniture in place, it's now time to make a statement with a series of accessories… This Turquoise Herringbone Rug from Jonathan Adler is an update on the much-used chevron pattern. Made from llama's wool, the piece is hand-loomed in Peru!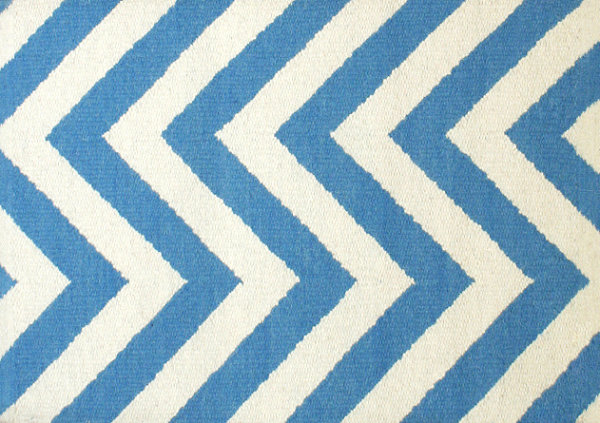 For an all-blue rug with a geometric pattern, check out the Honeycomb Textured Wool Rug in Regal Blue from West Elm. With a tile-like design, this 100% wool piece will instantly add a rich, saturated look to your space: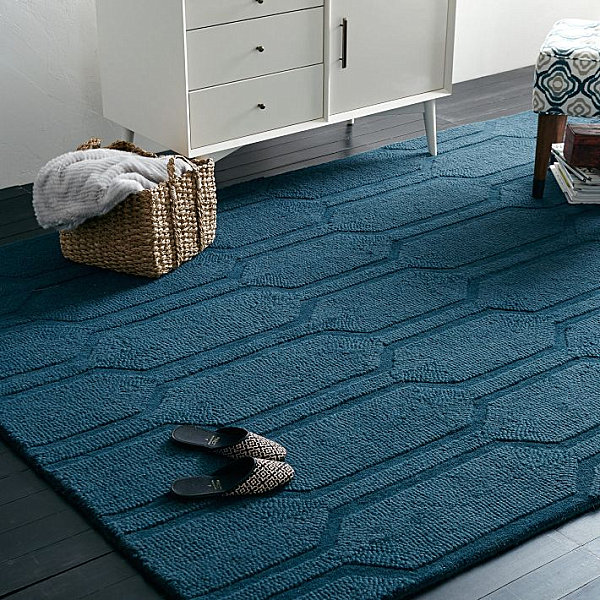 Wow! This Oversized Abstract Giclée Print from Williams-Sonoma has a retro-meets-modern look! Taken from an original oil painting by Canadian artist Katie Brennan, the piece uses repetition to its advantage. Note that the print is framed behind Plexiglas and surrounded with a white wooden border…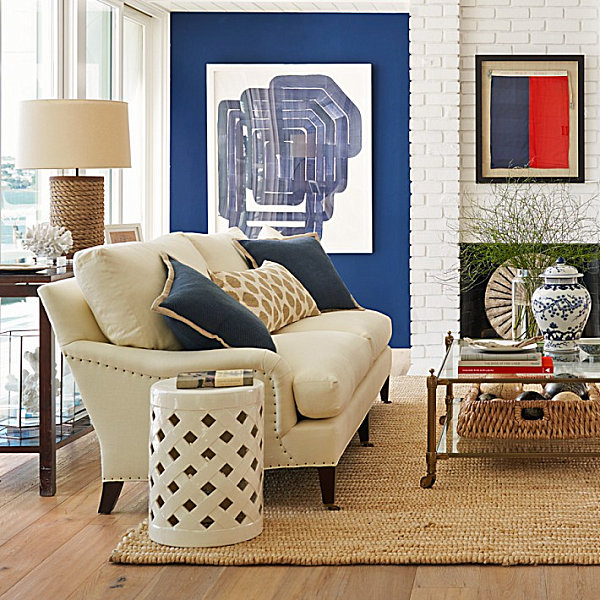 A dotted grid is the standout feature of the Connect Blue Cube Shelf from CB2. That, and of course a blue powdercoat finish! This compact metal item is a modern take on the pedestal shelf…
With the Blue Coral Embroidered Lumbar Pillow Cover from Pottery Barn, you can enjoy summer all year round at home! A gorgeous, striking design makes this pure cotton piece a standout, along with hand embroidery and satin stitching. Note that the insert is sold separately: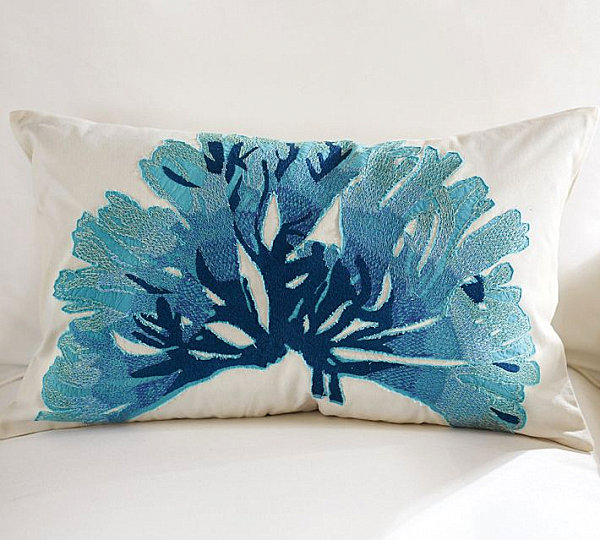 We end with a fun item that will puzzle you (no pun intended)!… The Micro Cubebot in Blue from Restoration Hardware consists of a cube that unfolds into an elastic jointed robot that can be arranged in a variety of poses. Getting it back into cube form is where the real challenge arises! This clever game/sculpture is definitely display-worthy.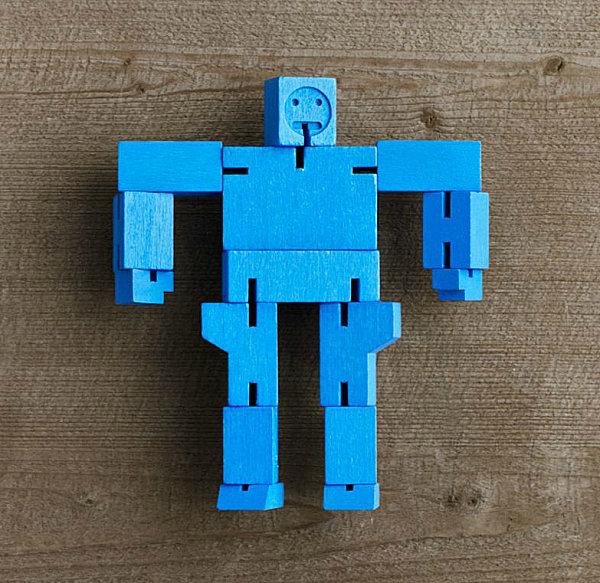 Now we want to hear your thoughts on this season's blue craze! Are you a fan of Monaco Blue? What about teal? Perhaps powder blue is your color of choice, or a deep midnight shade. Share your thoughts by leaving a comment below…