We at Decoist love a radiant dose of color! That's why we've created a series of posts featuring furniture finds in specific hues. We've focused on bold red furnishings, as well as vibrant orange finds. Last week we shined a sunny spotlight on the color yellow. Today it's all about the beauty of green. Verdant, crisp, enticing green.
I won't lie–green is my all-time favorite color. You can imagine how thrilled I was when Pantone announced Emerald Green as its 2013 Color of the Year! Yet finding emerald green furnishings hasn't been a piece of cake. In fact, when I started researching this post, I had no idea what I'd find. This fall, the trendy hues are bright shades of red, blue and yellow. Where does green fit in, aside from the Kelly green that put its stamp on the Hollywood Regency revival that hit a few years back? Believe it or not, there is plenty of green to be found. And this fall, it comes in many shades…
Green Seating
We begin with green seating. In fact, green is an oh-so-popular color for chairs and sofas! The color can go modern, traditional or retro, making it extremely versatile. Speaking of retro, below we see the Club Moss Sofa with Piping from CB2. This piece offers a new spin on retro design, especially since white piping emphasizes the sleek lines of the sofa. And you've gotta love that mossy green hue: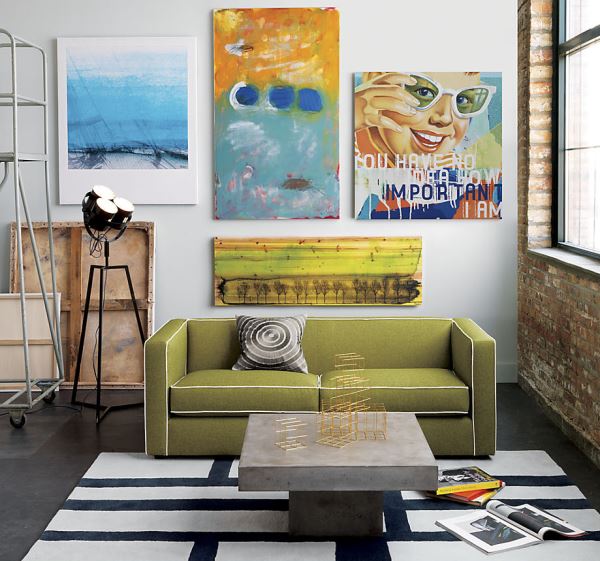 For a slightly more citrusy shade, check out this Uno Kiwi Right Arm Sofa from CB2. Undeniably modern, this piece can be used alone as a chaise or paired with a partner. And what a clean, contemporary look it brings to the room it inhabits…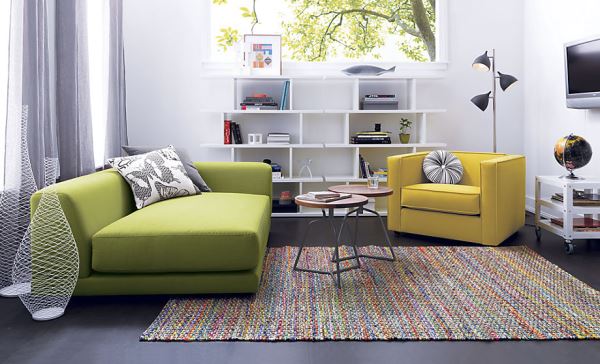 Let's head back to moss, this time in a slightly deeper, more olive shade. It's the Slipper Chair from West Elm, upholstered in Performance Velvet (in a shade of Moss). And once again, we have a clean-lined furniture find that's undeniably chic, thanks to an enticing shade of green. Did we mention that this ultra comfy piece is perfect for a variety of rooms? Give it its own spot in your living area or tuck it in the corner of your bedroom!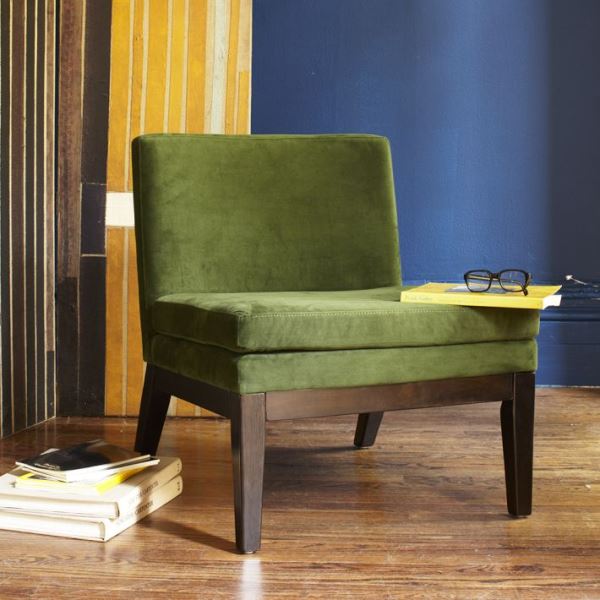 We now head into bluer territory with the Tulip Chair from West Elm. A solid wood frame and curved form are distinguishing features of the piece. While it's available in a range of fabrics and colors, we're a fan of the Performance Velvet in Silver Sage. Put this chair in your space, and begin counting the compliments. We think it's more refreshing than a dish of sorbet!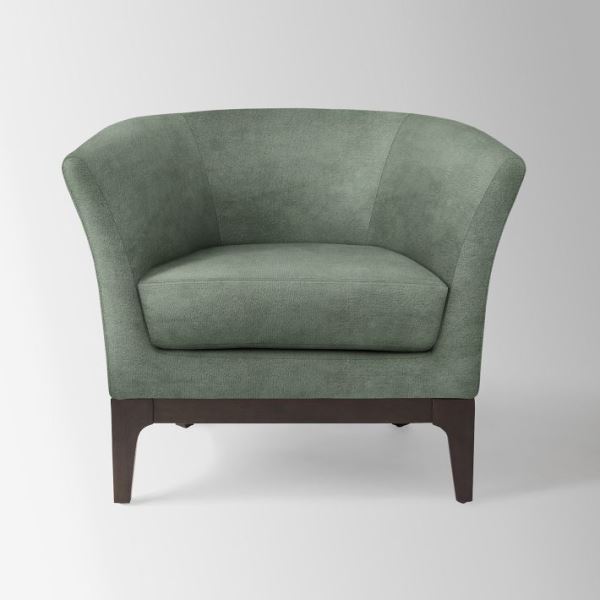 Ready for a yellow-green shade called sprout? That's the hue covering these Pony Sprout Chairs from CB2. They feature a Breuer-style base in a chrome-plated finish, as well as their signature upholstery in sprout green. Color hint: pairing yellow-green hues with deep blues is a winning design strategy!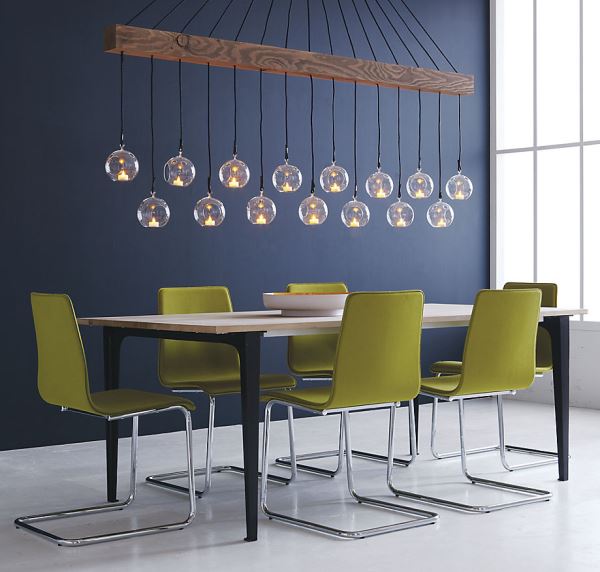 Speaking of yellow green, that very hue is the reason we're fans of the Vienna Green 24″ Barstool from Crate & Barrel. Initially designed in 1859, these newer models are produced in one of the original Thonet bentwood chair factories. Not to mention, the piece's bright apple green shade is the perfect wake-up call for your kitchen…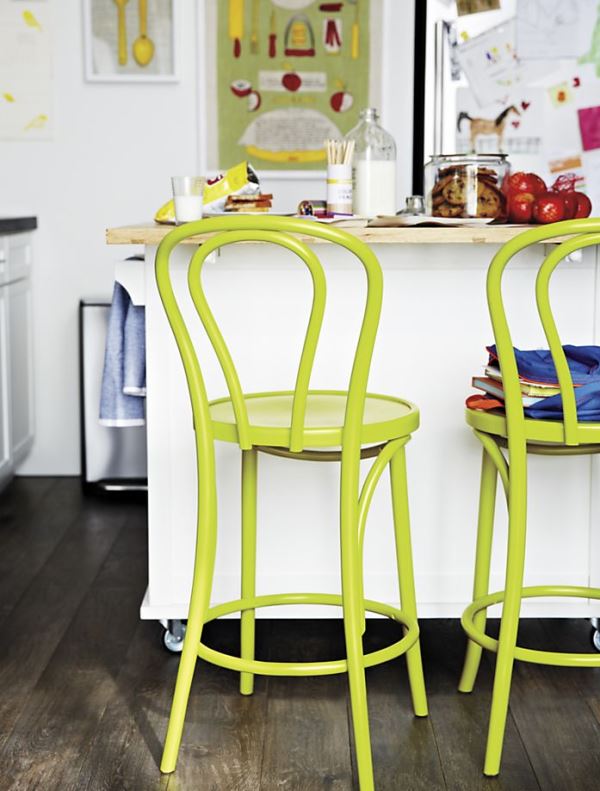 Green Tables
We now shift our focus from green seating to green tables… which are a bit harder to come by. That's why you may need to take matters into your own hands with a little bit of DIY energy. We're smitten with this dining room by Anya H. Interiors, especially since the project involved repainting the client's dining room table a vibrant shade of green!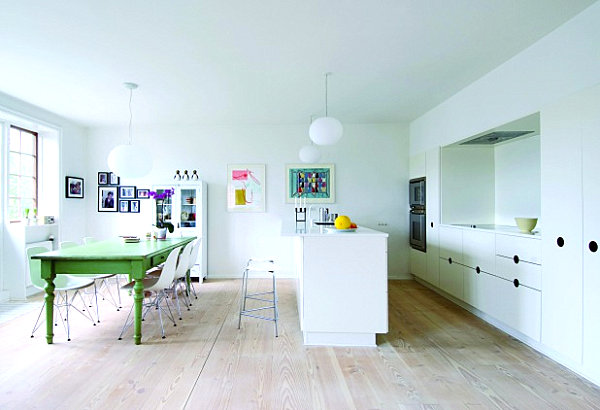 Look a little closer… Yes, you've spotted a green desk. In fact, it's a Parsons Desk with Drawers in Spruce Green. The only thing more striking than a piece featuring legs that are the same thickness as the top is the item's deep shade of green. No need to "spruce" up this table!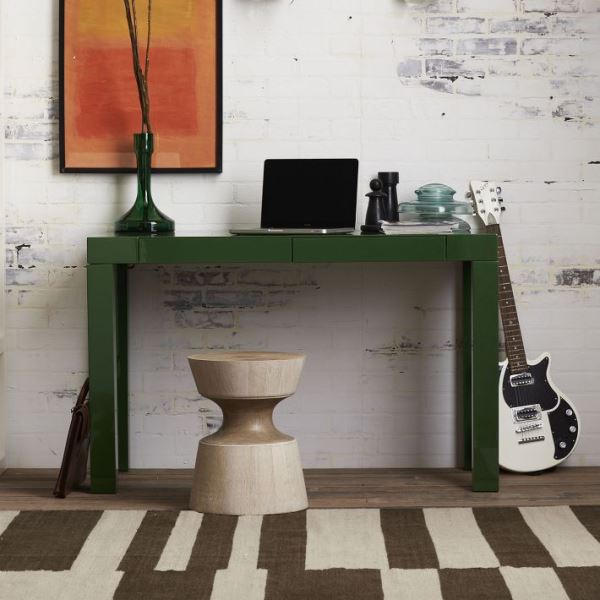 When it comes to eye-catching furnishings in vibrant hues, nobody does it quite like Alexandra Von Furstenburg. This cutting edge designer blends acrylic construction with bright pops of color to create true works of art. Don't you love the acid green accents of this Radiant Acrylic Coffee Table in Green?! Named after a radiant cut diamond, this piece can be customized by color and size. But we're a bit partial to green…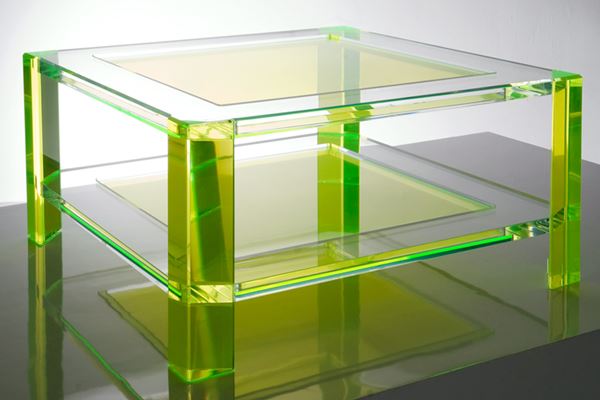 Wowie Zowie! Alexandra Von Furstenburg's Charleston Bar Cart is a real showstopper! With a mirrored insert on the bottom shelf for the sleek display of bottles and glasses, the piece's selling point is the top shelf, which includes a special AVF Tray in the color of your choice. Again, we're partial to a knockout shade of neon green!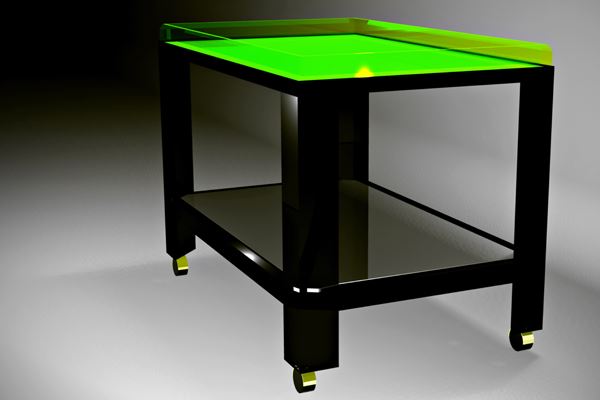 We finish today's post with an End Table Makeover featuring Pantone's blue-green shade of Emerald. Yummy, isn't it?! Yes, sometimes you've got to create the furnishing of your dreams by dressing it up with the paint of your choice! For more details on this DIY project, head on over to Home Stories A to Z…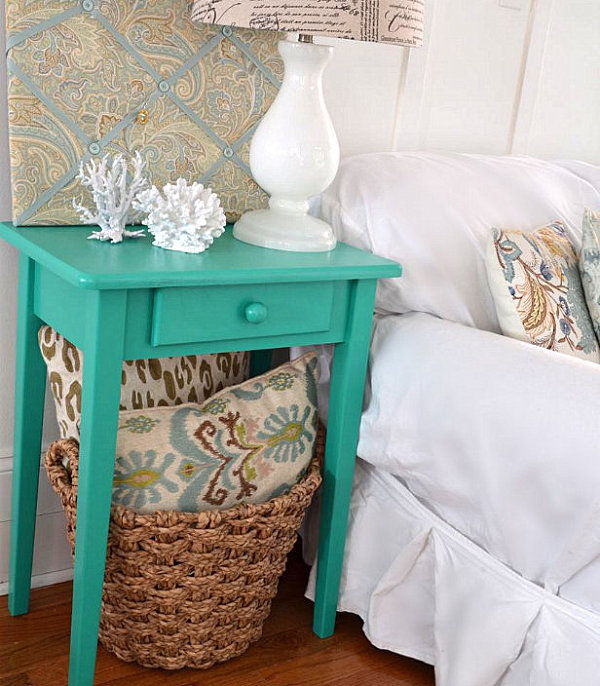 Now we want to hear about your favorite shades of green! Do you enjoy bright Kelly green, or do you veer toward yellow-green hues? Or perhaps you're a fan of blue-green tones! Share your thoughts and dream furniture finds by leaving a comment below…