Sunny. Warm. Cheerful. Inviting. These words are often used to describe the color yellow, which we celebrate in today's post! A happy hue, yellow is increasingly being used in the modern home. Shades such as citron and lemon make a bright, contemporary statement that can wake up your space with a dash of unexpected style.
Are you a fan of this versatile color? A popular hue for living rooms, it also adorns many a modern furnishing. Today we round up 17 of our favorite pieces, including helpful links to purchasing information. In case you're in a shopping mood! Put on your sunglasses and get ready for some radiant design…
Yellow Seating
We begin with yellow seating that showcases comfort and style. These Lemongrass Club Chairs from CB2 boast a boxy modern shape and a golden lemongrass color that pops against white walls (or walls of any color for that matter)!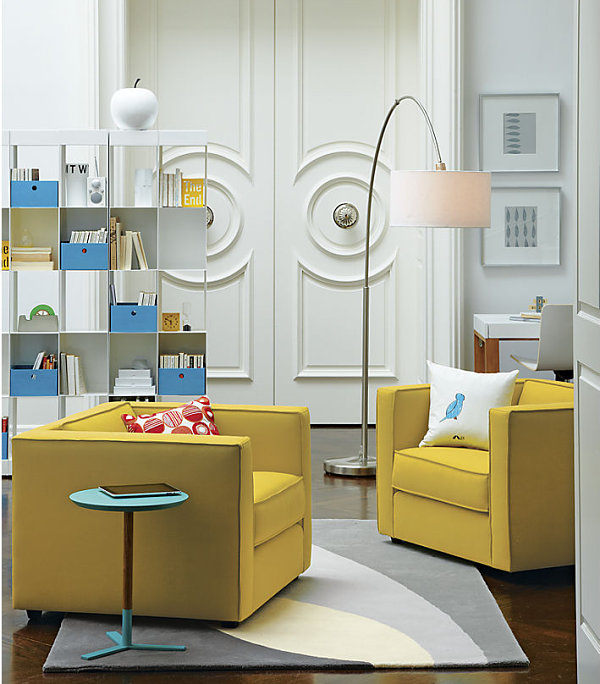 For a similar shade but with tapered legs, the Grayson Chair from Crate & Barrel features sustainable kiln-dried solid maple, an oak hardwood frame, and polyester upholstery. Although shown here in citron, this item happens to be available in a wide variety of colors…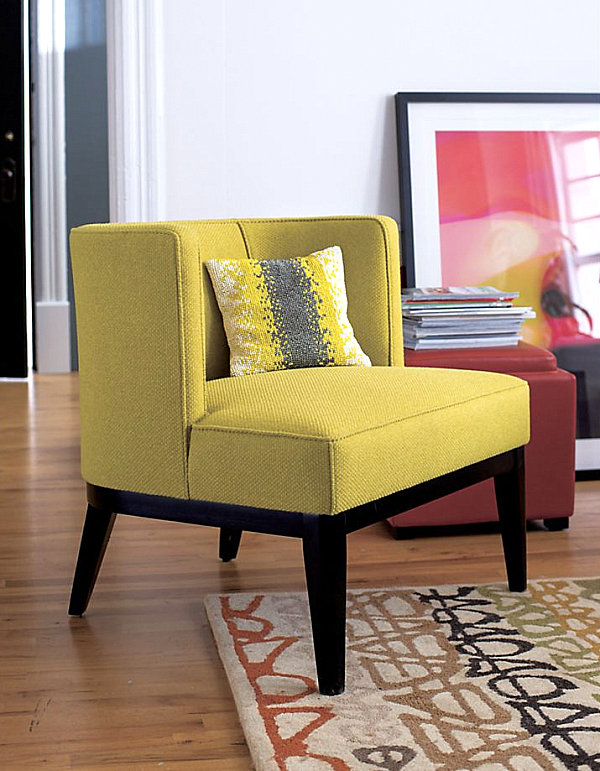 Mustard yellow chairs are definitely "in" this season! The Veronica Taper Leg Chair from West Elm features an armless curvy form, as well as tapered legs. A striking silhouette is created. We think this chair can punctuate any room it inhabits: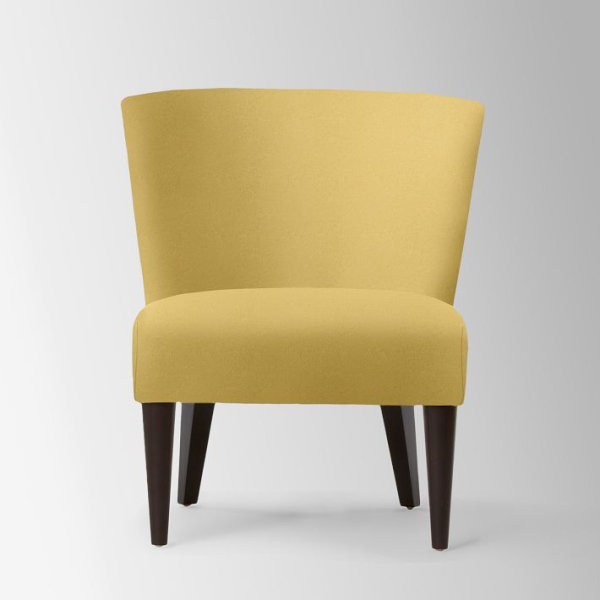 There's nothing like a yellow patterned furnishing! The Victor Armchair from West Elm is reminiscent of a classic wing chair, yet this piece has an updated feel. With solid wood legs and frames, the chair is substantial and solid. Not to mention, it comes in a variety of patterns should this one not suit your style: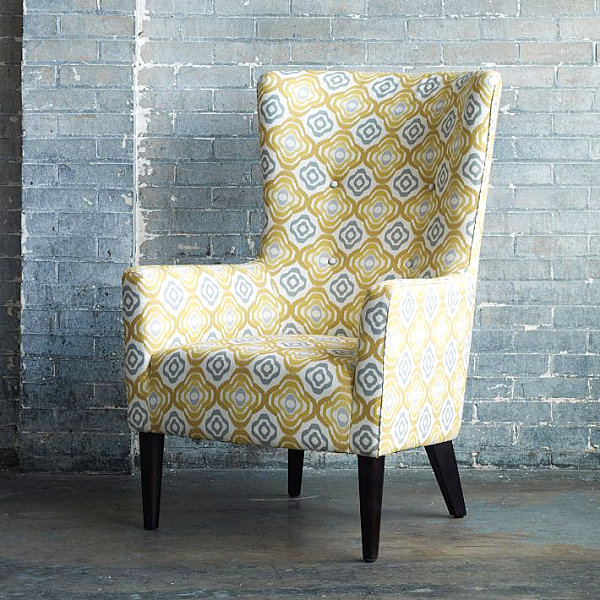 We've been fans of the Sonny Yellow Bench from Crate & Barrel for quite some time now. People often think of red as the ultimate accent color, but it's hard not to be a yellow enthusiast when we see this bright ray of sunshine stand out against a gray-blue wall. Did you know that this bentwood piece was produced by one of the original manufacturers of the late 18th-century design?! Another reason to love it!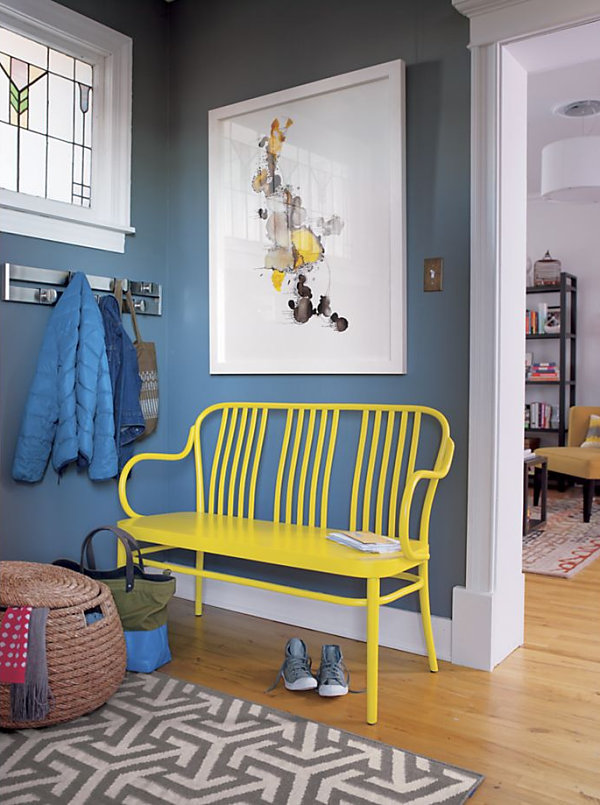 For an unconventional seating option, check out the Zuni Leather Pouf from Crate & Barrel. This leather ottoman comes in a citron shade, and it features leather crafted by an artisanal tannery in northern Italy. We think it could be used as a side table as well. Speaking of tables…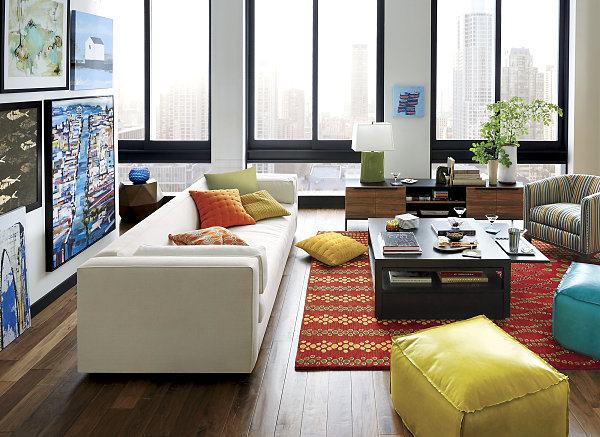 Yellow Tables
We now turn our eyes to some breathtaking yellow tables that bring a bold dose of color to the interiors they grace. This Fab R1 Dining Table in Yellow is available through Fab. With a Parson's-style design, it is absolutely radiant, thanks to a semigloss yellow finish: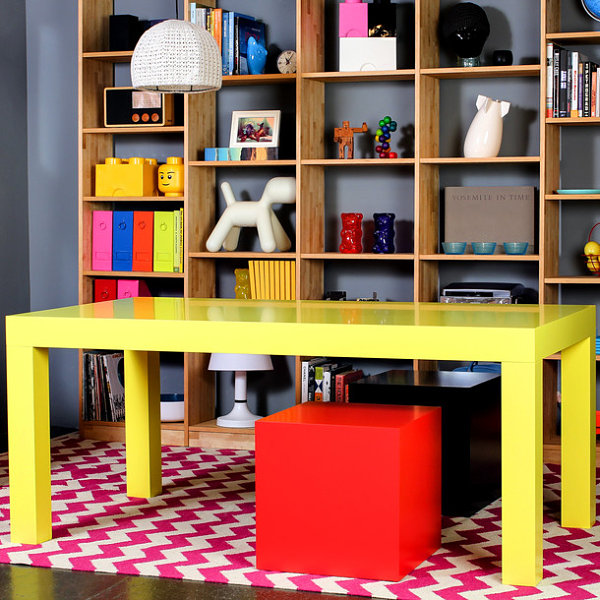 Oh how we love the acrylic creations of Alexandra Von Furstenberg. And oh how they shine with their glossy surfaces and eye-catching color! Like hard candy, they look good enough to eat… This Radiant Acrylic Coffee Table was named after a radiant cut diamond. In case you were wondering, like many AVF pieces, this one is indeed available in a variety of colors…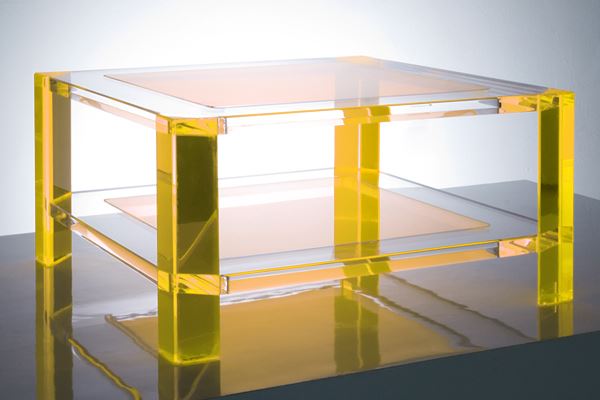 For a slightly more subtle approach, check out the Gambler Card Table from Alexandra Von Furstenburg. A newer design, this piece is perfect for playing a game of bridge or poker, or enjoying a cup of tea. Each embellished leg speaks volumes! Not to mention, the piece is customizable by size or color: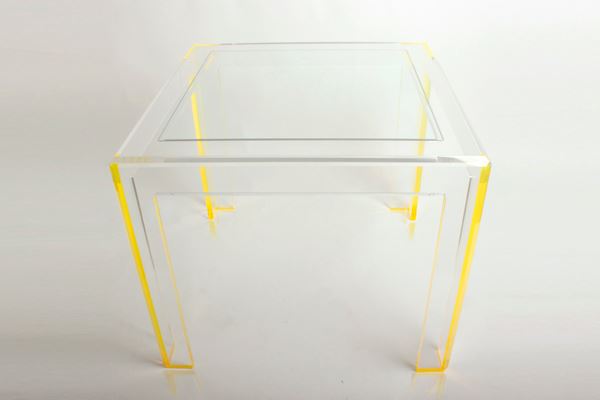 For another AVF find, say hello to the Ice Acrylic Dining Table in Yellow, featuring a tabletop of a 2-1/2″ thick crystal clear polished acrylic slab. In fact, this piece is known as the gem of the Alexandra Von Furstenberg collection. Use it as a desk, console or compact dining table! Note that this item is inspired by gemstone facets and has a limited edition size of 20 pieces!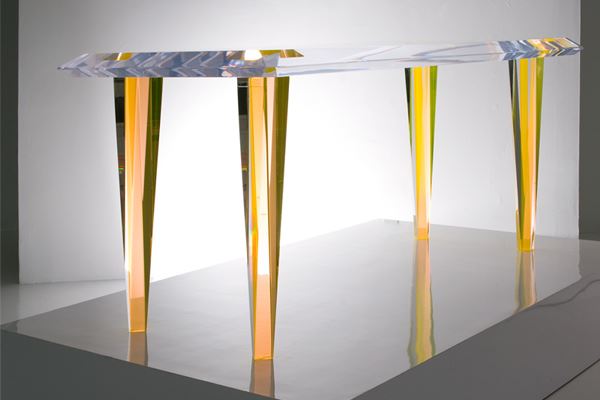 Yellow Lighting and Accessories
Yellow is an amazing addition to the home in the form of lighting and accessories. Not to mention, it makes a strong statement when adorning small specialty furnishings, such as the Array Yellow Bookcase from CB2. This piece can hold books, CDs and more. A lightweight laser-cut steel construction is perfectly complemented by a yellow powdercoat. Designed by Bruno Rainaldi, the bookcase truly steals the show in the room below:
Another unforgettable accent furnishing? The Spider Coat Rack from CB2! Crafted in the style of Thonet's classic bentwood chair, this piece is reimagined by the Barcelona-based Mermelada Estudio. Constructed of metal coated in high-gloss yellow, it certainly packs a powerful punch… Practical and stylish, don't you think?!

Not ready to paint your walls yellow? Get some great sunny coverage with the help of a rug. This Honeycomb Textured Wool Rug in Horseradish from West Elm features a stylish geometric pattern. And an unforgettable hue!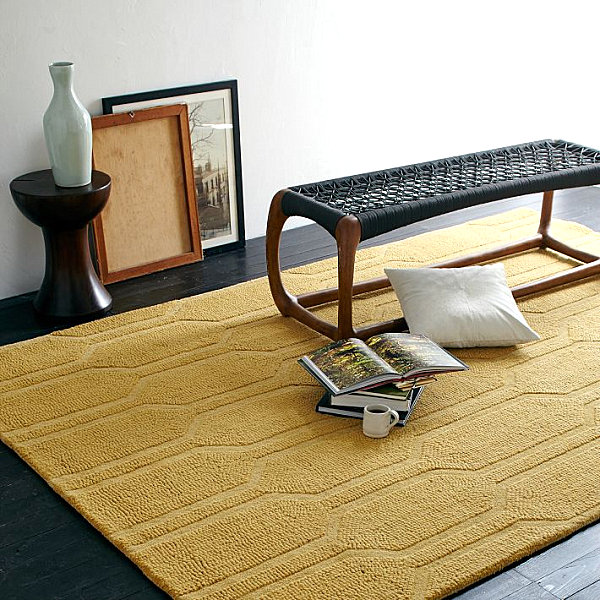 Another piece that has repeatedly caught our eye? The Soneca Pendant Lamp from CB2, created exclusively for CB2 in partnership with husband-and-wife design duo Robert and Cortney Novogratz. With a brushed stainless steel canopy and an amber acrylic shade, this substantial pendant lamp resembles the warm glow of the sun: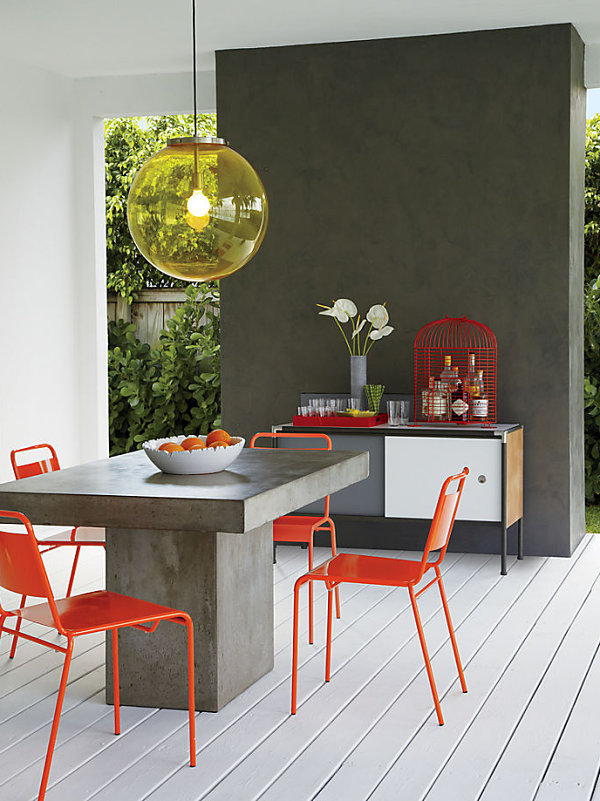 There's something so classic about this Industrial Task Table Lamp from West Elm. Like an impressive piece of machinery, it is built for function, yet it's certainly not short on style. Note that the head swivels, and an adjustable arm locks at two angles!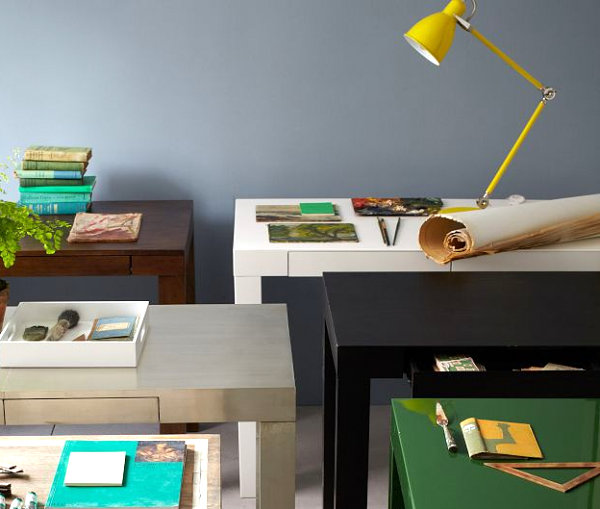 The ribbed base of the Ella Yellow Ceramic Table Lamp from Crate & Barrel is a real showstopper! A modern drum shade is the perfect counterpart…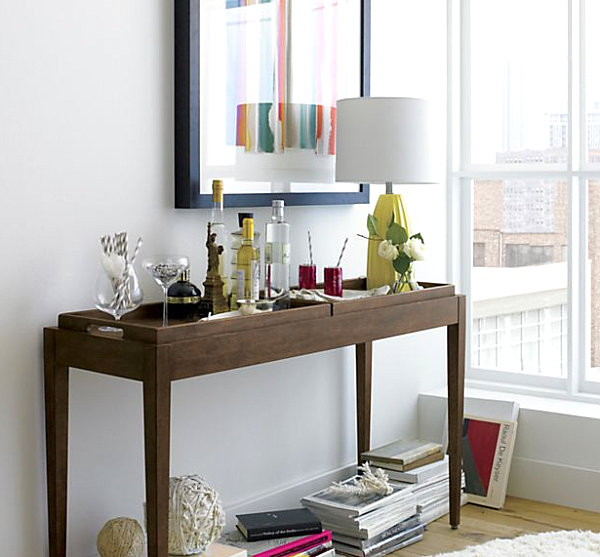 We end with a reminder that yellow can WOW in patterned form. Try reupholstering your favorite furniture find in a striking print featuring a sunny shade. Or better yet, cover your walls with this inviting hue! Below we see Brocade Wallpaper in Yellow from Jonathan Adler: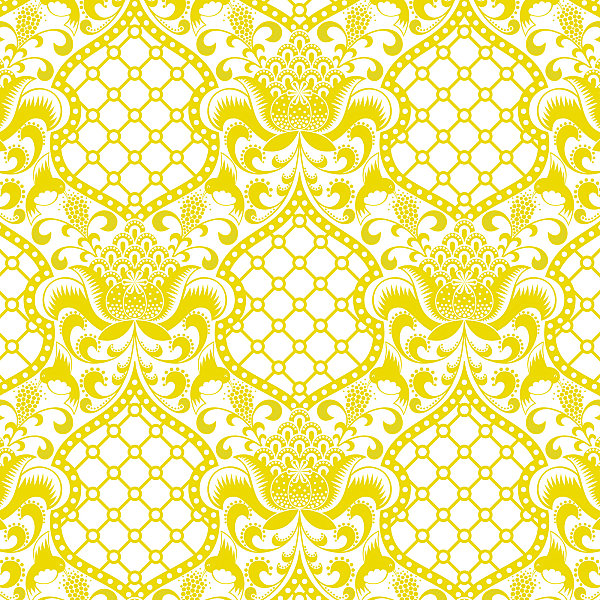 Citron, mustard, lemon… Tell us about your favorite shades of yellow! And be sure to let us know if you've used this color in the design of your home. Share your thoughts by leaving a comment below.