They say orange is the new black! Television show reference aside, it's clear that orange is becoming a staple in the modern home. On a personal note, I'm such a big fan of this color, I used to say that orange was one of my neutrals. Why does it work so well in a range of spaces? For starters, it goes with a wide variety of colors, especially blues and greens. Plus, this radiant hue provides a warm dose of color–a trait that many modern design lovers are embracing as they increasingly welcome orange furnishings into their homes.
Perhaps that's why retailers such as CB2 regularly offer orange finds. Today we round up our favorites, focusing on orange seating, tables and storage pieces in particular. Some of the images below are for your design inspiration. Others are accompanied by helpful links to purchasing information, in case you're in a shopping mood. Check out the pics that follow, then tell us about your favorites at the end of the post…
Orange Seating
Let's start with seating! My dream furnishing right now is none other than this Flex Orange Sleeper Sofa from CB2. Why? Because it would be the perfect way to enjoy daytime seating AND accommodate company at night. This lovely sofa sits upright, angles at 45 degrees for lounging purposes, or easily transforms into a sleeper for two once the back flips down:
How chic is this Trio Orange Leatherette Sofa Bed by At Home USA? Available through Futonland, it reclines at five levels along both axes, allowing its lucky owners to sit, lounge or sleep with ease…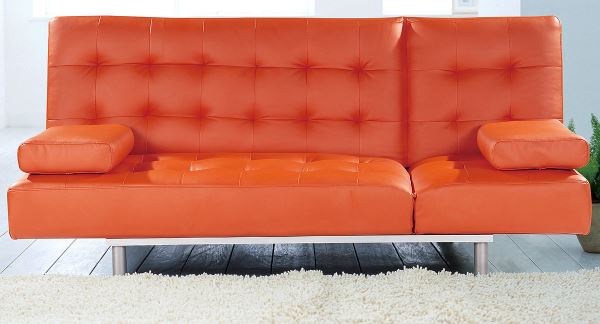 This next furnishing is pretty epic. When you check out the image below, you'll see why! Say hello to the Polaris Italian Leather Sectional Sofa in Orange from LA Furniture. Not only does it easily accommodate a group, it includes special features such as built-in lighting and storage. What about that upholstery?! It's bonded leather, but you can upgrade to Italian leather for a fancy touch. To keep the cost in check, note that this item features a leather match PVC material in some areas, but chances are you won't notice…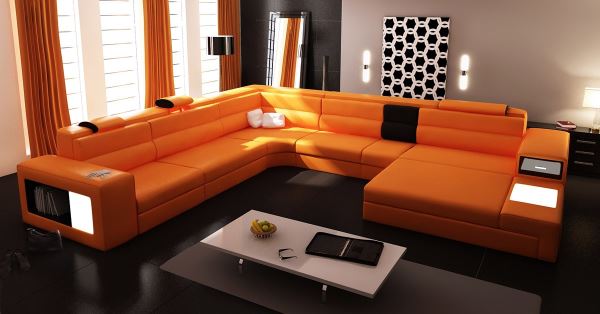 Orange has the ability to go retro, don't you think?! Check out the retro-fabulous room below in an image excerpted from Rooms to Inspire by the Sea by Annie Kelly (Rizzoli New York, 2012). We're loving the furnishings and decorative accents, many of which appear to be Jonathan Adler pieces. [photo by Tim Street-Porter]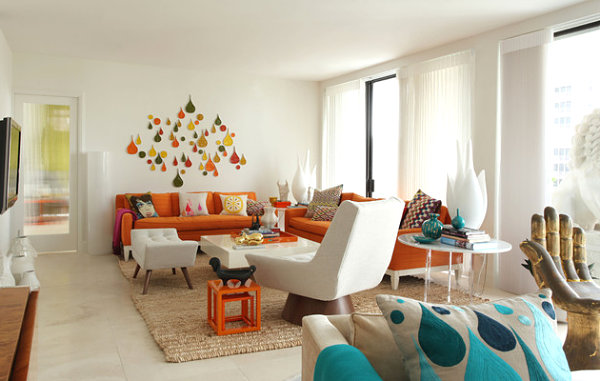 It's hard not to admire a classic! Can you spot the Saarinen Large Womb Chair in the living space below? Available at YLiving, this piece exudes modern style. And the warm shade of the chair is perfect for a space with golden wooden accents. [image from Fine Focus Photography]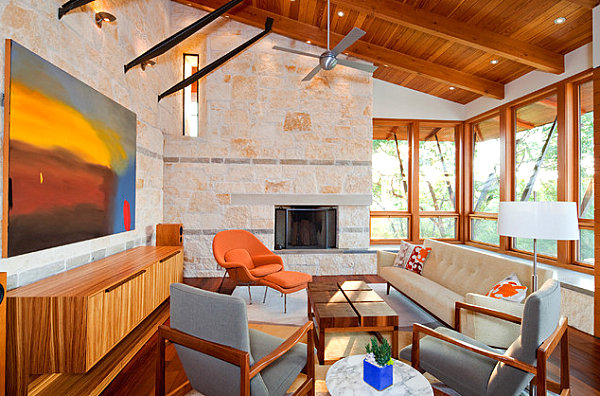 Orange is often paired with chrome, resulting in a true contemporary feel. When orange will be used throughout an interior, as shown below in a dining space by Diego Alejandro Design, it's often wise to go with black, white or other neutrals on the walls and the floor: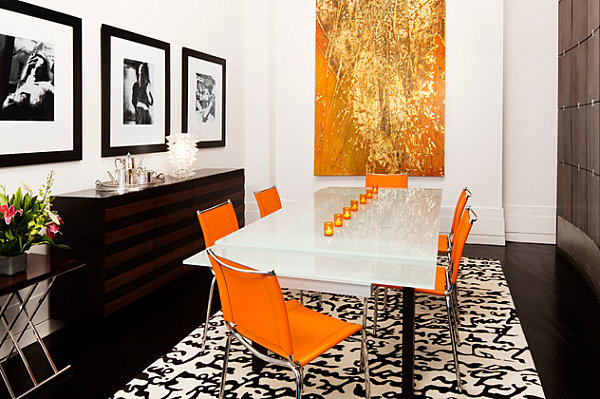 After all, the vivid nature of today's featured color gives it the ability to pop against white walls, metal accents and wooden embellishments. For a fun look, try mixing a range of chairs at the dining table. Keep things muted, except for a couple of red-orange seats, as shown below with the Fleet Hot Orange Chairs from CB2. Designed by Jason Lewis, they wow with  hi-gloss powdercoated steel finish: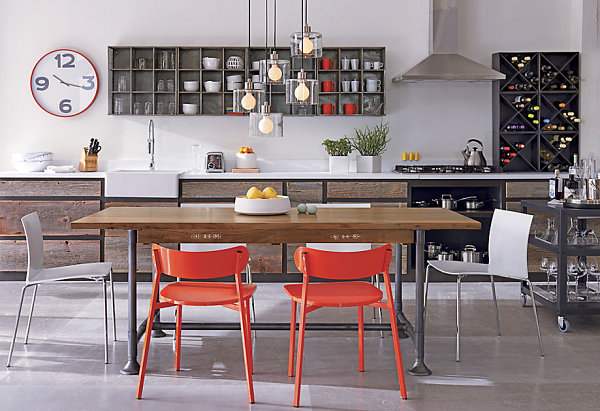 Note that orange is a popular choice for outdoor seating as well. It must be the way the color nicely complements the green of the plant life that surrounds it. These lounge chairs from Henry Hall Designs are ultra eye-catching on a balcony with a view… [image from The Garden Route Company]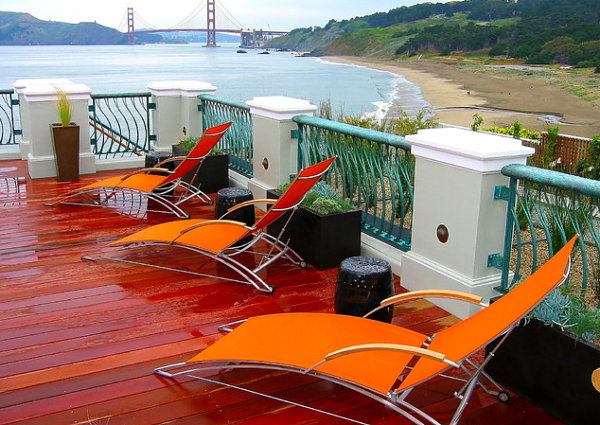 Orange Tables
From seating to tables… Don't think that orange is only meant for chairs and sofas! The color's versatility makes it ideal for a variety of furnishings, like this Go-Cart Bright Orange Console Table from CB2. Crafted of metal with an orange powdercoat, this piece is perfect for offices and dining rooms alike. Maybe both, given the fact that it has wheels (which lock in place as needed).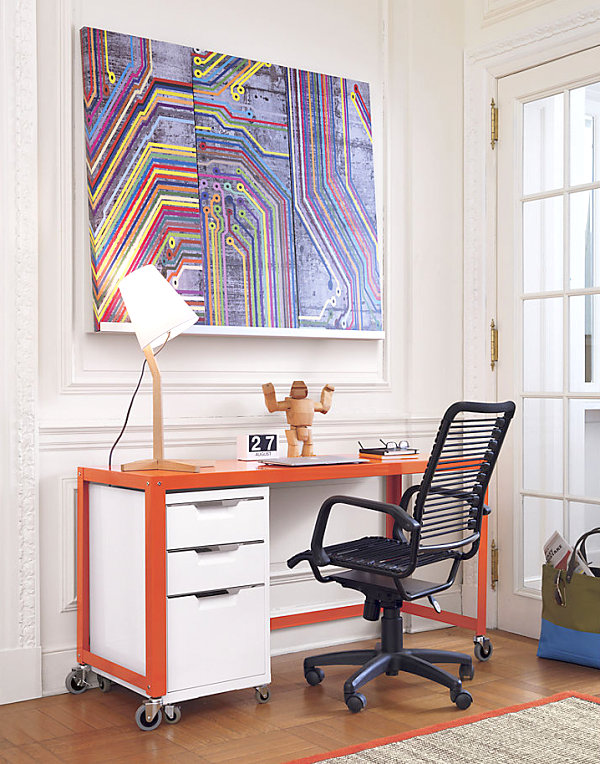 Orange can even be the color of choice for your dining table. This Square Dining Table from Avetex Furniture makes a bold statement with a fiery orange hue and white trim. Don't let the rectangular shape fool you… When not extended, this piece definitely resembles a square. Aren't you glad it can lengthen for additional space?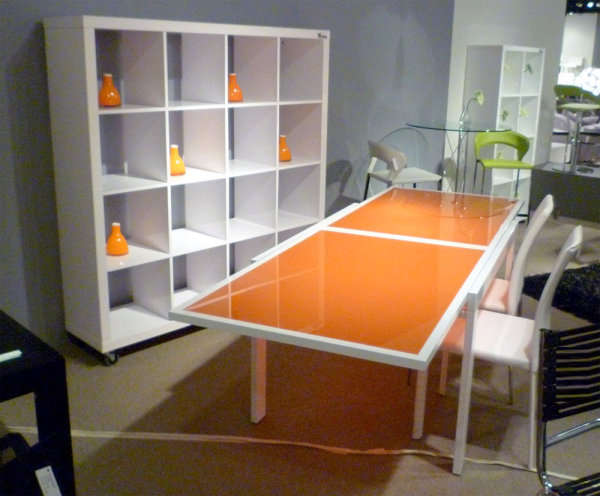 Orange is a beloved choice for lacquered pieces. There's nothing like a rusty hue with a glossy shine! This Gates Lacquer Side Table in Persimmon from West Elm is inspired by Thai bamboo side tables. Constructed of engineered wood with a lacquered finish, the table easily has the power to be that one bright spot in your living area.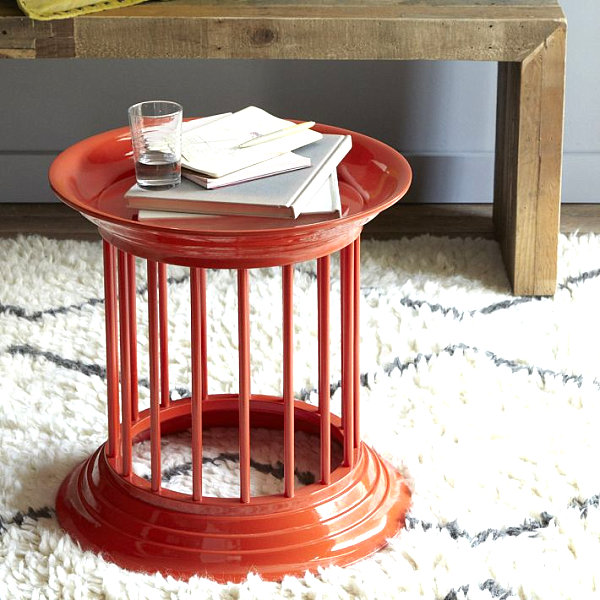 For double the fun, try a lacquered side table on each side of the sofa. Especially popular with in Hollywood Regency-style spaces, these orange tables frequently sport an interesting design featuring geometric shapes or bold curves. [from Tobi Fairly Interior Design]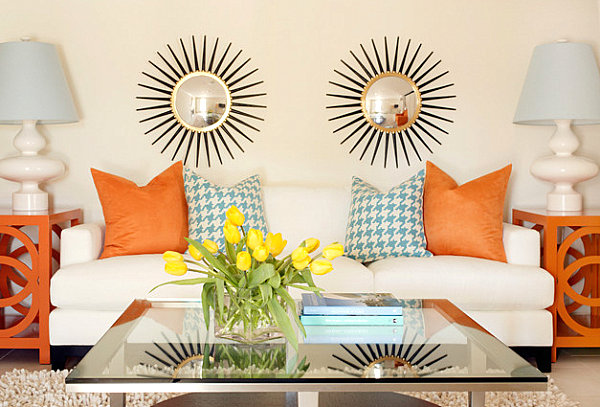 Orange definitely stands out in neutral spaces, but don't be afraid of color. We love how the living area below uses orange as an accent shade on the ceiling and at the tops of the walls. Not to mention, the modular coffee table and vivid pillows really pop! [from Jaffa Group Design Build]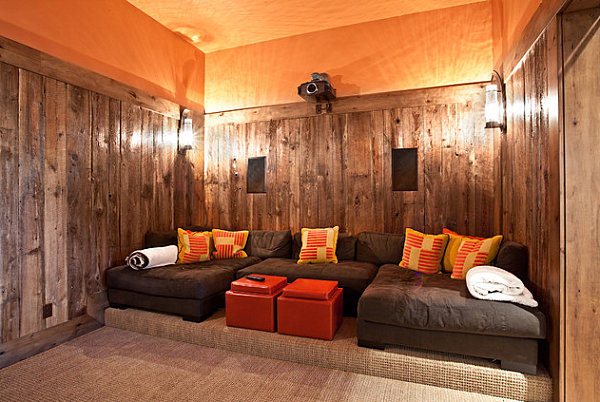 Orange Dressers and Cabinets
We end with a collection of orange storage solutions, from dressers to file cabinets. Speaking of dressers, there's something wonderfully industrial about a bright orange chest of drawers. Look how well it fits in the space below, also featuring a metal desk and minty vintage office chair. [from Kailey J. Flynn Photography via Houzz]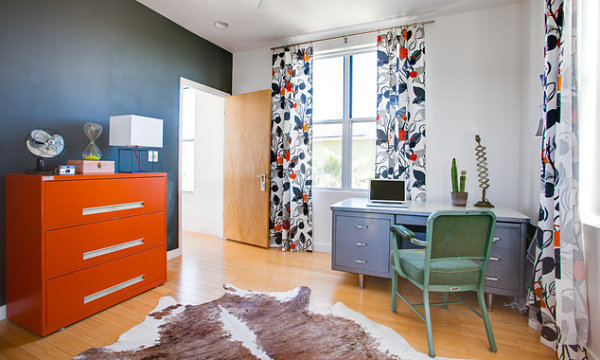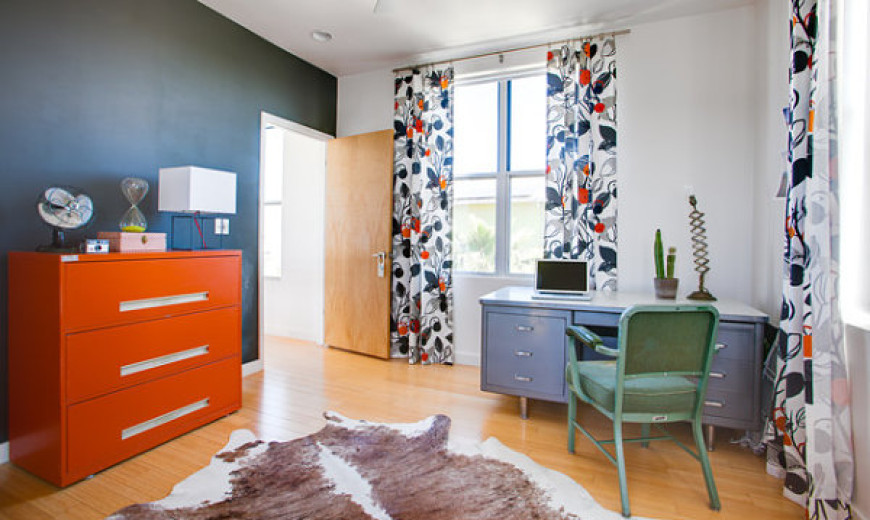 In this next decadent space, the lacquered look is back! Note the dresser, which is delicious against orange walls of a similar hue. Why doesn't it disappear in the space? Because this dresser is outlined in black! [photo by Larry Hanna]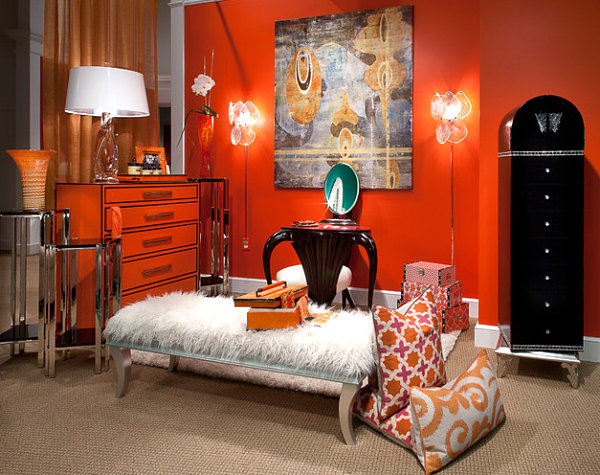 Don't forget the power of orange is children's spaces. Playful, fiery and full of life, this color mirrors the energy level of youth. While painting an entire room orange may rev up a little one, keeping it simple with a few accents is a more soothing option, as shown below. [from Lisa Lev Design]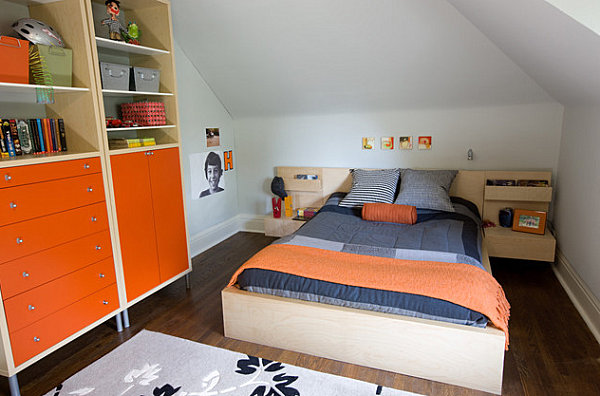 Ready to file? Good thing CB2 offers filing cabinets in a variety of colors. Of course, today we're partial to the TPS Bright Orange File Cabinet, thanks to its eye-catching hue. With an industrial look that includes stainless steel drawer grips, the piece also includes casters, which allow for easy mobility. Don't worry–the front two lock so your cabinet won't roll away…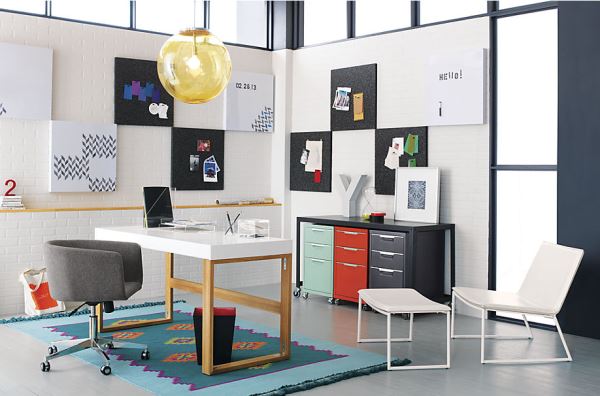 Tell us about your favorite pieces from today's post! Are you partial to orange seating, orange tables or orange storage pieces? Share your thoughts by leaving a comment below…
Liked the story? Share it with friends.