There are times when we are simply caught up with the existing design trends and often convention is not challenged enough to create brand new structures that promise a whole new world full of vibrant conviction and creativity.
While the traditional concept of what defines a home or commercial structure is being constantly challenged, shipping container homes are becoming more and more popular.[Gallery bellow]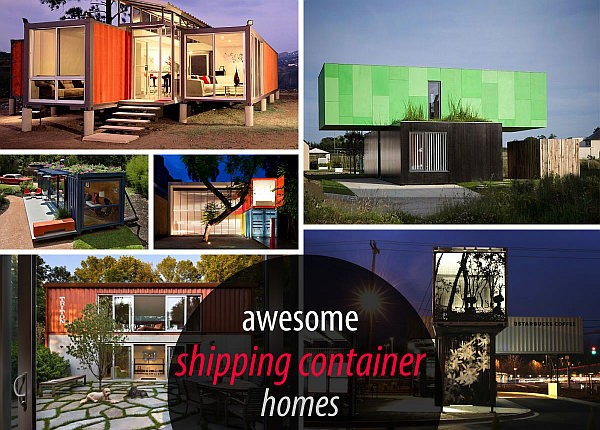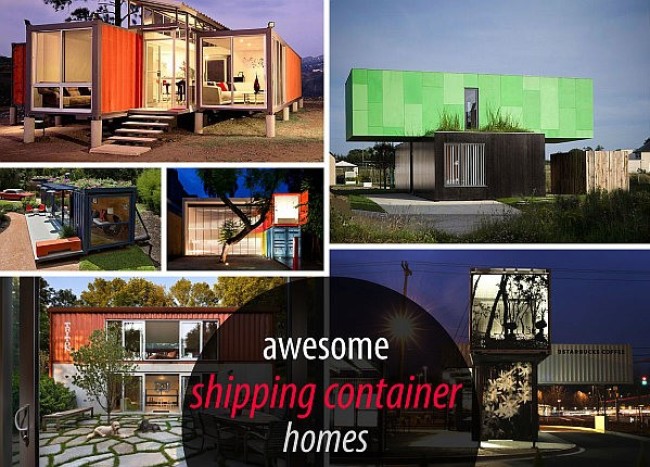 Offering stylish, elegant and cost-effective shelter solutions, designers and architects across the world have been coming up with some astounding and beautiful contemporary shipping container homes. This should encourage more people to take a look at this alluring housing option. Cool, ingenious and full of welcome surprises, this collection of container homes contains a little bit of something for every design lover across the planet.
Maison Container Project by Patrick Partouche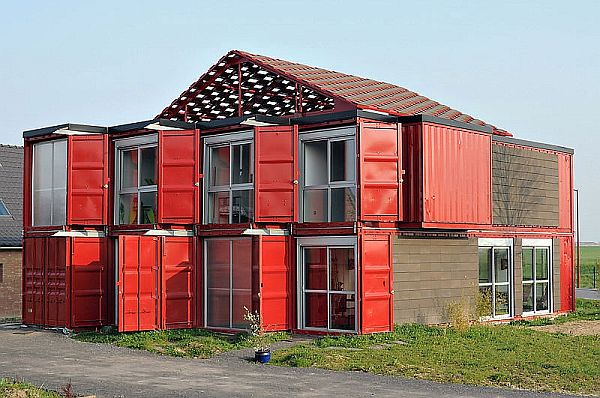 Let us start our look at fabulous shipping container homes with this beautiful and simply stunning Patrick Partouche-designed living space called the Maison container project. The two-story building is an absolute delight to step into and once you do, you will almost instantly forget the fact that you are residing in a house built by using 8 large shipping containers. Located on the banks of river Lille in France, it is nestled on a 2,240 square feet area and € 221,000 went into bringing it to life.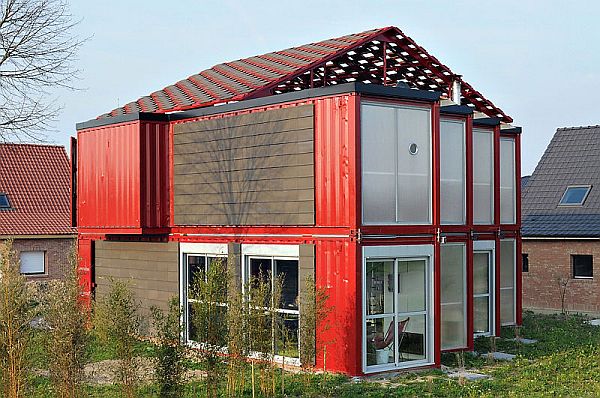 The lovely interiors have a light and airy feel to them thanks to the use of floor to ceiling glass windows, but the designer has left the container doors intact to ensure that there is complete privacy when needed. A metal spiral staircase, modern décor and ergonomic design grace this fabulous container home.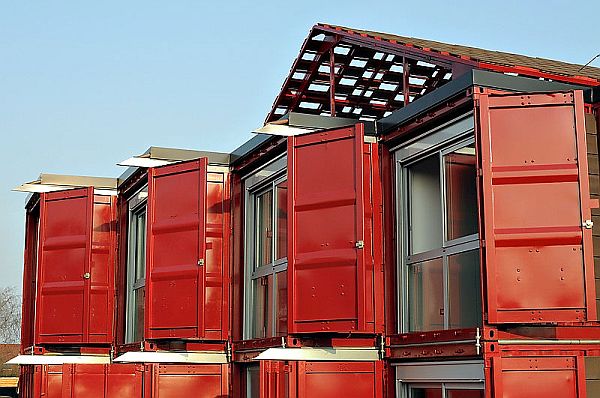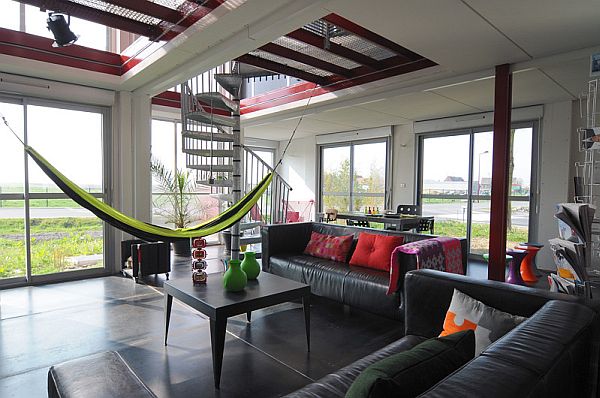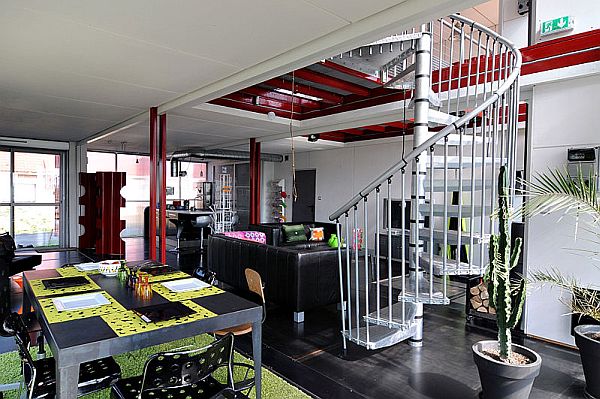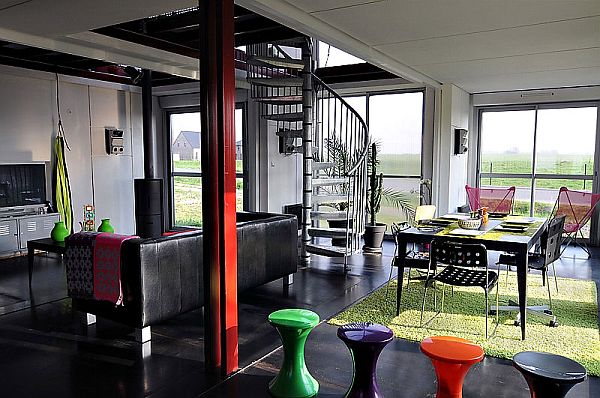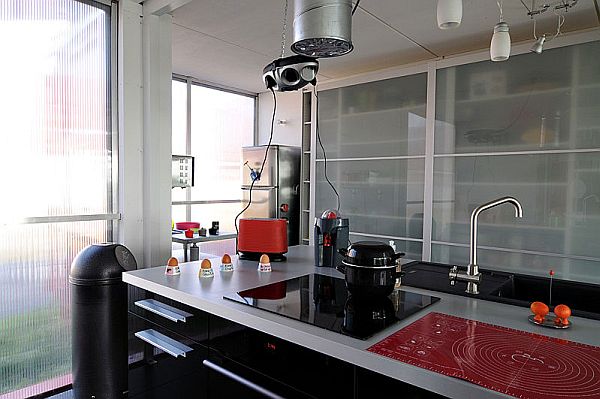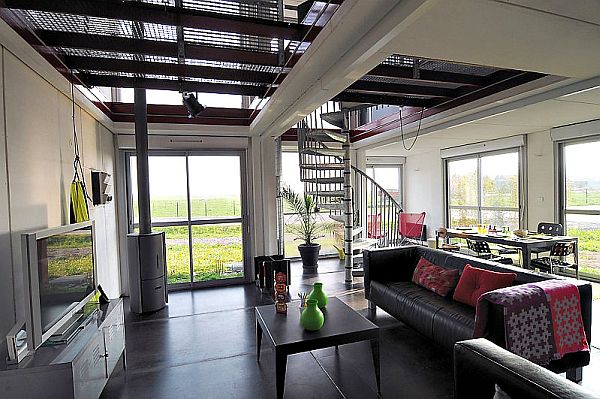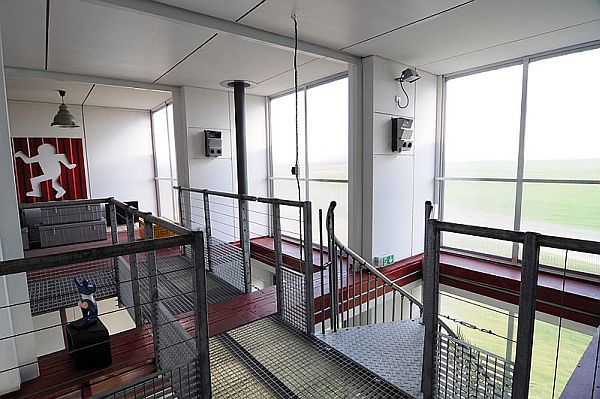 Old Lady House by Adam Kalkins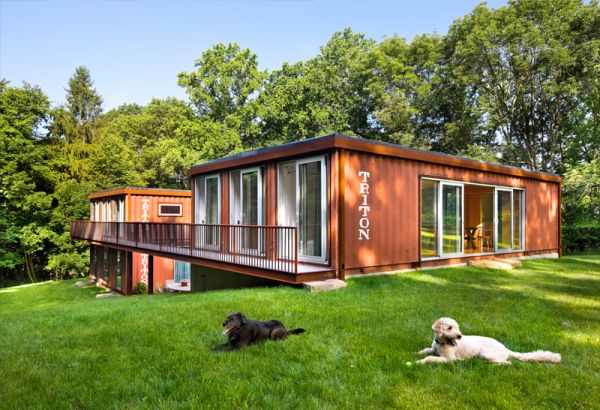 There is nothing 'old' about this bold and beautiful container home from Adam Kalkin, who is pretty renowned for producing some astounding shipping container structures. This particular house in Califon, NJ has a wonderfully cozy feeling about it and with ample natural ventilation thanks to the extensive use of glass on one of its sides; there is never a dull moment inside this container house.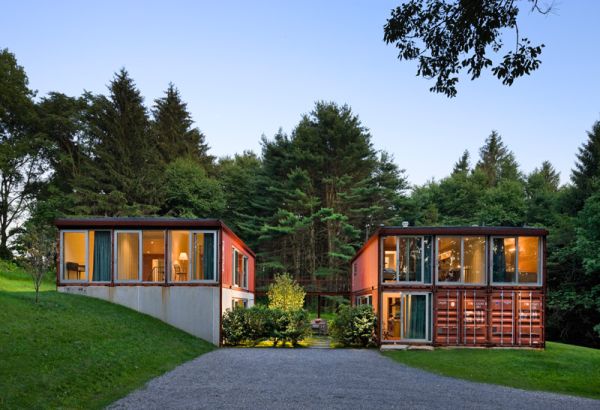 Stylish sliding glass doors, warm lighting fixtures, smart use of eco-friendly material and a rustic environment around it, all combine to offer a comfortable and cozy home.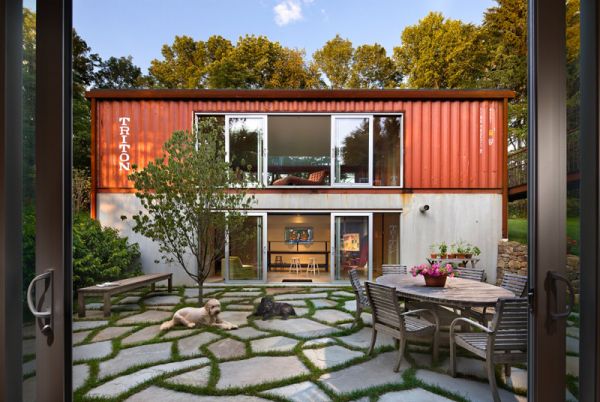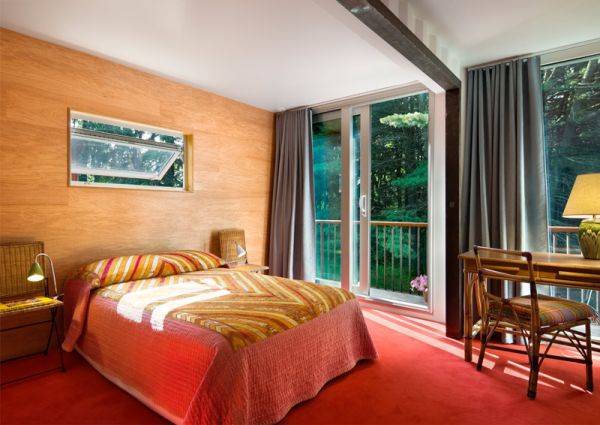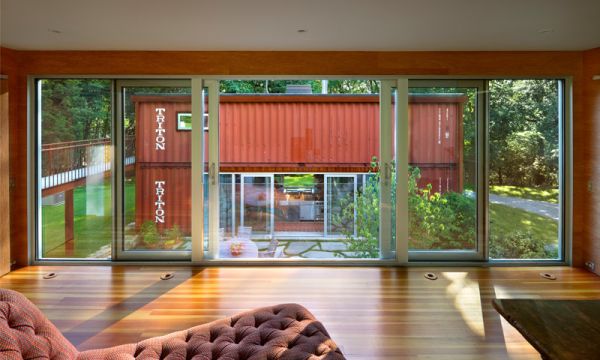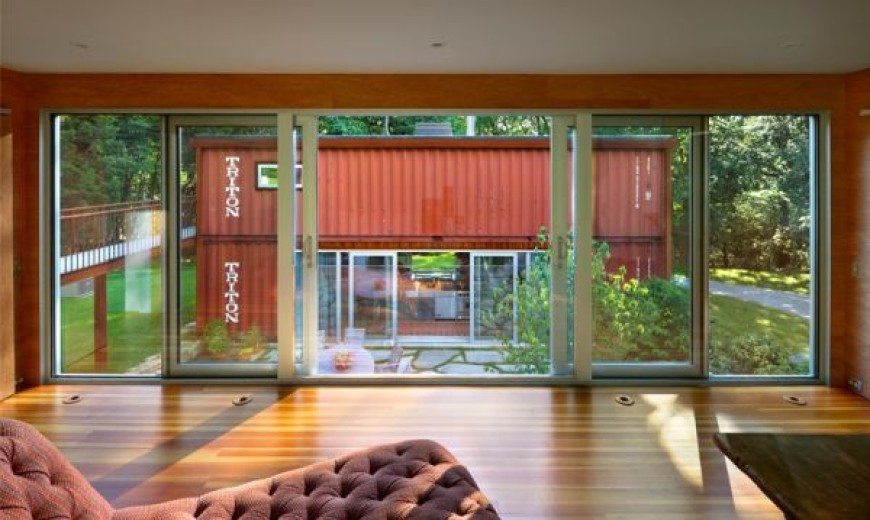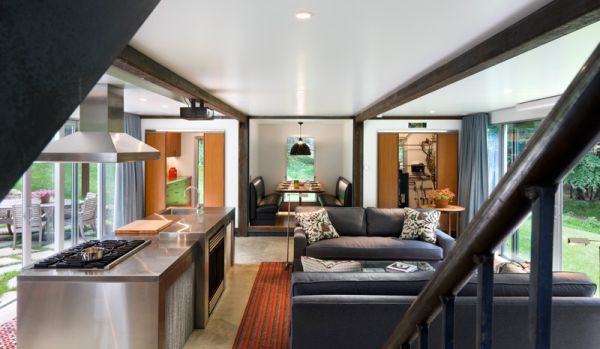 Containers of Hope by Benjamin Garcia Saxe Architecture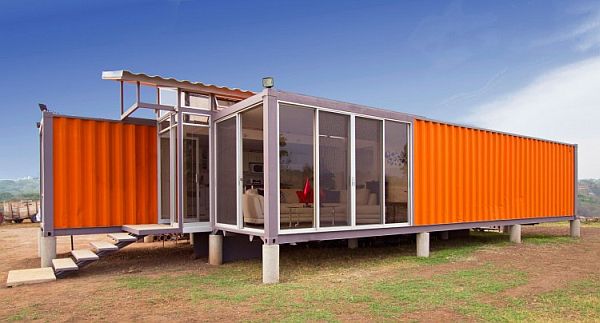 One of the advantages that container homes bring along with them is the cost-effective nature of construction and an affordable housing option for one and all. The 'Containers of Hope' design by Benjamin Garcia Saxe Architecture has been conceived to ensure that inexpensive housing options are available for one and all. Designed using just 2 shipping container units and built within an area of just 1000 square feet, containers of bring fabulous design and ergonomic interiors without the presence of excess.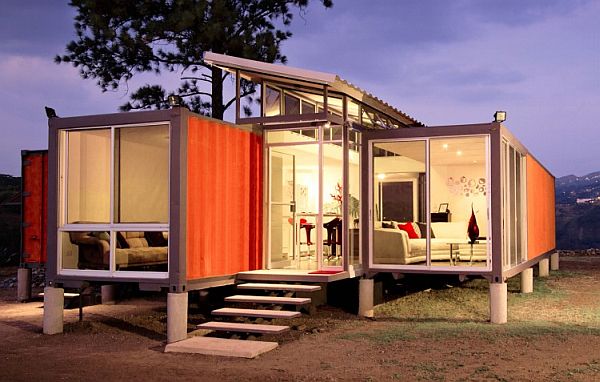 With the cost of building one of these container homes being just $40,000, this can not only act as a great home, but also a wonderful vacation retreat for an entire family. Large windows, daft design and modern décor complete this specific container of hope outside San Jose, Costa Rica.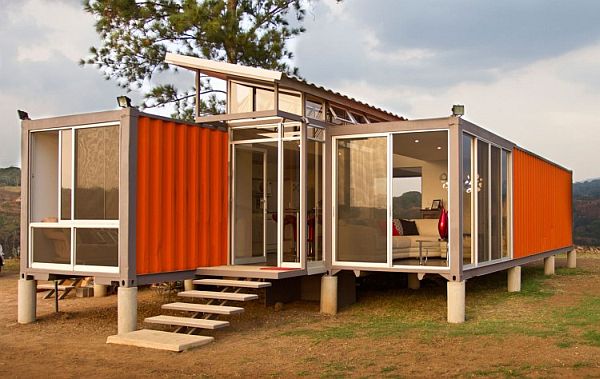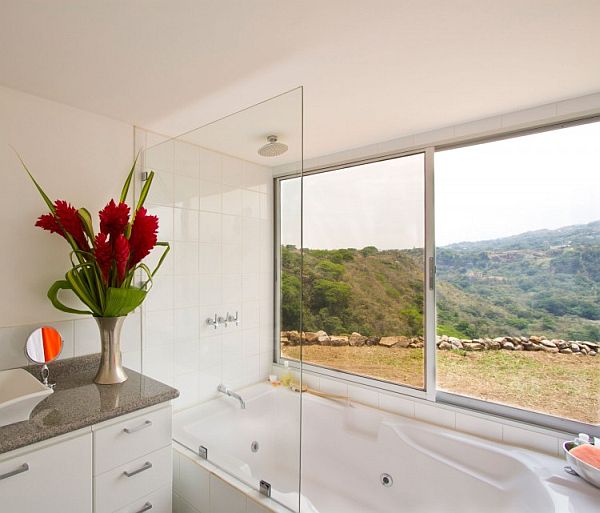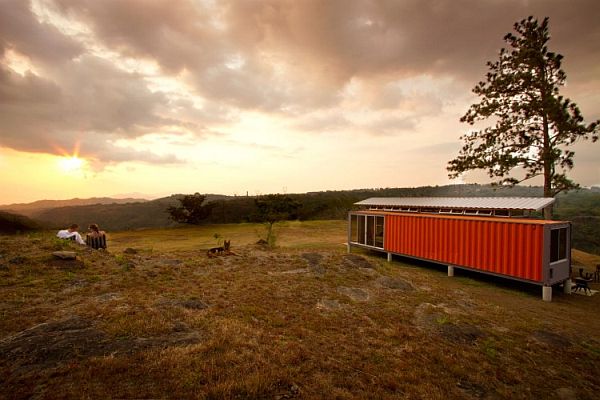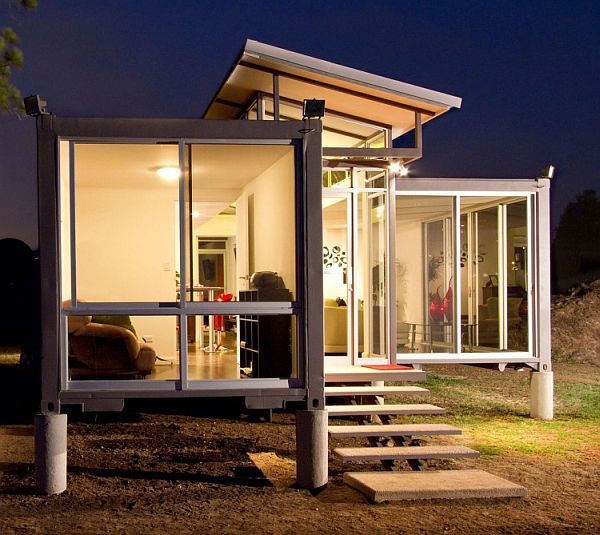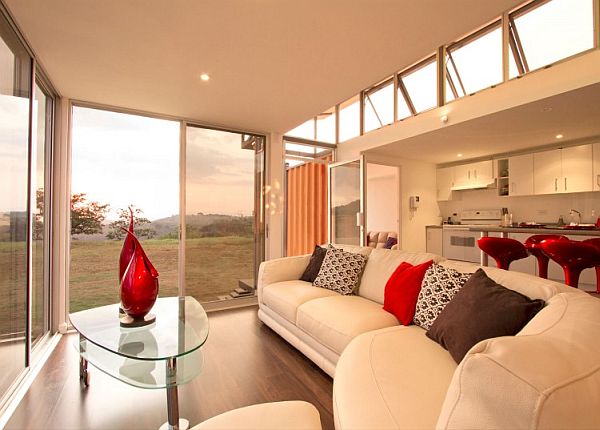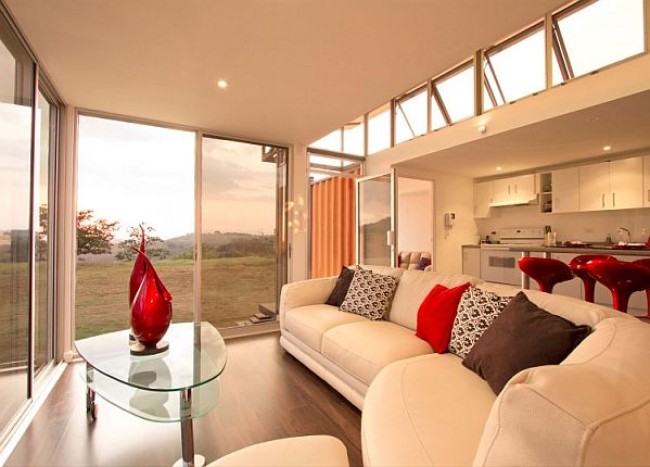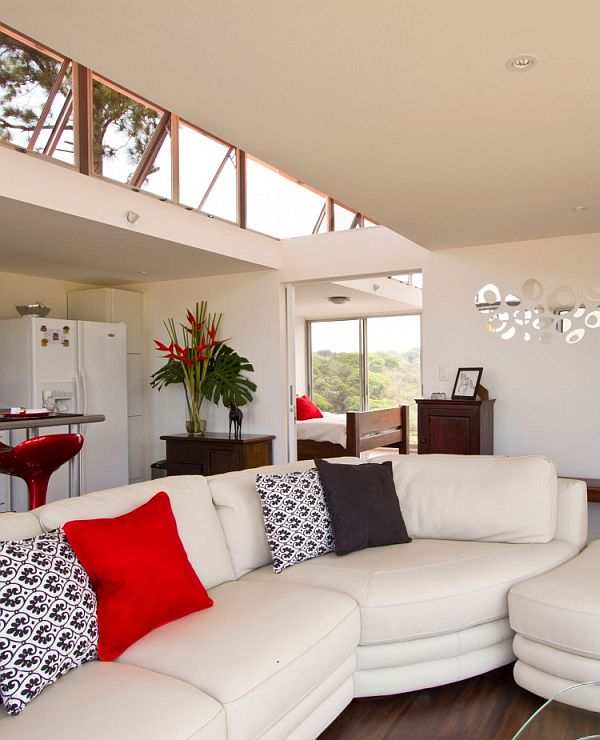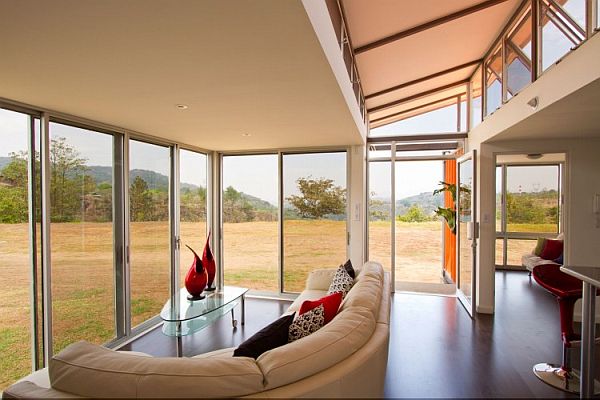 Crossbox House by CG Architects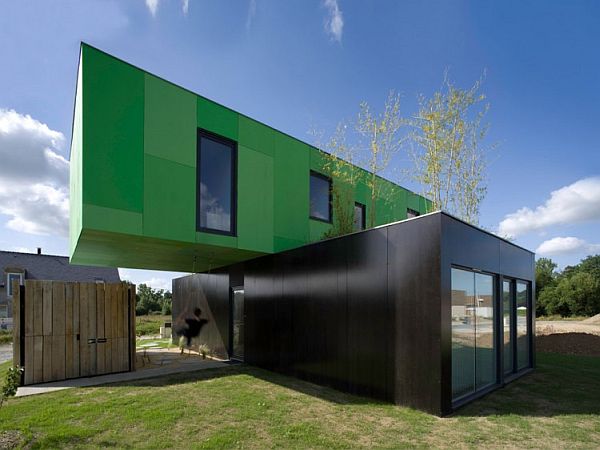 Delightful, playful and chic on the outside, sophisticated, stylish and sleek on the inside- that is pretty much how you would find the Cossbox House designed by CG Architects. This French-served delight is made from four shipping container units and they are carefully put into place to create a unique home that has the living quarters on the ground floor and the bedrooms on the top floor.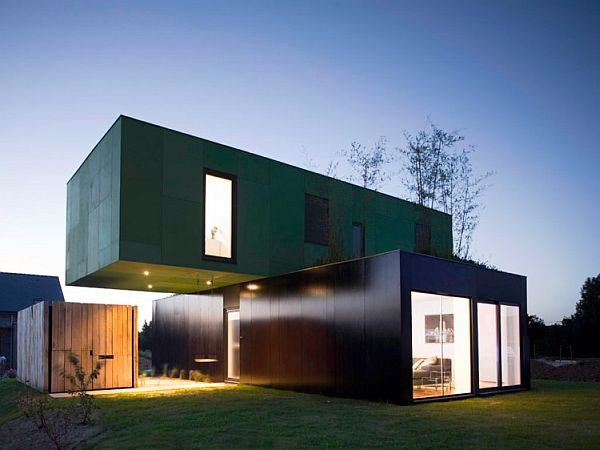 The interiors acquire a very traditional refined look thanks to the use of lavish wooden tones, beautiful finishing of the walls and wonderful spacious form. Its simplicity and mesmerizing outline have made it incredibly popular.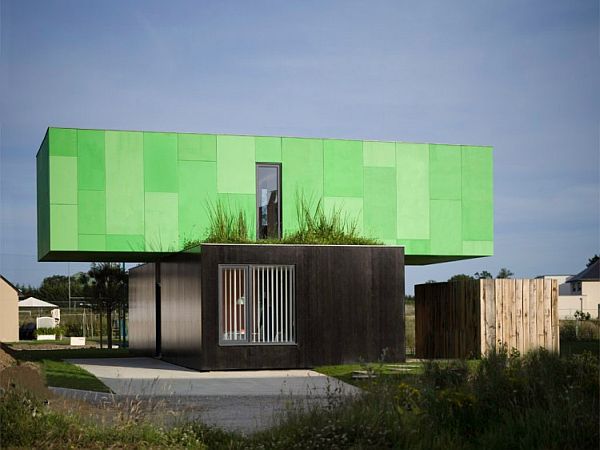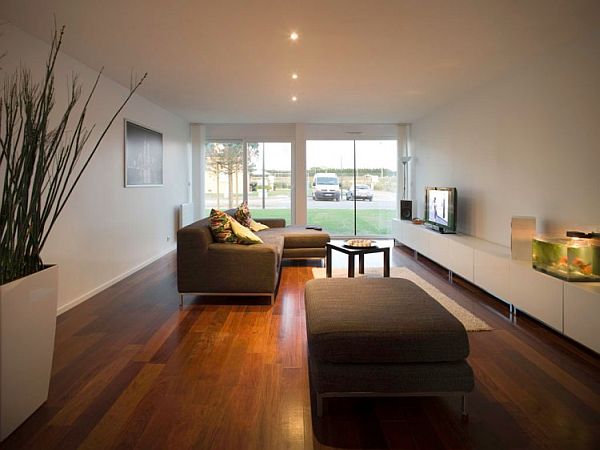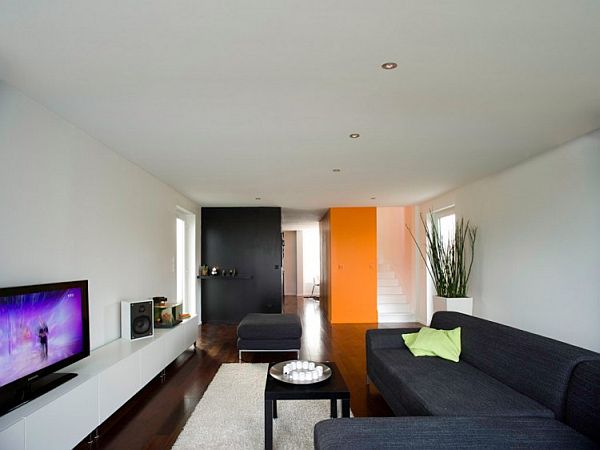 Private Cabins at the Alterra Beach Resort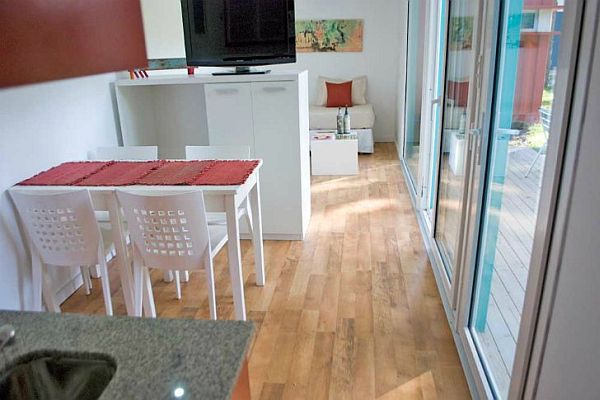 We have always believed that container homes make for a wonderful option as a retreat, whether it is as a personal getaway or as a reclusive and private resort space. Alterra Glamping is a vivacious and relaxing natural resort on the Pinamar beach in Argentina and architect Clorindo Testa has decided to give it an eco-friendly touch by using old re-purposed shipping containers as private cabins on the beach.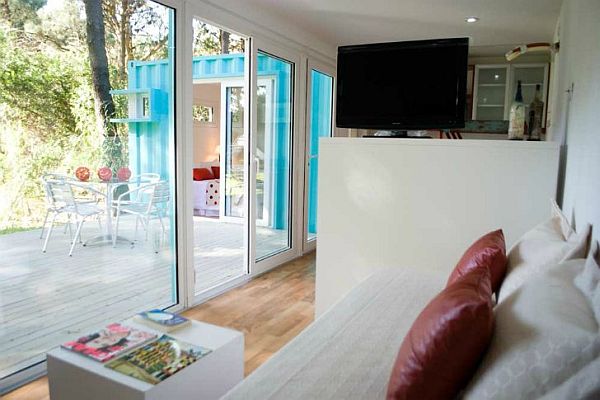 The cabins have been crafted to ensure all the contemporary luxuries are on offer as those enjoying the weekend here are hidden away from the world. The open design ensures that the serene and alluring natural surroundings always become a part of the holiday experience. Cabins crafted with care!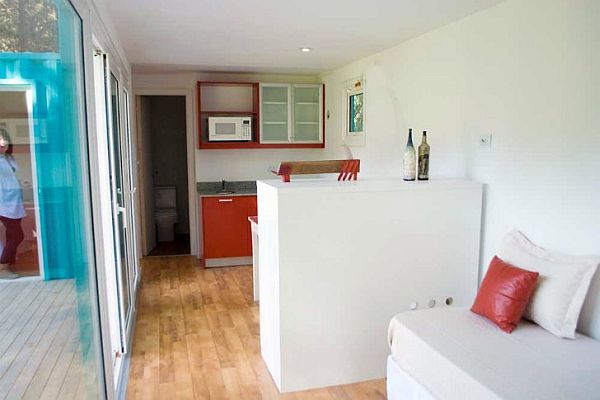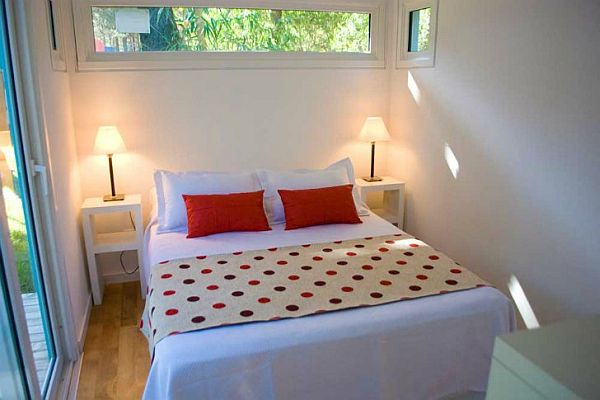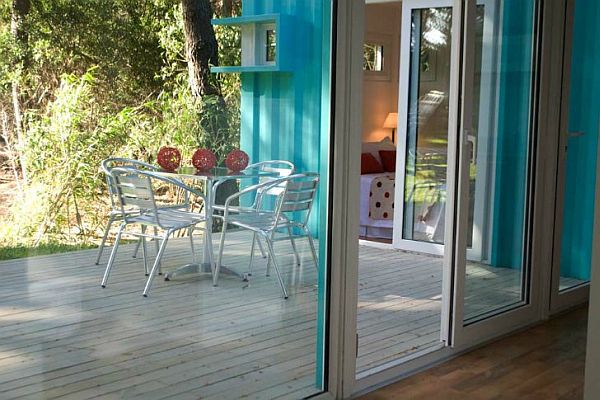 Shipping Container Guest Houses by Poteet Architects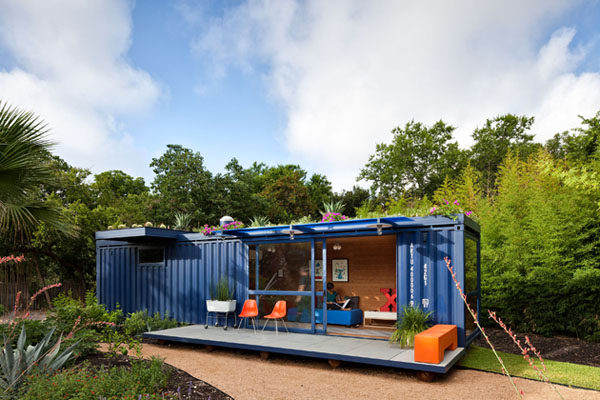 If you are not willing to permanently live inside container home for some reason, then how about using one for an additional guest house? The idea is pretty simple actually and all you need is a shipping container, some vibrant and colorful décor and plenty of creativity to ensure that you put up nice little living quarters that is both complete and comfortable.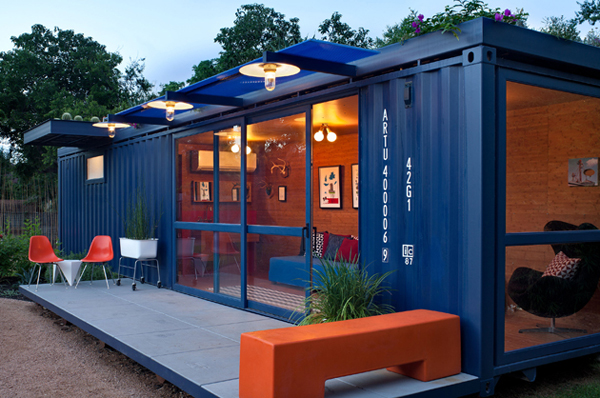 Some patio space, giant glass sliding doors and lovely environment all around completes this crafty idea from Poteet Architects. One of the easiest ways to incorporate a shipping container living unit into your existing housing plan without any hassles!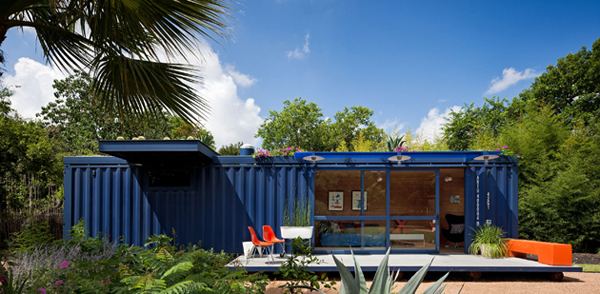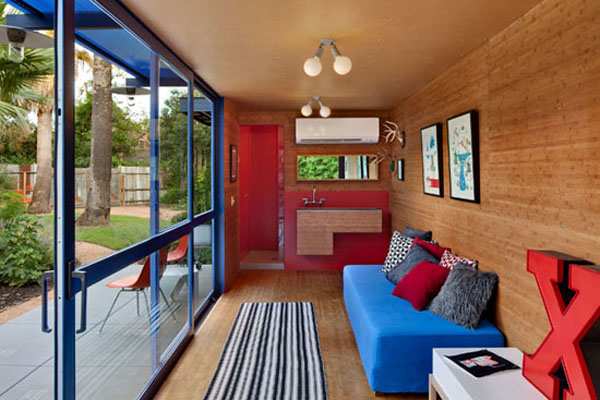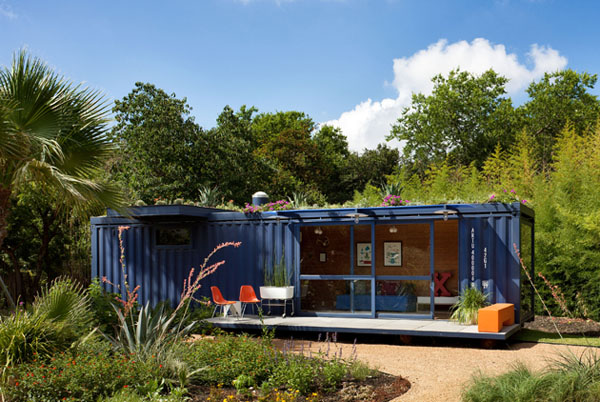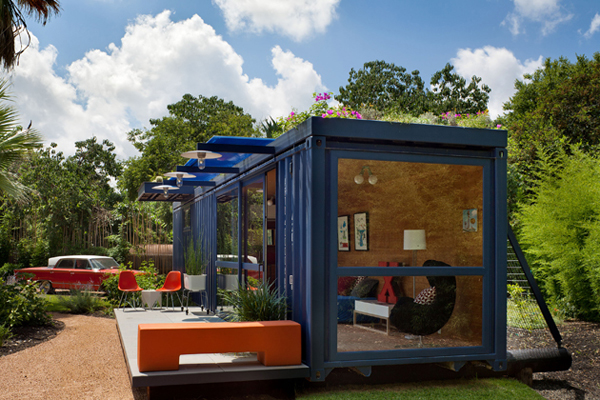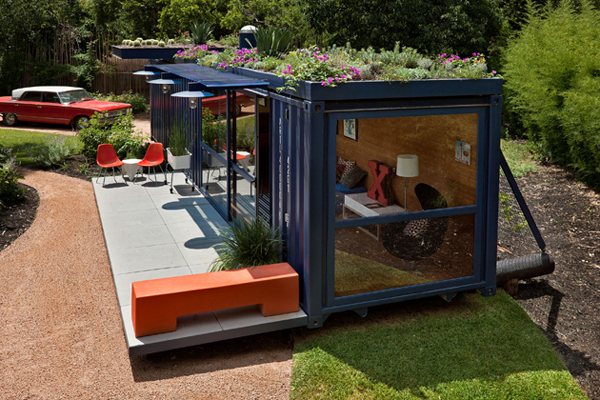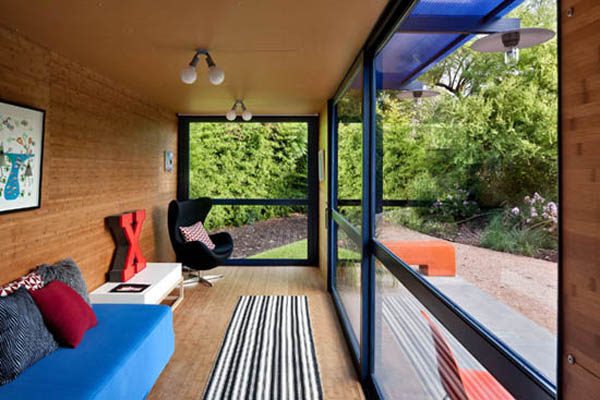 Vivacious Shipping Container Homes by Marcio Kogan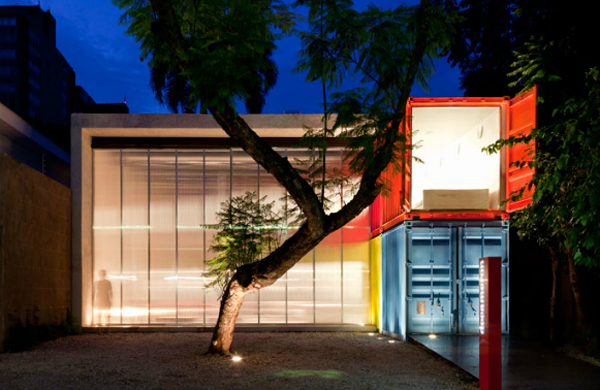 If the conventional shipping container homes were a bit too 'bland' for you (we highly doubt that though), then maybe the brilliant and visually enthralling painted shipping container homes designed by Brazilian architect Marcio Kogan would be more to your taste. These radiant and dazzling container homes exude unadulterated youthful zest and seem to create a party atmosphere all around.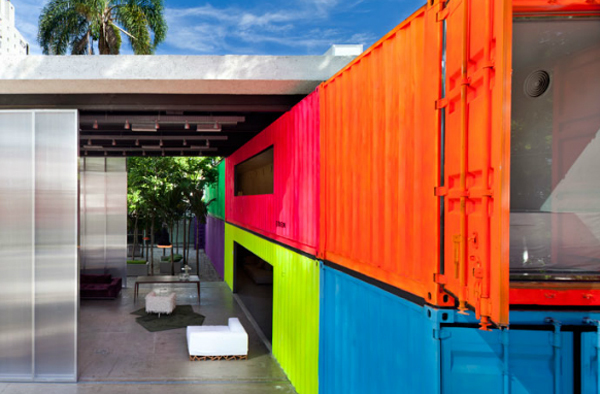 Coming in from the 'Samba' capital of the world, this striking container house design really does not surprise us. Apart from being a visual treat, These homes also sport comfy interiors that are both modern and trendy. The stacked container design is both audacious in its appearance and offers a nice contrast to the surroundings.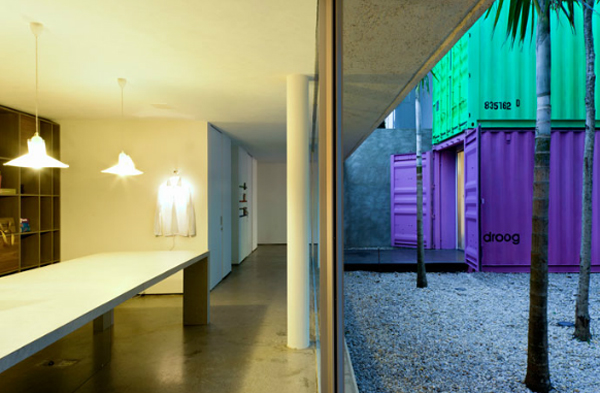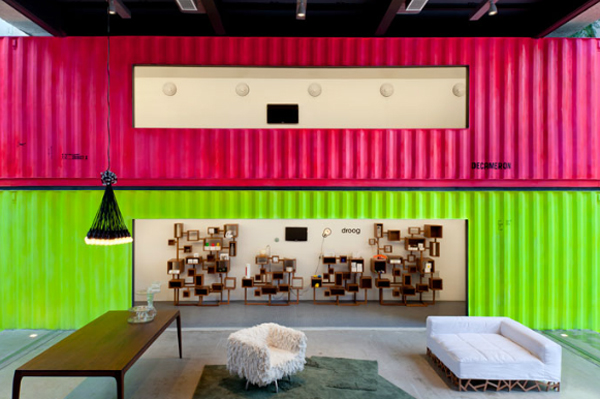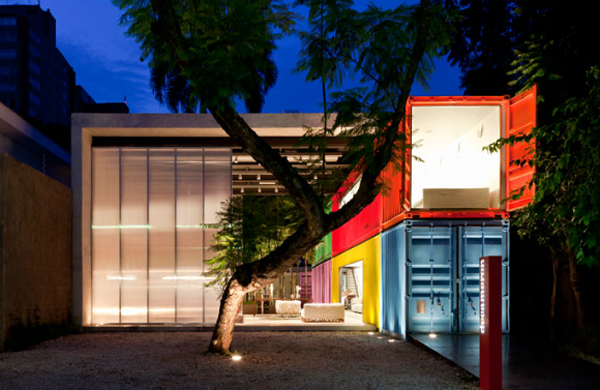 Casa El Tiamblo by James & Mau Arquitectura and Infiniski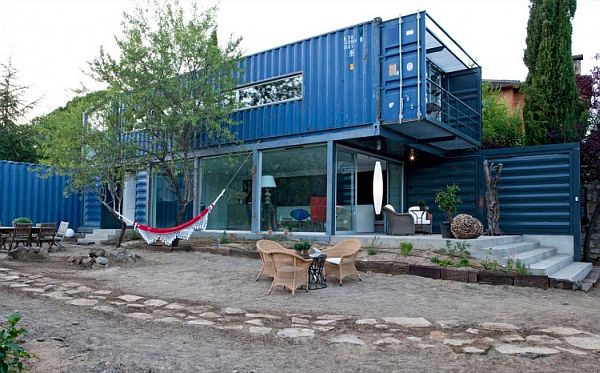 Something that seems to be a common factor when it comes to container house units is the open nature of their design and the Casa El Tiamblo is another attractive case in the point. Carefully and geometrically arranged 40 foot long blue shipping containers make up this modern Spanish home and the interiors are as eclectic and innovative as the exterior. Designed by James & Mau Arquitectura and Infiniski, this is a contemporary home with a metallic twist!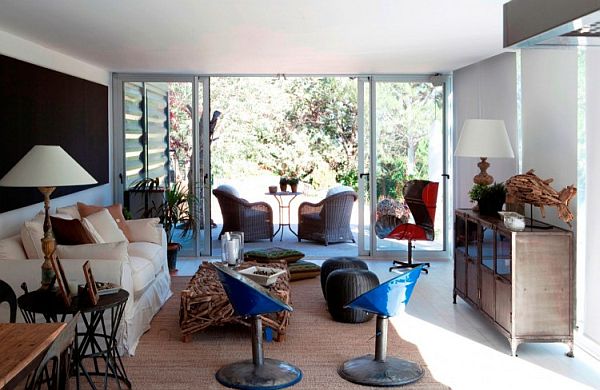 On the inside a largely modern black and white template is followed, but the splash of bright colors here in there in the form of eccentric decor items and quirky furniture, make it well and truly inimitable.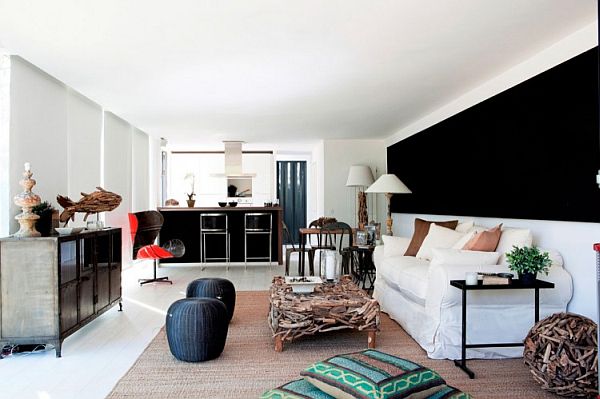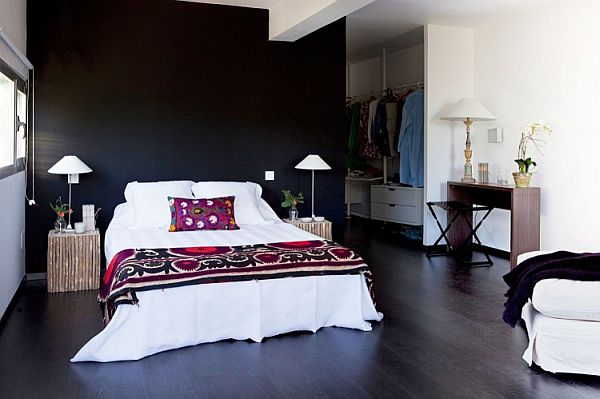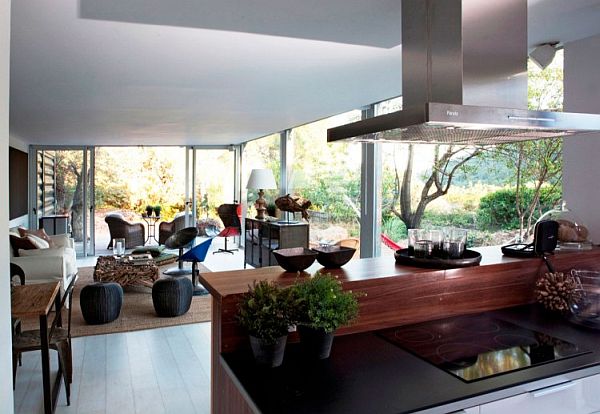 Shipping Container Home in Colorado by Studio H: T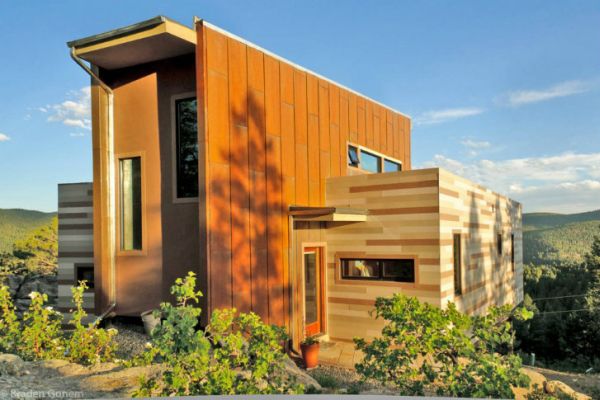 Nestled among the rocky mountain terrain of Nederland, Colorado, here is a shipping container home that offers the ideal solution for those who wish to escape the hustle of big city life and would love to spend time close to nature. Designed ever so diligently by Studio H: T, it employs two shipping containers in a 'wedged' design to create a structure that sports a modest area of 1,500 square feet.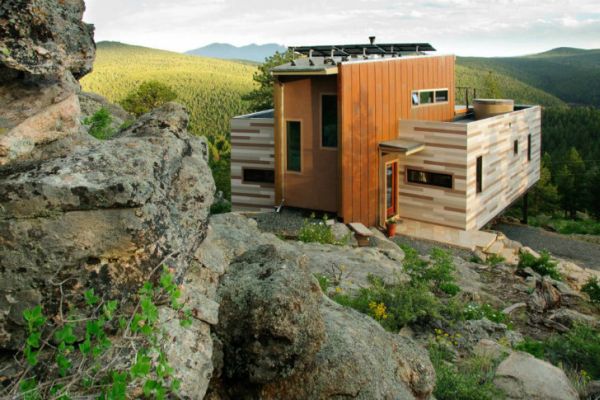 Now that might not sound like much, but with careful planning and multifunctional décor, the container home in Colorado has a spacious living and dining room and comes with three full bedrooms. Passive cooling technology, water recycling units and solar energy ensure that this house is completely off-grid and independent for its energy needs.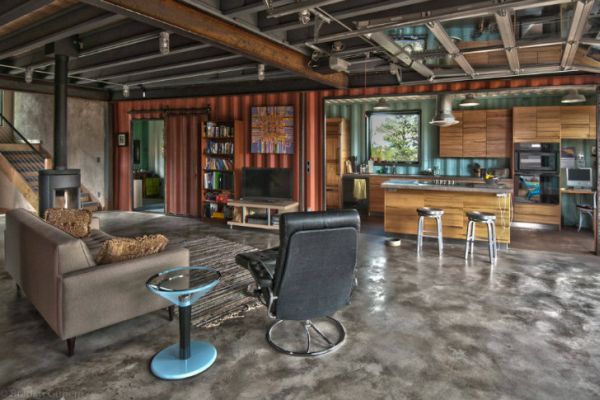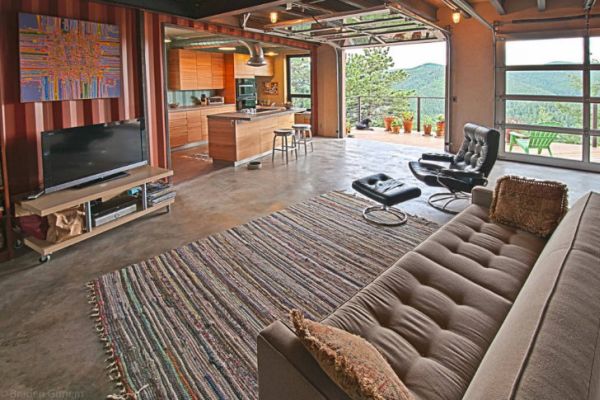 Take a Break with Starbucks crafted from Shipping Containers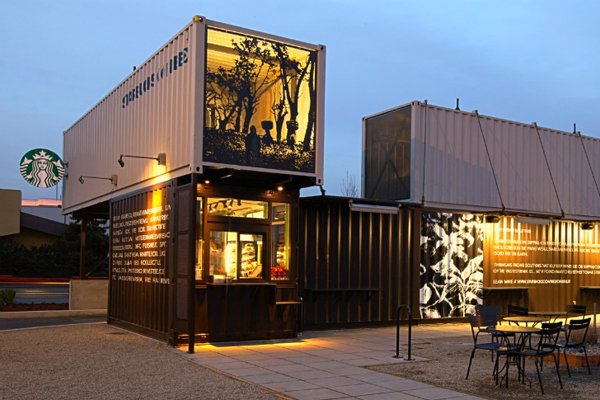 If you are a tad bit tired going through the list and would love a lovely refreshment, then how about stopping by a Starbucks that has been crafted completely from reclaimed shipping containers! The Starbucks drive-thru that has come up in Tukwila, Washington has been created using 4 shipping containers and the best part about it is that it used shipping containers that the company utilized in transporting tea and coffee supplies across the globe.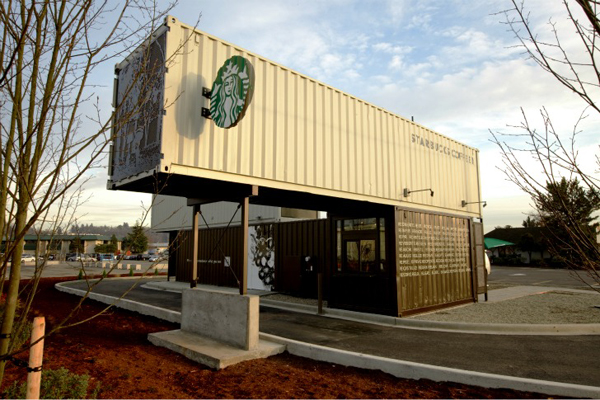 The idea was to incorporate these long serving shipping containers into the design of the Starbucks store and an in-house architect team along with Tony Gale, the company's corporate architect came up with this awesome plan. A refreshing business idea indeed!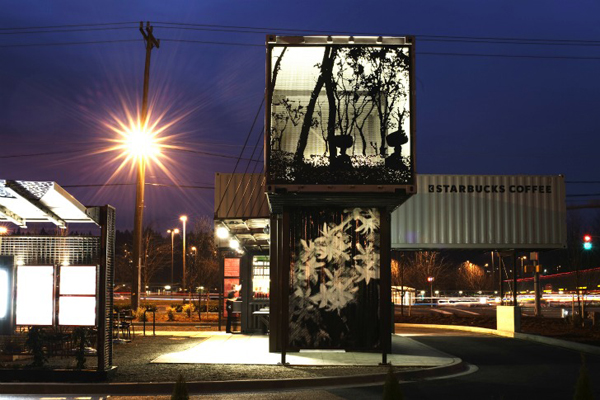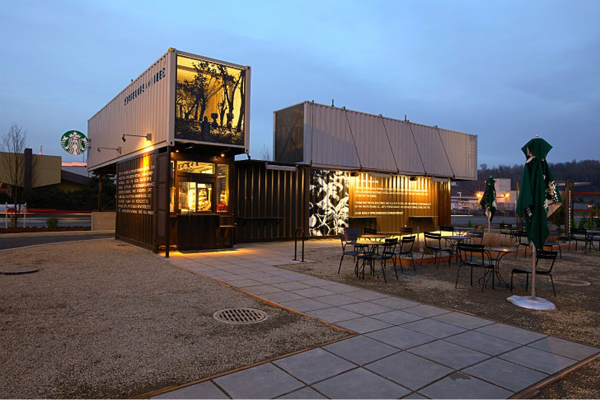 Green Frame House by Studio Astori De Ponti Associati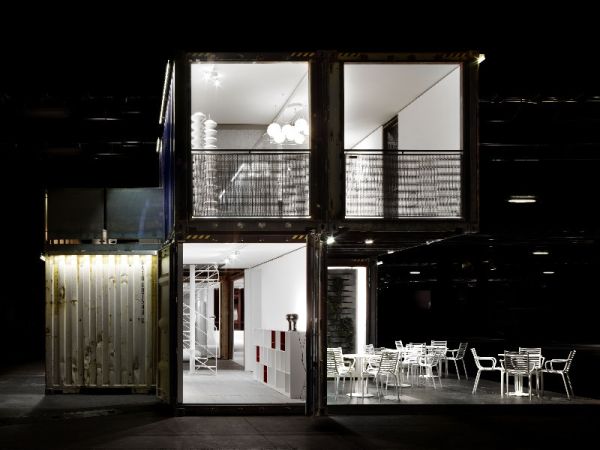 This sleek and almost futuristic modern home design was presented by Studio Astori De Ponti Associati and one can obviously notice the fine Italian design and the overwhelming sense of flair in it all. Prefab container homes are incredibly popular with eco-enthusiasts and this Italian design firm has come up with a minimalistic-styled house that caters to all their needs. Six standard shipping containers have been used for it and energy-efficient appliances along with a small wind turbine and photovoltaic panel give it a clean energy edge.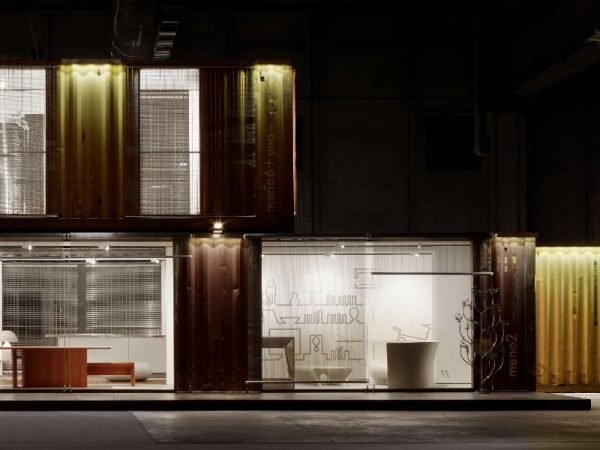 The interiors are elegant, unassuming and stick to the semi-minimalistic look, while offering those inside plenty of options to customize each container to their exact needs.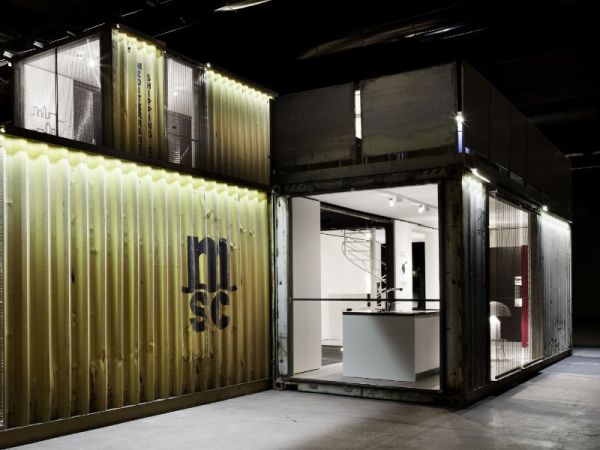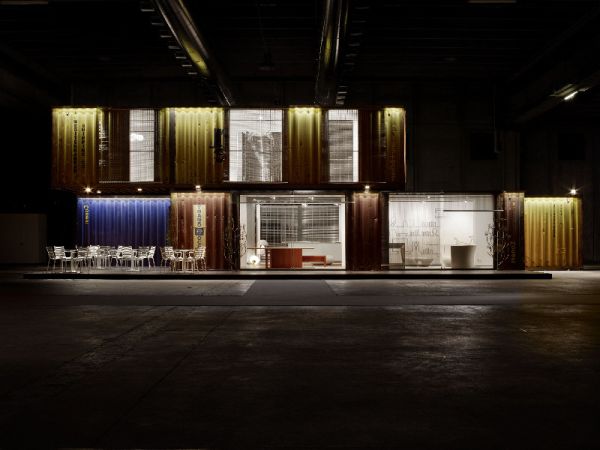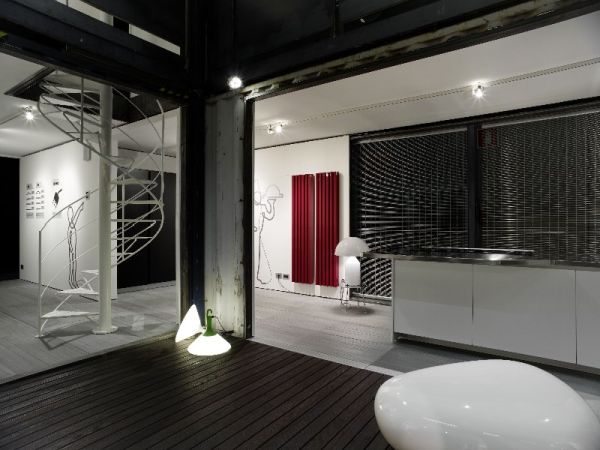 Prefab Shipping Container Home from Home Contained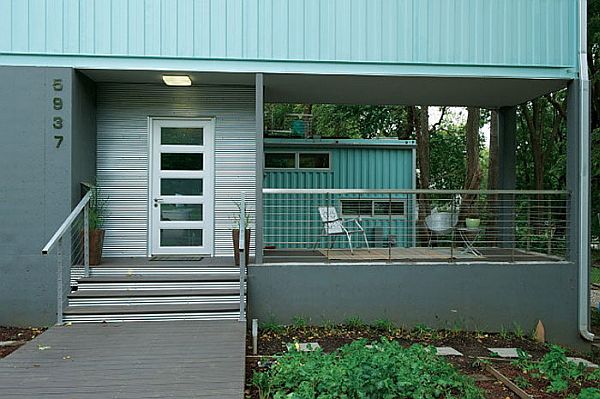 There is often a preconceived notion that shipping container homes have an industrial and metallic look about them that not only is relegated to the exterior, but at times makes its way inside. The prefabricated container homes designed by 'Home Contained' surely do all they can to try and break away from this popular myth. Five shipping containers have been used to create this particular home and it results in a 2,600 square feet of lavish living space that is filled with playful colors, spacious areas, eclectic décor and original design.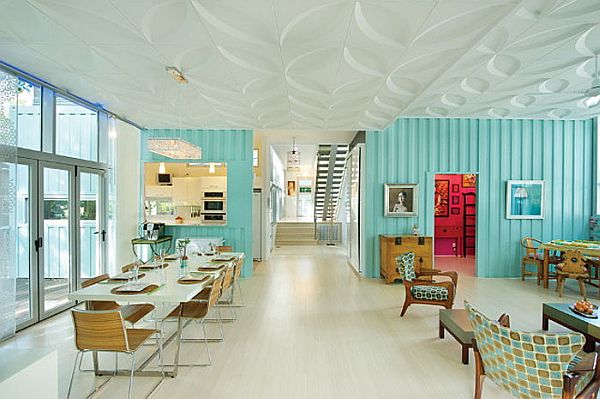 Graceful and at times dazzling wall art, ample natural ventilation, smart arrangement of furniture and different multicolored themes make these structures from Home Contained, hubs of unconstrained glee!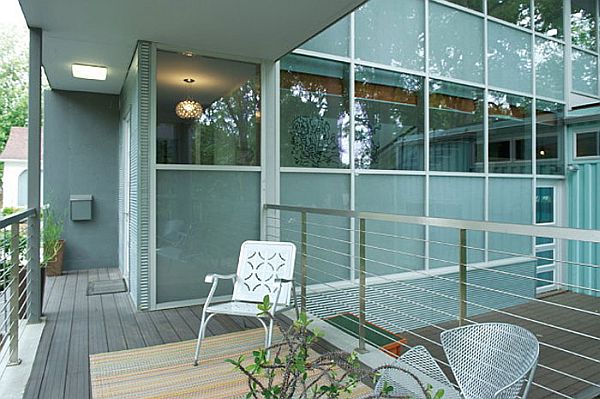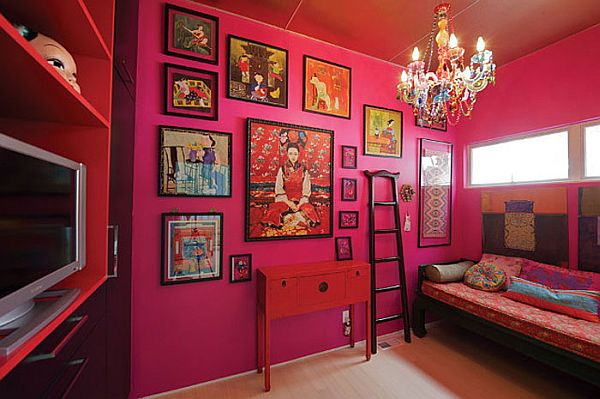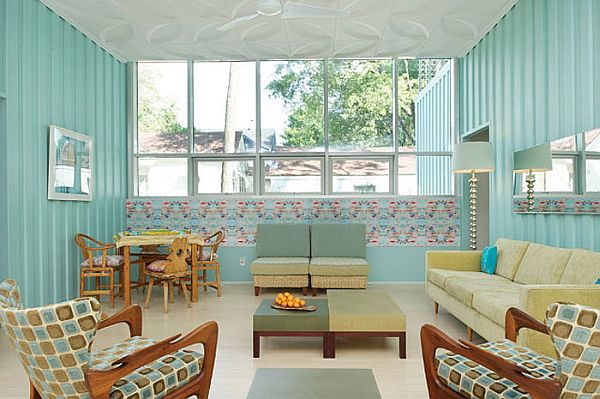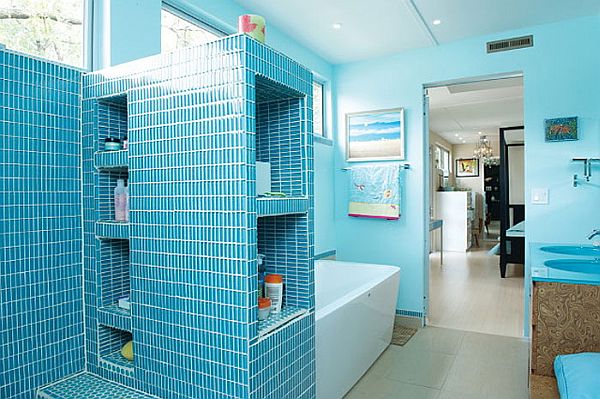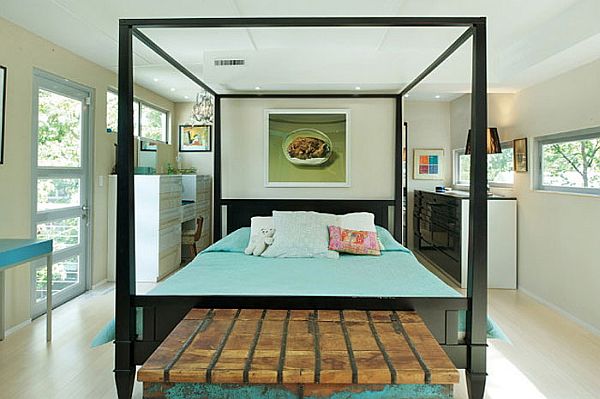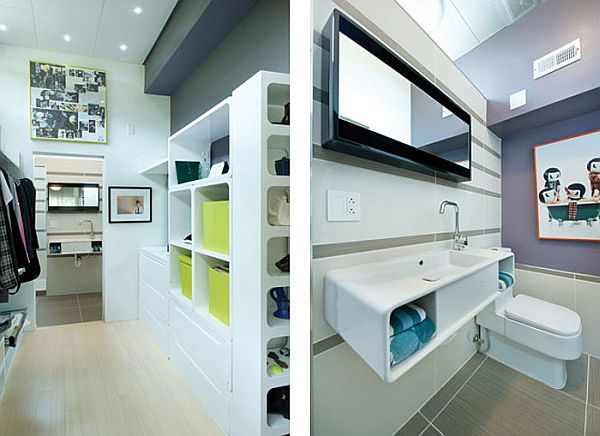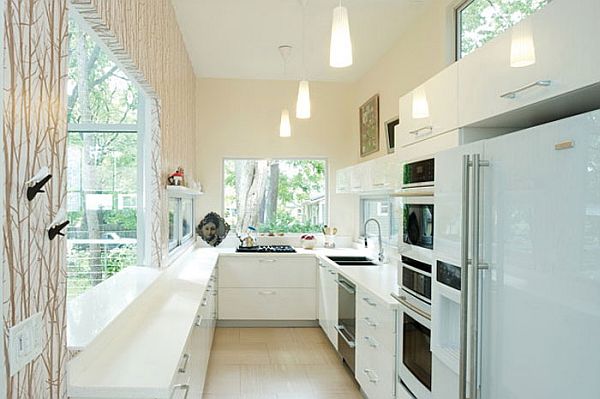 Shipping Container Office Space by Lab Inc.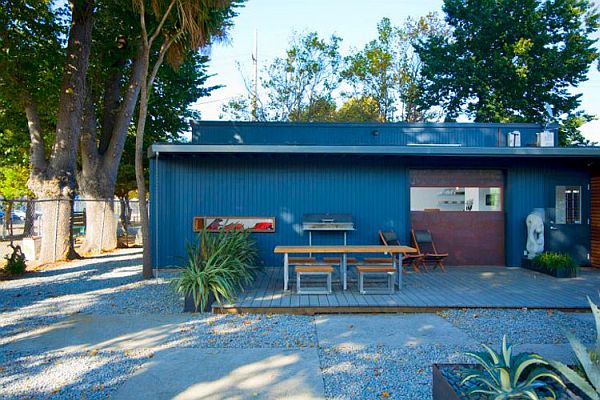 So, why should shipping container structures be relegated to just homes? Well, there is absolutely nothing that says so and this savvy L-shaped office designed by Lab Inc is a wonderful example of that. You can easily create a smart, space-conscious and complete office using container units and designed for Stephen Schoup, this office matches any conventional office building in all the must-haves and even has a few extra tricks up its sleeve.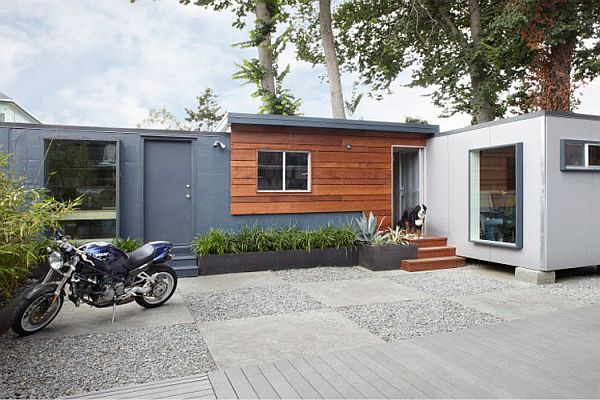 The tranquil and natural setting make it a perfect place for the origin of creative thoughts and its serene, yet ergonomic environment help in increasing productivity without giving a more serious tone to work. We simply love this office idea that is never too far away from your home.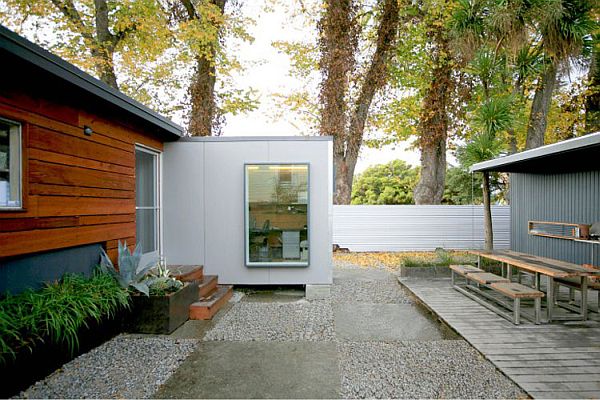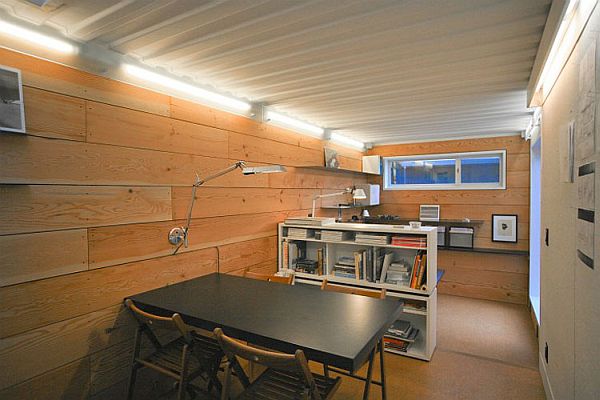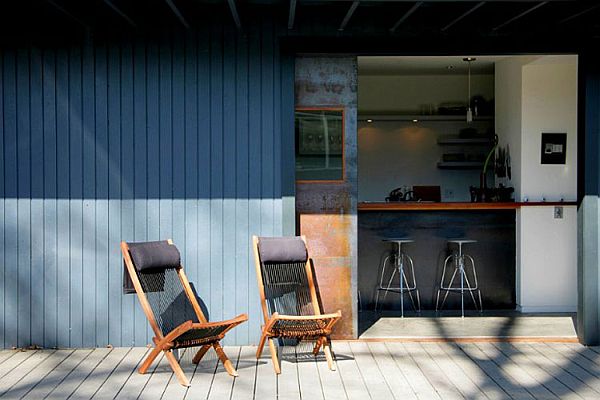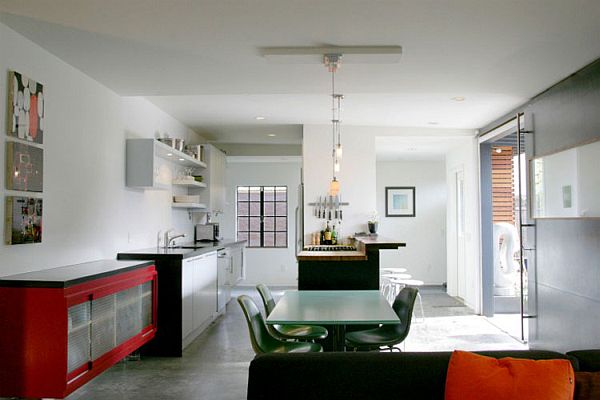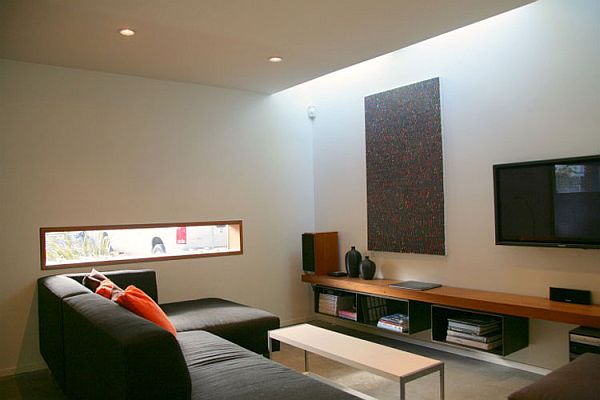 Fascinating Shipping Container House in California by Leger Wanaselja Architects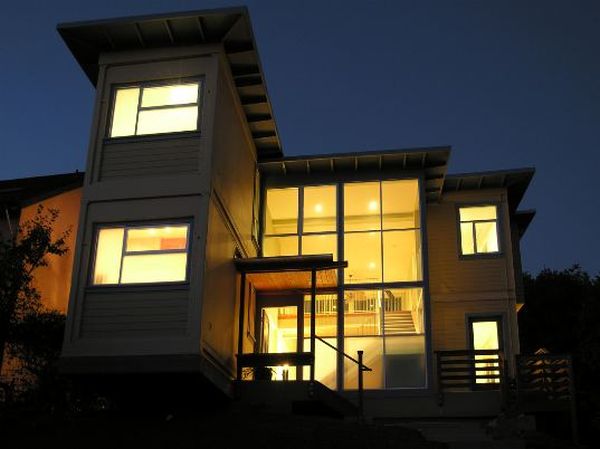 Maybe the container home that you are looking for is the one that is compact, stylish and looks like most other structures and blends in perfectly with the home on the plot next to yours. Well, if those are your requirements then this contemporary-classic styled home in Richmond, California might be the one you would want to emulate for your own container home blueprint.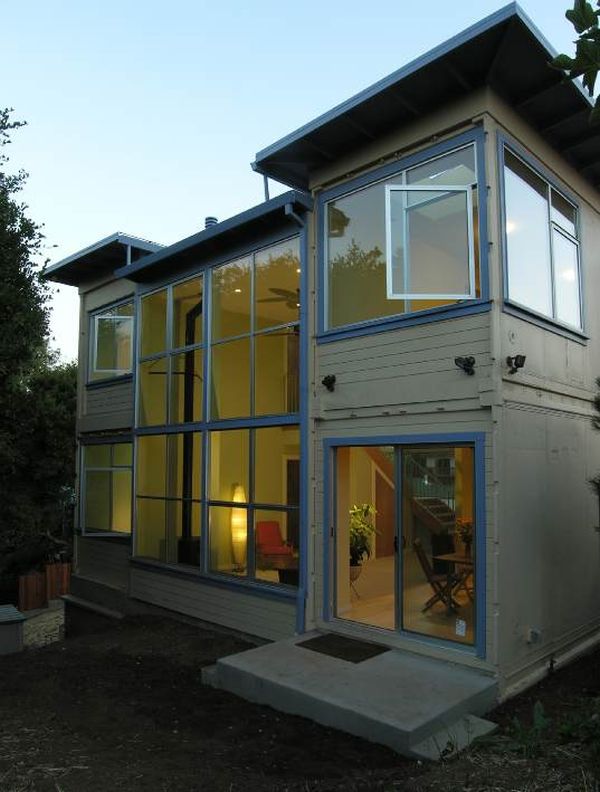 Leger Wanaselja Architects created this structure using just two shipping containers with one stacked on top of the other and 1,350 square feet container home offers all the modern comforts along with a very traditional design. In fact, from a distance you would notice nothing unusual about this residence and with solar energy and two-story atrium that offers ample natural ventilation, it is plenty planet-friendly as well.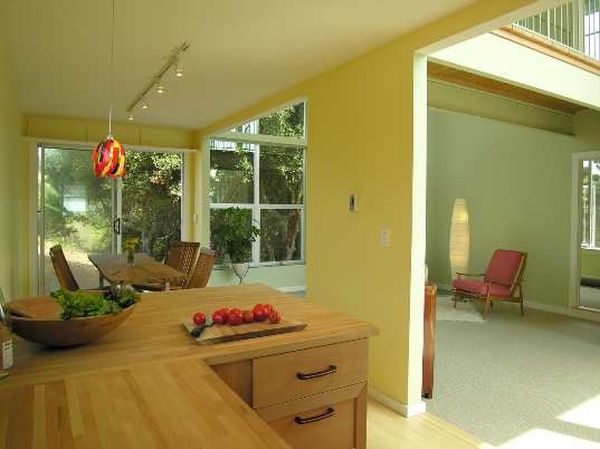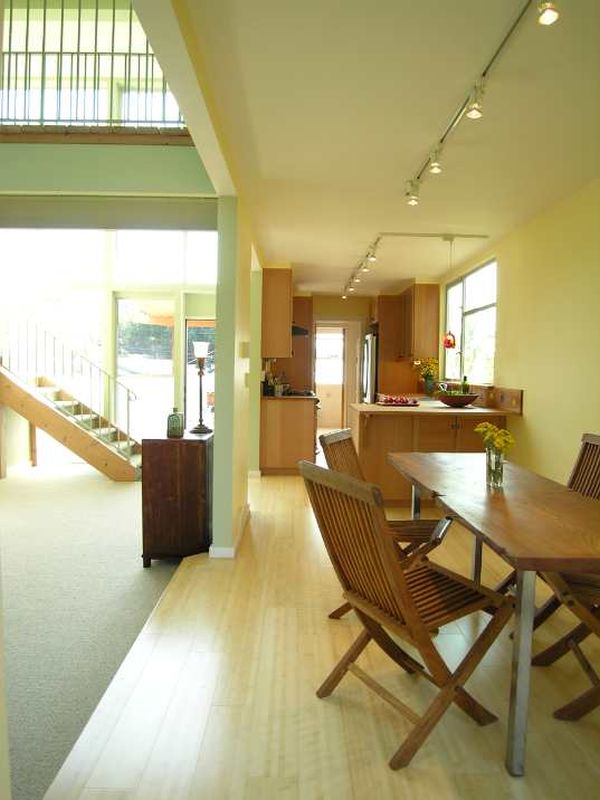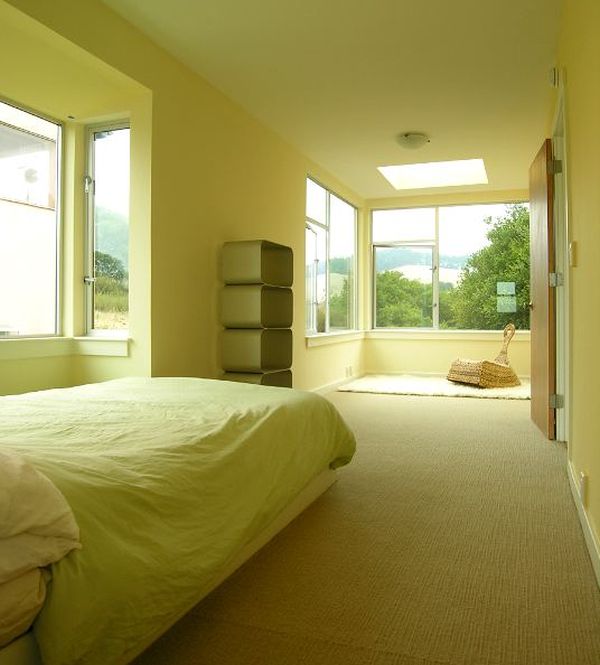 Colorful Cordell Shipping Container House by Numen Development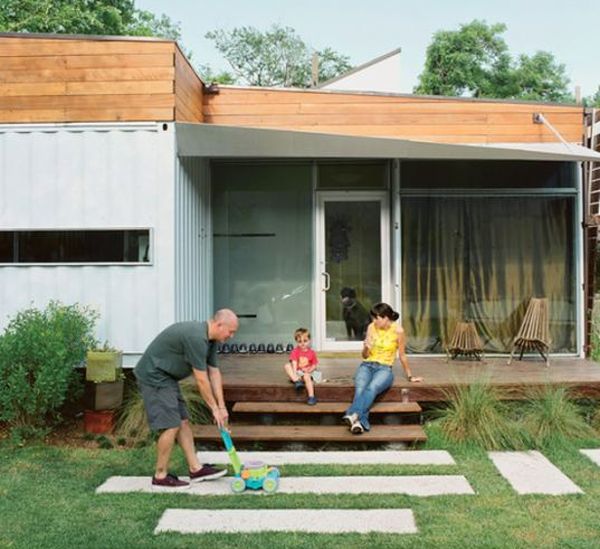 Another astoundingly complete container home that is both spacious and modern in its appearance, the Cordell container home took shape in downtown Houston. Architect Christopher Robertson from Numen Development was the man behind the project as he turned three 40-feet long shipping containers along with one 20-feet shipping container into a airy and contemporary living space ideal for a modern family.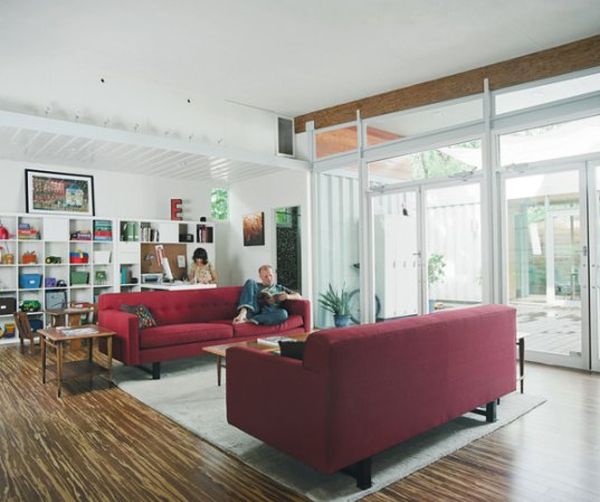 While two of the 40-feet long containers turned into the living room and the bedrooms, the 20-foot high container became the kitchen. The last remaining container was crafted into the guest room and with great natural ventilation, light hues and lively furnishings; the home is as good as any other modern housing unit.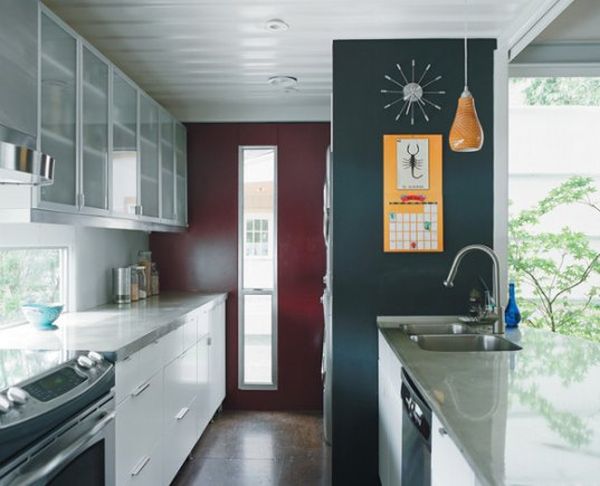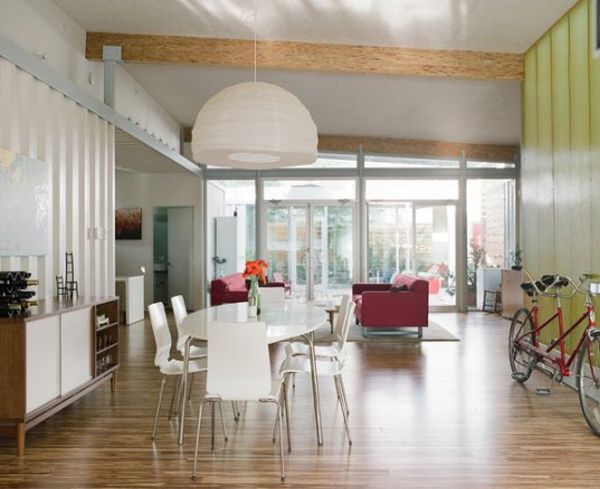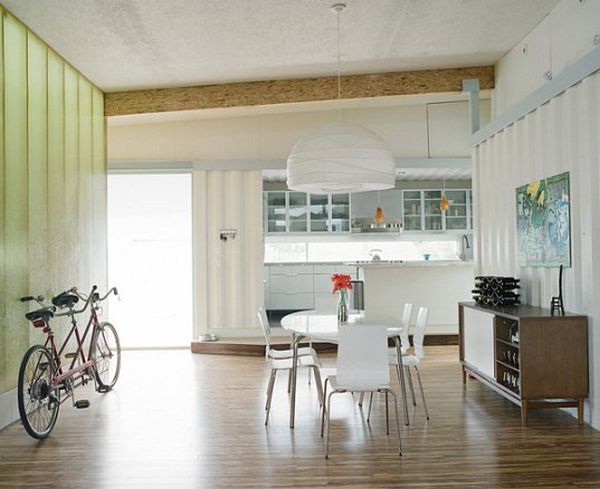 2+ Weekend House by Jure Kotnik Arhitekt
Crafted from ConHouse container units (Units that are like shipping containers, but are specifically designed for the purpose of building modular homes and offices), the 2+ Weekend House from Jure Kotnik Arhitekt showcases the increasing popularity of container homes and how some customers are specifically asking for them. This bold and expressive housing solution comes with a multitude of advantages that include cost-effectiveness, easy installation and quick transport.
Crafted with just two container units, the interiors are largely minimalistic and ensure that this becomes a perfect and affordable housing solution for those who cannot either afford more expensive homes or tend to move around a lot.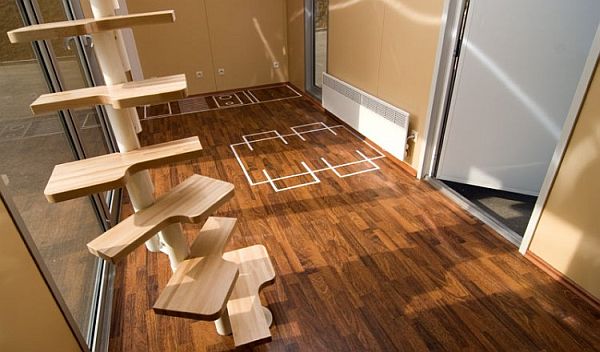 Jean Nouvel's Les Grandes Tables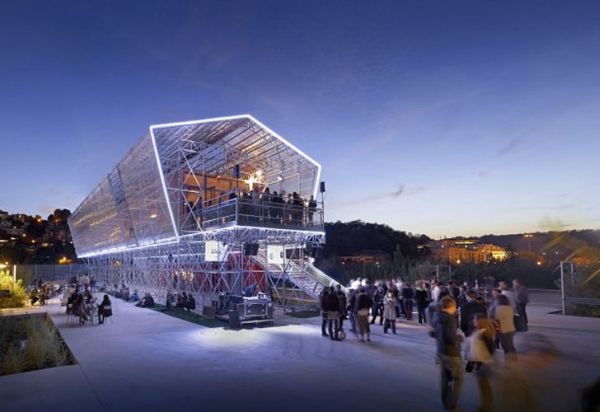 The Les Grandes Tables of Seguin Island in France is a perfect example of how one can use shipping containers in a multitude of environments to create the desired result both in terms of aesthetics and functionality. The revamped restaurant is a captivating structure encased in glass and inside it are recycled shipping cargo containers that not only make up the seating area for the 120 guests who can to dig into the culinary delights here at any given time, but also house a greenhouse at the lower levels that cultivate exotic plants and herbs which are alien to this region.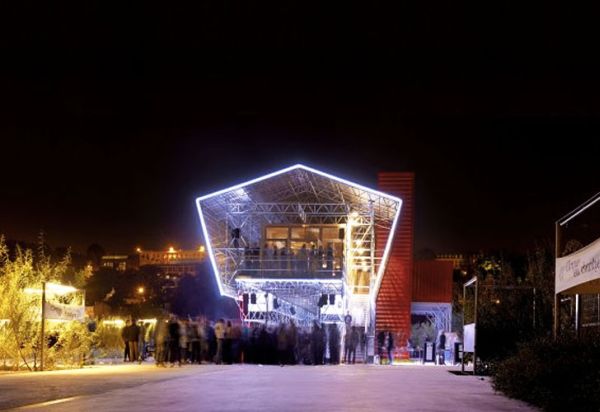 Apart from world class delights served up by French chef, Arnaud Daguin, the restaurant is a shining example of how to seamlessly incorporate container units into modern architecture and design.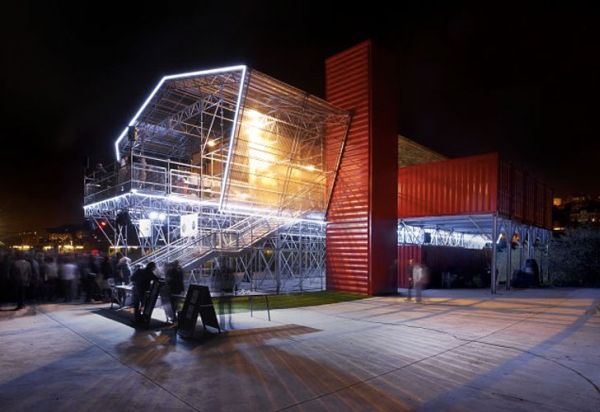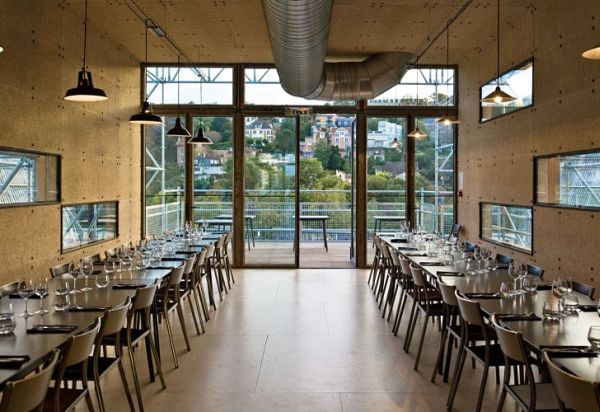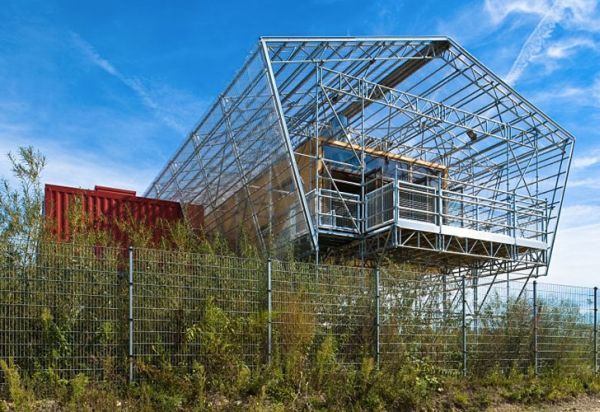 Boxpark Shoreditch: London's First Shopping Mall made out of Shipping Containers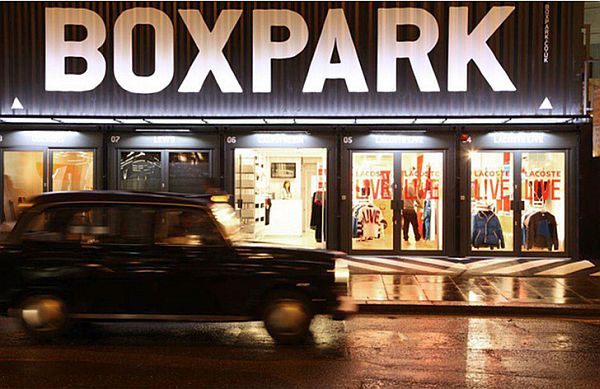 A pop-up shopping mall is always a great idea and it is all more awesome, when it completely employs only shipping container units. The first of its kind in London (and most likely in UK as well) the Boxpark Shoreditch is a shopping space crafted using 61 containers, with 41 of them on the lower level and with 20 of them on the upper level.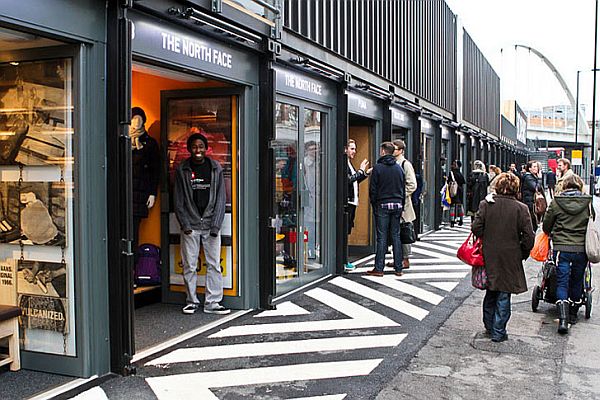 The idea for such an ingenious mall came up after many of the small business owners in London pretty much found it impossible to rent commercial spaces in the city. This cost-effective and shopping-friendly mall provided the perfect solution for both entrepreneurs and consumers alike.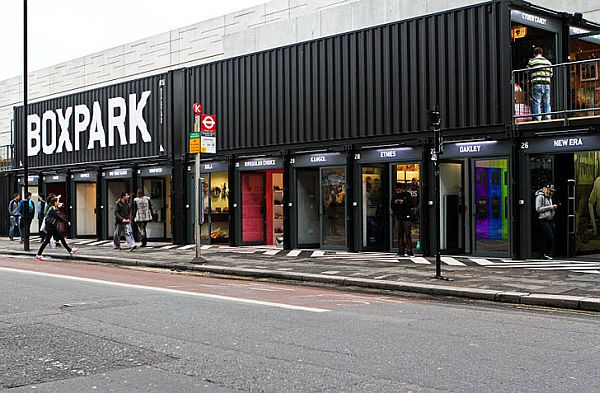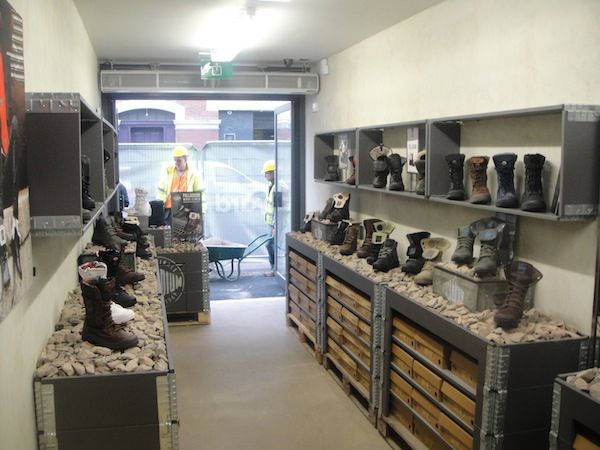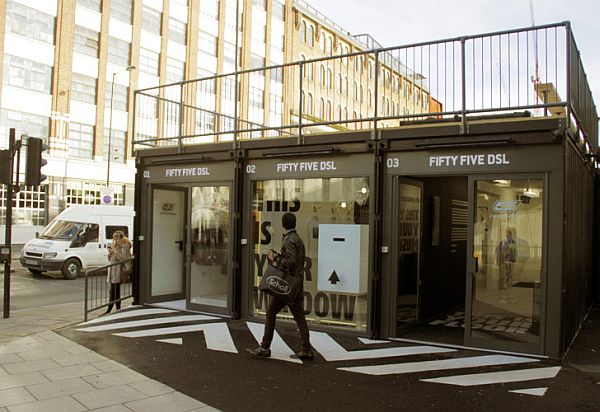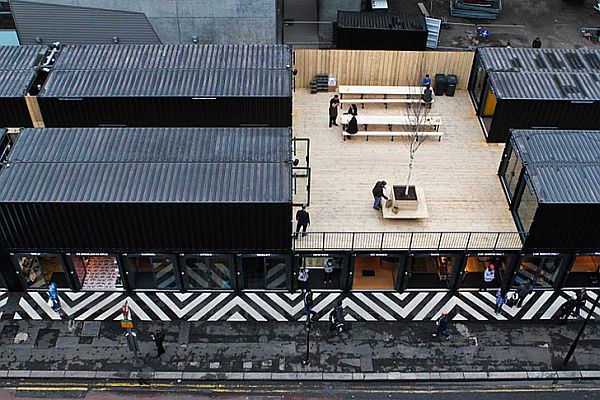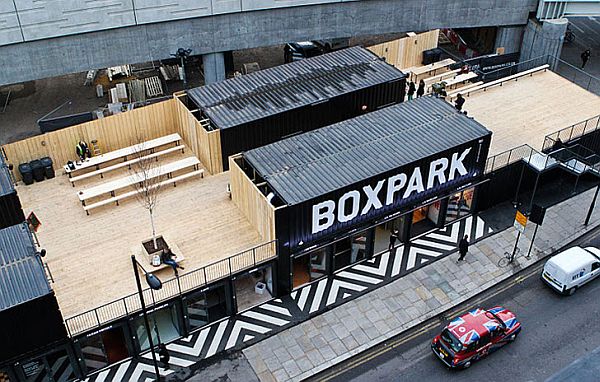 Quebec Container Home by Maison IDEKIT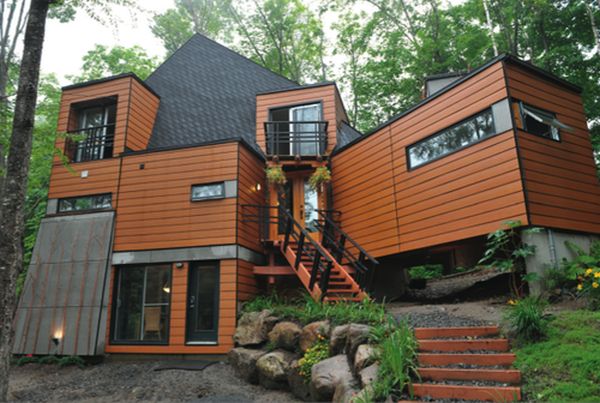 The husband and wife team of architect Bernard Morin and Joyce Labelle have decided to turn the idea of shipping container homes inside out; quite literally! While most container homes flaunt that aspect blatantly with an industrial exterior and a more traditional interior, their own shipping container home set in Quebec looks nothing like one from the outside. In fact, it has the appearance of a classic and timeless home that is both conventional and common.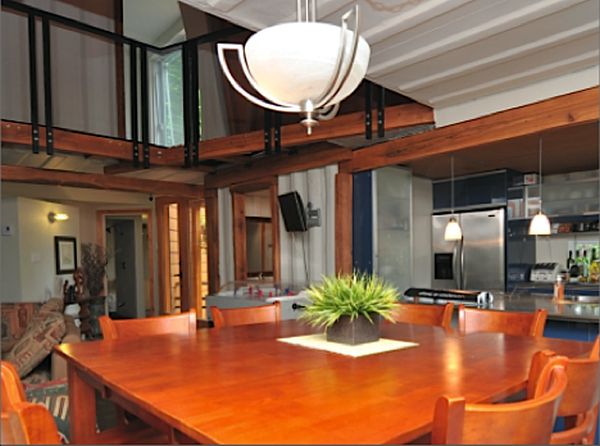 Step inside and you see exposed surfaces of the shipping containers used to build the home. The 3,000 square feet, five bedrooms home set them back by $175,000. But that seems well worth the effort and the green.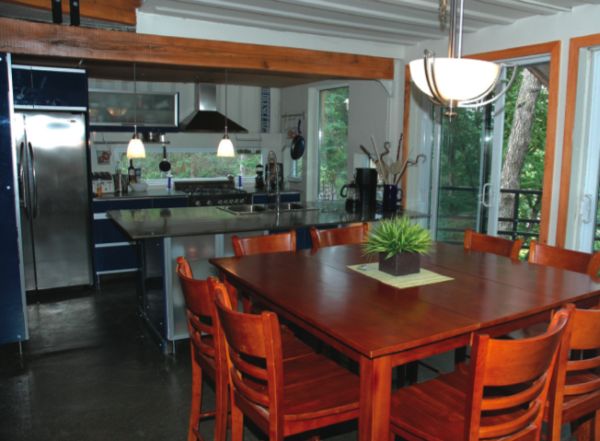 WingHouse Unravels its Magic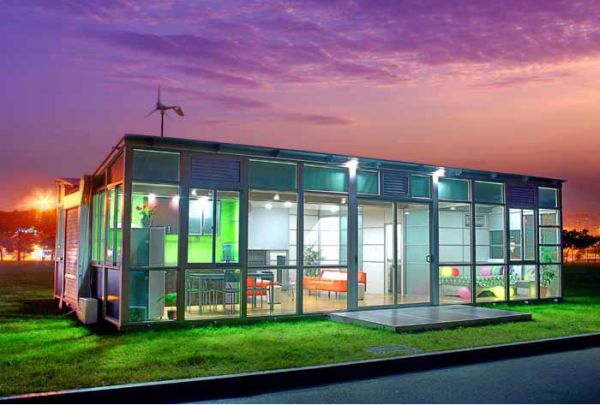 The idea of WingHouse is truly unique and very well could revolutionize the way we look at the housing structure in the years to come. These container homes are designed to pack in everything into a single unit so that relocation becomes an easy task. Once you reach your new destination, you can simply use the special features of the WingHouse and its unique walls that rise up like wings, with the help of a built in crane, to create more space.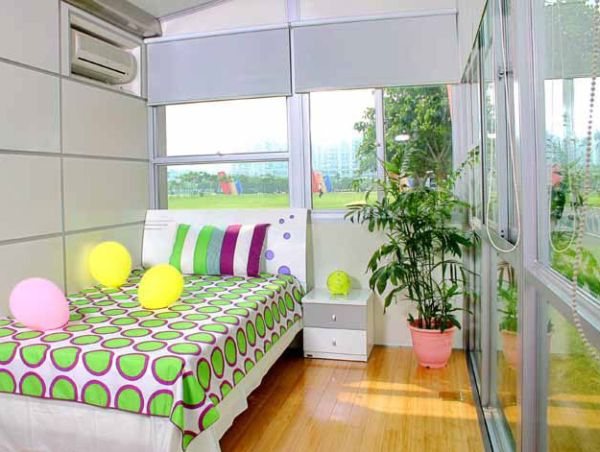 Perfect not just for homes, but also for commercial ventures, one can customize the rooms and interior space depending on personal choice and necessities.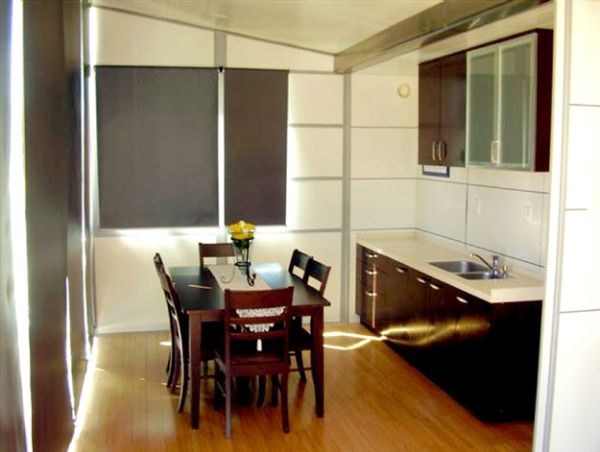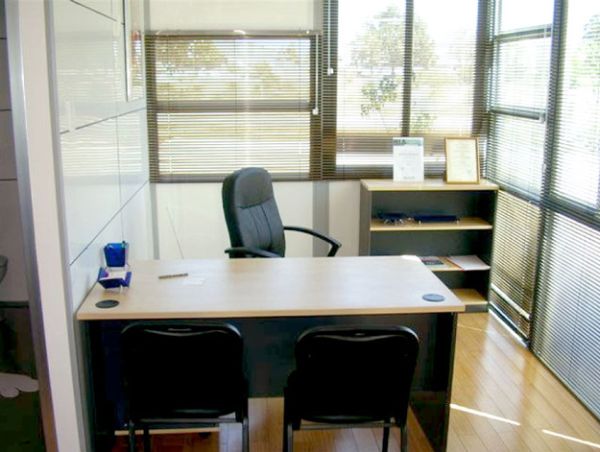 Redondo Beach House by DeMaria Design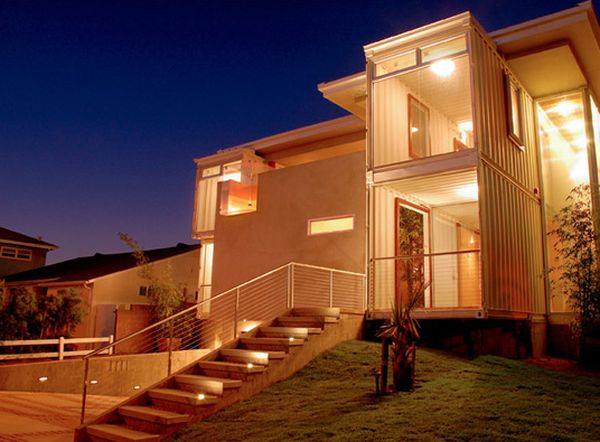 Another one of those container homes that seems to blend in with its natural setting, the Redondo Beach House by DeMaria Design is a seamless combination of shipping container units and traditional building materials to create a picture-perfect home that most would be proud to call their own. Twenty foot long container units have been used to create the structure and with an inverted container even forming a lavish pool, this truly is an attempt to bring all the modern comforts to container unit homes.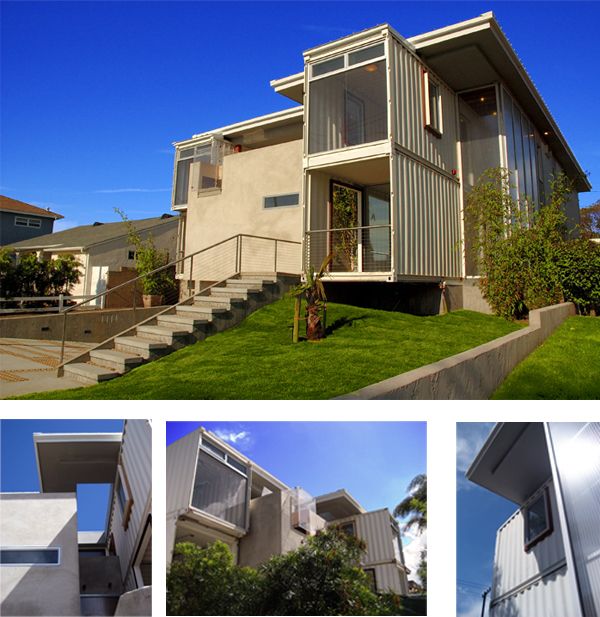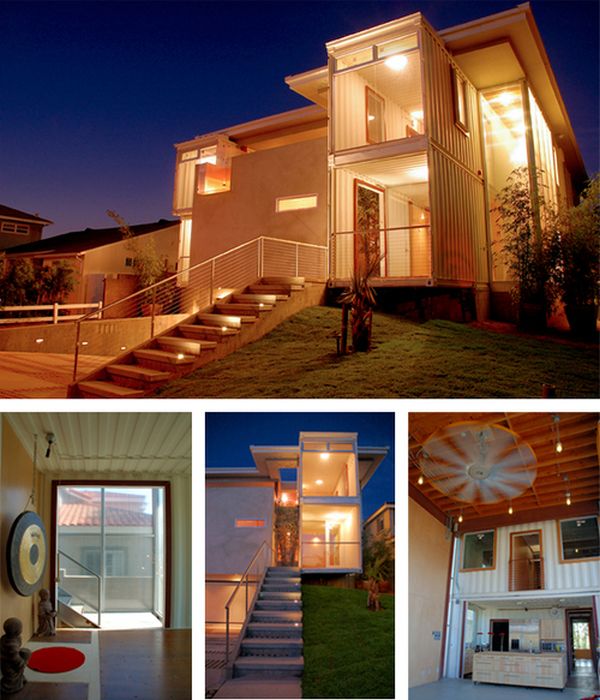 Tommy Hilfiger's Berlin Shipping Container by Artdepartment-Berlin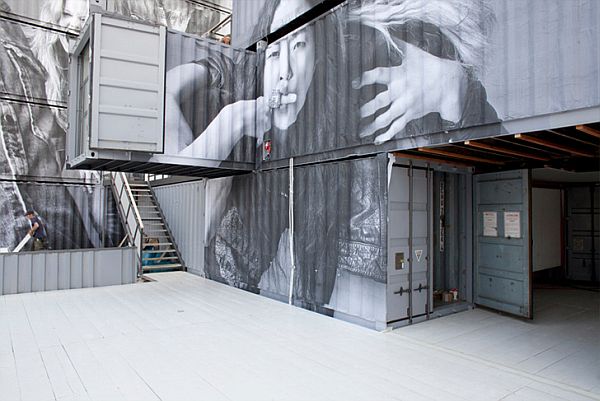 Showcased at the Bread & Butter Fashion Trade Show on behalf of the internationally renowned Tommy Hilfiger brand, these container structures showcase not just the utility of such units, but also how they can get a cool and at times 'hip' makeover. The graphics on the top, along with the quickly assembled units just took about a day to set up and it took a mere week to turn them into fully functional homes that were as good as any around.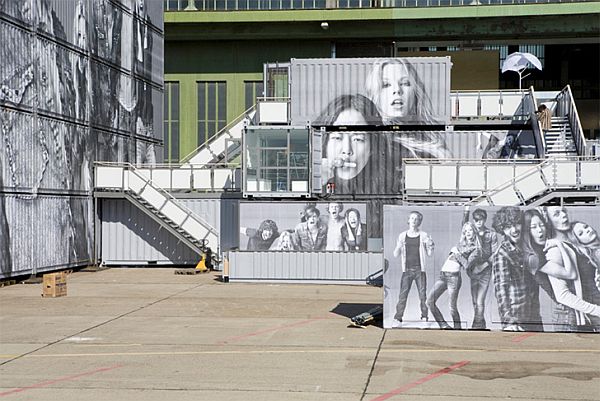 Icons of style and the changing world trends, these units represent everything that the brand itself claims to symbolize- innovation, striking design and a reinvention of current trends.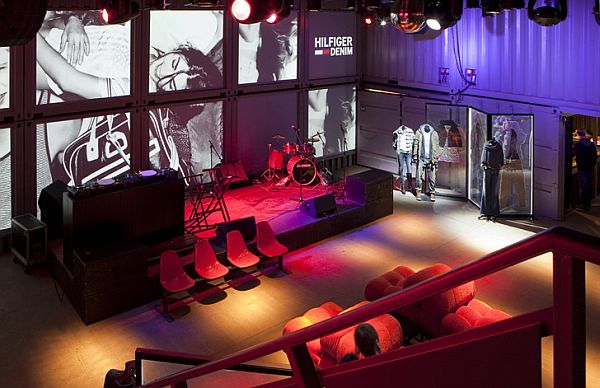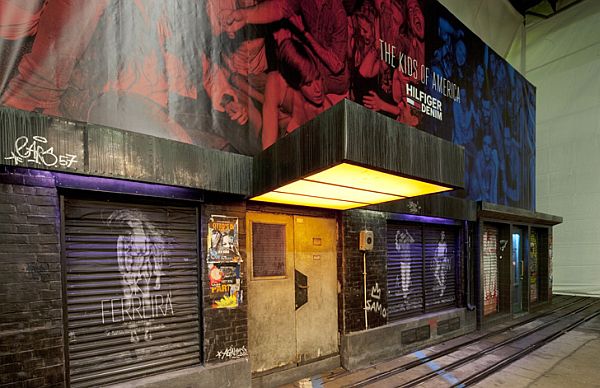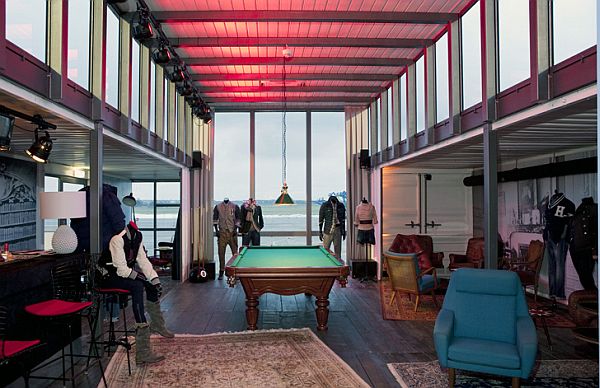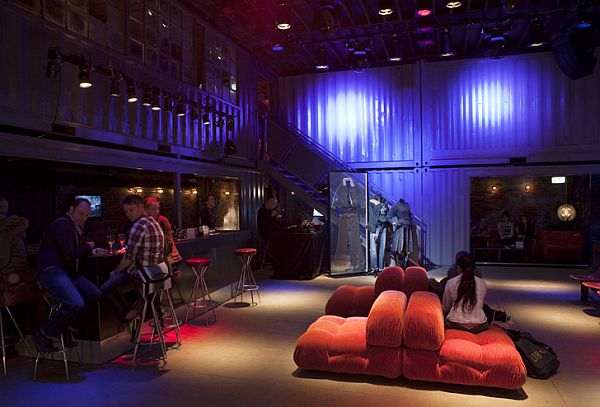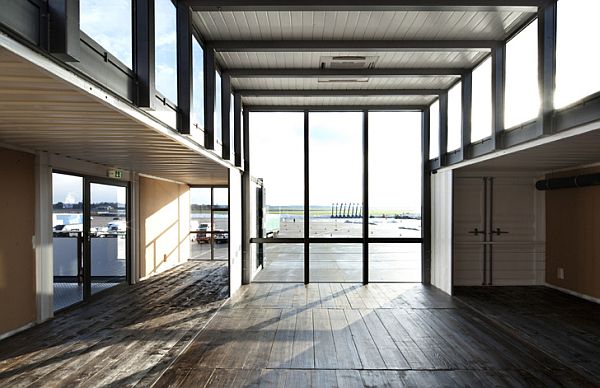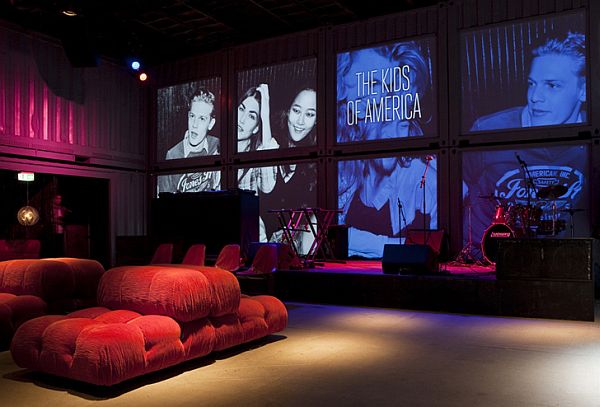 Ergonomic Container Home in Mojave Desert by Ecotech Design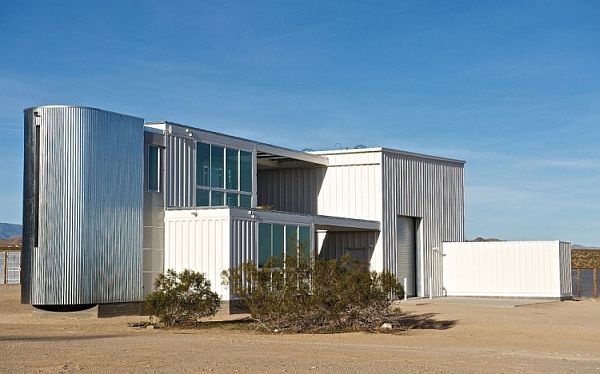 Another completely professional and modern unit, this shipping container home is the first of its kind in the heart of Mojave Desert and its stylish exterior makes one wonder if it really was crafted out of container units. Brought to life by Ecotech Design, the structure employs 6 shipping containers and the end result is a lavish contemporary house with a single bedroom. Spread over 2,300 square feet, the Mojave Desert house even sports a few shady patio areas and an open yard on the outside.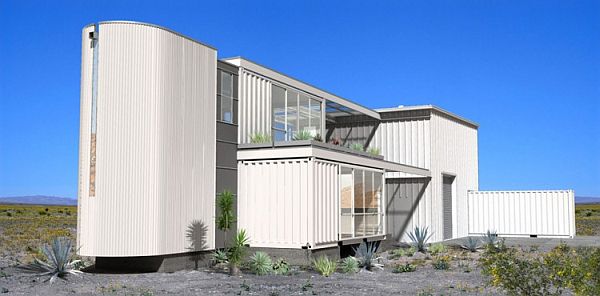 Designed to handle the tough local weather conditions its high energy-efficient interiors and low cost, make it ideal for mass production as well.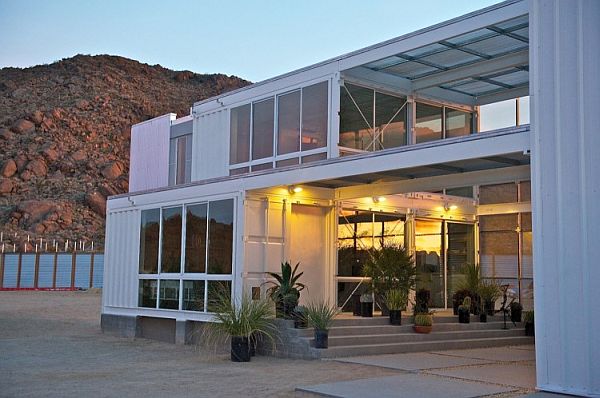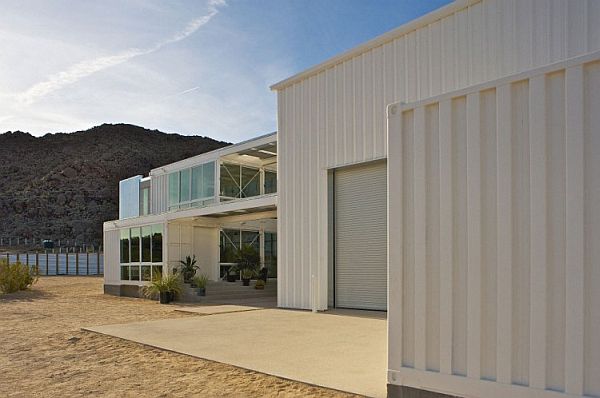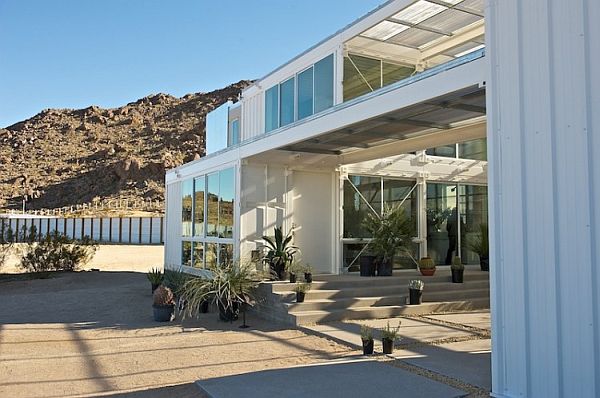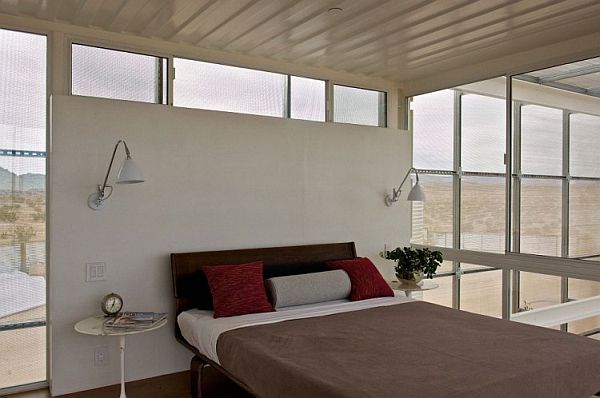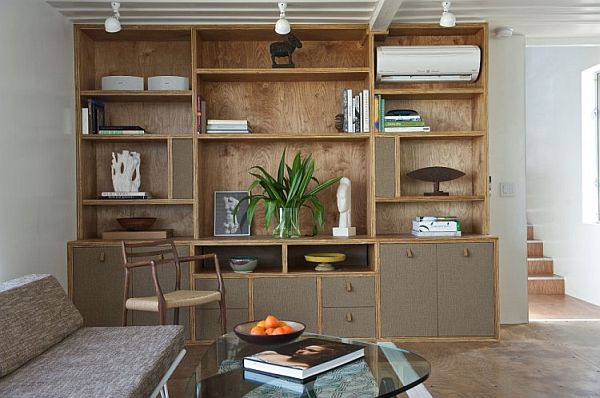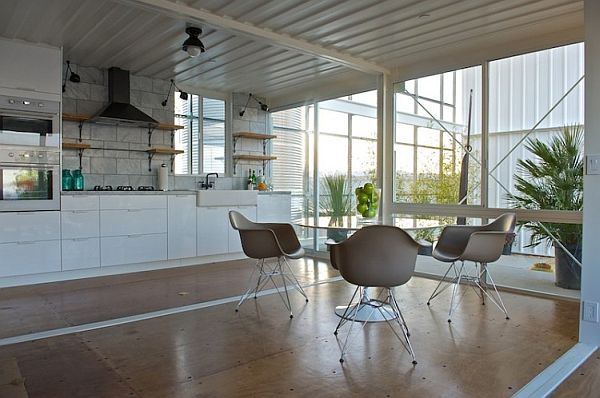 Del Popolo Mobile Pizzeria provides a Great Idea for Budding Businesses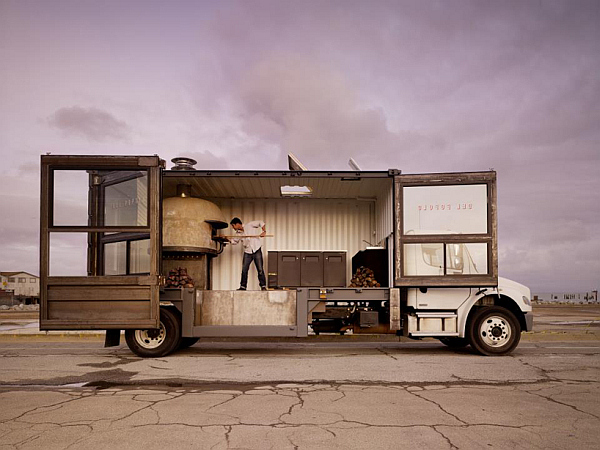 As we come close to the end of our container homes and structures series, how about grabbing a slice of pizza from a mobile pizza house crafted from a repurposed shipping container pizza. The Del Popolo mobile pizzeria is well and truly unique as it incorporates a traditional Italian wood-fired oven in a kitchen that is contained beautifully in glass.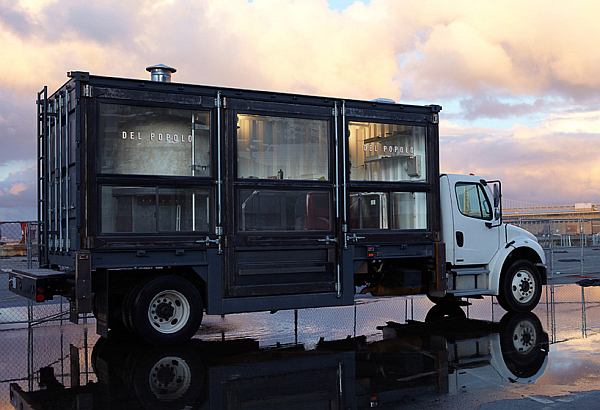 It cost Jon Darsky about $ 180,000 to convert the old shipping container into a full-fledged mobile pizzeria. But considering how he can now bring the business to customers, it might be a wise investment indeed!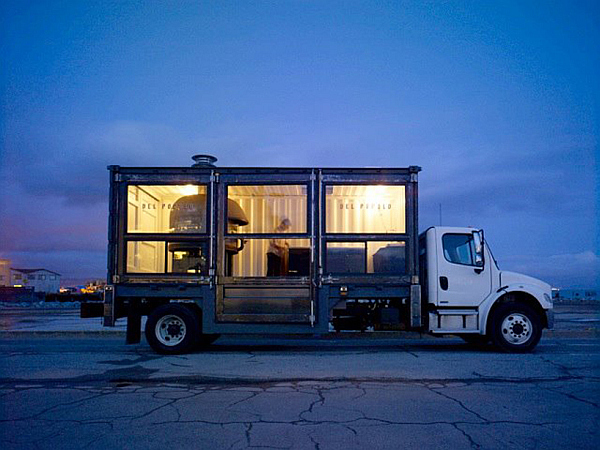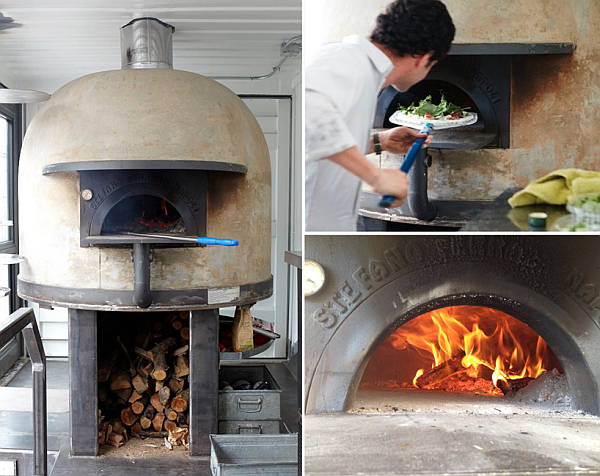 Danze & Davis Give an Extreme Shipping Container Makeover to a Texas Home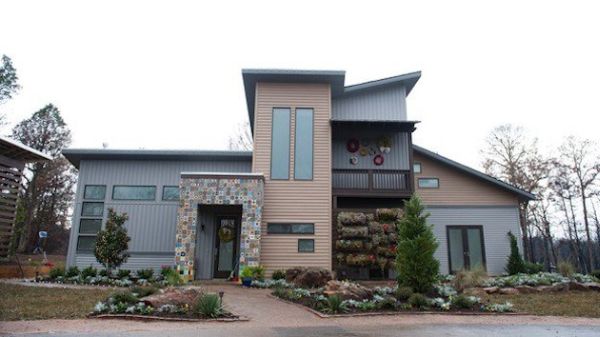 The lovely and understated family home in Bastrop, Texas might appear as if it is not the most brilliant work of art or even a gorgeous shipping container home that matches the others on the list. But considering how the home was built after the original was destroyed in a fire, it does deserve a mention just for the amazing value that it adds and the new lease of life it gave to the owners of the place.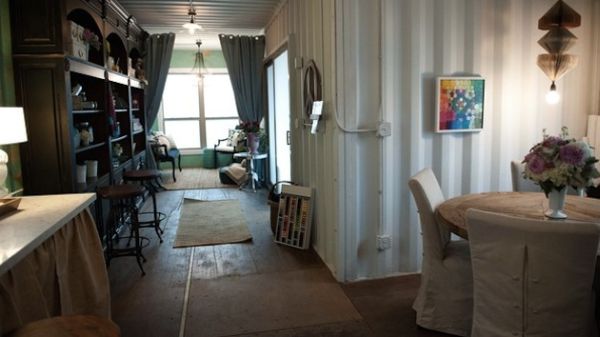 The extreme makeover of the home was rendered by Danze & Davis and they chose shipping container units as the material of choice for the building of the new home. The rustic and traditional look of the home has been kept intact, while the interiors how sign of exposed steel that comes from the container units used. Despite its non-glamorous look, this container home makes the list for its sheer utility factor and adaptability.