Fall's here, and after it comes the cold winter. Staying warm at this point might be a priority for you and your family. That's why we decided to share with you one fantastic warm-up idea—getting a wooden hot tub!
Wooden hot tubs are reminiscent of medieval palaces and castles. However, the hot tubs used in those times didn't have a heating element, and the water was warmed separately. The modern hot tub, however, has a heater to monitor the water's temperature and make it pleasantly hot.
Wooden hot tubs are made in different sizes; the most popular ones can seat up to five or six people.
Tips for Choosing a Wooden Hot Tub
Choosing the right wooden hot tub can be quite daunting, especially financially. These guidelines will help you be informed and boost your consumer confidence before making a purchase.
Location
Consider all the advantages of placement, surroundings, and views. You can put the tub anywhere you like as long as you have a firm base to place it on.
Tub Size
You should opt for the tub that will fit your family in it and a guest or two, this way, you have enough room for yourself and any guests you might like to enjoy the warmth with.
Wood Type
Teak is the most common wood for wooden hot tubs because of its durability and ability to hold up against frequent exposure to water.
Interior or Exterior Stove
An interior stove takes up space for anyone using the tub.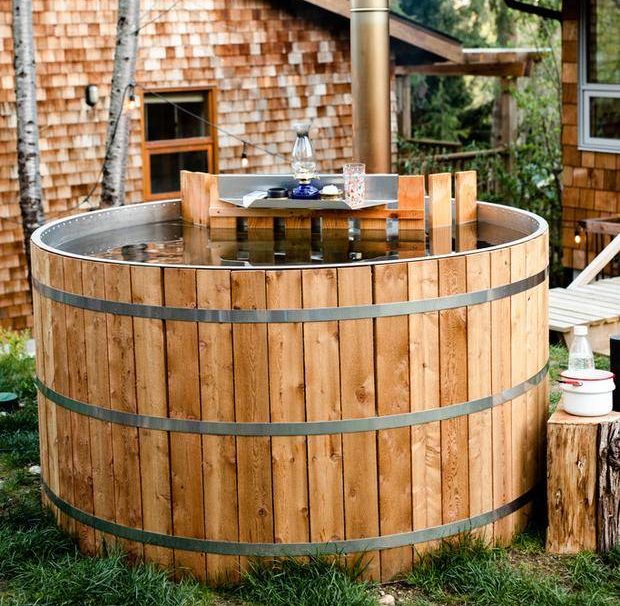 The exterior stove, on the other hand, gives the advantage of more space inside the tub.
Powered or Unpowered
You can get an electric-powered hot tub if you are willing, like a jet, filtration, or sound system.
Maintenance
The hot tub should be treated with linseed oil or wood supplement oil every year. It is advised to clean the inner parts with soap, soap supplement, and a brush.
Cost
You should consider your budget, as it is a primary part of any renovation. The power source for the hot tub and different hot tub sizes should also be considered when looking into pricing.
There are many reasons you may want to choose a wooden hot tub for your backyard or your vacation home, so take the time to weigh all your options and ensure you select the one that's right for your needs.
Installation
You can decide to hire someone to install your hot tub. You can also do it yourself but it requires some skill to do it well. If you are an experienced DIY-er and you have a decent set of tools, then it can also save you a lot of money.
How Long Does a Hot Tub Last?
A wooden hot tub can last for 20 years or longer. Wood is a durable material, but being constantly exposed to water will eventually wear it out (no matter how much you protect it). However, if you take proper care of your hot tub you will get a lot of enjoyment out of it over the years.