Vintage garden decor ideas are basically repurposed pieces that look better upcycled in the garden rather than in the dumps. In the garden, they exude a timeless charm that never fails to inspire no matter the generation we live in.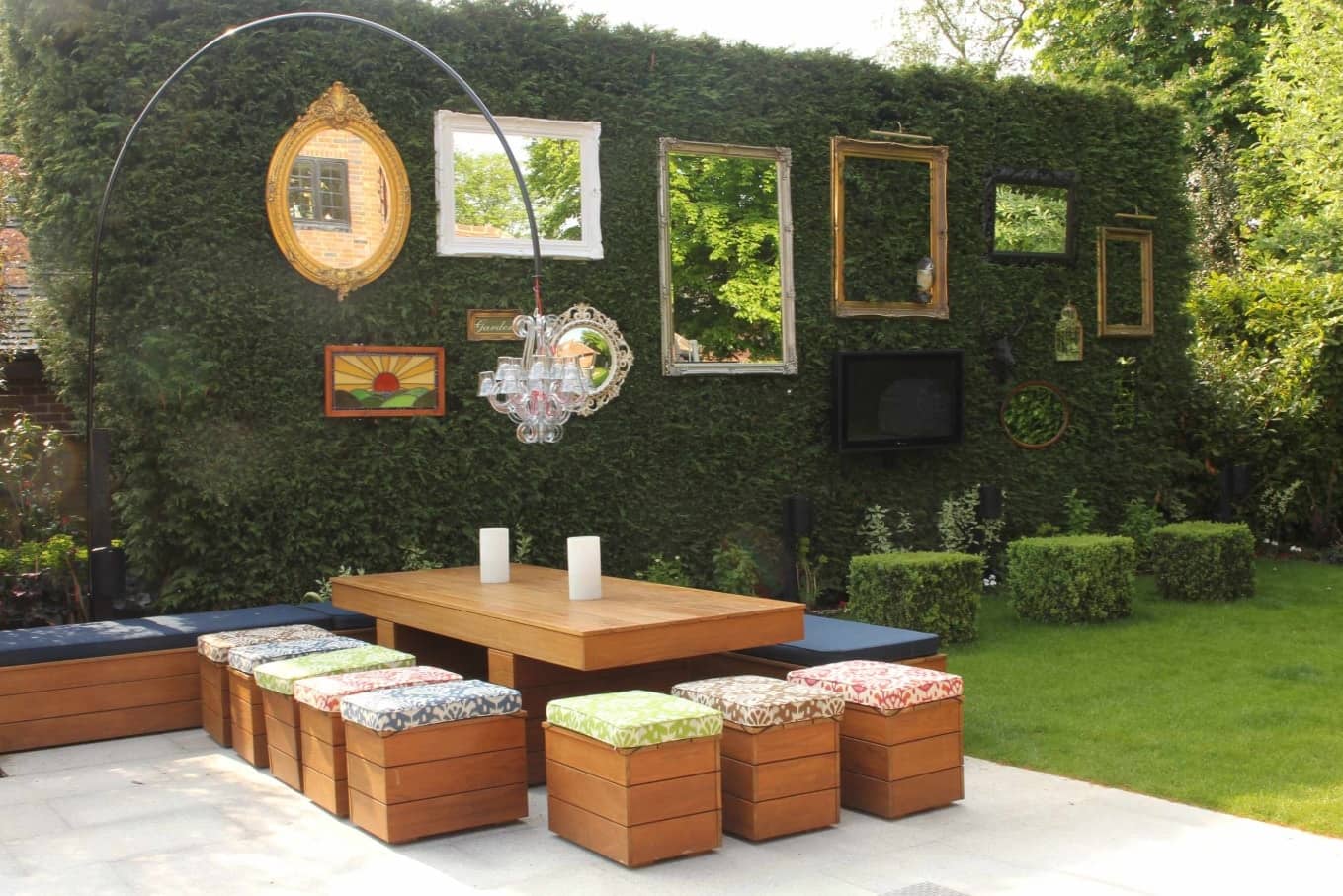 Gardens by themselves are an oasis that adds an exciting touch to the front lawn. But plants and ornamental blooms can get more interesting with added decorative pieces. That's why more and more people are also introducing various crafts and pieces into their lawn. From magical fairy gardens to a wide range of repurposed items, the heap of ideas never runs out.
If you are looking for some inspiration, here is a deal of vintage garden decor ideas to try. These decors are a clever idea for adding a rustic charm to your outdoor area.
Old Bikes and Flora
Bikes invoke a retro-interpretation, whether as a front porch ornament or as one of the best vintage garden decor ideas. Making it a focal point of your garden will spell out the vintage vignette you wish to convey. You can adorn it with brightly colored flowers and give your design a refreshing twist. You may also paint it as you wish, like this fiery red beast filled with perennials and flowers.
Stepladder and a Whole Gang of Antiques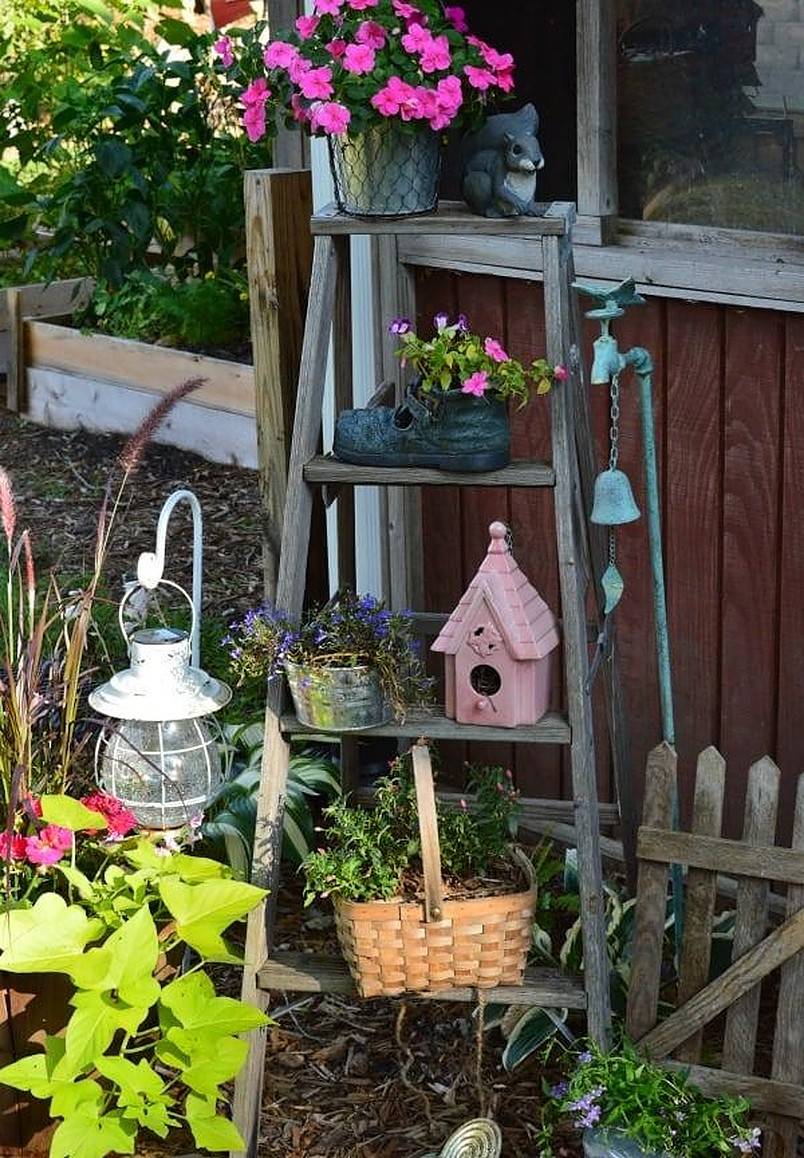 From the old-fashioned lamp, wash bucket, vintage planters, and all, this garden is teeming with all things old. If you want to dedicate a corner and throw in all your repurposed junks, a step ladder will do the trick. It is also an excellent way of displaying your proud ornamental plants. You can make it less boring by adding some pastel-colored stuff like this mini bird-house and painted spigot.
Gears You Cannot Junk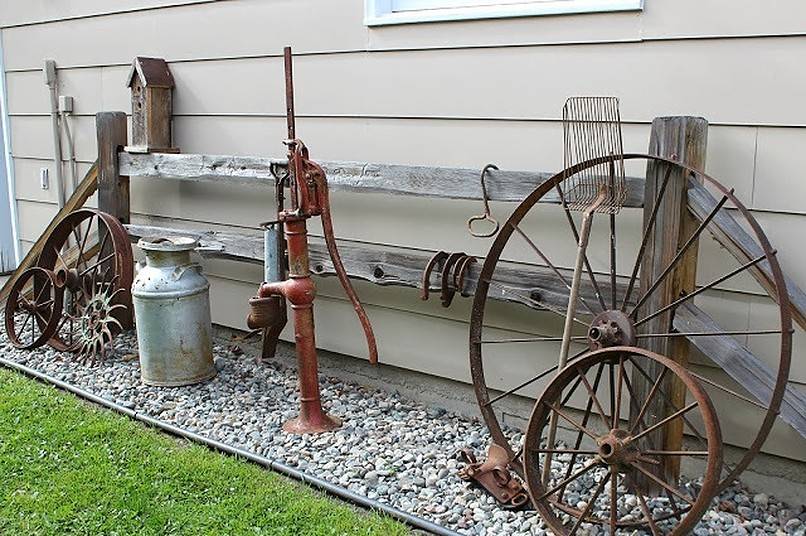 There is something about these vintage garden decor ideas that says someone's creativity was in full gear. This project involves some rusty wheels and gears, an ancient water pump, and an old fence. The pebble floor and cream shed wall make the pieces stand out and make a statement. The flea market, or even your garage, also holds these priceless items. You can give them a new life and mimic this kind of rustic inspiration in your garden area.
Ornate Doorknobs for the Garden Wall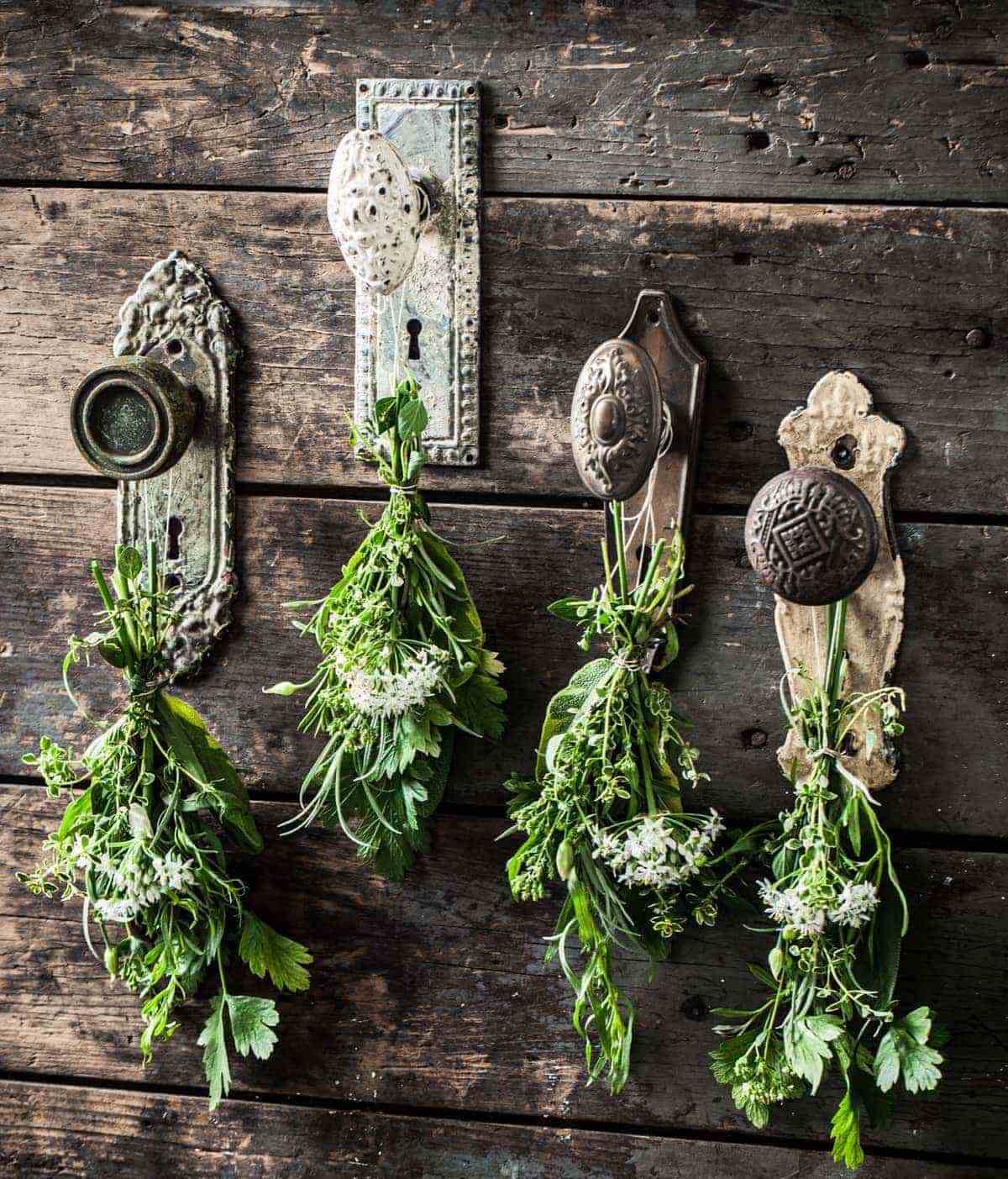 Keep your vintage garden decor ideas neat, simple, and not too overbearing. Little details can add a charming flair if you know where to put them. Notice these vintage doorknobs on reclaimed woods that still exude an artful statement. You can use them to hang and dry herbs or maybe hook your pretty hanging planters into them too.
Old-Fashioned Sewing Machines are Never Forgotten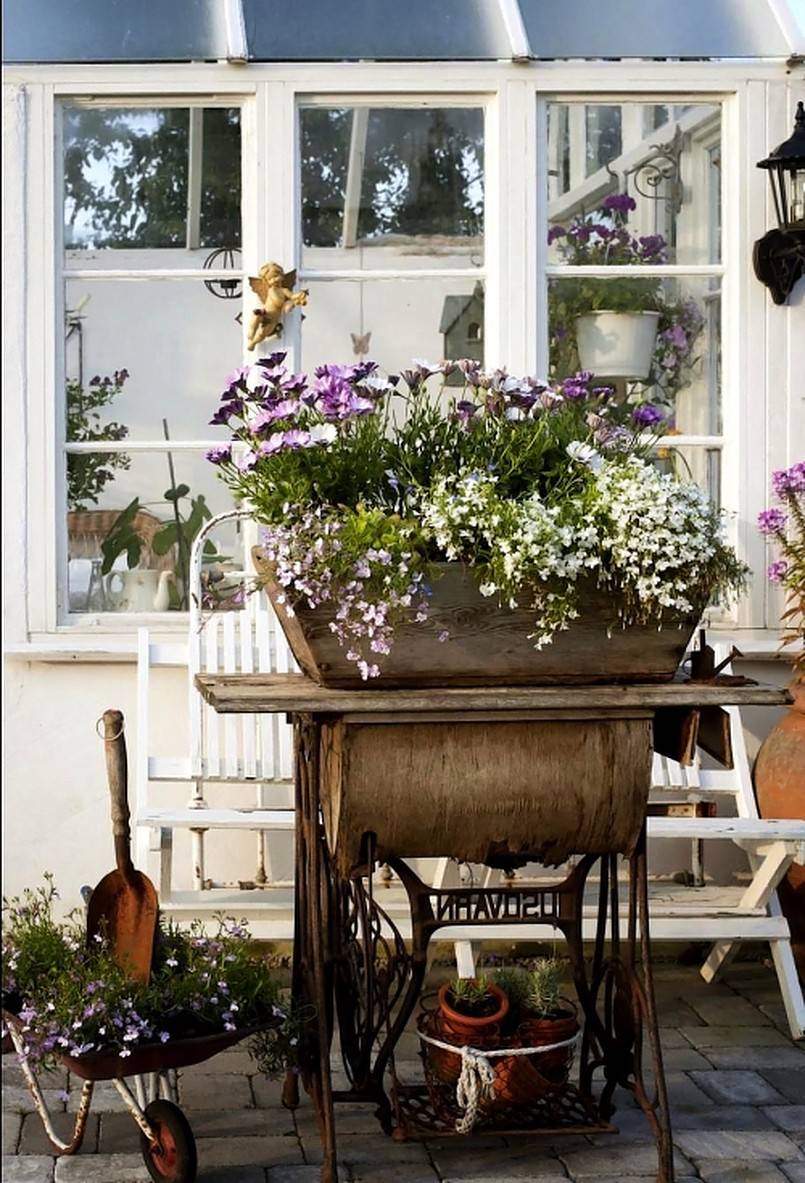 Sewing machines that no longer whir to life are too precious to trash. Take it to the outside and give it a new life with other vintage garden decor ideas. These lovely and sentimental pieces will make a piece of fabulous DIY patio furniture. Or, you can also turn it into a display area for showcasing your blooming planters for everyone to notice.
Galvanized Pots with Character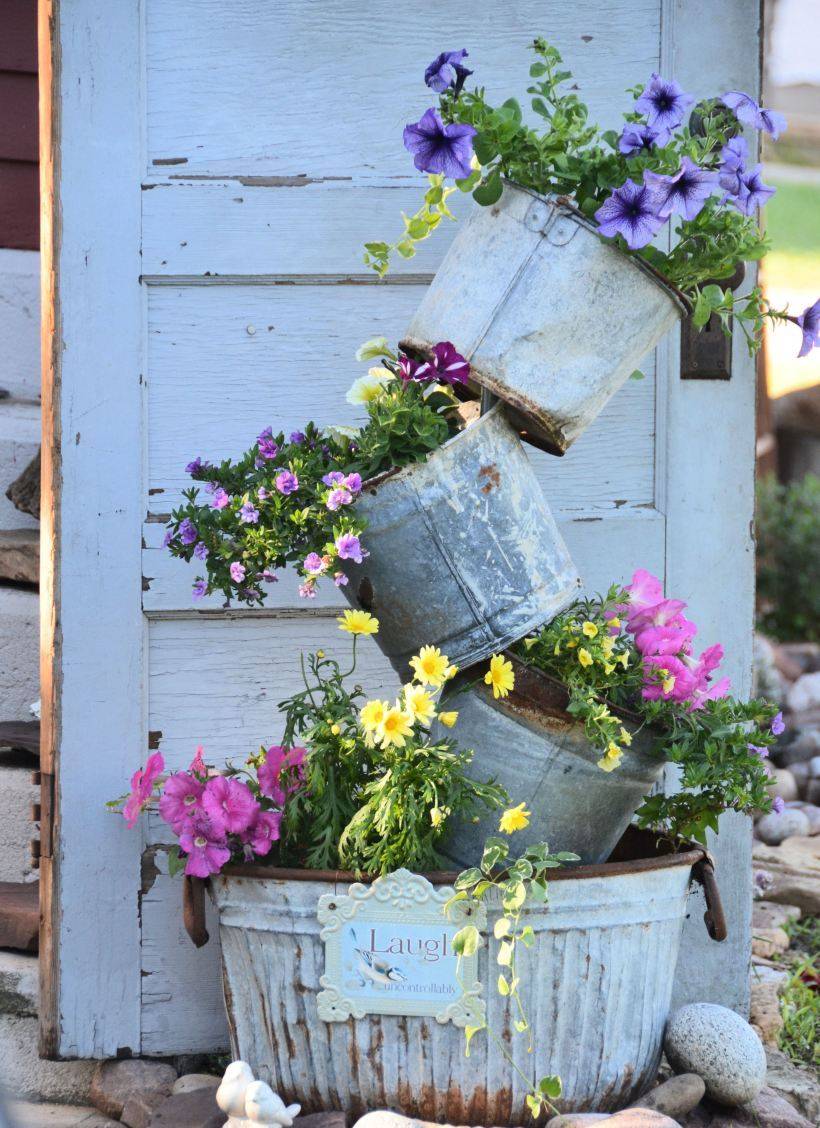 Kelly from The Pink Hammer calls this creation a Tipsy Planter. This cool and quirky layout of vintage pots is an eye-catcher. Instead of just lining the plant pots along or displaying them atop some shelves, she turned them into something amazing. These gravity-defying (or so they look) pots are made possible with some steel conduit and a little drilling and handiwork.
Flowers and Lights and Mason Jars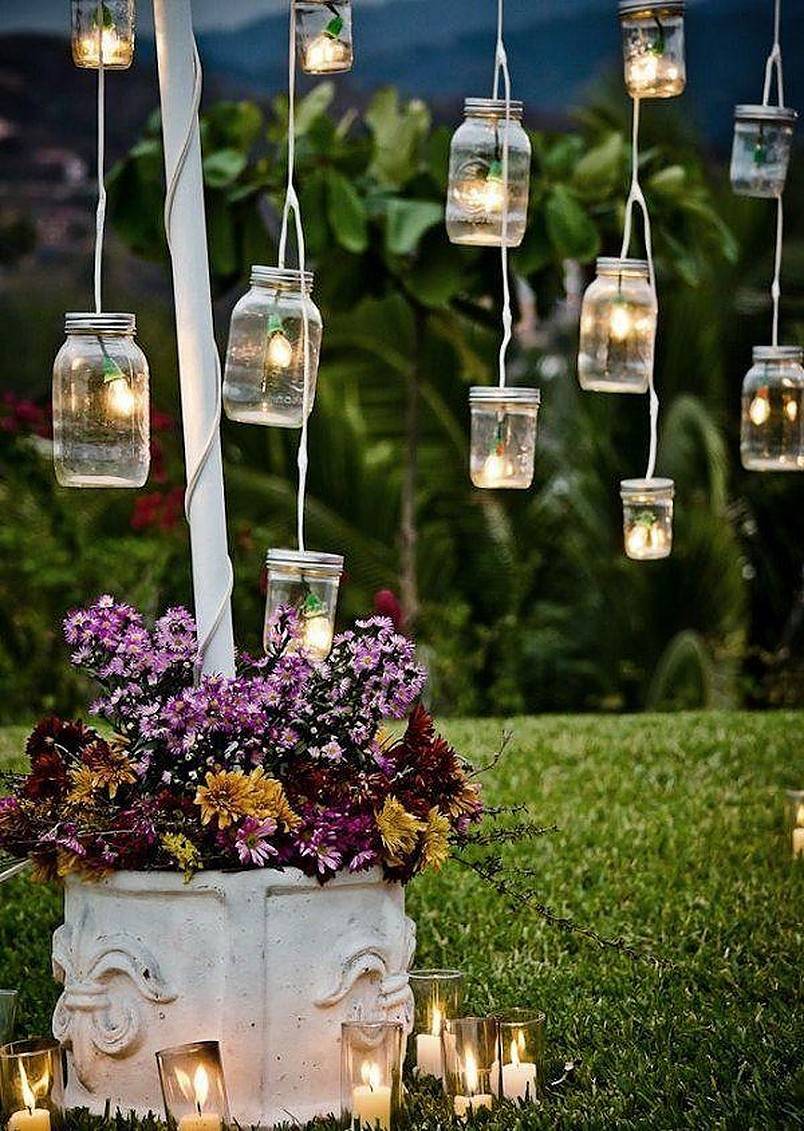 When we think of rustic, we think of mason jars, and more often on the kitchen counter. But these retrograde pieces are not only meant for your pantry. You may also put them outside like this whimsical and vintage garden decor. It incorporates lights and mason jars that add a romantic feel to your garden during those dreamy summer nights.
Rusty Wheelbarrow by the Garden Floor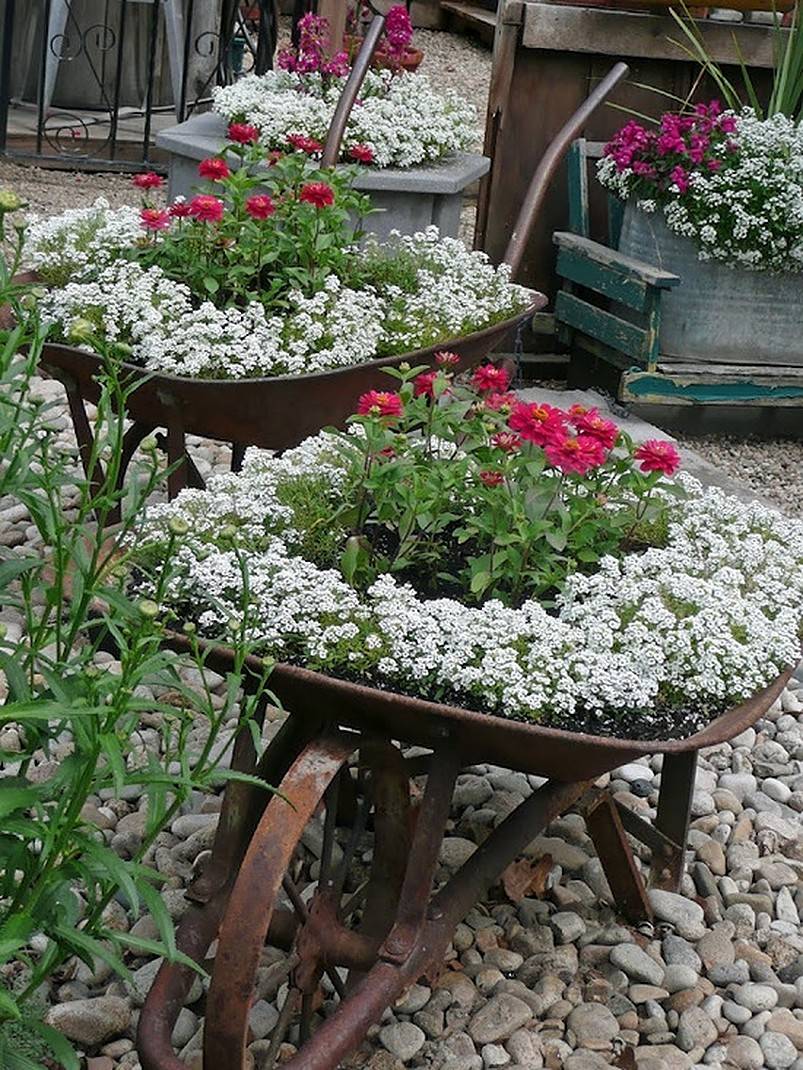 Integrate a rustic vibe into your garden with old-fashioned pieces like a wheelbarrow, no less. If you have an unusable one, don't just let it rot in place. Turn it into a cool planter and watch it breathe in a new life with greens and blooms. Arrange your plants in a cluster like this awesome and chic flower container here.
Pretty Little Vintage Bird Bath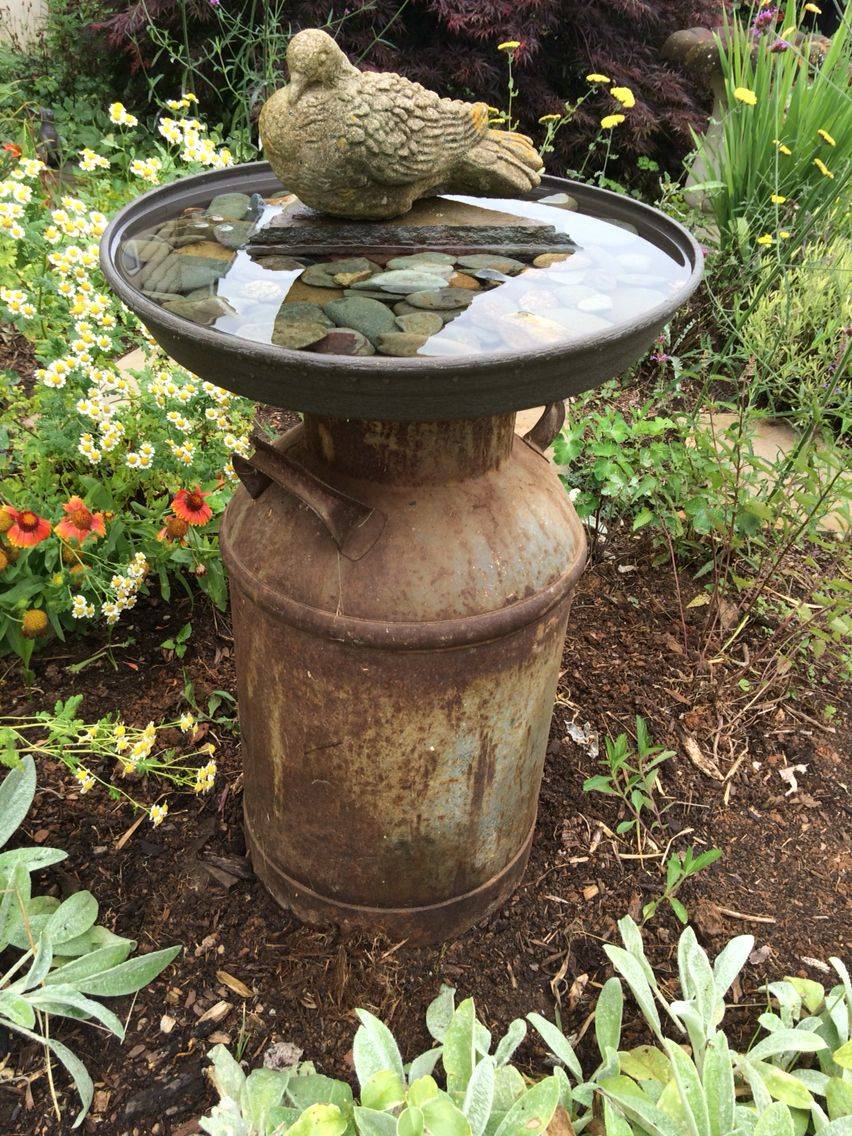 Add the right touch of vintage with defining garden pieces like a birdbath. There is no need to build an overwhelming one just for the purpose. With some old stuff and little creativity, you can also assemble yours from scratch. See this little vintage birdbath from an old milk can and metal basin as an example. It will stand out prettily in your yard, and the birds can't help but thank you.
Of Broken Plates and Lawn Edging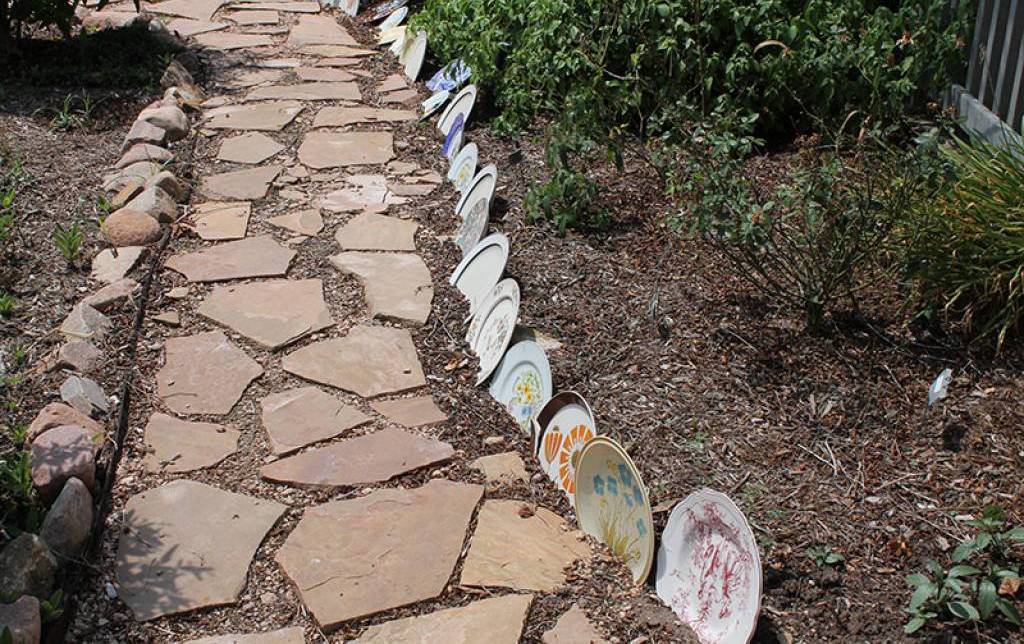 Got some old plates you want to replace? Well then go on ahead, but leave the old ones alone. Instead of sending them to become another of the earth's growing waste, keep them around your garden. Old plates are best for lawn edging and vintage garden decor ideas. So plant them along the footpath to separate your garden lot from the walkway.
Little Teapots Short and Stout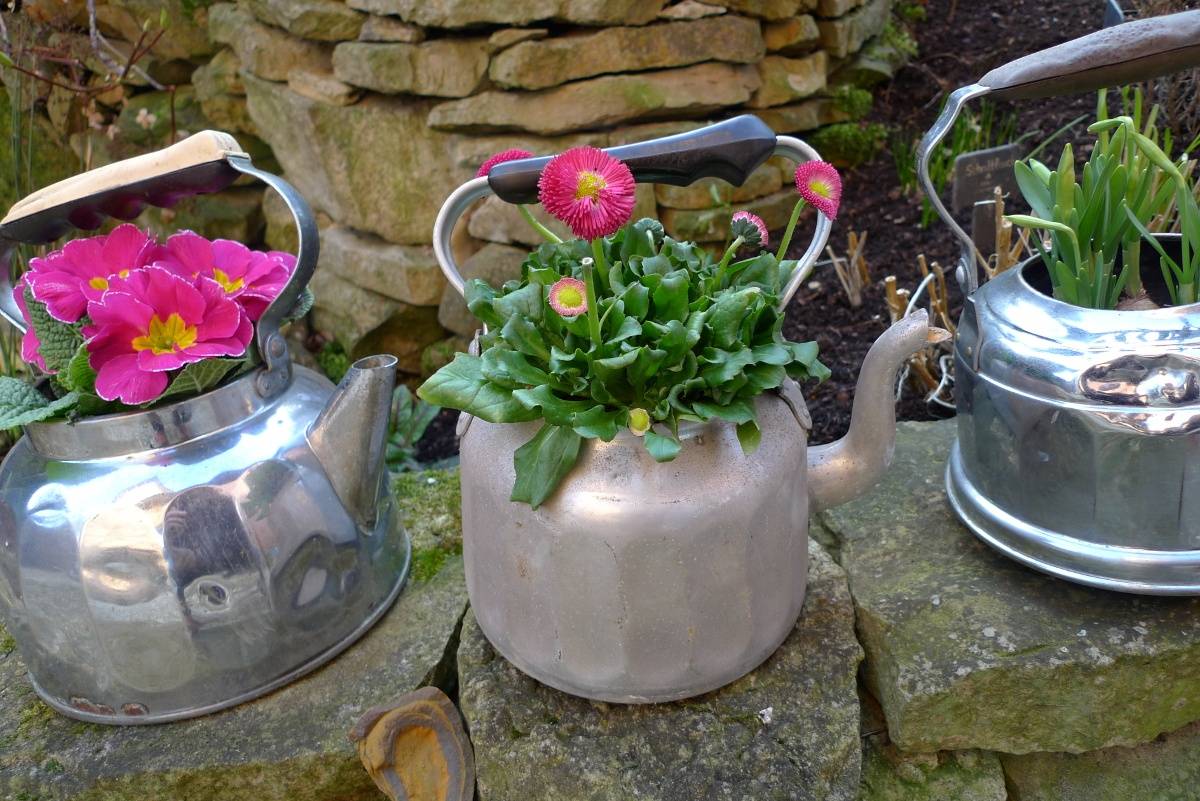 Look no further than your kitchen for rustic pieces you can incorporate in your garden. If anything can hold something, use them as a planter. These little teapots here do not look like awkward junks. They prove to be a little more useful aside from bringing up warmness to your once cold mornings as herb planters.
Hats are Never Kitschy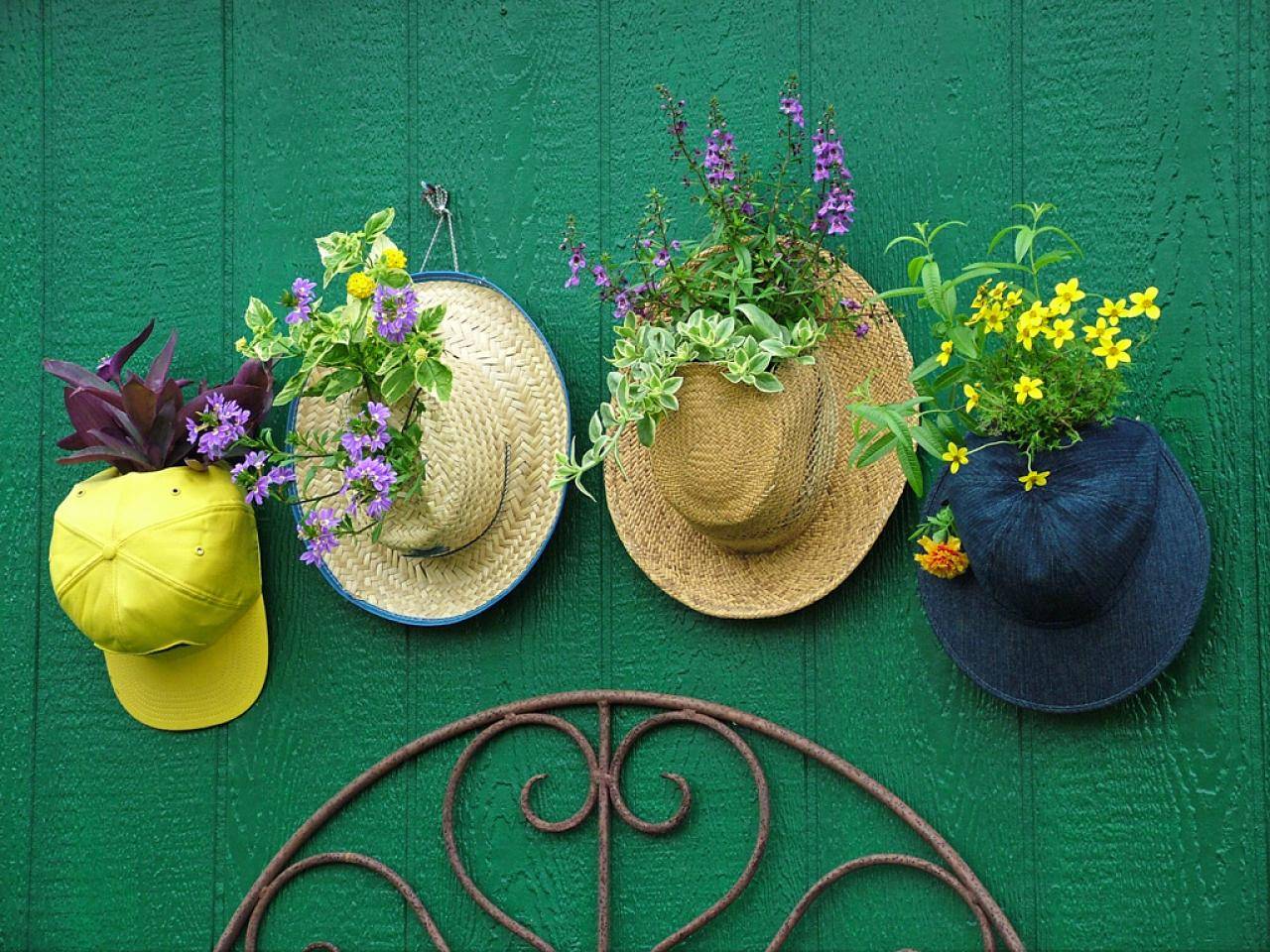 Old caps and hats are noteworthy wall and fence accent pieces to hang. But if you want to take them to a new level, turn them into a planter. These fashionable and clever vintage garden decor ideas will dress your space with rustic eloquence.
Vintage Decors from Folklore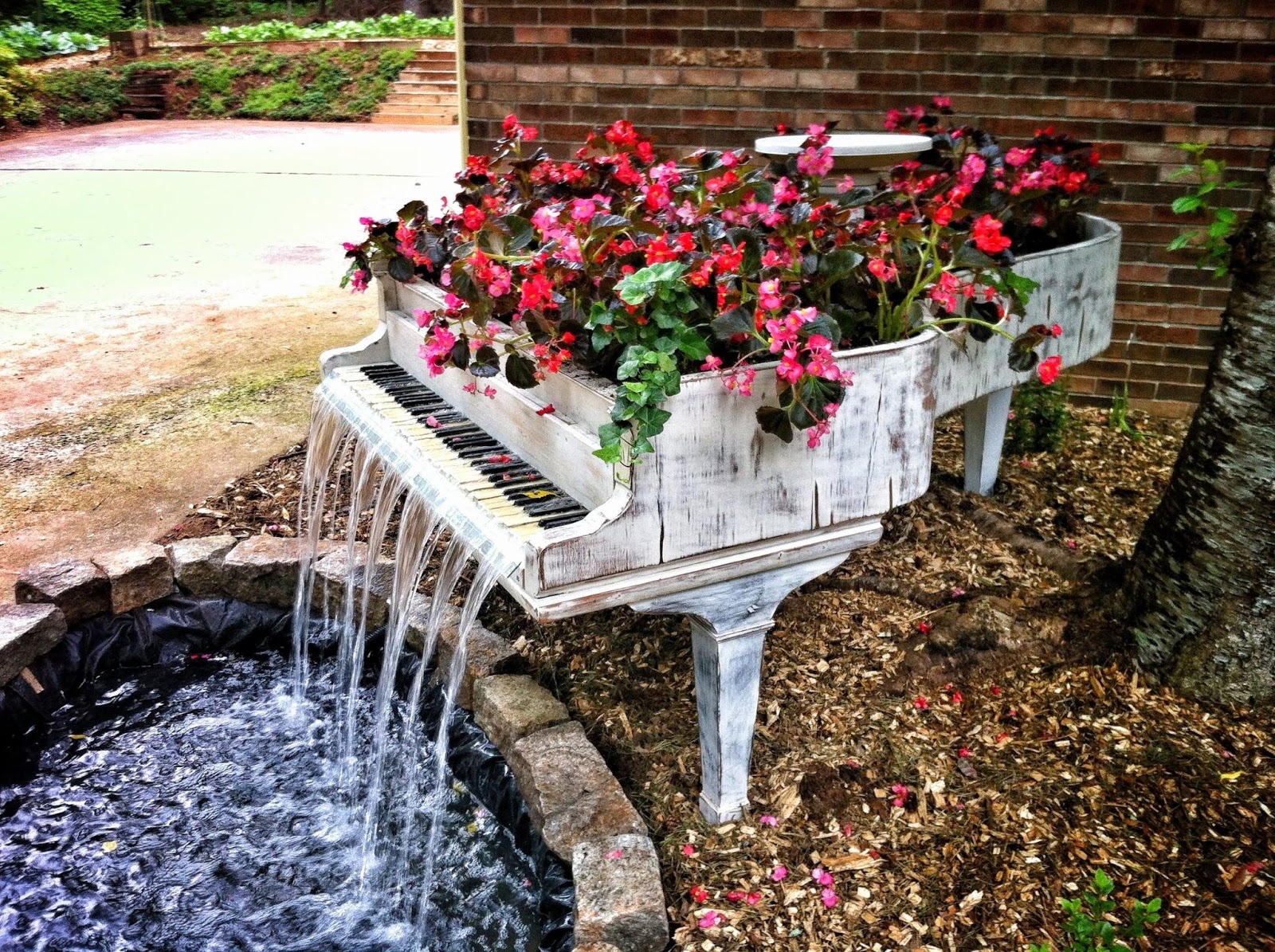 Get that T. Swift's Cardigan vibes in your garden with vintage inspirations like this piano. Pianos are undeniably chic and fab pieces that are adorable to have around. We know you can't afford to throw this stuff away. But they are also too beautiful to just lay around doing nothing anymore. So let them out to bask your garden with a retrograde feel. Adding a water concept will make this treasure more appealing and melodramatic.
The Old-fashioned Planter Boots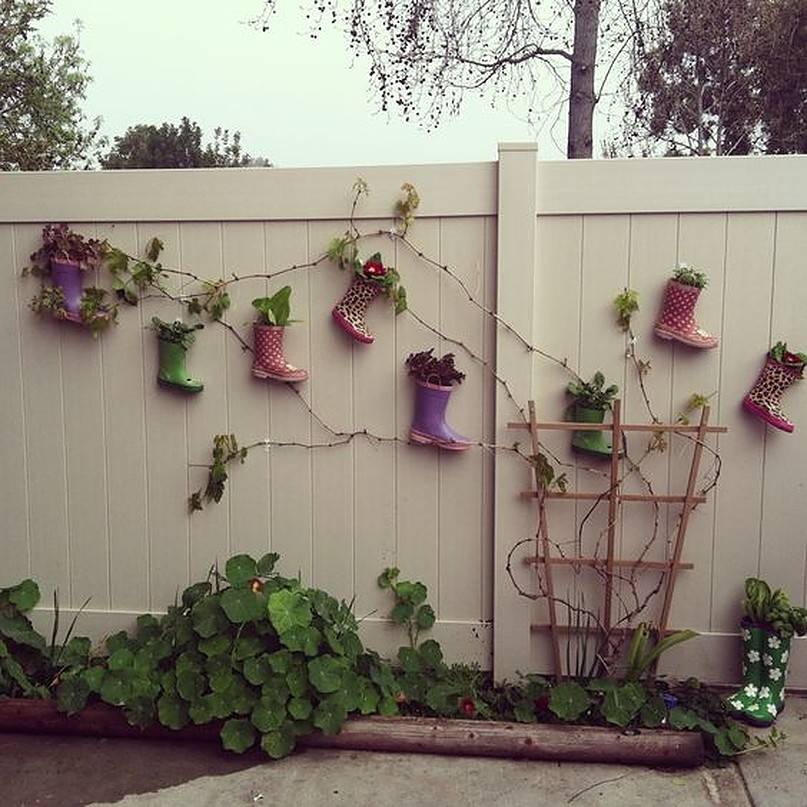 They have been around for quite a while, but boots are vintage garden decor ideas with a trend that never stops. There are various ways of displaying these rustic items on your front porch and patio. But if you want to give it a new twist, try these climbing plant concepts for your garden. Hang them up to your shed and fill them with cascading and connecting plants. You will love the crazy line of trail that the plants will mark on the wall.
Play Up the Garden View with Rustic Pieces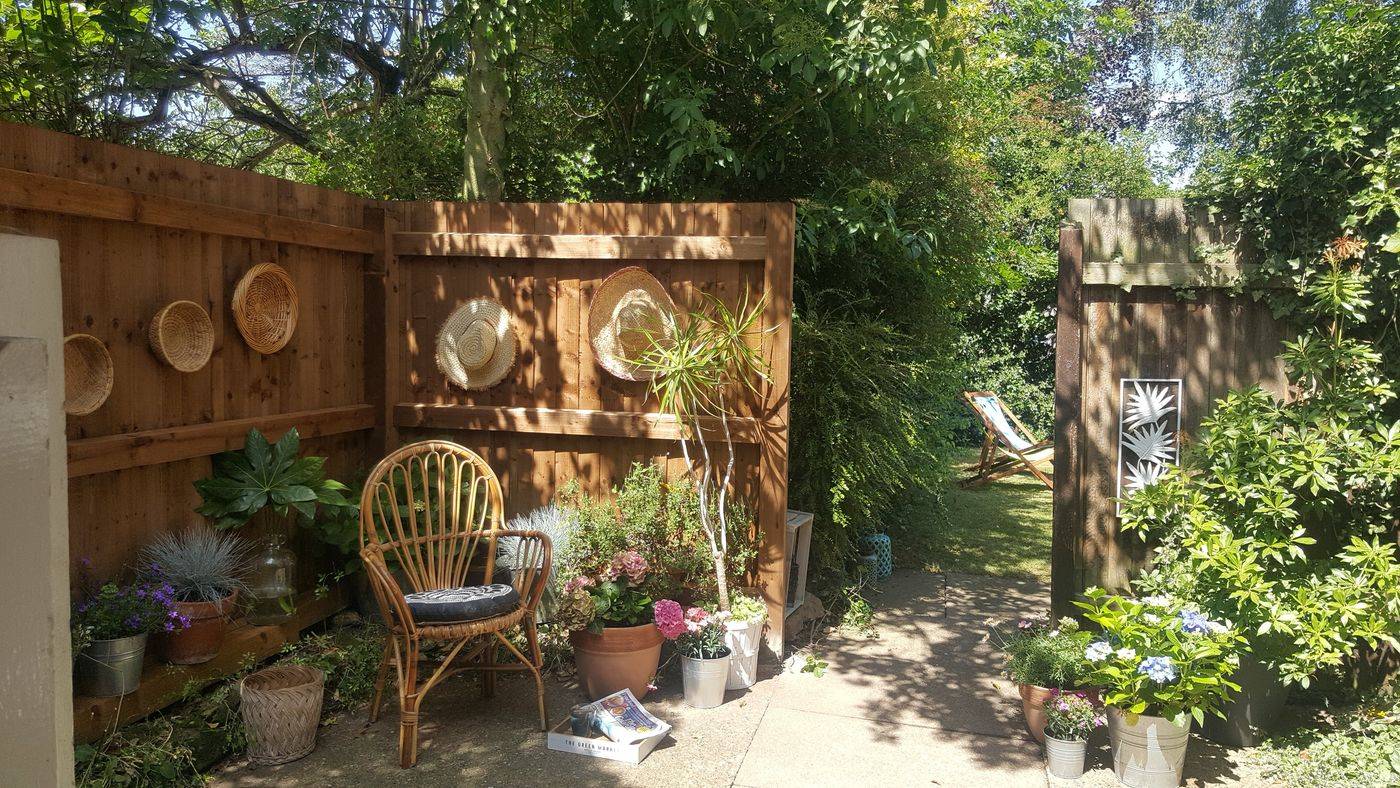 Wicker furniture, old-fashioned planters, and funky accents are still timeless vintage garden decor ideas. Any of these pieces of stuff will instantly add a classic feel to the environment. If you want, you can also dedicate a corner to put up these decorations. This garden with a surrounding wooden wall partition simply invokes a homey countryside feeling you can almost feel.
Takeaway
The best vintage garden decor ideas will turn your garden into a charming space. There is no need to break the bank to score antique elements. You can upcycle and recycle stuff you can find in your home and still make the most out of them. When choosing the best pieces, opt for motifs and colors that are not too showy and ostentatious. Those are enough classic show-stealers; and your creativity, arrangement, and placement can make them stand out.