Most of the time, homeowners put a significant amount of time choosing the best patio furniture for their home. Unless you are willing to break the bank, you know how expensive these pieces can get. But if you want to look beyond the standard, DIY patio furniture ideas can upgrade your patio for less. It will also give you the chance to convey your originality and creativity. All it takes is a bit of carpentry skill, a wild imagination, and a little commitment.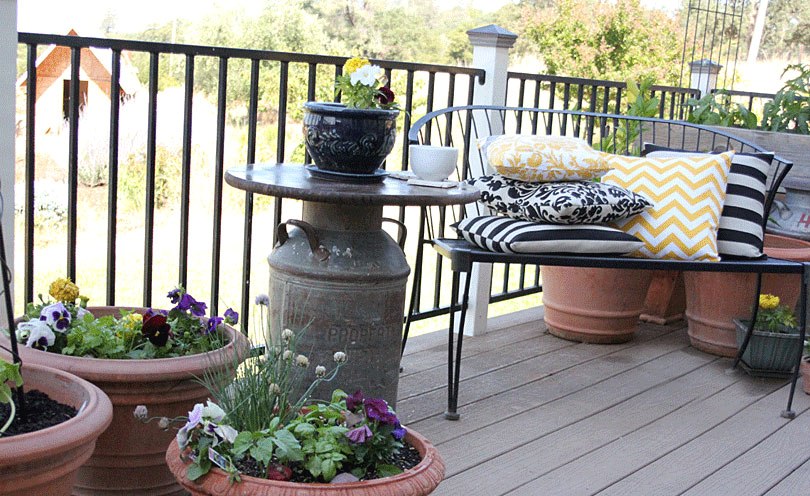 This is probably one of the umpteenth articles you read looking for DIY patio furniture ideas and styling rules. So here is another list to consider that will fit your patio. But don't get too overwhelmed with the advice rolling in. We are just here to give you a bit of inspiration to jumpstart your imagination.
Top DIY Patio Furniture Ideas
Design a DIY Wooden Bench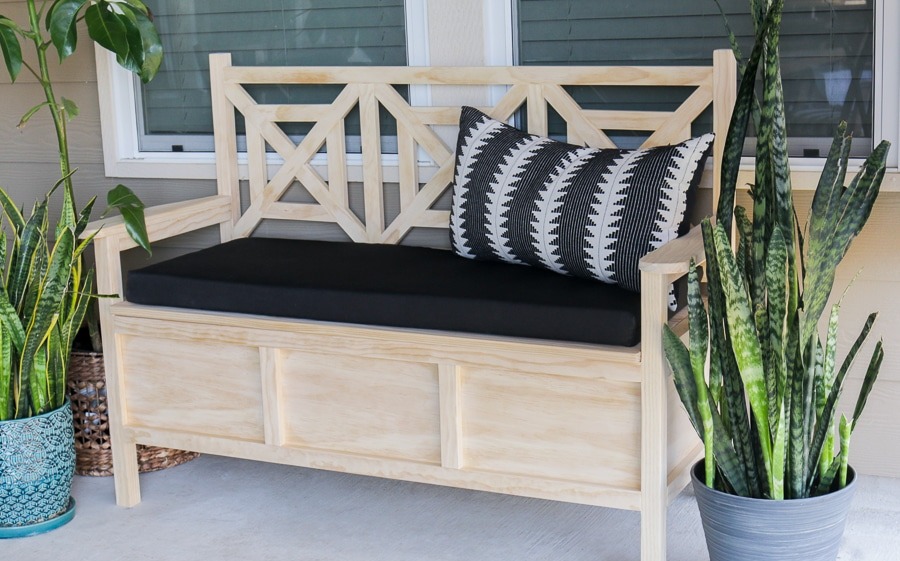 Seating options are what make outdoor living spaces more inviting and welcoming. Instead of investing in steel or plastic garden seats, wooden benches are a pleasant alternative. With some reclaimed woods and hinges, you can already have your DIY wooden patio bench. Take a look at this storage bench with an exciting geometrical backrest layout. A bench cushion adds more elegance and charm to its laidback color scheme.
Build a Patio Storage Bench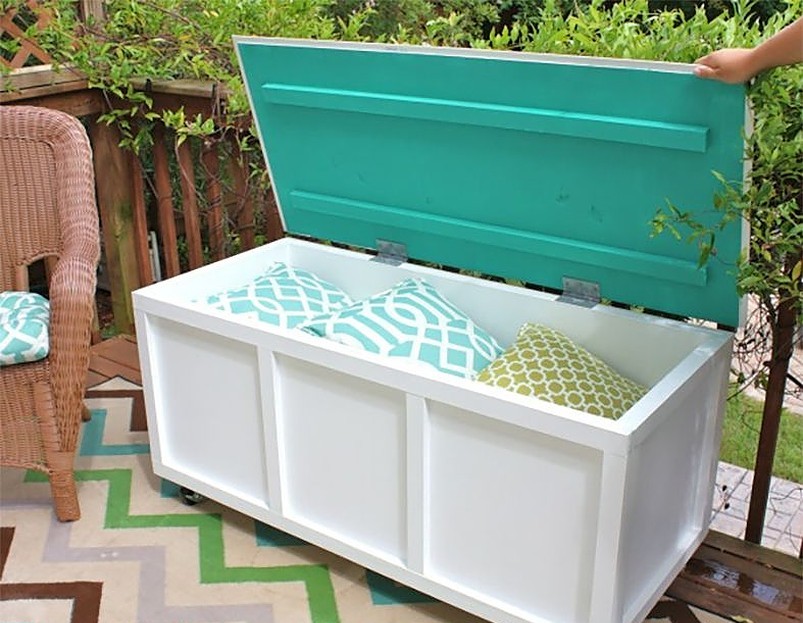 Outdoor seating serving multi-purpose uses is one of the best DIY patio furniture ideas to try out. It is pretty versatile as you can use it to store your tools or other sundry items. It is also convenient and easy to move around if you want to re-layout your yard's setup. This box design storage is a bit easier to do and a perfect start-up project for beginners.
Go Ahead and Add Some Arbor or Pergola with the Bench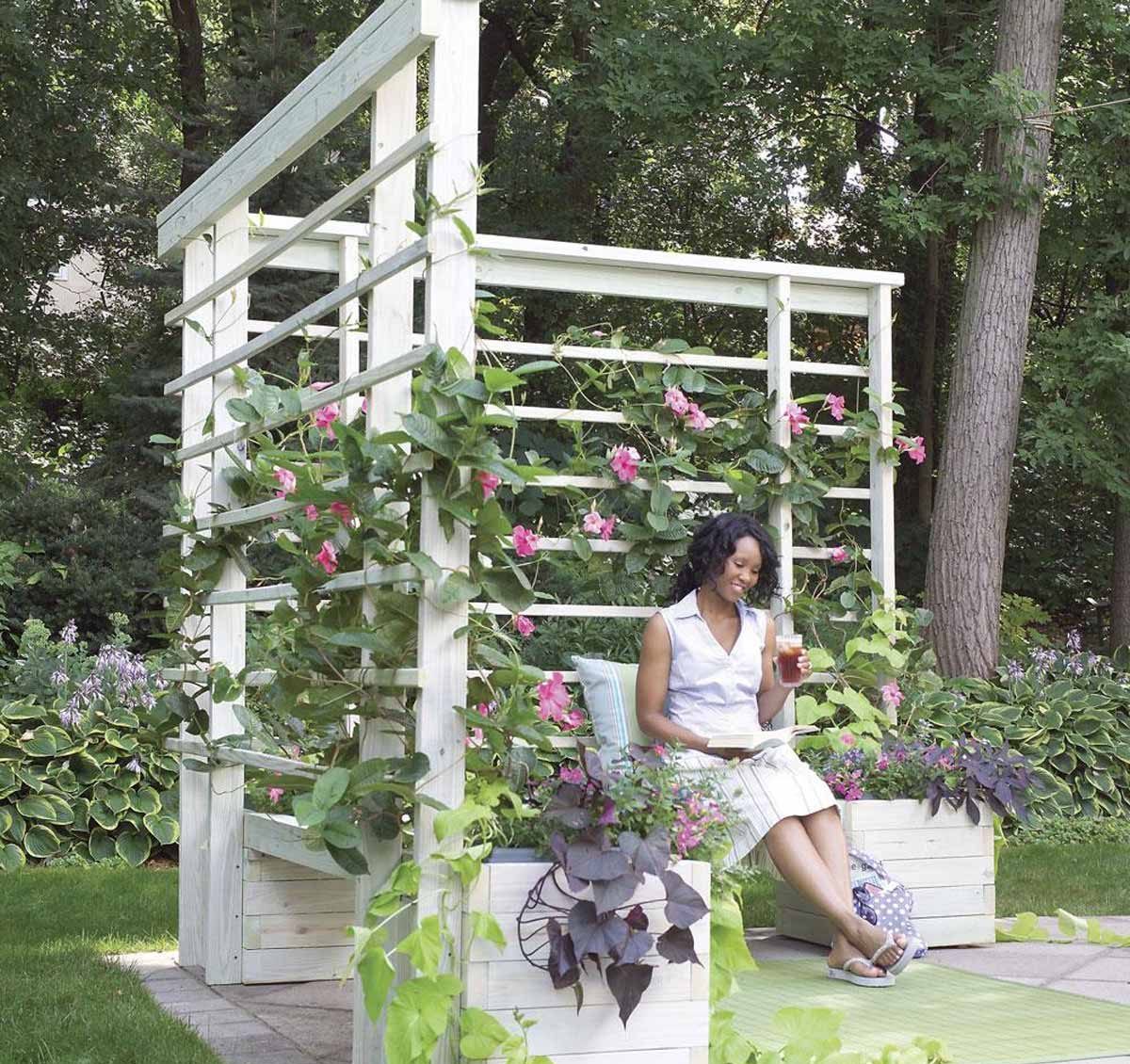 Plant-loving people, this is for you. If you have a limited patio space, you can still put up a garden bench and maximize its potential. Build a vertical garden with an arbor and let your vines and climbing privacy plants fill the space. A mini planter beside the wooden bench will also enhance its aesthetic appeal. DIY patio furniture ideas like this will add some charming greenery to your usual fixtures. And, it will also give your yard some sort of natural concealment.
Fancy a Planter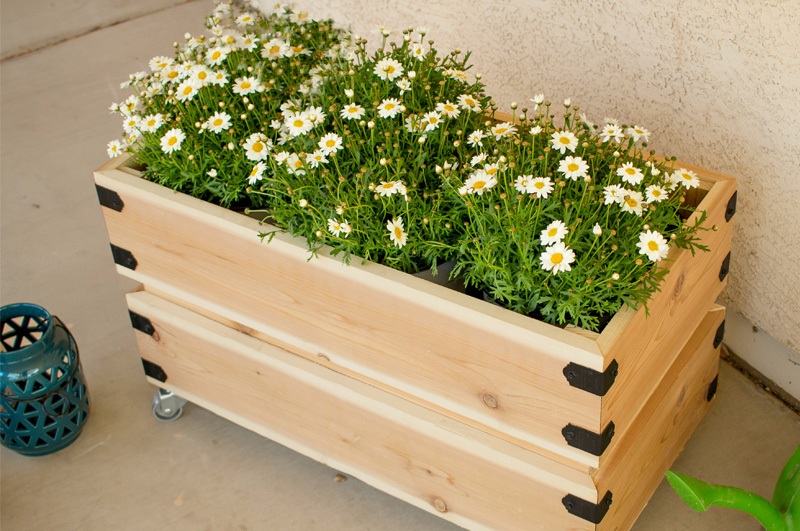 If you are not so fond of having a trellis, wooden box planters are also excellent patio furniture. Aside from giving your curbside a homely feel, they will also give it a more natural look. Wooden planters like this one with caster wheels are also fabulous DIY patio furniture ideas. If you want to transfer your plants and give your patio a newer look, you can do so without trouble, anytime.
Set Up a Potting Bench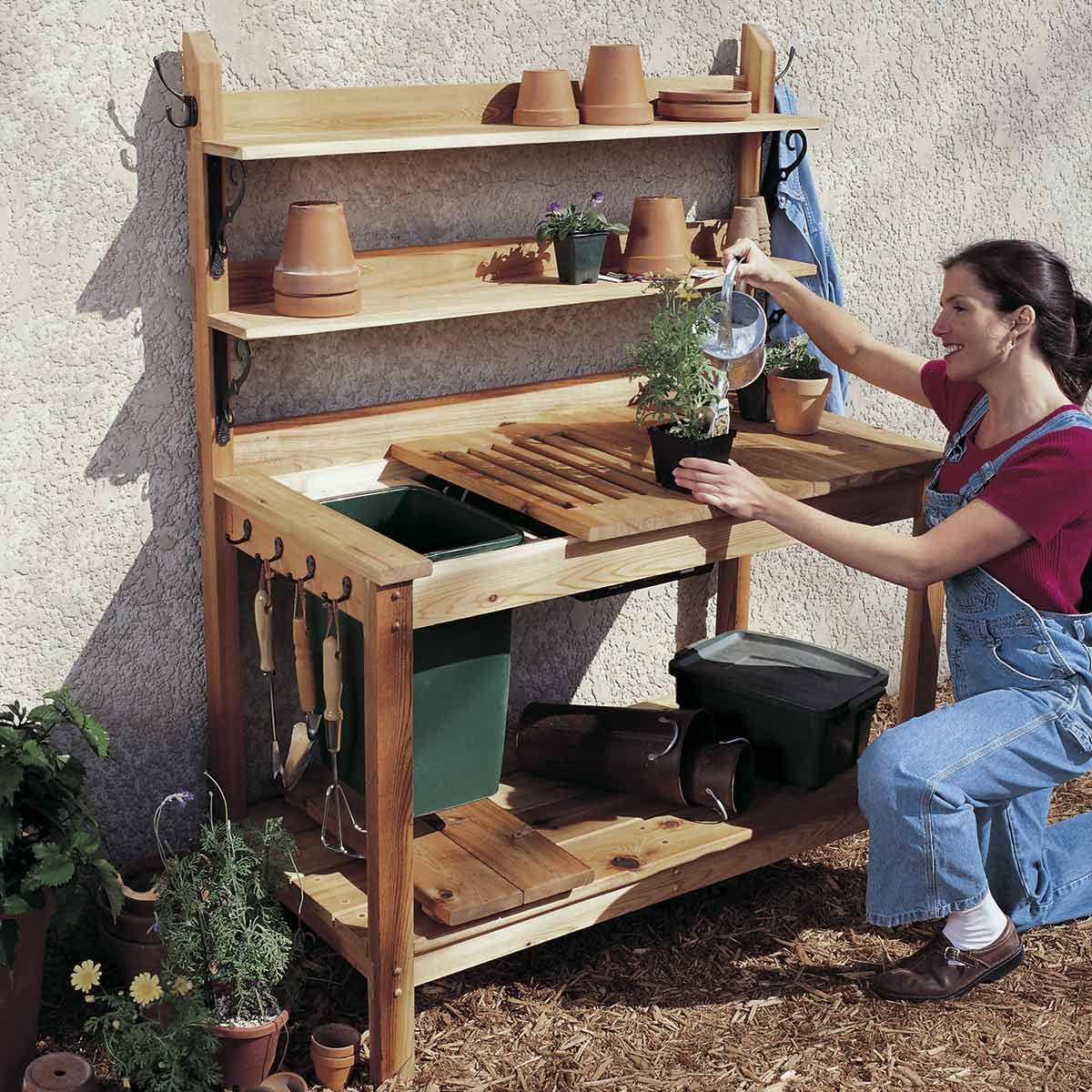 Give your backyard a major renovation with a potting bench to channel your inner planter. You do not need a shed for this one since a potting bench can be a piece of standalone patio furniture. You can keep your gardening tools and essentials in it. Plus, you will also have plenty of space to display your plants. This Cedar Potting bench, for example, is a clever piece of furniture to exhibit your green thumb's efforts.
Add Rustic Pieces of Furniture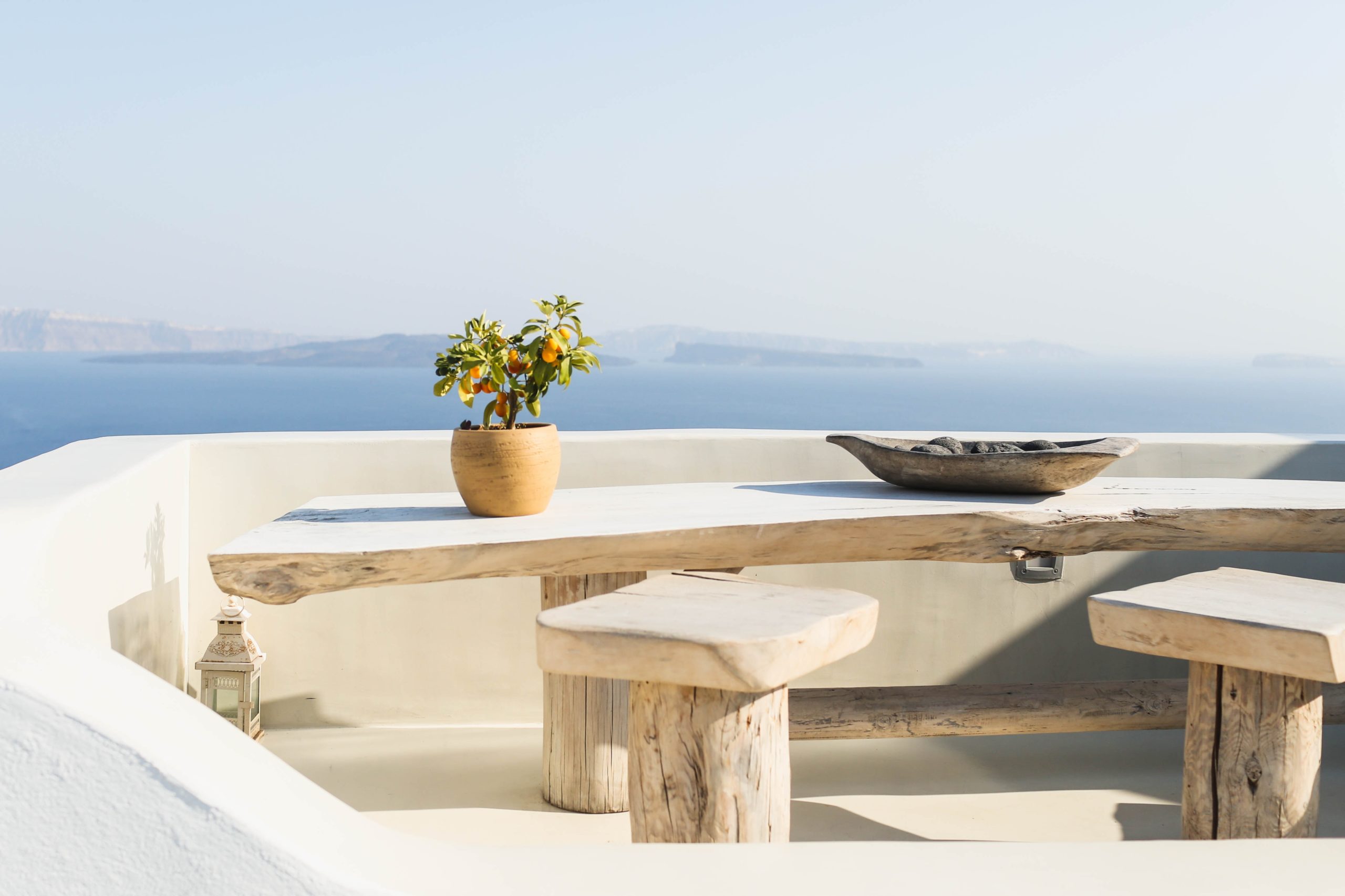 Unprocessed wood and lumber are the perfect representation of rustic furniture and fixtures. Almost all the time, it conveys trendy farmhouse elegance. If you hate the elbow grease, you can put together a tree stump and unpolished lumber. It looks effortless but still exudes a chic and rustic characteristic. This is obviously one of the DIY patio furniture ideas that is best for maintaining a minimalist countryside look in the front yard.
A Farmhouse Table with Succulent Box as Runners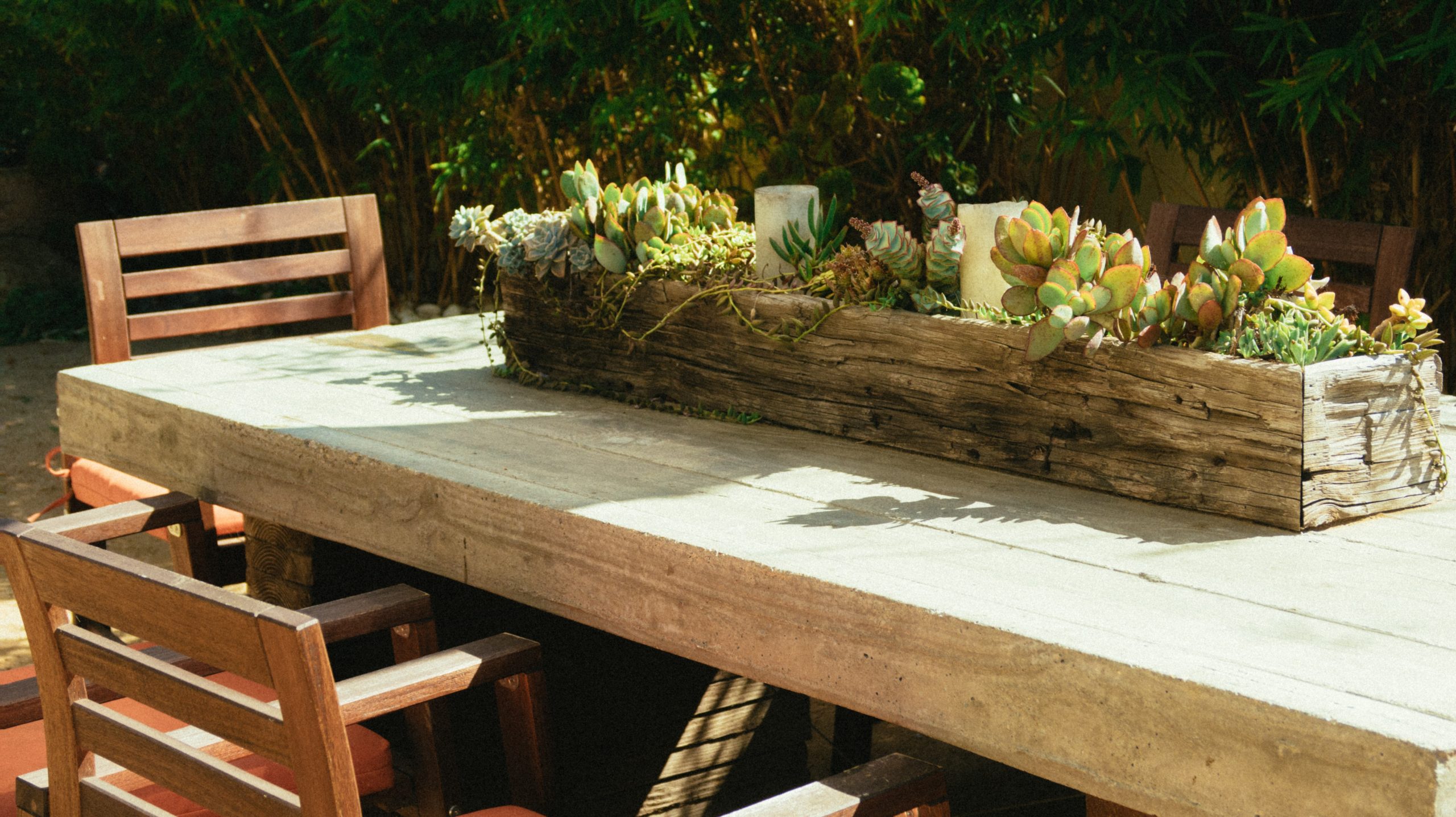 You can also upgrade your patio furniture with uncommon decors like this wooden succulent box. Funky exhibits like this complement the bucolic wooden furniture around it. It becomes a great accent piece that breaks the monotony of the humble farm materials.
Cool Down with DIY Table with Built-in Cooler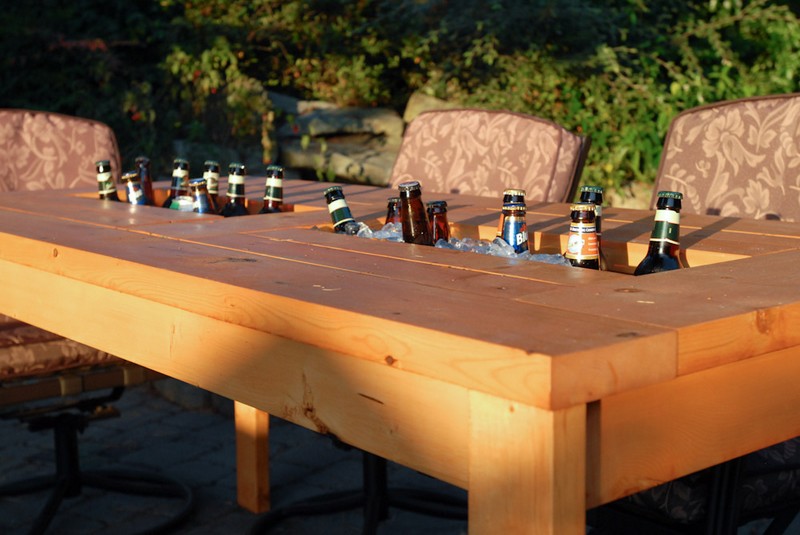 Forget about the plants and drop the demureness with this chill patio table. DIY patio furniture ideas such as these are something you probably pin on Pinterest. You can make this possible by inserting planter boxes in the middle of your wooden table. These coolers have flip lids, so you can have a normal unassuming table if you want to. And when it is time to whip out the drinks, you know the next thing to do.
Make a Drink Stand Out of Vintage Pieces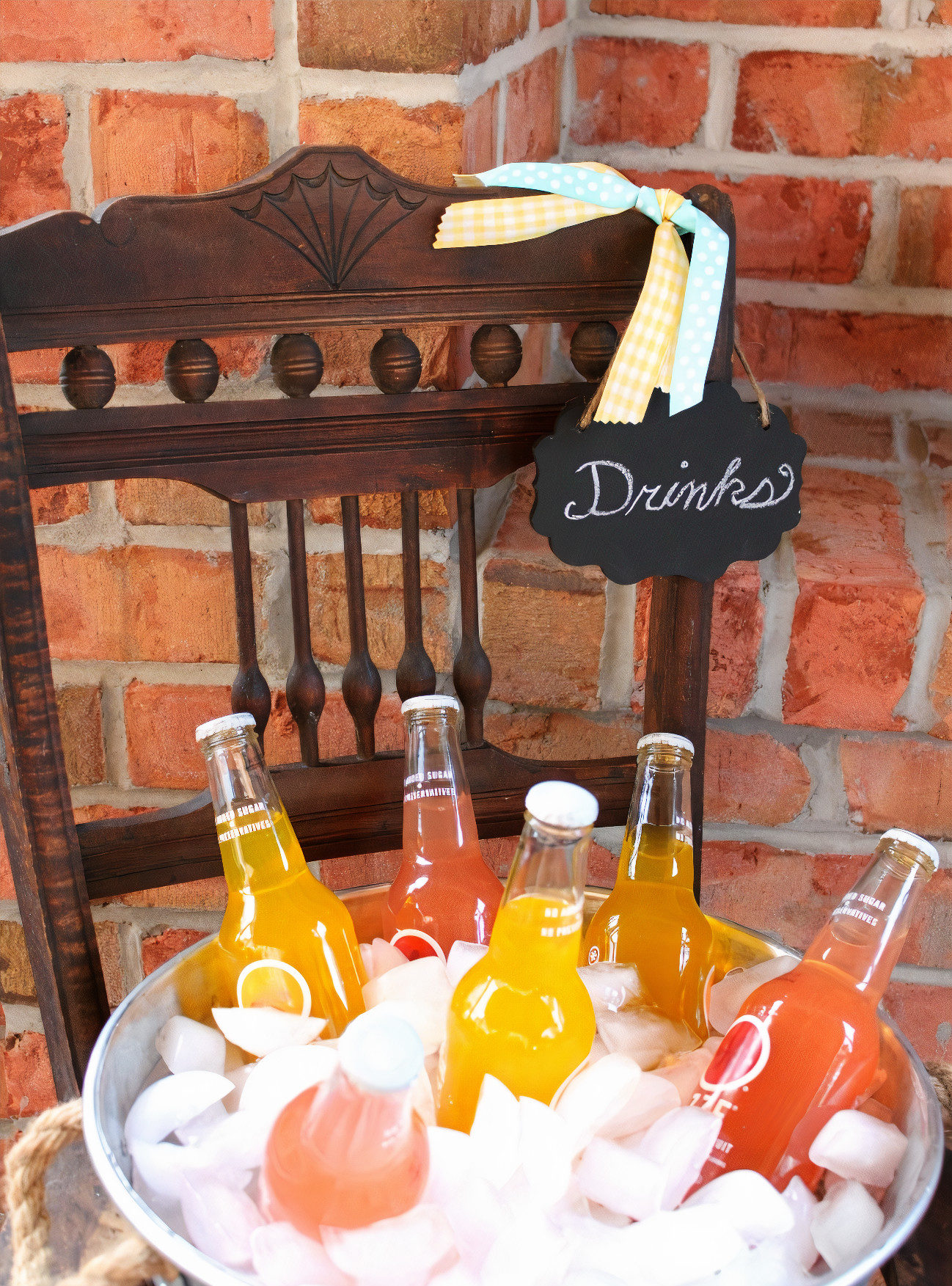 Speaking of drinks and your meager nail-banging skills, you can still have a fancy stand with vintage materials. This vintage chair, for example, serves another purpose as an outdated yet cool drink stand. The possibilities with recyclable pieces are limitless. Sometimes there's no need for you to look further than your garage for cool patio furniture. Bring new purpose to throwable materials and see how they can still add charm to your deck.
Butler Tables are Chic DIY Patio Furniture Ideas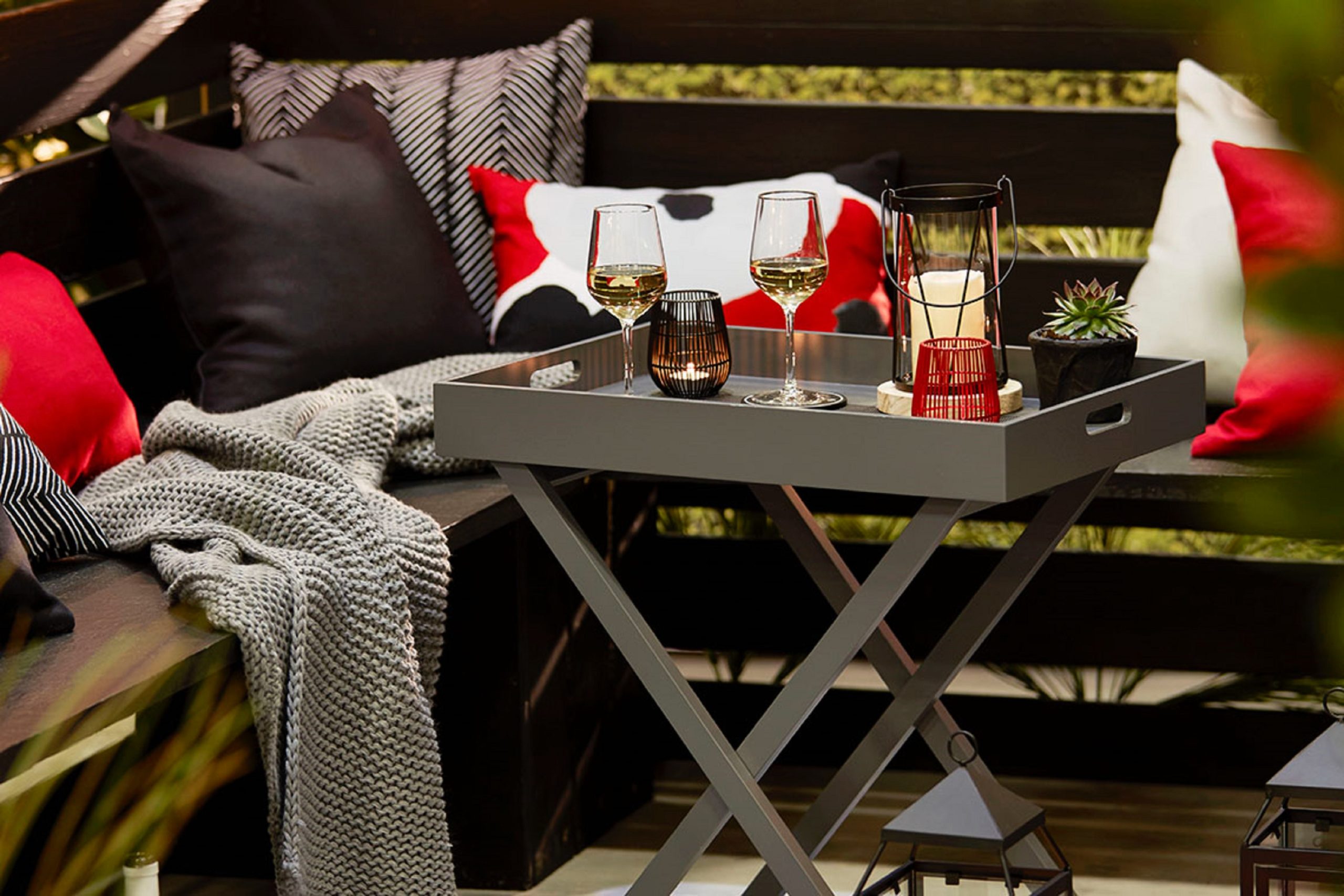 There are many uses for the butler table aside from, well, being a butler's table in some posh resto. It can also add a stylish appeal to your patio and double as a wine holder. Pair it with some wooden patio furniture, toss in some comfy pillow, and turn the corner into a cozy nook. Butler tables also make an extra table space when you need one in your outdoor dining.
DIY Adjustable Plywood Seat Holder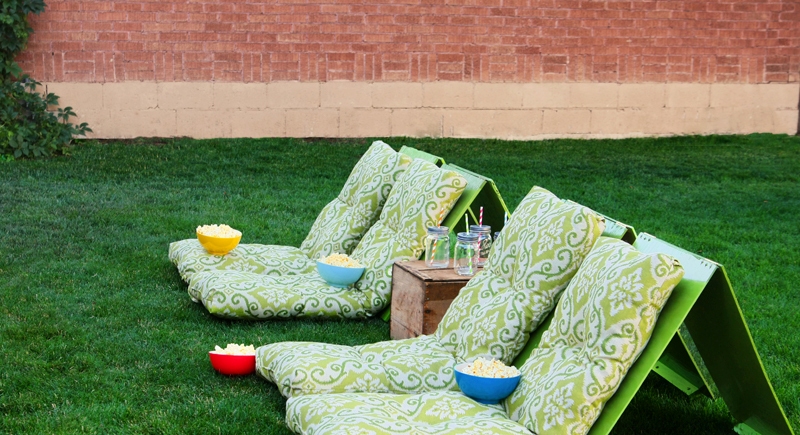 Sometimes, the wide expanse of the patio makes an excellent rendezvous for a movie night. And what makes it more exciting other than the food is the benefit of comfy seats. You can benchmark these DIY patio furniture ideas of adjustable seat holders and pillows. These simple hinged boards will serve as a backrest to keep you propped up for the entire film. Then, you can just stow this space-saving patio furniture away until the next get-together.
Make Your Patio Fabulous with a Wooden Daybed Canopy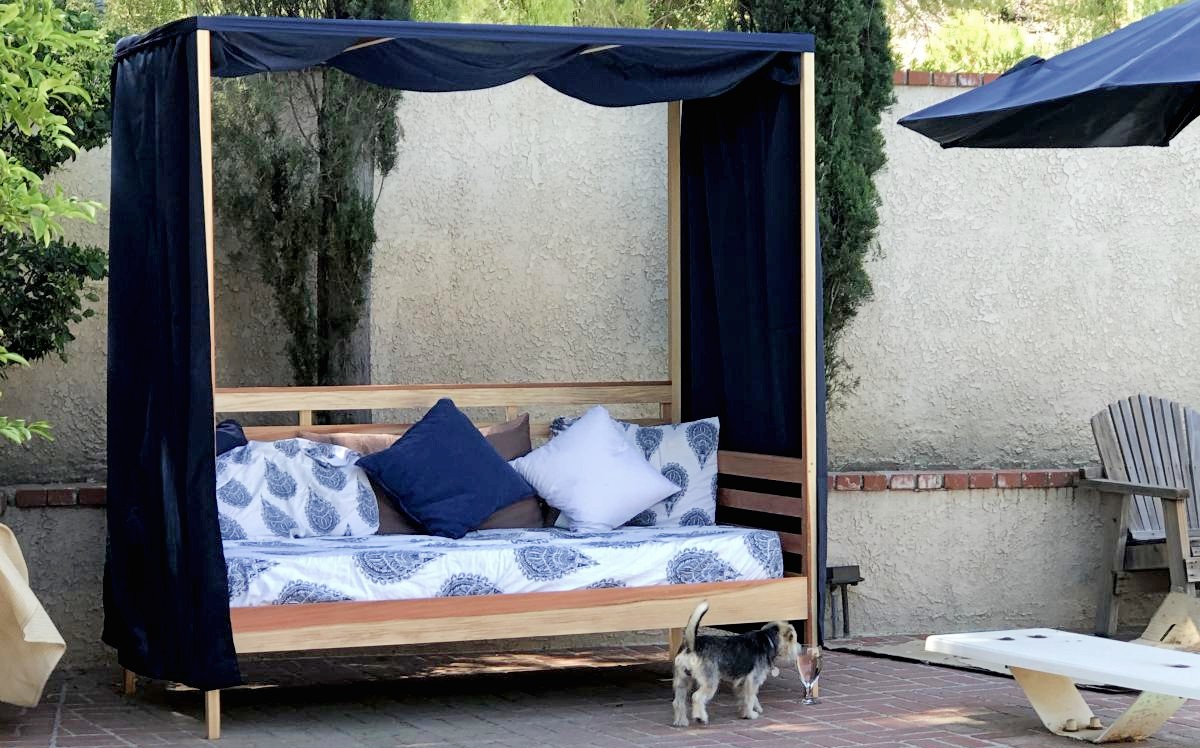 Daybed canopies are comfy multi-purpose DIY patio furniture ideas to consider. They are fine sitting and sleeping furnishings that will turn your patio into a perfect lounging area. They are also functional and make an excellent patio shade so you can enjoy the sun longer by your terrace.
A Cozy Mini-Cabana from Curtain Dowel or Pipes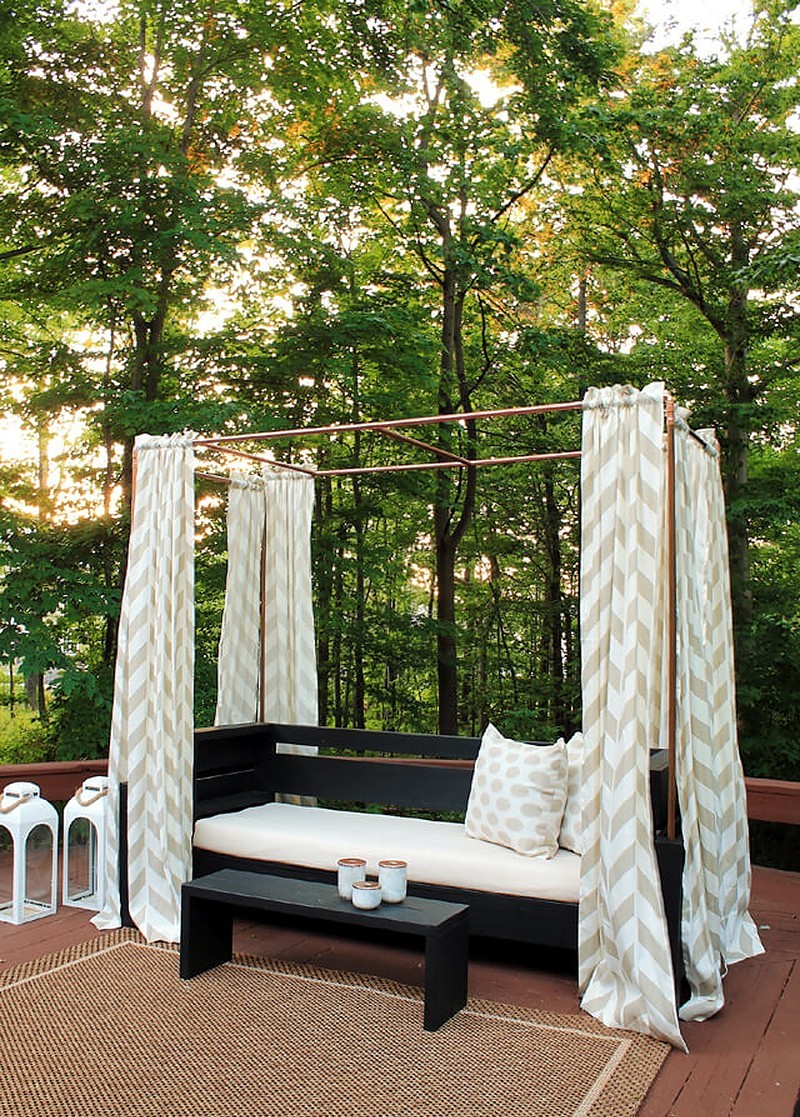 When it comes to DIY patio furniture ideas, you are not always limited to wooden ensembles. Take a look at this mini cabana made from spray-painted curtain pipes. They are more weatherproof and require a little maintenance. It may help to hang curtains that are also a bit thick and resistant to rain. With it, you can turn your patio into an elegant outdoor space for accommodating your guests.
Make a Wild Patio Statement with a Unique Lounger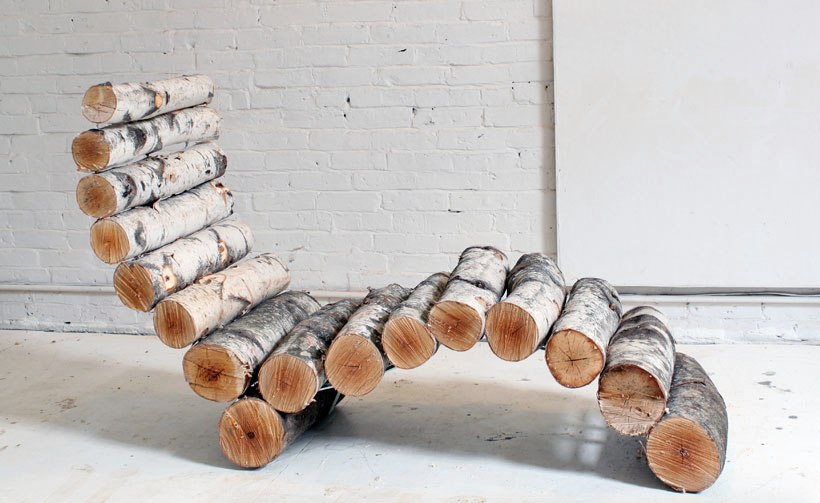 If you have some logs and timbers you want to get rid of, hang on a sec. Take a look at this extraordinary Earth Day project lounge chair that makes a fine patio furnishing. These are birch logs that, with some effort and ingenuity, transformed into useful stuff. Add such an embellishment in your front yard, and it will surely spice up your space. It may even elicit a question or two, prompting a great conversation starter. From here, we hope it can spark up more DIY patio furniture ideas for your currently on-hand construction materials.
Trendy Repurposed Tire Furnishings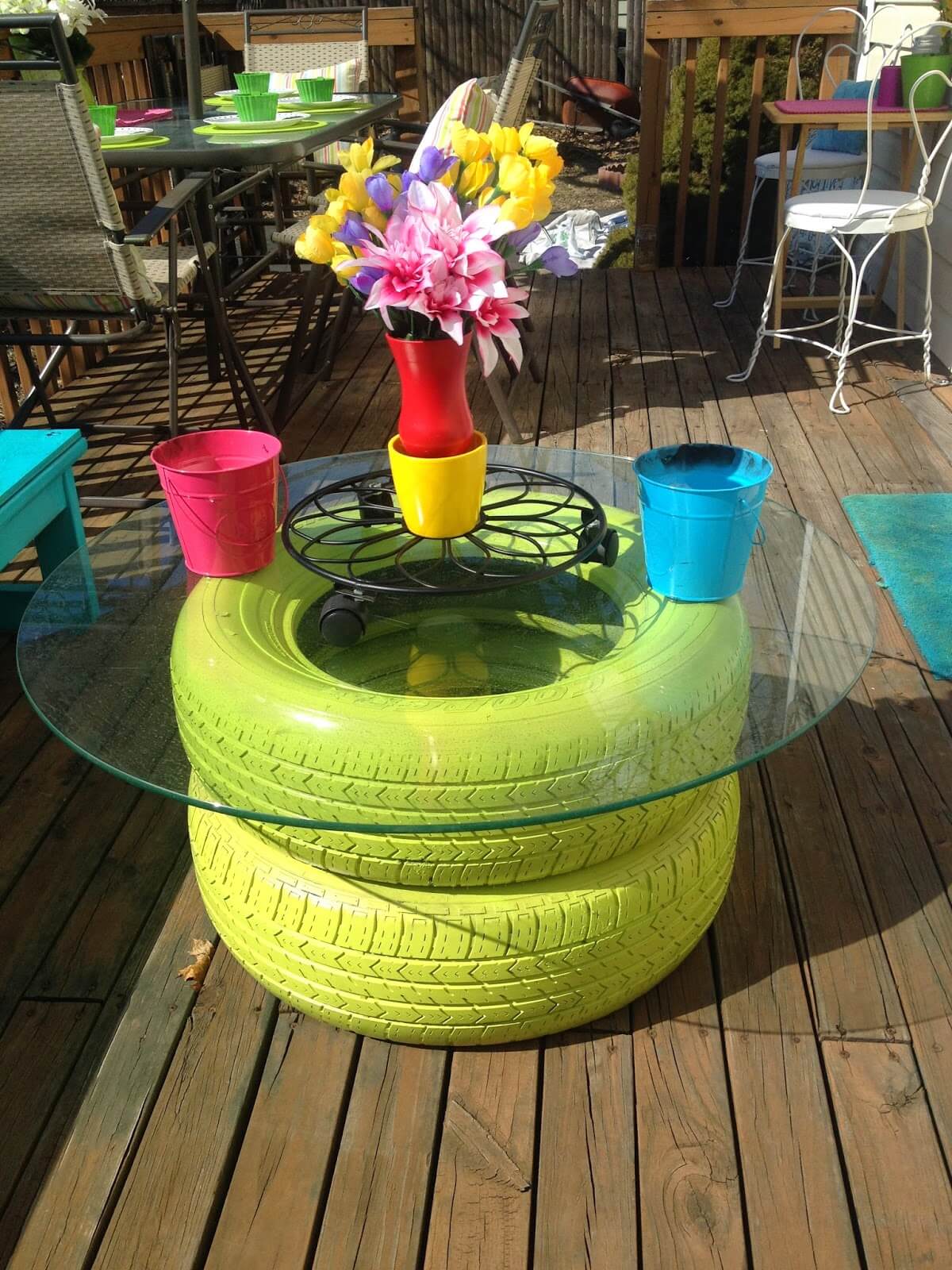 Tire furnishings are getting more popular as trendy patio furniture. Because what else can we do with those old tires without sending them off to the landfills? There are also limitless possibilities you can try in recycling car tires. Notice this minty-green center table as an example. A little splatter of paint can transform these unknowing trashes into something useful like DIY patio furniture ideas.
Takeaway
Don't sweat the small stuff with patio furniture that will enhance your deck. With clever DIY patio furniture ideas, you can have countless options of things that will transform your dull space. From logs, broken appliances, reclaimed woods, to even your garbage – there are hidden gems inside each of them. Patio furniture is not only functional furnishings. They also serve as decorative pieces and blank canvases for unleashing the owner's creativity.