Whether in an indoor or outdoor setting, stone flooring ideas are endearing features of interest. Installing it on your pathway or entire room floor gives it a texture and depth with a surface that harmonizes with its surrounding. The floor or walkways do not need to be always dull, drab, and unimaginative. Sometimes, a little pattern and the best stone flooring ideas can turn it into a point of interest by itself.
There are many different materials that you can use for charming stone flooring. It ranges from the basic cobblestones to elegant natural ones. This page explores the different stone flooring ideas with undulating influence in design. So, whether you need rustic or modern inspiration you will know which the better option is.
15 Stone Flooring Ideas to Try for Your Floor Plan
Shale Rock Tile
This beach-inspired home makes use of the brittle shale rock and turns it into eye-catching entryway flooring. Layering it with tile grout brings out an even more stunning finish. It gives the patio a fresh and pleasant look. Who wouldn't want to skip barefoot into this smooth and cool piece of art?
Beautifully Veined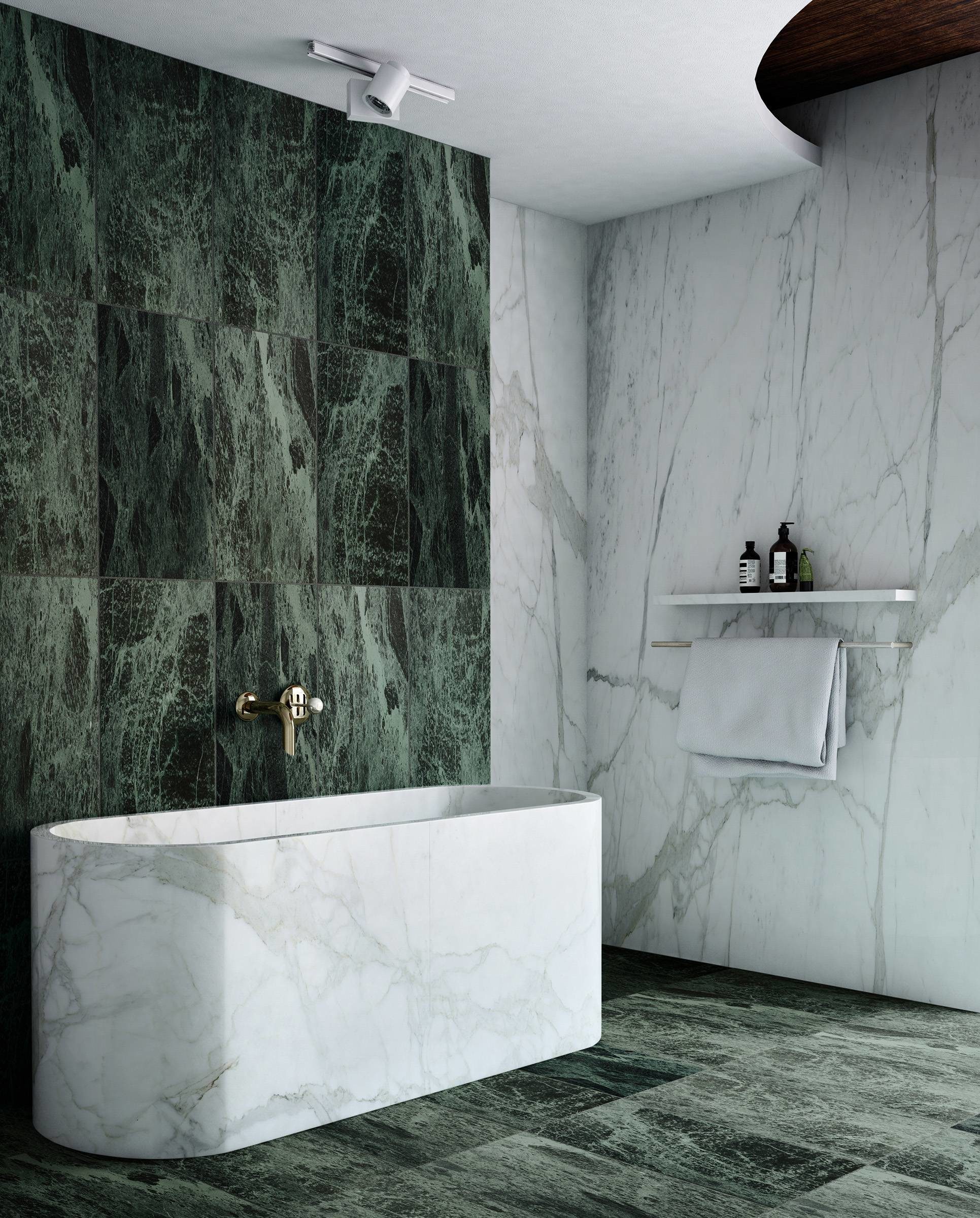 The Serpentine series stone flooring ideas are the best option if you don't want to break the bank with marble floors. This version is more affordable and easier to maintain. Just take a look at the veined surface that imitates the sophisticated marble. It is a gorgeous addition whether you install it on the floor or the wall or both.
The Sparkling Quartzite
The flowy texture of this quartzite floor lends the outdoor dining area a serene and calm ambiance. It looks vibrant but not too overpowering as it goes smoothly for the eyes. The blue design that mimics the water is a fine accent with the surrounding greenery. Thus, it conveys balance with the natural complements of nature.
Something Unique and Cultural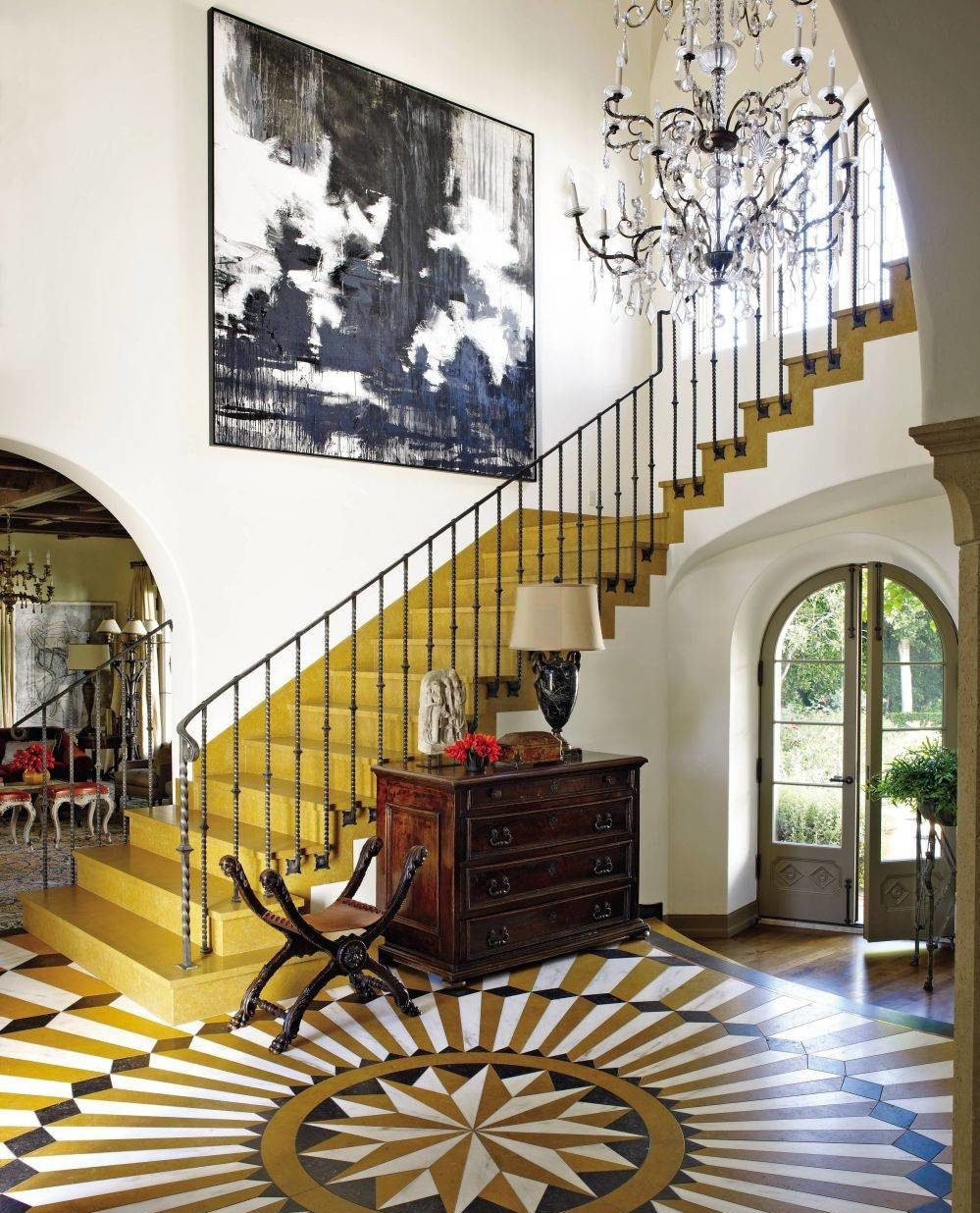 Inspired by the Byzantine Empire, this one-of-a-kind stone floor features geometric patterns and borders. The starburst design provides a strong impact that will draw attention to the floor –whether you like it or not. It's not common to see this in residential homes, but if you want a unique inspiration, it is worth a shot. However, these stone flooring ideas are applicable only for vast floor space. Otherwise, it will cramp up a small living room with cheeky details.
Heated Stone Flooring Ideas
Heat up your space during the chilly winter nights with heated stone flooring ideas! Granite is one of the best natural stones for radiant floor heating. It warms up just right when hot water is flowing underneath it. This heated granite stone floor in muted colors offers a kind of warmth both for the eyes and touch. It extends a cozy feel to let you feel less intimidated walking on the cold floor in harsh outdoor temperatures.
Break the Boredom
This travertine floor tile decides that wood planks are too boring to take up the entirety of the room. Thus, it breaks the monotony without going too obstructive to the eyes. It plays up space with texture and dimension in this abstract symmetrical arrangement.
Ornate and Affluent
Decorative and richly textured, this French-inspired home showcases the vintage touch of France. The neutral and natural color palette of the floor conveys an ornate and rustic feature. Despite the unconventional arrangement of the stone flooring, it still gives off a balanced and symmetric look. Stone flooring ideas like these add a stately appeal and value to any home.
Simple yet Stunning Limestone Flooring
If you are considering natural stone flooring ideas, limestone is the best choice when it comes to affordability. They are inexpensive, yet, limestone floors do not disappoint. They are still a chic and edgy addition for a laidback and peaceful room like this modest study area.
Completing the Modern Farmhouse Look
This neutral country-inspired kitchen is every inch stunning. From the neutral color mix, adorable kitchen island, and noteworthy countertops, it boasts of all the goodness of country living. But you will hardly go over the place without noticing the stone flooring ideas. It infuses the Yorkstone natural stones with the soft colors that set the room with a rustic character.
A Taste of France
The distressed stones in varying surface textures give this room a French Provincial flair. The color schemes vary from cream, beige, and tan that makes it less monotonous. It may look humble, but it still exudes an elegant and sleek appeal with the subdued stone flooring ideas.
The Belgian Bluestone
Highlight your home with the antique look of the Belgian bluestone flooring ideas. This blue-greyish distressed stone even displays fossil veining to give it an antique feel. Thus, you will achieve that beautiful and timeless aspect in your home every time you step in.
Seamlessly Beautiful
Make your bathroom stand out from the usual crisp-white stereotype with stunning stone flooring ideas. The sandstone flooring of this low-key but fabulous bathroom gives it a humble yet edgy look. The russet color theme is also functional for a high-traffic and high moisture area of the house. Sandstone tile is also less slippery and holds well when wet.
Rustic All Over
Bring your home back to the paved sidewalk of the 18th century with the rustic cobblestone. These lumpy and rounded stones give off a unique vibe with the reminiscence of the bygone era. The repeating motif, the subdued tone, and the distinct texture enhance the mood of a traditional mystery.
Going Traditional
Enhance your farmhouse entryway with the perfect stone flooring ideas and representations. This pebble walkway in a thoughtful layout provides a unique and distinct countryside touch to this home. It nicely complements the rugged texture of the structure like the bare archway and naked wooden beams.
An Affluent Detail
If you love the influence of the rustic vibe, the flagstone tiles are another posh and vintage stone flooring idea. This fat slab of rock is nothing like your usual floor tile. It has a distinct texture and a unique characteristic that lends it a historical touch. However, flagstones are a bit expensive that denote the affluence of traditional living.
Takeaway
The floor tile is the first consideration that most homeowners value when building a home from scratch. Ceramic and porcelain tiles are the usual go-to choices. But if you want to achieve something unique and eye-catching, stone flooring ideas are better options. They do not only offer a distinct appearance and appeal. They are also durable and highly water-resistant that brings in either a traditional or on-trend interior design feature. So, if you are craving beauty and dimension in your home, you can start with the best and practical stone flooring ideas.