Isn't this your favorite time of the year? It's summertime, probably the most positively talked about season. It's the time where people want to go out a lot, spend time at the beach, and just hang out with friends. You might be such a homebody, the idea of leaving the house every day doesn't appeal to you. You still need to get some of the summer energy somehow. Owning a pergola is great but decorating it well gives it more appeal. You get to have friends happy to stay over without too much asking on your part. They'll also have lots of compliments to give from time to time. Having a pergola is the main deal while decorating it is the easy part. With these various Pergola decorating ideas to pick from, you'll be spoilt for choice. Let's dive in!
Put Up Curtains

This is the perfect idea for you if you want to be outdoors but at the same want to avoid too much exposure to the sun. It provides the perfect shade while letting you still feel the cool soft breeze on your skin. Make sure to pick the appropriate fabric for your curtain though. We're talking about light texture and a pop of color.
Add A Hammock
What says laid back and chilling than a hammock tied to two sides of your pergola? It gives such a cool vibe and is so easy to add. You'll have it be the highlight of your day soon. There are types of hammock but a quick DIY one can be set up in less than an hour.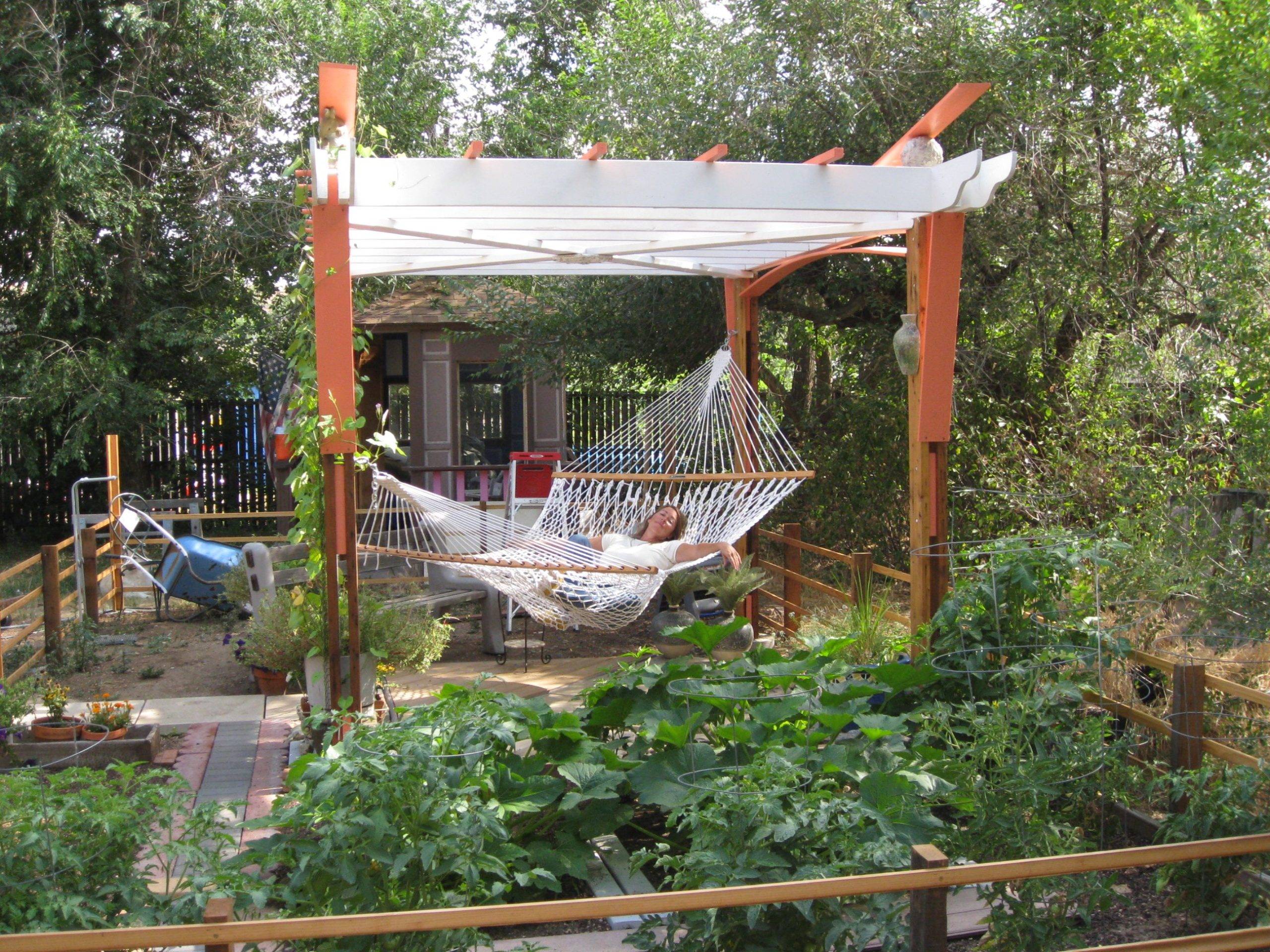 Decorate with Potted Plants

Even if your pergola isn't overlooking a beautiful garden, you still get to surround yourself with nature. Compensate yourself with beautiful potted plants to improve its look. To get this right, you need to pay attention to the plants you're putting up as well as the planter they come in. They are both supposed to serve as decor pieces.
String Up Lights on Your Pergola

Imagine how beautiful it'd be on a summer evening, sitting under your pergola with lights shimmering around. There are different types of string lights with some pretty basic and inexpensive. If you don't have time during the day to sit in your pergola, you can enjoy a fancy dinner outdoors.
Furnish It Like An Outdoor Dining Space
If you're a fan of outdoor dining, you've probably been considering setting up space for it. This is the sign you've been waiting for. Don't just leave your pergola empty with maybe one reclining chair. You can revamp the space and set it up as an outdoor dining area. Make it as fancy as you want. Put a well-built dining table, a couple of dining chairs, and don't forget to add a beautiful flower vase right in the middle. Fine dining is as much about the food as it is about the space.
Boho Styled Pergola

A boho-styled pergola is sure to be colorful and playful. You need to be in on the style before trying it out. Be sure to spot some patterned furniture, a wicker chair, and some flowy fabric as a curtain or shade. It's an easy style and can be as elaborate as you want.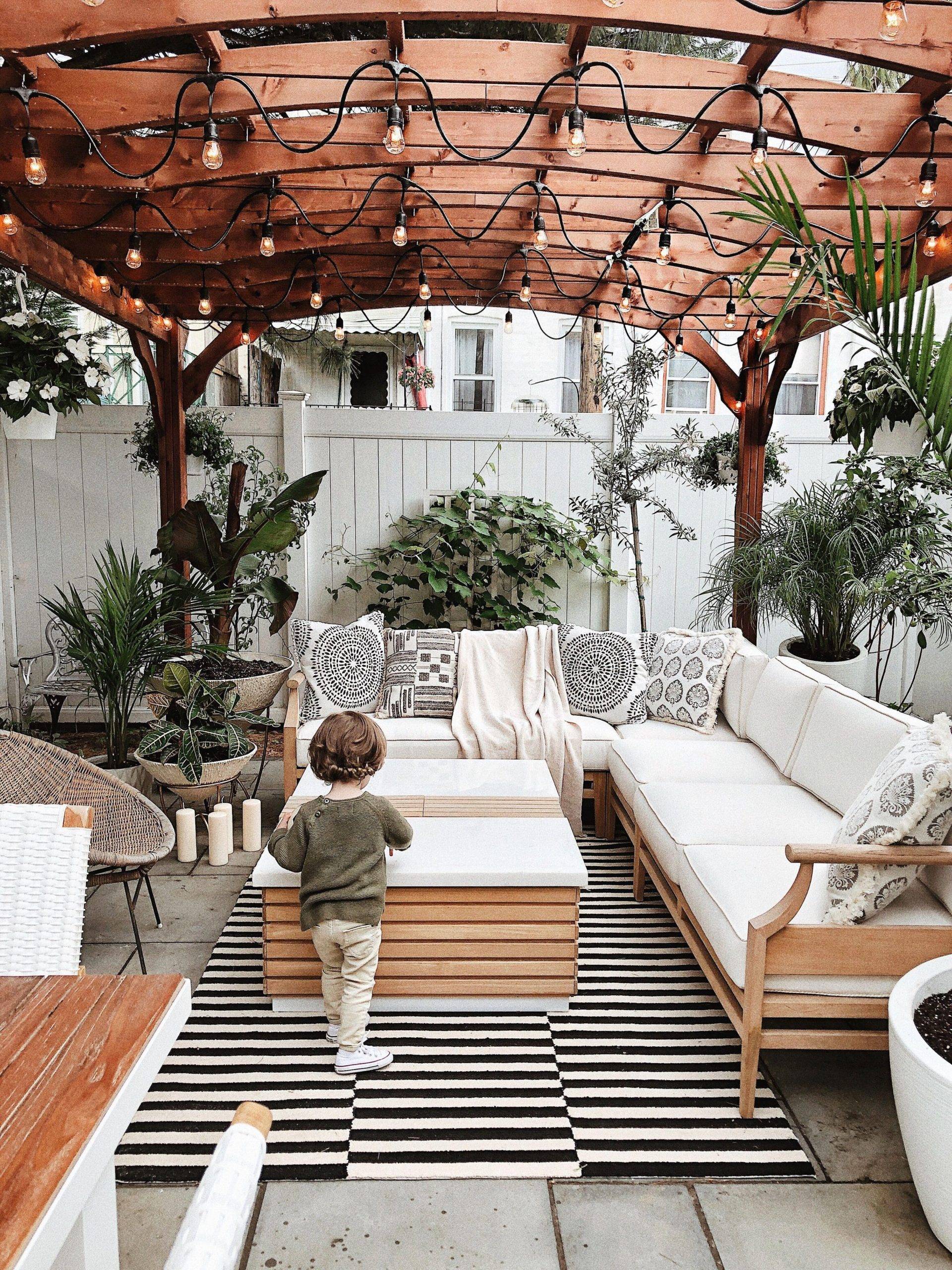 Add a Swing

A swing sounds like fun any day any time. Adding a swing to your pergola can make it more inviting and exciting. Make sure it looks super cozy with some kind of cushion and you can make it from colorful fabrics. Usually better to have more than one so you can enjoy company while swinging high.
Fix A Removable Awning

It may not be the cheapest of all the pergola decorating ideas but it is worth every penny. You can get the motorized one or the one you have to control manually. Some people make a DIY version but that requires some level of skill. Imagine being forced to stay indoors during the summer simply because it's a bit too hot outside. A removable awning solves that problem for you. It provides the shade when you need it and when you decide you want to be directly under the sun's rays, you're free to do that too.
Arrange Hanging Planters

Plants as decor pieces do a lot of good generally. You might not like the idea of having pots lying around because of how much space they can take so a different option is to have hanging planters instead. This way, you get to have plants without losing ground space. You can try to have some flowers in the mix too.
Floral Decor Pergola

This kind of decor is mostly done for weddings but nobody has banned them for every other day. The more colorful your flowers are, the prettier your pergola will look. It will serve as a favorite picture spot in your home and for a minute, you can pretend to be on vacation in a fancy place.
Include Paper Lanterns and Wisteria

Paper lanterns are such beautiful decor pieces. You can have them in as many different colors as you want. They do not cost so much and can be done with a low budget. You can also put them up yourself. Having wisteria grow on your pergola alongside your paper lantern creates such a lovely sight.
It's great that you're deciding to decorate your pergola. As humans, we gravitate more towards places we find attractive. These pergola decorating ideas will help you finally have the kind you've dreamed of. If it's been an abandoned part of your home for the longest time, get ready for it to become a favorite spot. It's not so hard and there are several very low-barrier ideas in terms of effort. The same can also be said in terms of budget. Whatever season it is, you're spending time making your home more beautiful and that's the best part.