A fireplace is a special feature in every house. Aside from the fact that having one keeps you warm during the cold season, it has high aesthetic value. People have favorites when it comes to materials used but a rock fireplace will never be out of style. There are usually updates on its use year in, year out so you are bound to see refreshing styles.
With stones used as the design material and different styles of arrangements, you're well on your way to having a gorgeous rustic space. The most popular stone used is granite but others like limestone, concrete stone, and cobblestone can be used. It's easier to have professionals construct it than to turn it into a DIY project especially if you're looking for it to last long. Whether you have an idea of what you want or not, you can't go wrong with seeing more ideas.
1. Stacked Stones
Stacked stones style is one of the types of stone arrangement. It's usually expensive to install but when done properly, it's a gorgeous work of art. It was the rave some years back but with the introduction of a new arrangement style, and it's a great fit for even the modern style fan. There are two different types of arrangement methods. When the stones are of similar sizes and are neatly arranged, it gives a modern feel while when the stones are uneven and arranged roughly, it has a rustic feel. Whatever the case may be, it will still look elegant.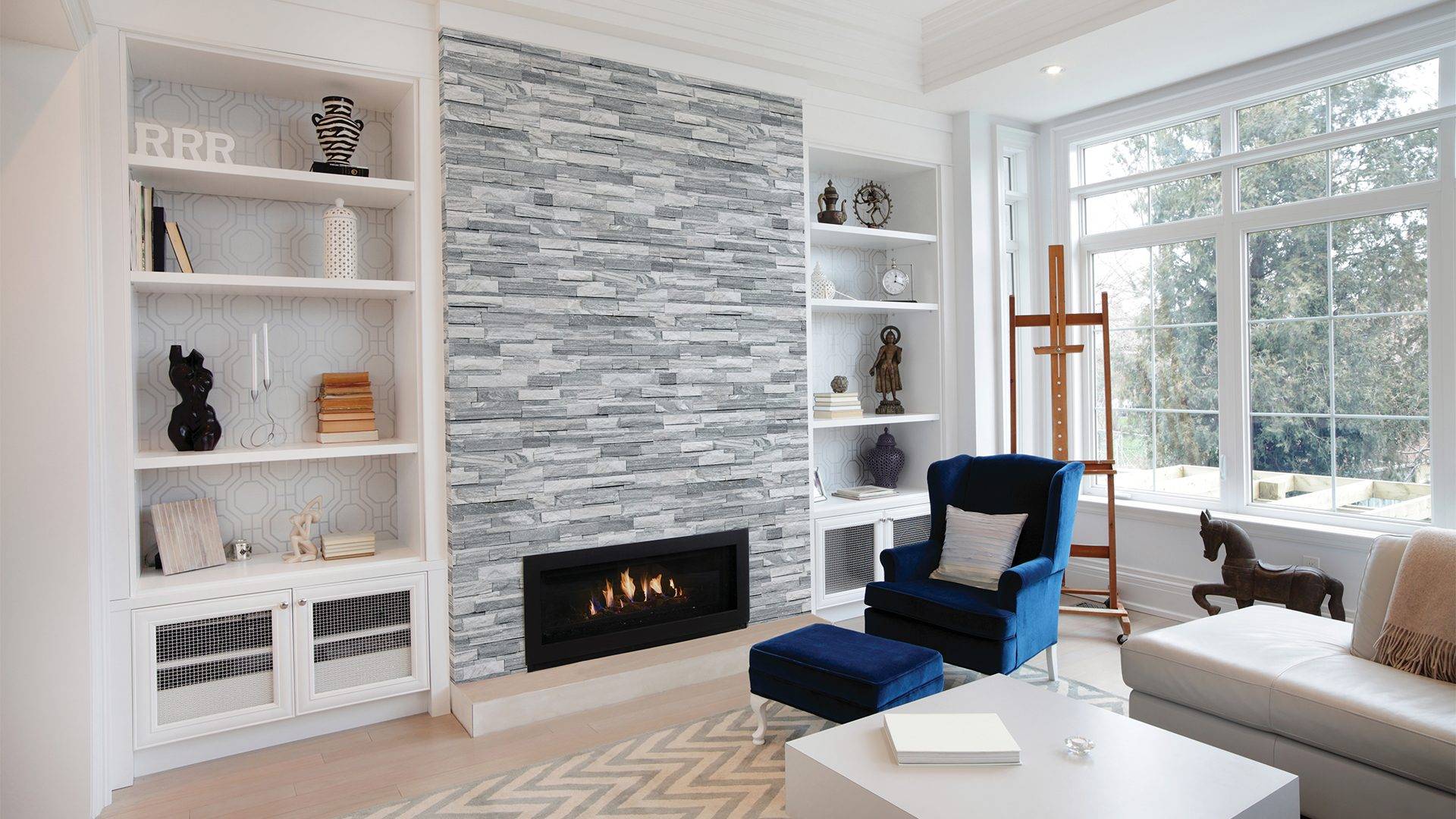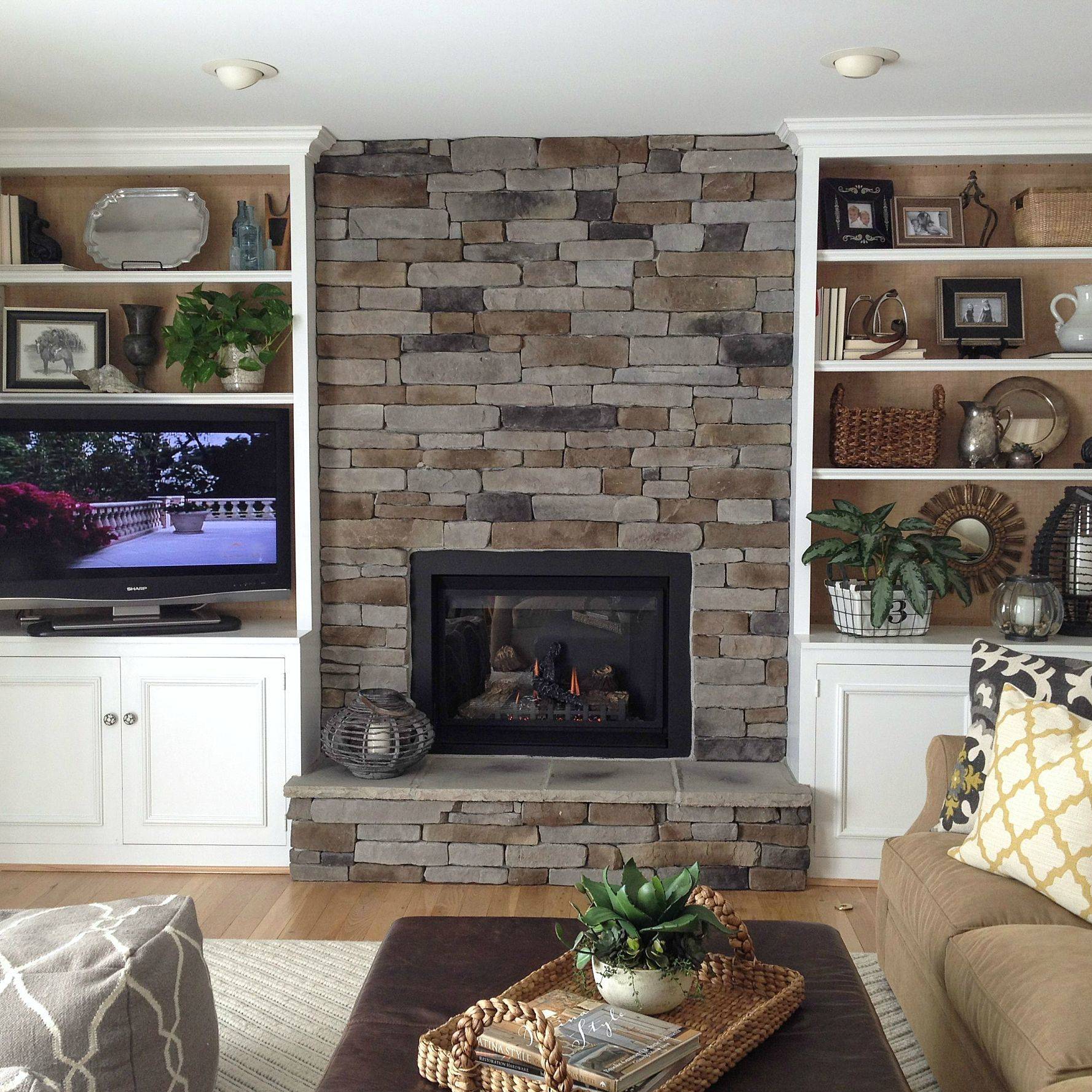 2. Painted Stone Wall
Stones used for stone wall design usually have similar colors with slight differences. One obvious characteristic trait of stones is their texture. This texture shines through all the time. If you would like to have your stone wall behind a coat of paint, it's an option. You will need to use a primer on the wall first and then use latex acrylic paint. Without the primer, the paint will not stay on the wall. It's also a good way to upgrade your stone fireplace. You might have had a stone fireplace for so long and you're already tired of the look. It's cheaper to change its color than to have it uninstalled to build something else.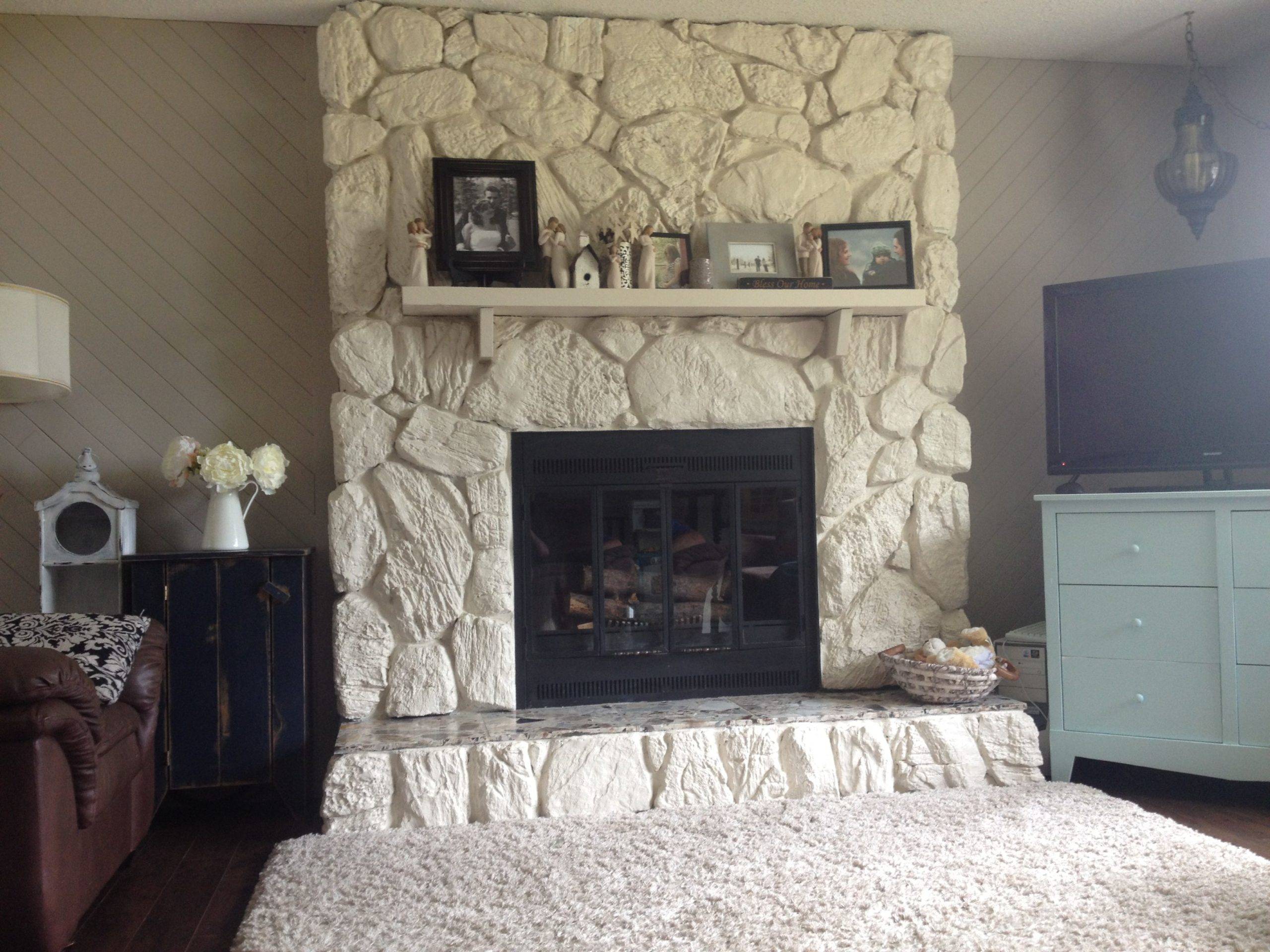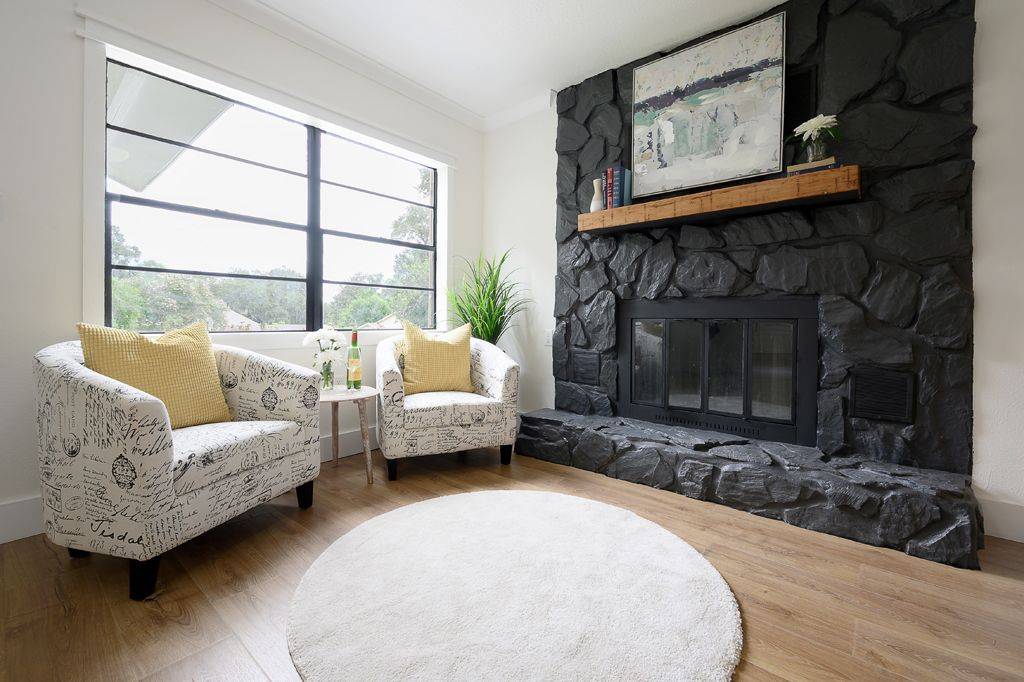 3. Stone and Log Style
A rock fireplace in a log home is the exact definition of cozy. There's no other way to put it. Log homes have been known to be cozy, perfect for relaxation, and cutting away from the rest of the world. Adding a fireplace simply increases the intensity of that particular characteristic. There are materials that seem to look good when paired together. Logs and stones are such a pair. They are complementary to each other. Making the mantel a log ties the whole look together neatly. Make sure the mantel looks like a piece of your home both in the type of wood and its hue.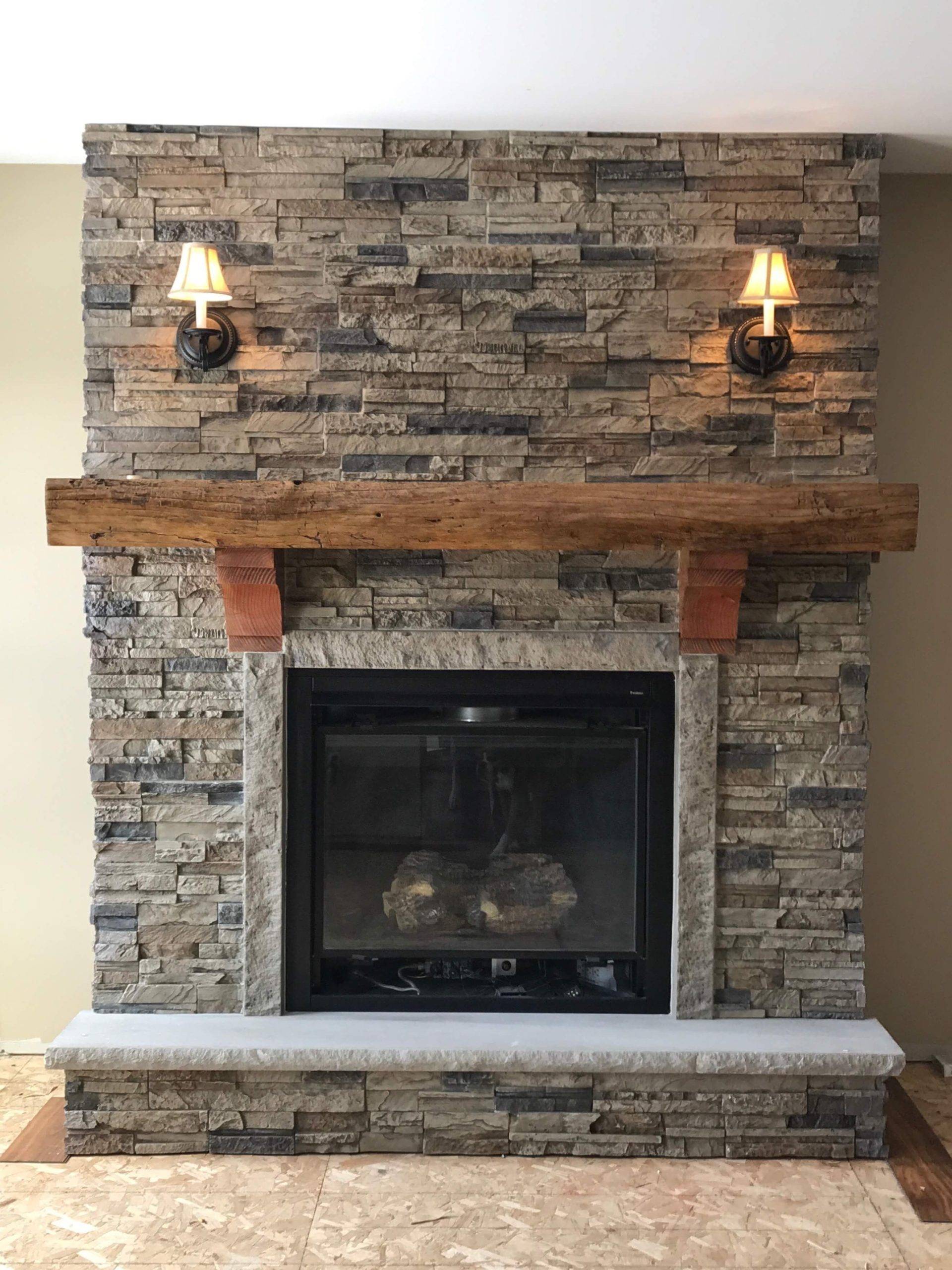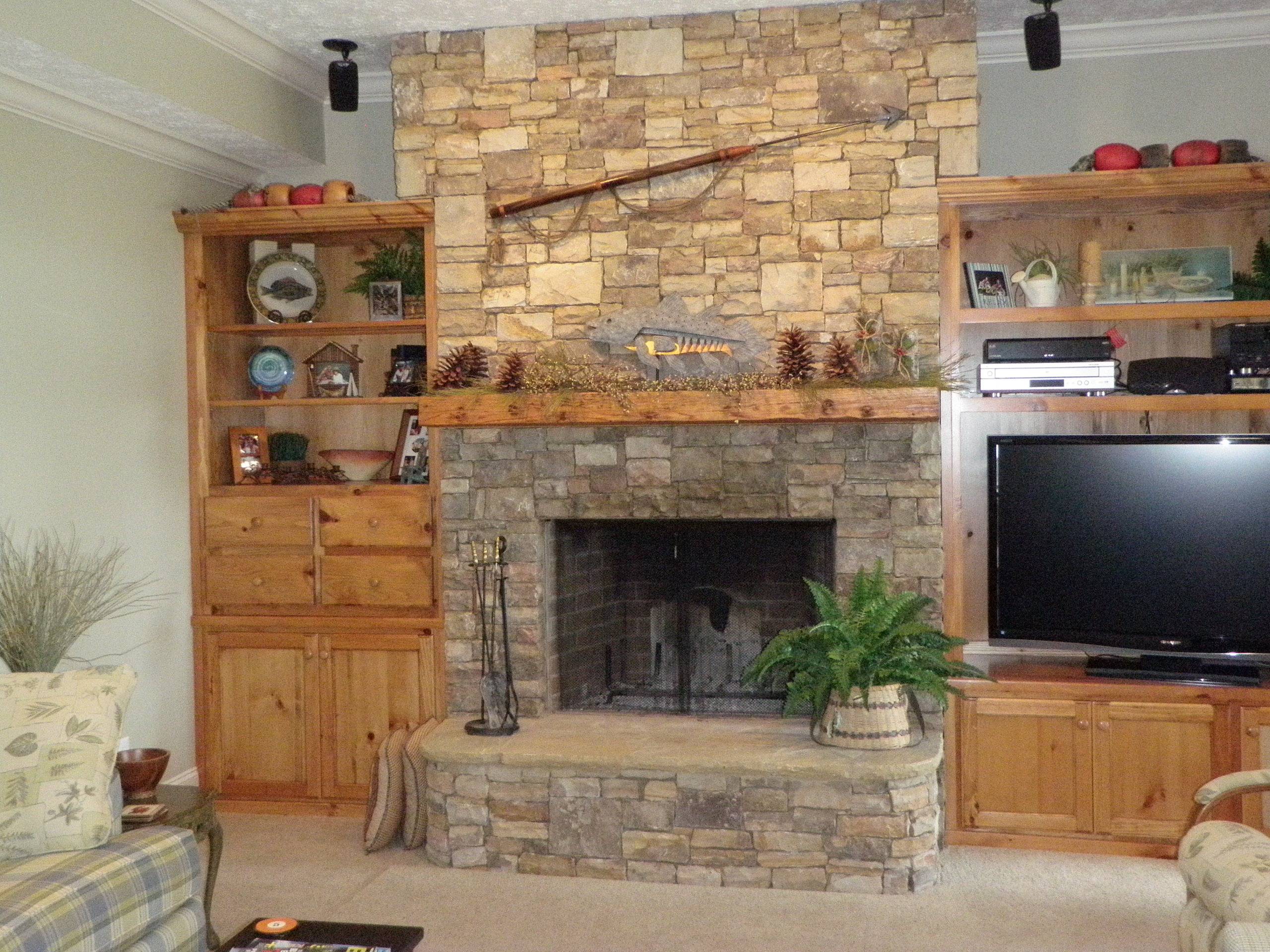 4. Outdoor Stone Fireplace
Stone fireplaces are popularly seen outdoors because they look more natural there. You don't need to have a particular décor style before considering having one. Depending on the type of stone and the arrangement you pick, you can have your porch have a rustic charm or one that looks completely modern and stylish. They will last a long time because of the stones' resistance to harsh weather conditions. It looks best when the stones are arranged from the top of the wall to the bottom to give the fireplace one uniform look. You can be sure it will make your space look rich and warm.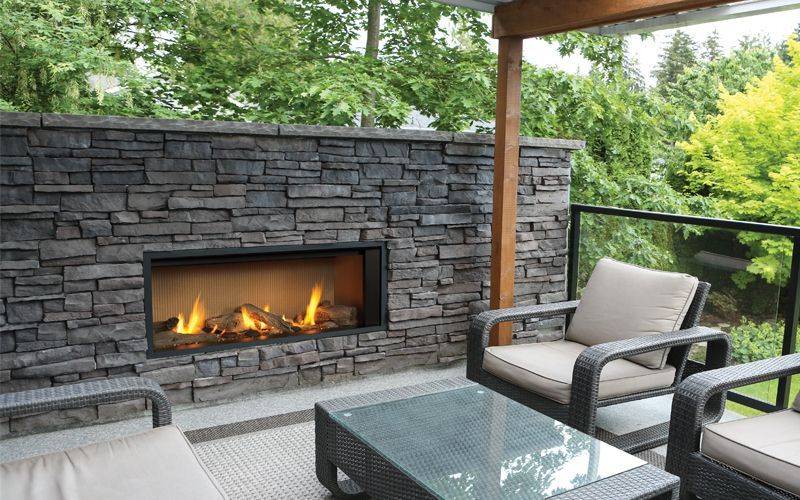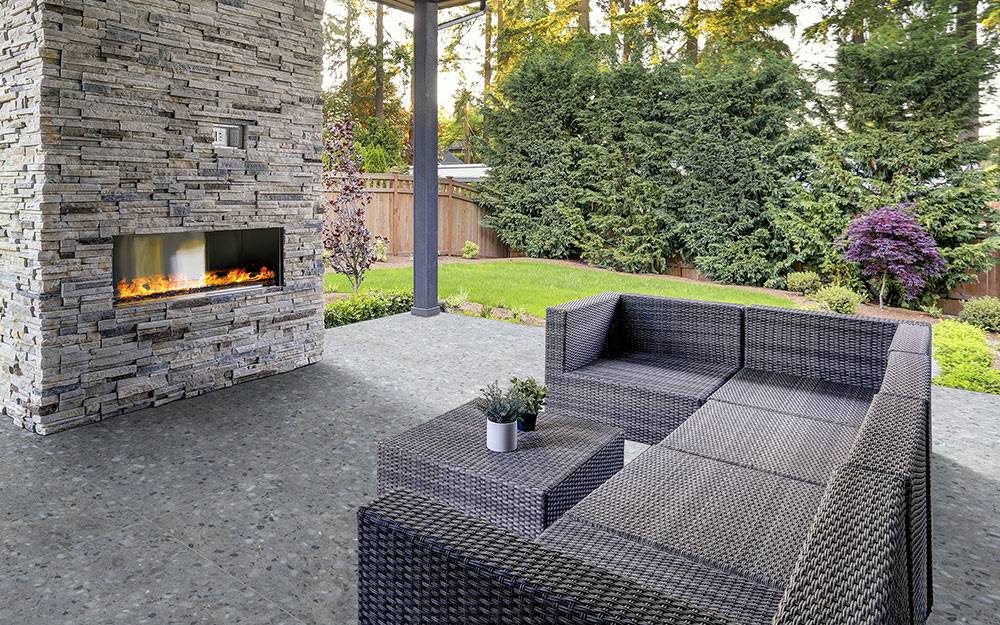 5. Fireplace on Porch
You can have a fireplace on your porch. It will no longer have to be a place you relax only on hot days but you'll have a fireplace to provide warmth on the cold days too. It can also be a way to upgrade your porch and make it more luxurious and stunning. Depending on how it is built, it can act as a privacy screen making your porch a cozy spot. You might want to outsource building your fireplace to an engineer.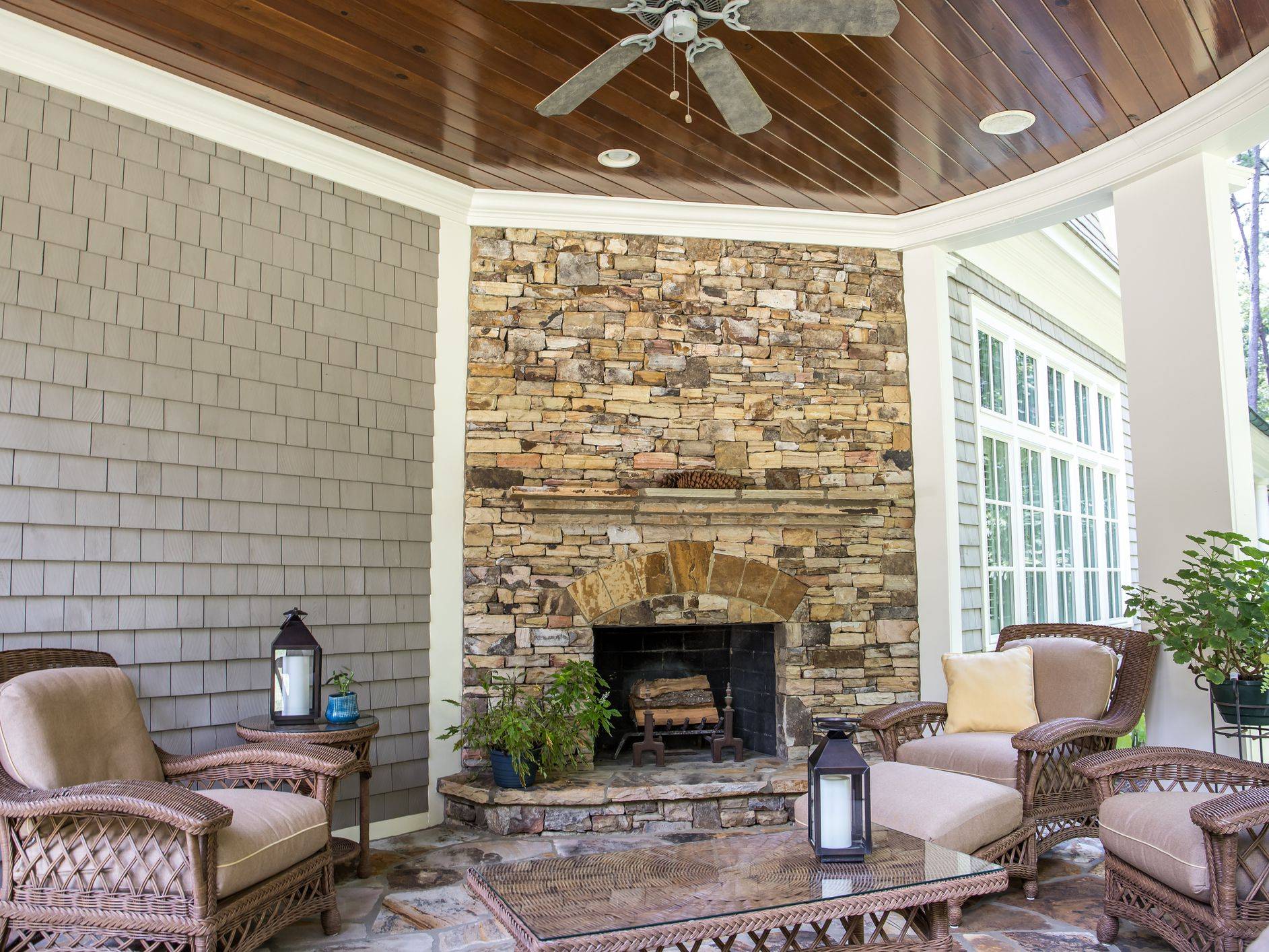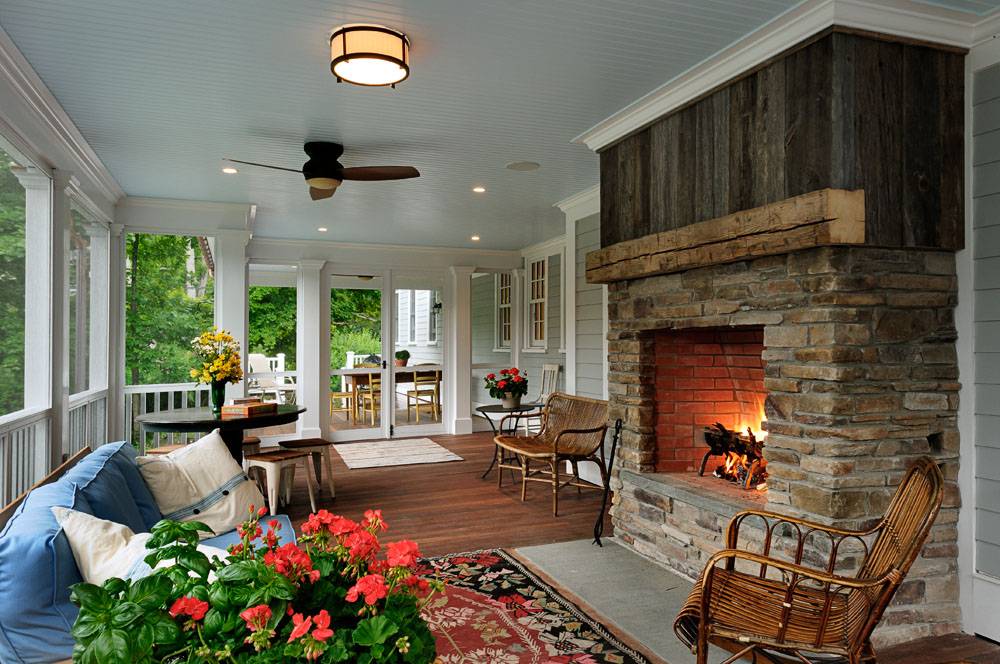 6. Big Stone Designs
Fireplaces are usually focal points in every space but some designs make it more obvious than others. Large stones are also used to design fireplaces and they are able to create a rustic setting more than smaller stones. They might be a bit hard to work with since they will not be cut but will take less time to install in general.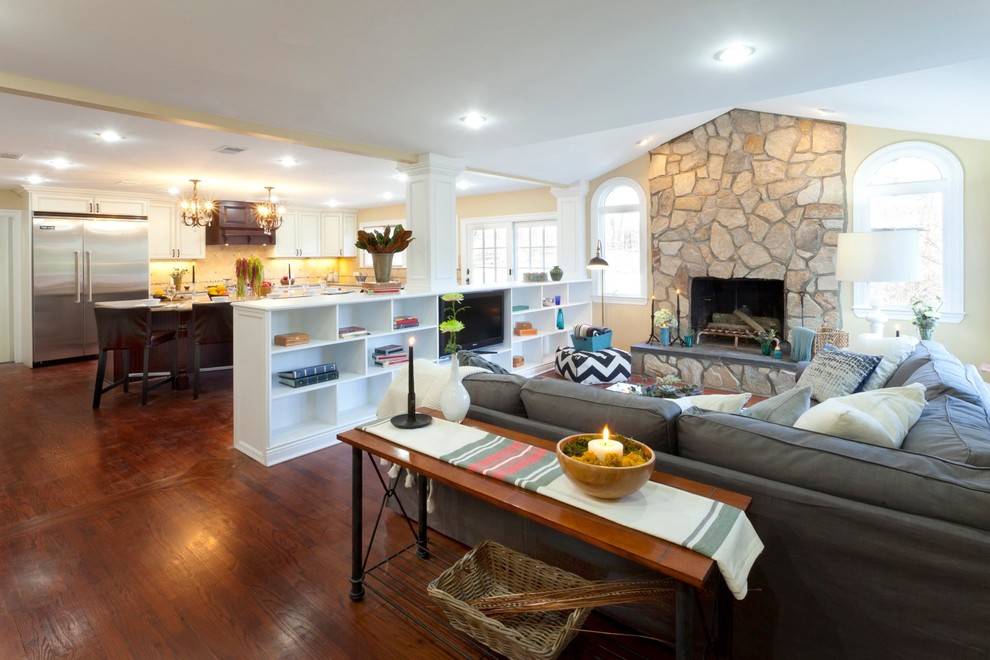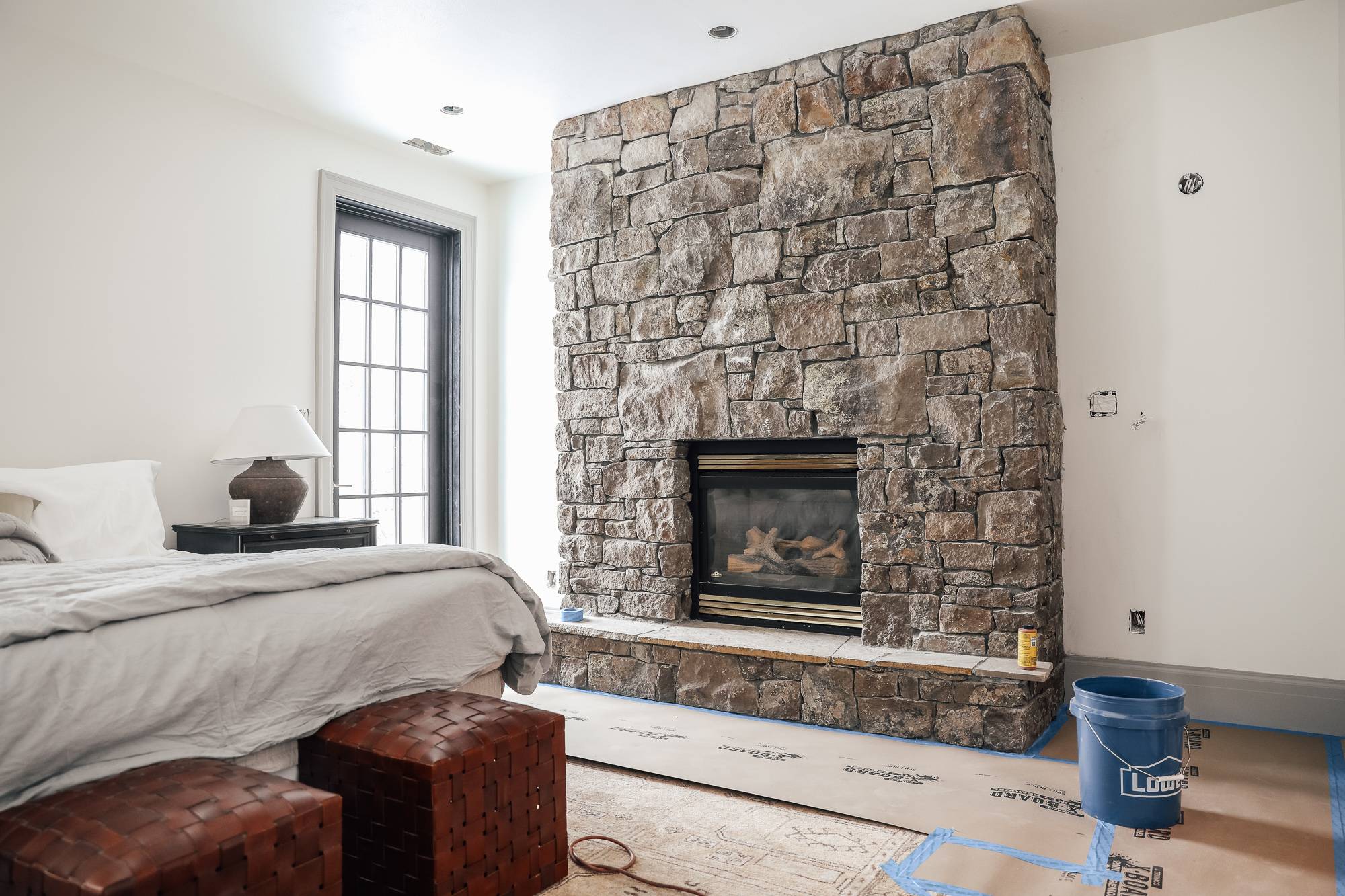 7. Swirls and Twist Design
This intricate design is gorgeous, made from a combination of rocks and pebbles. It requires a high level of creativity and attention to the tiniest details. The wall mosaics are created with pebbles and stones of different colors in a bid to create a pattern. They are more suitable for large spaces as they are dramatic and take over entire spaces. If you thought you could escape people talking about your fireplace when they visit, with this particular customization, you really can't.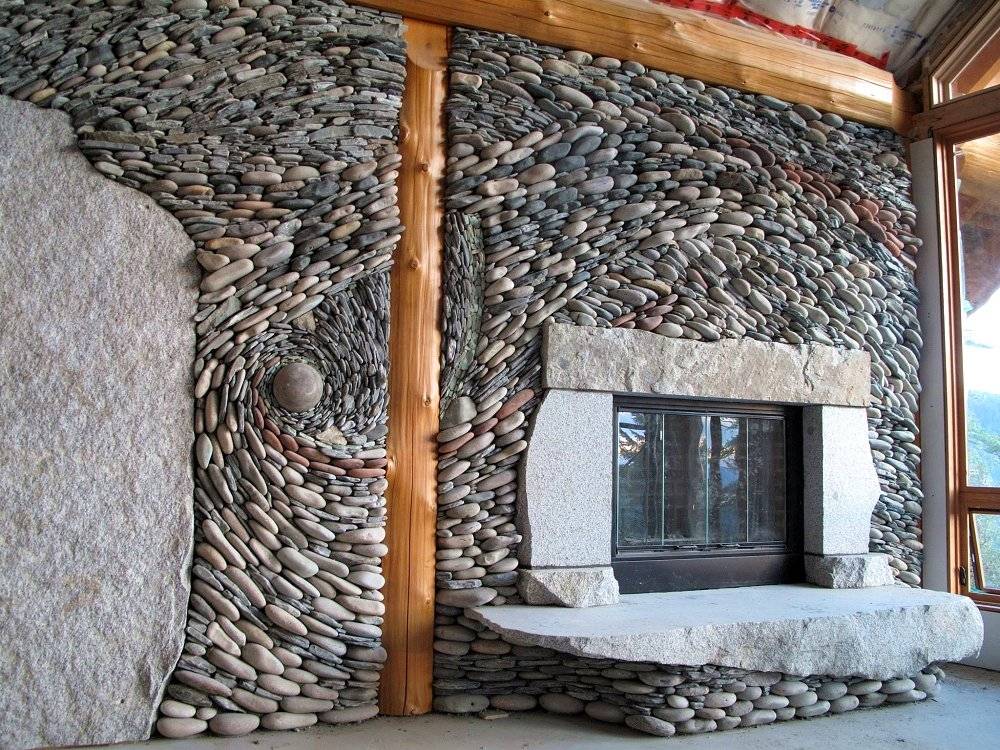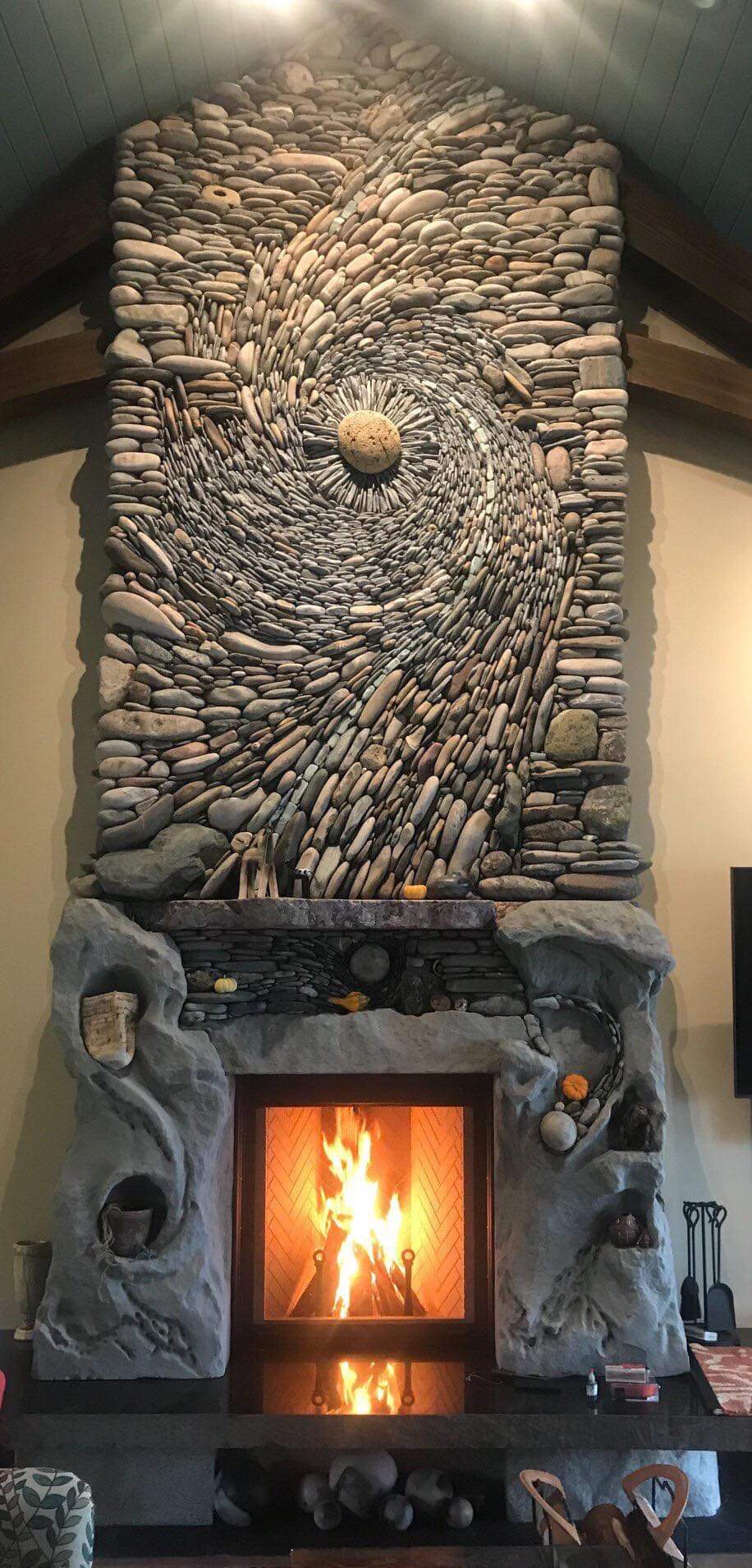 A fireplace has its way of making a house cozy. It's the sight of fire crackling and the warmth that spreads around the room. Rock fireplaces are favorites because now, they can create more than rustic charm and are well-suited for the modern contemporary style. There are options in terms of the type of stone used and also the style. There are some you can try to build yourself especially if you are an experienced DIY-er while others are best outsourced to constructors. Your rock fireplace will be a focal point in your space whether you want it or not so make sure it's worth the while.