A fireplace is a special feature in every house. Aside from the fact that having one keeps you warm during the cold season, it has high aesthetic value.
People have favorites when it comes to materials used but a rock fireplace will never be out of style. There are usually updates on its use year in, year out so you are bound to see refreshing styles.
With stones used as the design material and different styles of arrangements, you're well on your way to having a gorgeous rustic space. The most popular stone used is granite but others like limestone, concrete stone, and cobblestone can be used.
It's easier to have professionals construct it than to turn it into a DIY project especially if you're looking for it to last long. Whether you have an idea of what you want or not, you can't go wrong with seeing more ideas.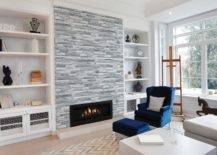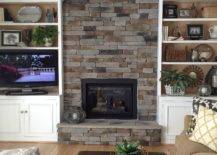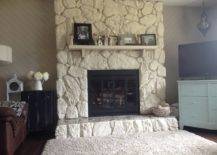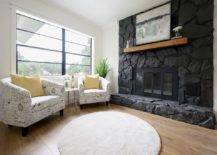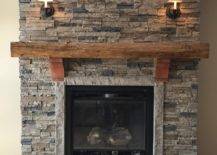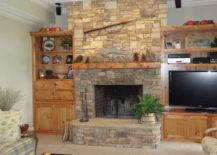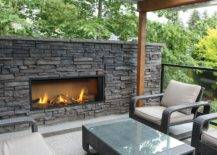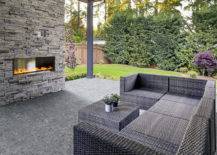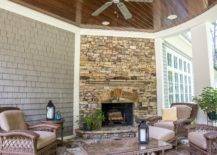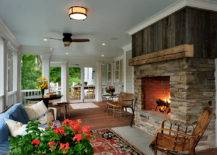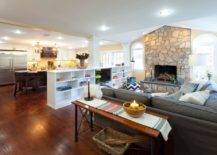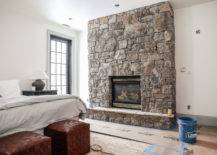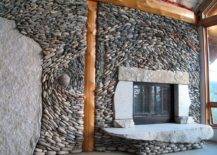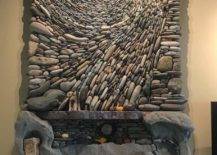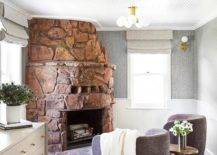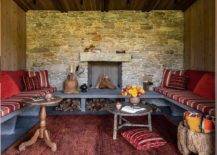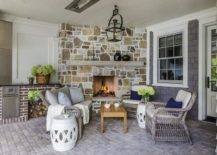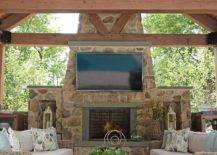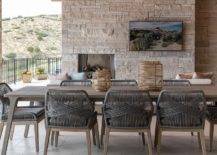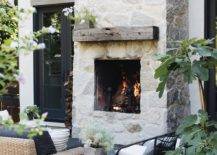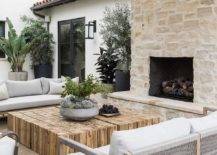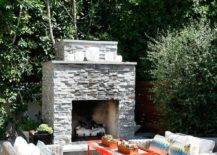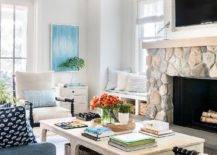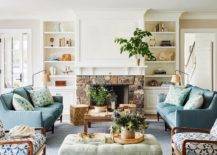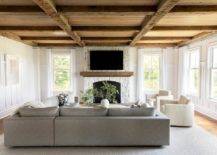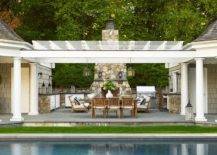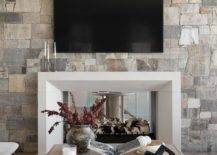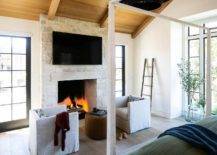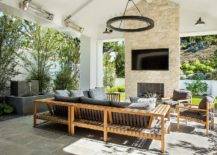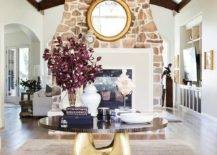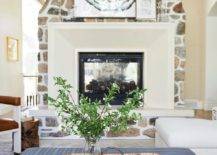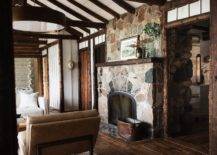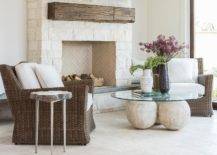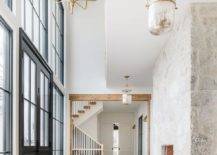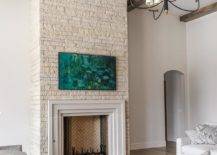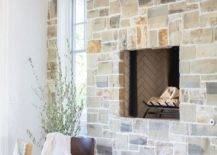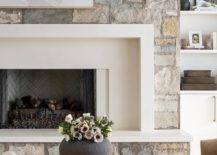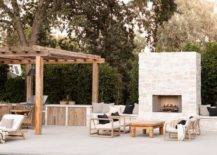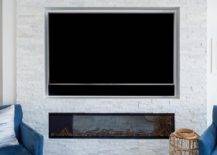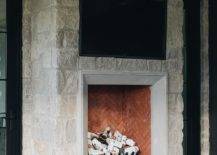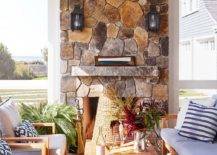 Stacked Stones
Stacked stones style is one of the types of stone arrangement. It's usually expensive to install but when done properly, it's a gorgeous work of art. It was the rave some years back but with the introduction of a new arrangement style, and it's a great fit for even the modern style fan.
There are two different types of arrangement methods. When the stones are of similar sizes and are neatly arranged, it gives a modern feel while when the stones are uneven and arranged roughly, it has a rustic feel. Whatever the case may be, it will still look elegant.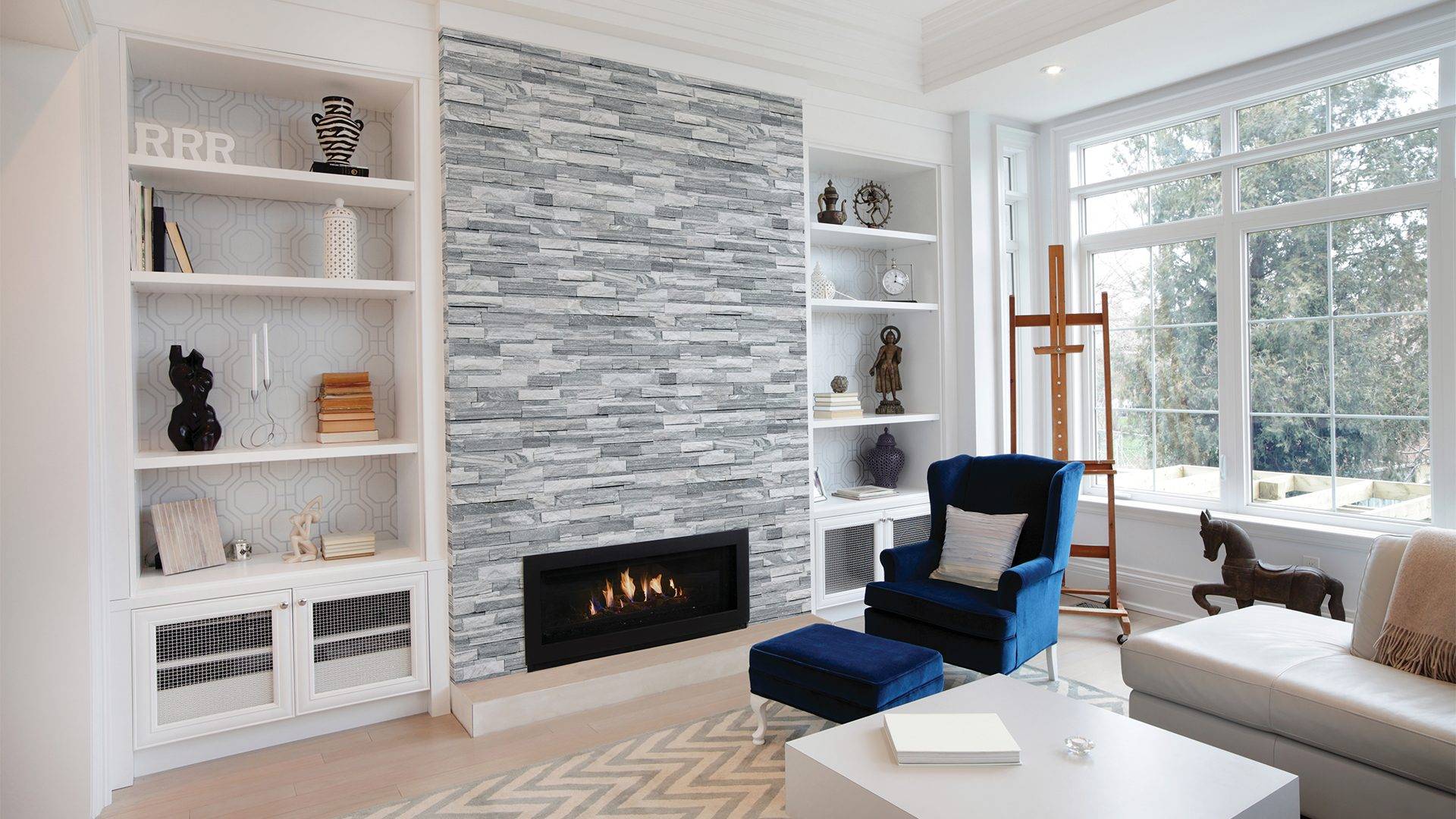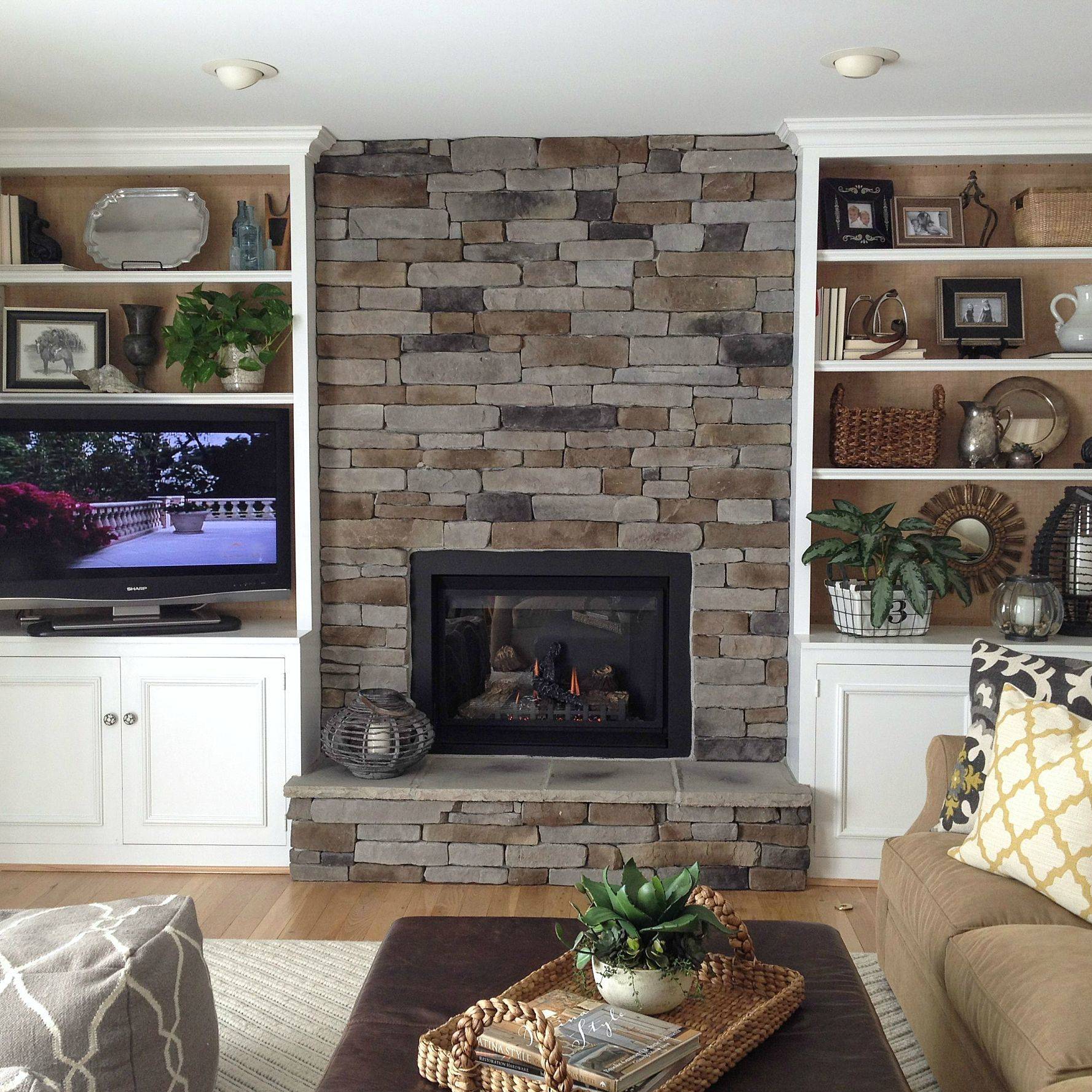 Painted Stone Wall
Stones used for stone wall design usually have similar colors with slight differences. One obvious characteristic trait of stones is their texture. This texture shines through all the time.
If you would like to have your stone wall behind a coat of paint, it's an option. You will need to use a primer on the wall first and then use latex acrylic paint. Without the primer, the paint will not stay on the wall. It's also a good way to upgrade your stone fireplace.
You might have had a stone fireplace for so long and you're already tired of the look. It's cheaper to change its color than to have it uninstalled to build something else.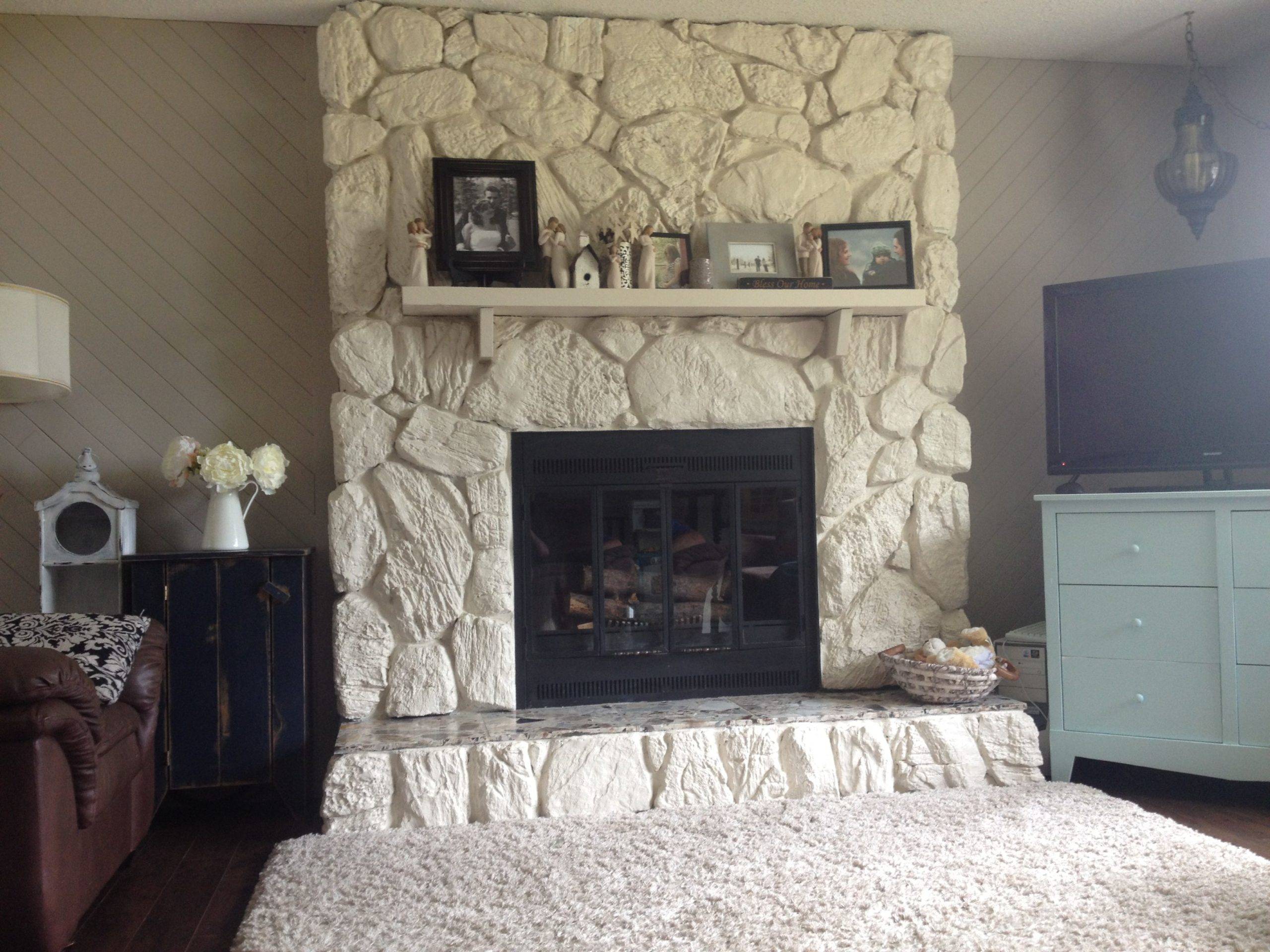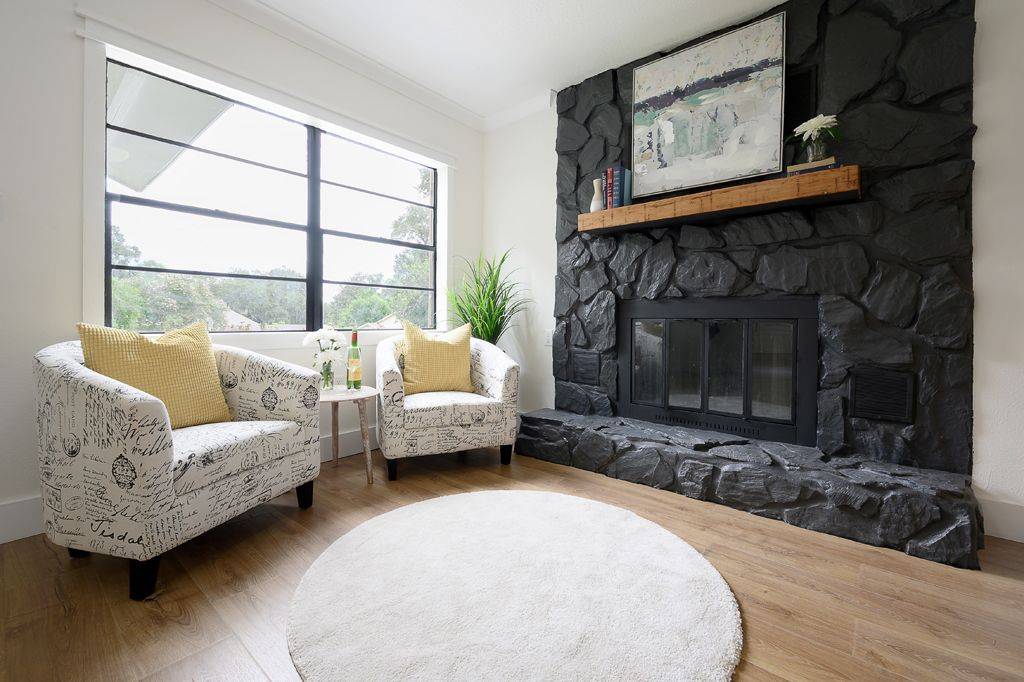 Stone and Log Style
A rock fireplace in a log home is the exact definition of cozy. There's no other way to put it. Log homes have been known to be cozy, perfect for relaxation, and cutting away from the rest of the world. Adding a fireplace simply increases the intensity of that particular characteristic.
There are materials that seem to look good when paired together. Logs and stones are such a pair. They are complementary to each other. Making the mantel a log ties the whole look together neatly. Make sure the mantel looks like a piece of your home both in the type of wood and its hue.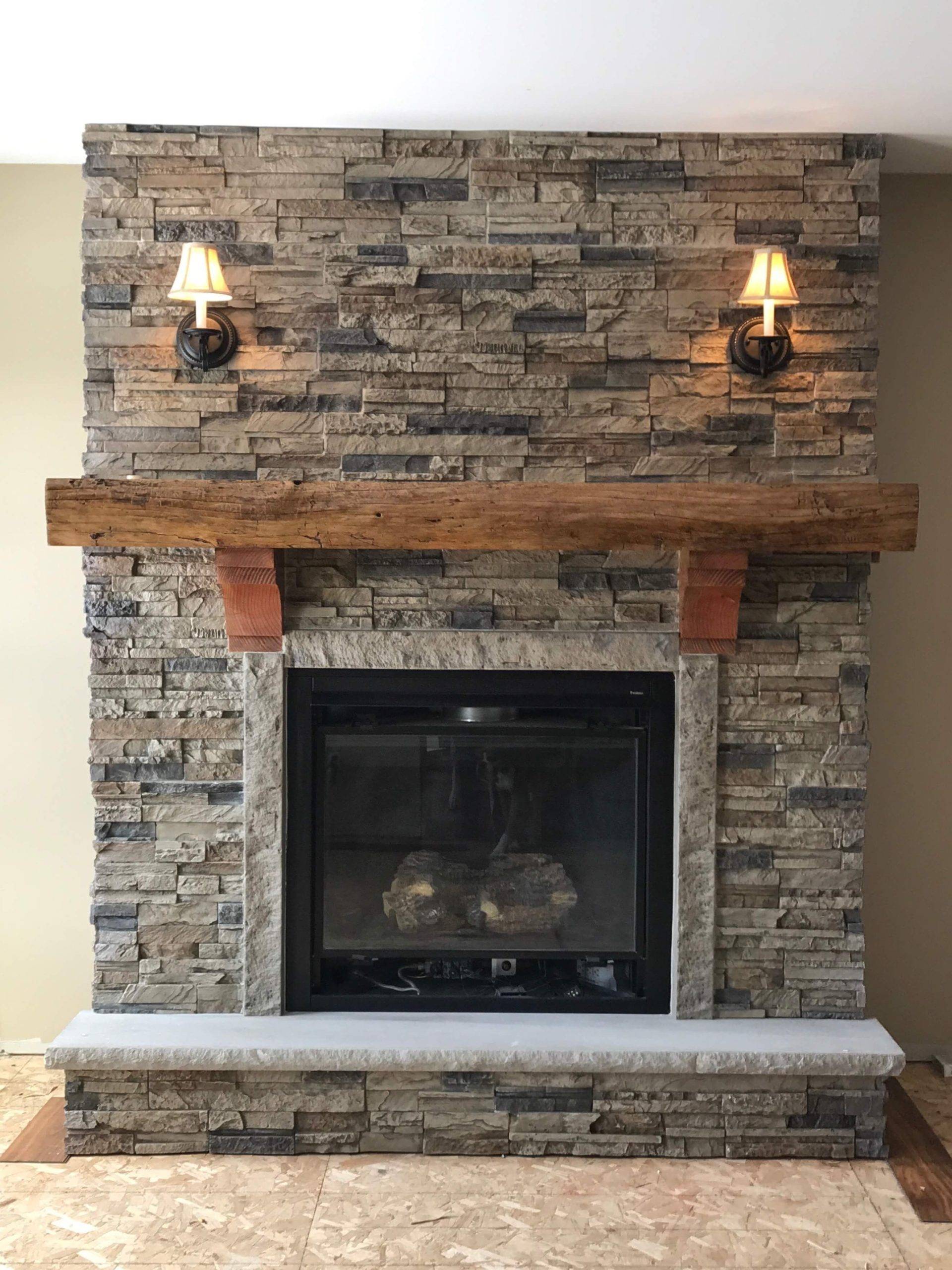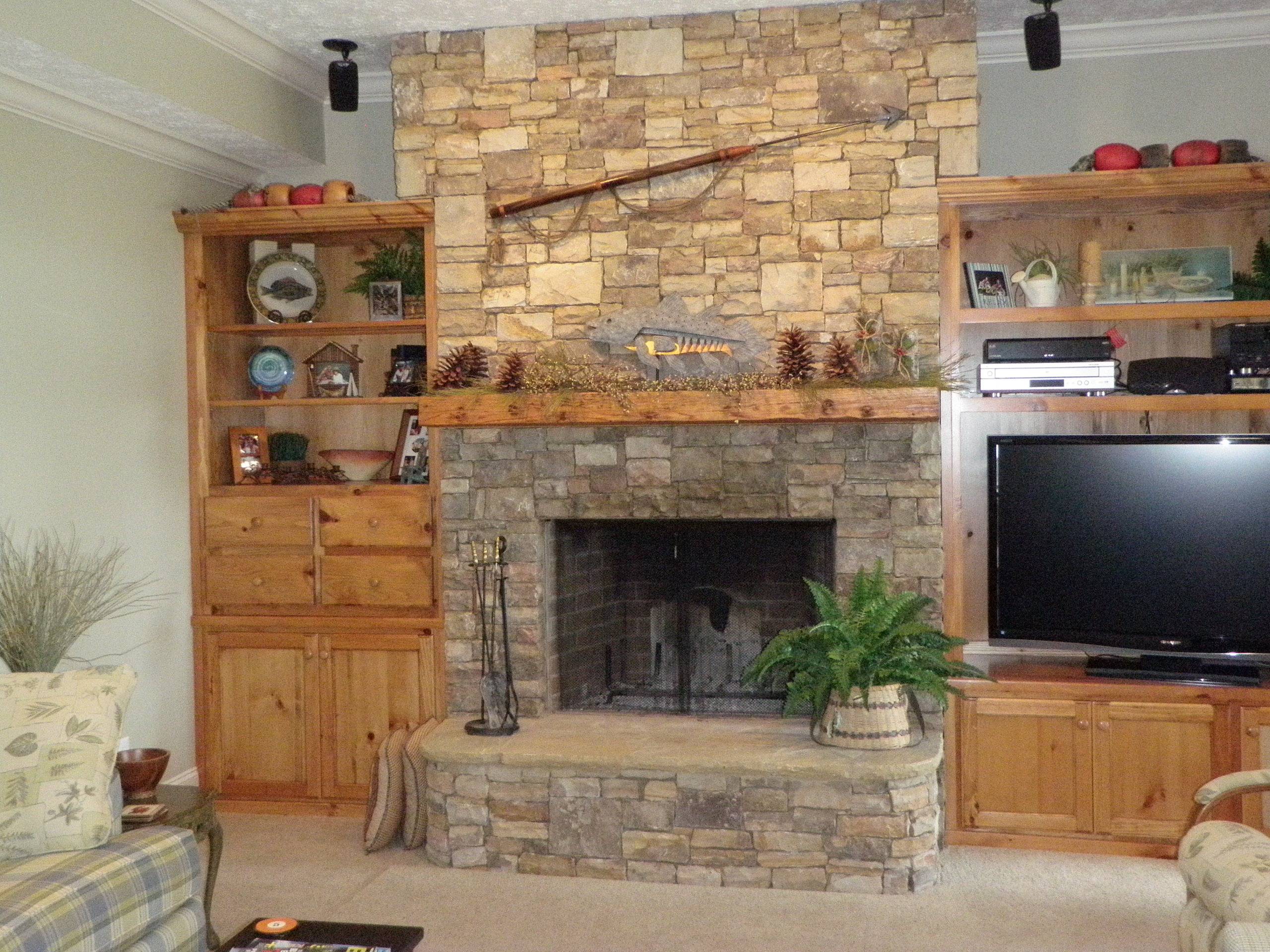 Outdoor Stone Fireplace
Stone fireplaces are popularly seen outdoors because they look more natural there. You don't need to have a particular décor style before considering having one. Depending on the type of stone and the arrangement you pick, you can have your porch have a rustic charm or one that looks completely modern and stylish.
They will last a long time because of the stones' resistance to harsh weather conditions. It looks best when the stones are arranged from the top of the wall to the bottom to give the fireplace one uniform look. You can be sure it will make your space look rich and warm.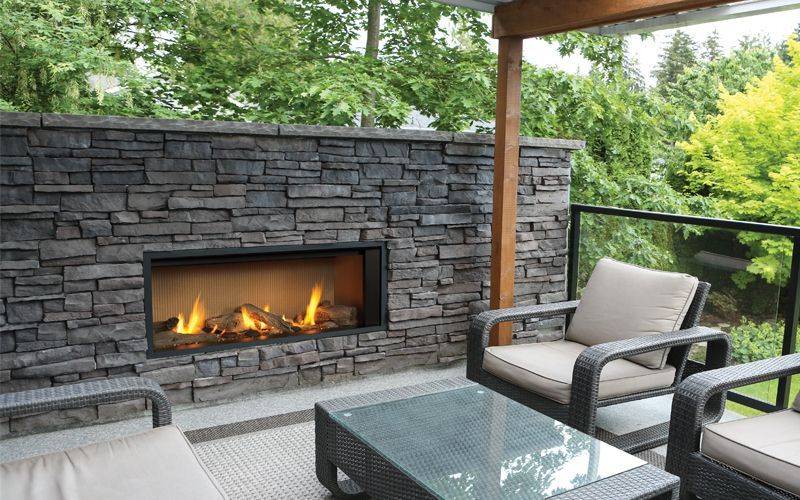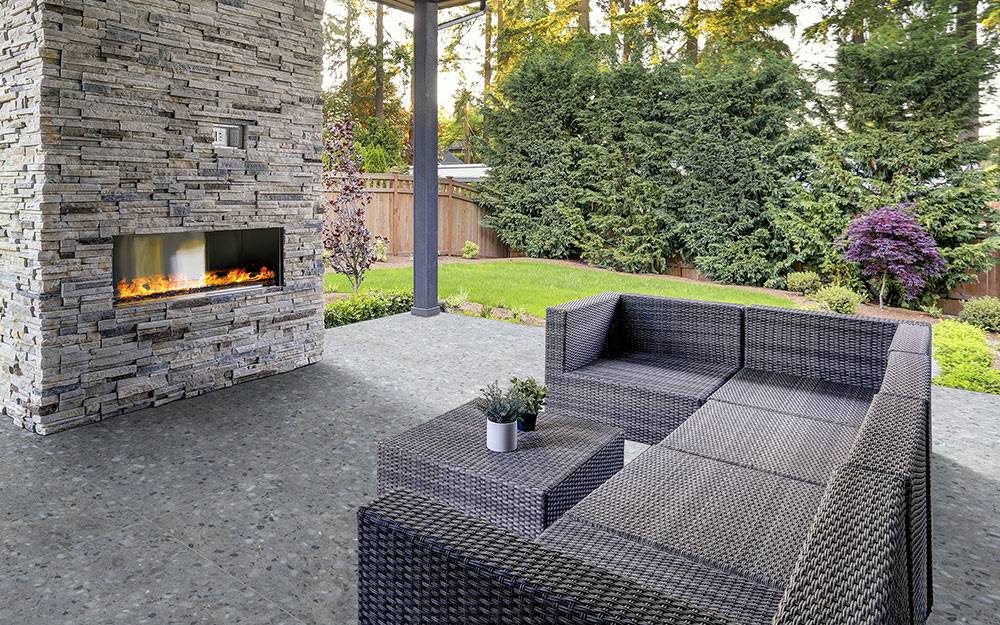 Fireplace on Porch
You can have a fireplace on your porch. It will no longer have to be a place you relax only on hot days but you'll have a fireplace to provide warmth on the cold days too. It can also be a way to upgrade your porch and make it more luxurious and stunning.
Depending on how it is built, it can act as a privacy screen making your porch a cozy spot. You might want to outsource building your fireplace to an engineer.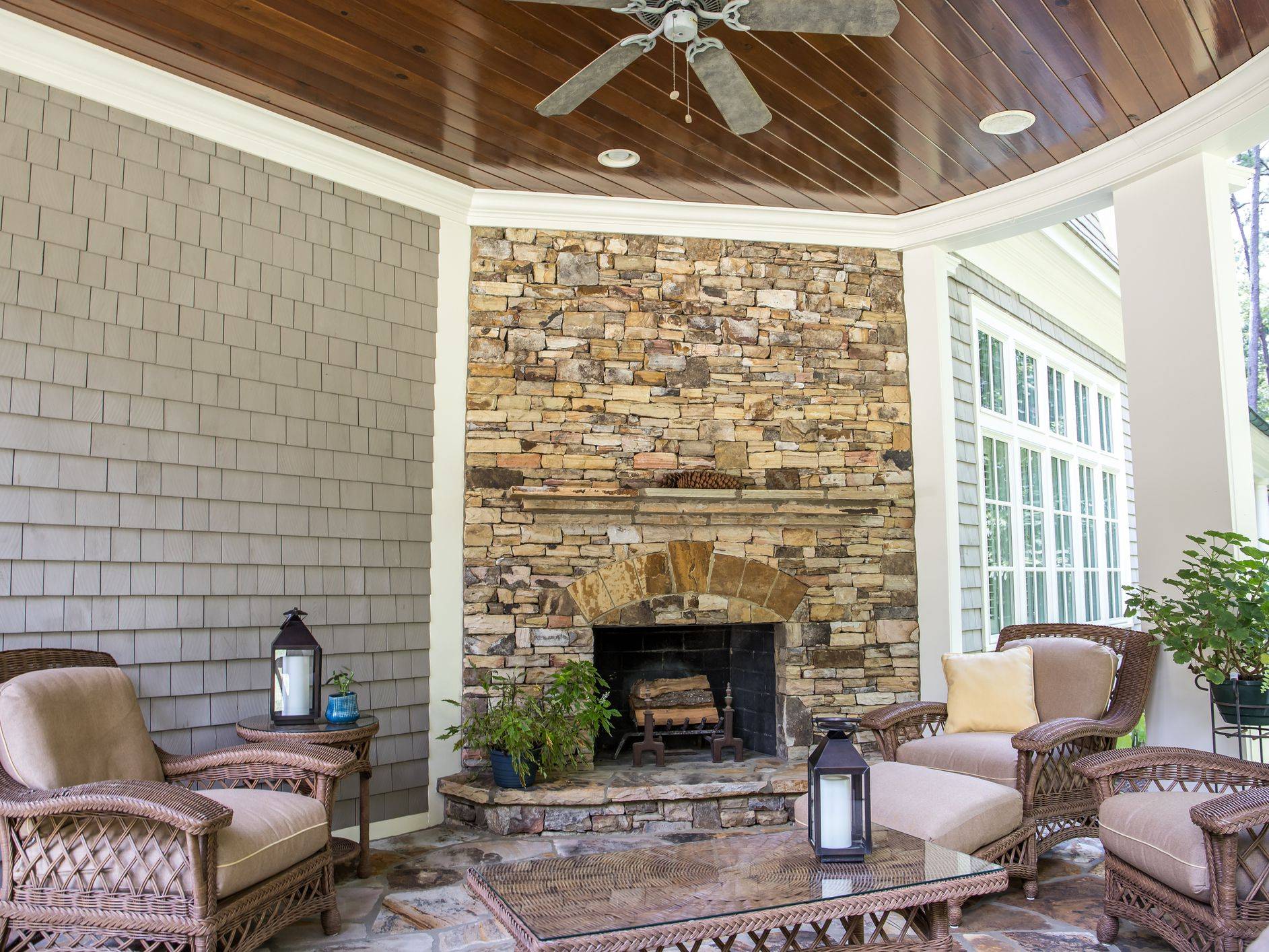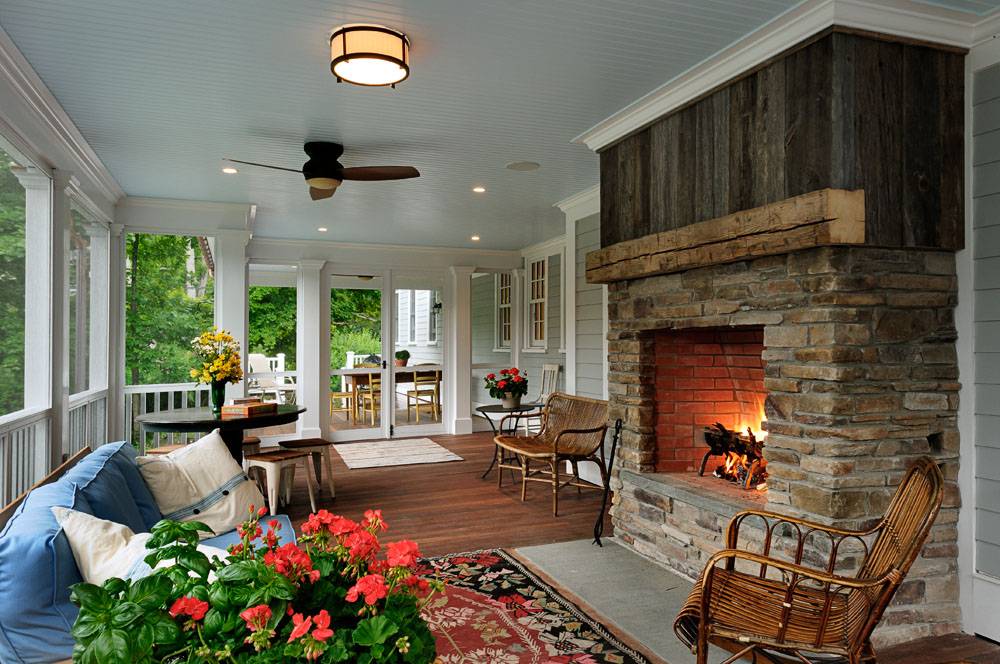 Big Stone Designs
Fireplaces are usually focal points in every space but some designs make it more obvious than others. Large stones are also used to design fireplaces and they are able to create a rustic setting more than smaller stones.
They might be a bit hard to work with since they will not be cut but will take less time to install in general.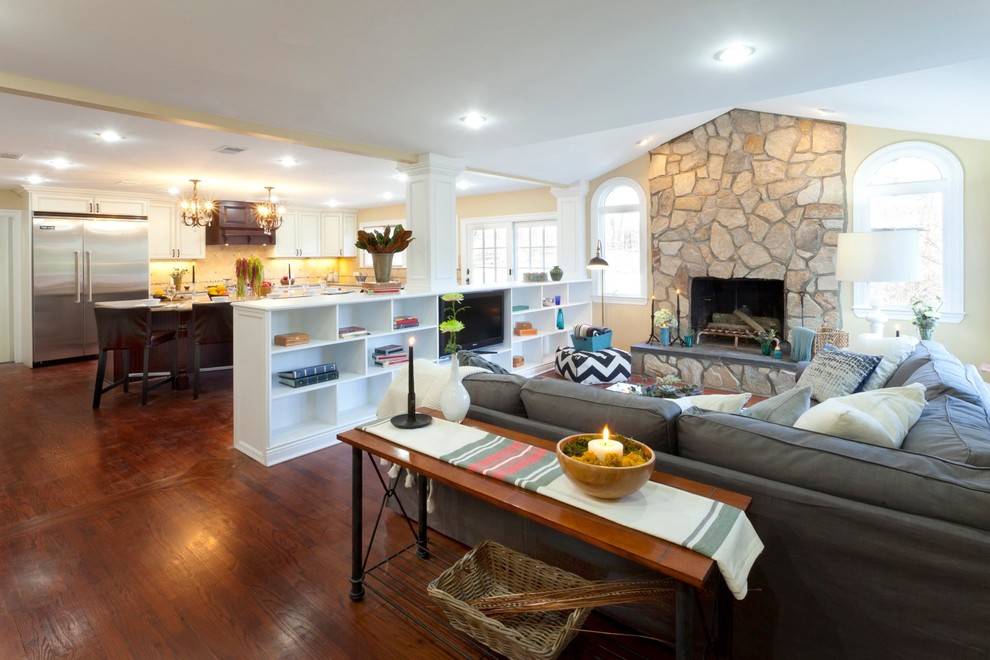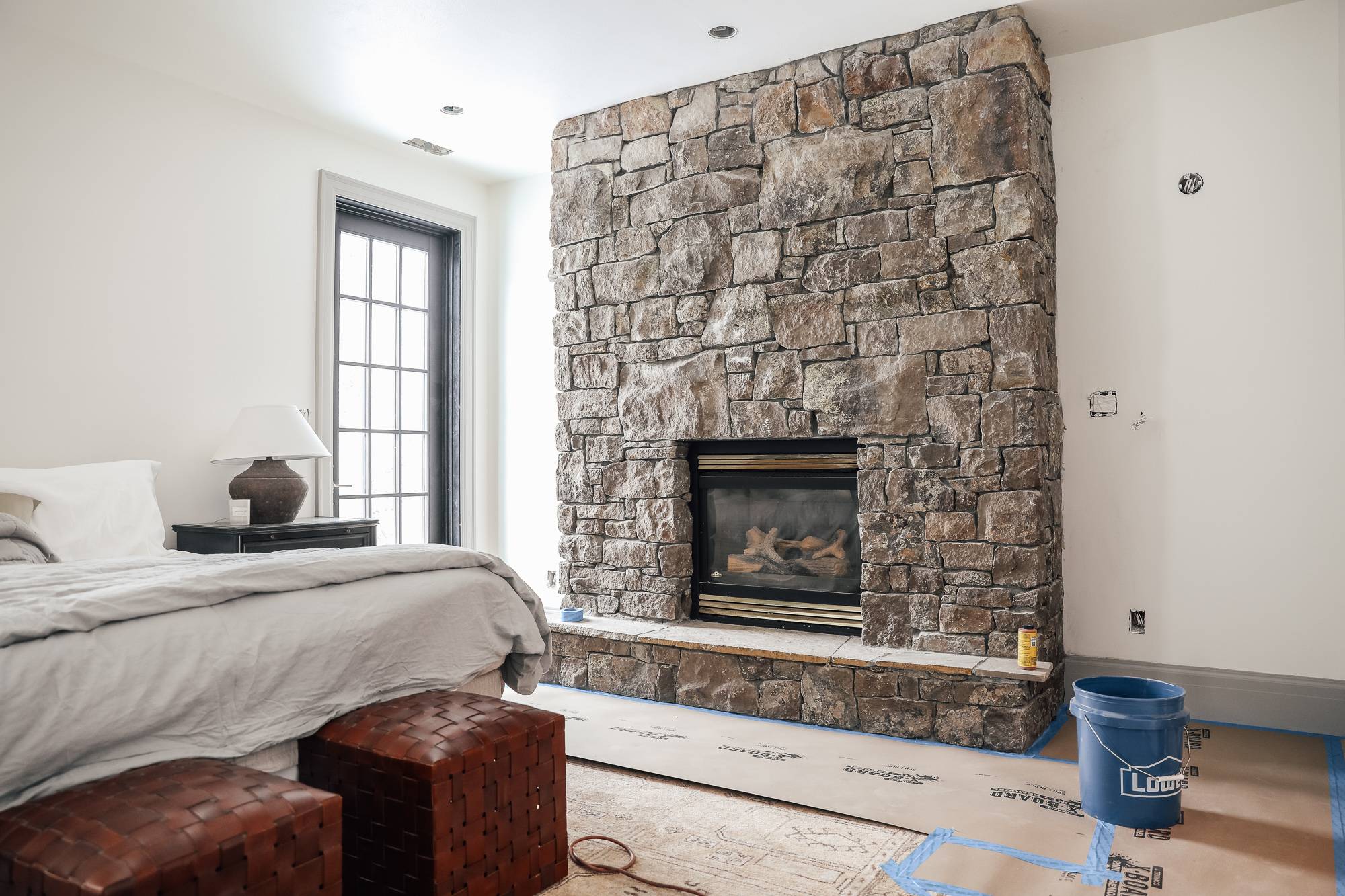 Swirls and Twist Design
This intricate design is gorgeous, made from a combination of rocks and pebbles. It requires a high level of creativity and attention to the tiniest details. The wall mosaics are created with pebbles and stones of different colors in a bid to create a pattern.
They are more suitable for large spaces as they are dramatic and take over entire spaces. If you thought you could escape people talking about your fireplace when they visit, with this particular customization, you really can't.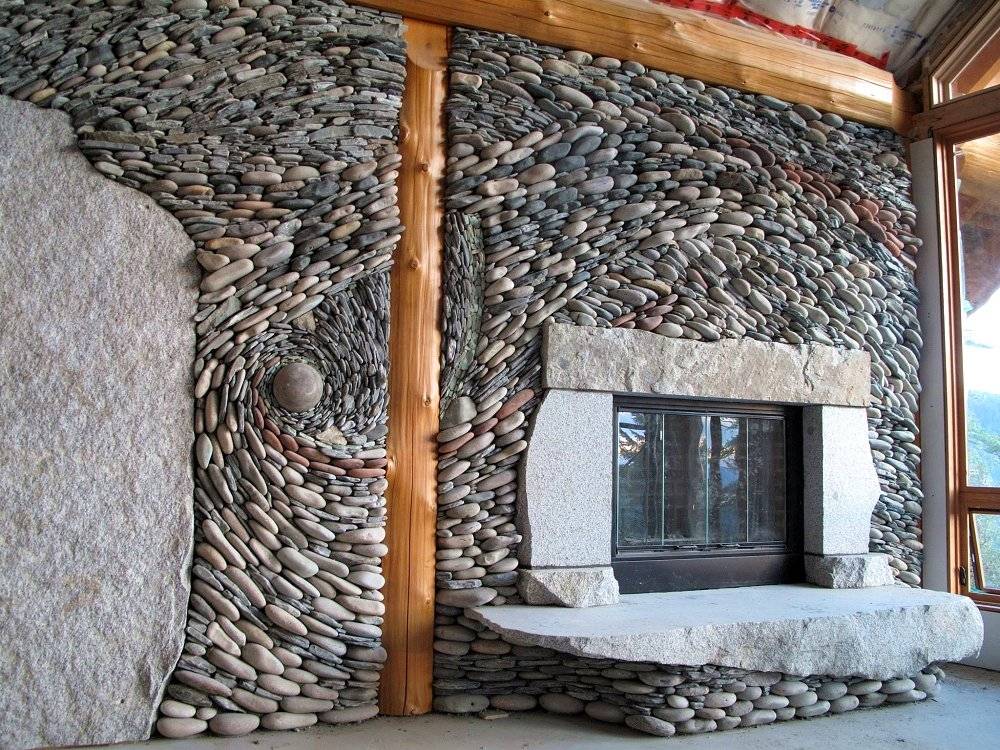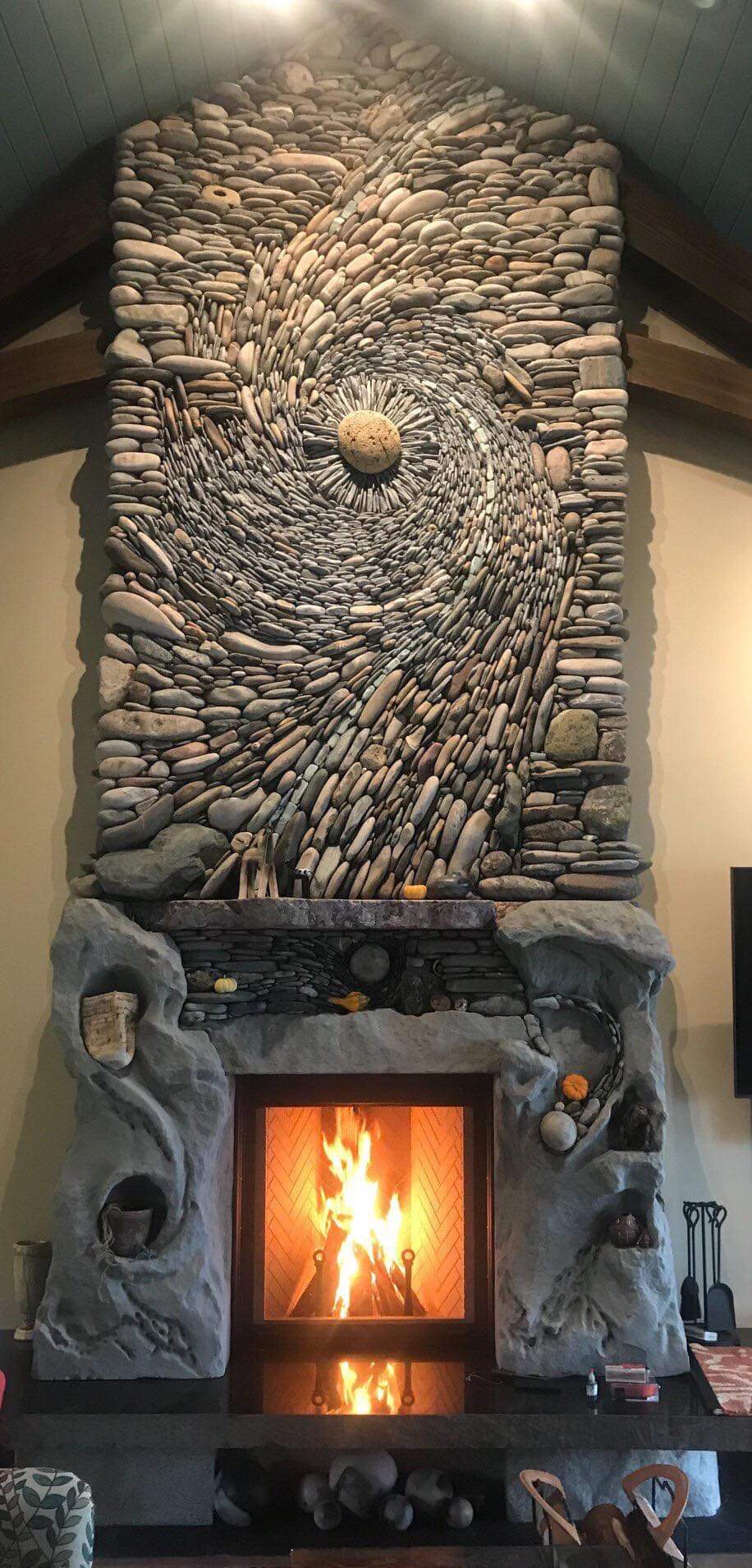 Now that we have shown you some specific design styles, there are several unique and stunning ways that you can incorporate a stone fireplace into any room in your home — or outside for that matter. For more deisgn ideas, here are some Designer created spaces that we know you will love.
Large Dark Stones
To make a dramatic contrasting effect in a crisp white clean room, go for stones that are large and dark. This will give your room depth and dimmension and provide an eye-cathching focal point.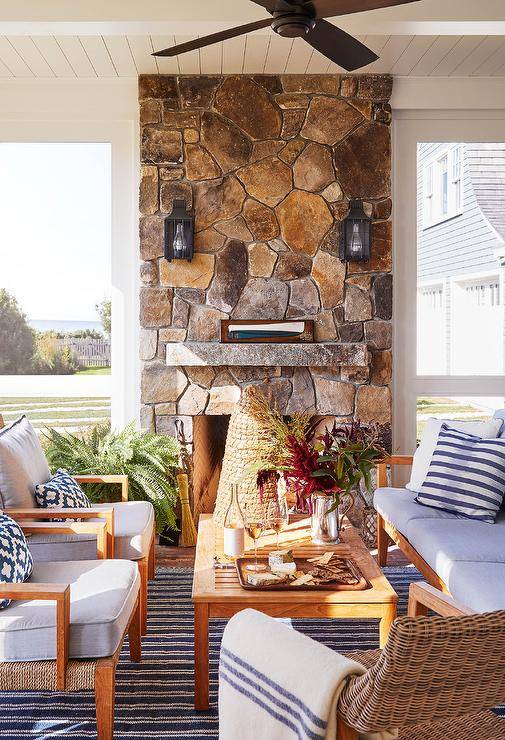 One would think that this stone is two-tone because of the shadow effect but it's actually the same tone. The shadow creates a trick of the eye and leads you to believe that the top is darker than the bottom.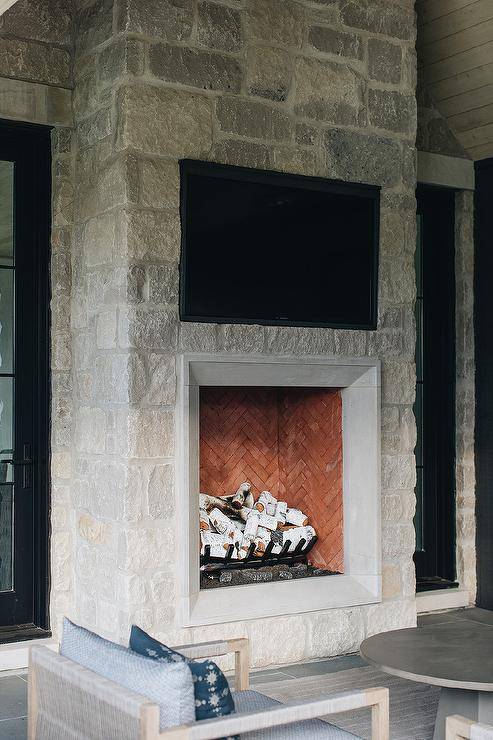 Crisp, Clean and White
To create a fresh, white and modern living space go with a white thin stone. This stunning room has all the makings of an elegant and classy living room.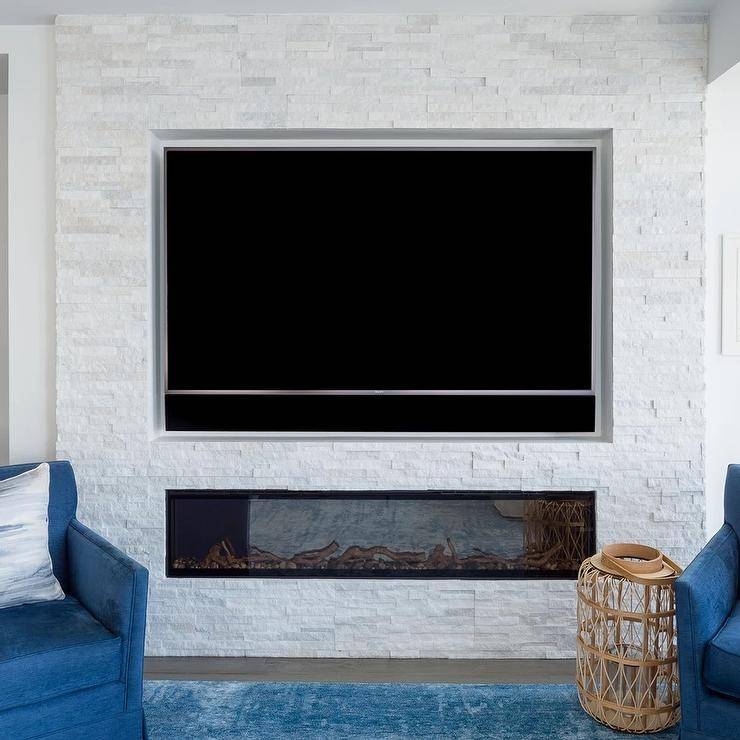 Studio McGee
Studio McGee is an incredible source for inspiration for any room in the home but in particular, the fireplace design and style is totally swoon worthy and you can't go wrong with taking inspiration from her style.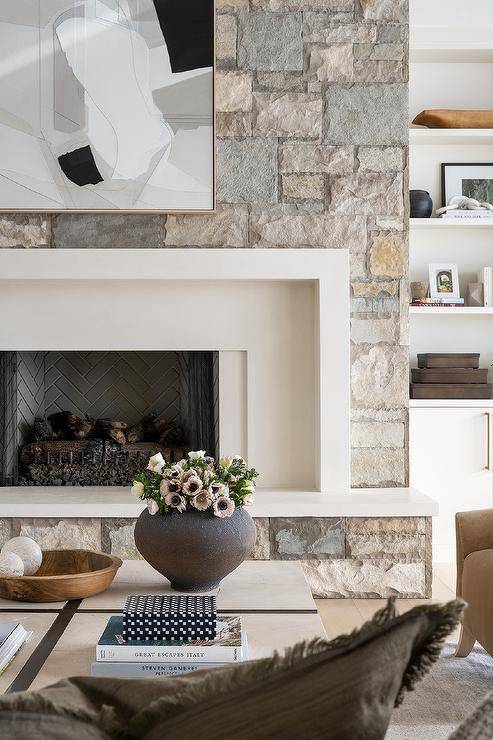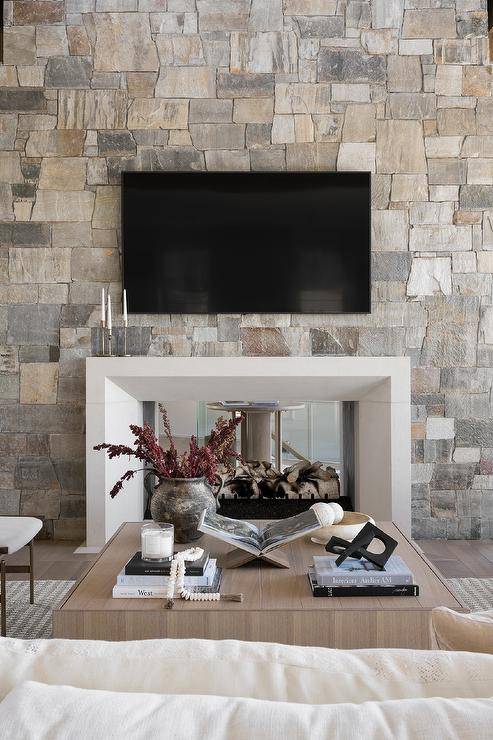 Brooke Wagner Design
Brooke Wagner is another talented interior designer whose fireplace designs and styles will get those creative design juices flowing. Her style is crisp, clean with just a tiny bit of old world charm to pull in character and elegance.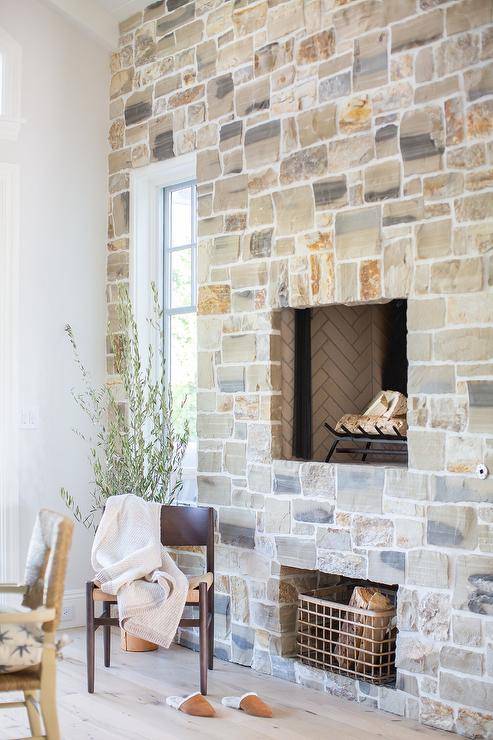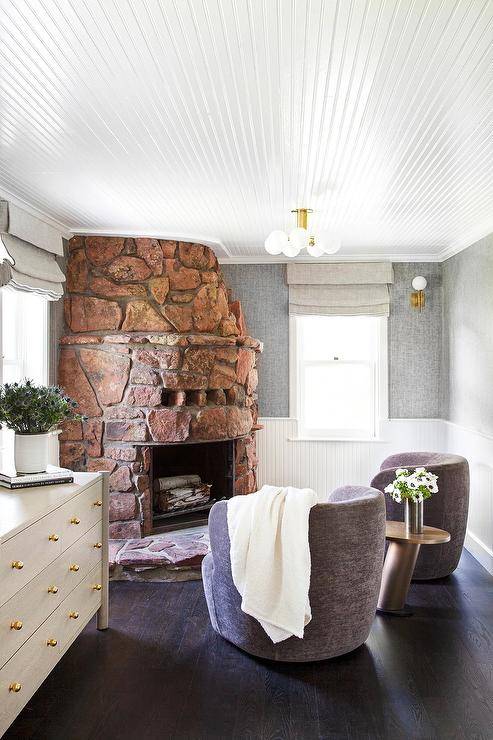 Thin and Creamy Stone
This thin and creamy stone creates a modern and elegant space. Bringing the fireplace completley up to the ceiling creates a stunning focal point and elongates this already expansive space.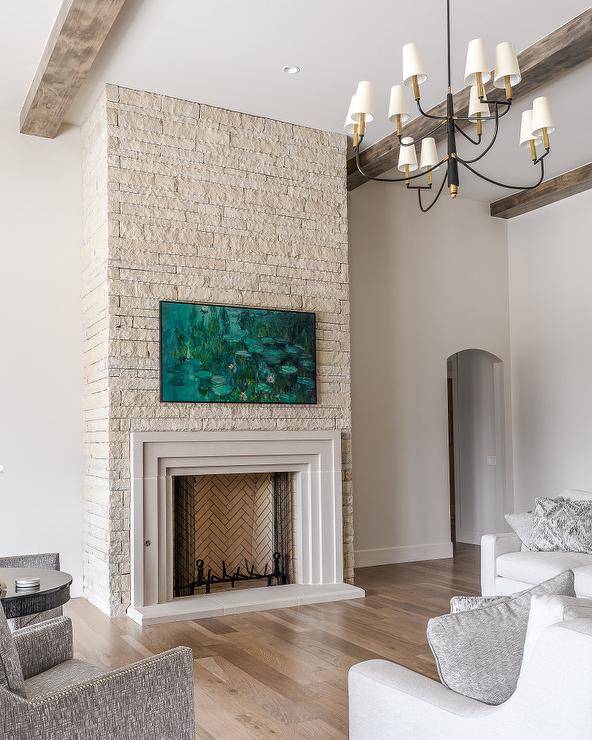 Right in the Entryway
Have you ever thought of plopping a fireplace right in the middle of your entryway? It seems like a foriegn idea but honestly, when you look at this space you instantly wish that you had one, too.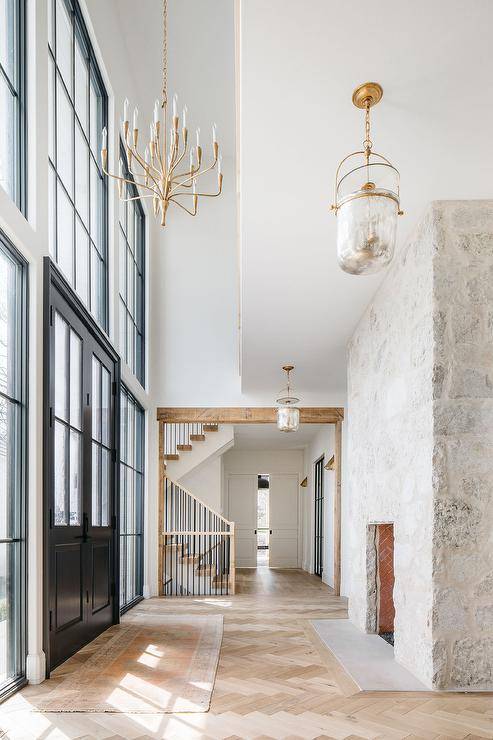 White and Rustic
Add a wood beam to any stone fireplace and you instantly bring a rustic yet modern look to your space.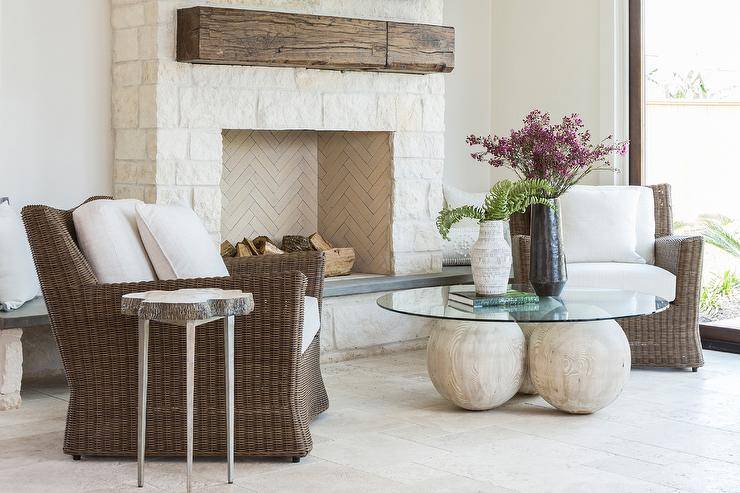 Rustic Cottage Style
On the opposite side, maybe you like things dark and dramatic. This cottage feel room brings rich woods and stone together to create a dramatic yet charming space.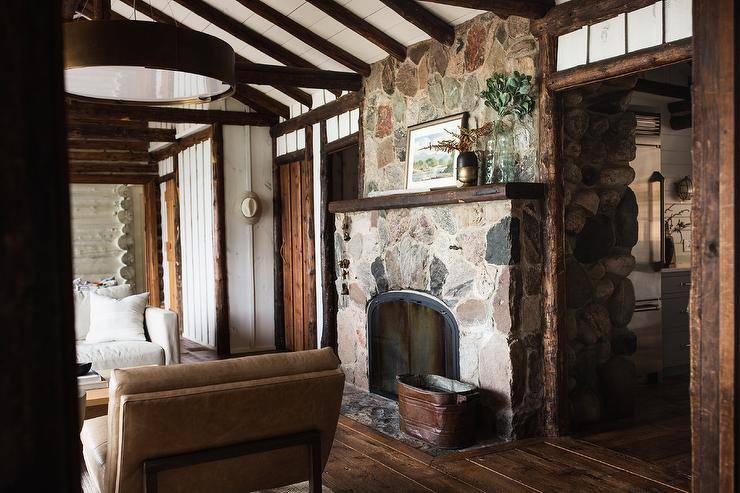 Tall Stone Chimmneys
These stone chimmenys directly in the middle of the room are gorgeous and would have anyone entering your home seriously drooling in your space. When you have a central focal point like this it's easy to design the room around it and create a space that any homeowner would love.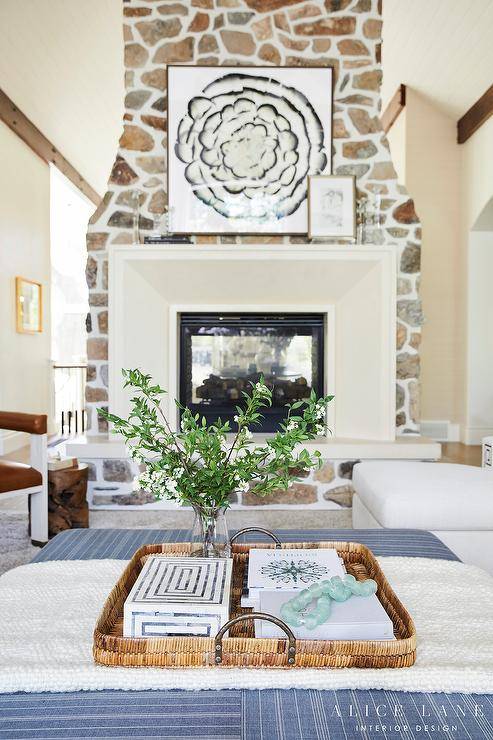 The beautiful thing about stone chimmneys like this is that they open up to both sides of the room.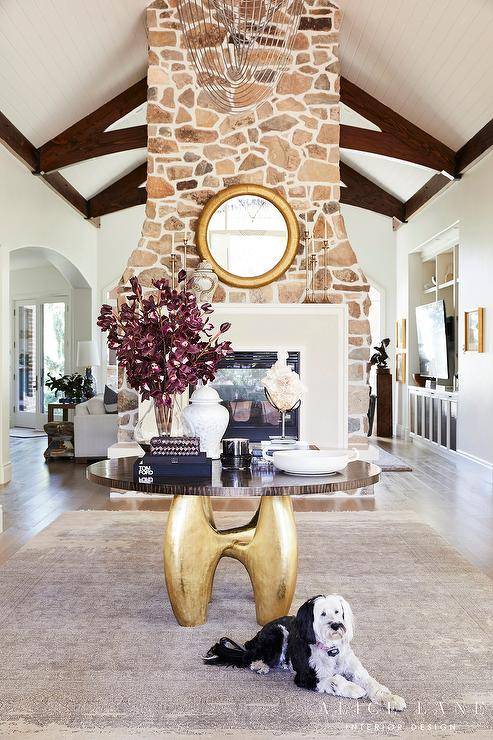 Simple Stone
Sometimes all you need is a simple, clean, white stone fireplace. This space has it all but on a smaller, simpler scale and we totally love it!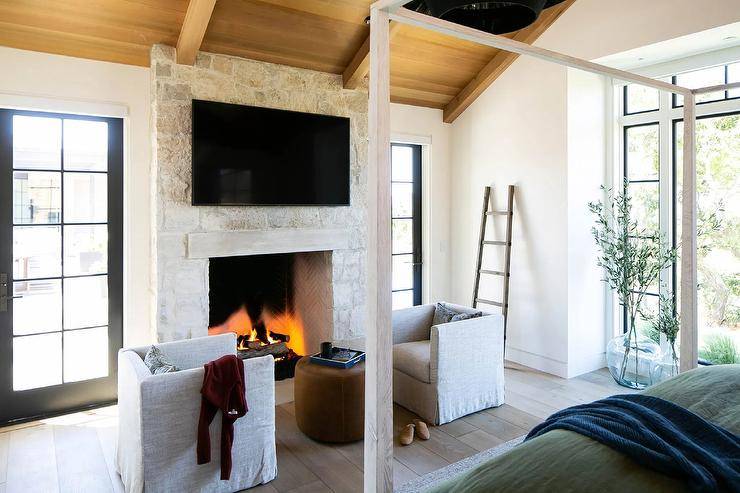 Large Stones
Large stones have been used on fireplaces for decades and they are still trendy. Pair with shiplap and you can create a modern and charming space.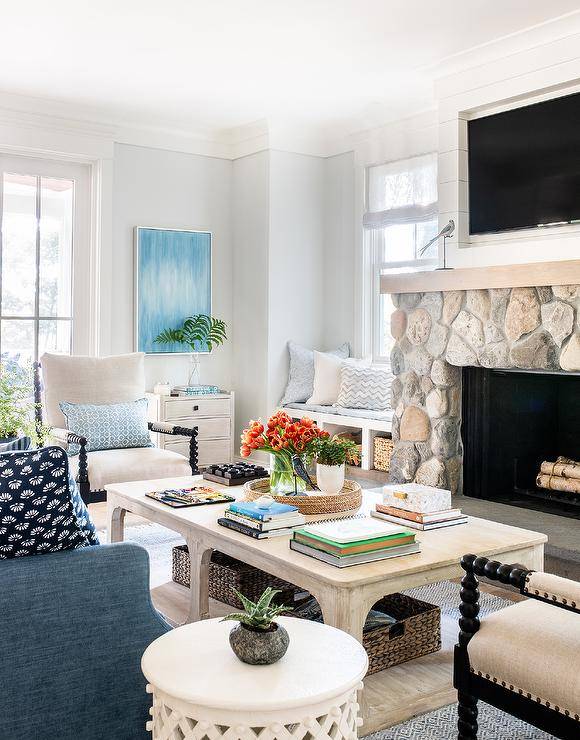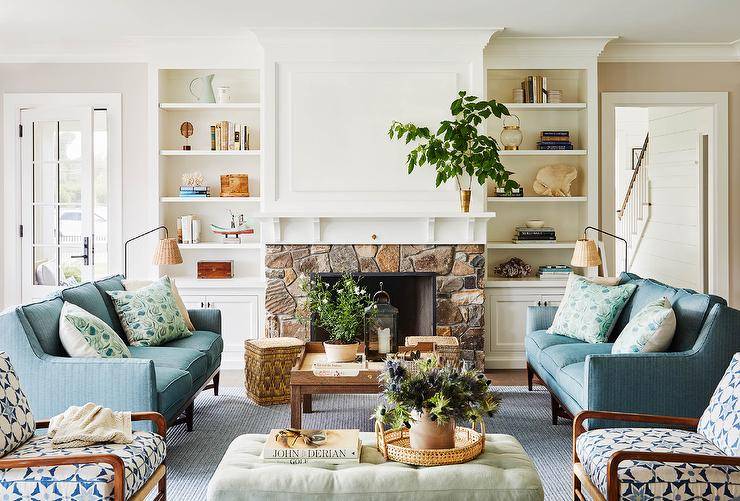 Paired with Wood Beam Ceiling
What your ceiling looks like can greatly impact how your fireplace looks. The contrasting here from a white stone fireplace to the wood beam ceiling creates great visual intrest and makes a warm and welcoming space.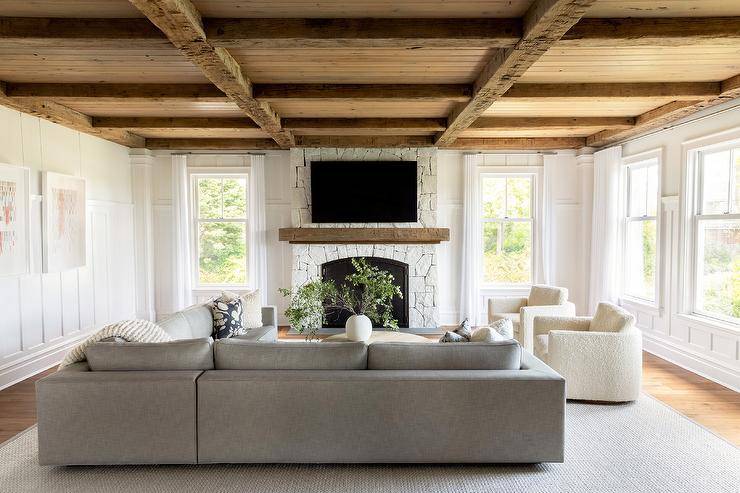 Old World Charm
This space invokes old world charm and would make anyone feel like they are taking a step back in time.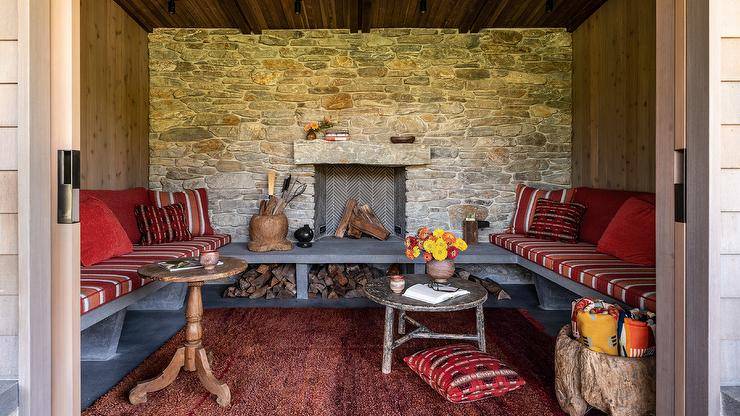 Outdoor Spaces
Outdoor fireplaces are just as important as indoor fireplaces and when you use stone, you can create a space that is welcoming, elegant and you would hardly feel like your even outdoors.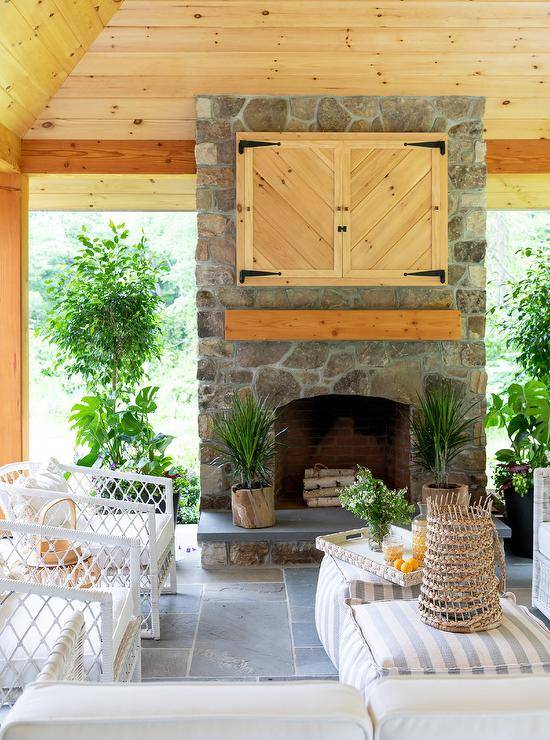 Outdoor living areas are becoming increasingly popular and if you live in a warmer climate, you can enjoy these spaces year round — making them totally worth it.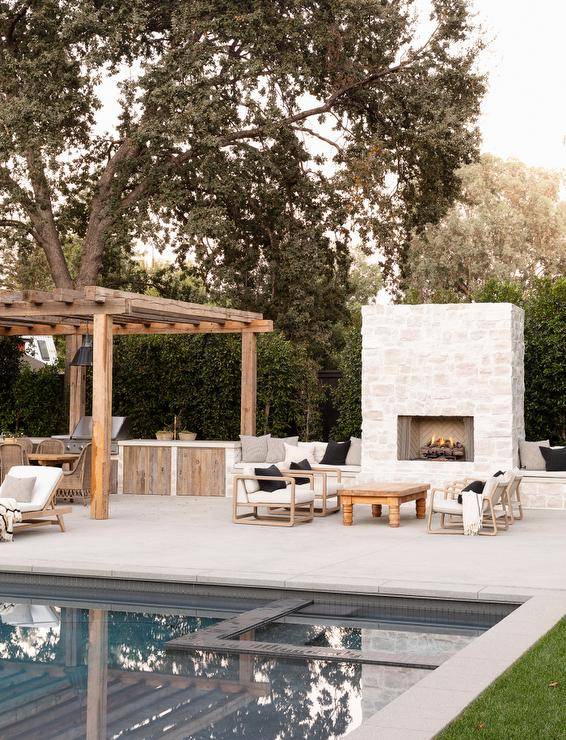 When desiging your outdoor living space and stone fireplace, consider using elements of design that would normally go inside. You can get outdoor weatherproof furnishings that look like interior ones but have that added protection to withstand the elements.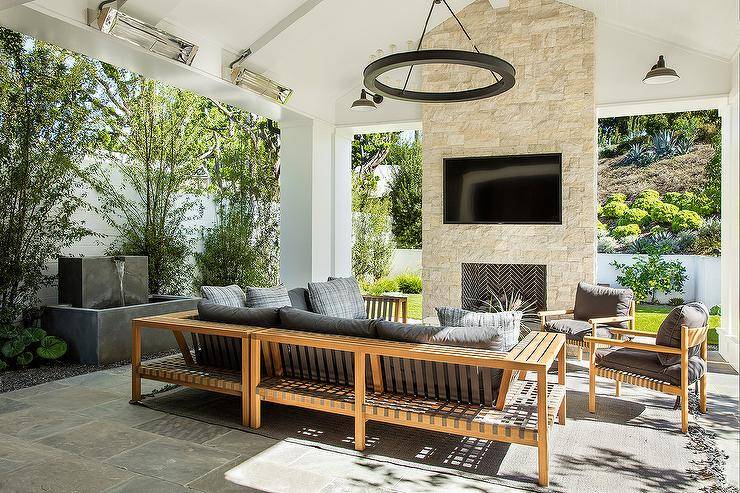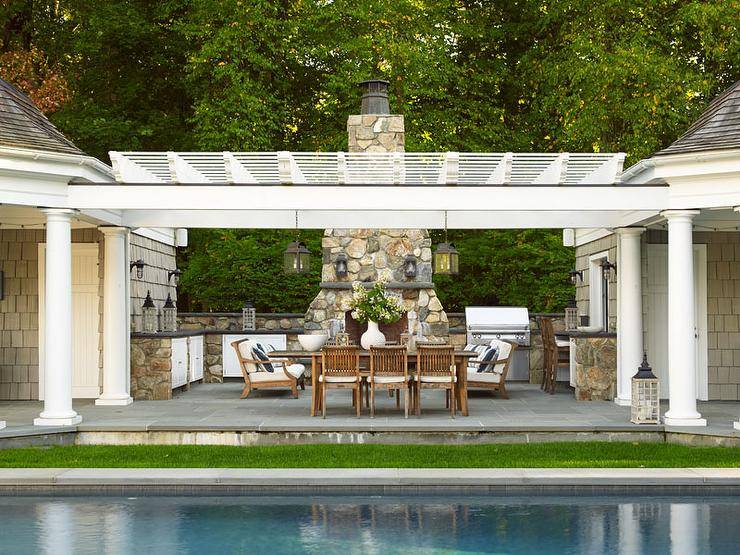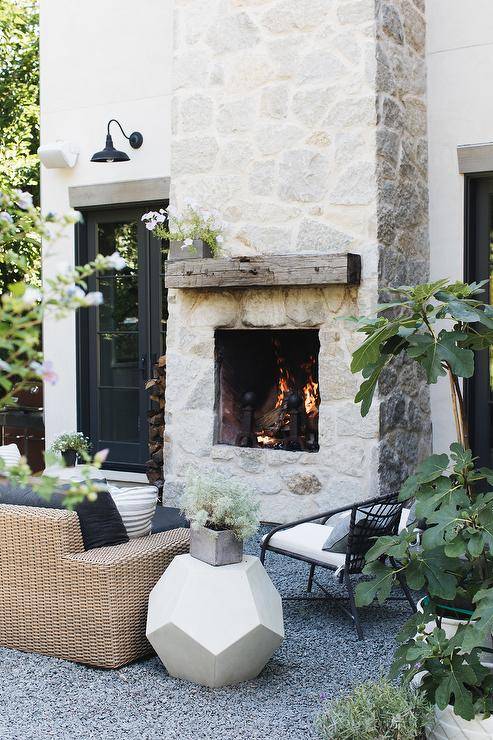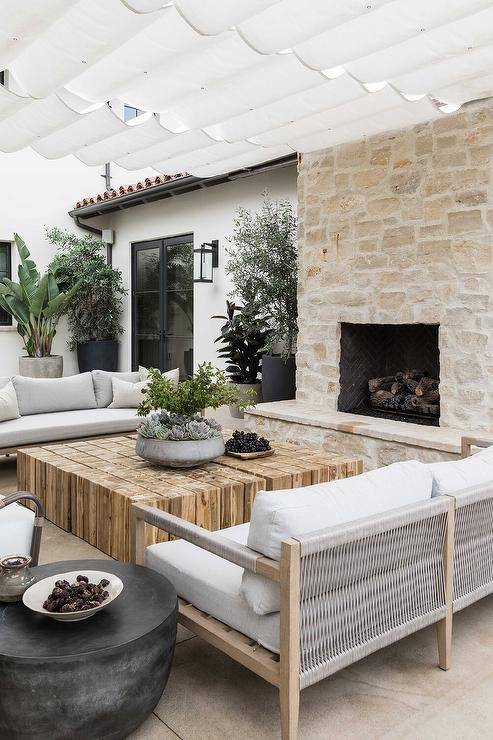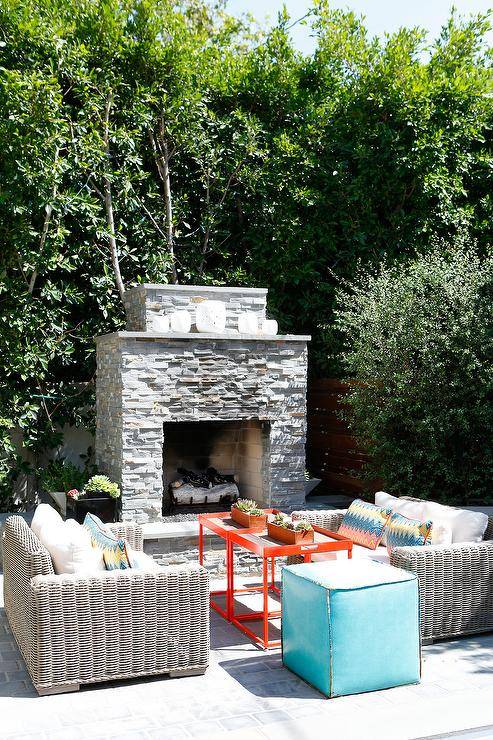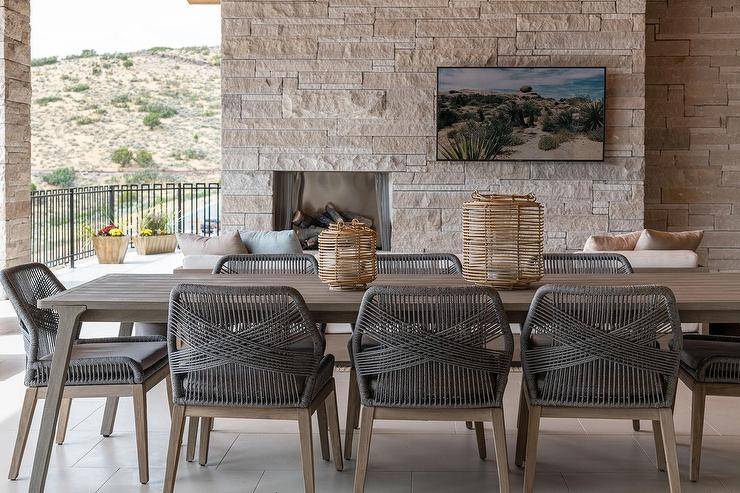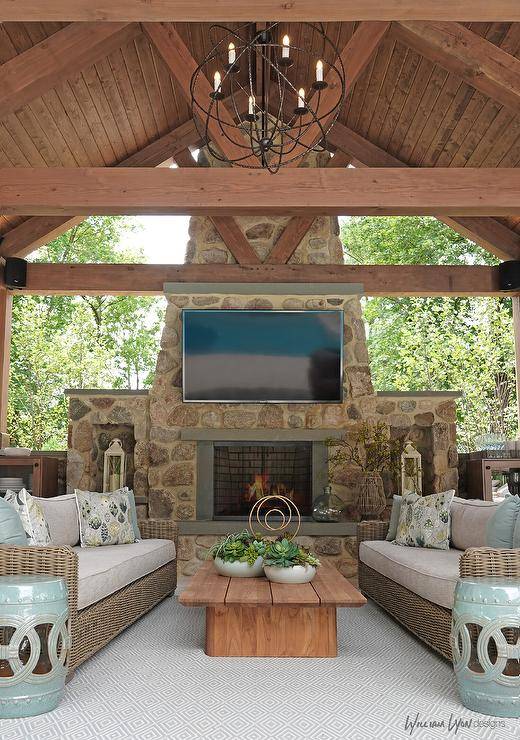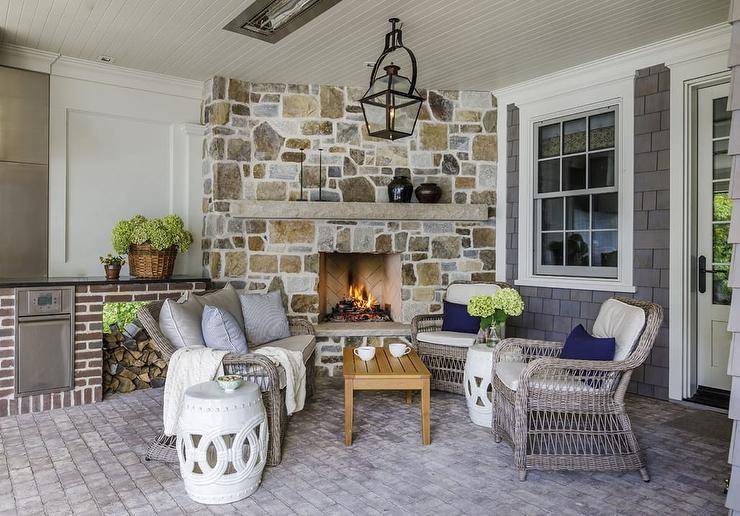 A fireplace has its way of making a house cozy. It's the sight of fire crackling and the warmth that spreads around the room. Rock fireplaces are favorites because now, they can create more than rustic charm and are well-suited for the modern contemporary style.
There are options in terms of the type of stone used and also the style. There are some you can try to build yourself especially if you are an experienced DIY-er while others are best outsourced to constructors. Your rock fireplace will be a focal point in your space whether you want it or not so make sure it's worth the while.
Simple Ways to Update A Fireplace
If you already have a stone fireplace in your home and maybe it's outdated and ugly — you can update it, though! Here are some simple and quick easy ways to take an old stone firplace and give it a modern new look.
Paint
This is a quick and easy budget-friendly option that can be done in an afternoon which makes it a good choice for older fireplaces that are in good condition.
Painting the stone or painting the mortar in between the stones is a look that is currently very popular. If you like the feel of stone but want to update it in some way, this is an option to consider.
For a farmhouse look, you can opt for the trendy "German Schmear" technique which will allow the colour of your original brick to show through but softened and not appear so stark and uniform.
You can also go for more opaque coverage. Use diluted paint in multiple coats and different colours to add depth and interest.
Lastly, to give a traditional fireplace a new bold, modern look, go for full coverage and an unexpected paint colour. Apply multiple coats of dark paint on the brick, hearth, and fireplace mantel to create a high-contrast focal point.
New Mantel
Another way to update your fireplace is to leave the brick intact but change the mantel. If your brick or tile is in good condition, you might be able to create a whole new look just by removing and replacing the mantel.
You can achieve different looks with a mantel. Opt for a salvaged vintage mantel to add unique character. For a rustic look, consider topping your fireplace with a weathered beam shelf mantel.
Gas Fireplace
Do you prefer less maintenance and an updated look? Converting your existing wood-burning fireplace to a gas fireplace can give your fireplace a more modern feel while heating up your room quicker and easier.
Gas fireplaces are more efficient, require less cleanup, and are easier to use than their wood-burning counterparts. There are several methods to consider and different gas inserts to achieve the look you want.
Update the Hearth
Tiling or retiling a fireplace requires a few days' efforts, but it can dramatically change the look of your fireplace. The installation method used will rely on whether you are removing the old tile or placing the new tile directly on top.
If you like the look of real stone or brick, consider masonry veneers. Lightweight, artificial stone products can update your fireplace while maintaining the warmth and texture of stone.
You can also retile using ceramic, stone, porcelain, or glass tiles. Depending on the tile design, you can incorporate any style from traditional to modern, ornate to minimal. Laying fireplace tile is a project even a novice DIYer can do, so don't be afraid to give it a try.
Quick Tips for Decorating a Stone Fireplace
Use plants as decor
Hang a wooden shelf
Add a mirror
Use glass vases
Add paintings and picture frames
Use candles or lanterns
Don't add more stone pieces to the design
Avoid using dark colors on dark stones
Frequently Asked Questions
FAQ
What is the most popular stone for fireplace?
Granite is the most popular choice for a stone fireplace surround. It is one of the most durable and long-lasting types of stone you can buy. Granite is extremely durable with its scratch-resistant surface. Granite is also very unlikely to crack or chip, and it has a good level of heat tolerance.
What kind of stone can be used for a fireplace?
The most popular types of fireplace stone include limestone, granite, marble, slate and travertine.
Can you paint a stone fireplace?
When pondering what to do with a tired outdated stone fireplace, you might have asked yourself, "Can a stone fireplace be painted?" The answer is, "Yes!" A painted stone fireplace can change the look and feel of your entire room. You will want to make sure that you use a proper heat resistant paint if you intend on using your stone fireplace after.
What is the best paint finish for a fireplace?
When painting a brick fireplace, you will want to start by using an indoor acrylic-latex blend paint. The paint needs to be able to withstand high temperatures. As far as what sheen to go with, eggshell is a lower sheen and gives off a warm glow. It is easy to apply and is great at concealing imperfections.
How do you clean a stone fireplace?
You want to gently wipe away any soot or dirt from your fireplace, not strip it of any character! To make your cleaning solution, simply mix 3 parts water to 1 part liquid dishwashing detergent and mix well. Try a hydrochloric acid solution if you have a stubborn stain that just won't budge.
If you need more inspiration for the fireplace, you may like these related articles: