There are a few color schemes that come and go with time. Some are more perennial in their popularity and can be found across eras. Yet, if you had to bet on one color scheme cutting across all style and trend barriers and standing the test of time, then it has to be blue and white. Every year and with each changing season we share with our readers and wide range of hot trends and colors to try out. Yet, one thing in here seems to remain constant – the popularity of blue in pretty much every room of the house. White is the most natural and easiest hue to balance all that blue and this is a color scheme that is also incredibly adaptable.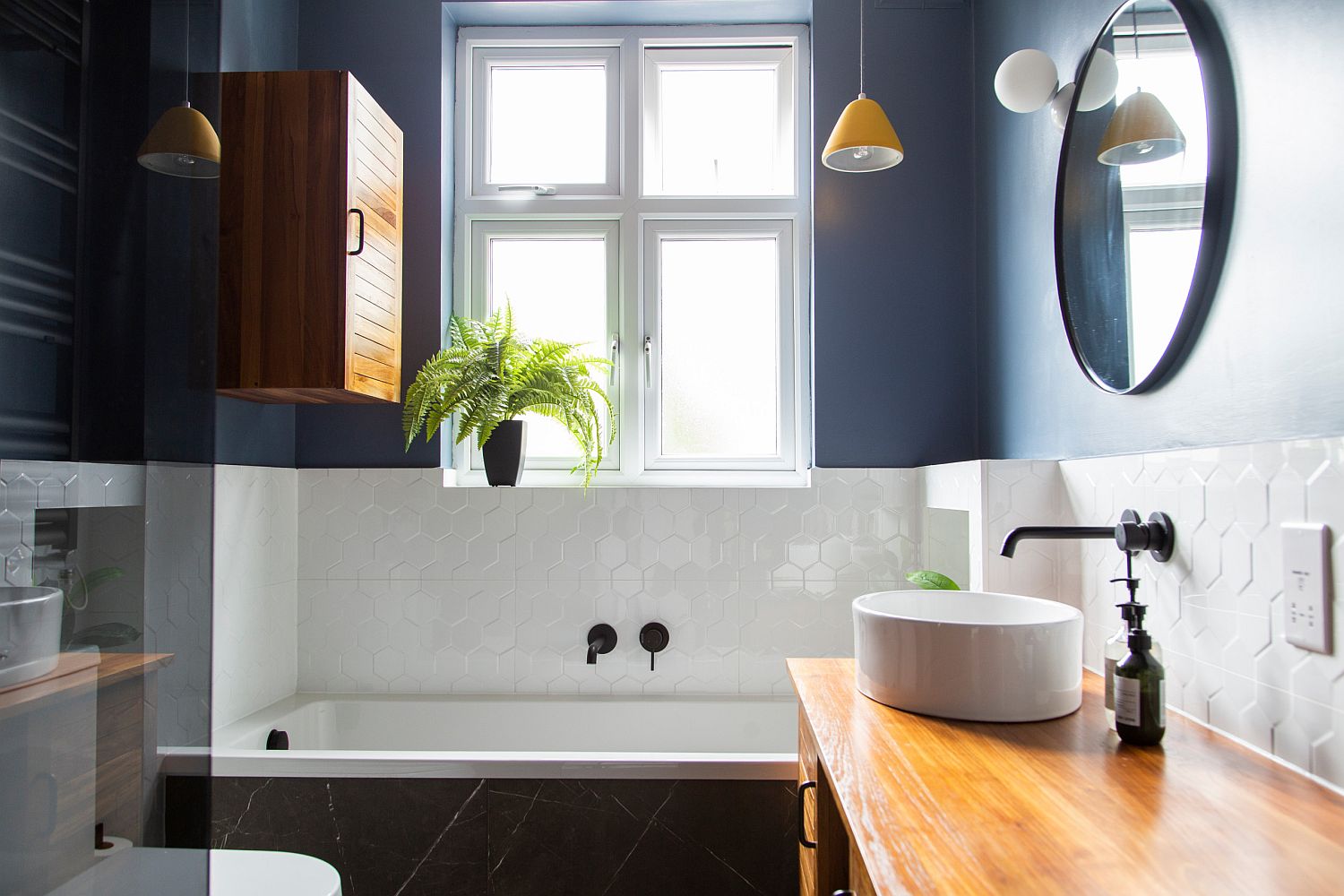 It is not that hard to understand why blue and white is such a universally accepted color duo. It is possible nature's most common and gorgeous color palette – the blue sky on a sunny day or the images of an evening on white, sandy beach with blue everywhere you look! But the flexibility of the color palette is also an equally big reason why homeowners are happy to use it. Today, we turn our attention towards some of the most exquisite and inspirational small bathrooms in blue and white. Compact and classy, these bathrooms paint a picture of freshness –
A Balance between the Two
How would you want your small bathroom in blue and white to be? That is the first question which needs answering before you can actually move forward. There are plenty of scenarios in here that demand different solutions. If you already have a bathroom largely in white, then the best solution for now might be to add blue accents. The more monochromatic the backdrop is the fewer blue accents you need to make a visual impact. Those planning for a new, tiny bathroom, the half-and-half approach is the trendy choice and in here, you get a more curated balance between blue and white. In the blue bathroom though, white takes an entirely different role and plays second fiddle by highlighting a few areas along with features like the freestanding bathtub or the bathroom stool.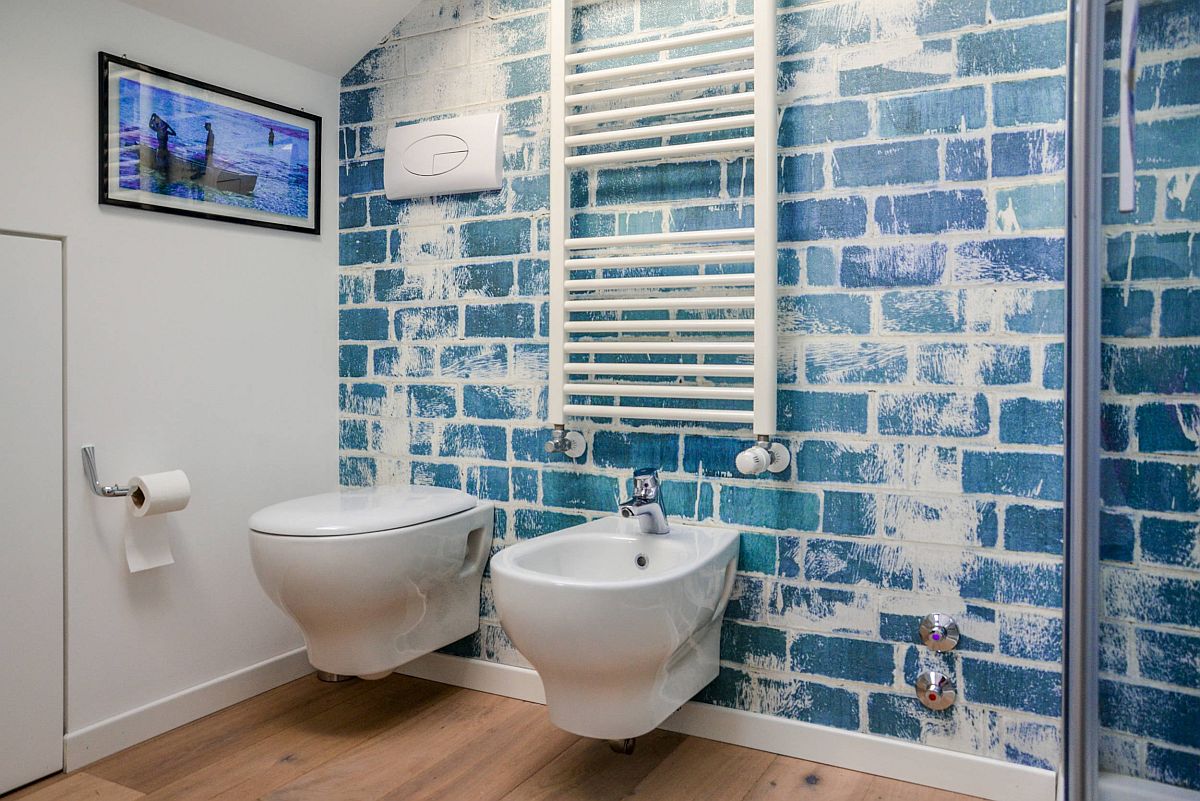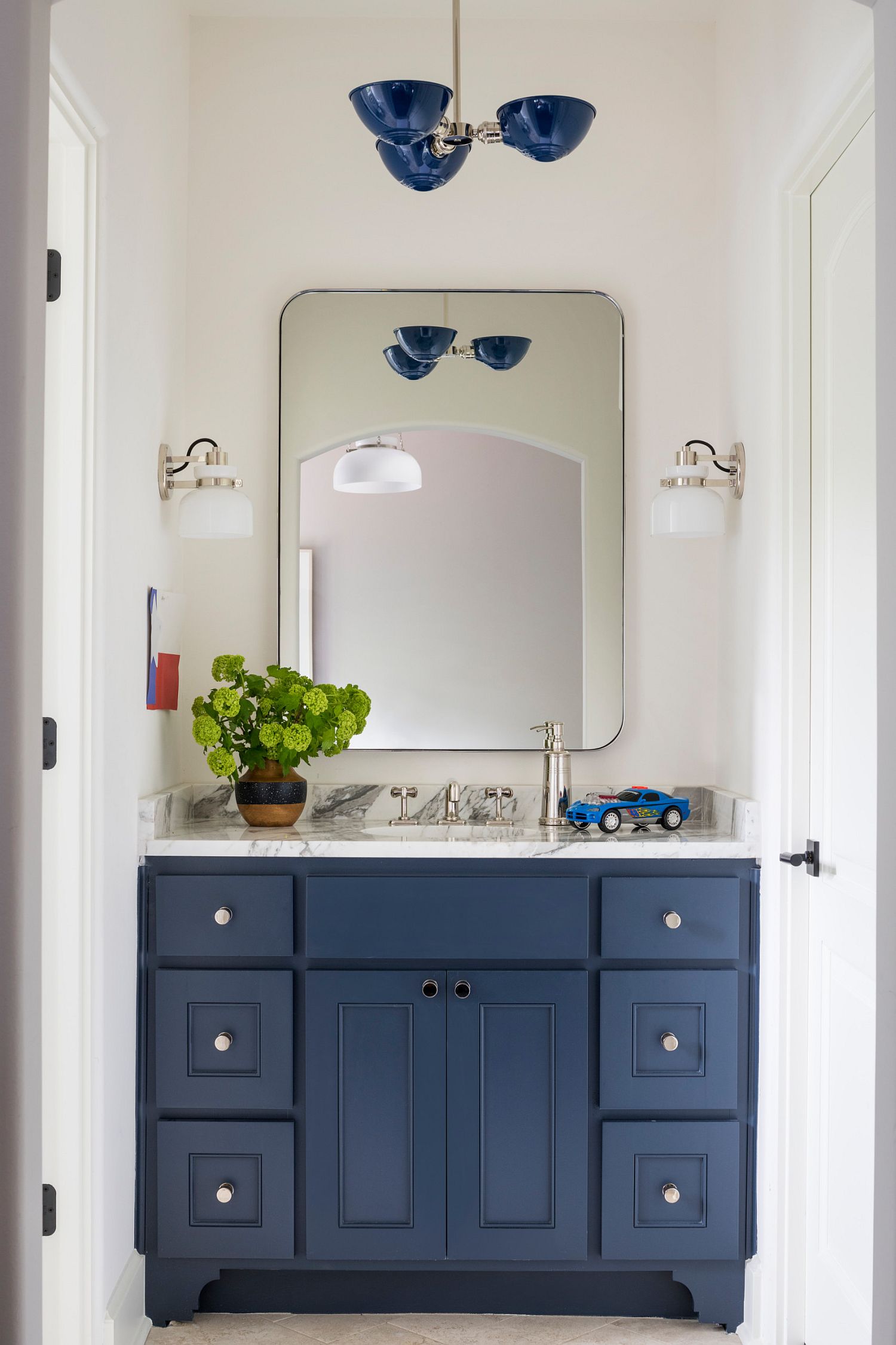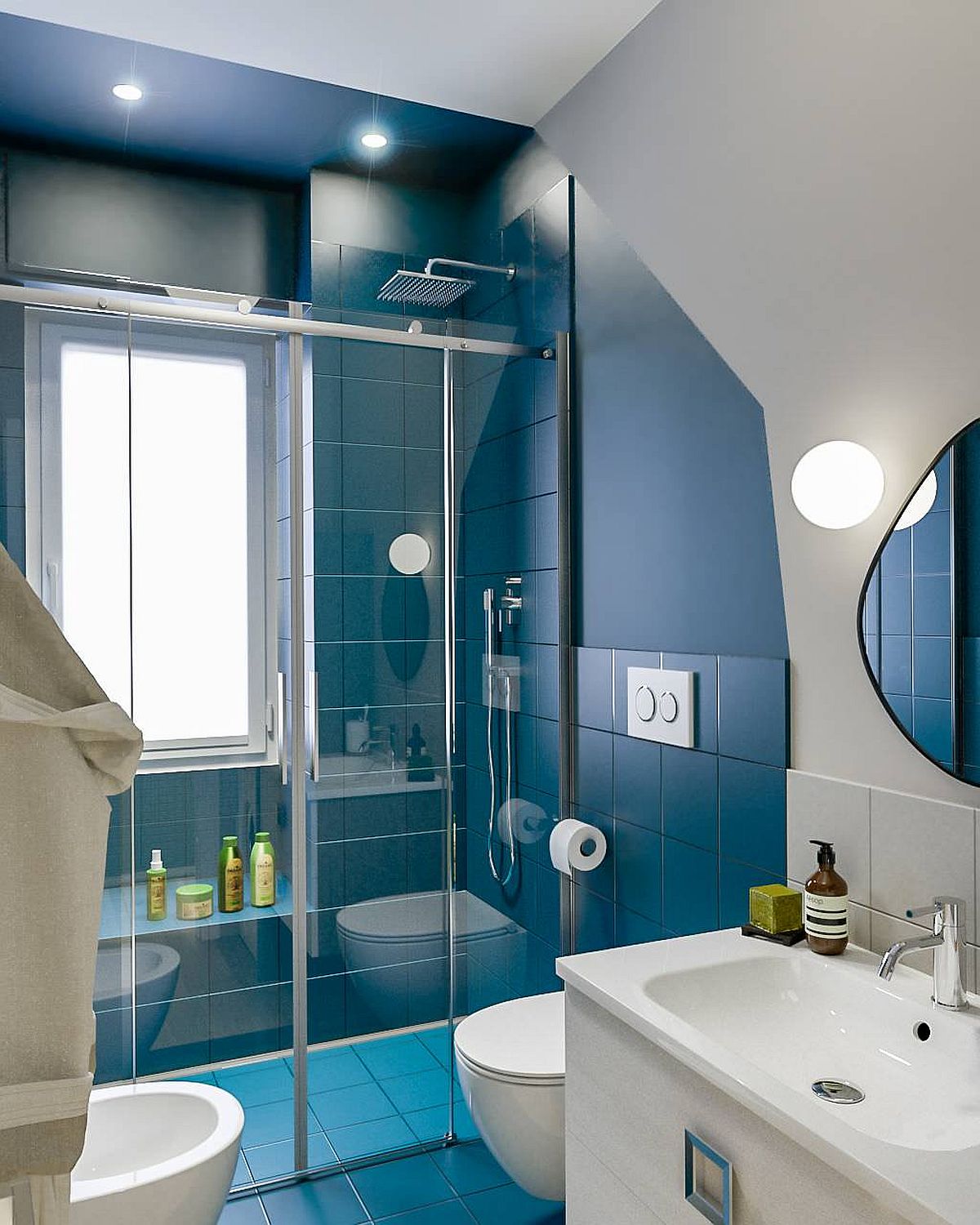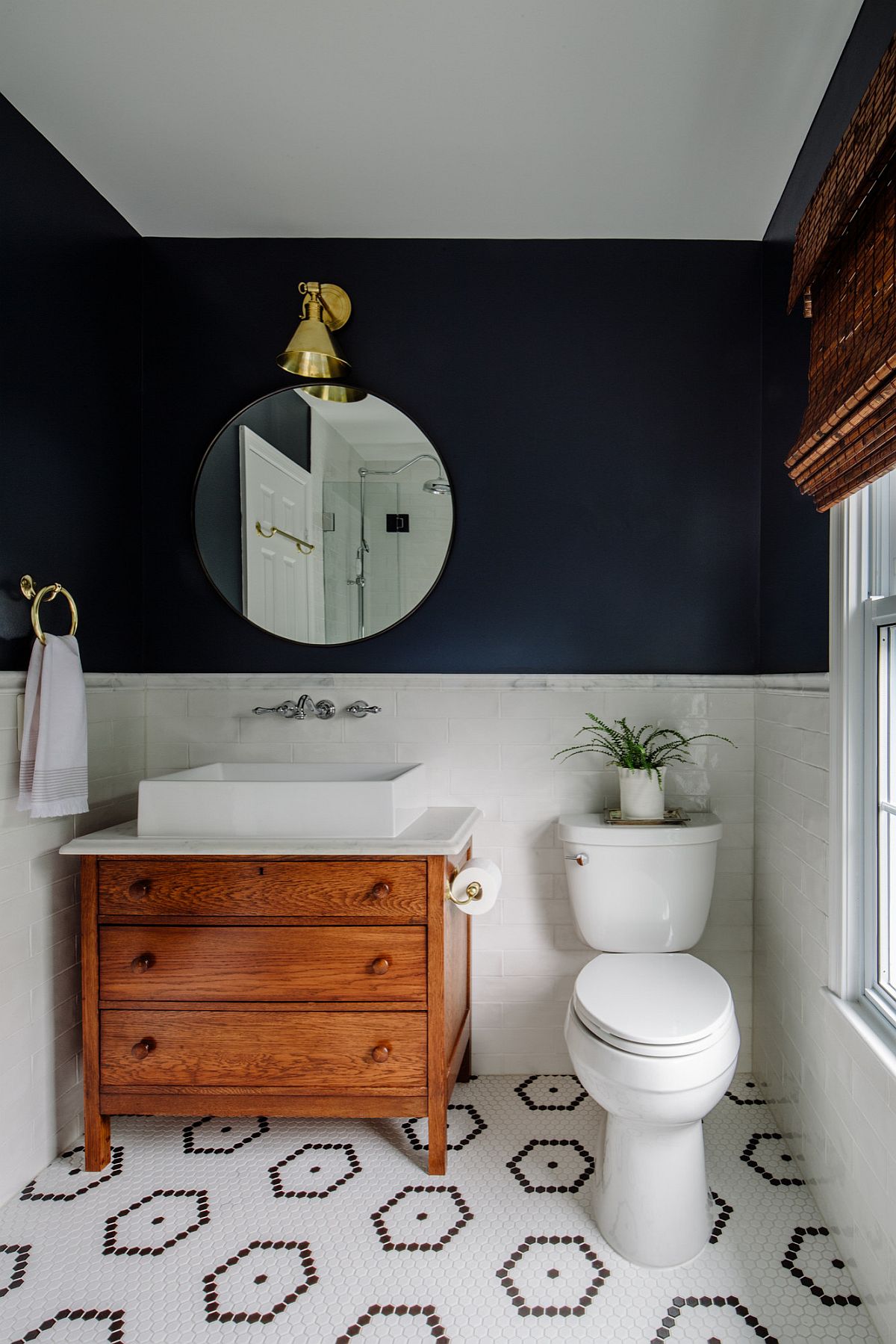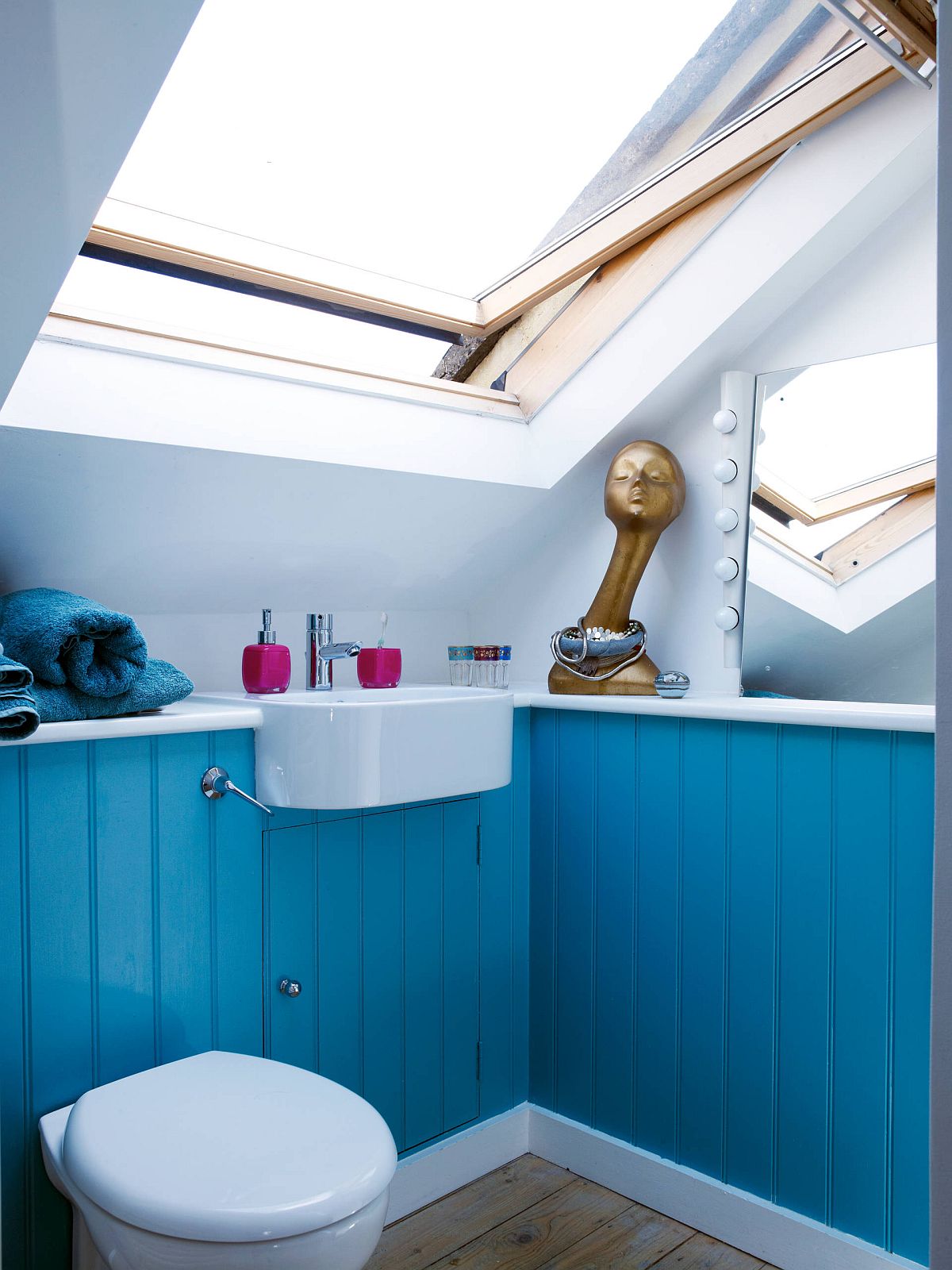 Many Shades of Blue
If you are still not aware of it, then let us give you a very quick update and tell you that Classic Blue is Pantone's Color of the year. A deep and dashing blue that is rich in visual appeal, this is a color that works very well in the small bathroom along with white. It gives the tiny space a bright, cheerful look and turns a cramped area into one that feels far more spacious. This color combination looks great for styles like modern, minimal, contemporary and even shabby chic. Lighter shades of blues and pastel blues are perfect for styles like beach, coastal, Mediterranean and shabby chic. A few colors like turquoise feel far more exotic and bring that blue-green mix to the small bathroom while leaning towards the former.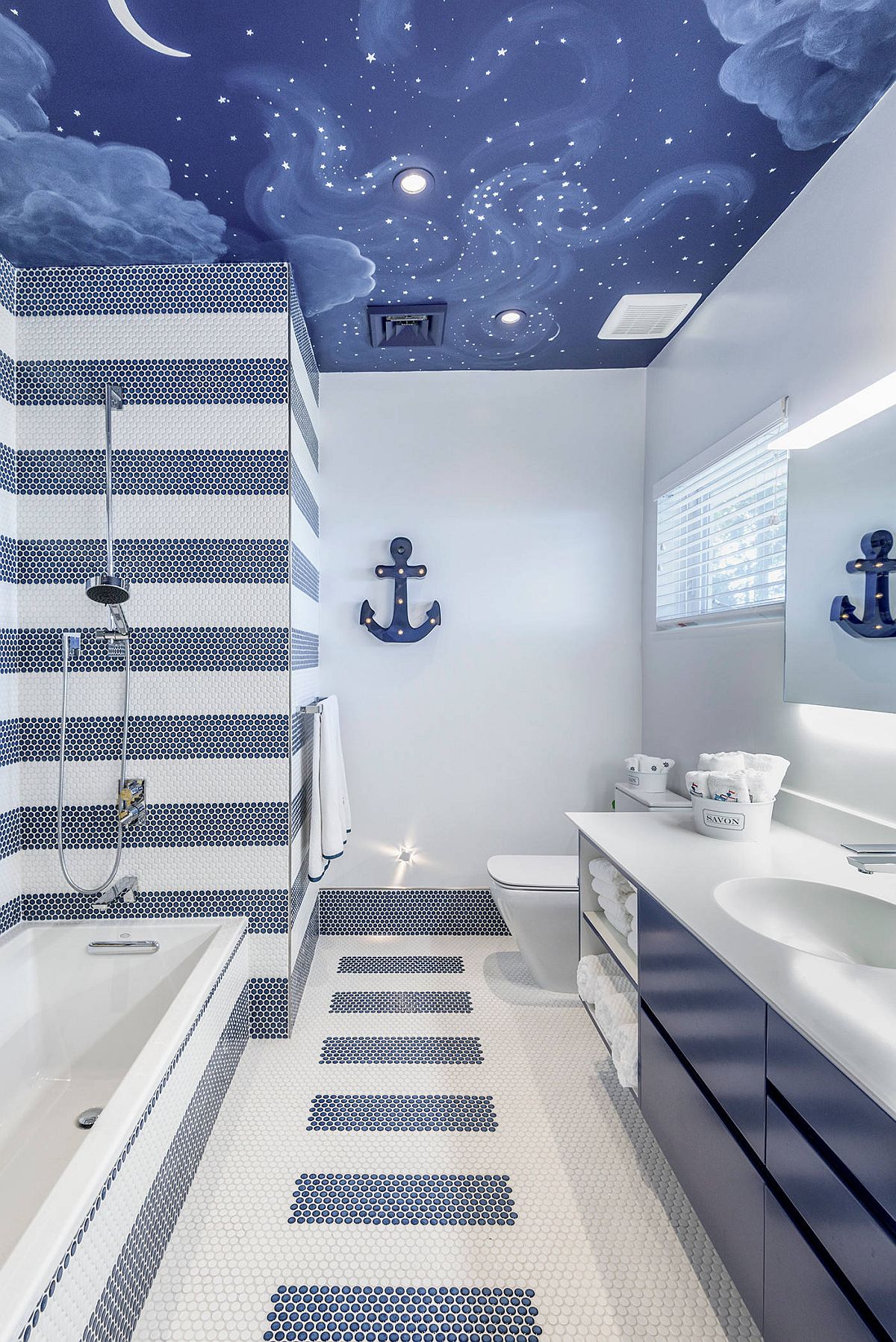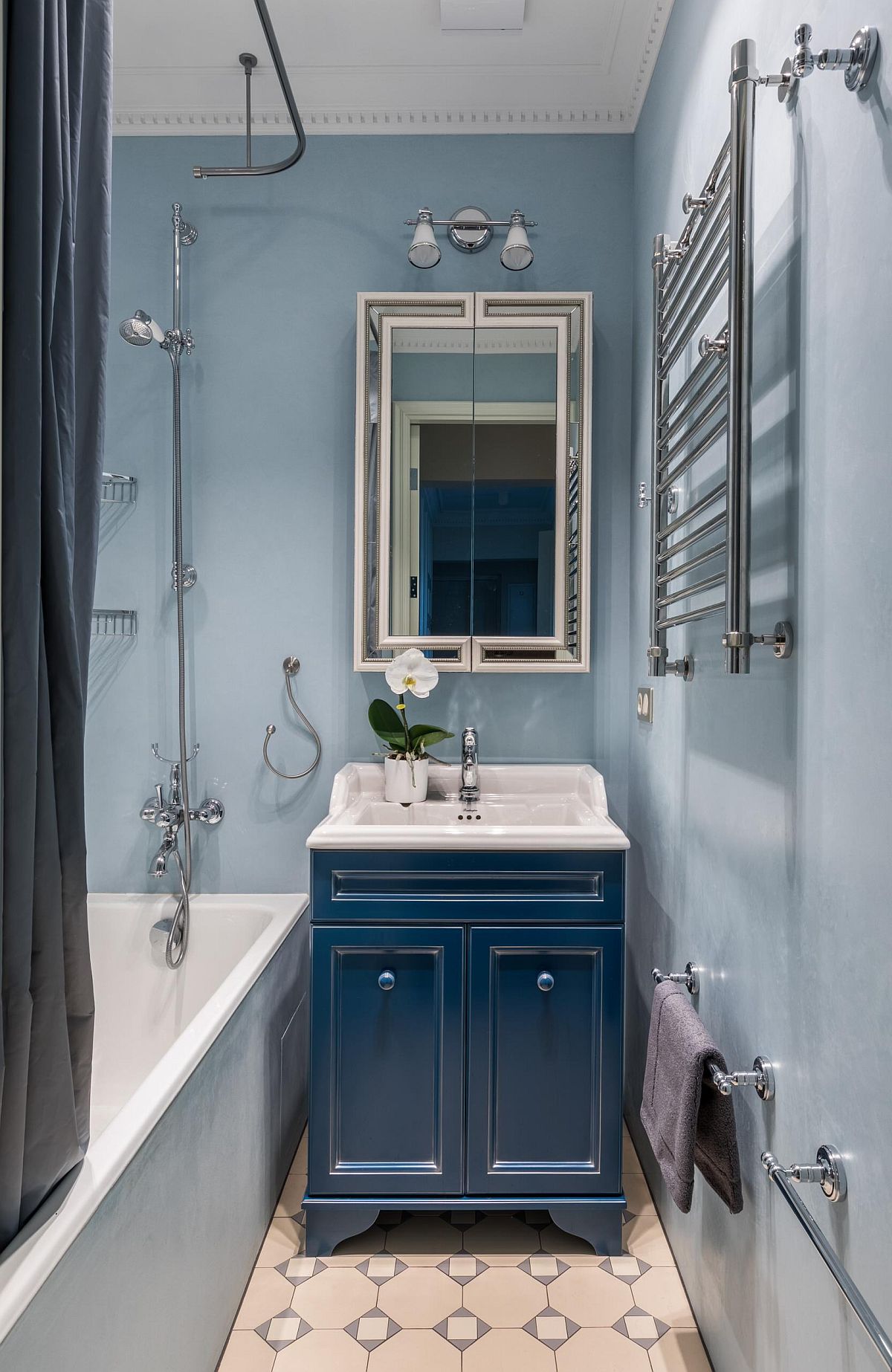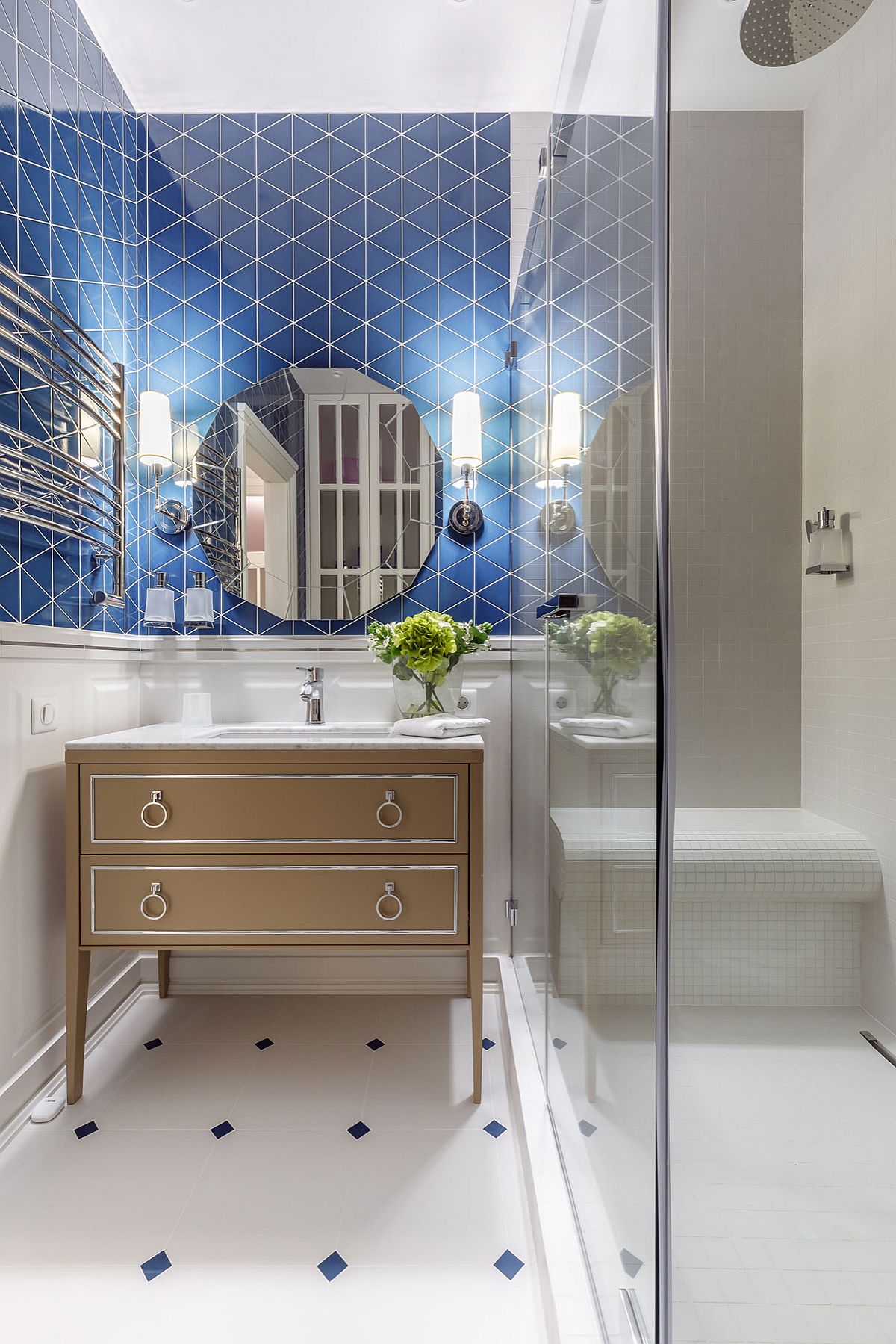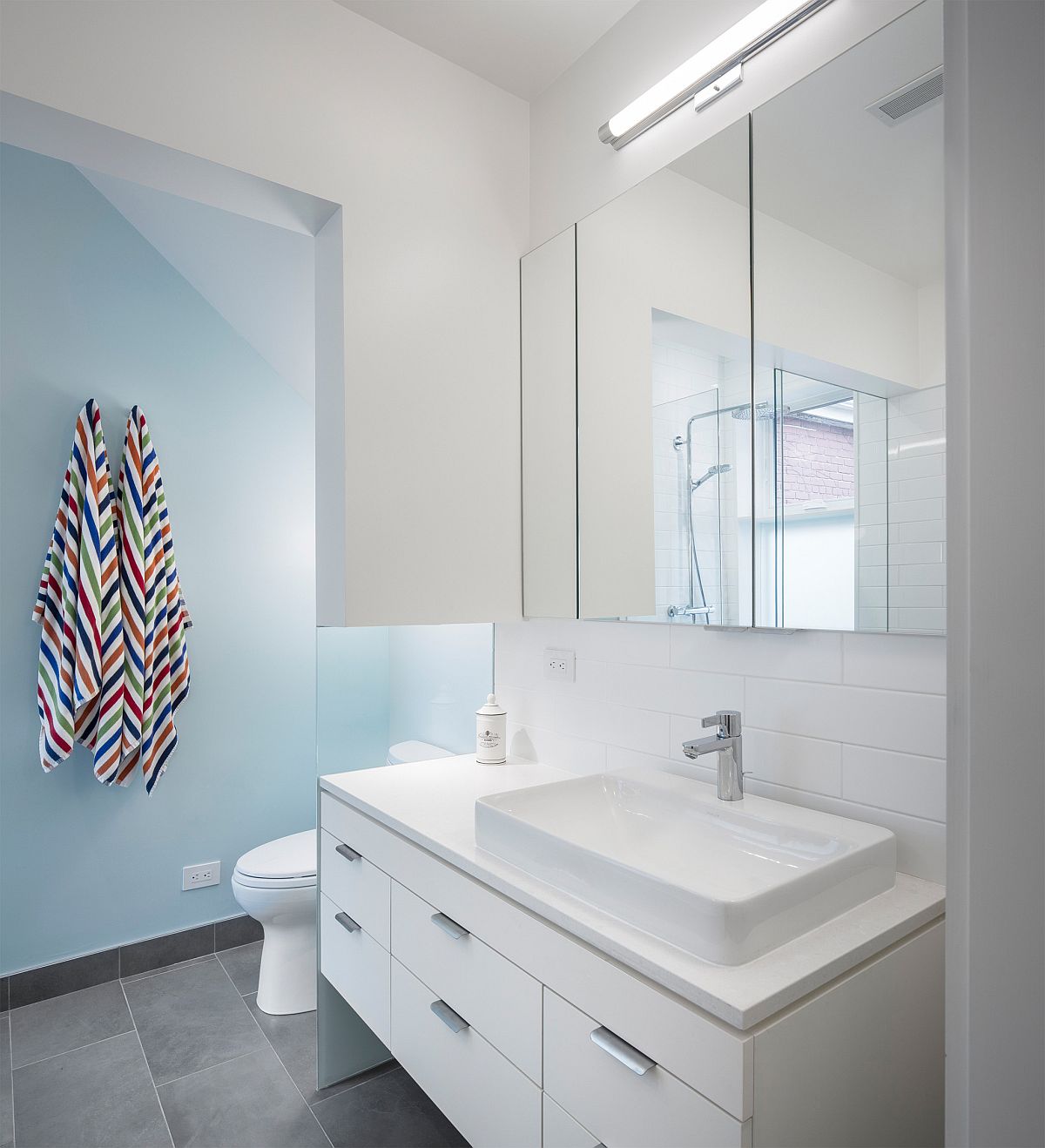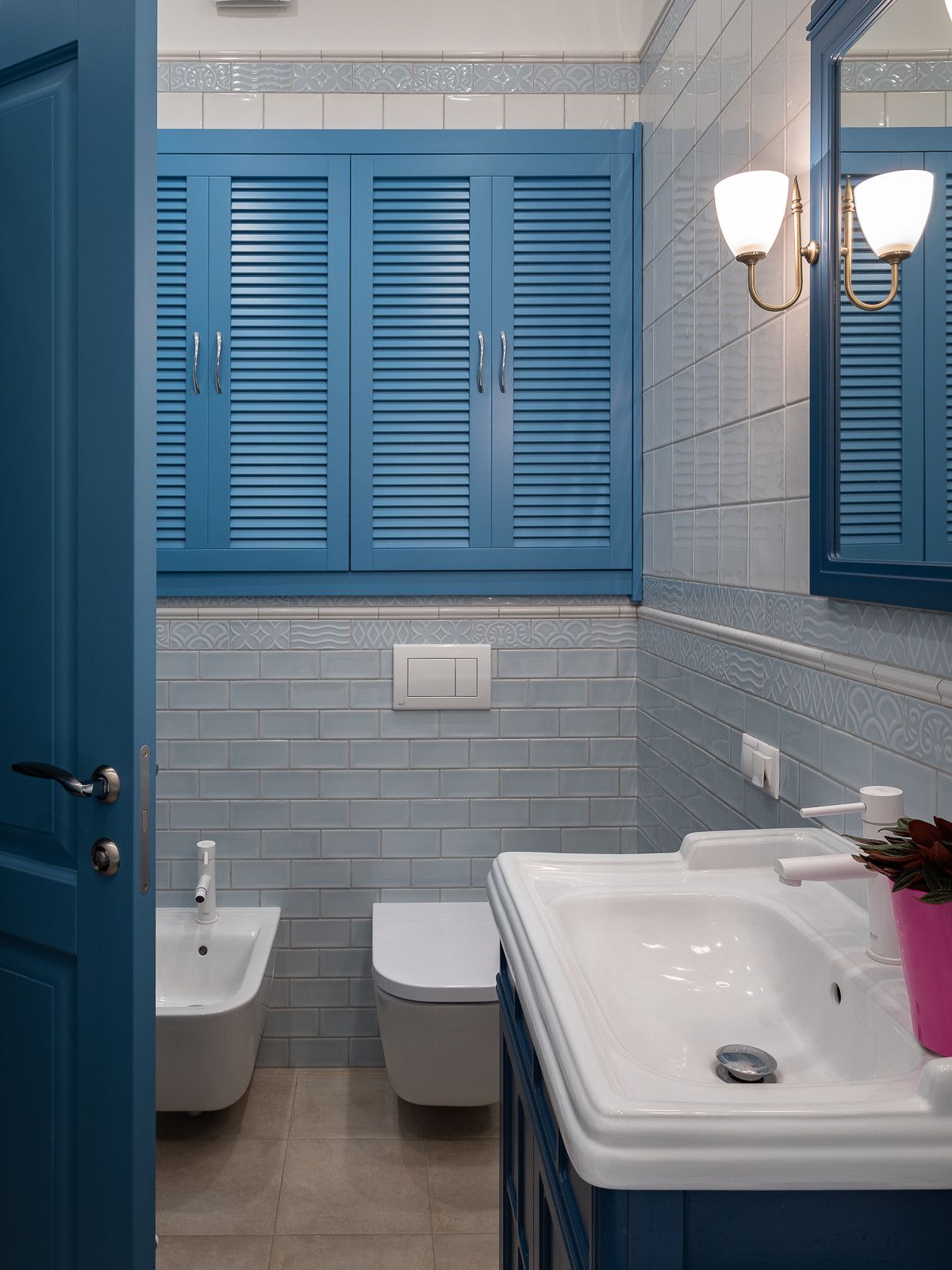 Metallics, Accents and Other Colors
We always love to go beyond the usual and mix things up. That is why, we suggest you add pops of other colors along with a white and blue backdrop for a more charming bathroom. Since we are only talking about compact bathrooms today, we do suggest you keep these colorful additions down to a minimum. It is best not to use more than two additional colors in here as you already have blue in the background making a statement. Faucets and bathroom fixtures in brass also are a nifty idea and bring brightness to the setting. Large windows with a view or skylights come as an added bonus in these dashing small blue and white bathrooms where lighting plays a key role.