When have you last looked at your dining room with the intent to redecorate or even renovate? Increasingly, the dining room is becoming an unwanted space in contemporary homes, where it is either the kitchen that doubles as a dining nook or the living room with the TV hogging the spotlight. While the dedicated dining room might be fading away, many of us still have a dining space, nook or zone that commands plenty of visual interest. And it is indeed the perfect spot in the house to try out new styles, features and at times even snazzy lighting fixtures. Today it is the turn of the incredibly popular shabby chic style in the dining room!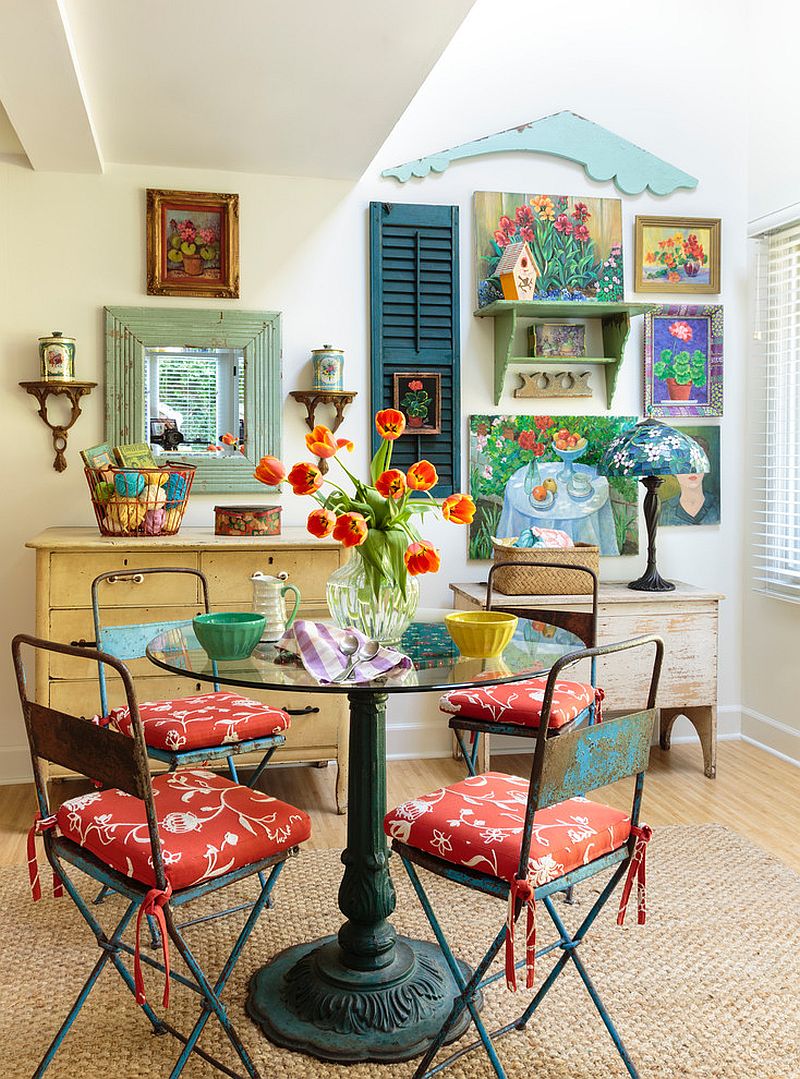 Admittedly, shabby chic is not a style for everyone, but adopting it in the dining room allows you to get your feet wet before making up your mind on whether it really works for you. Unlike in the bedroom or living room, this requires far less effort, and the rest of your home can retain its existing style and theme even as the dining room goes shabby chic. Exquisite, cozy and ingenious, here are 50 of the very best to get you started on the right path –
Buffet, Hutch, Sideboard or Credenza!
Antique décor, vintage finds and timeless pieces might often be hard to find and a touch too expensive as well. For those who are decorating on a budget, shabby chic style gives you another fun alternative that produces equally engaging dining rooms – the salvages and the upcycled. An old credenza that you picked from a garage sale in your neighborhood could be the best piece of your new dining room thanks to some sandpaper and paint. Distressed décor is considered an almost must-have for the shabby chic dining room, and this could range from old dining table chairs to a simple plate holder in the corner.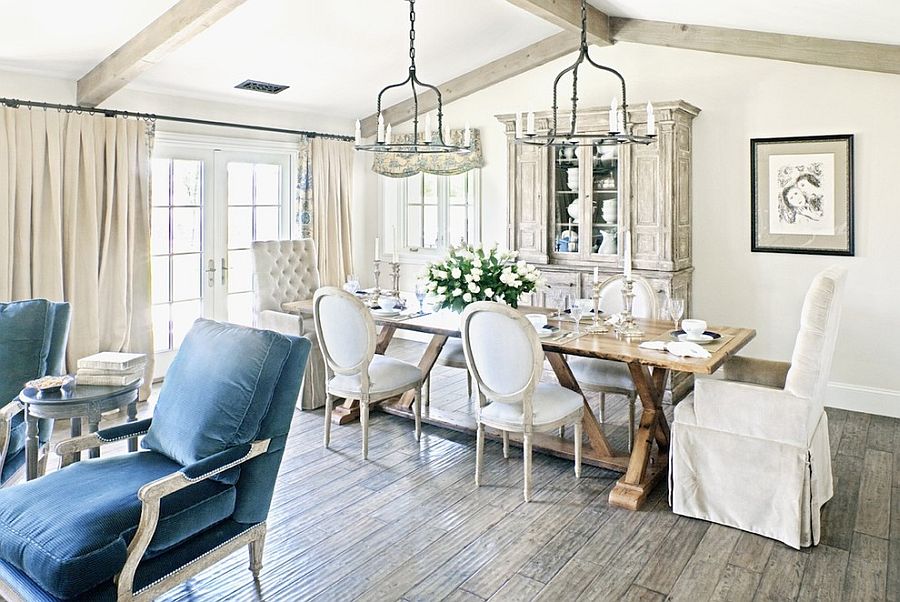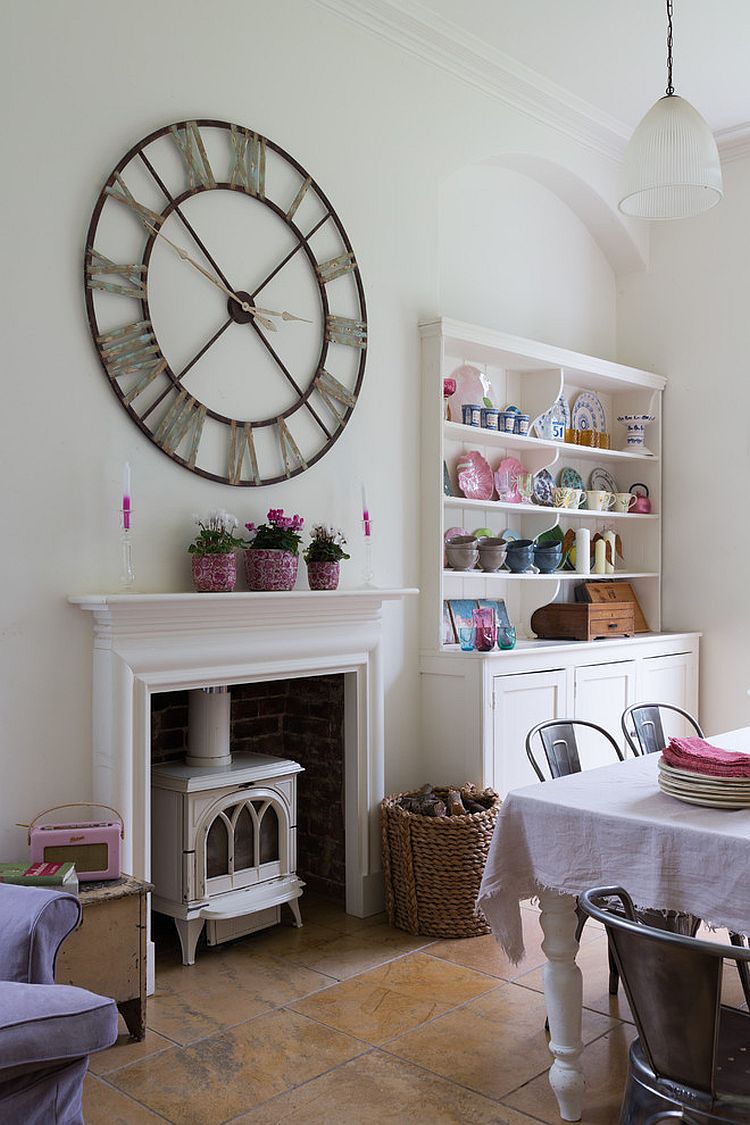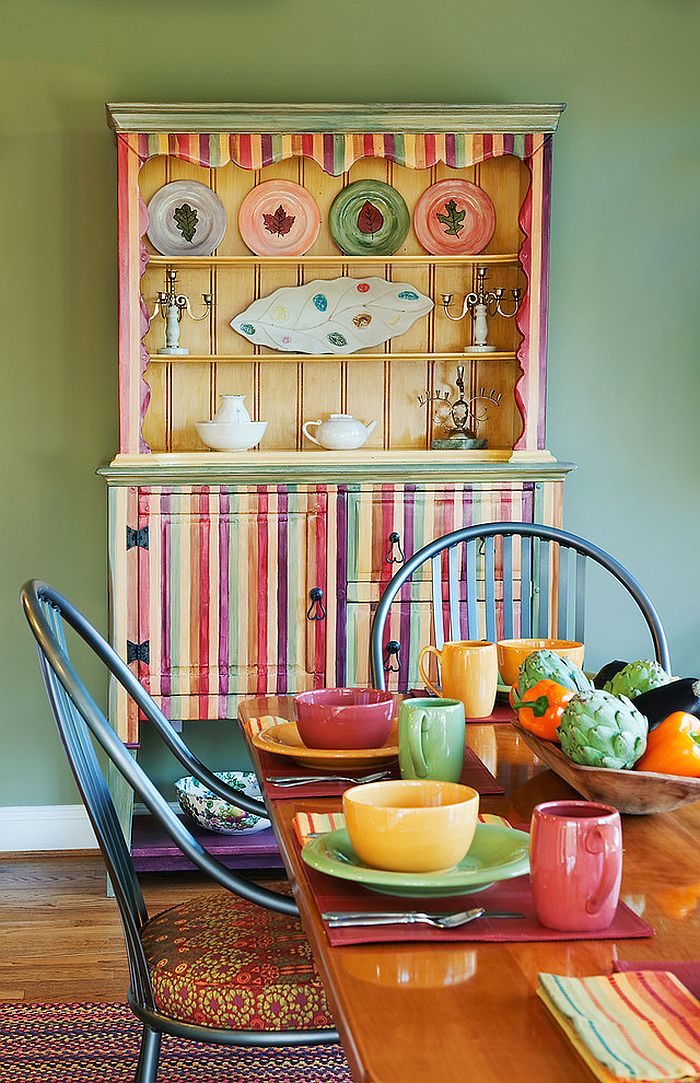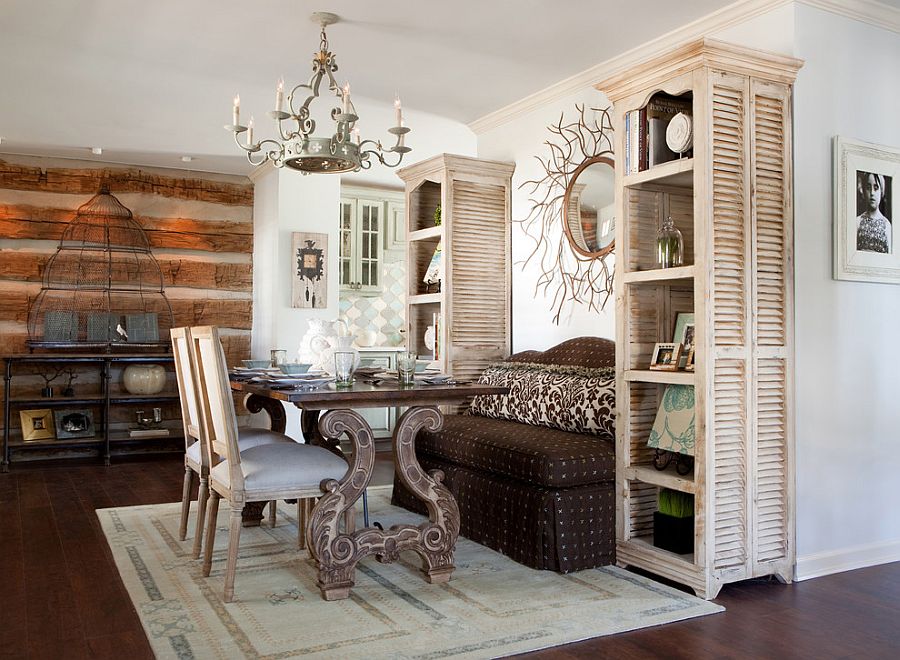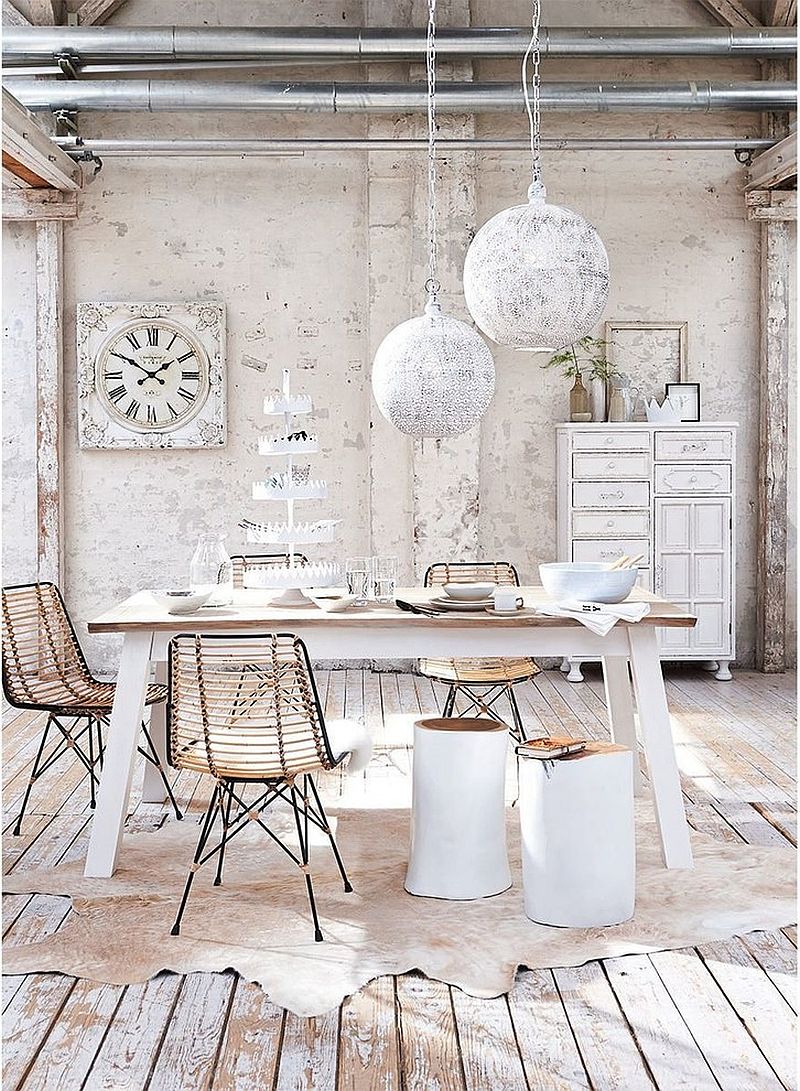 Before you pick a sideboard for your shabby chic dining room, do understand the many differences between a credenza, buffet and a sideboard. While the terms are often interchangeable in a modern context (except for the distinctly different hutch, of course), each of these is slightly different from the other. The variation comes in the form of style, finish, legs (or the lack of those) and even the height of these legs. But if you are not too bothered about semantics, then you can simply make your choices based on storage size and aesthetics.
Mirrored Magic
Once you have the sideboard picked, it is time to turn your attention towards the decorative pieces on the walls. Unlike in the case of many other styles, mirrors play a big role in the shabby chic dining room. For starters, they are pretty easy to work with and all you need is a vintage, antique or even salvaged mirror frame to get started. Picking a mirror frame that fits in with the overall part of the dining room narrative is the hard part. Once that is done, you will have little trouble decorating with mirrors or even just empty mirror frames.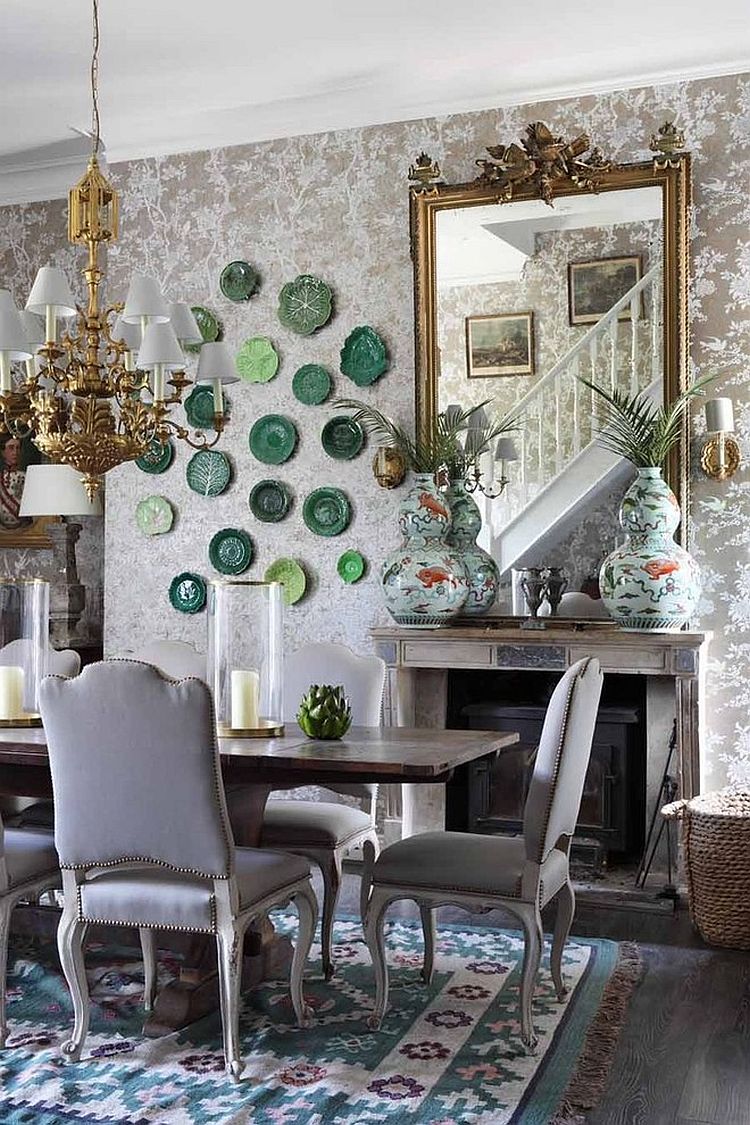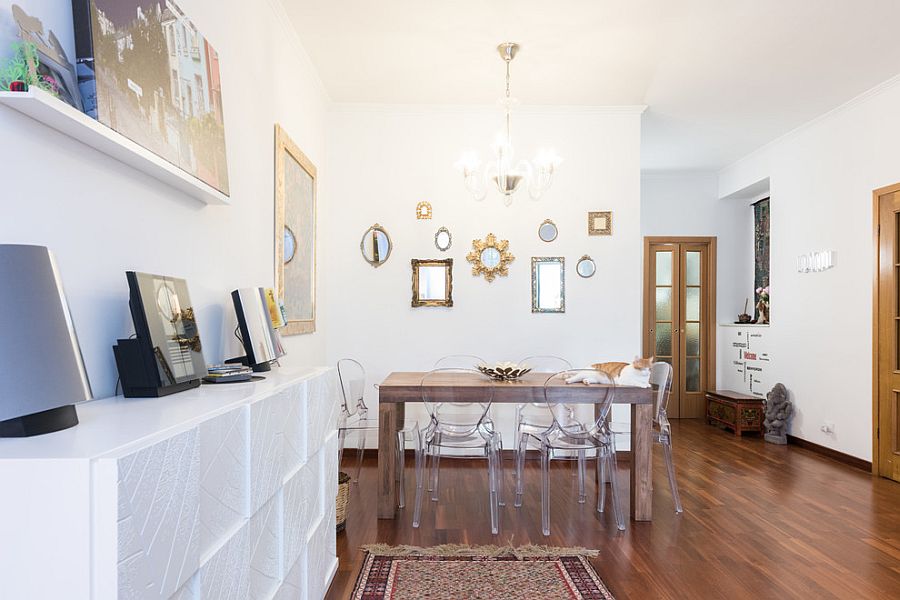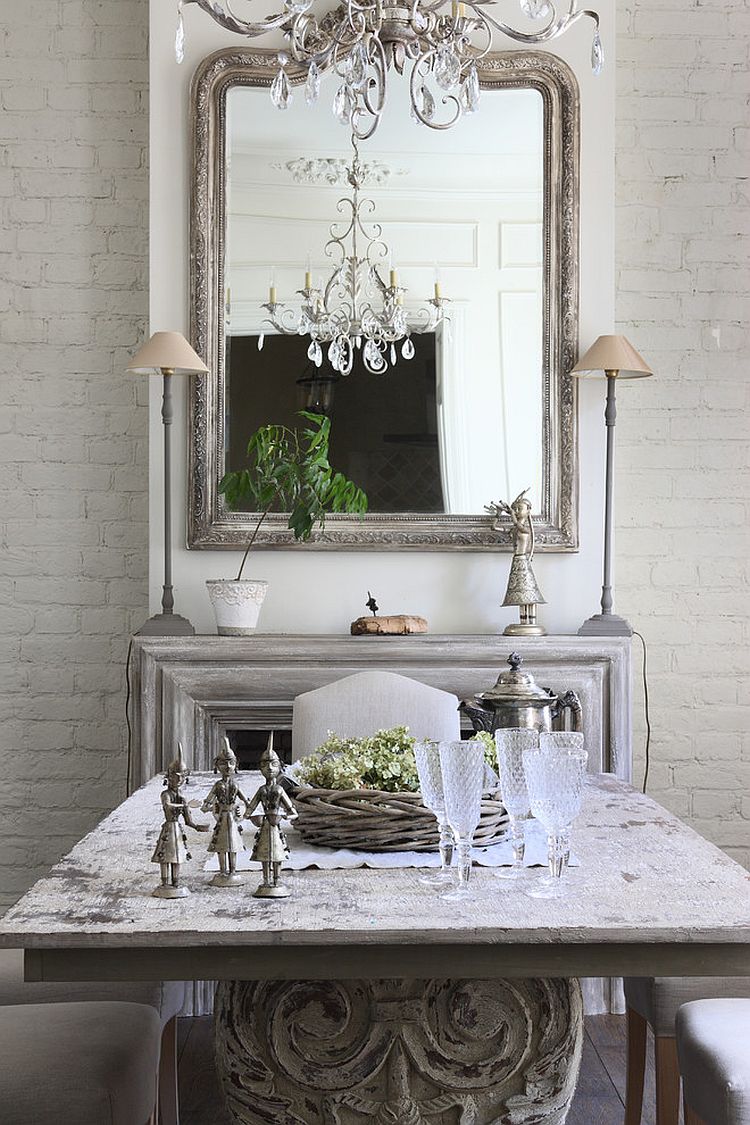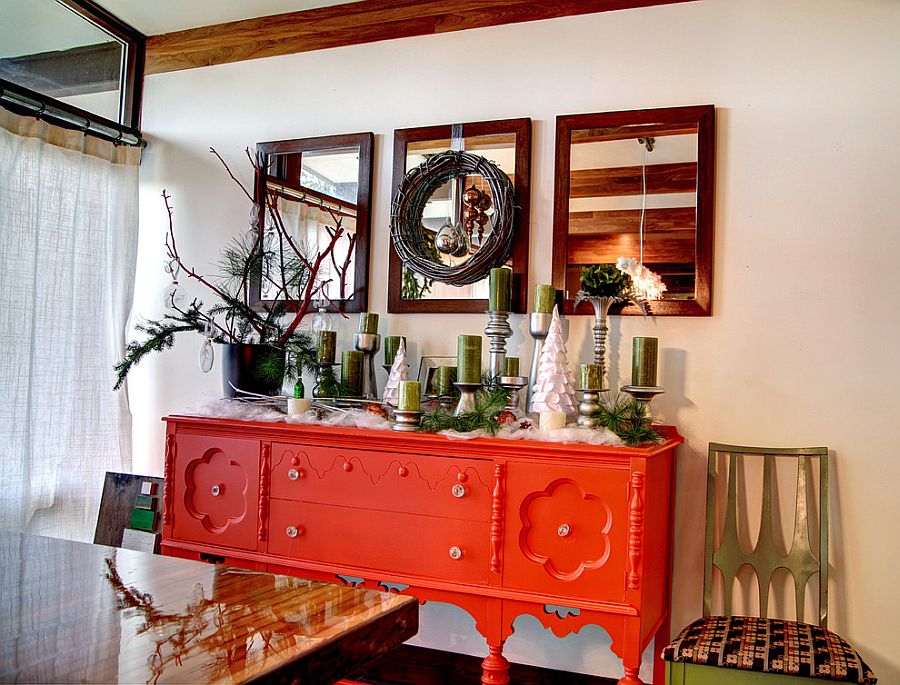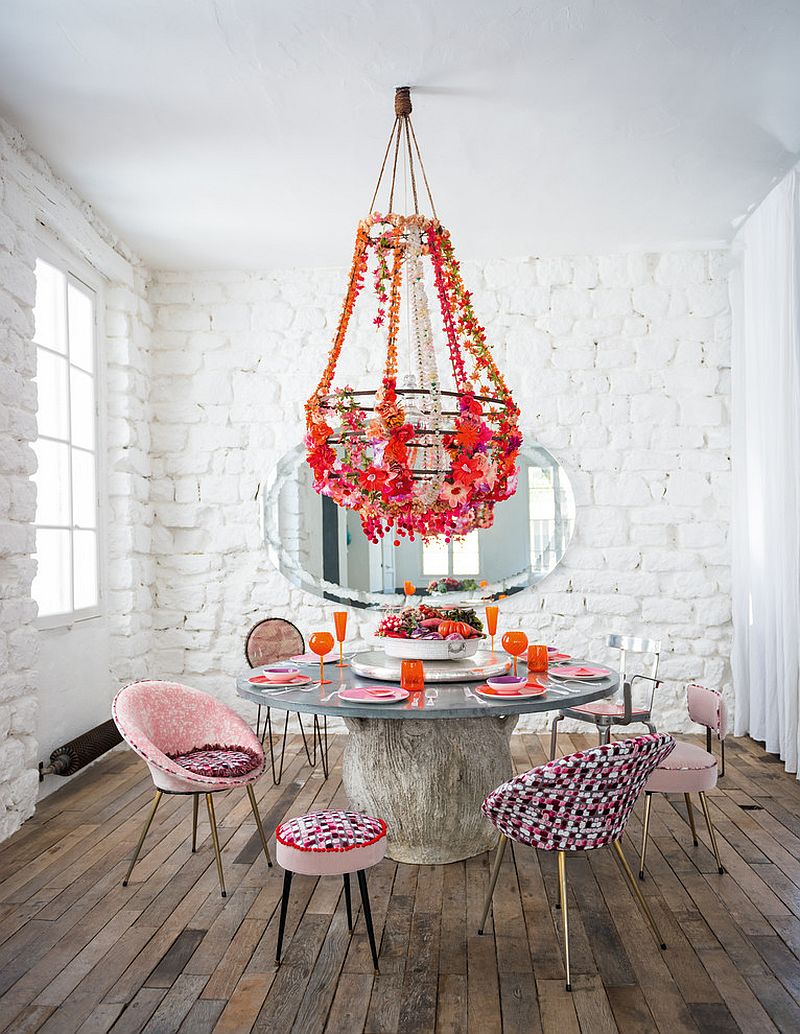 Mirrors add visual space to the dining room, give it a more cheerful appeal, and they definitely will keep some of your guests busy! Beyond mirrors, colorful wall art, unique decorative pieces from an era gone by and chinaware with interesting motifs seem to be the trendiest options.
Picking the Right Table & Chairs
Yup, this definitely is the most important part of your new shabby chic dining room, and while some homeowners prefer picking a table and chairs after deciding on the backdrop, others work outwards from the central piece of the room. Wooden tables with an aged look, custom-crafted tables using untreated timber or salvaged wood, or old outdoor tables given a face-lift and brought indoors – it is once again the aged that trump the glossy and the new here.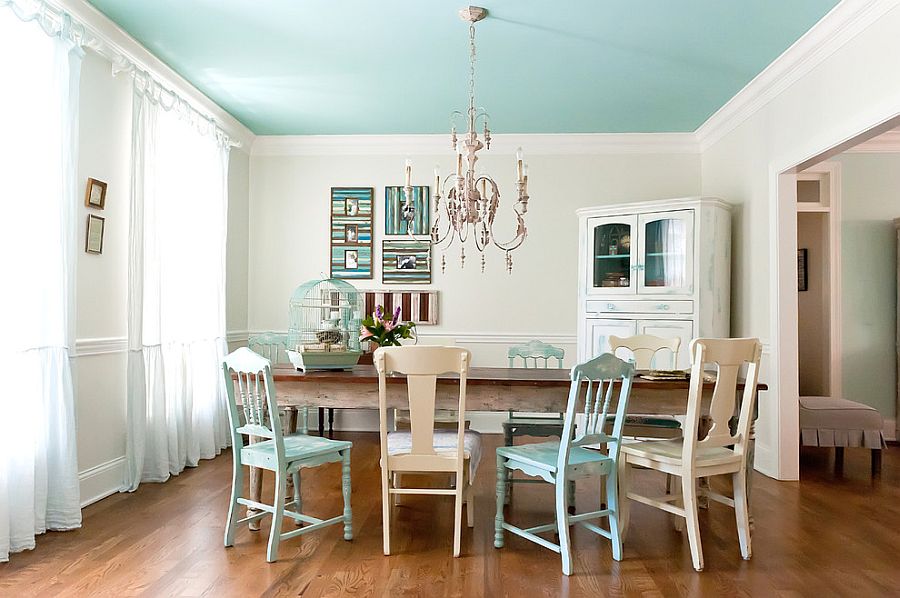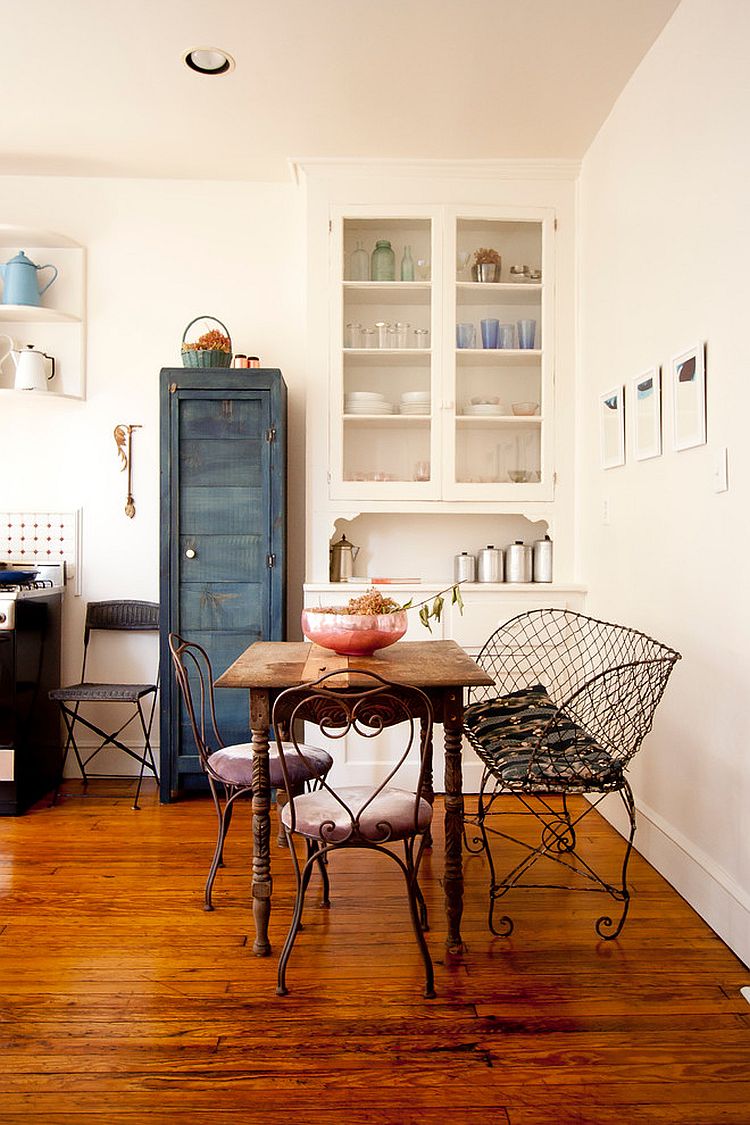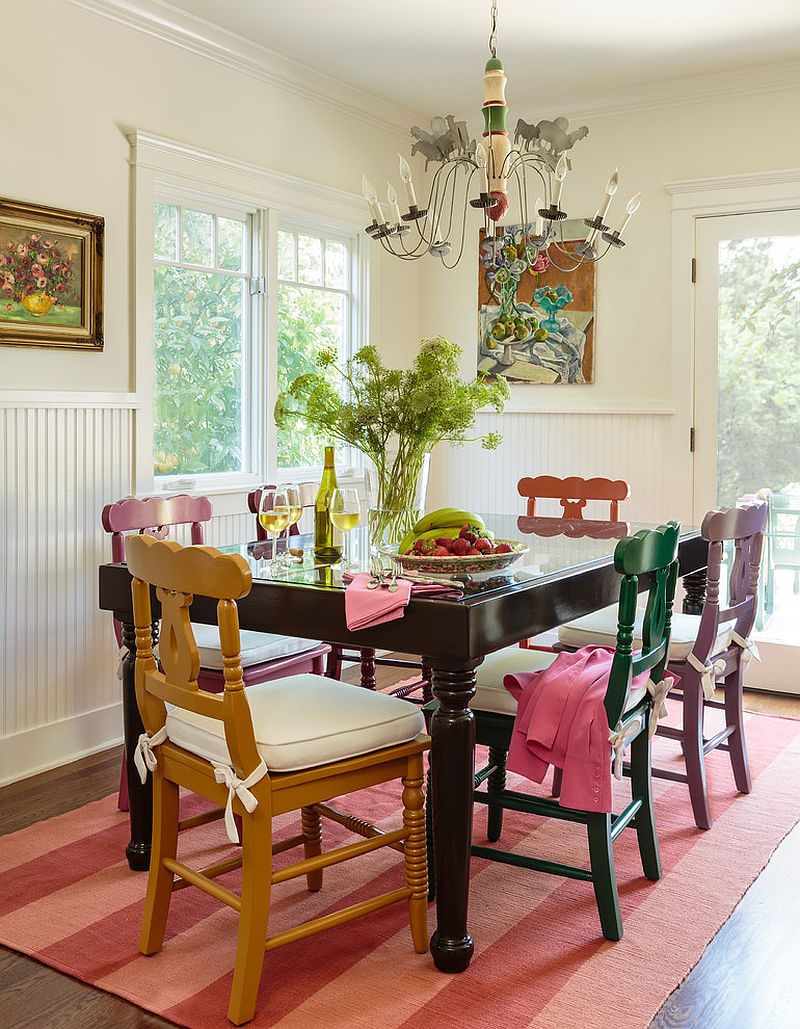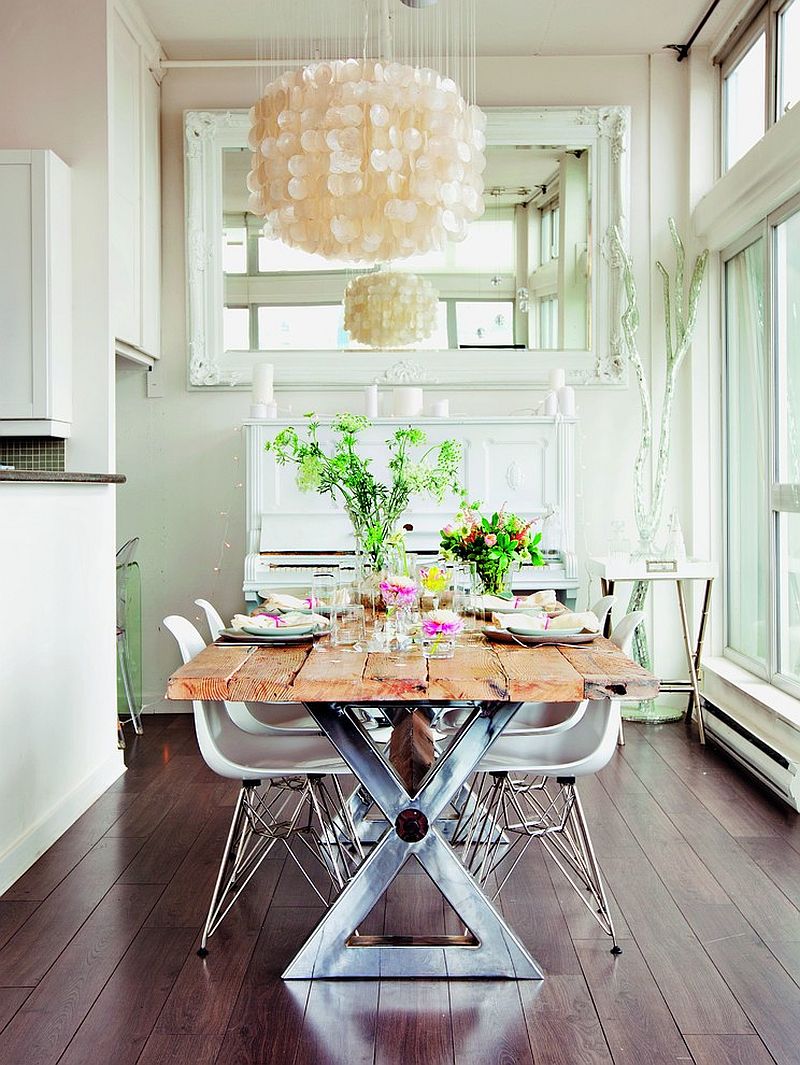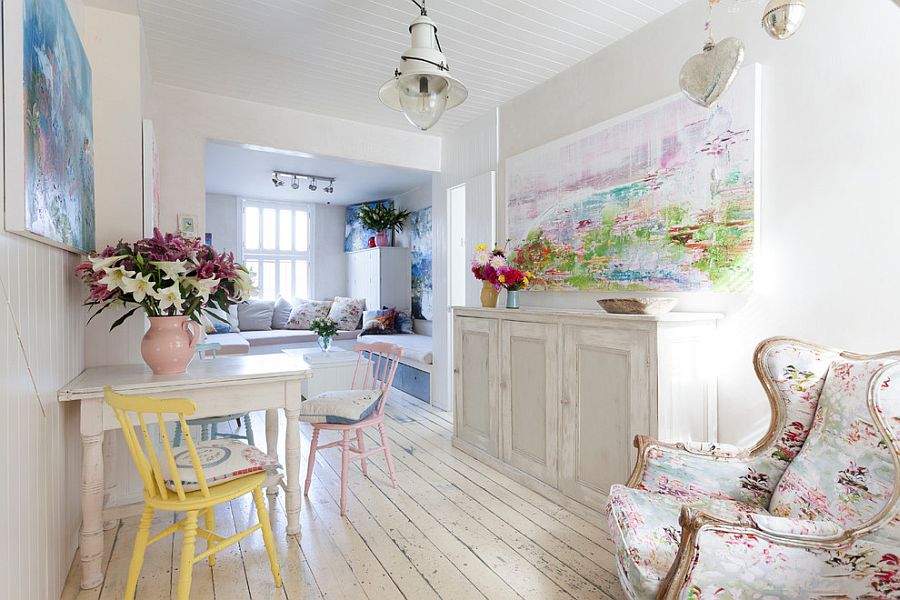 With chairs, we suggest you place comfort ahead of aesthetics. While those weathered and repainted metallic chairs might seem alluring visually, they will be far harder to live with. Instead, opt for some timeless icons like the Eames Plastic Chair, a choice that will serve you well even after your interest in shabby chic fades away.
White All the Way!
Whenever we talk about shabby chic, we simply cannot move away from white. It is the staple of the decorating style that has survived several changing trends across decades. A whitewashed brick wall backdrop could very well be the 'absolute perfect' background in the shabby chic dining room that your guests rave about. But an all-white or monochromatic look that combines contrasting textures is the best way forward, as the apparent lack of color is forgotten thanks to the rich textural diversity.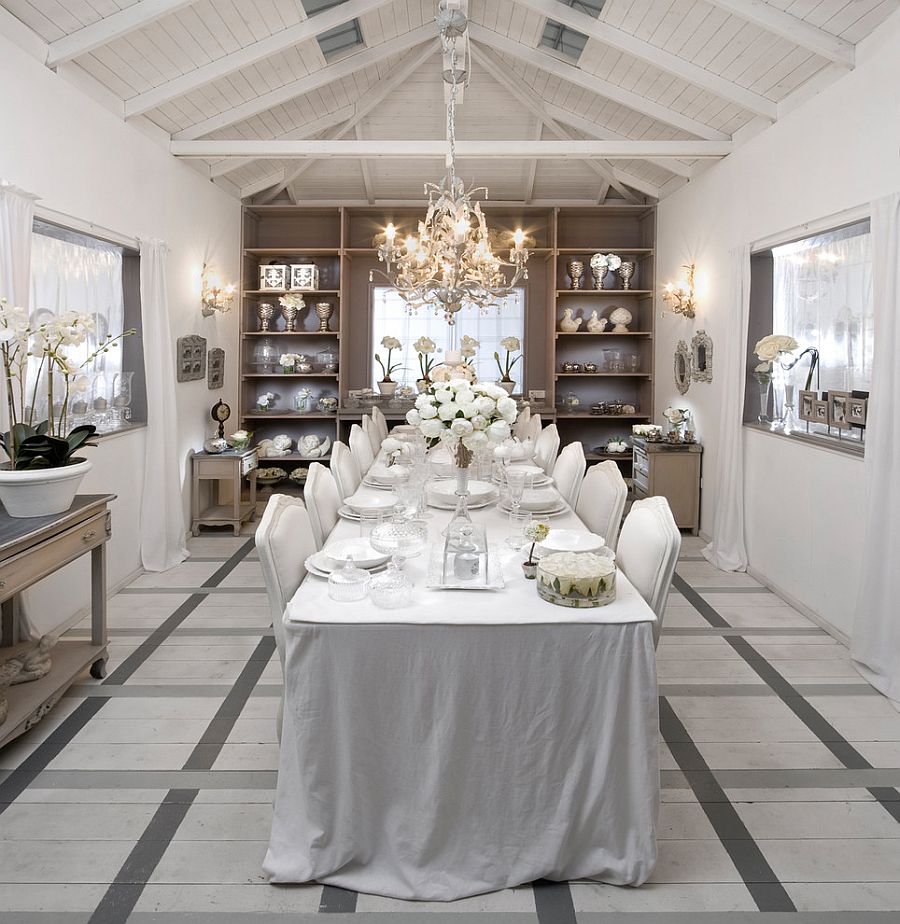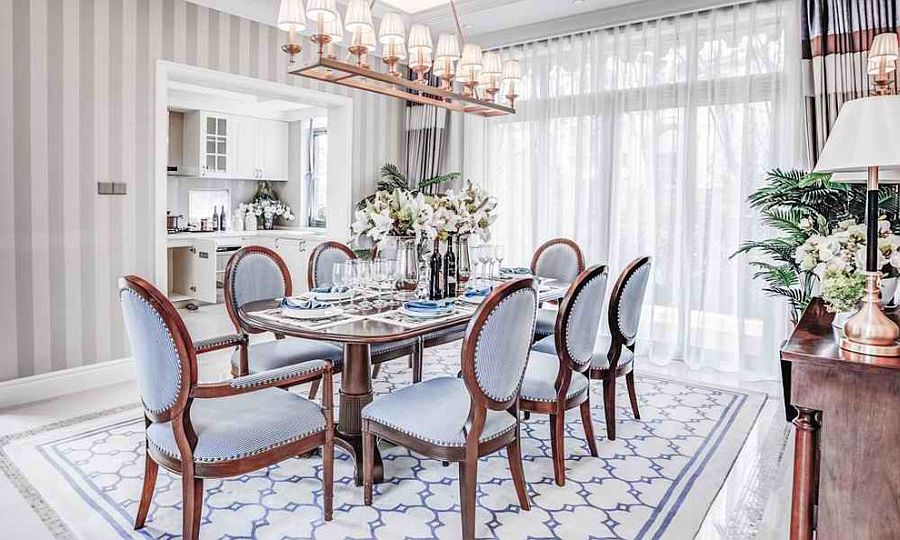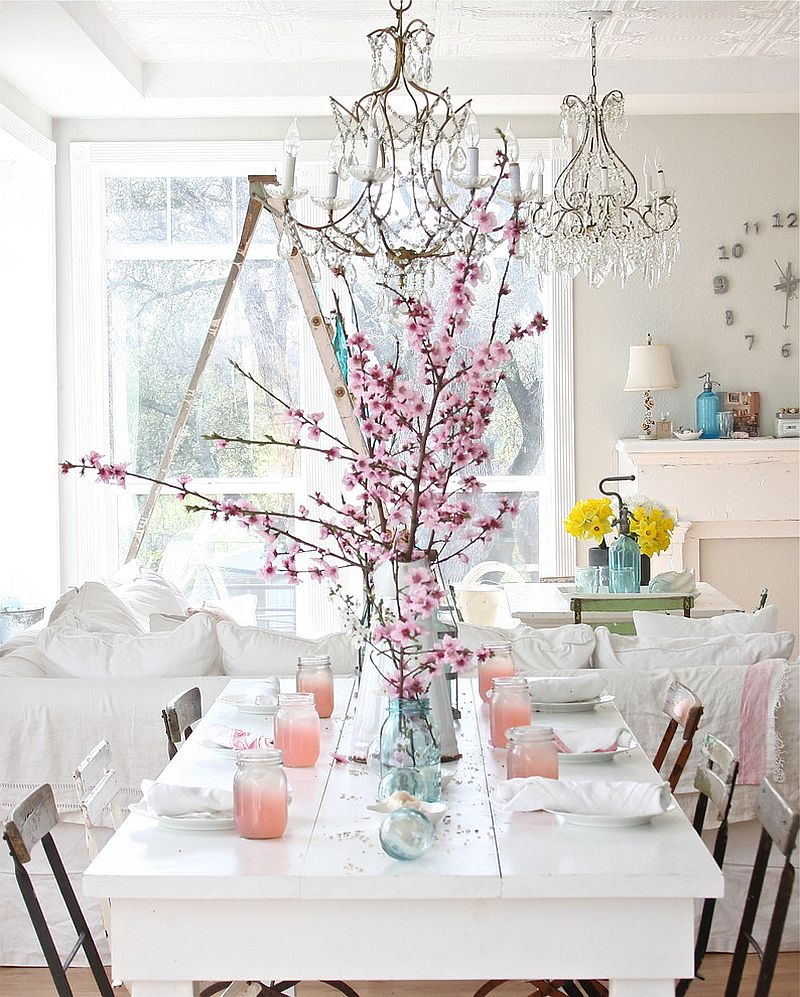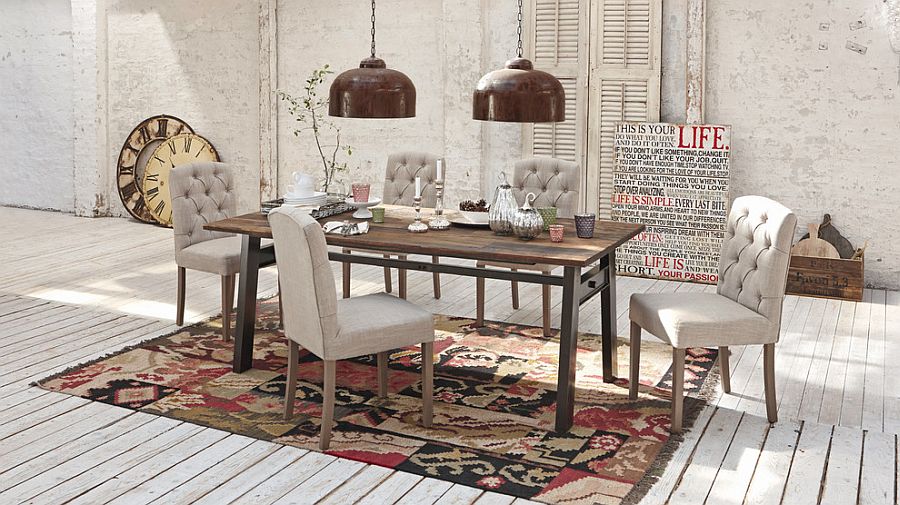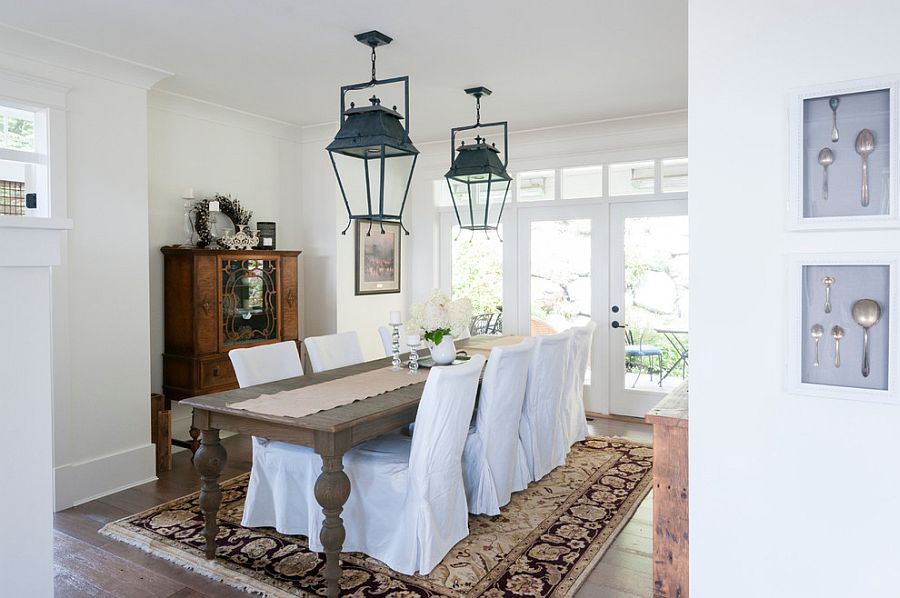 Apart from brick walls it is finds like a plush rug, gentle sheer curtains, a chandelier with glittering brilliance and of course that unique, upcycled décor with a sheen of white that really set your dining room apart. Do not be afraid to introduce lighter shades of gray and maybe a hint of color sporadically to make it a more mesmerizing setting.
Peek into Other Styles
Shabby chic in itself was never a style until designers decided to latch onto the growing interest and turn it into an absolute showstopper. Do not fret about mixing other styles with shabby chic in an understated and elegant manner while staying true to its core philosophy. Industrial, farmhouse, rustic and coastal styles blend in beautifully with shabby chic spaces. You can even usher in a dose of minimalism and modernity to turn the dining room into more chic than shabby. Comfort, personality and a celebration – that is shabby chic at its unadulterated best!