Mirrors add depth to a room by creating the illusion of space. Not to mention, their glossy shine evokes a glamor that enhances modern and traditional rooms alike. In today's design world, you can find a host of mirrored furniture selections, but don't forget the power of a striking wall mirror.
When selecting mirrors for the home, consider their purpose. If you are in need of a functional piece, be sure to choose an item that is both decorative and practical. If you are simply looking to add drama or radiance, selecting a purely ornamental mirror may be the perfect solution. Enjoy our top picks of irresistible reflective pieces to brighten your space.
Decorating With One Large Wall Mirror
Sometimes one bold mirror is all you need to set the tone of a room. A striking border can add design depth, as shown in the Tip Over mirror by G. Borgonovo. [from Porada]
Mirrors can add architectural interest, especially when they feature detailed frames. The Megalux mirror is geometrically modern, yet its border mimics the grandeur of crown molding. [by Porada]
When there is embellishment on the mirror itself, the result can be wonderfully unexpected. The grid-like mirror below is contemporary in its series of squares, yet the beveled lines add a traditional element to the piece. [JCPenney Home collection via Apartment Therapy]
When a mirror is extra large, propping it against the wall can be every bit as stylish as hanging it. A casual yet powerful effect is the result. [from Minimalisti]
A long horizontal mirror can make as much of an impact as a large vertical piece. The Alisei mirror below is available in gold, silver or copper. [by Riflessi]
What if one long mirror served two purposes? Girilla by T. Colzani is a mirror and shoe rack in one! Looking for extra storage? Order two of these pieces and hang them side by side for a doubly reflective display. [from Porada]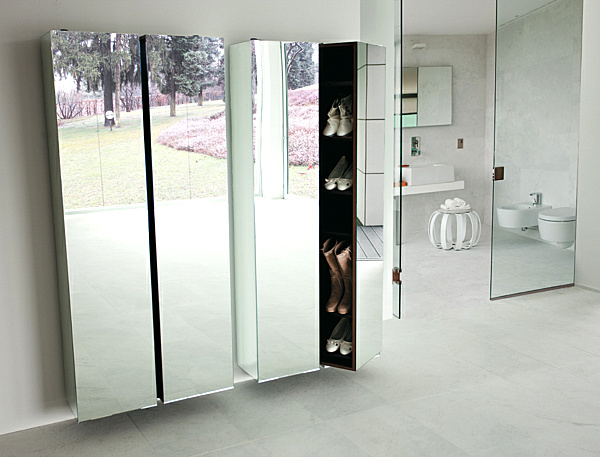 Wall Mirror Groupings
The grouping of wall mirrors creates an artistic vignette, especially when the pieces are thoughtfully arranged. The rectangle is the shape of choice in a Viceroy Santa Monica hotel space, shown below. A repetition of motif, an assortment of sizes, and a variety of frames and mirrored surfaces add interest to the room. [from Viceroy Santa Monica]
Another unifying strategy involves grouping wall mirrors of the same color. The frames, sizes and styles may be different, but a consistent hue polishes the look, tying it all together. [from Flickr user Kitschcafe]
Others prefer to mix wall mirrors with wall art for one large, diverse statement, as shown below. [from Restoring the Roost]
The sunburst is a popular mirror design with retro roots. In fact, sunburst mirrors have made a comeback in recent years, as they are admired for their vintage yet modern appeal. In the room below, sunburst wall mirrors add light and create a porthole window effect. Not to mention, a mix of large and small pieces bring contrast to the vignette. [photo courtesy of Layla Palmer via HGTV]
If you're lucky, you can find a series of mirrors that can be purchased as a set! The Domino mirror is actually a collection of square mirrors connected with steel hooks [from Riflessi]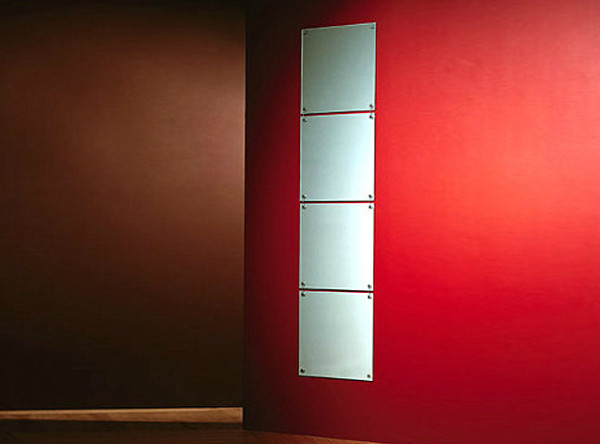 Geometric Wall Mirrors
There's nothing like the icy form of a geometric mirror! Though long and elegant, Studio Opera's Oktagono mirror has eight sides. A mirrored border reinforces the piece's shape. [from Porada]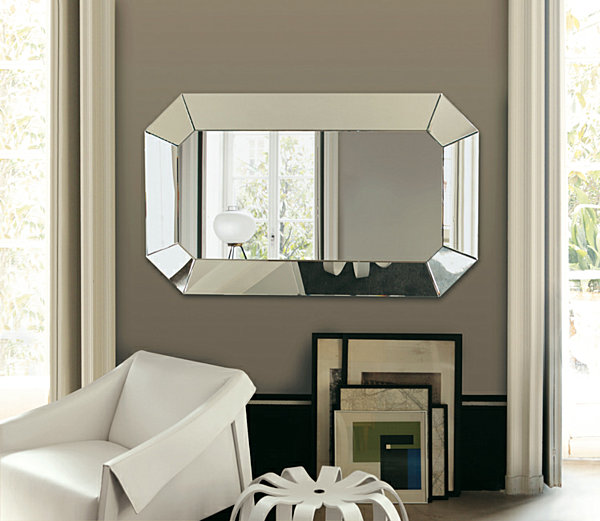 Sometimes a mirror has a geometric overlay, as illustrated by the Reflections Addie Mirror, shown below with an entire cane-motif furniture collection. [from Home Decorators Collection]
Another piece that can be showcased as part of a set, the Reflections Mirror features a wooden frame and a tile-like Moroccan motif. [from Home Decorators Collection]
At times geometry is created by adding detail to the mirror itself. The Bolle sanded mirror includes rows of small concave engravings. Part mirror, part art piece, this item combines simplicity with minimalist embellishment. [from Riflessi]
What if you had the power to design your own mirror?! The modular Tetris mirror by Julia Dozsa can be used to create wide variety of puzzle-like patterns. Not only can the pieces be ordered in red glass, magnets assist in holding the individual parts in place. [from Fiam]
Decorative Wall Mirrors
If the mirror will not be used for primping, a range of decorative options awaits you. In fact, you may be surprised at the variety and creativity of the pieces below. We begin with an item from the Jagger series, an abstract, Aztec-style piece from designer Tad Davinci. [from Artsigns Interiors]
Another abstract option involves flower-themed designs, as shown by the mirror and acrylic Neon series below. The pieces' bold pink color may be just what your modern, neutral wall is missing! [from Artsigns Interiors]
Supernu, a combination of frosty backing and leaf-themed mirror cutouts, has many uses. While some order the piece as a wall mirror, larger versions of the product have been used in commercial spaces. Supernu can even serve as a room divider! [from Artsigns Interiors]
If you're looking for an unexpected way to add a touch of fun to your space, try a mirror sticker. Less bulky than glass, these adhesive treasures are lively and bold, as shown by the Disco Queen sticker below. [from Mandellia]
Mirrors, mirrors on the wall, which is the fairest one of all? Whether you will gaze into the mirror as you get ready for the day, or you're simply looking for a way to jazz up a blank wall, let today's wide range of available options inspire you. Don't hesitate to take matters into your own hands by refurbishing vintage pieces that add personality and character to a space. And if you're looking for a brand new mirror, you're in luck–these reflective items come in all shapes and sizes!