In a world where the dedicated, formal dining room is becoming a rarity of sorts, with modern, more open dining spaces replacing it, there is little wonder that dining room lighting has changed over the decades. The large crystal chandelier at the heart of the dining room is far from the norm these days, with homeowners gravitating towards more exciting, inventive and at times, colorful options. From dazzling pendants to DIY creations that usher in a quirky twist, today we take a look at 21 dining rooms that surprise you with their lighting choices.
This carefully curated collection features dining rooms in diverse styles ranging from the contemporary and minimal to the eclectic, farmhouse and industrial. And each of these showcases a brilliant lighting fixture (or at times, a collection of pendants) that will hopefully inspire you to rethink the lighting options in your own dining space.
Flamboyant Pendant Lights
A search for vivacious and playful dining room lighting inevitably takes you through some colorful pendants that add style and personality to any room they adorn. Brightly colored lighting fixtures can make a big difference to the ambiance of the room, irrespective of the style and theme that you have chosen for it. While eclectic rooms celebrate color gleefully, industrial dining spaces look simply stunning with ceiling lights that use colored wires and unmistakable Edison bulbs. Brilliant contemporary pendants that add a splash of color are also pretty easy to find, and they create the perfect focal point in a dining room clad in neutral hues.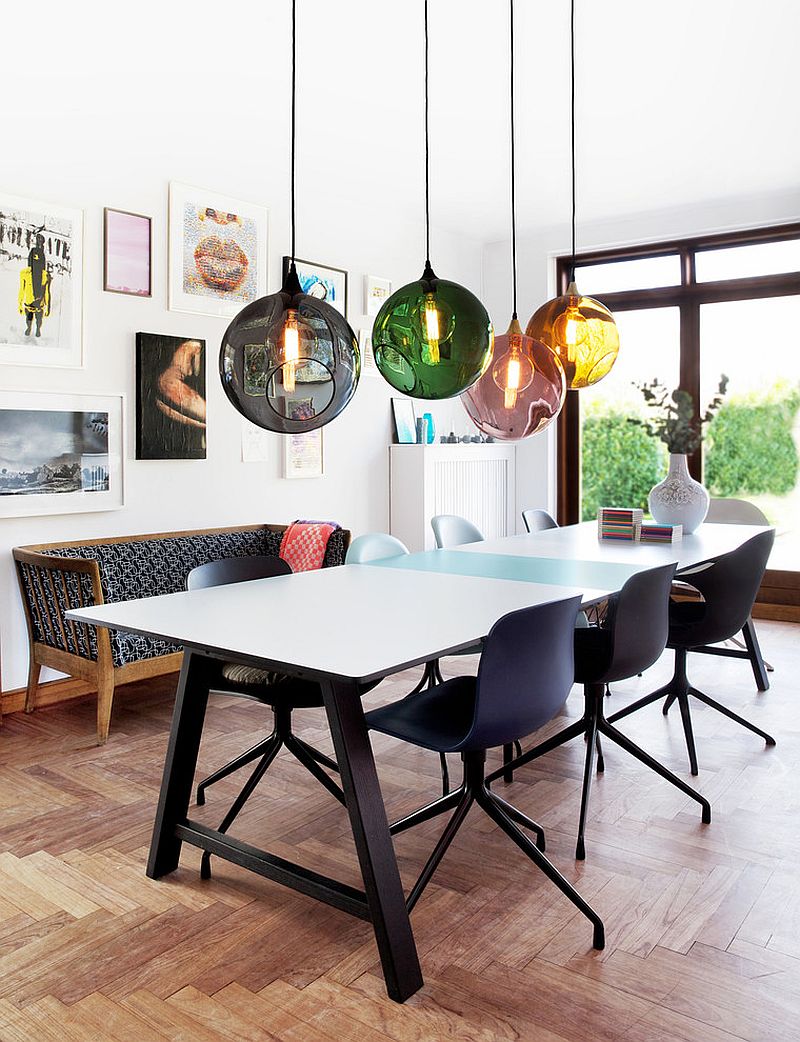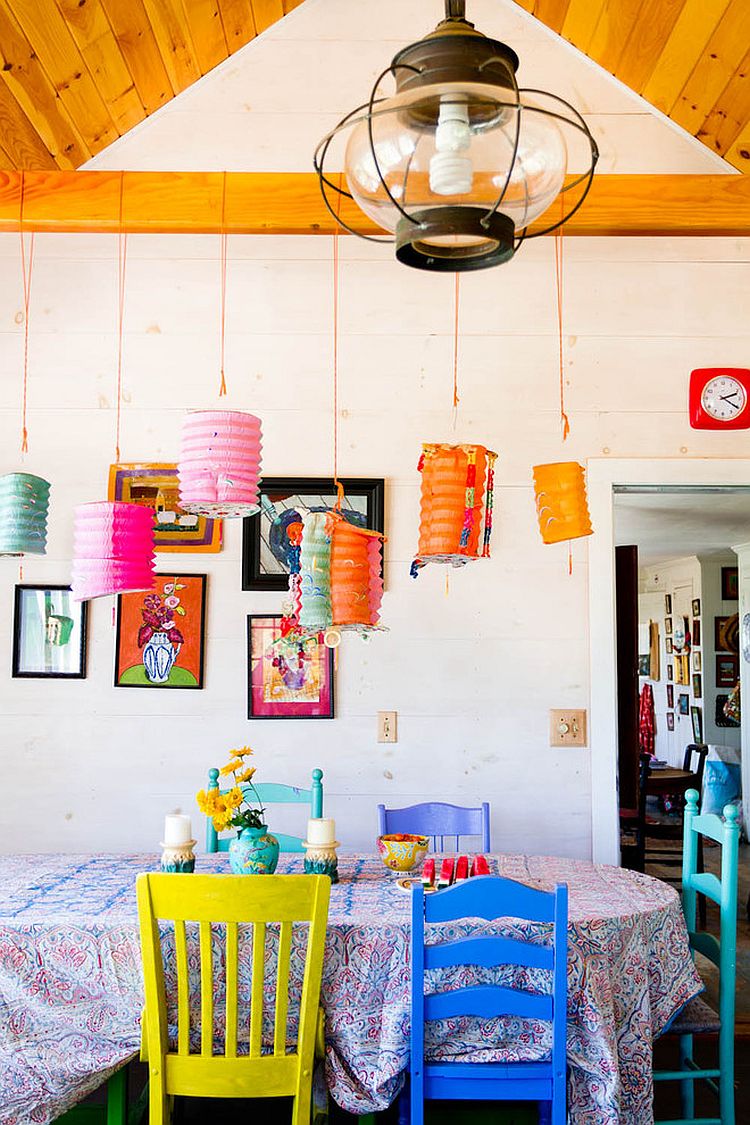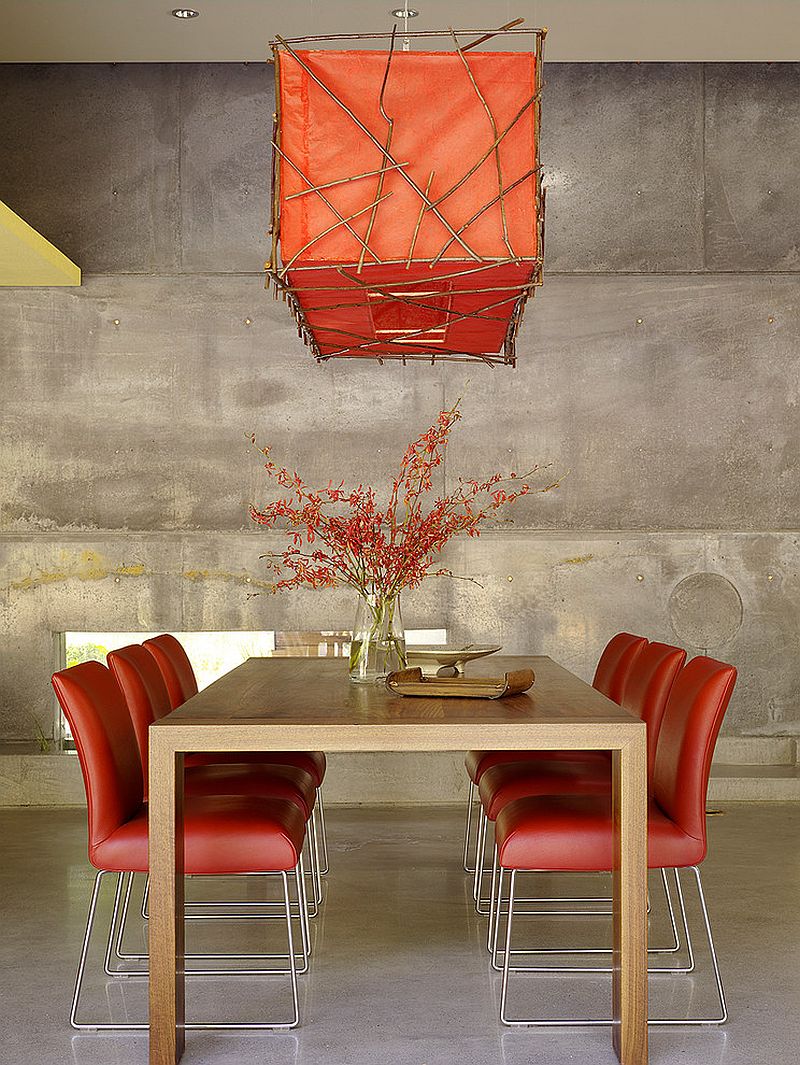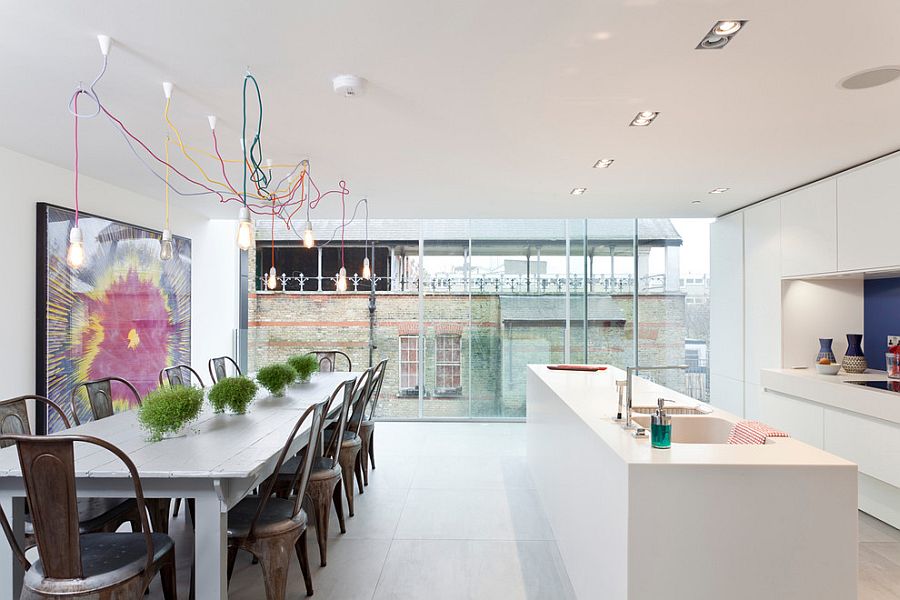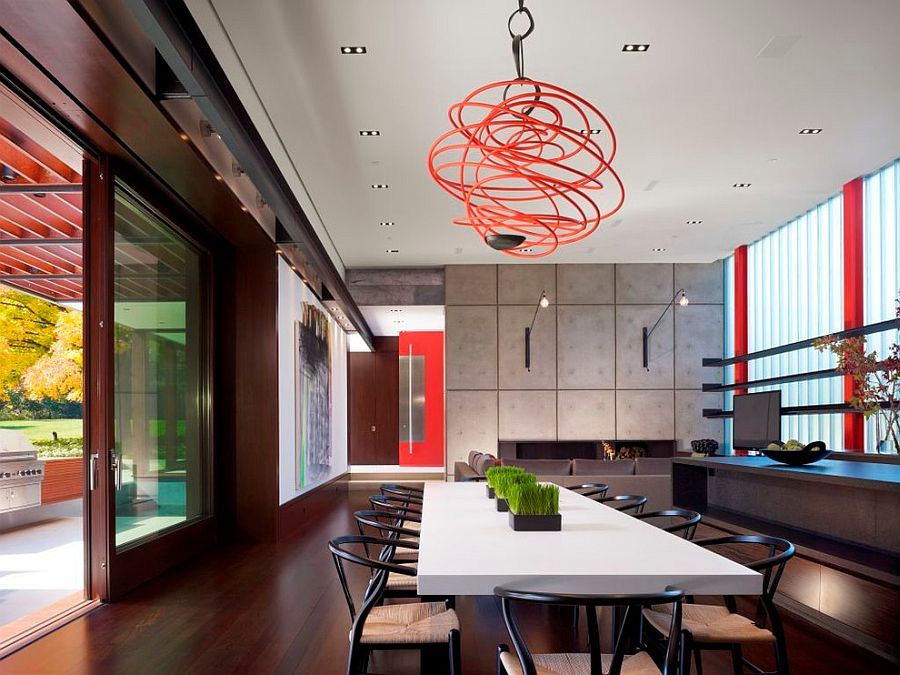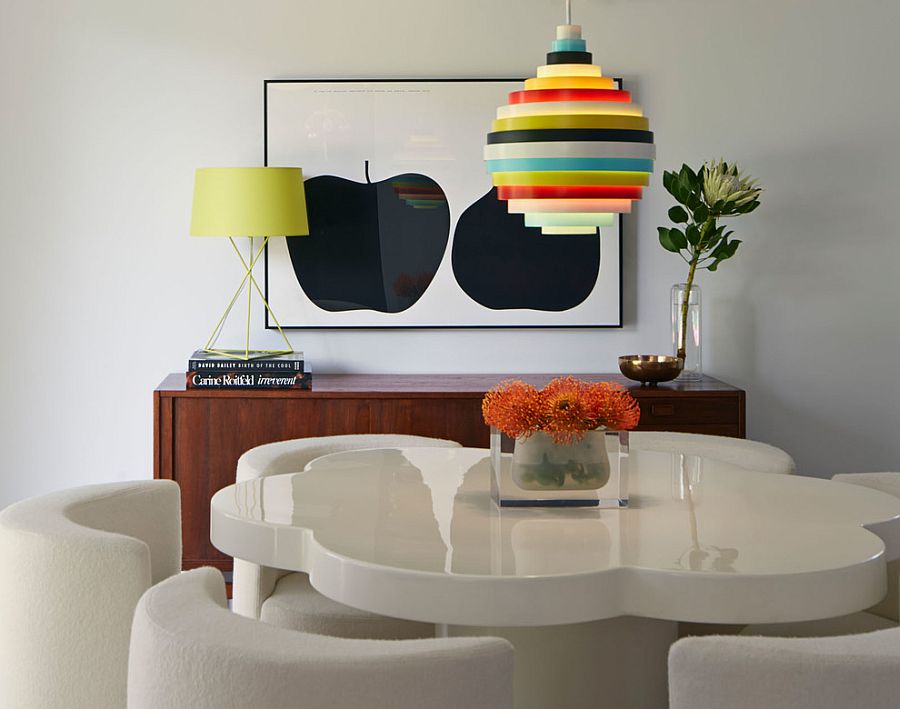 Digging Deep!
We did promise creativity and fun options, and nothing is more fun than to be able to craft your own pendant light with things that you can get your hands on! A DIY pendant light can be something as simple as a wine bottle light that takes less than 10 minutes to make or a more dramatic and exclusive addition like an old theater light turned into an industrial ceiling lamp. Almost everything in your home can be used to shape an inimitable pendant for your dining room, and if you are not convinced about it, check out these 50 coolest DIY pendant ideas for endless inspiration!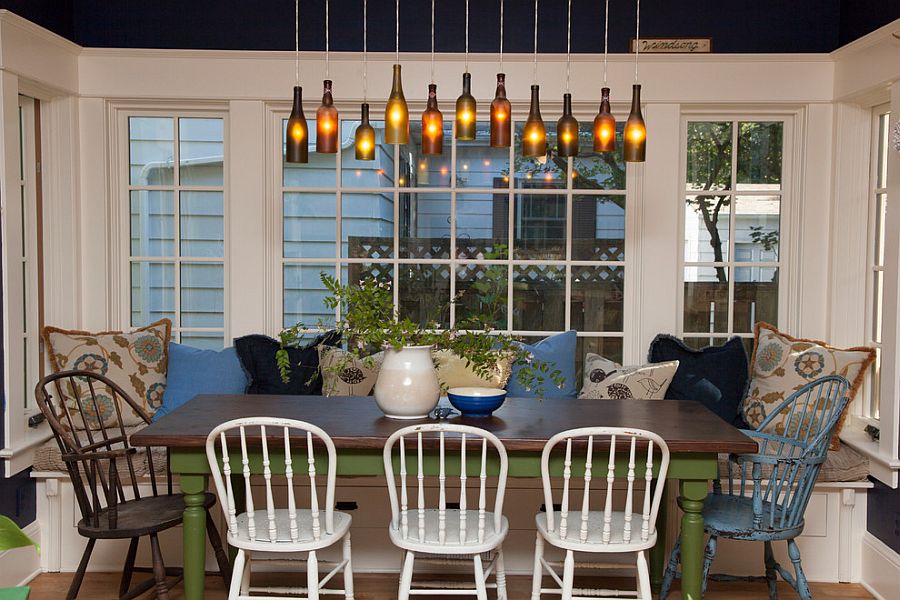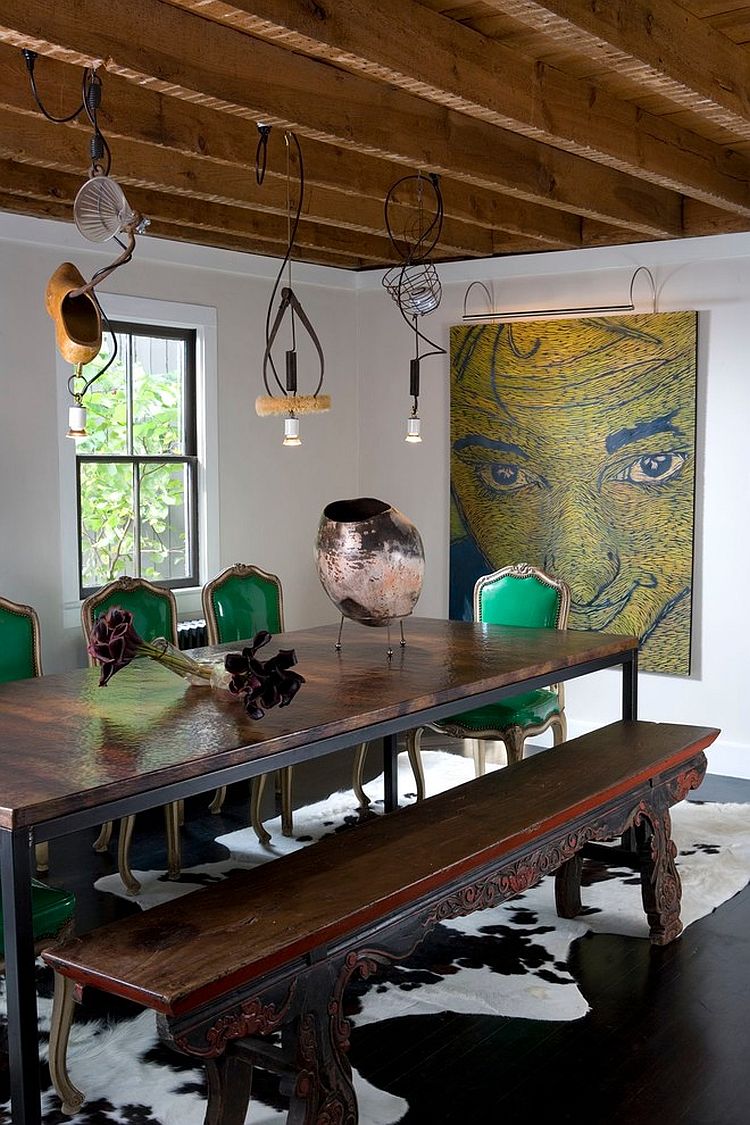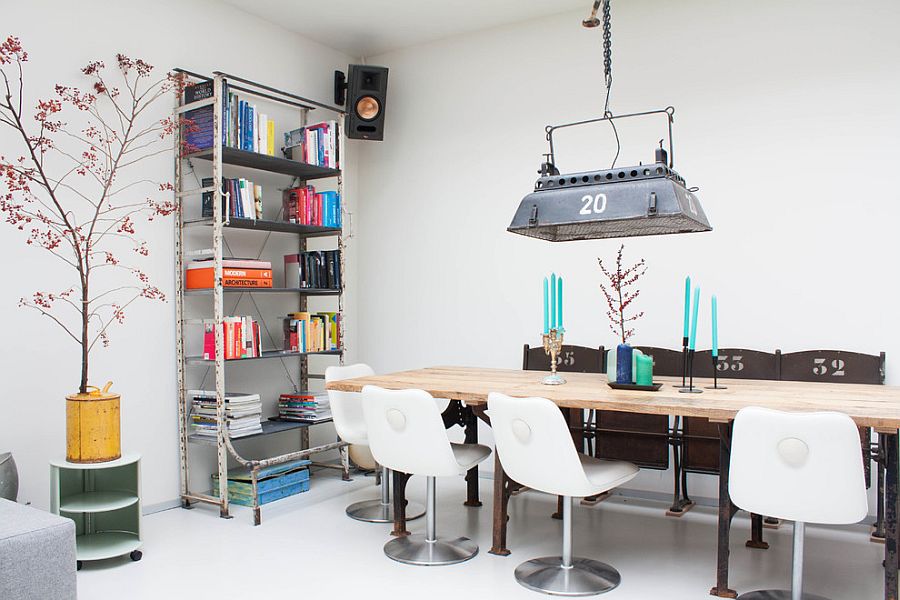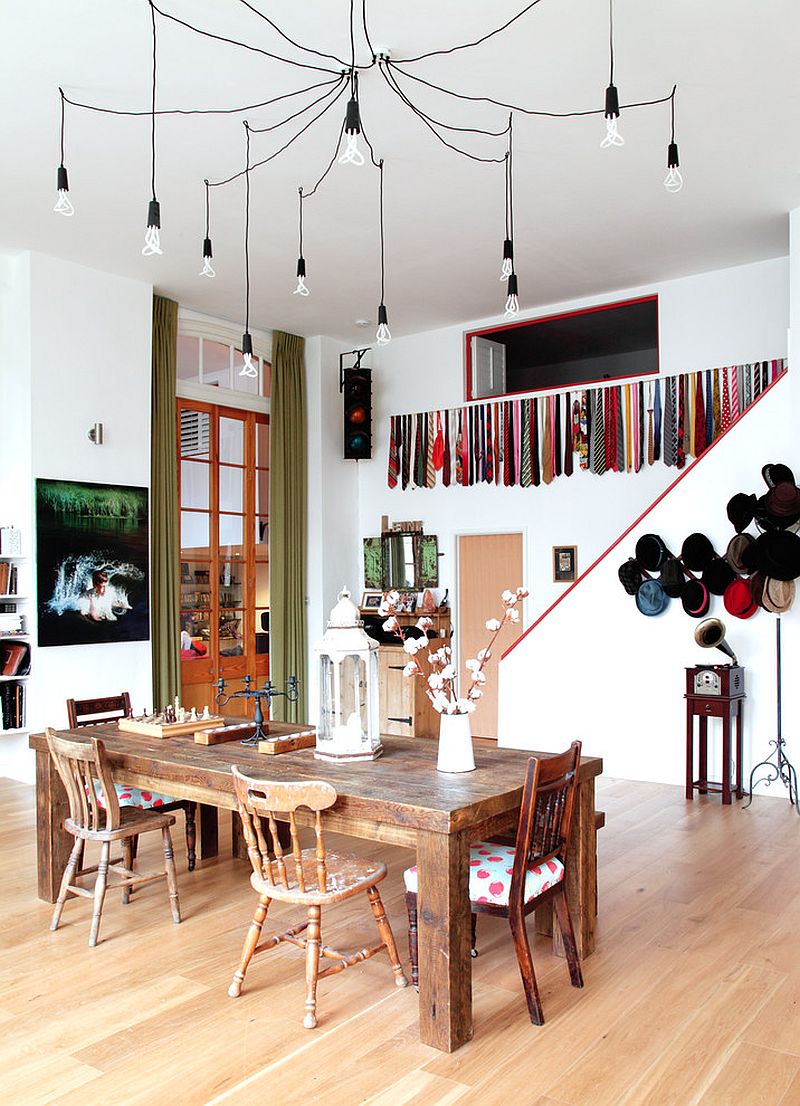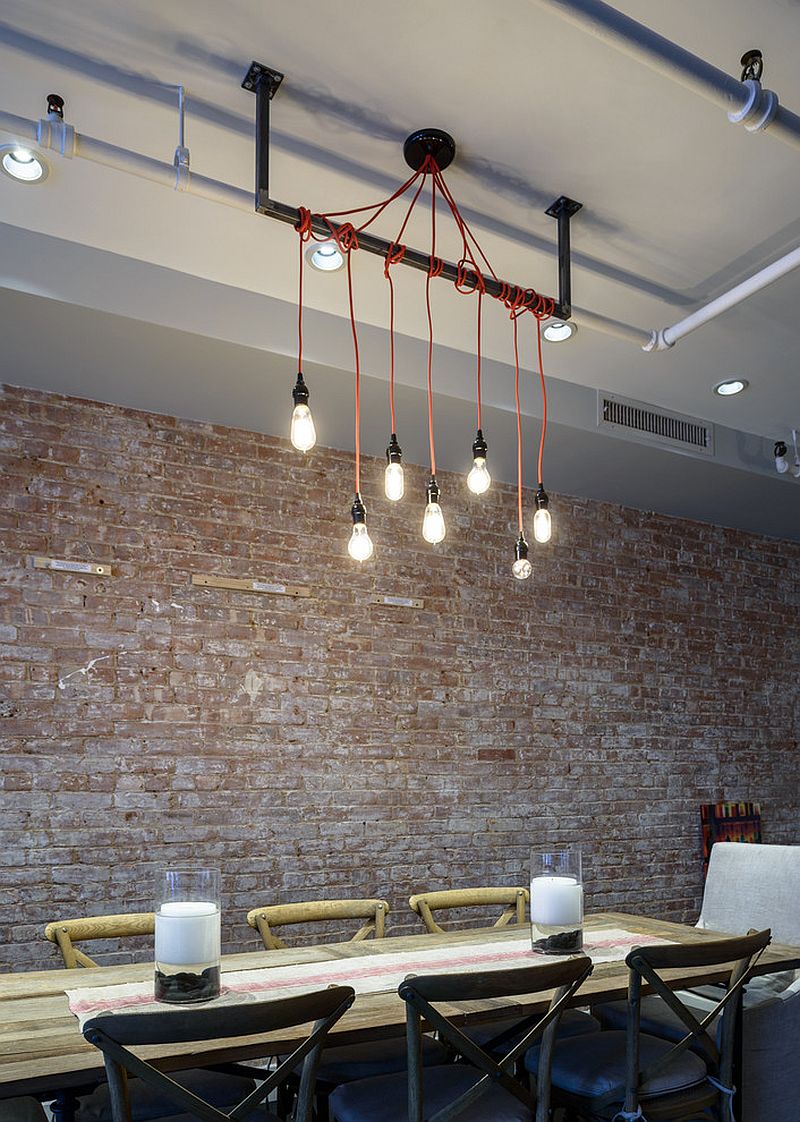 Textural Diversity
Every room needs something that does not quite fit in with the overall style and theme; an odd man out that draws your attention, brings excitement and adds uniqueness to the interior. Let the lighting fixture in your dining room play this role by bringing in an unexpected texture and outline to a carefully curated space. With stone, glass and other sleek polished surfaces dominating most modern dining rooms, a pendant that highlights a contrasting finish makes for a delightful addition indeed. The surprising little twist could come in the form of trendy metallic lighting fixtures, a festive branch chandelier or ceiling lamps with a soft, natural vibe; take your pick!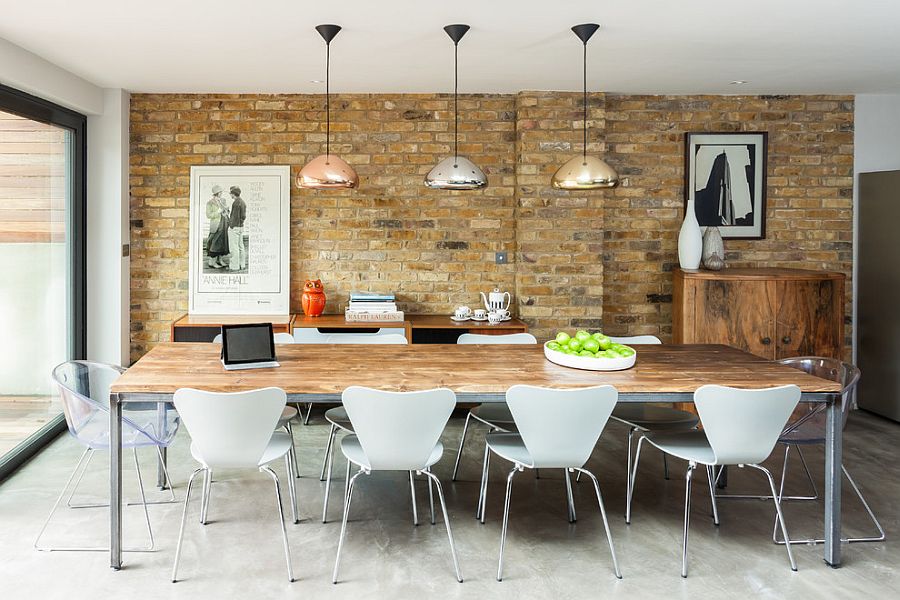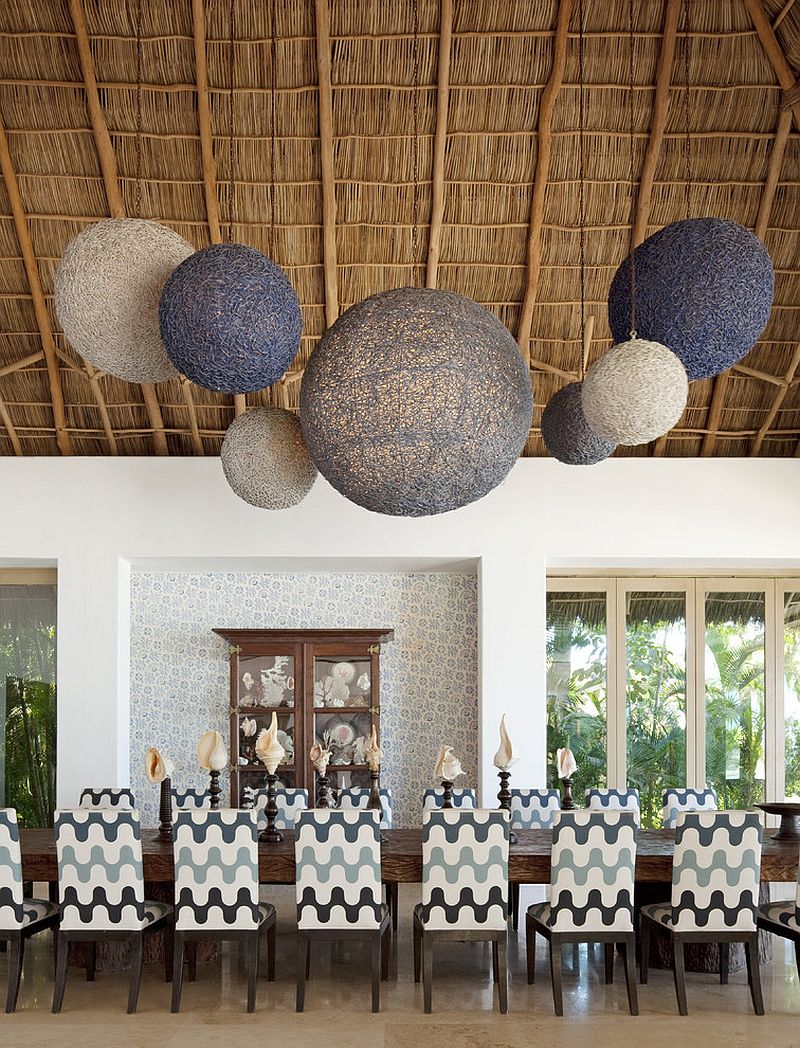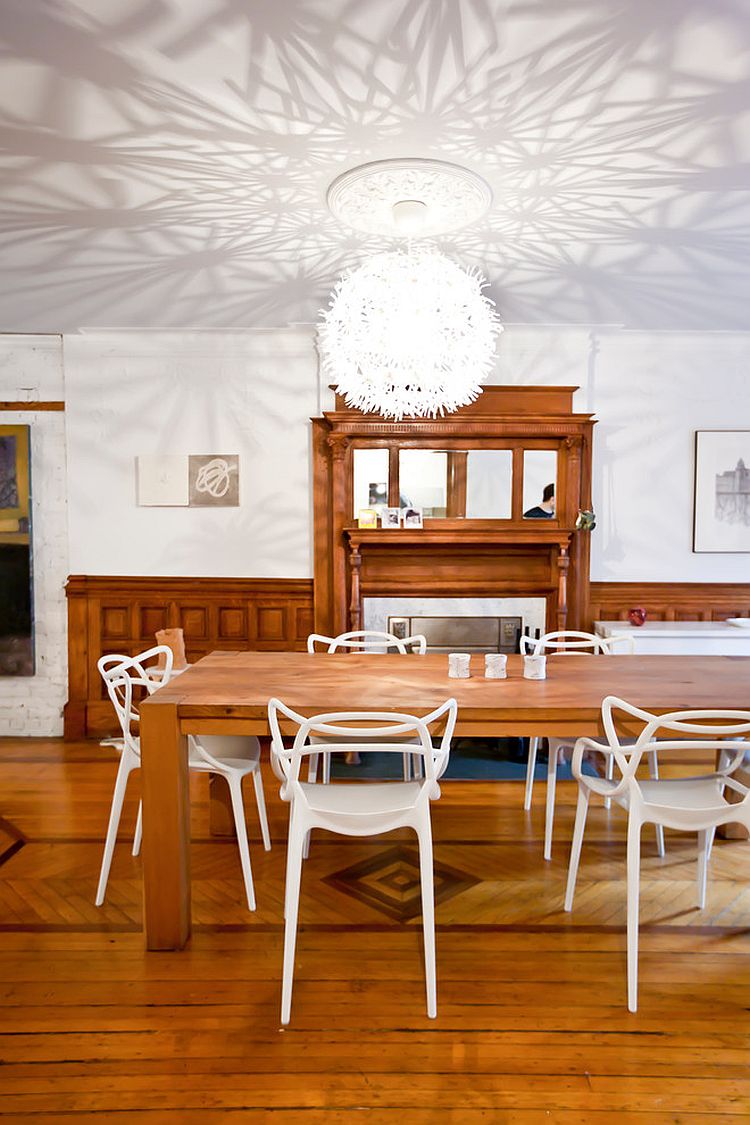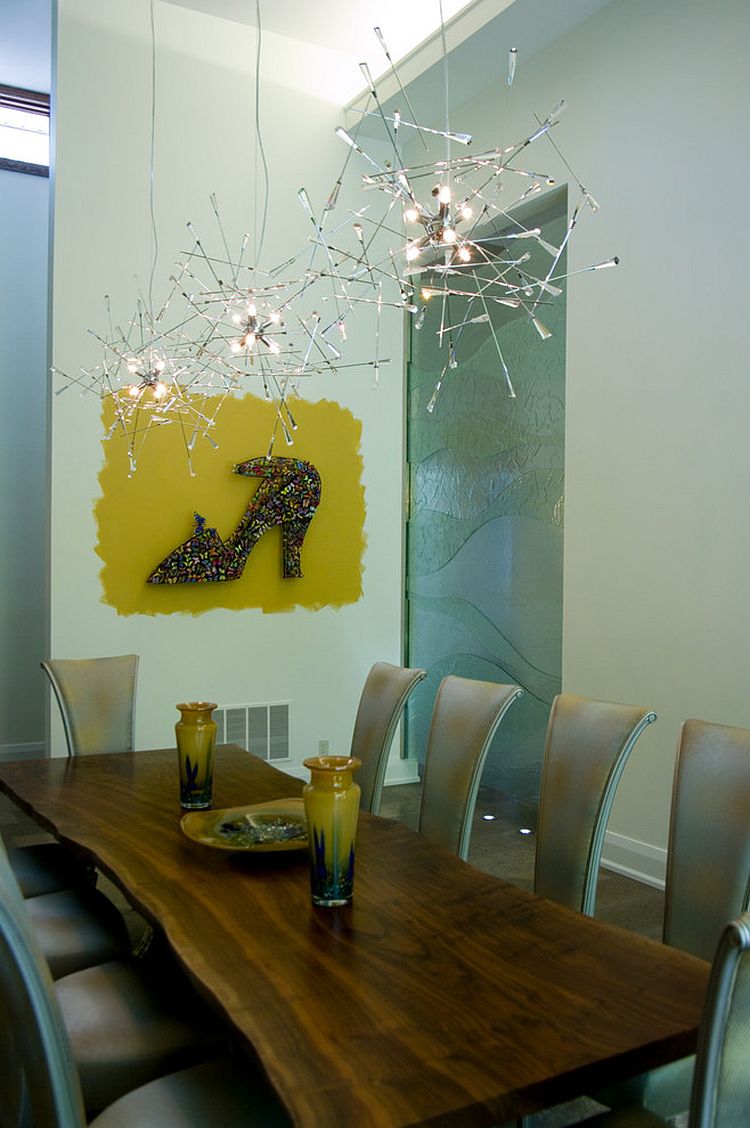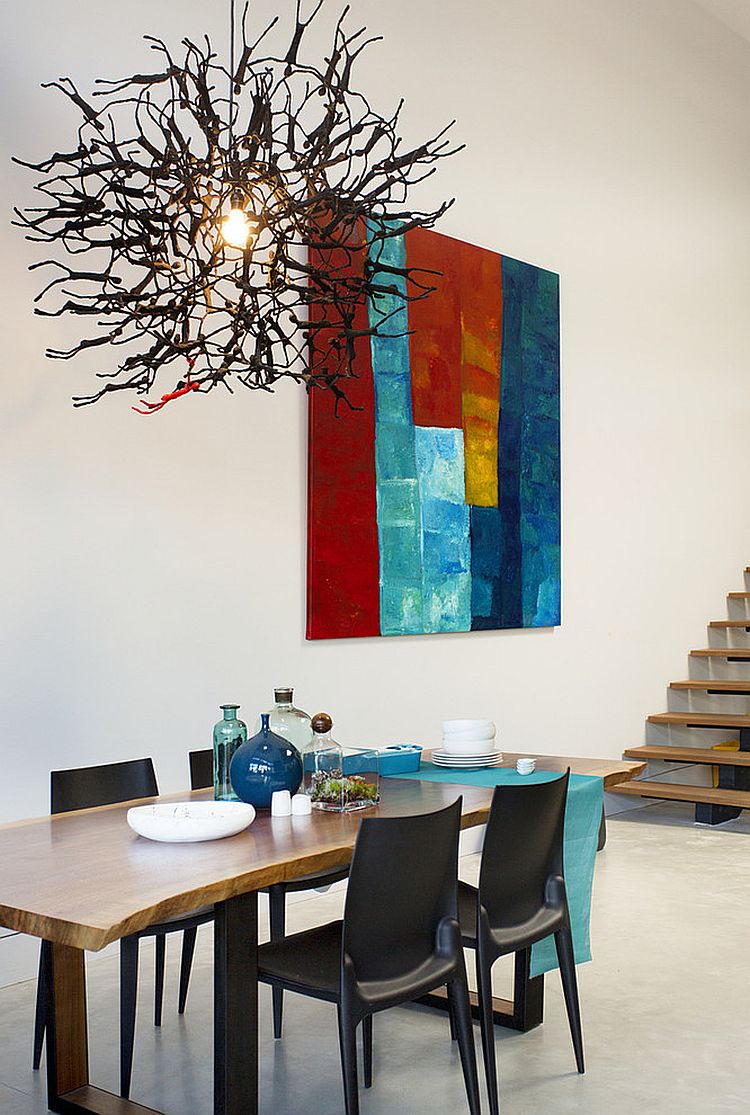 Shapes and Shades
If you have not already noticed it, creative dining room lighting is as much about the shape and style of the pendant itself as it is about the illumination. And one of the hottest current trends is geo design, which places emphasis not just on the obvious geometric pattern of the lighting fixture, but also brings along with it a certain sense of inherent minimalism and sculptural artistry. Even as standalone pieces, these pendants steal the spotlight with absolute ease! If you are going down the more classical path with specific themes such as Mediterranean, farmhouse, Victorian or rustic, then beautiful fixtures like the Giltspur Chandelier make more aesthetic sense.