When it comes to easy DIY projects, few match the warmth and ease of those involving reclaimed wood. Reclaimed wood DIY ideas are all about combining your crafting skills with a love for all things natural and green. Yes, there is the added advantage of helping out nature by reducing reliance on fresh wood for interior décor. Beyond that, you give your home an addition that feels organic and gives that 'something unique' in terms of a smart focal point. This is a collection of the 45 best and most planet-friendly reclaimed wood DIY crafts around –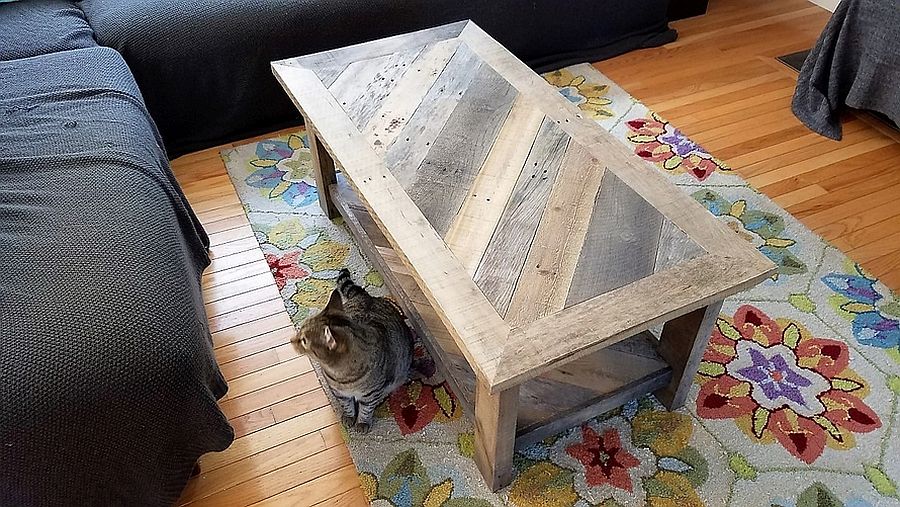 Finding the Right DIY Decorative Pieces
We start off with a look at the best DIY reclaimed wood projects that add style and aesthetic charm to your home with ease. It is not very hard to bring beauty to the contemporary interior using reclaimed wood and the easiest starting point is the accent wall draped in it! It is also undoubtedly the most eye-catching of all decorative wood DIYs. It is hard to miss this multi-hued beauty. In addition to using reclaimed wood, you can also be eco-friendly by using scrap wood to create beautiful decorative pieces.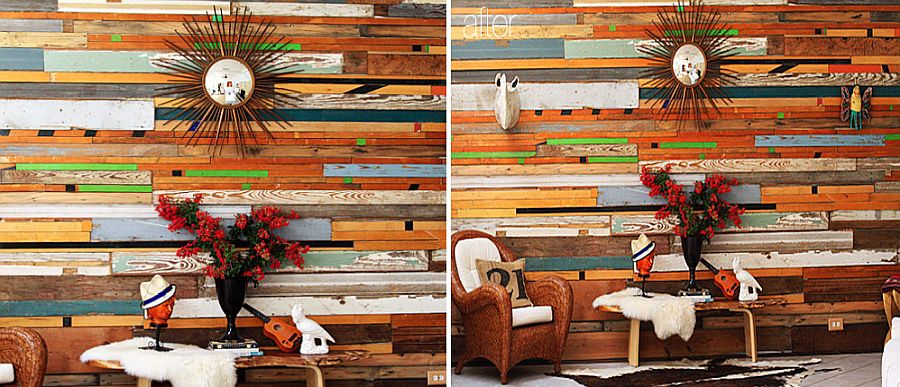 RELATED: 25 Awesome Bedrooms with Reclaimed Wood Walls
Combining wood, concrete and stone in an effortless manner are these trendy DIY picture holders that make quite a visual statement. Here reclaimed wood can even play second fiddle to the other material you choose and these photo holders also add geo style in an understated fashion. An easy DIY that takes little time to make.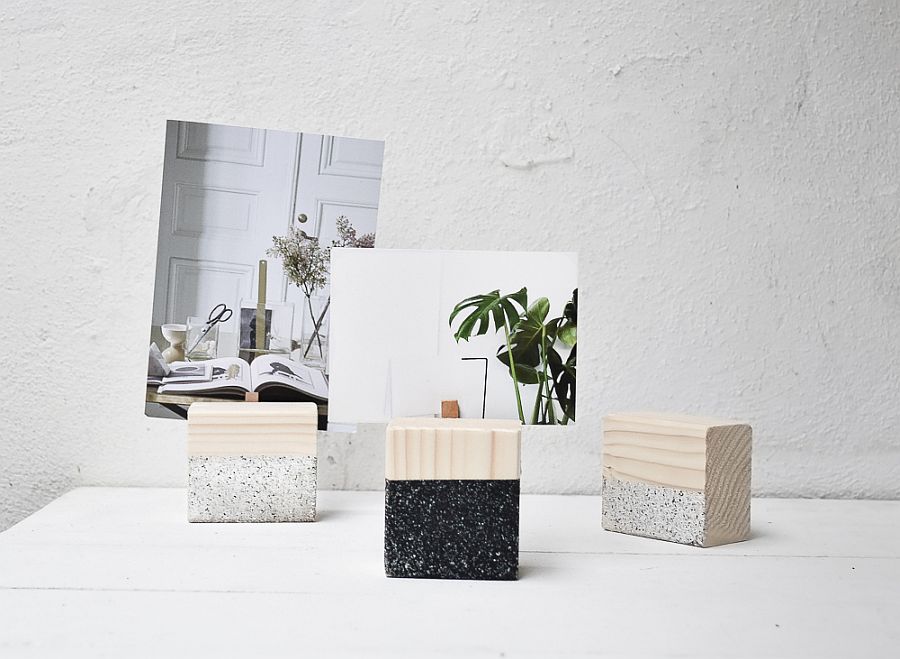 There are times when all those modern pendants and chandeliers become a bit too much and you want something far more rustic. This reclaimed wood candle lantern fulfills this wish of yours and does so in a classy and easy manner. All you need here is reclaimed wood, a few candles and other decorative material to get the job done.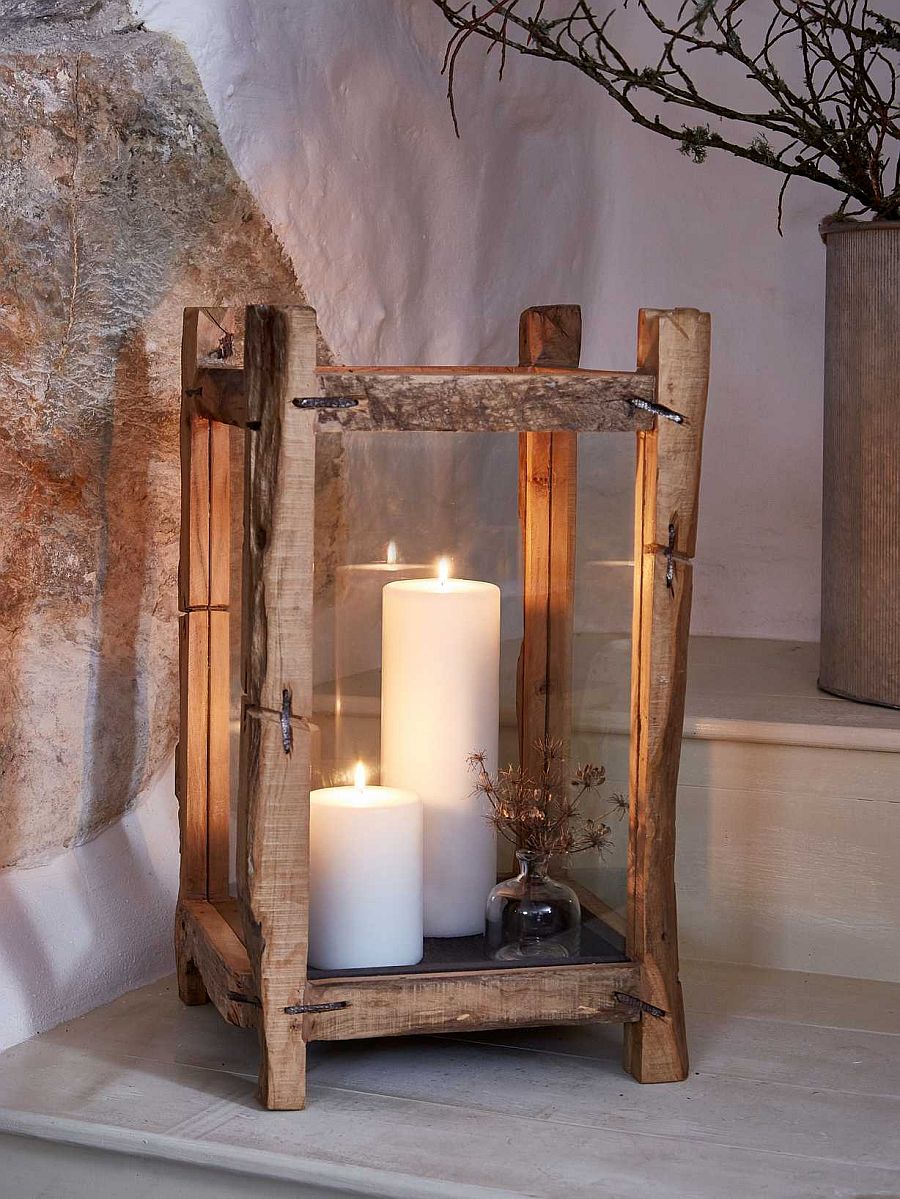 Much more striking and unique is the large wooden clock crafted from reclaimed wood. Once again, you can easily make one of these and give it a twist of your own at the end. We also love the idea of replacing your usual numbers with roman numerals for a more classic, farmhouse vibe.
It is the fireplace and the walls around it here that embrace reclaimed wood here. This is an idea for those who truly love the presence of wood in their living room and adding a feature like this gives the room an instant focal point. You can see how the woodsy fireplace stands in contrast to the more vibrant and contemporary room around it.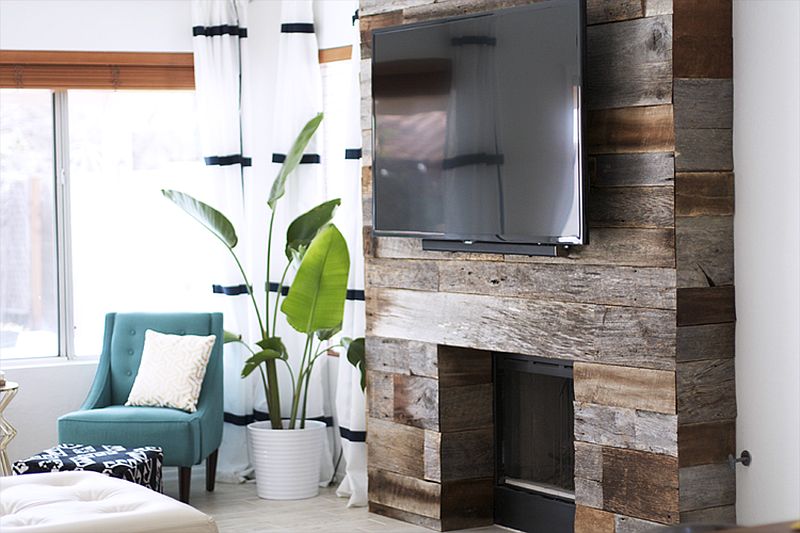 When it comes to cool art pieces, the two inspirations below are absolutely top-notch. While one adds abstract beauty to the room with a random combination of reclaimed wood pieces, the other spells out JOY in a truly captivating fashion. Be it the festive season or otherwise, these artistic reclaimed wood DIYs spread cheer all year long.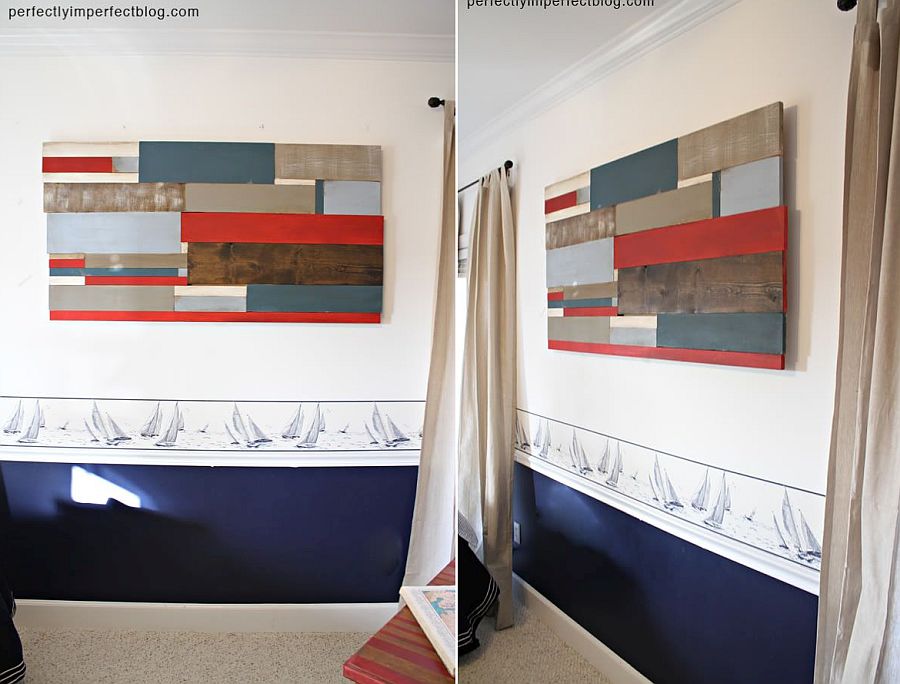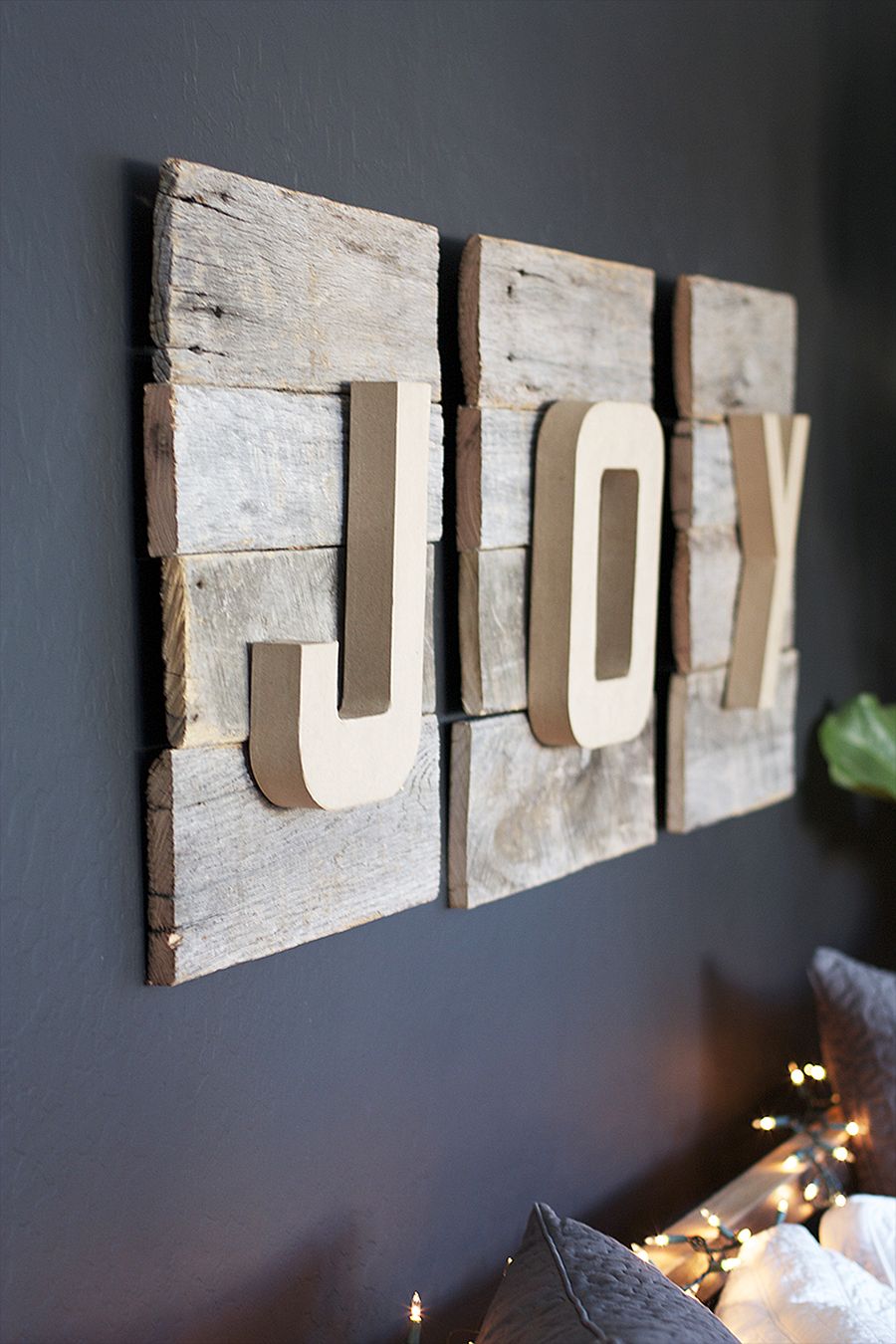 The barn wood house number sign is arguably the easiest and most effortless creation among all in the list today. It feels so very organic and adding it to the front yard or even the home façade elevates the space almost instantly. A must-try that takes very little in terms of both time and resources.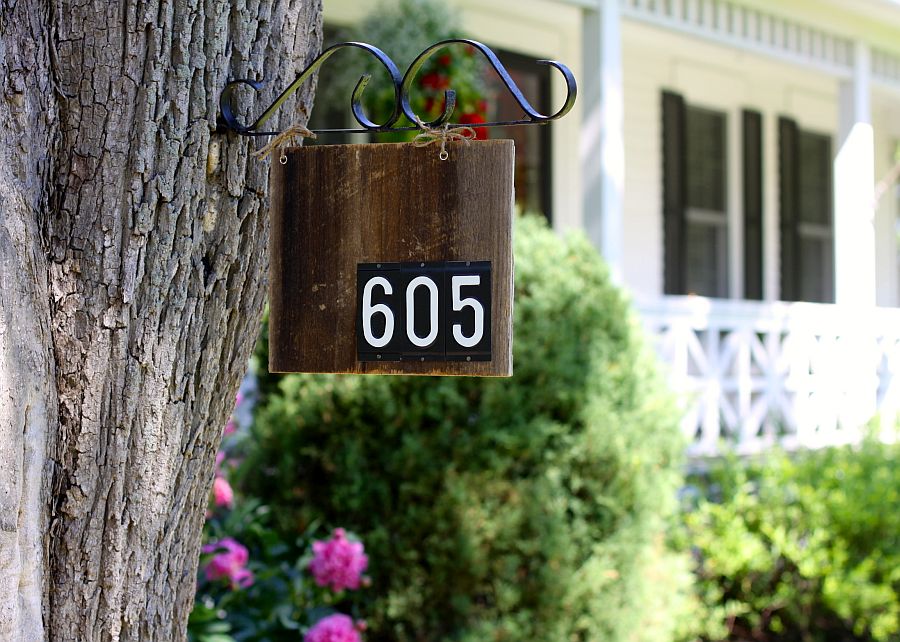 Adding rustic touch to the modern home is the DIY reclaimed wood mirror with octagon frame; a project that brings both textural and geometric contrast to the modern interior. A mirror, reclaimed wood and those old tools in the garage are sufficient to make one of these over a leisurely weekend.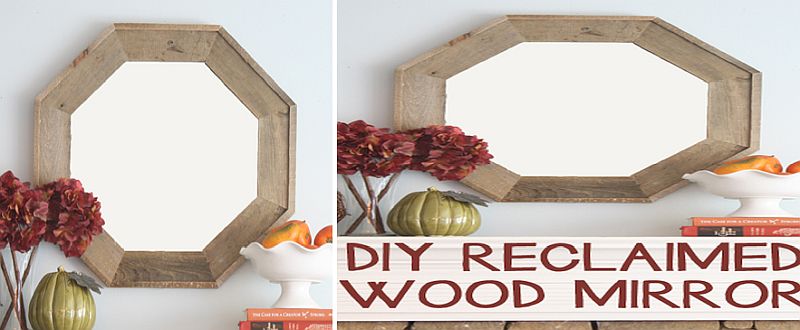 Bedroom DIY Reclaimed Wood Ideas
Adding a few of these awesome DIY recycled wood creations to the modern bedroom completely alters its appeal and makes it a lot more 'homely'. Some of these are even more apt for the master bedroom where the line between the bathroom and the bedroom is so very blurred. The towel rack made from wood is one such fab idea while the rustic barn wood bed is a much more dashing and apparent addition that steals the spotlight.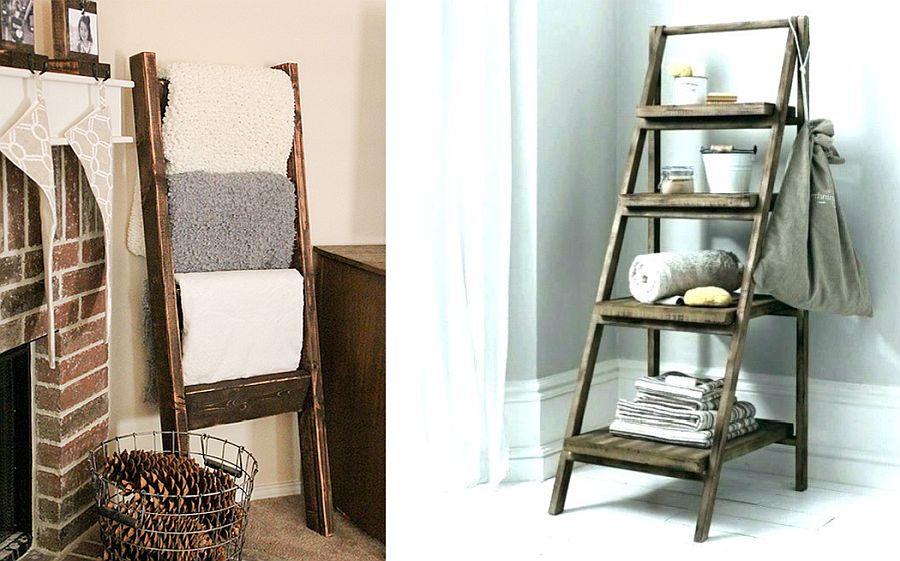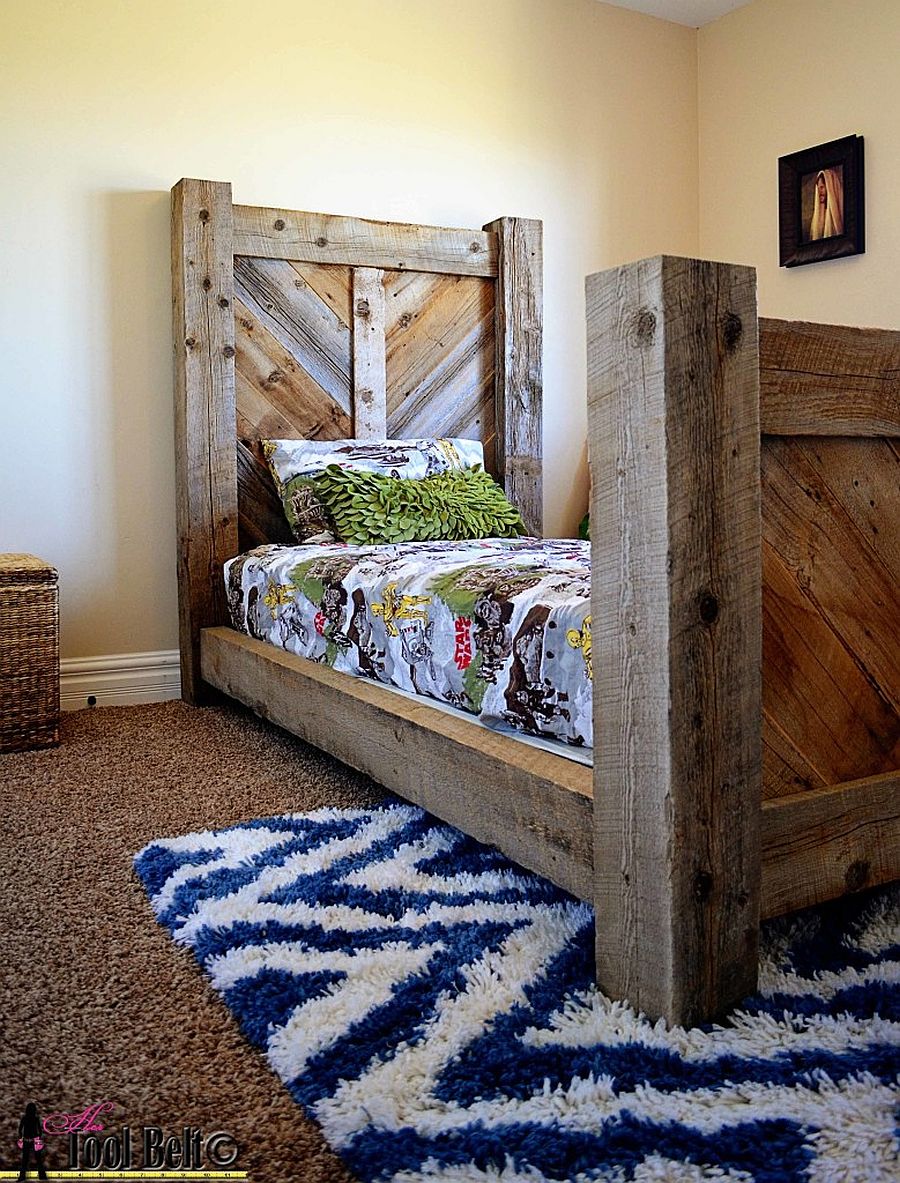 Looking for a place to hang your jewelry in style? The barn wood jewelry holder takes little time to create and its rustic-chic appeal is absolutely undeniable. This space-saver can be hung pretty much anywhere and with its neutral color, it can fit into every bedroom with complete ease.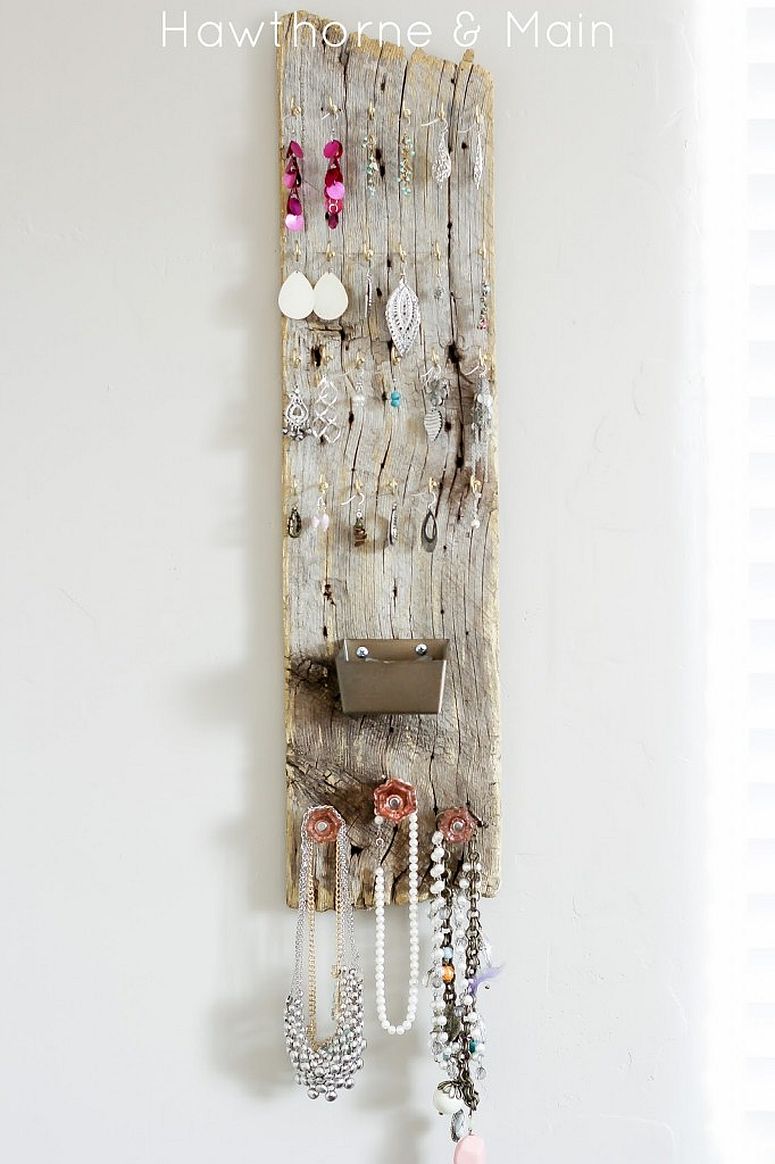 One DIY reclaimed wood idea that will alter your bedroom forever is the custom-crafted headboard with a pattern of its own. It's smart, striking and once again, the warmth of wood takes over the entire room. Complement it with other décor that features distressed finishes and you have a more curated and inviting bedroom.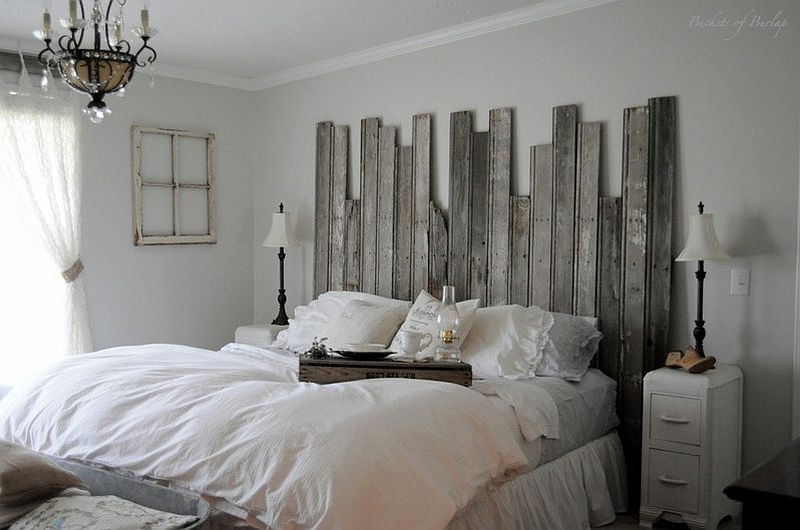 Searching for an artistic addition to the bedroom that is a bit out there but is perfect for the spooky Halloween season? Check out the reclaimed wood pallet art piece below to draw ample inspiration. You just cannot miss this one no matter where it sits!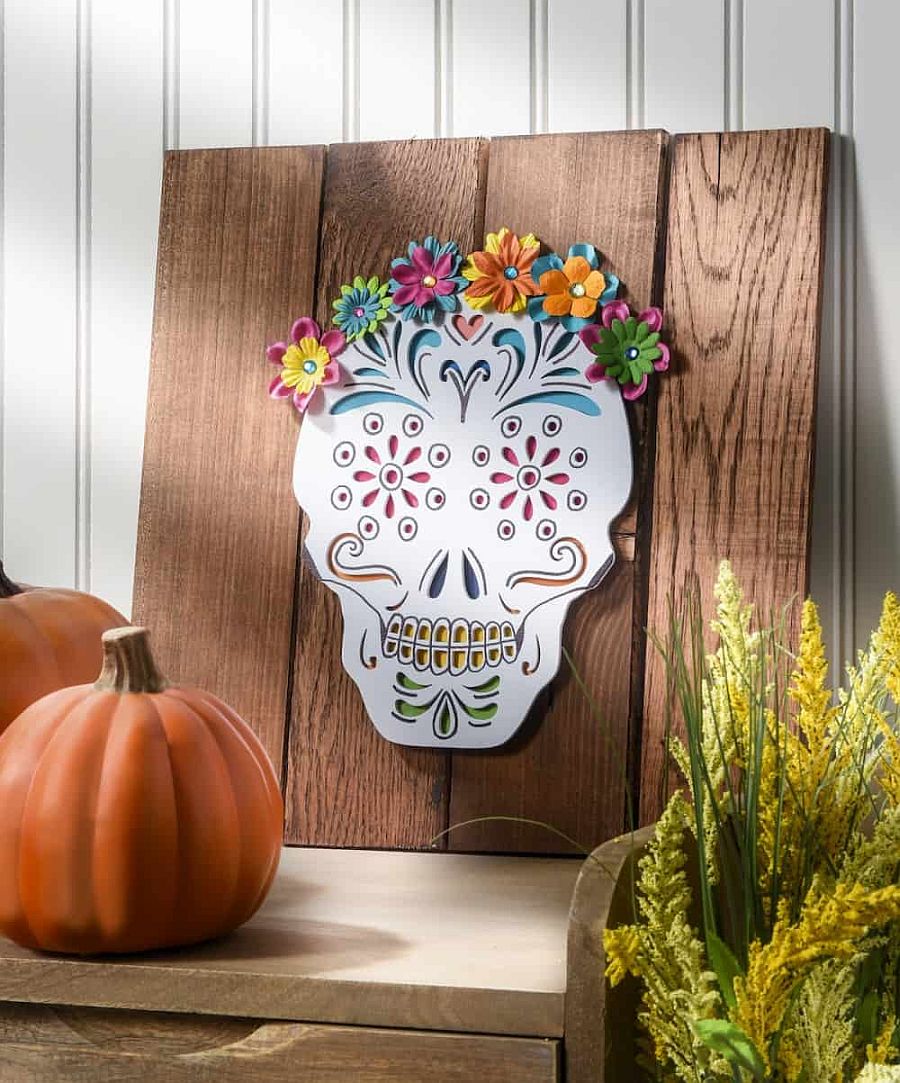 Love to spend hours in the bathtub? Looking for a place to put your favorite book or that glass of wine as you take a refreshing soak after a long, hard day? Not to worry as a simple little wood table for the bathtub can do all those and without costing you a dime! This is an idea we intend to try out as soon as possible.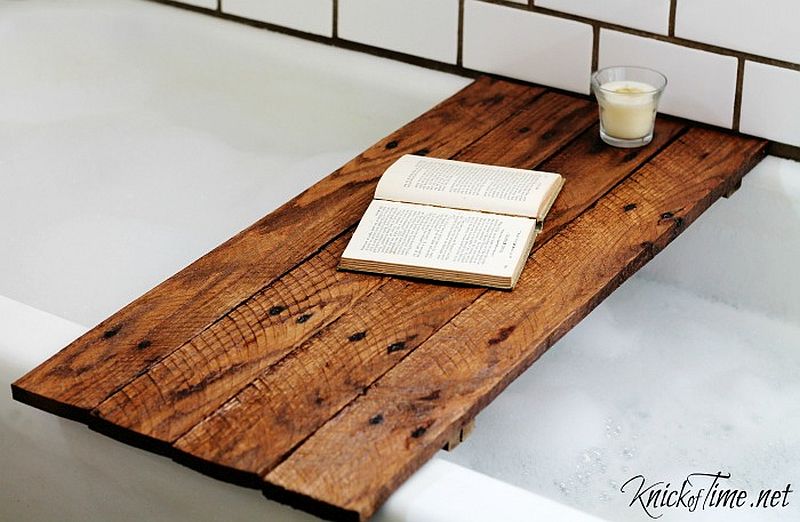 From the bathtub, we move on to the bed again and we once again have a headboard crafted from reclaimed wood that makes a bold visual statement here. This one feels farmhouse chic and fits in well with an eclectic appeal as well. Keeping the rest of the room neutral gives it a more prominent place in the light-filled bedroom.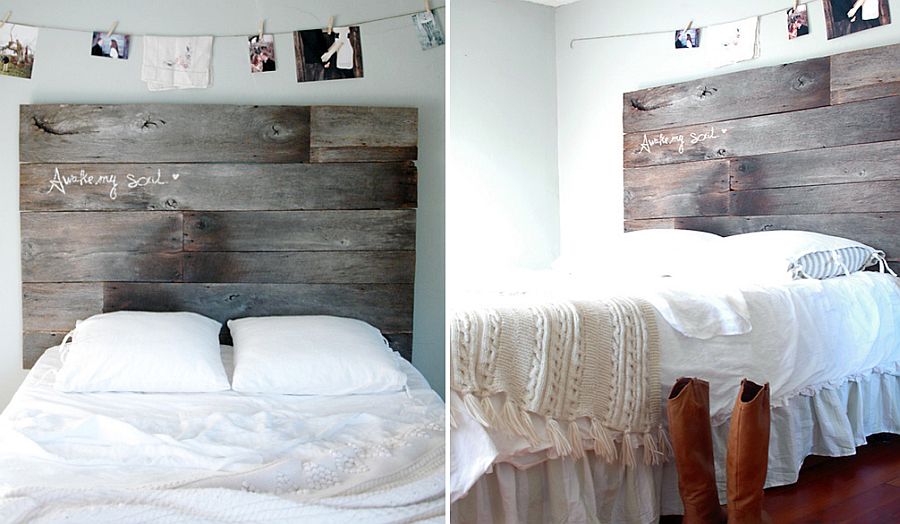 From the more aesthetic additions, we move on to DIY reclaimed wood projects that add more space and improve storage options in the bedroom. Transforming an old shelf into a gorgeous nightstand is one such smart idea. Another relies on adding additional storage to the bedroom by utilizing the space underneath the bed. Here, a series of wooden boxes crafted perfectly to suit the dimensions of the place under the bed get the job done.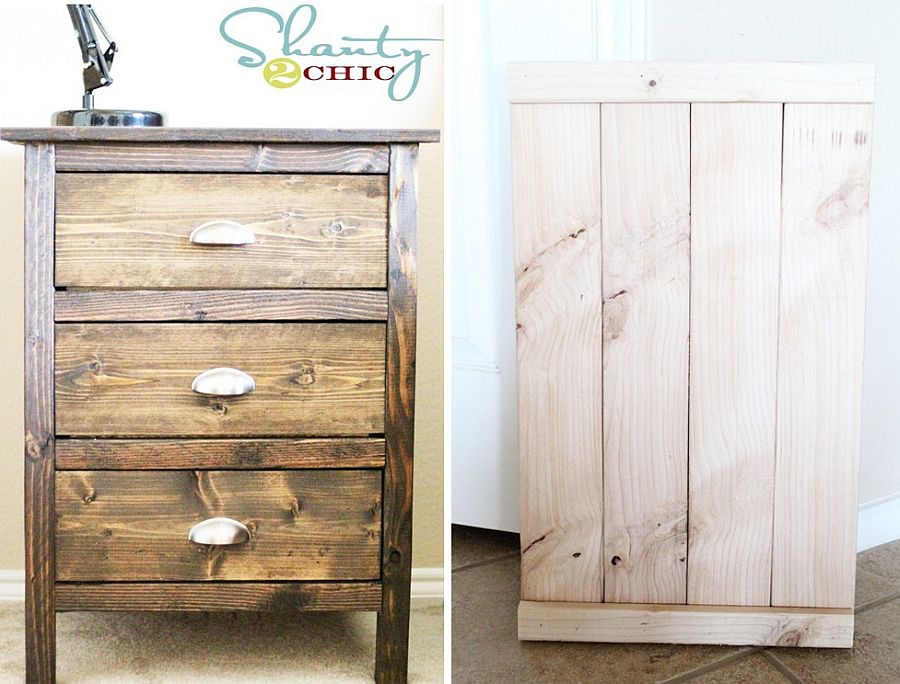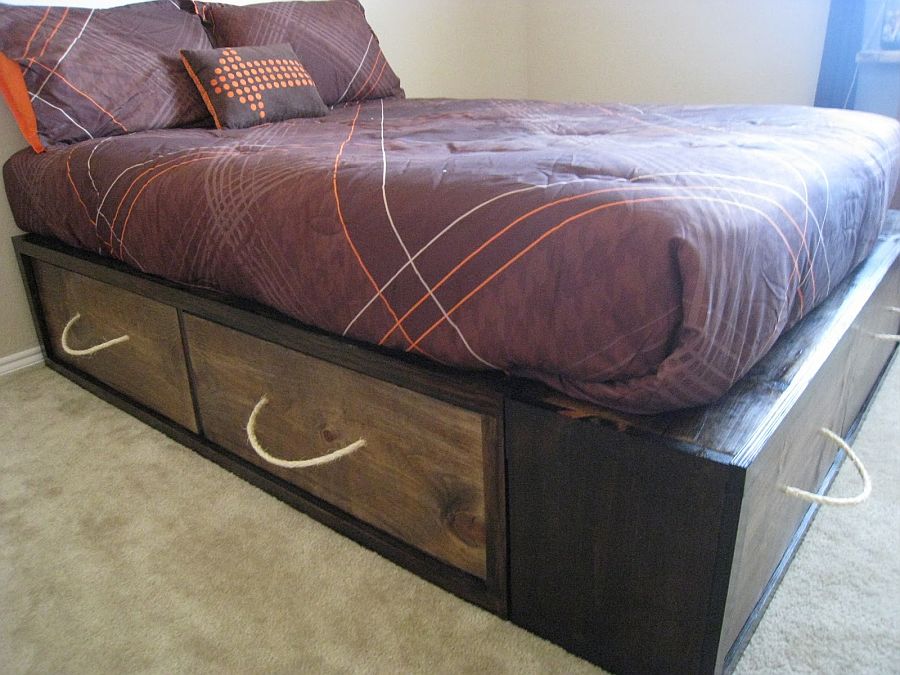 Easy DIY Reclaimed Wood Projects
Bedroom DIYs definitely demand a higher level of crafting skill and creating a headboard from reclaimed wood is surely not a project for everyone. That is why we have also brought together some simple and easy DIY ideas that our readers with budding DIY skills can dig into and enjoy. And few among these are as easy as the serving tray made from reclaimed oak that you see below.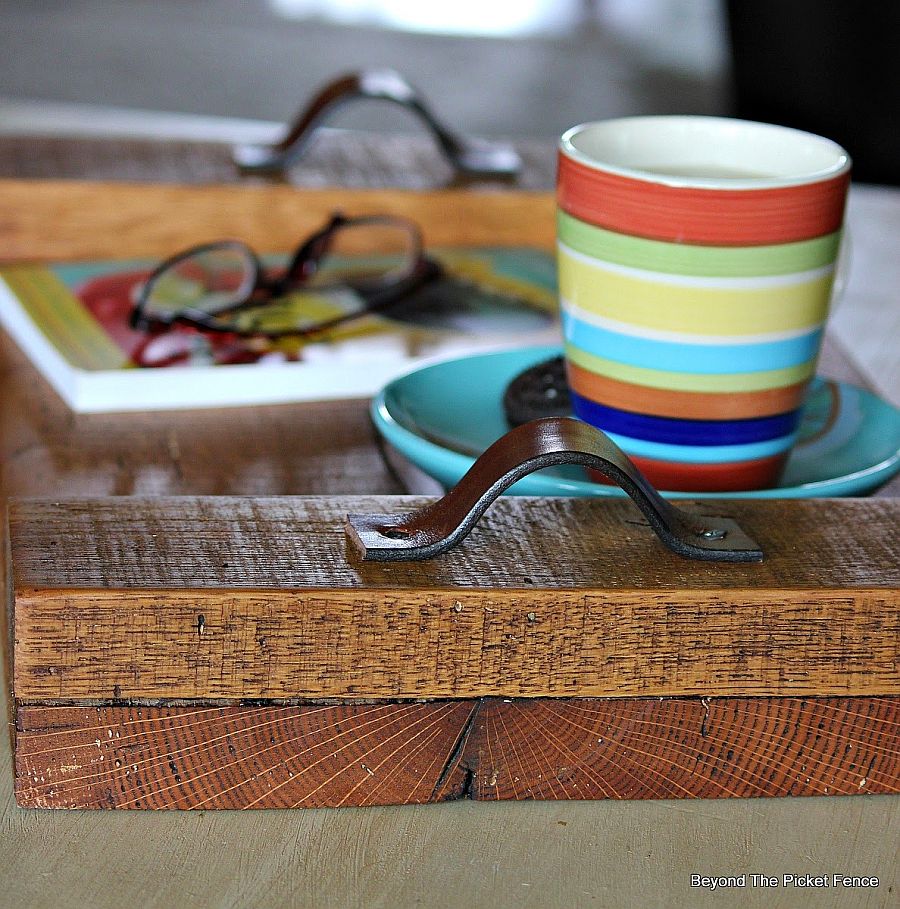 RELATED: Salvaged Style: 10 Ways to Transform Your Bathroom with Reclaimed Wood
This is our favorite among all the easy reclaimed wood DIYs as it offers the most in terms of functionality and demands relatively little effort. Industrial-style shelves in wood and metal are currently a hot trend and you can get in on this with this step-by-step tutorial that helps you in making one as well!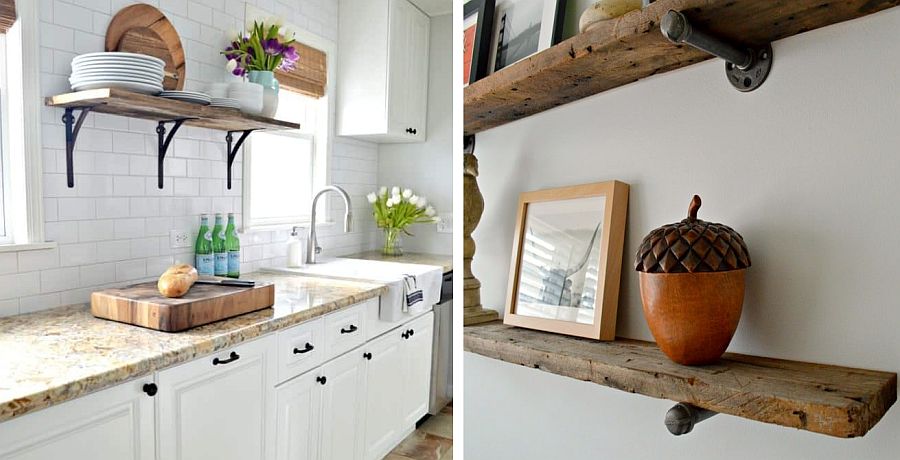 These oversized DIY wooden dice are just too much fun to miss out on! They are so striking and yet classy that you will have all your guests asking you about how to create their own wooden dice and a simple and elegant wooden entry table with metallic base complements them perfectly. Two DIYs that make a good first impression!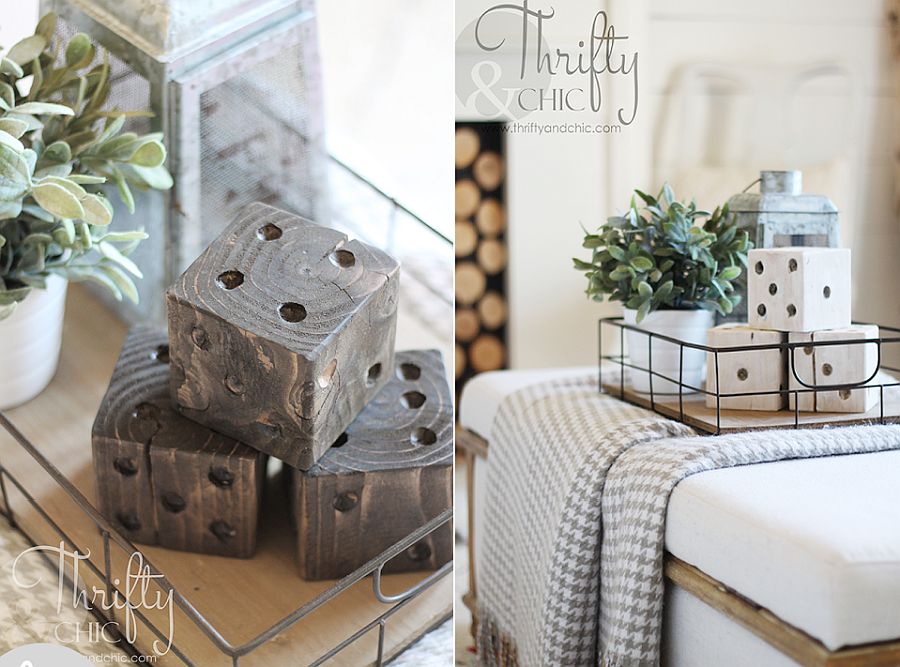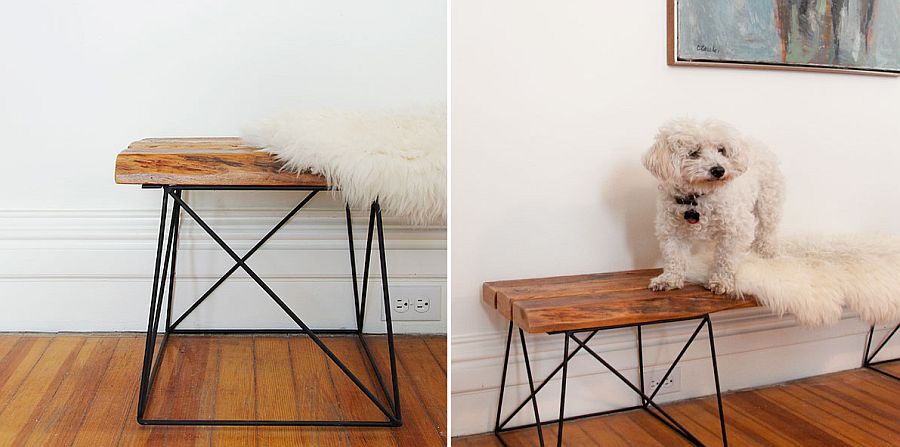 Searching for ways to add a bit of green to your home? Then the reclaimed wood planter does this in more ways than one. For starters, it makes use of old wood while you also get to improve your home ambiance with a lovely indoor plant. Of course, you can take this outdoors as well, depending on your specific need,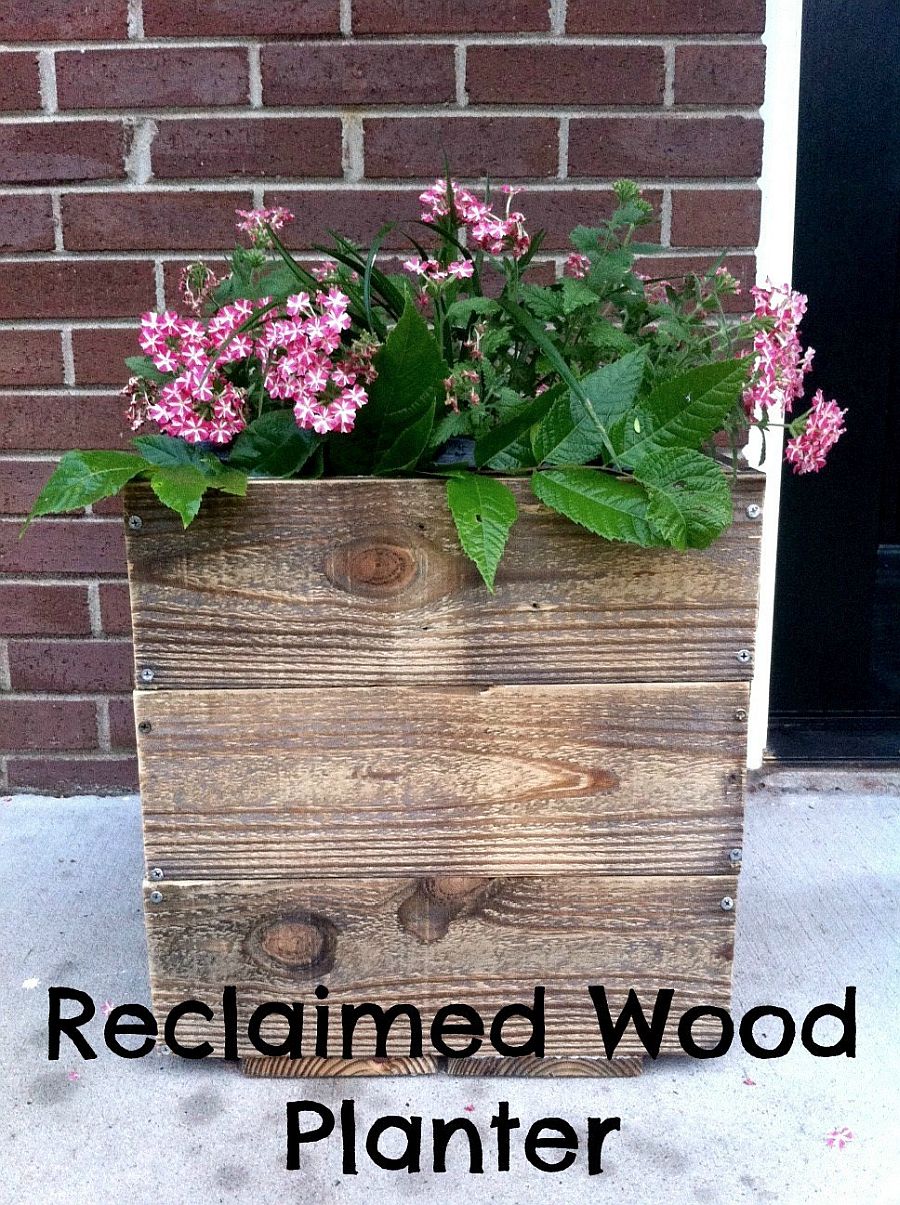 Natural wood candle holders have a charisma that makes them perfect for dreamy evenings and holiday dinners. This is just what you get with these DIY wood candle holders that can be made even from a simple, strong branch of a tree.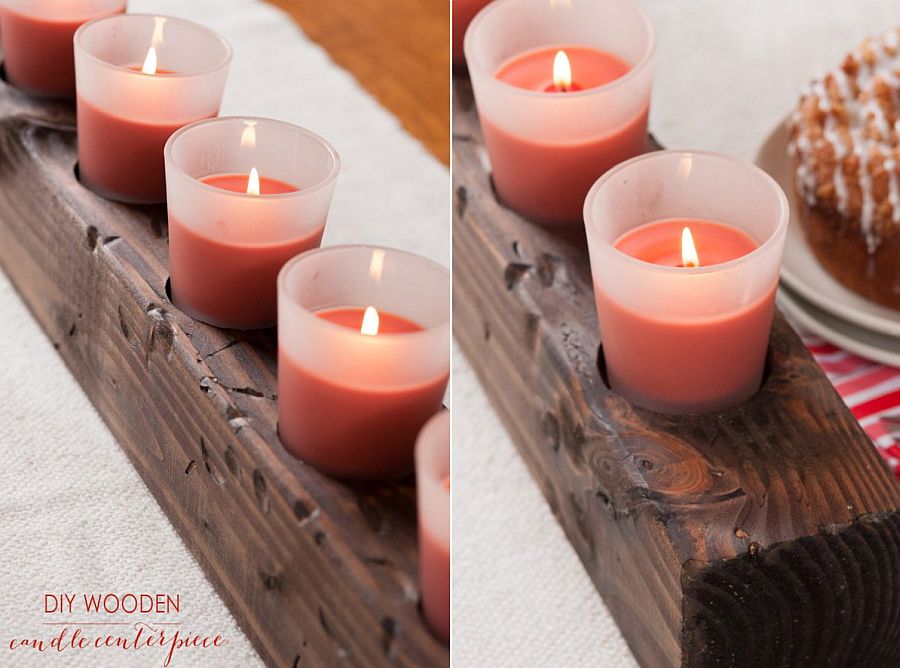 Two other brilliant crafts for the holiday (or even regular) dinner tables are the wooden box centerpiece that seems stylish and cozy at the same time and the fall-themed DIY coasters. With the DIY coasters, you can just alter the motifs to give them a theme that you want.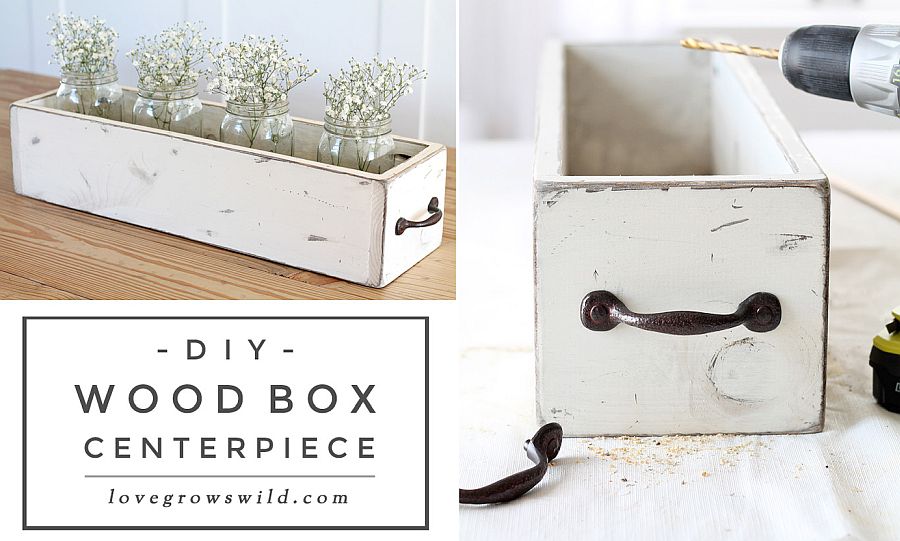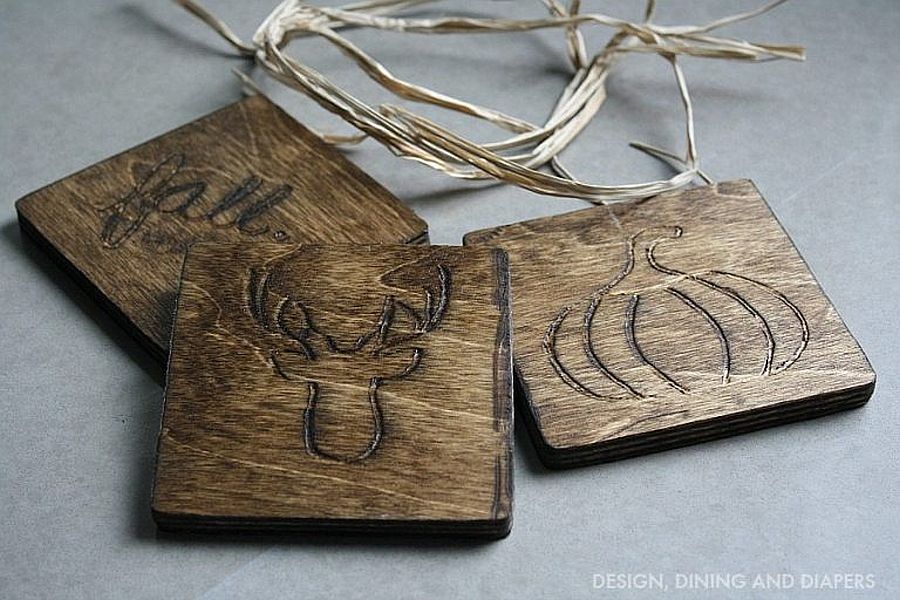 Organizational Ease with Warmth of Wood
Combining storage and desk space with the beauty of reclaimed wood, the pallet desk DIY project is well worth the time and effort that goes into it. This feels so much like a store-bought addition when done right and you can use this DIY guide to create more tables than one for different tasks.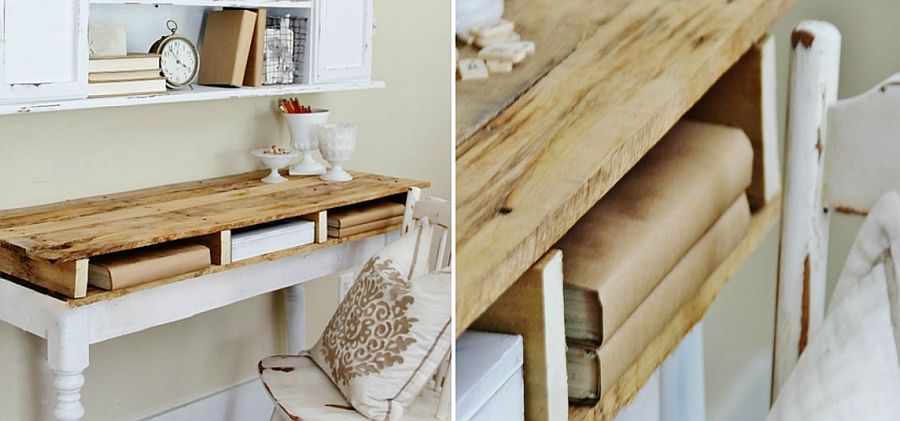 RELATED: 25 Ingenious Ways to Bring Reclaimed Wood into Your Home Office
Finding an old chicken wire frame is not that hard and adding reclaimed wood to it gives you the ideal farmhouse-style message board with ample space to display everything you need. Find a few clips and hang up everything from list of groceries and photos to the latest artwork your kids have conjured up!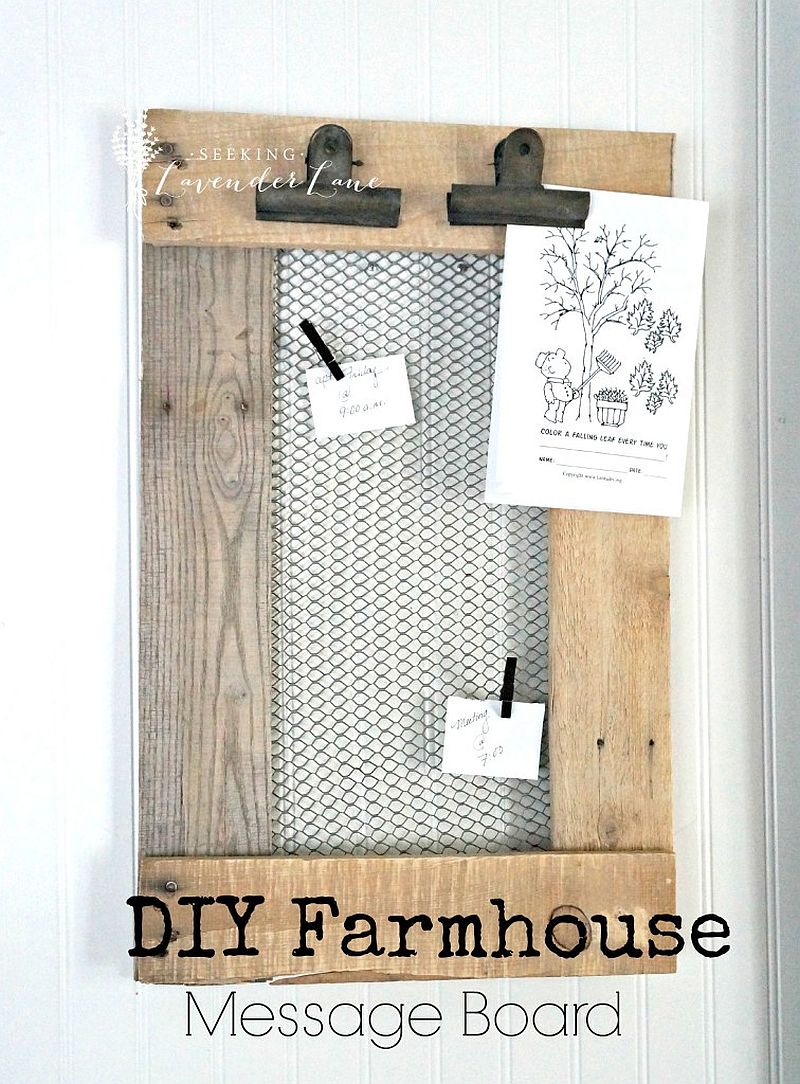 A more extensive reclaimed wood shelf like the one below takes a whole lot of time to make and the larger the shelf, the more effort required. This is a modular design of sorts and you can use the same DIY guide to create multiple shelf options. The DIY tutorial plan for the mail sorter is much simpler of course and both these ideas will make your home a whole lot more organized.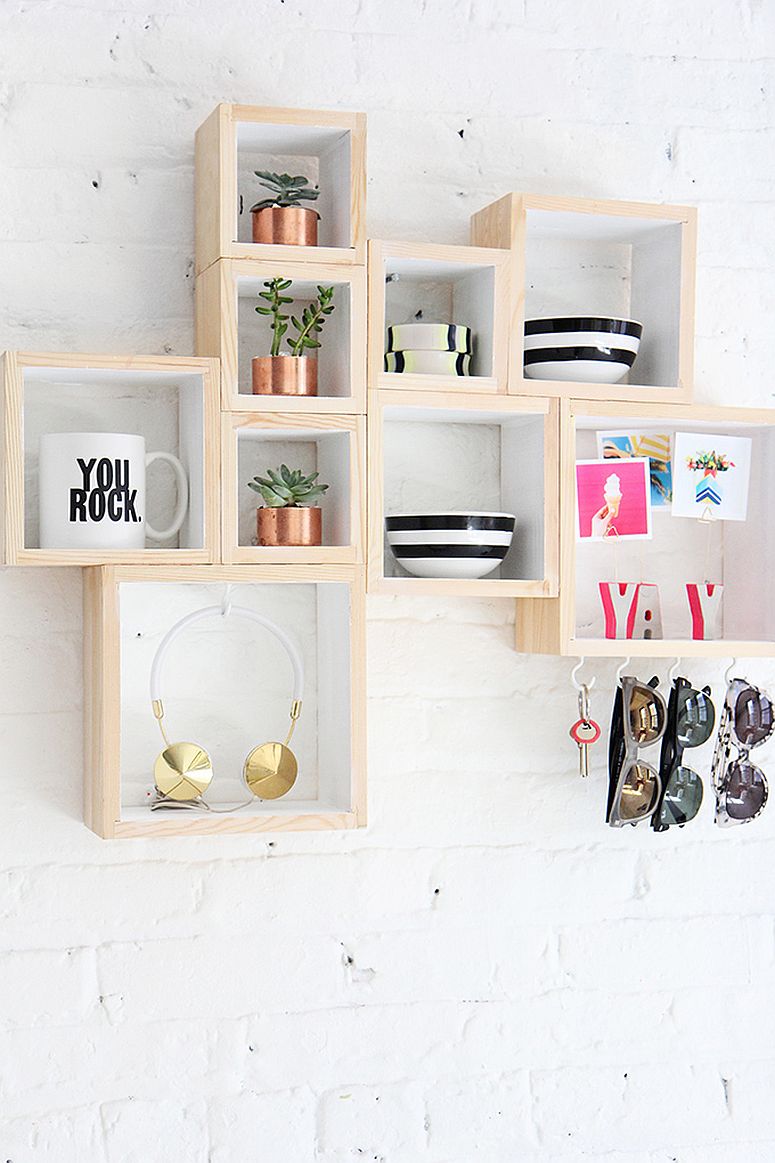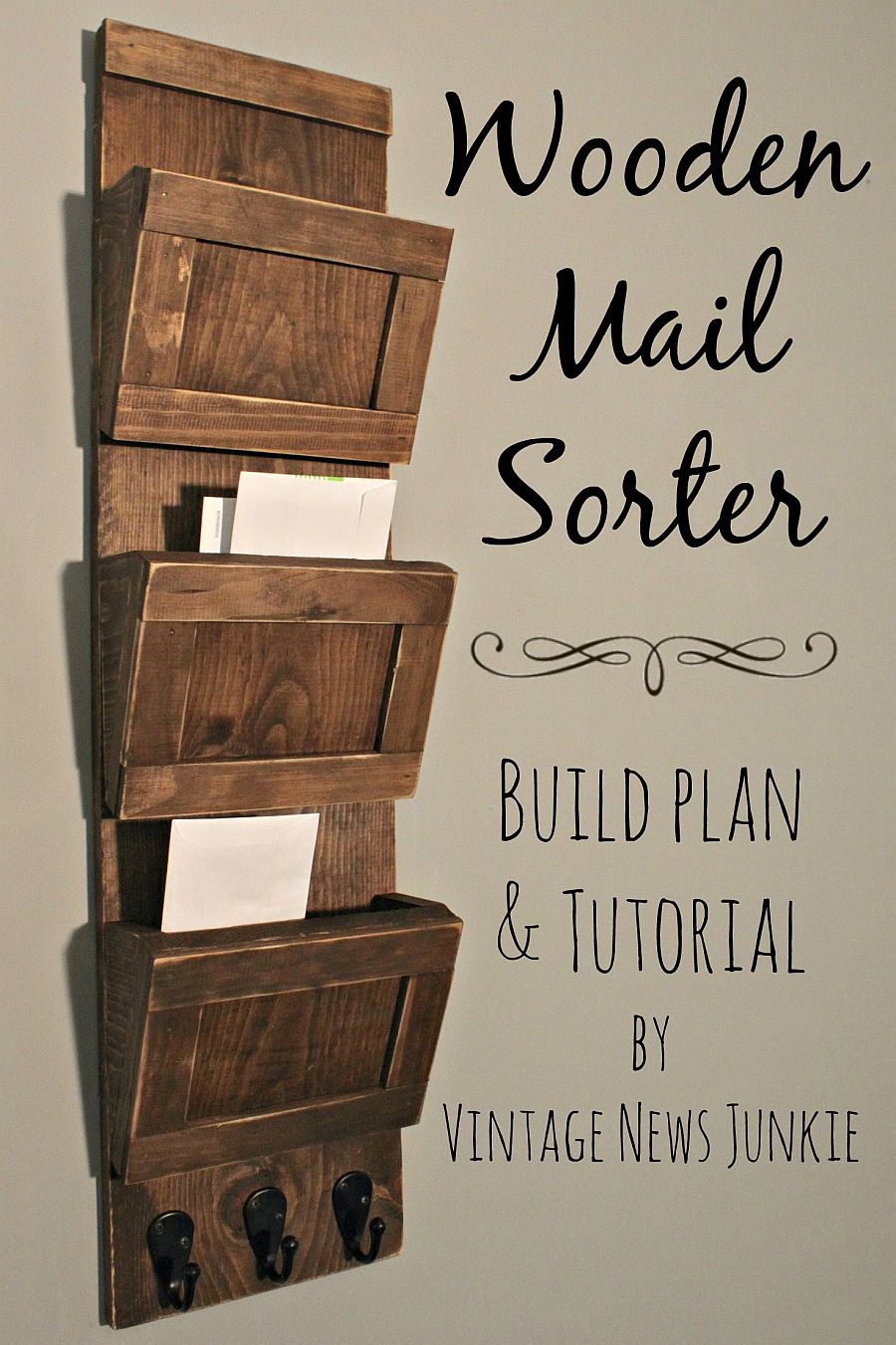 The kitchen pallet shelf is a favorite for those who wish to add some extra shelf space in the kitchen without splurging a fortune. This looks as good in the modern kitchen as it does in the traditional or rustic home. Everything from our spices to pickle jars can go in here with ease!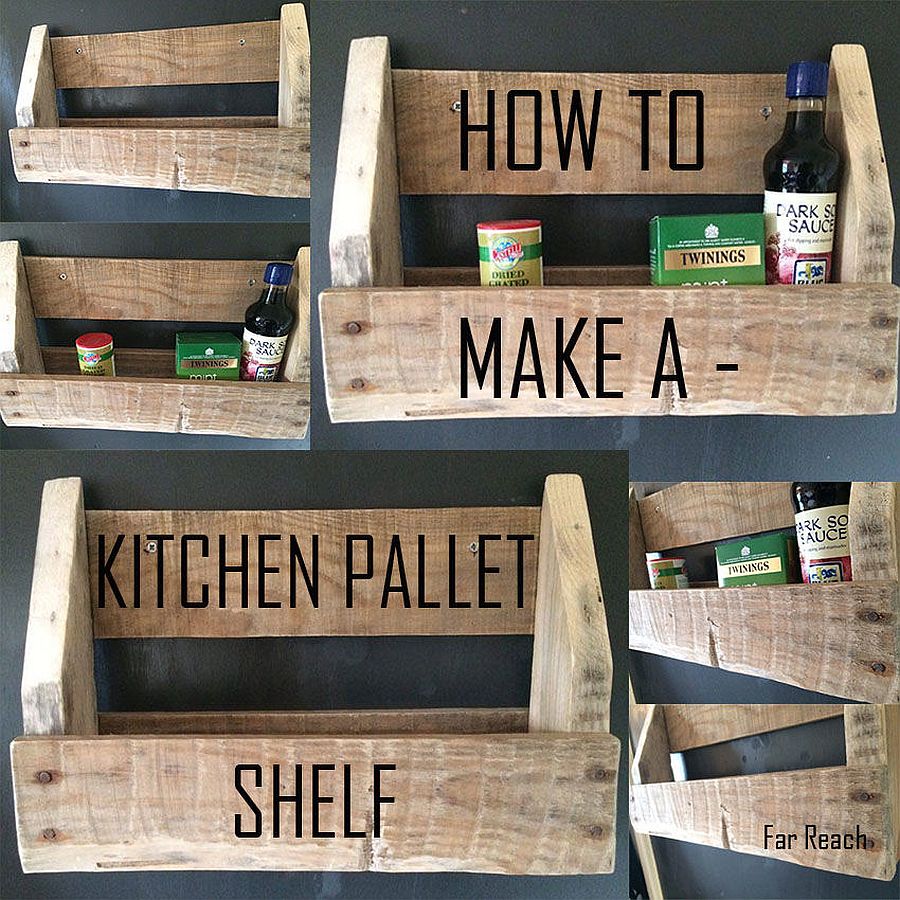 Moving on from the kitchen and into the living room, the reclaimed wood shelf that spells out home is one that definitely is the most demanding of all the DIY ideas on display today. It is exquisite when all done and you have a shelf that feels both innovative and exclusive. But the living room TV unit made from reclaimed wood is far simpler to make and once again, you can innovate and add personal touches to make a unit that serves your exact needs.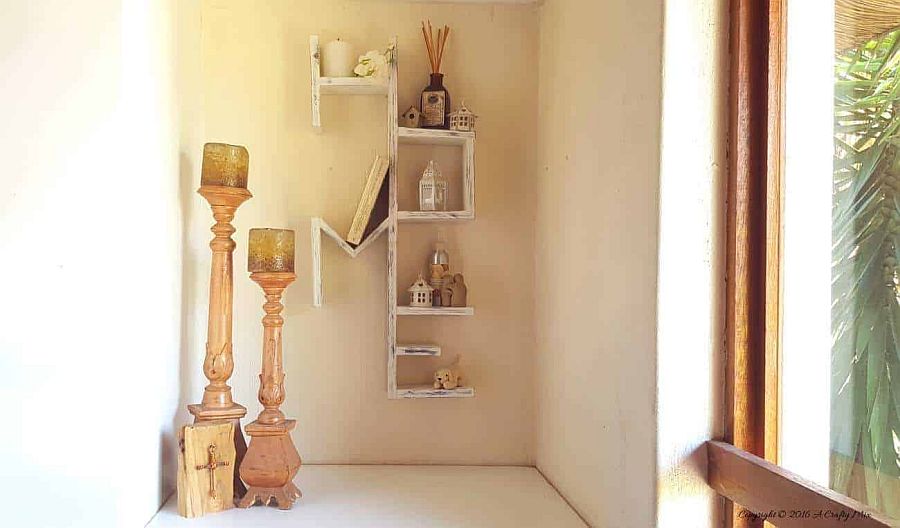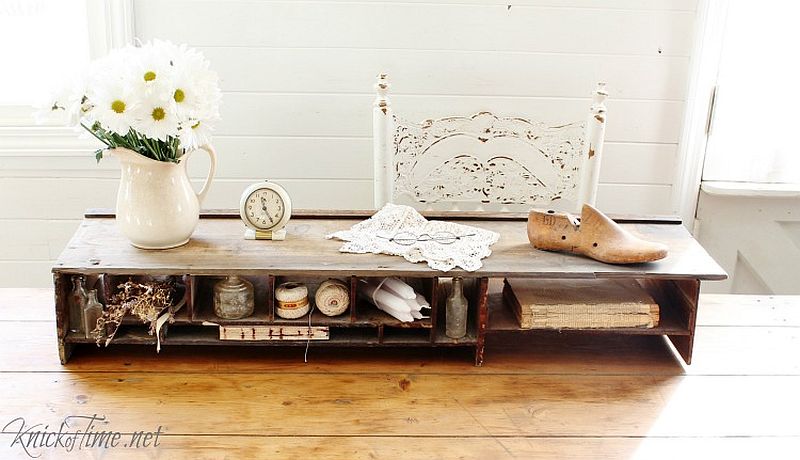 Your reclaimed wooden shelves need not always be dull and boring. Add a bit of color to the whole piece like the idea below while the DIY wood boxes can house everything from indoor plants to anything on your office desk. A simple change to your DIY guide should make them much more adaptive and perfect for multi-tasking.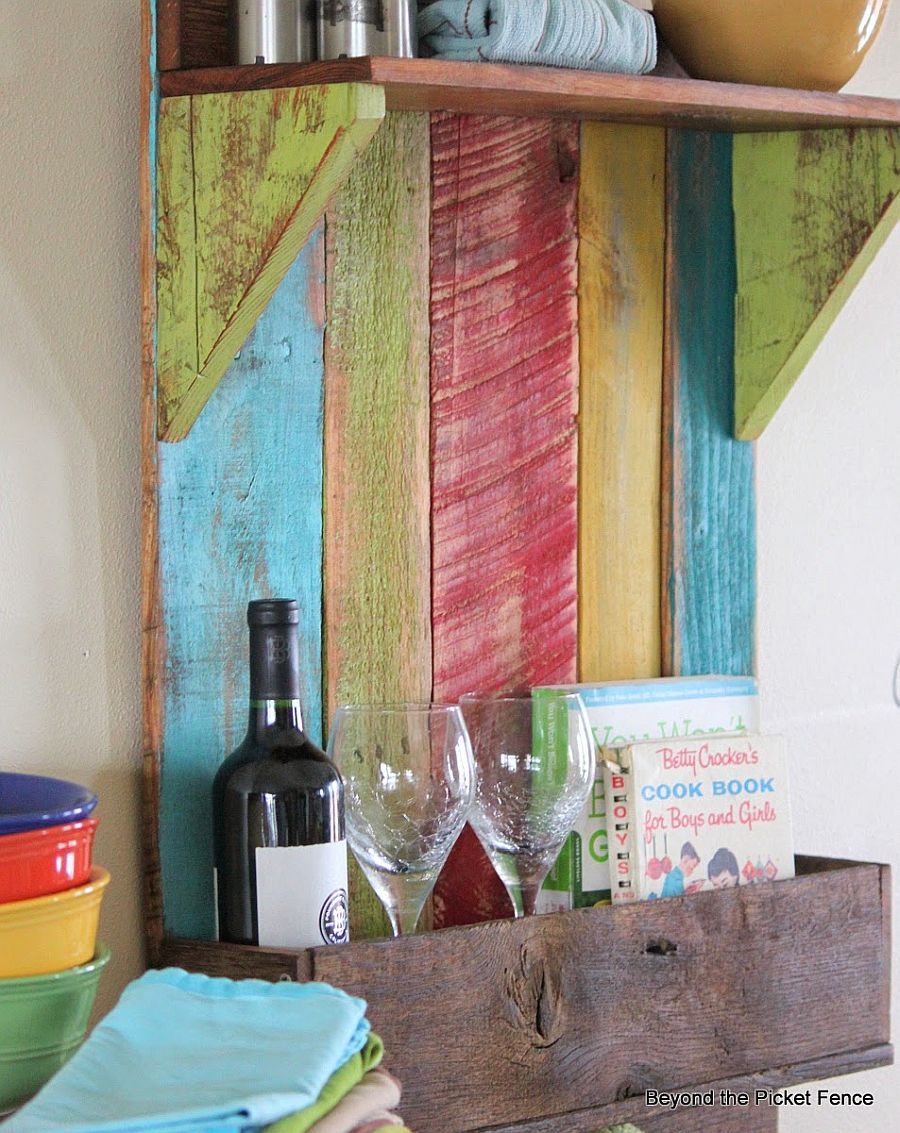 Finding the Right Reclaimed Wood DIY
A reclaimed wood DIY that works for you is about combining what you need with the DIY skills you have and the right overall visual appeal. If you are thinking of replacing your modern coffee table with something much more woodsy, then the wonder forest has a great guide on how to make one at home. And if an entire table is what you need, then check out this idea from Re-Stored Design to get the job done over a weekend or two.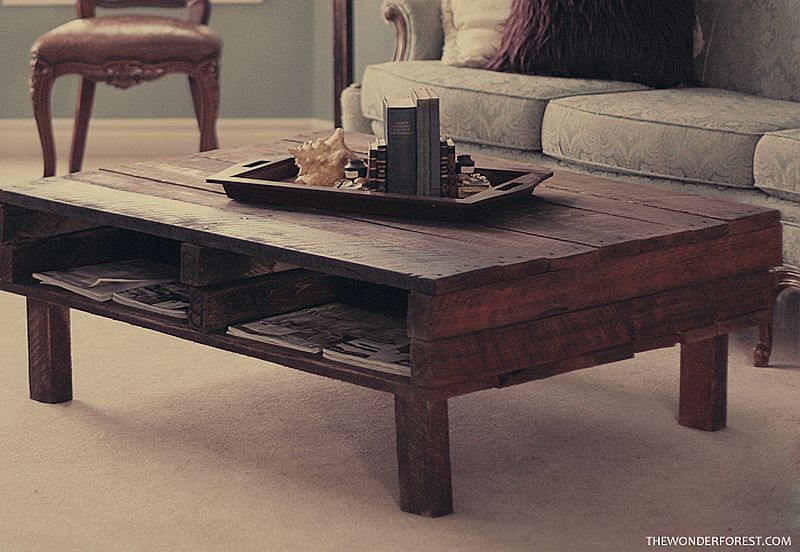 RELATED: 10 Exquisite Ways to Incorporate Reclaimed Wood into Your Dining Room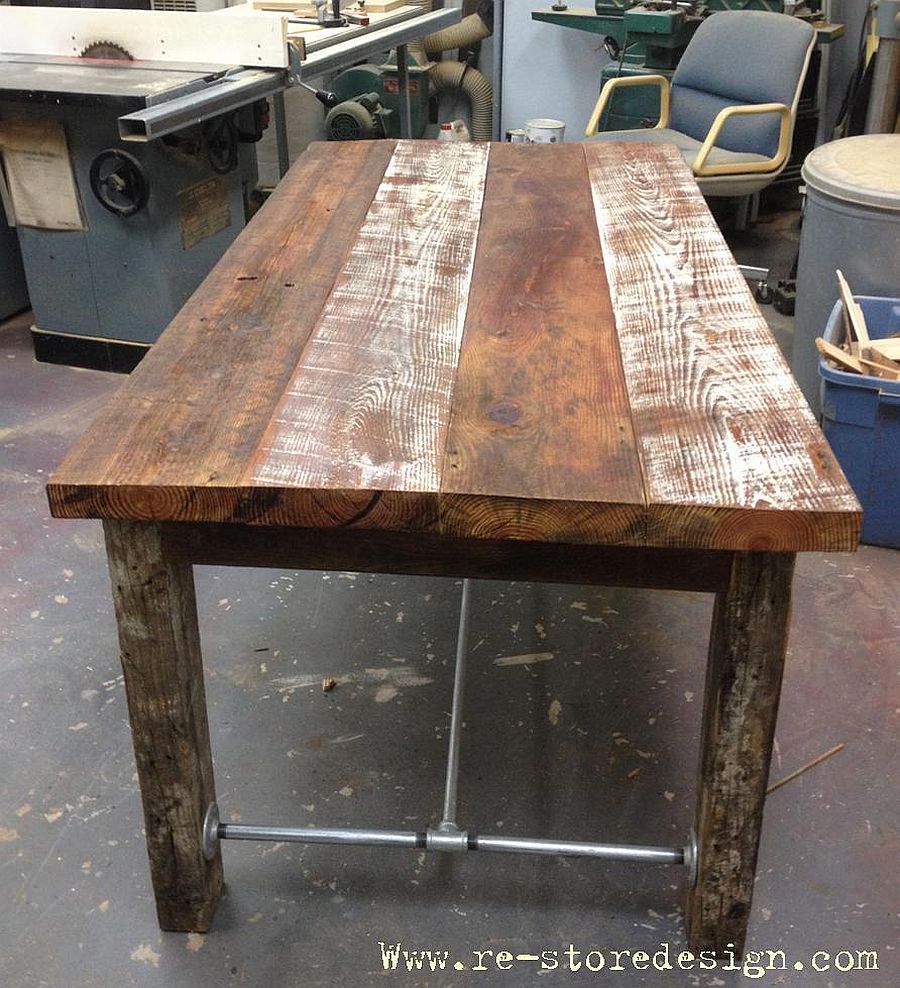 Speaking of wooden tables and a natural vibe, few come close to the uniqueness brought in by natural-edge tables. The live-edge table with a metallic base finds space in any room and combining it with the repurposed wood coffee cup rack allows you to create a coffee/tea station that is charming and cost-effective.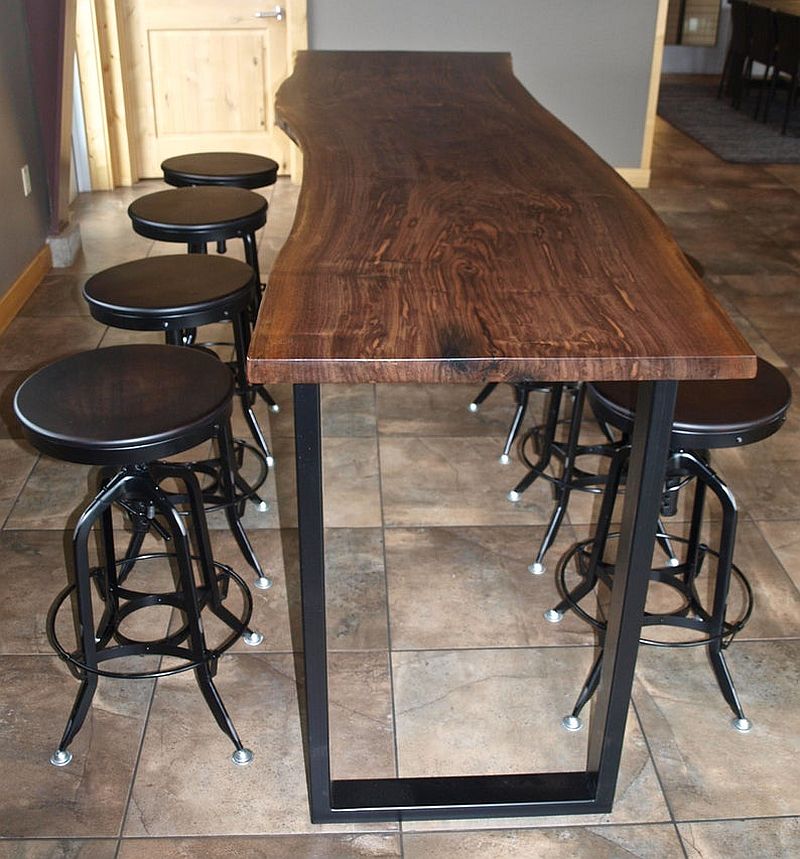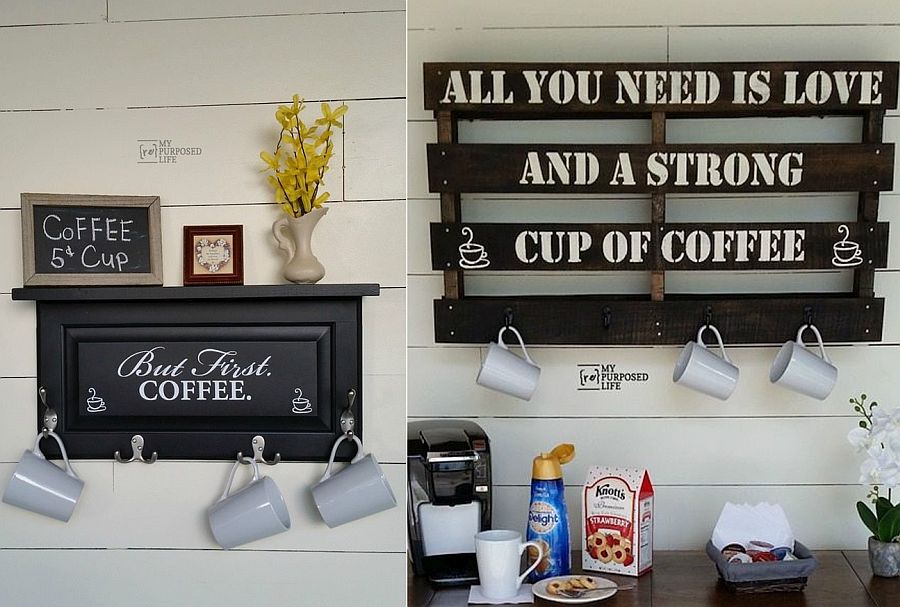 Wall-mounted storage always helps save space and turning old wooden drawers into smart shelves is one such cool idea. You can even make a slim wine rack for your limited collection using reclaimed wood and this gives it a classic, traditional appeal. When it comes to kitchen shelving, wood never fails to impress; even if it is reclaimed.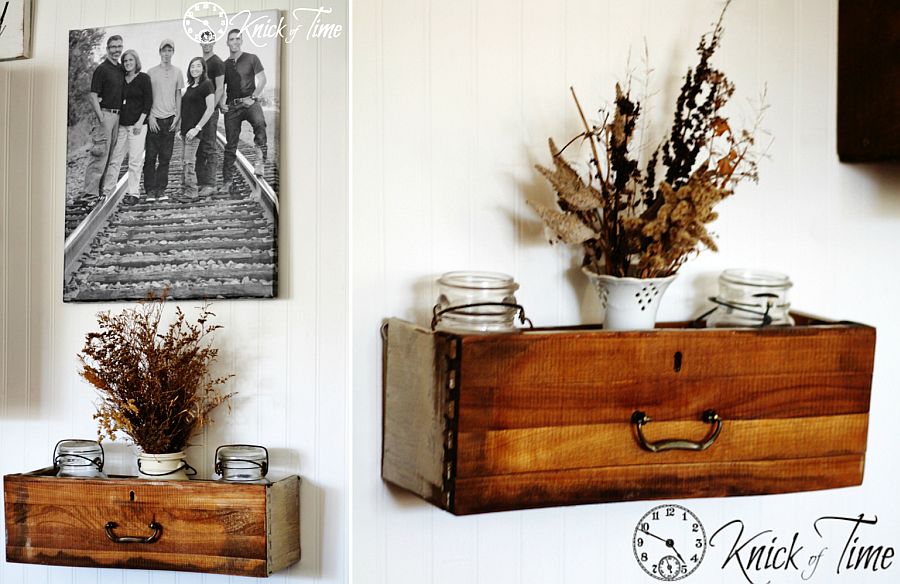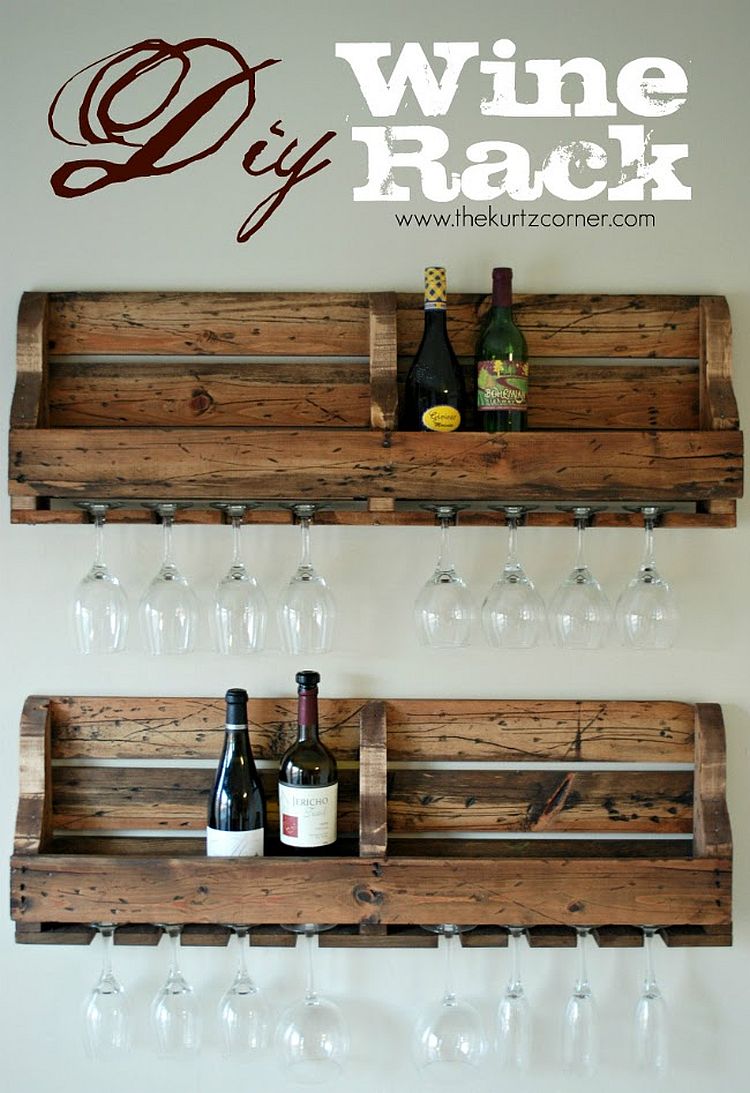 The multi-tiered flower planter that you see below looks as good when crafted using reclaimed wood as it does when you use cedar or oak from the store. The DIY guide keeps things simple and you can scale up or scale down the project depending on what type of planter you need.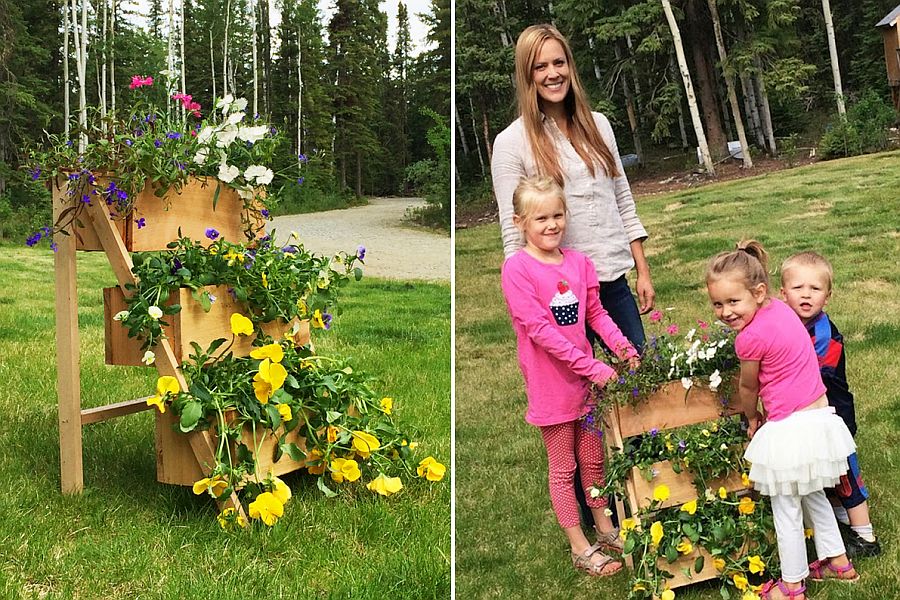 Another super-easy DIY, the serving tray made using reclaimed wood can be a project that you can get your kids involved in as well. Instead of just one tray, cut out different shapes and sizes of wood to make an array of these natural-looking trays; a perfect little gift for friends and family.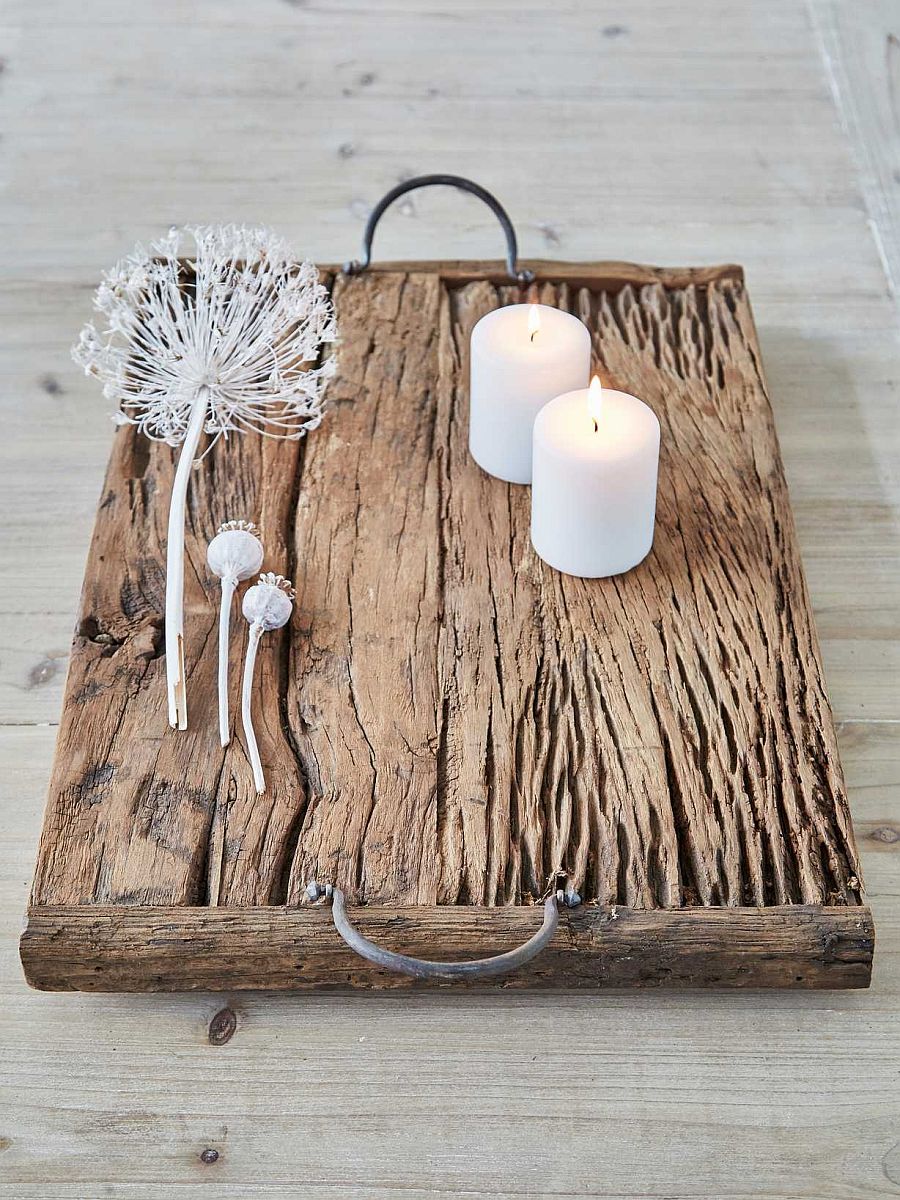 Beyond the Picket Fence give you this DIY pallet bench – an easy and practical DIY that can be altered to create different types of pallet décor. With a rustic visual appeal and a bit of color as well, this one can be placed anywhere; from the entry to the patio.