We have often marveled at how little attention is bestowed upon ceilings in homes across the world, and often you see nothing but a whole lot of white up there. This is even more perplexing when you consider how as a race we have always been obsessed about looking up at the sky and were intrigued by the stellar show in the heavens! Surely we can carry a bit of this wonder indoors with a ceiling in the living room or bedroom that is unique, wonderful and full of vivid colors and patterns. And no, it need not always be filled with stars and clouds and inspired by the blue sky!
While ceilings inspired by the night sky are all too common in the kids bedroom, for some reason vivacious ceilings are far less common in adult rooms. But creative designers are now breaking this monotonous mold with ceilings that add character, color and style to the room they adorn. It is time to get in on this delightful trend.
Cheerful Modern Bedrooms
We start off with a bedroom that is full of multi-colored richness, and it is the ceiling that plays the role of an exciting protagonist here. It is easy to marvel at the colors on display, but look beyond just the ceiling, and you will see how the rest of the room also embraces color with a gleeful zest. Used both as a guest bedroom and kids' room when needed, there is plenty of pink, orange and shades of red, along with a splattering of yellow, green and blue as well.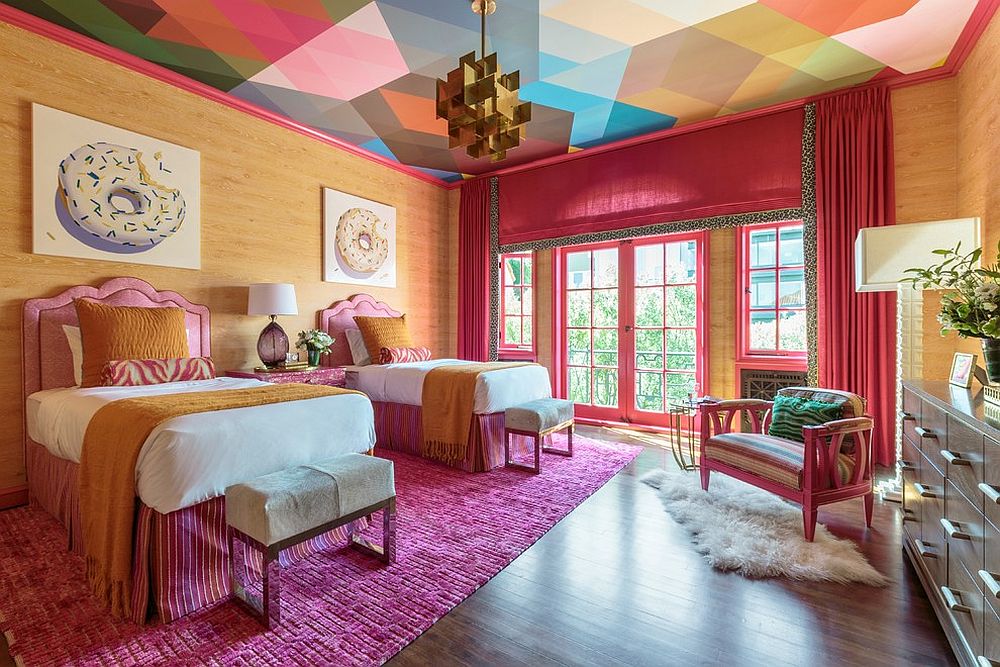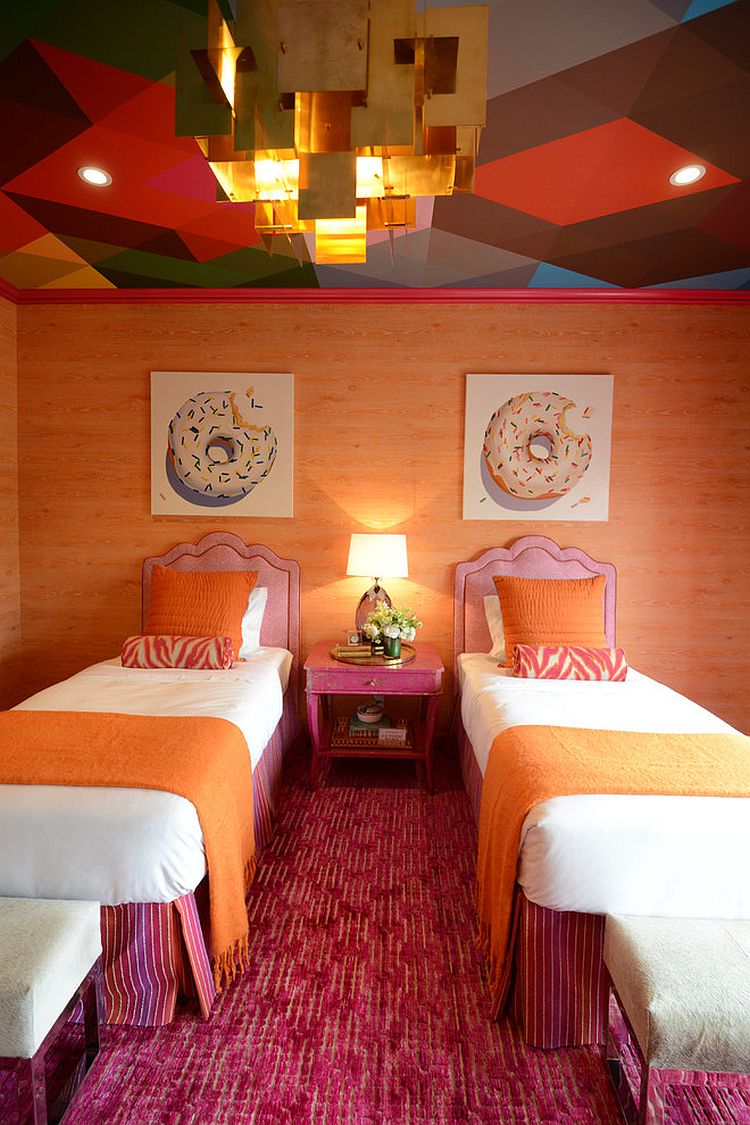 A multicolored ceiling does not mean you have to fill the space with every color that you can get your hands on. The bedroom below shows a more modern, restrained and even understated approach, and it works even better if you have prominent ceiling beams to utilize. The bright allure of apple green on the ceiling is punctuated by the use of glitzy white, ensuring that the beach style of the bedroom is left undisturbed. It is not always above the walls!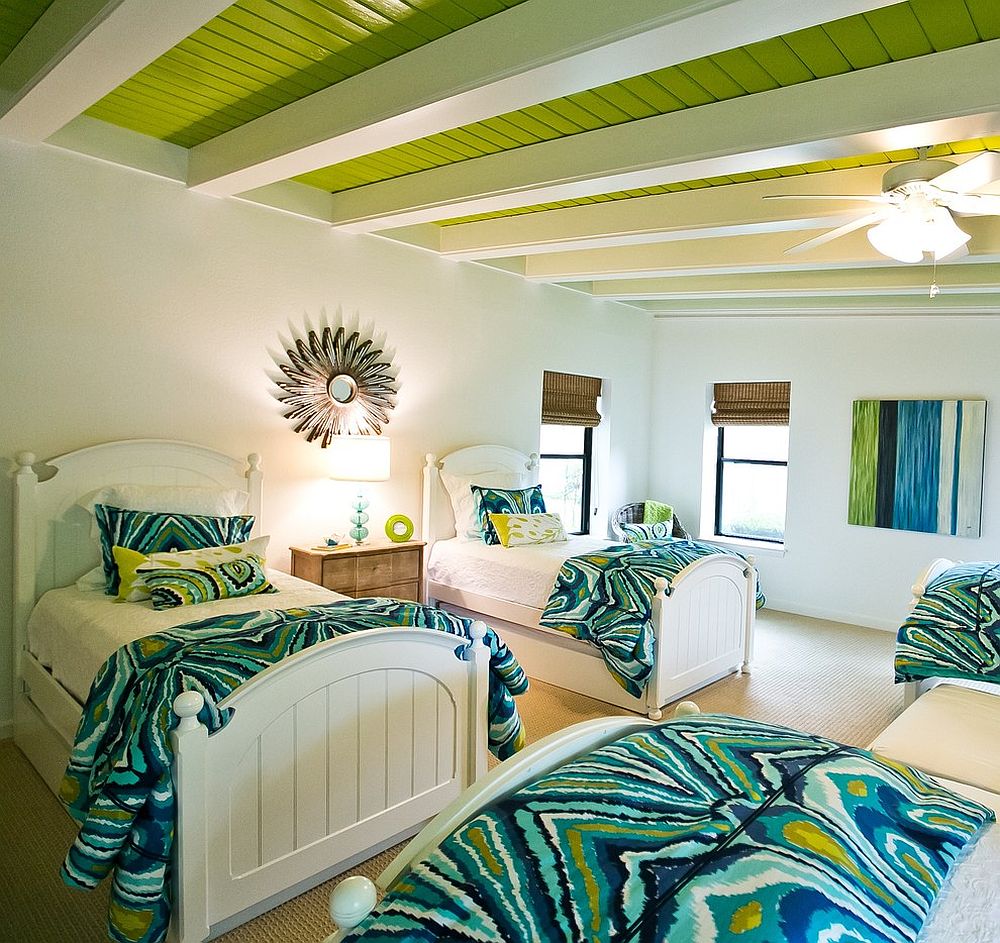 Inimitable Living Spaces
If we had suggested an accent wall covered in wallpaper just a few years ago, many of you would have shrugged it off as 'so 90s'. But times have changed, and today wallpaper on the ceiling is becoming a trend in itself. This living room epitomizes the trend to perfection. The ceiling design seems classy, elegant and yet full of life! Add to it the wonderful mirror, and you have plenty of pattern to go along with that splattering of color.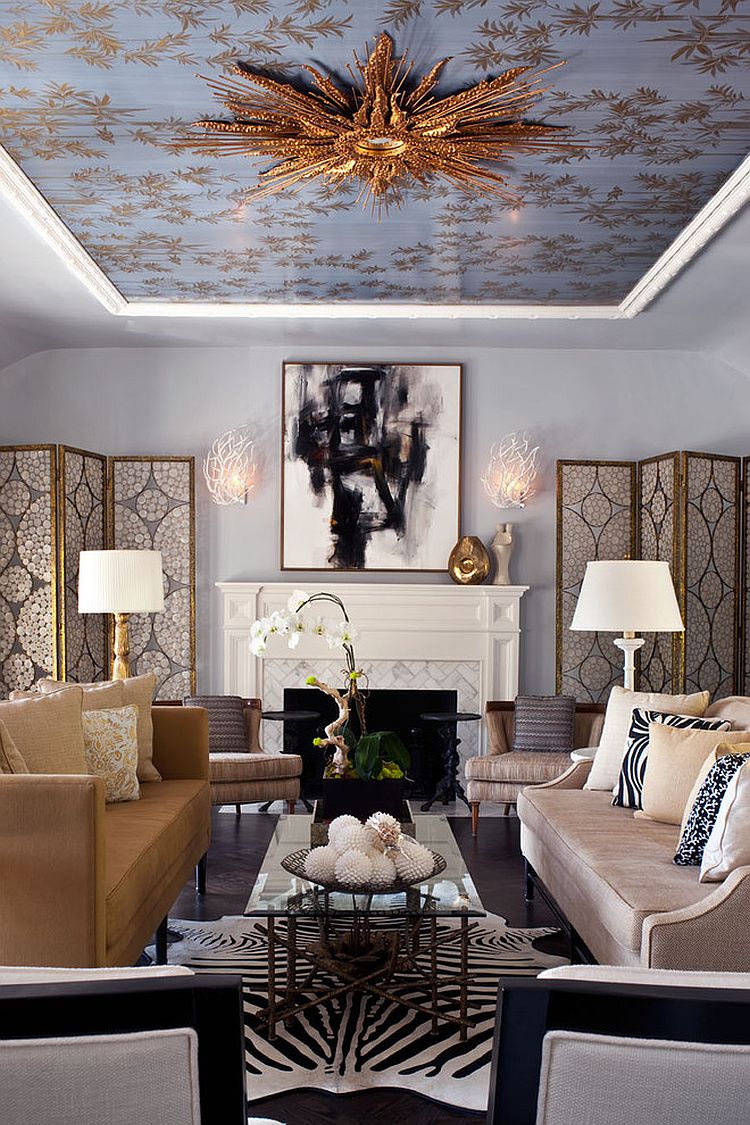 We absolutely adore this ceiling artwork, not just because it is so different from most other inspiration on display today, but also because it is distinctly contemporary. The entire living space seems interconnected with one feature flowing into the next, and the all-white backdrop adds to the dramatic flair of the artistic ceiling section.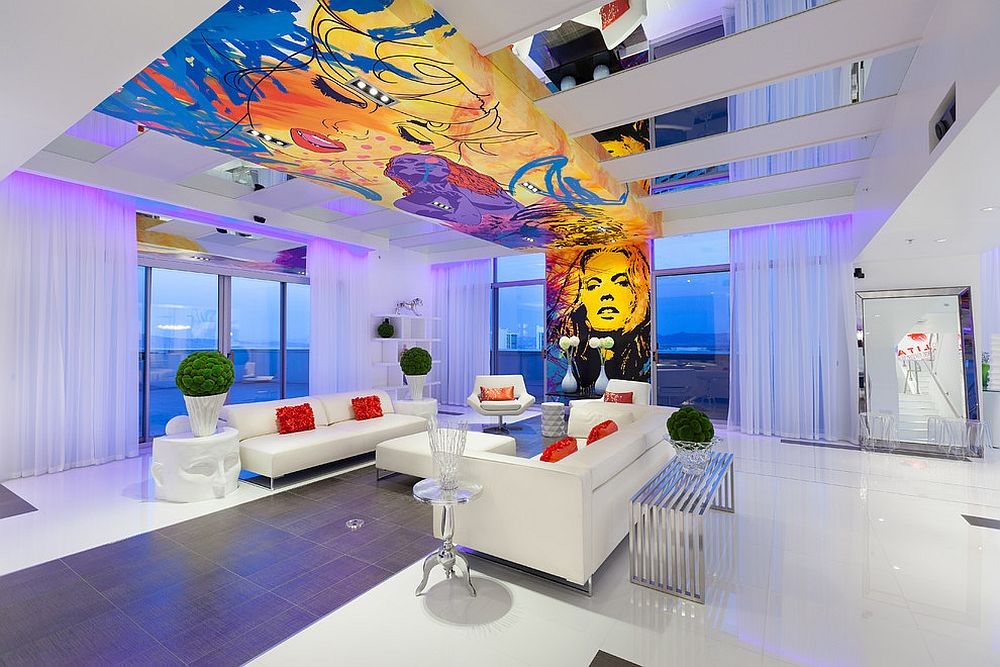 Ornate Elegance
Going down the classic path is a route that is being taken often in the last few seasons, as design elements inspired by retro, vintage and even Victorian styles are once again shaping homes globally. Maybe what your home needs is one of those custom, hand-painted ceiling murals that brings motifs from Egyptian, Moroccan or even Greek cultures! If you have a home theater with a Mediterranean theme or a sitting room with Asian flavor, you will find that this is an option that is too good to turn down. Just look at the inspiration below!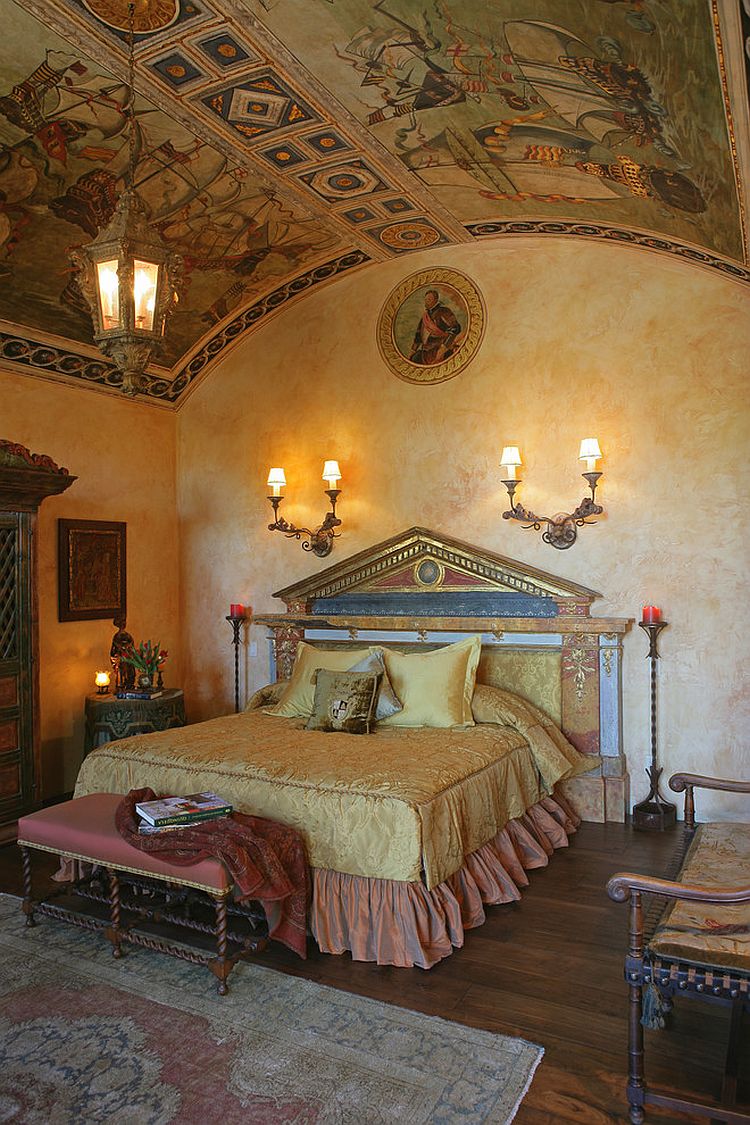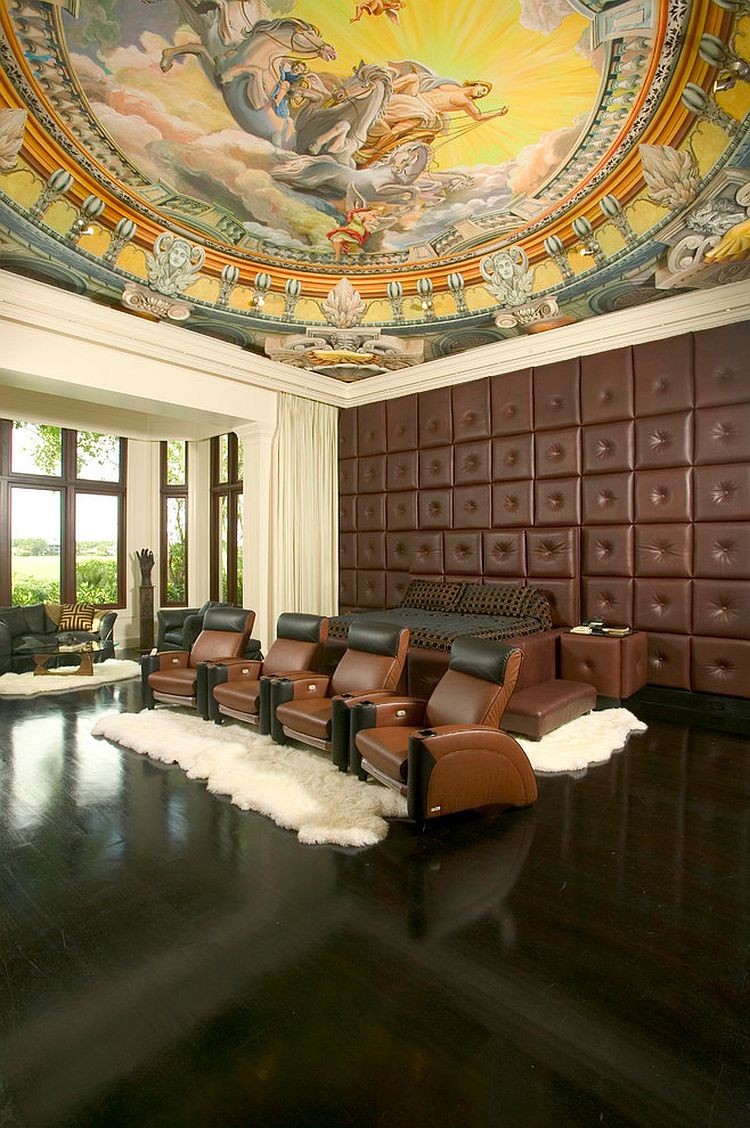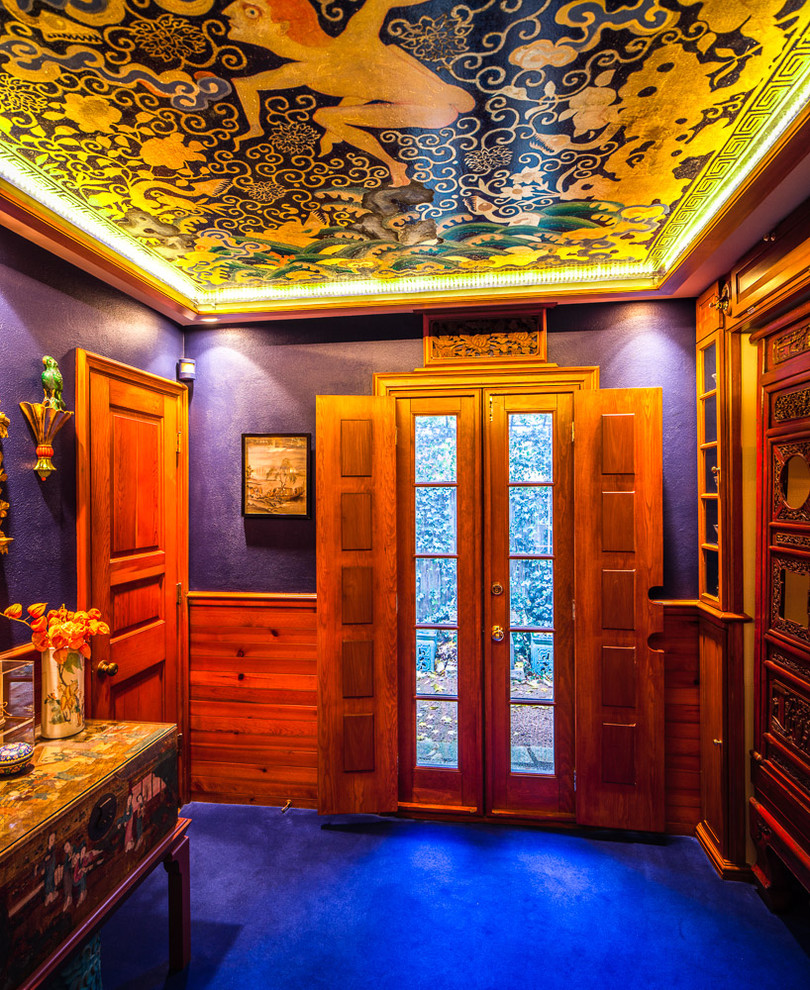 Of course, ornate need not be always a ceiling design inspired by the likes of Chapel of Sistine and Michelangelo! This contemporary-minimal bathroom with concrete walls showcases an entirely different take on what a stunning, yet sensational ceiling can look like.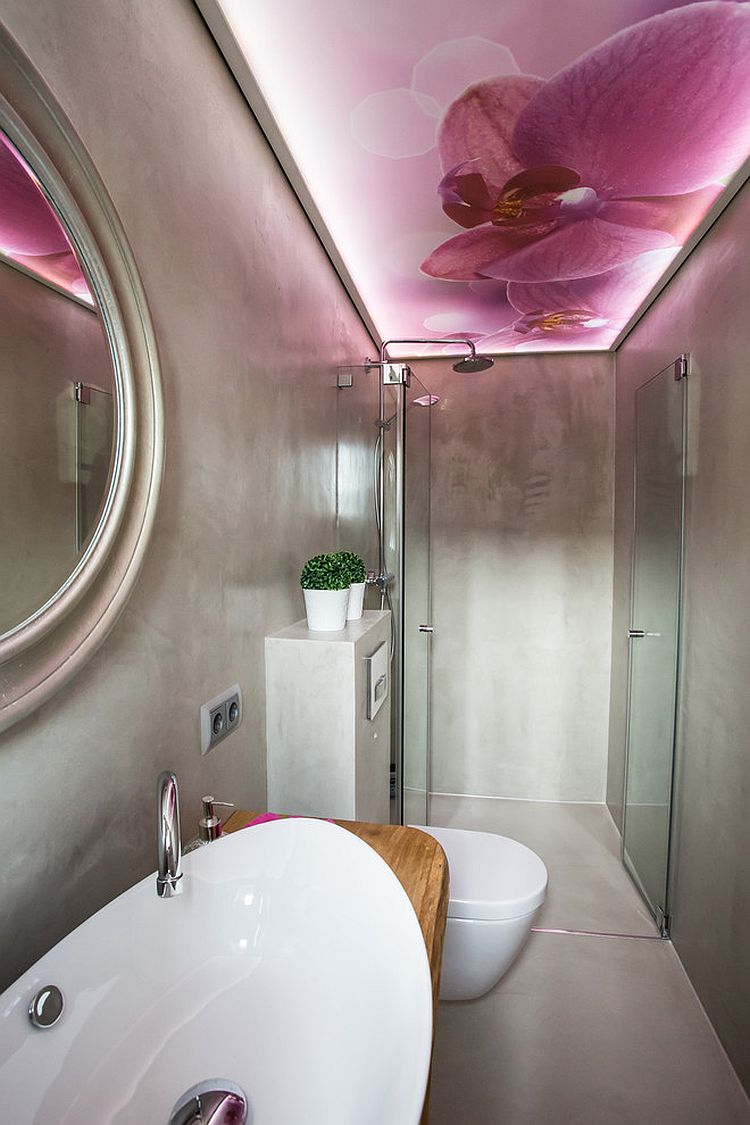 Smart Kids' Rooms
If there is one room where the bright and beautiful ceiling is an absolute 'must', then it is the nursery. With your little one spending most of his/her time staring at the ceiling as they rest in their crib, the last thing you want is a boring gray or white finish. A ceiling clad in wallpaper is an inexpensive and easy alternative to paint and far less messy, giving the nursery an instant mood lift. It brings much more than color, as you can even play with pattern and texture here.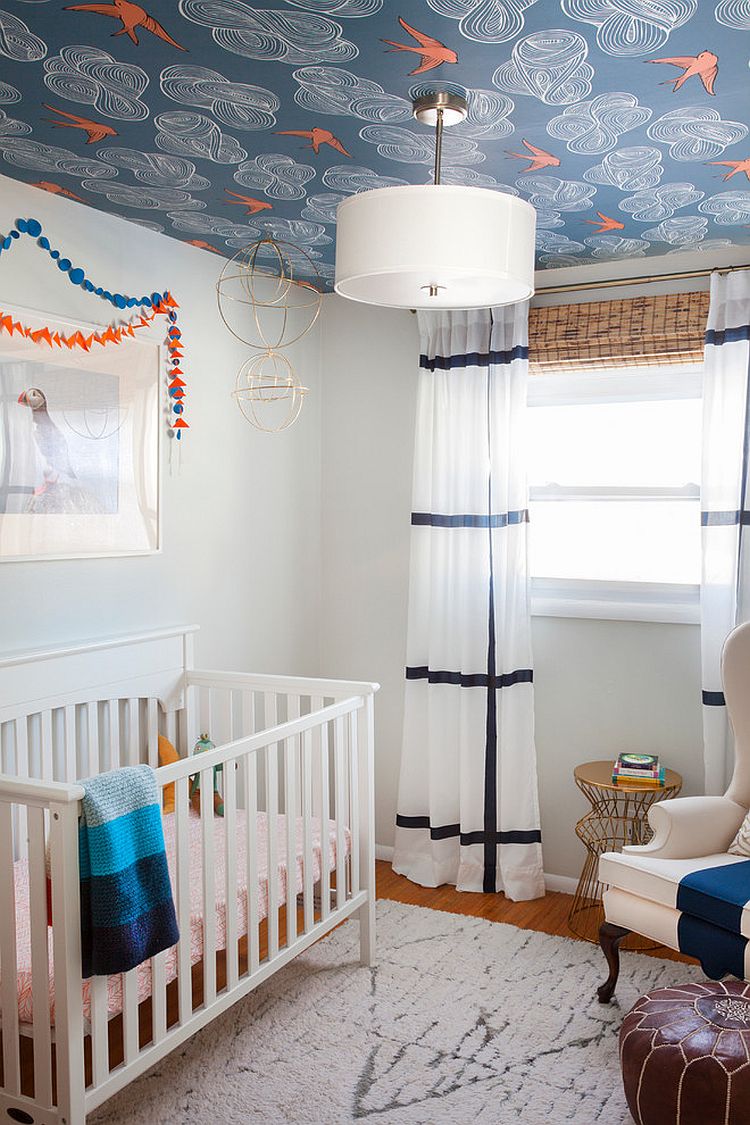 The kids' room is the most obvious place for a beautiful and vivid ceiling that shines through and fills the room with plenty of visual richness. But this does not mean you have to fill it with ornate murals or custom decals that are both expensive and make the room simply far too inflexible when it comes to a quick upgrade down the line. The splatter paint ceiling pattern below is a great 'middle ground' of sorts that lets you add color and creativity while ensuring that the room grows along with your child with ease.