The loft bed is no longer reserved for college dorms and children's rooms. With skyrocketing housing prices, many adults are finding ways to turn the beds of their younger years into elegant, fun, and clever fixtures within the small confines of a studio apartment. From a loft bed that can be tucked away when not in use to beds that provide a shocking amount of elegance and functionality, here are some and unique loft bed ideas for adults. Even if money is no object, you'll love some of the clever loft bed designs we've featured from several upscale apartments.
A Loft Bed And A Spiral Staircase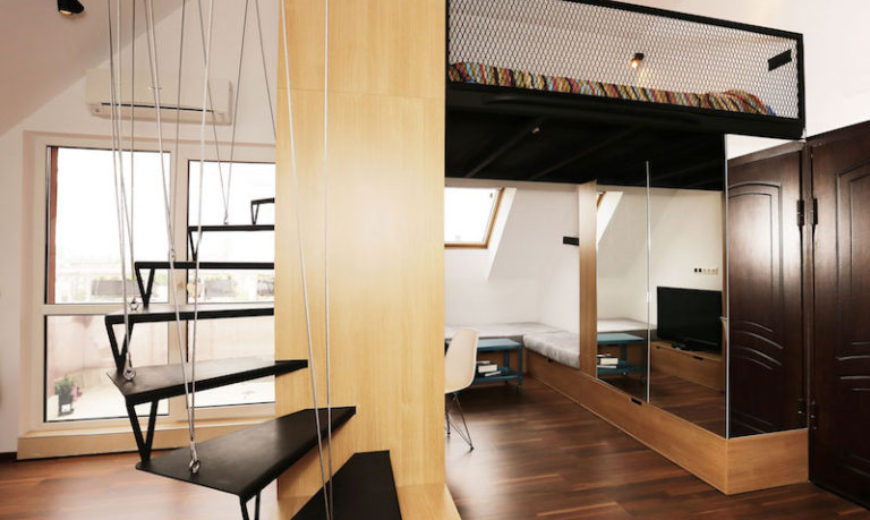 The sophisticated spiral staircase setup shown above is chic and attractive, with a beautiful wooden support beam for both style and safety. The bed takes up virtually no real estate on the floor of the space itself, lending to a modern look that makes things appear to be much more spacious than they would be with a traditional bedroom set up. Even the tiniest studio apartment could come alive with the beauty of hardwood, modern decor and the space-saving secret of loft beds.
A Loft Bed Tucked Away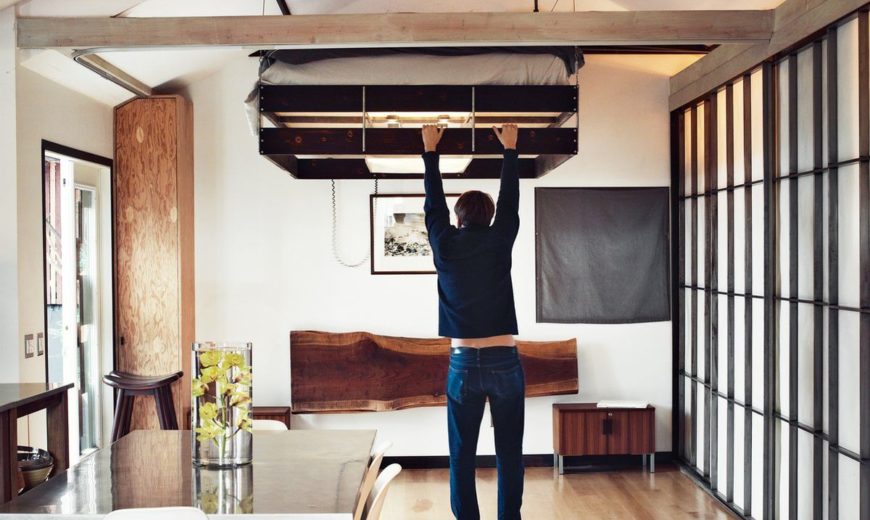 This pull-down version of the loft bed by designer and craftsman Funn Roberts is a truly innovative take on the loft bed. While it may take a bit of strength to install and put up and down each day, this has to be one of our favorites. This small, but modern hardwood apartment is stylishly decorated with a breezy, airy feel. A large bed sitting on the floor would ruin that atmosphere for residents and guests alike. That is where this pulldown loft bed comes in. It is out of sight, out of mind – only pull it down when needed!
A Loft Bed With Functional Space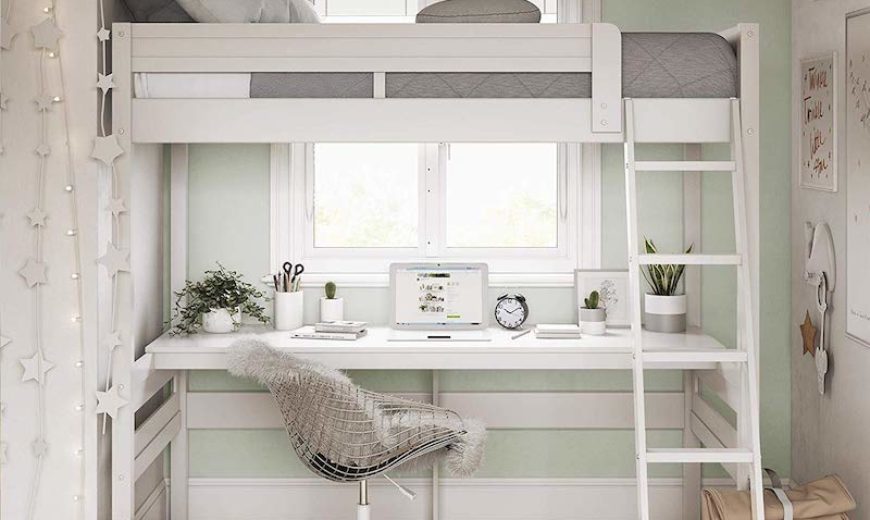 If you are looking for something a bit more minimalist, but also for a way to turn your bed into more than just a bed, this is the loft bed for you. The Dorel living Harland loft bed (available on Amazon) is clearly a bed on top but there's also a fully functioning workstation, complete with plenty of room for a comfortable desk chair, reasonably sized desktop or laptop computer, books, and everything else someone working from home might need. This bed is perfect for the writer living the big city life in a chic studio apartment!
A Hand-Crafted Loft Bed For Rustic City Living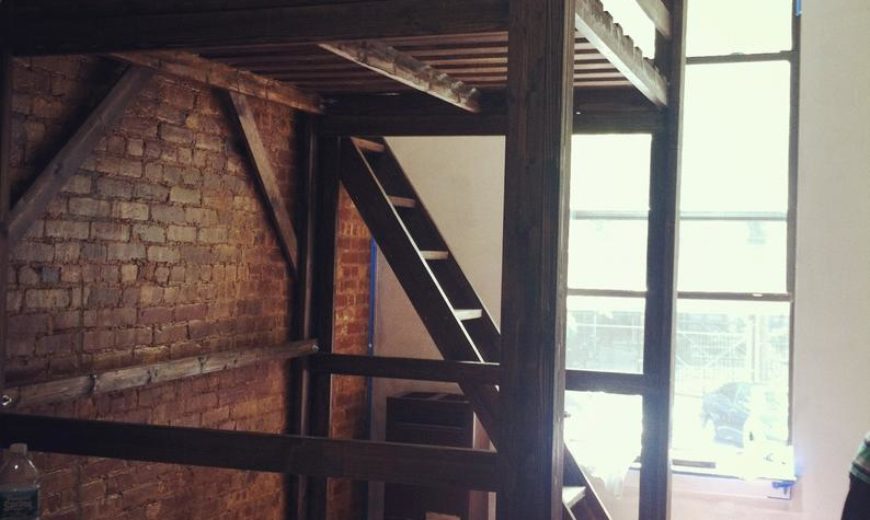 While you may be forced to scrimp on rent month-to-month, thus making the idea of getting a loft bed a necessary one, there might be room to splurge on the bed itself. On Etsy, there exists a space called the Chicago Loft Bed Shop. This artist custom makes loft beds. The one shown above is listed at $1,000, and there is an offer of a custom set of stairs or ladder. We are sure the craftsmanship is wonderful, and the look is positively oozing with charm. Something like this would be the perfect piece to save space and round out that big city, rustic, starving writer or artist look for your studio.
A Loft Bed With Living Space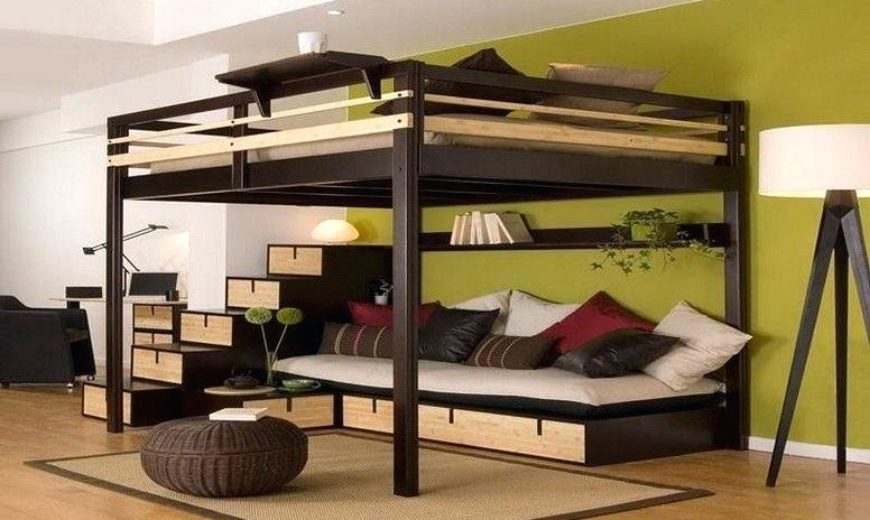 If you are looking for more than just a space-saving adult loft bed, you have come to the right place. This rustic, but modern design combines attractive multi-hued wood, complete with stairs to get to the bed itself, with a cozy, comfortable sitting area beneath. The matching rug and spacious couch with throw pillows many not be included in the purchase of the bed itself, but they are easily found for a completed look and feel. Perfect for any stark studio apartment space searching for a little splash of home.
A New Jersey Style Loft Bed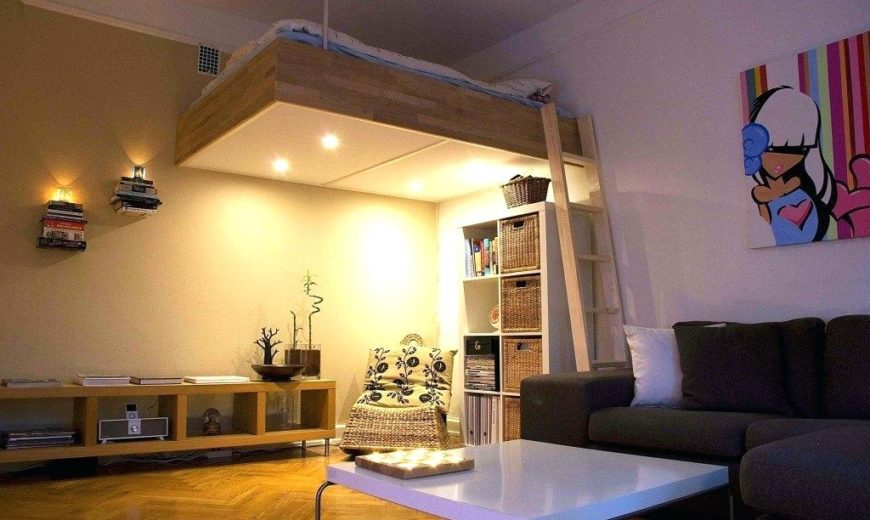 If you like things close to the ceiling, this furnished New Jersey apartment just might be right up your aisle! The ultra-high adult loft bed in this unit offers a sturdy ladder to reach your slumber time destination, giving way to plenty of storage space just beneath. As shown, there is even space for a comfortable recliner to relax every evening before bed. Further, this beautiful hardwood open floor plan is not ruined by too much clutter due to a lack of space. If you are apartment hunting in New Jersey, this is definitely one to check out.
Loft Bed With A Skylight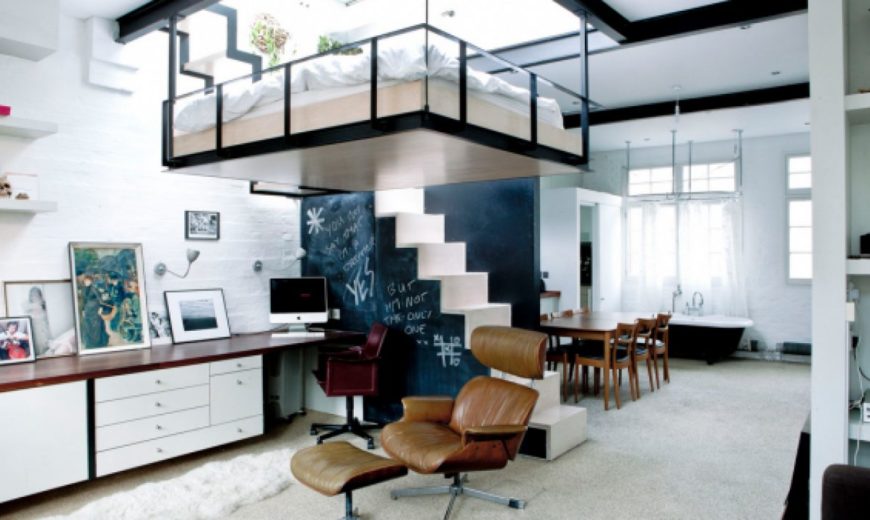 If it is decor and beauty you are going for with your adult loft bed rather than price, then this version, set up right underneath an actual skylight, is perfect. Of course, the advantages of space and arranging are still there, as with any loft bed, but clearly this one is going to be quite a bit more expensive than the others. That is likely true for any location that would include a skylight as well.
As for the adult loft bed itself, there is a matching set of stairs leading up to the glass-enclosed area where the bed is, opening into the beautiful night sky. The bed is featured in a 1st Floor Studio Apartment located in London, England.
A Loft Bed With Lots Of Functional Space-Saving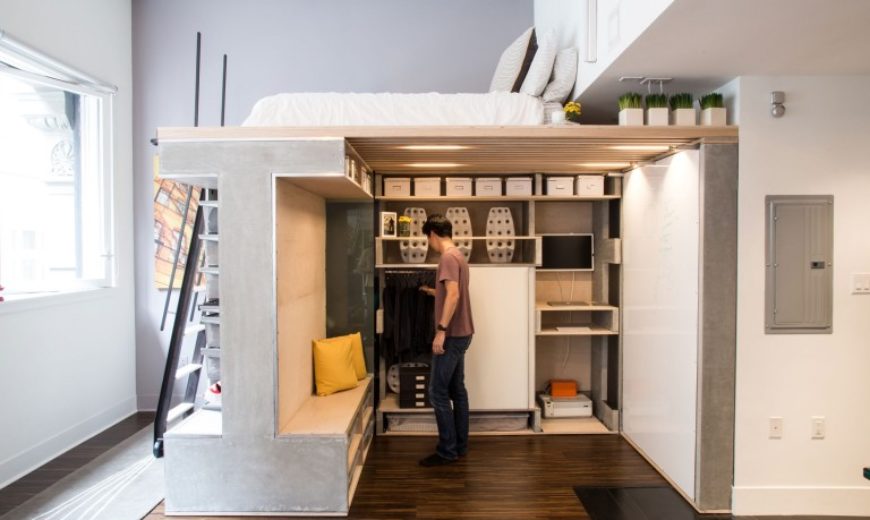 When thinking of studio apartments in expensive cities, loft beds are often the first things to come to mind when it comes to saving space and money. The image above is of a loft bed in the tiniest of tiny studio apartments in one of the most expensive cities in America – perhaps the world – to live in, San Francisco. The extraordinary storage set-up beneath the bed itself becomes not just a neat accessory, but an absolute necessity, in cities where the cost of living is so high. If you want to live in a high-priced, but exciting and adventurous city on a budget, hit the cheapest, smallest place you can find and get a cheap loft bed, or DIY one yourself! After all, it's the city you're after, not the shoebox-sized apartment.
Upper And Lower Loft Bed Functionality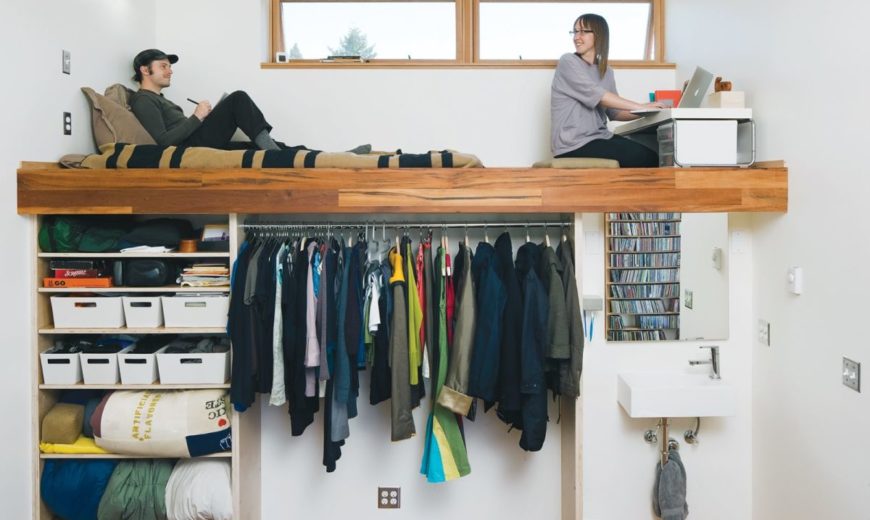 Many of us have lived in tiny little apartments at some point. But, have you ever had an apartment so small that maybe you did not know if you could afford both a closet/storage area, a bed, and a sink? It does happen. That is where the nifty get-up above comes in. In this adult loft bed, they are literally sleeping on top of their closet. There is also a small storage area, and even a sink beneath. Adult loft beds can make living in a cramped space even a little bit fun — and it can be a way to practice your creativity!
A Little Bit Of Extra Space Can Go A Long Way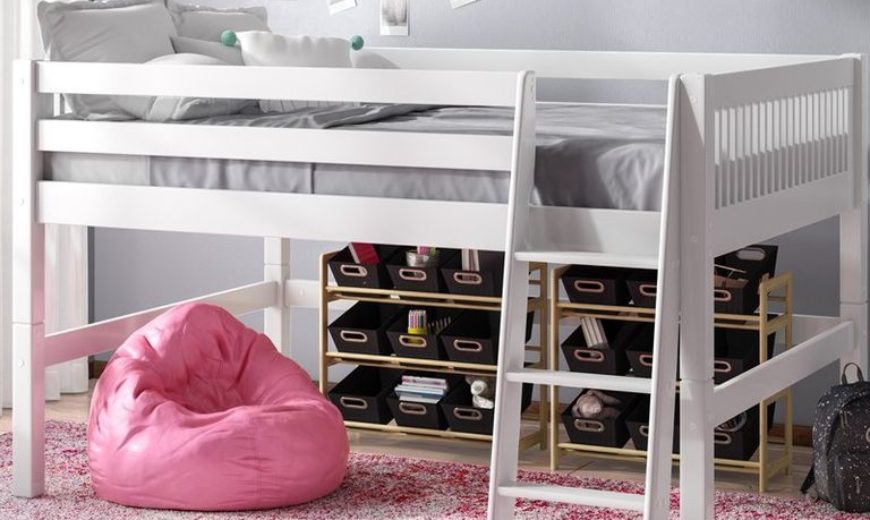 If you perhaps do not feel comfortable with your bed all the way on the ceiling but still want that extra space, this lower loft bed might be better for you. It is elevated just enough to where space underneath is great for storage or even sitting, but close enough to the ground to where there is a better sense of safety and not so far to climb. It's the best of both worlds!
An Industrial Loft Bed With Plenty Of Room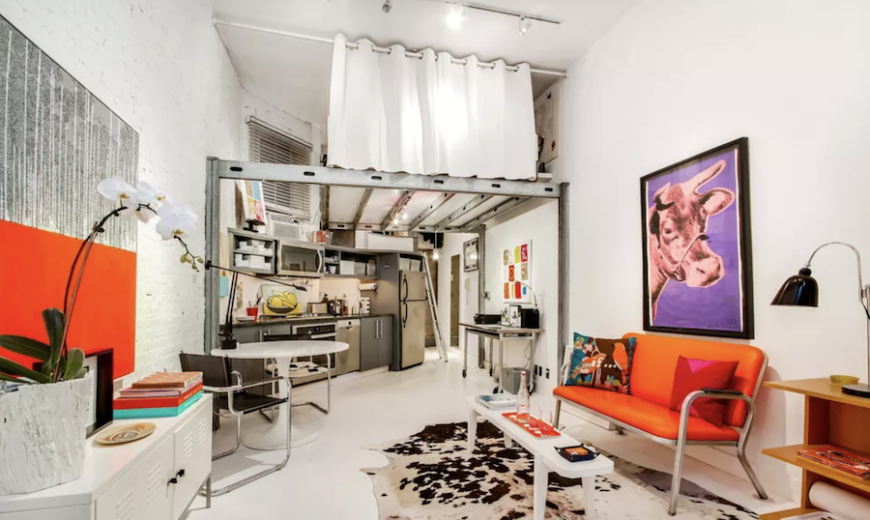 Who says you can't have room for a queen or even king size bed while living in New York City's West Village neighborhood on a budget. Spotted on Apartment website Compass, this enterprising designer turned the unused space above their kitchen into a bed for two. We particularly love the industrial look that exposes the bed's frame which perfectly compliments steel and stainless steel facades that are scattered throughout the space.
A Boho-Style Loft Bed With Walk-In Closet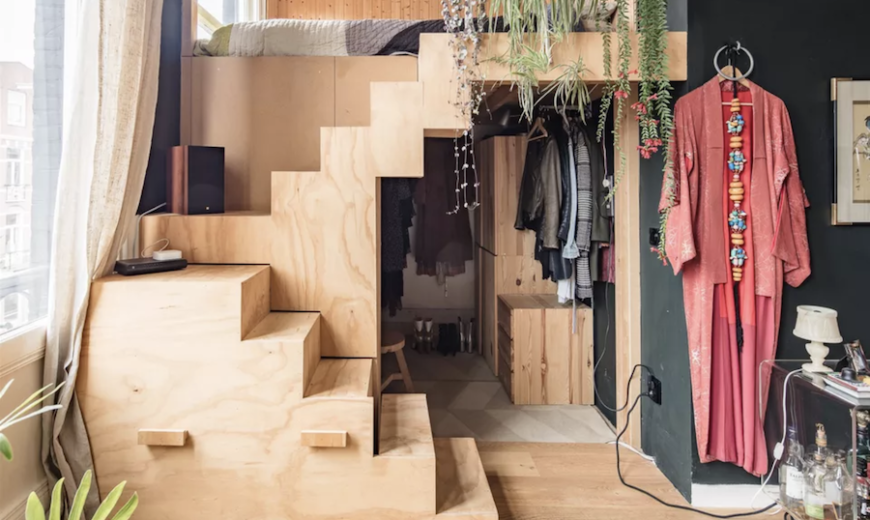 We dare you not to fall in love with this adult-friendly loft bed located in the Netherlands. The "boho style" loft bed features plenty of room for a walk-in closet which is fitted with storage from the IVAR series courtesy of Ikea. With three full-sized drawers for your clothing and other storage additions this loft bed proves you can turn a small space into something pretty special.
The Loft Bed With An Invisible Railing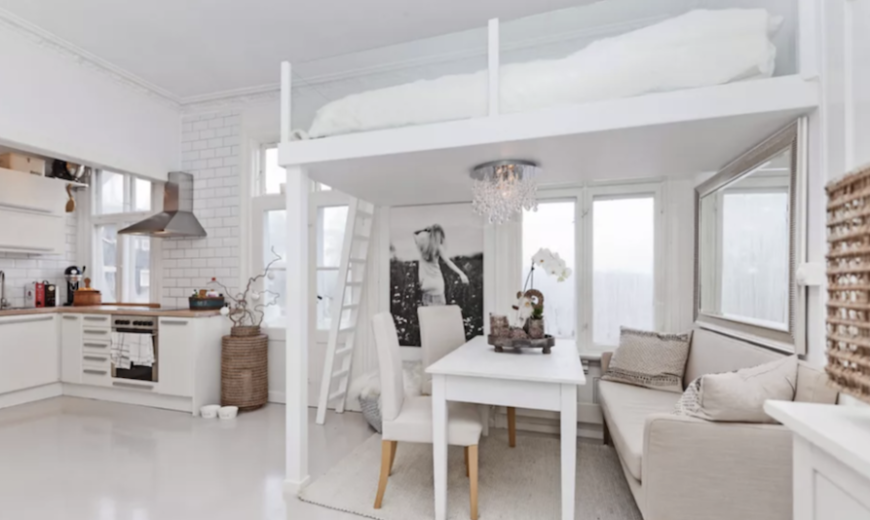 The design team at Ett Rom Till knocked this loft bed design out of the park. Featuring an "invisible" railing, the bed provides plenty of space underneath that is double utilized as a living and workspace. The tall ceilings in this studio apartment allow for light to flood into the room by placing the bed higher up within the profile of the space. The chandelier attached to the bottom of the bed also adds a bit of additional elegance to the room.
All in all, loft beds are not just for children and dorm rooms anymore. Very real functional adults use them in their very real, functional adult lives, in some very new and amazing ways. Enjoy all that extra space!