There can be never enough inspiration to flip through when it comes to the world of kitchens and each kitchen is unique and exceptional in its own special way. That is why we are constantly sharing with you both aesthetic and ergonomic kitchen ideas that offer the best of both worlds. Some help improve the functionality of the kitchen by saving space and allowing you to multi-task with ease. Others bring a new visual, geometric or textural dimension to the kitchen and do so without disturbing the chosen style. Today, we delve into an idea that started purely as a structural demand in home homes and is now becoming an aesthetic must-have – the ceiling beam.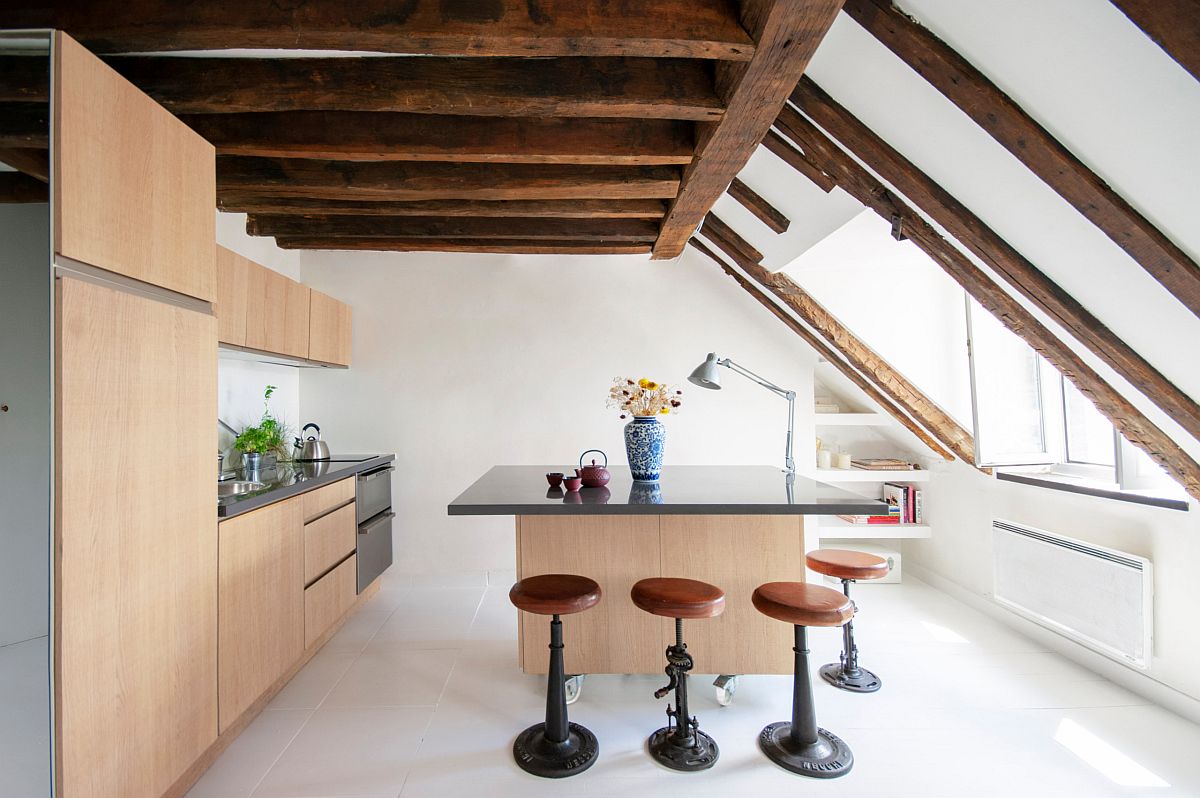 We have already shared with our readers many homes that utilize the ceiling beam in the bedroom and the living space. Today we take that idea into the kitchen and make sure that you have a front row seat to some of the most beautiful kitchens with ceiling beams. They come in a wide range of styles and sizes with each one offering something special in its own wonderful way. Be it the more traditional kitchen with woodsy charm or modern kitchen draped mostly in white, ceiling beams in wood make an impression everywhere.
Breathing Life into the White Ceiling
If you are a fan of the wood and white look in the kitchen, then ceiling beams are the perfect way to accentuate this further. Combine the gorgeous wooden ceiling beams with a white ceiling and you have the best of both elements. This is even easier in a kitchen that is already blessed with ceiling beams that are a part of its overall structure. In modern homes, this feature is much rarer and yet you can still add a few ceiling beams to bring a whole new dimension to the space. Repeating the tone of wood used in the kitchen elsewhere also helps in creating a more curated kitchen.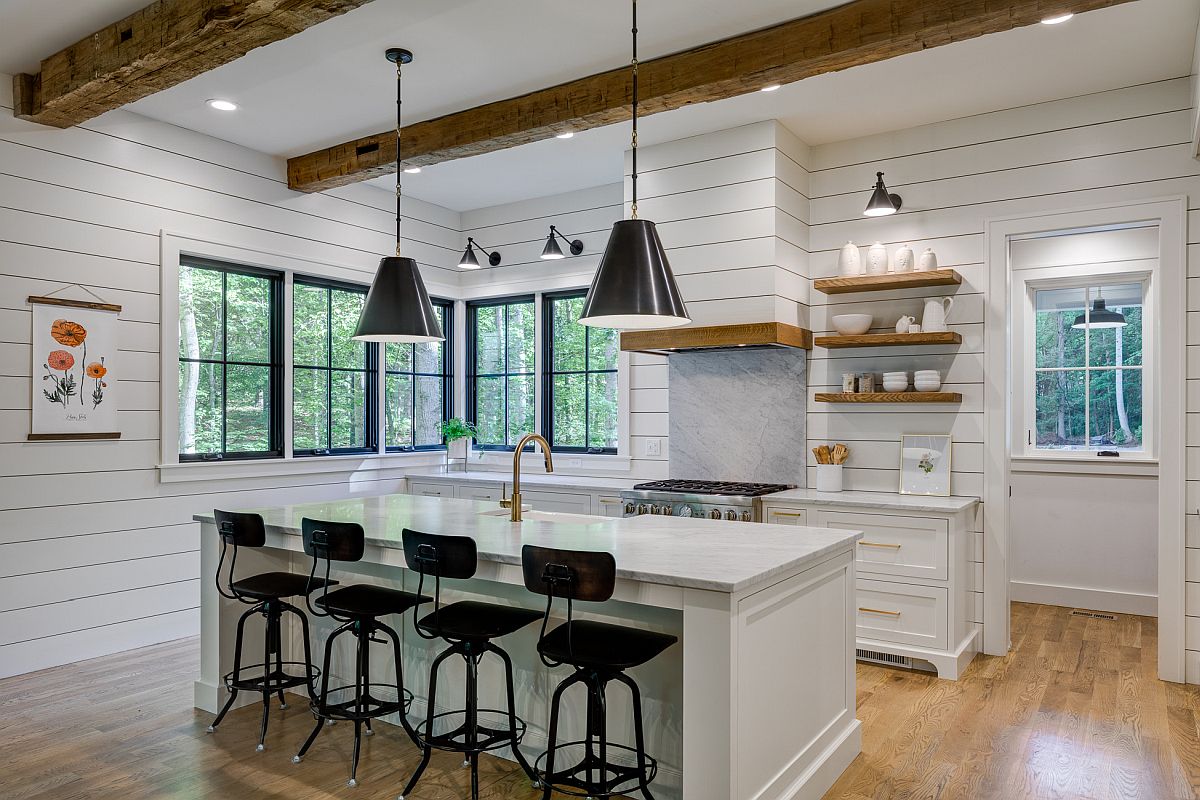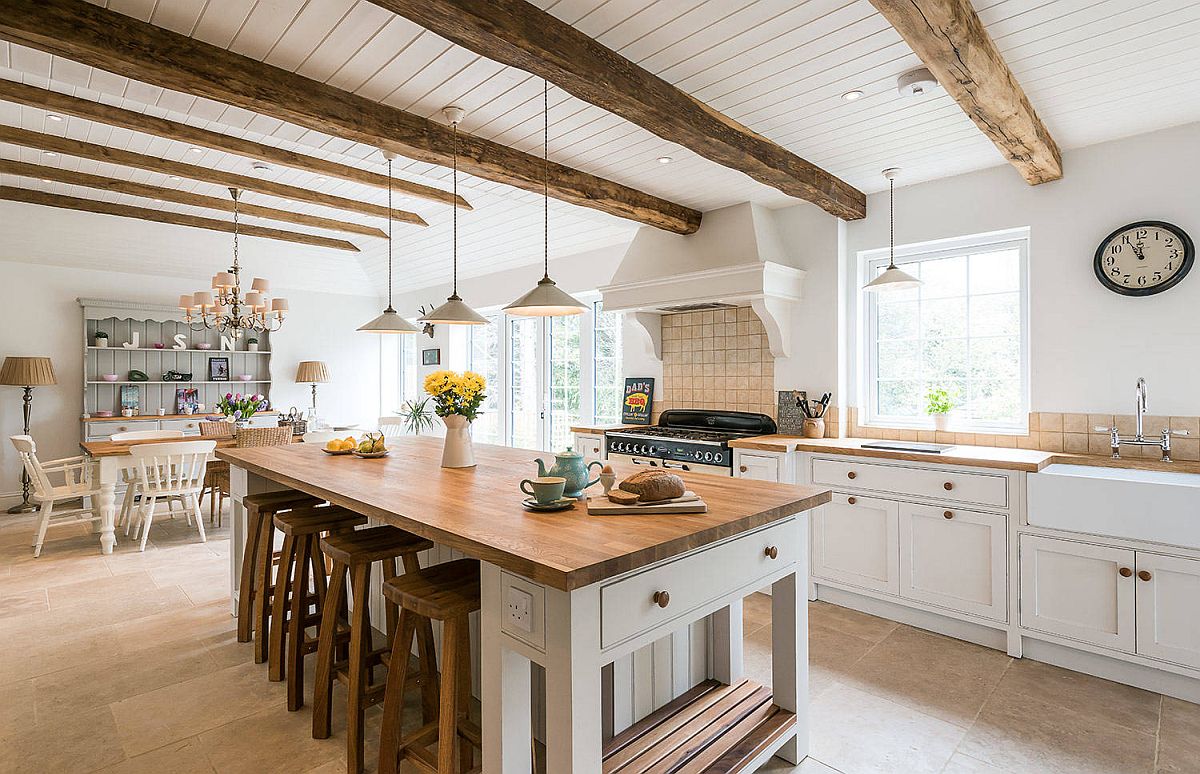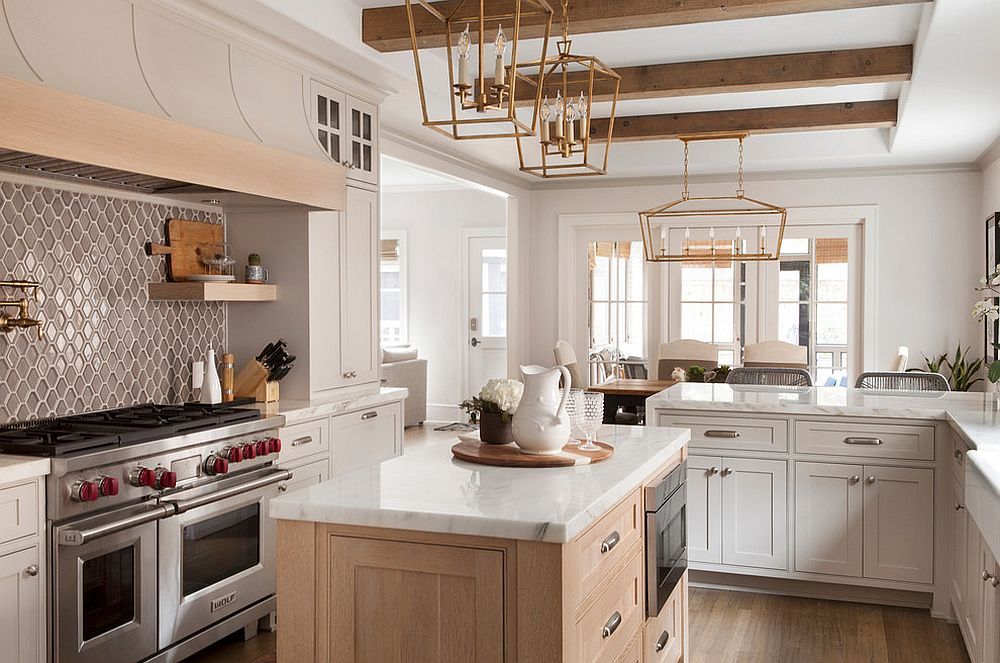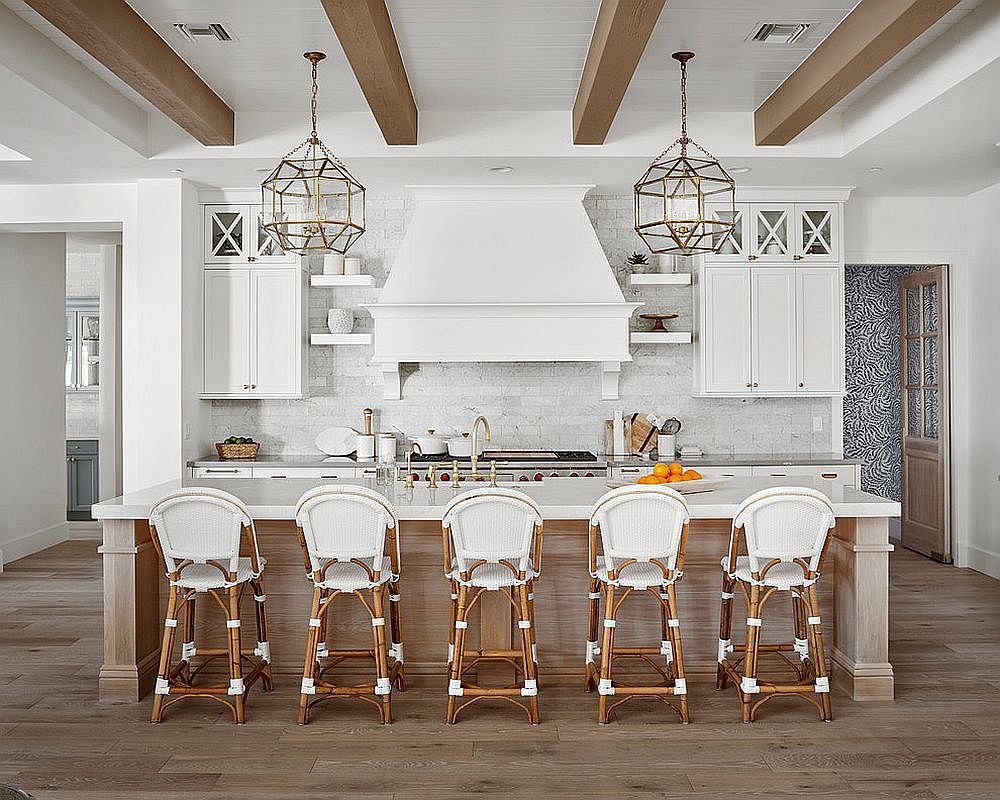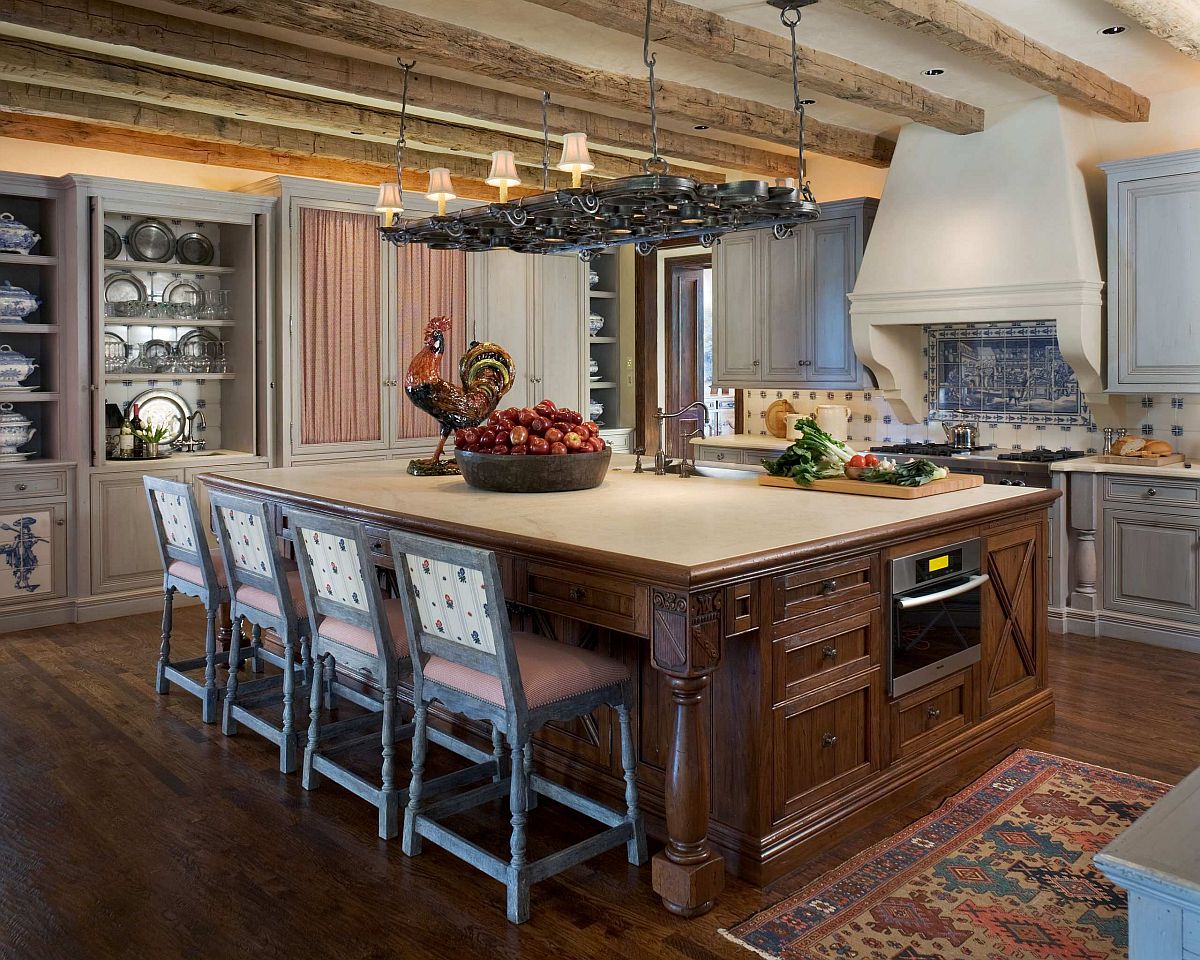 An Overload of Wood
In the case of the ceiling in white, the wooden beams stand out visually and give the kitchen a unique look. But you can go in an entirely different direction as well by suing a woodsy ceiling that feels like an extension of the beams! This look works better in rustic, farmhouse and cabin-style traditional kitchens where an overload of wood is welcome. Giving the kitchen a cozy and timeless presence, the wooden ceiling combined with sturdy ceiling beams makes an impact in its own special way. Sometimes, even modern minimal kitchens in white can benefit from this all-wood ceiling.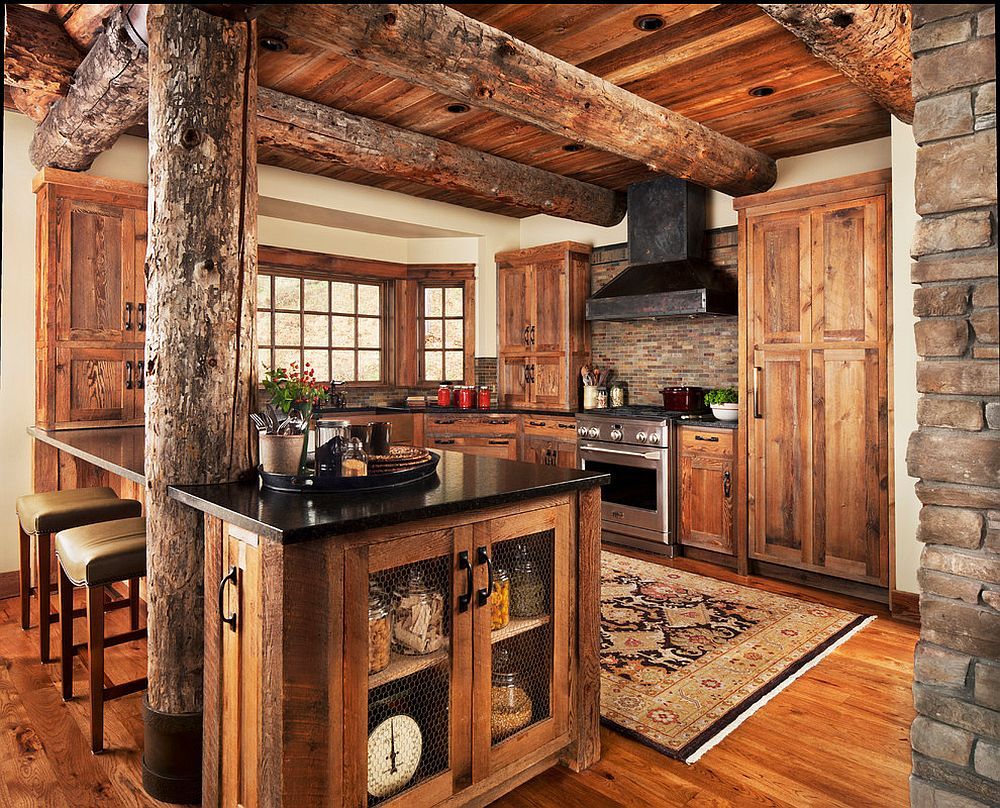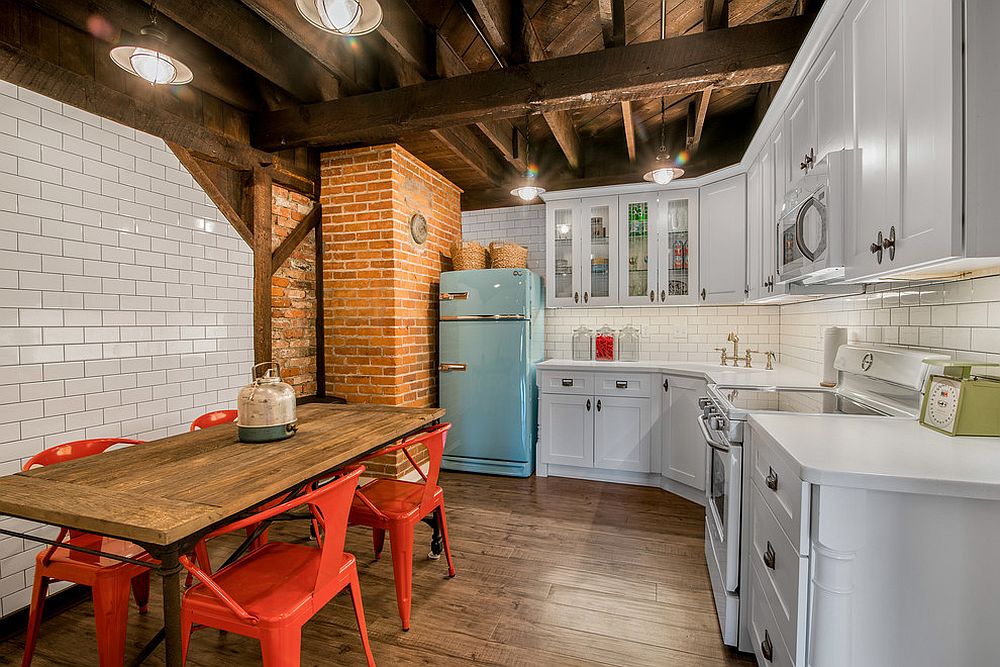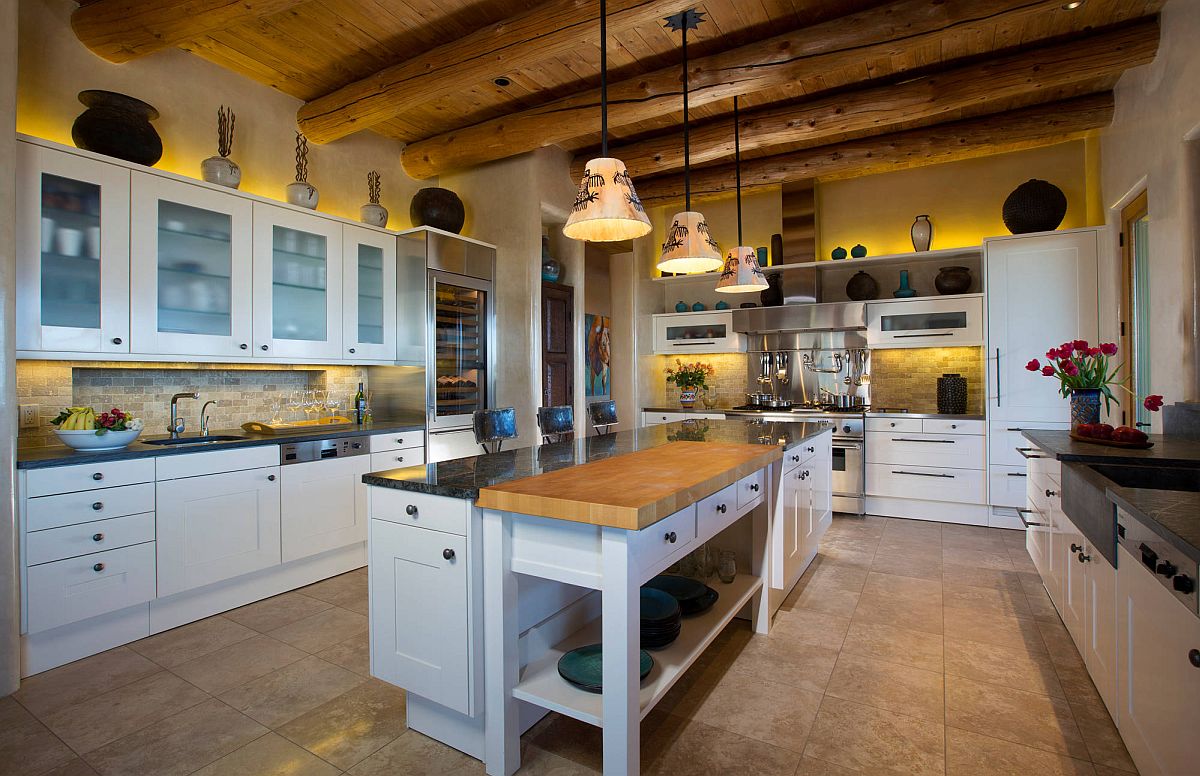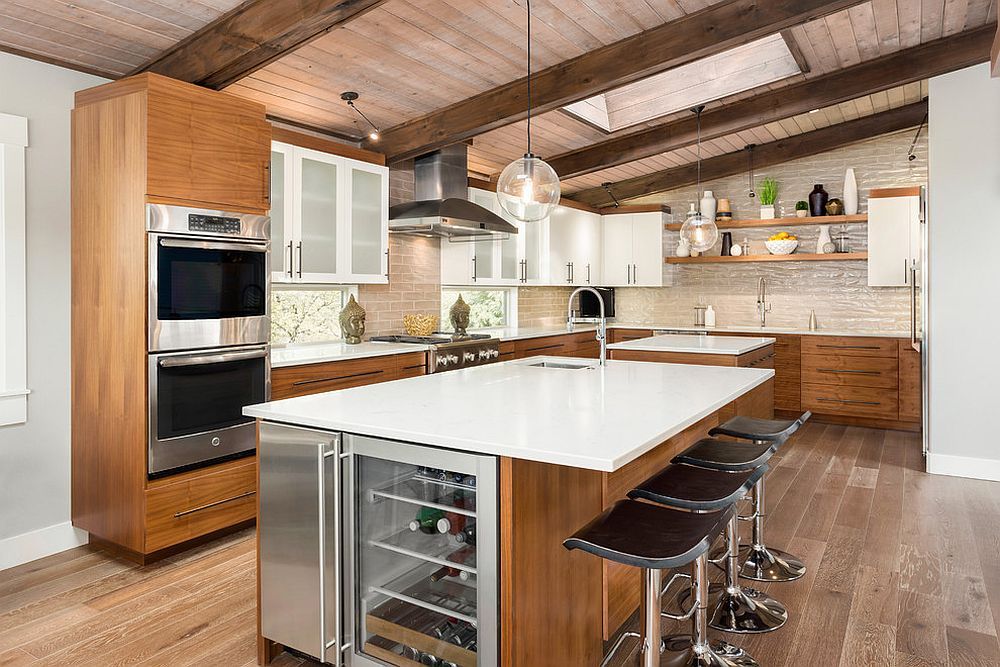 Beyond Just Structural Support
One of the ideas that we are very fond of in the modern kitchen with ceiling beams is to use the beams as support for pendant lighting, chandeliers or even as a space for recessed lighting. This gives the kitchen a completely new look and also lets you to highlight the ceiling beams in an understated manner. Placing a couple of skylights between the ceiling beams brings in plenty of natural light while ensuring the overall kitchen schematic is left undisturbed. Some might even want to paint the wooden beams white; but that is a whole another story for a different day!