The entryway really sets the tone for a visitor's first impression and what they might expect when they enter a home. Whether your entryway is big or small, it's always worth investing a little time and money into some furniture and accessories that really make it look great. Mirrors are perfect for entryways because they help brighten things up by reflecting light (even when there aren't many windows nearby) and create the illusion that the space is actually bigger than it really is.
The Biggest and Brightest
If you're lucky enough to have some windows that shine an excellent amount of light into your entryway, there's no better way to take advantage of that than by going big with a floor-length mirror. These mirrors nestled in modern homes designed by McGill Design Group and Chroma Design Collective have great-looking entryway tables placed in front of them.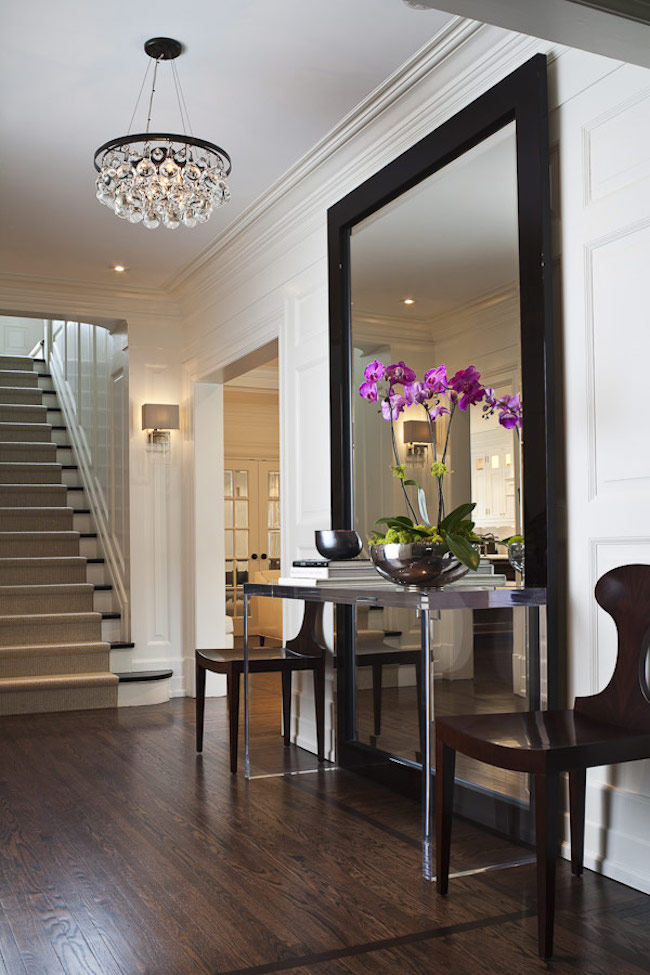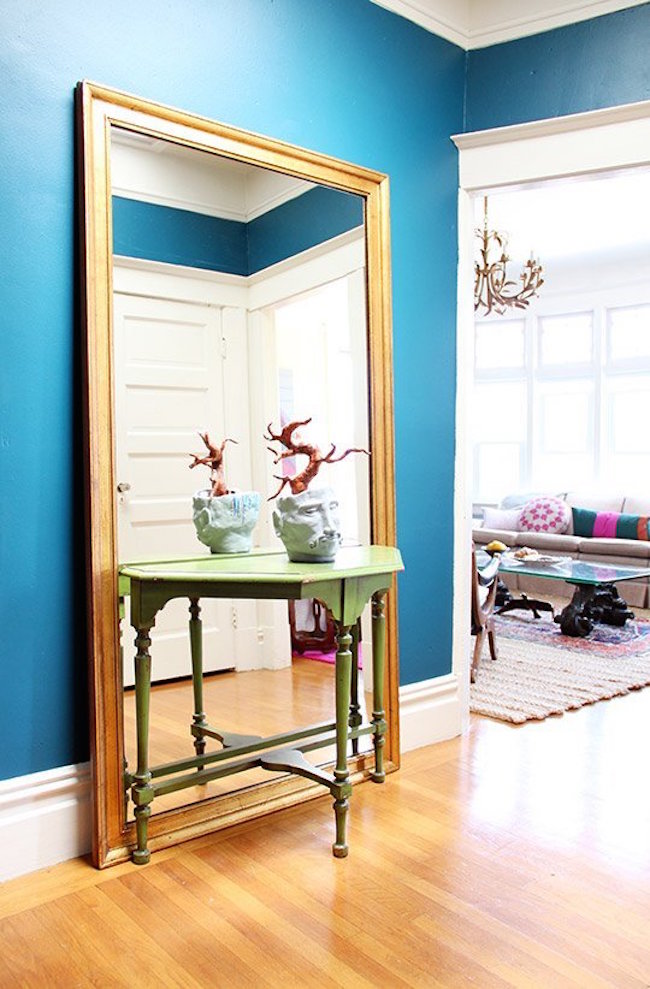 A different example of using a very large mirror is featured in this entryway designed by Su Casa Designs, which uses the entire wall for a rustic-looking mirror and table below it.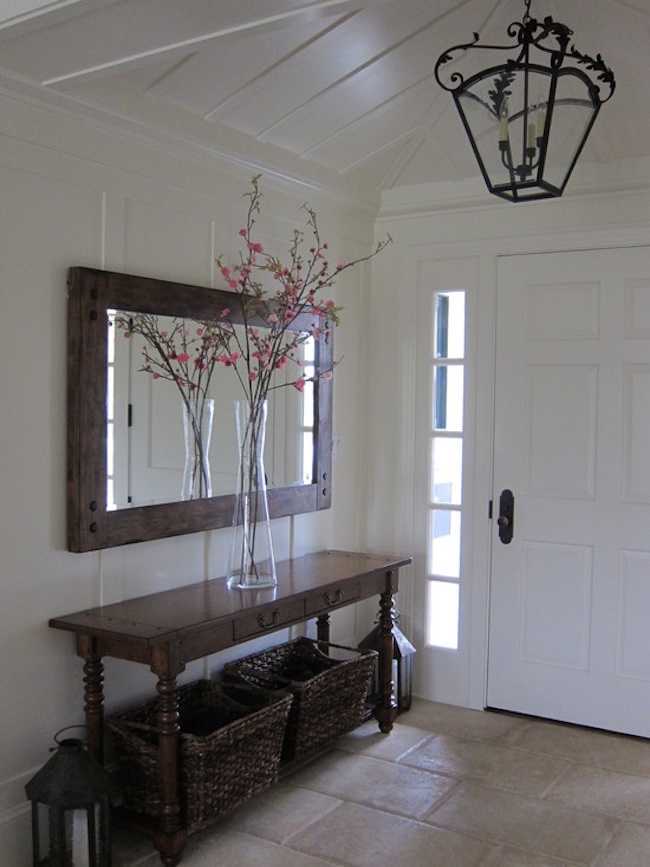 Bench Reflections
Hanging a large mirror on the wall just above a bench is another trend that looks great and is easy to pull off. Here are a couple of examples from Decorating Your Small Space and Instagram user @megtimjakebay.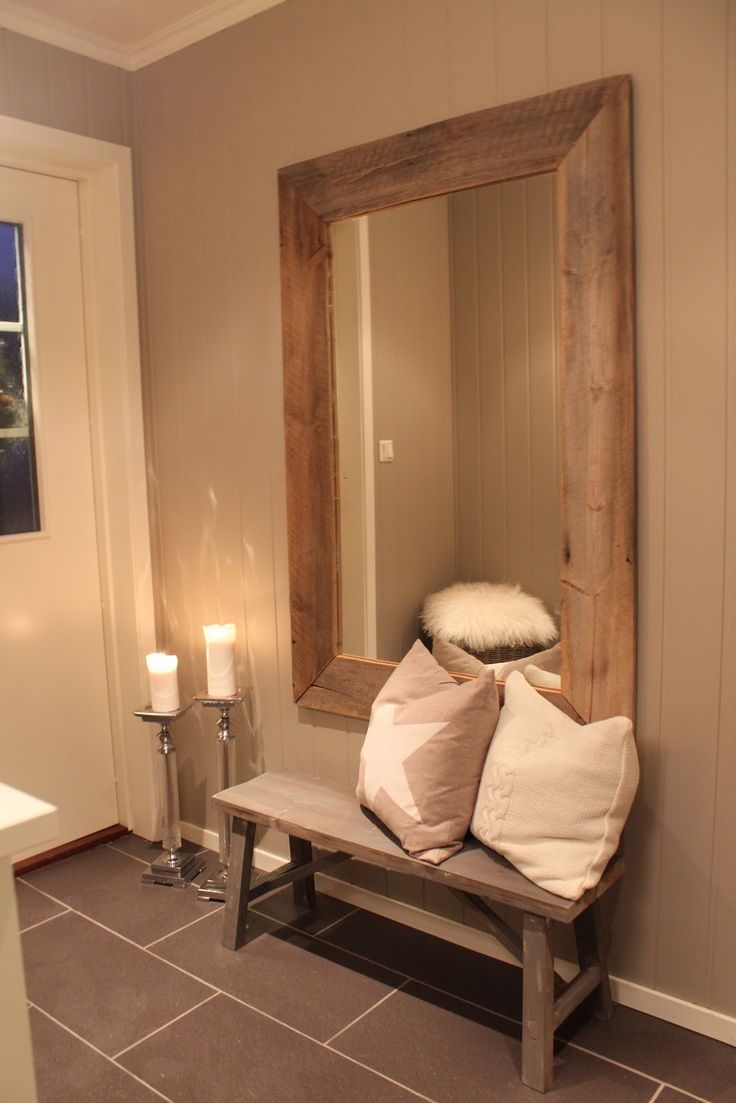 A simple bench allows a spot for one to sit and take off their shoes. While a bench and mirror paired together are not the traditional settings for the entryway, foregoing a table and going with a bench is a modern take that we just love!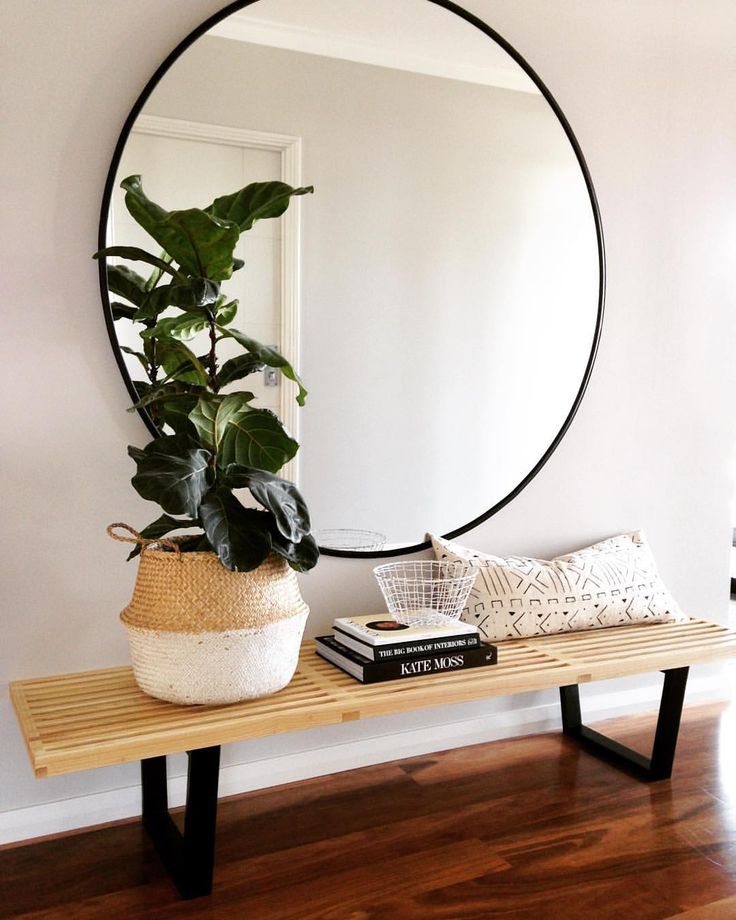 Such a simple and functional space, this entryway has all that you need!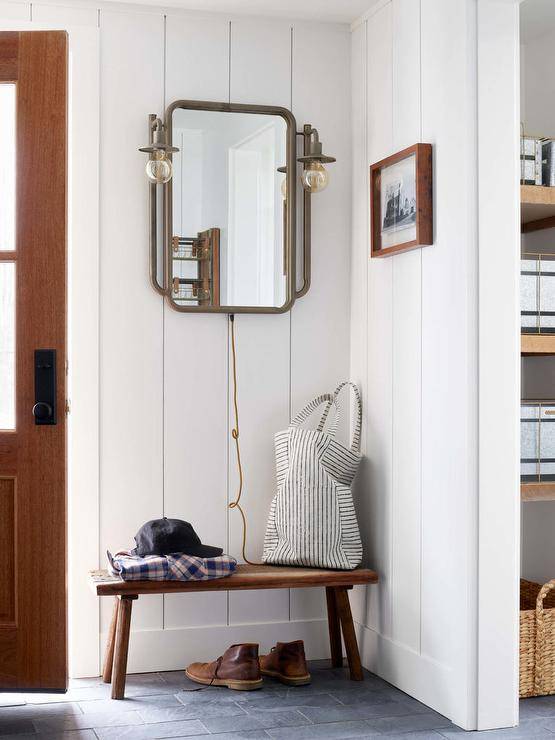 Your bench doesn't have to be large either. If you are working with a smaller space, there are tons of benches available that are on the smaller side and can make a significant impact without taking up all your space.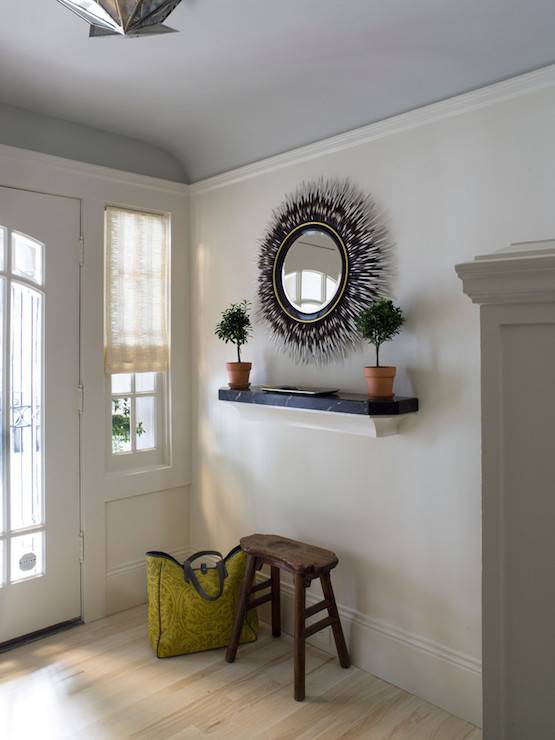 Keep It Light and Minimal
You don't necessarily need much for your entryway to look great, and hanging a mirror as the focal point is an effective way to keep it minimal. Take a look at this great mirror with antlers above it from Design Sponge, plus another animal-inspired decorative piece in the reflection of the second mirror example below from Refinery29.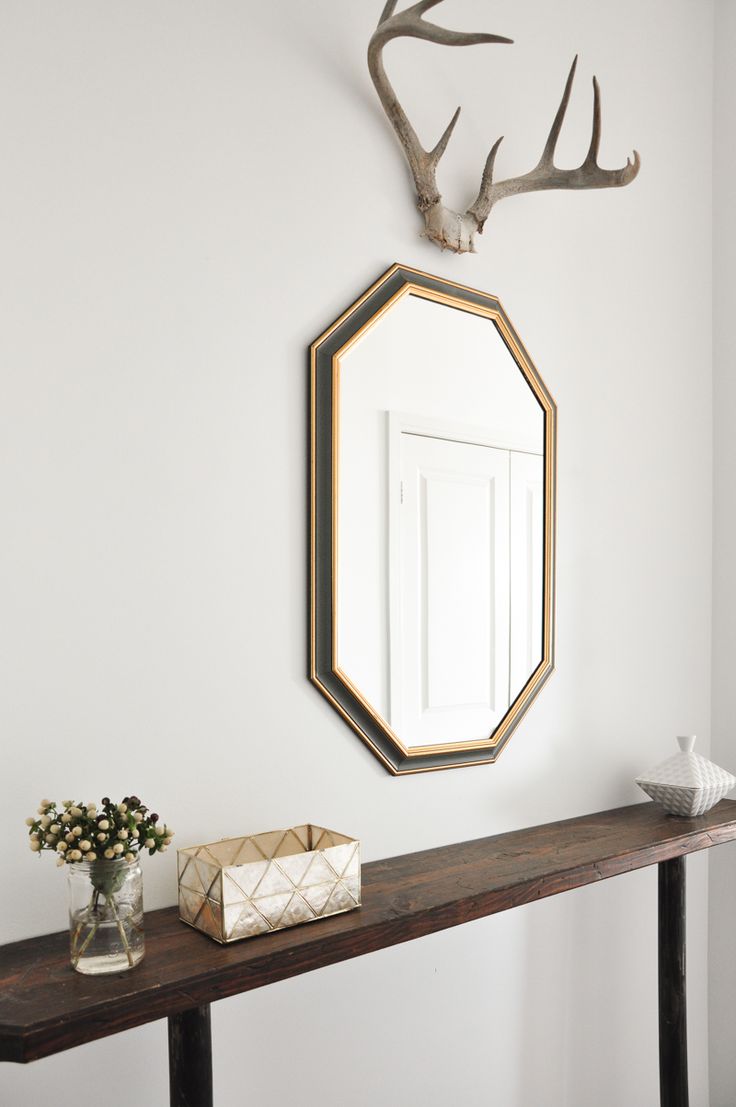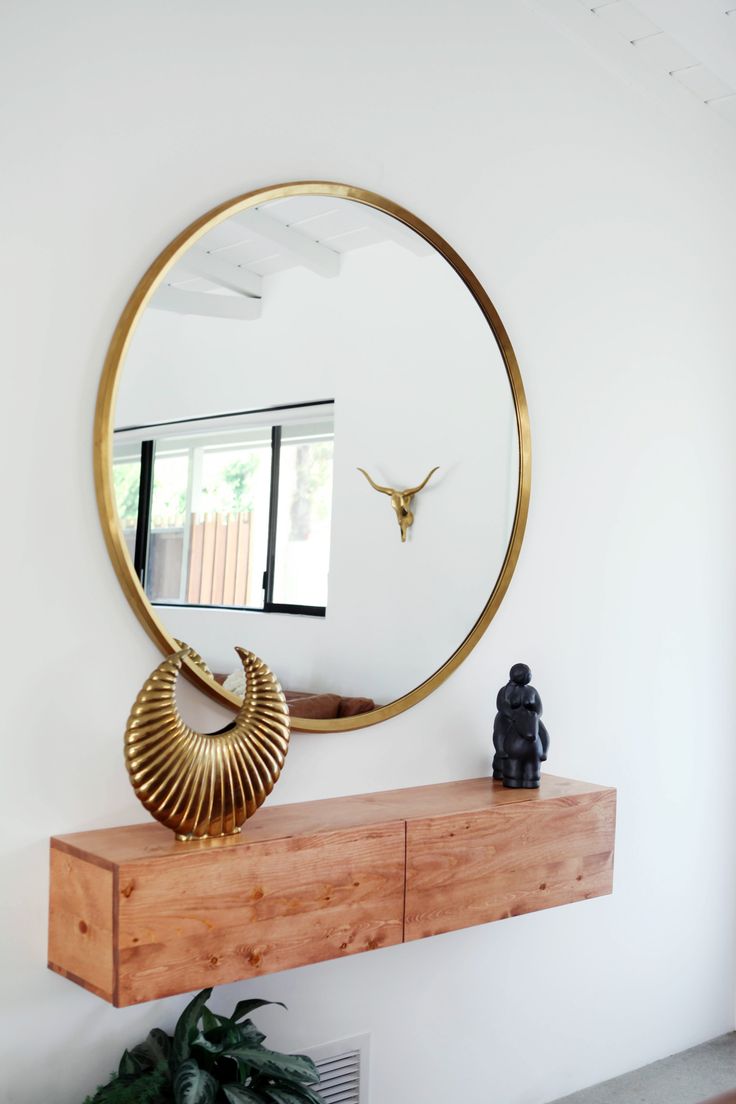 The next three entryways from Notey, Oracle Fox, and My Scandinavian Home certainly all do have that very distinct minimal, clean look that's inspired by Scandinavian design. Each mirror really stands out against the white walls.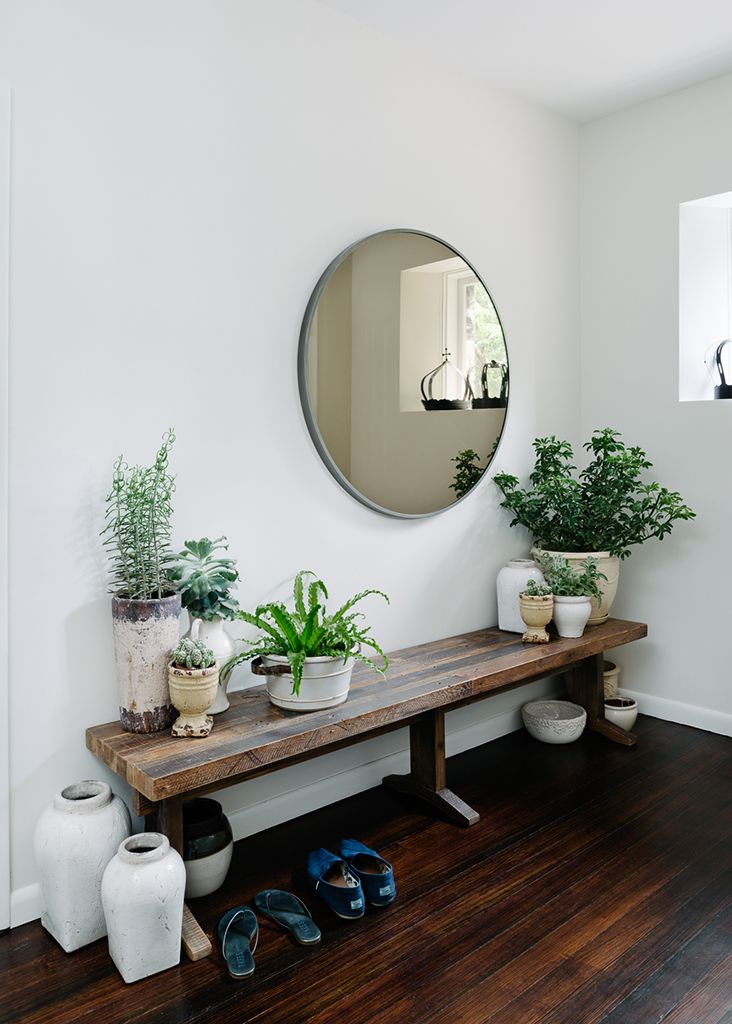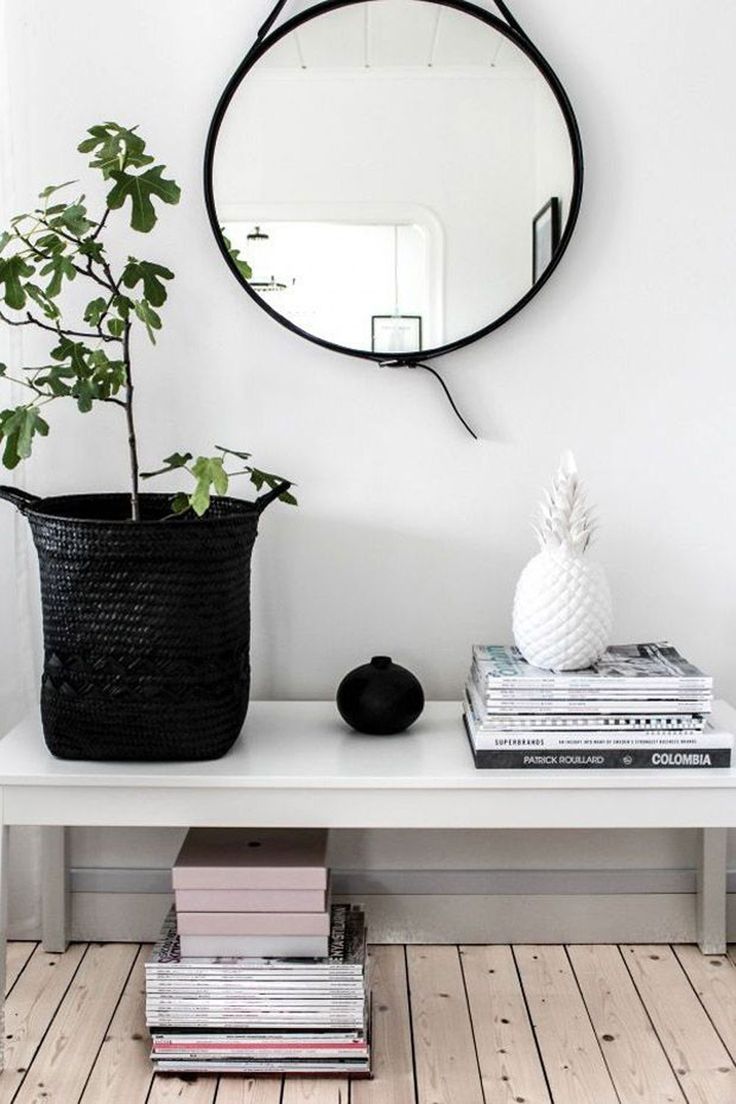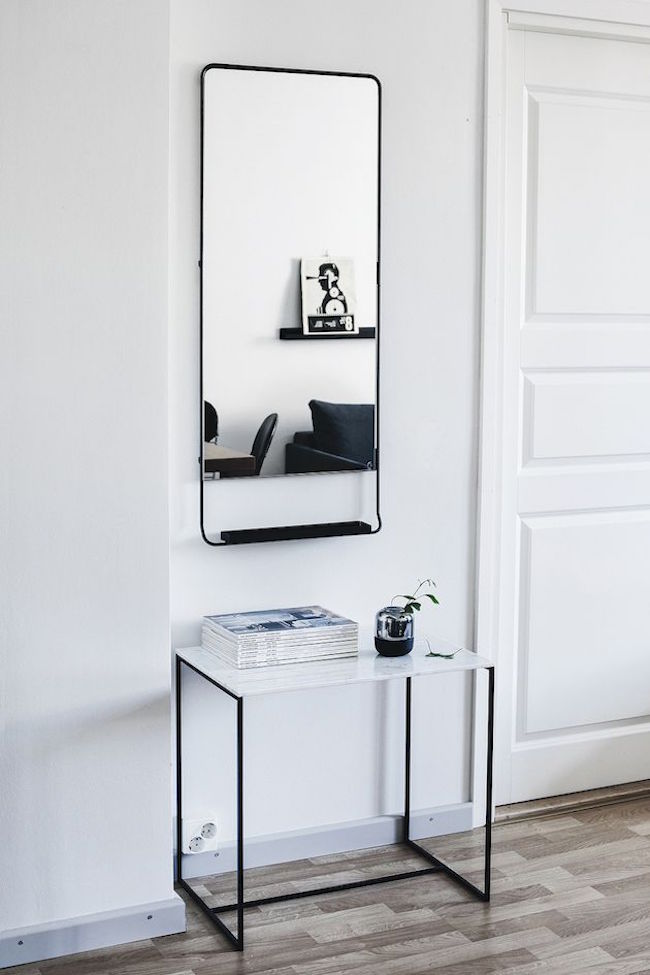 Your entryway doesn't need to be overrun with decor. Sometimes less is more; in this case, the simplicity here is perfect and critical to a well-decorated entryway space. The simple all-glass mirror is perfectly complementary to the simplistic yet sleek entryway table.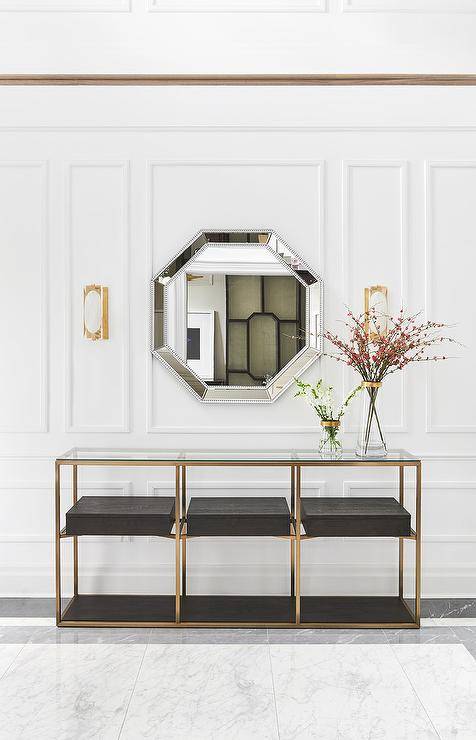 Smaller Entryway Spaces
It's not easy to work with an extremely tiny entryway area, but it's not impossible. Small mirrors may still provide just enough light, even in the smallest spaces. These two small entryways from My Love for Words and Little House of Four use the same pretty mirror (in different colored frames) to dress things up a little.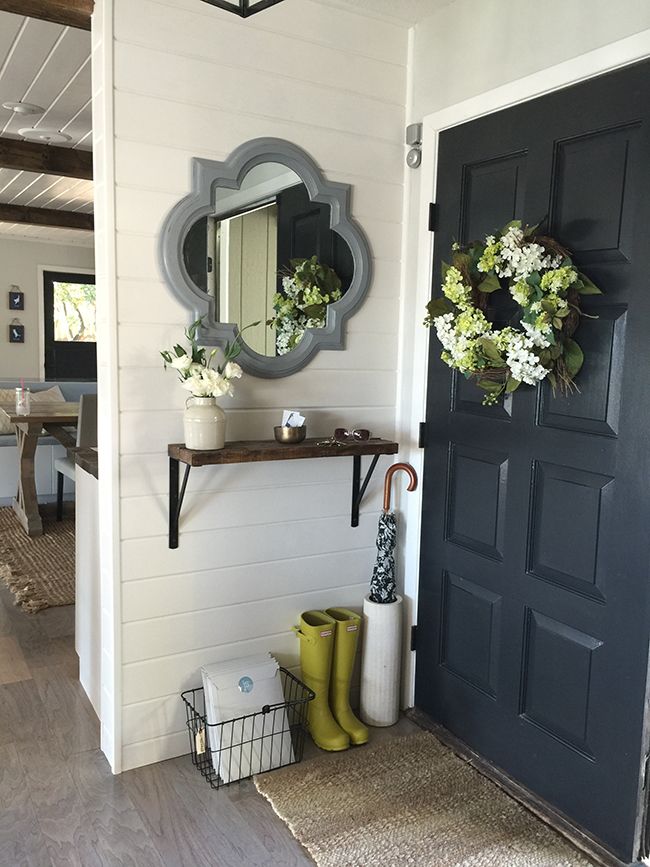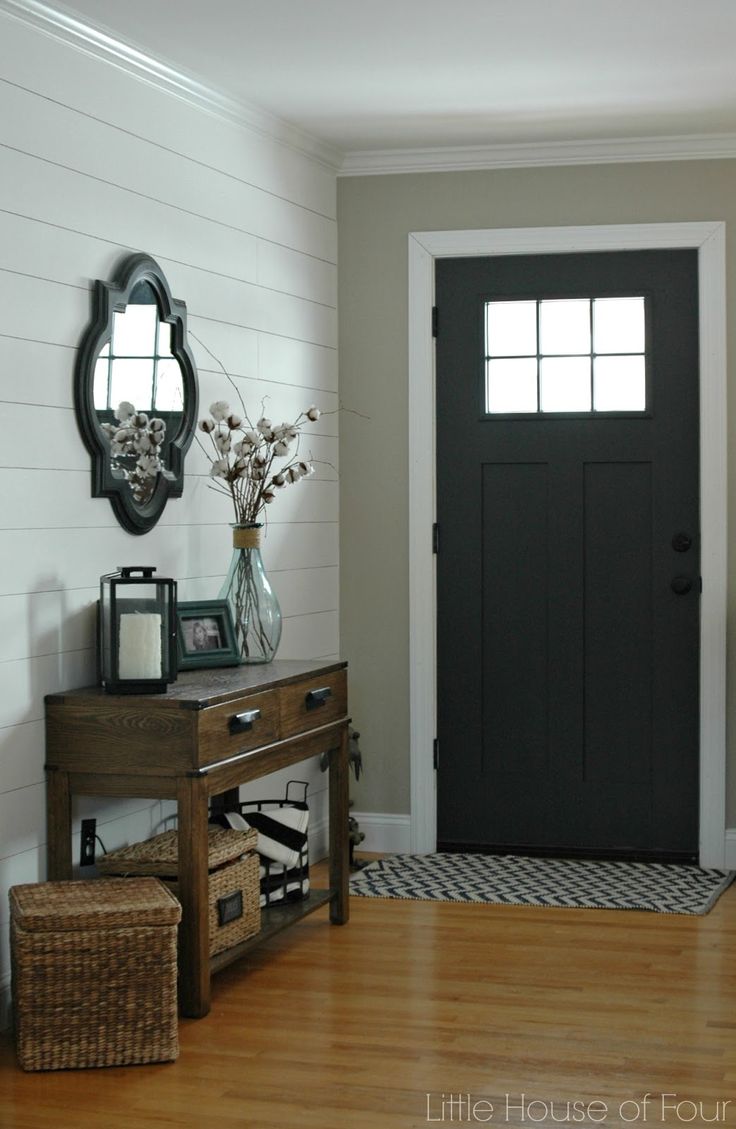 If you are working with a smaller entryway, keep everything on a smaller scale — not just your mirror. This designer opted for a bar cart instead of a large console table for the entryway and then chose a matching mirror. It looks great!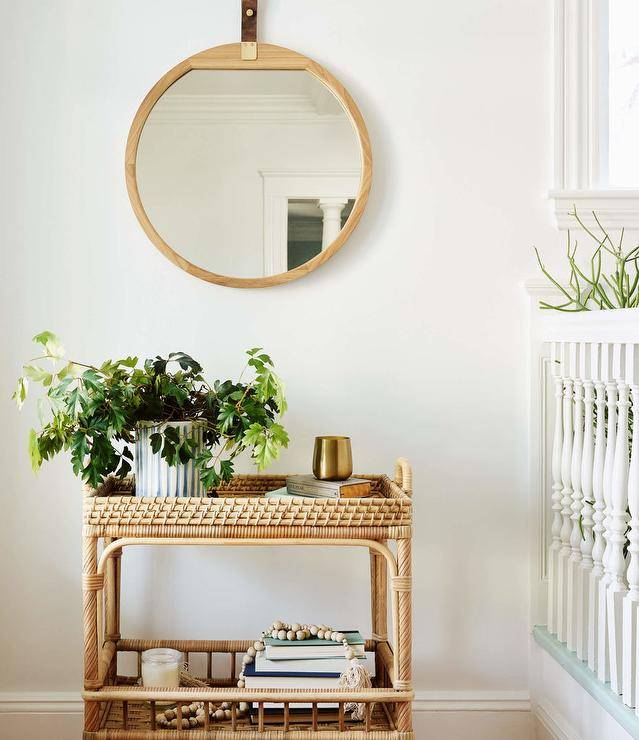 Related Article: Mirror, Mirror on the Wall, Make my Room Seem Largest of All
Near the Stairs
For homes with the stairway front and center, when you first walk in, setting something up in that awkward little space underneath the stairs could make more sense than placing it on one of the walls beside the front door. Here are a couple of gorgeous examples from My Domaine and The Yellow Cape Cod.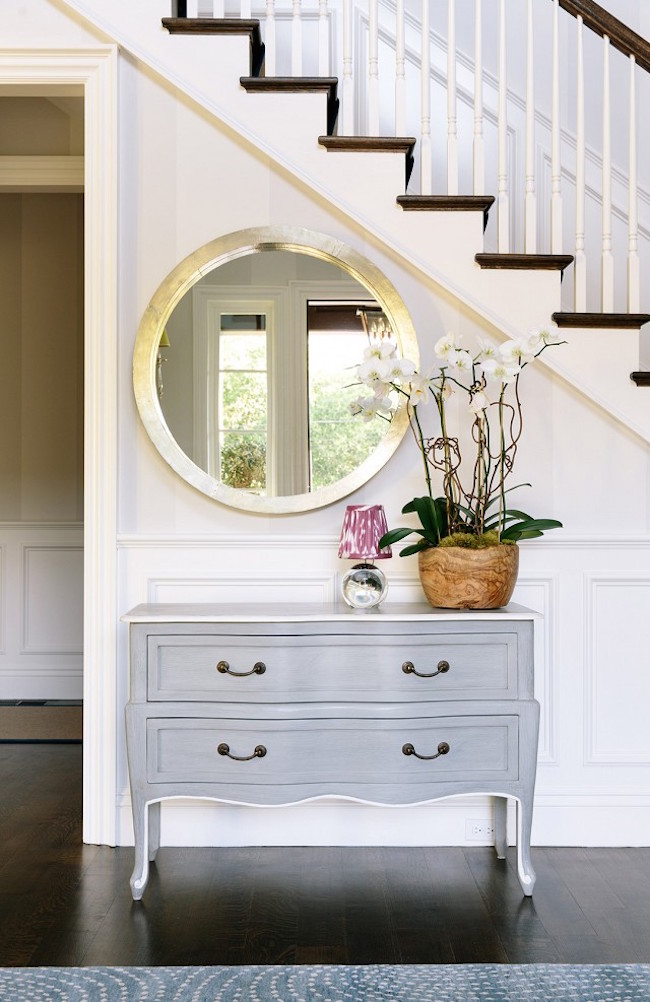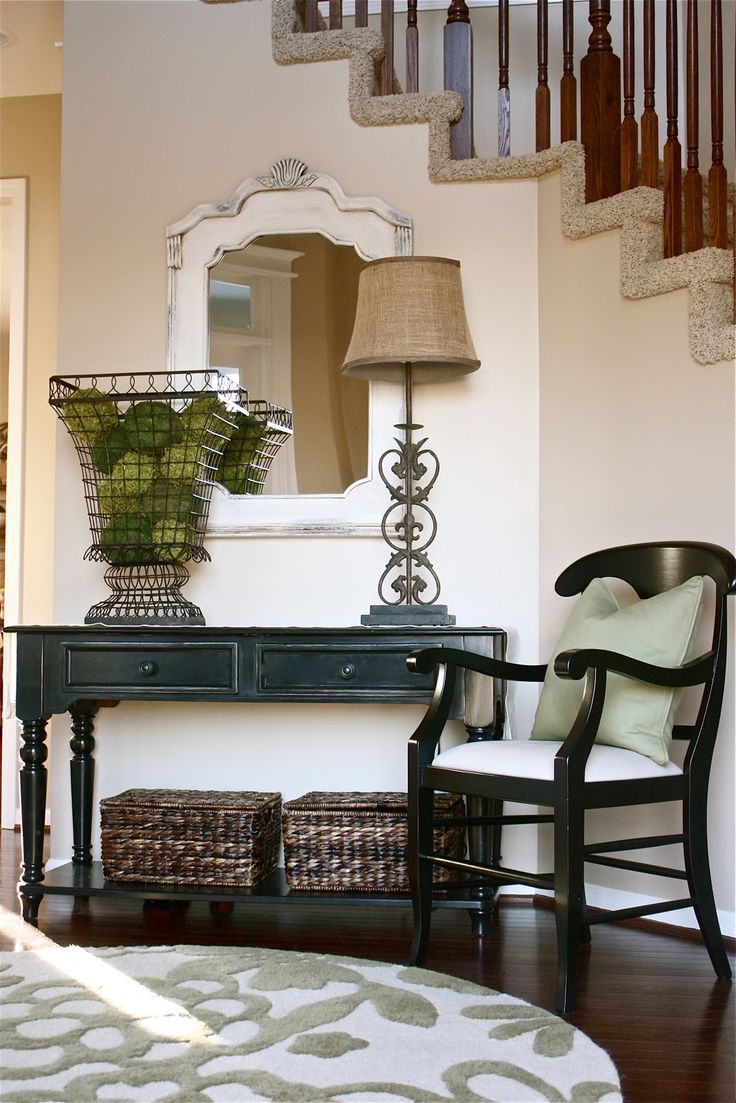 Illusionary Windows
No windows nearby? No problem! Mirrors come in all sorts of great designs that make them actually look like real windows. Check out this set of three mirrors from Flickr user Shizzi to see just how easy it is to mistake them for windows.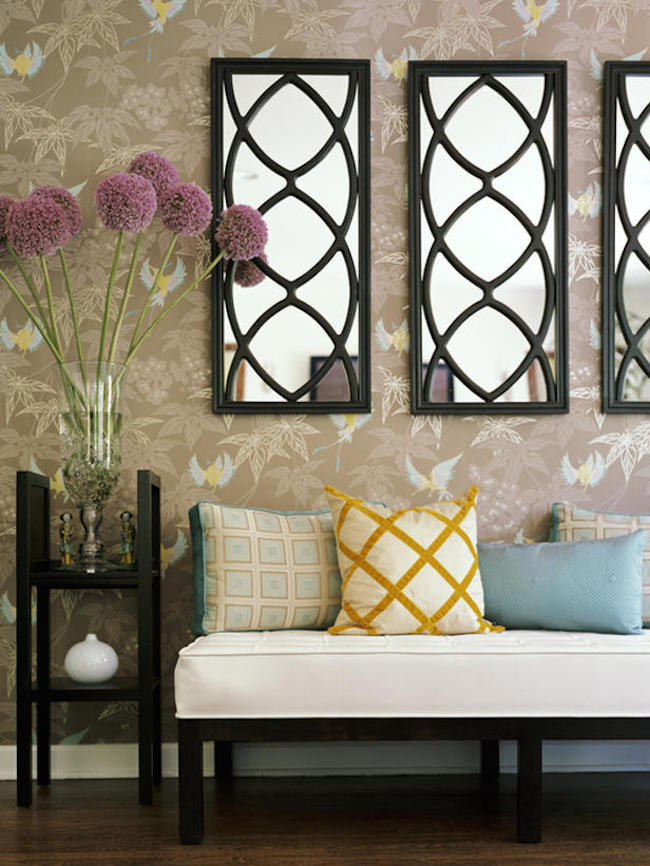 To really step up the elegance of your entryway, try something like this breathtaking Grand Chateau Window Mirror that was featured on How to Decorate. Love those sconces too!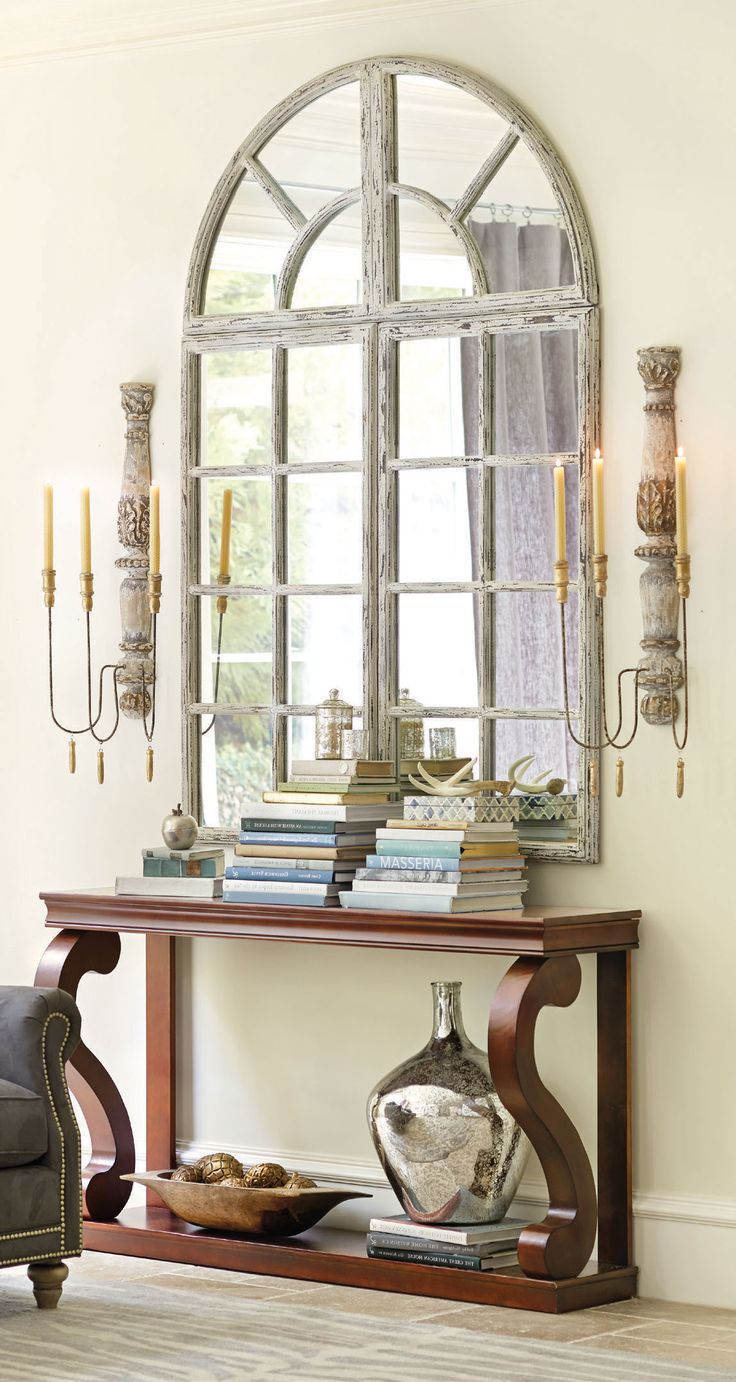 This mirror below has the shape of a fancy window but is all glass allowing for a bit of decor and shape while still keeping it a full functioning mirror.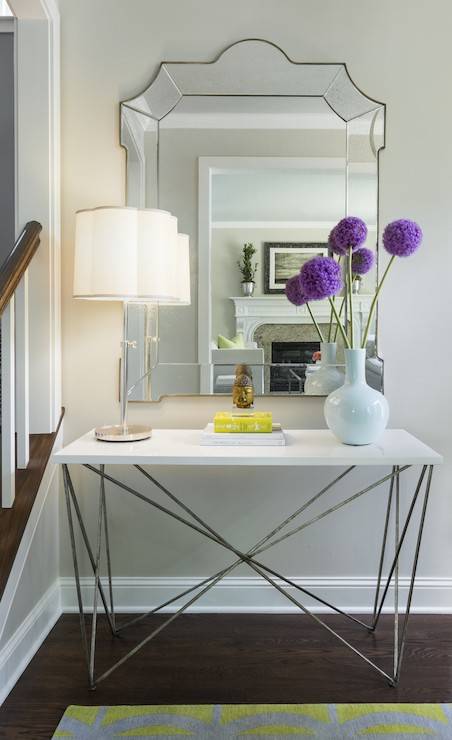 Bold Looks
Whatever your style may be, there's definitely a mirror to fit it. Check out this wild entryway design from 11 Magnolia Lane that pairs black and gold together, or this other chic design from Tidbits and Twine, all in black and white.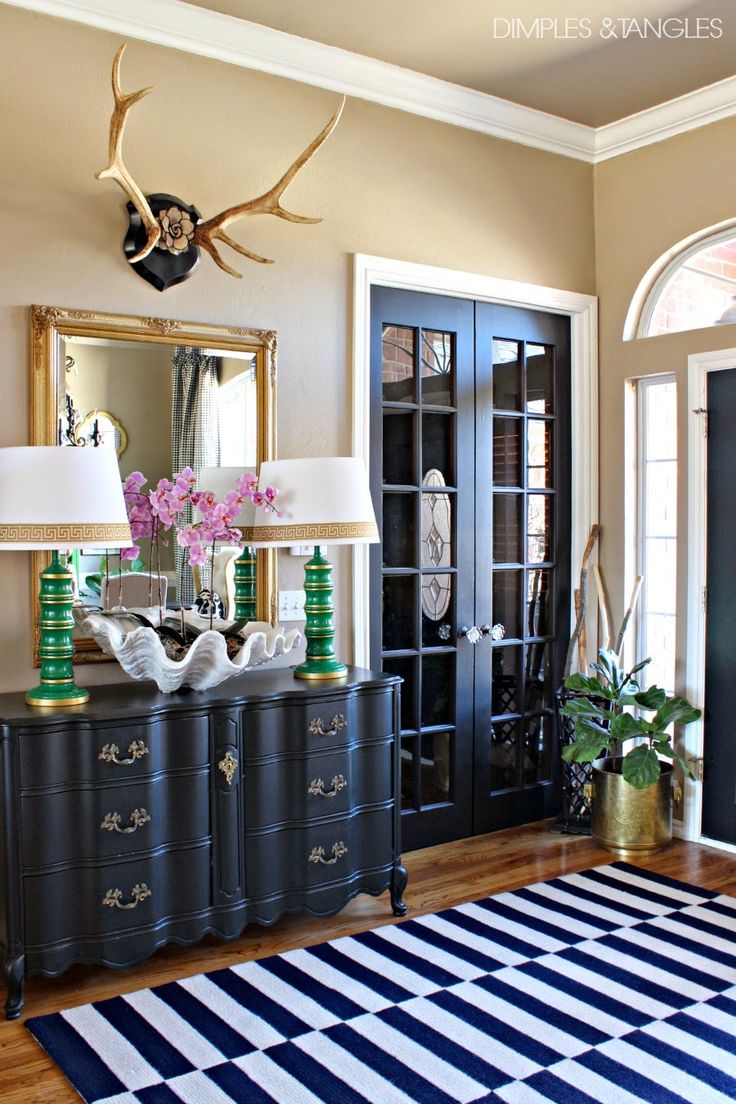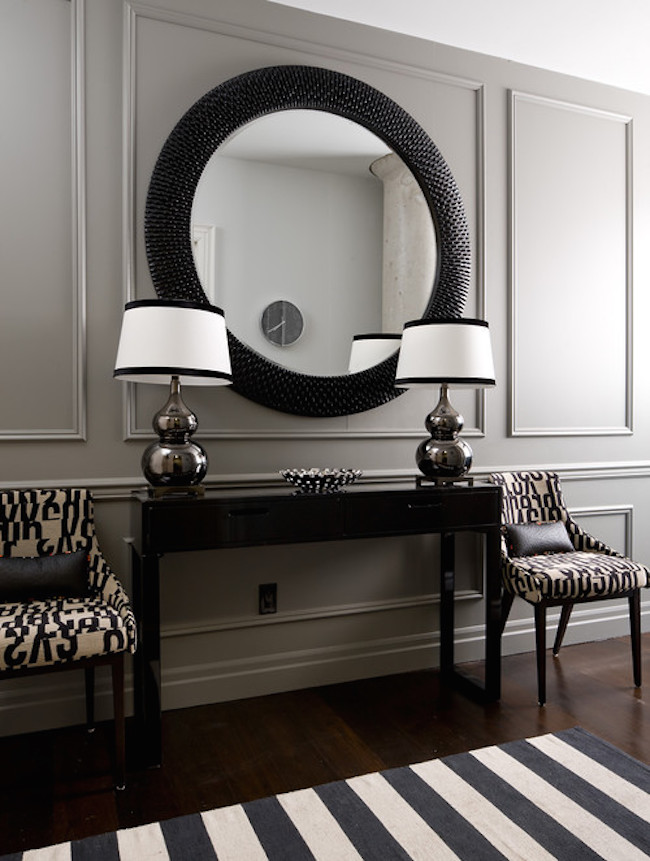 If you have a bold piece of furniture, tone down your mirror and go with something simple and sleek.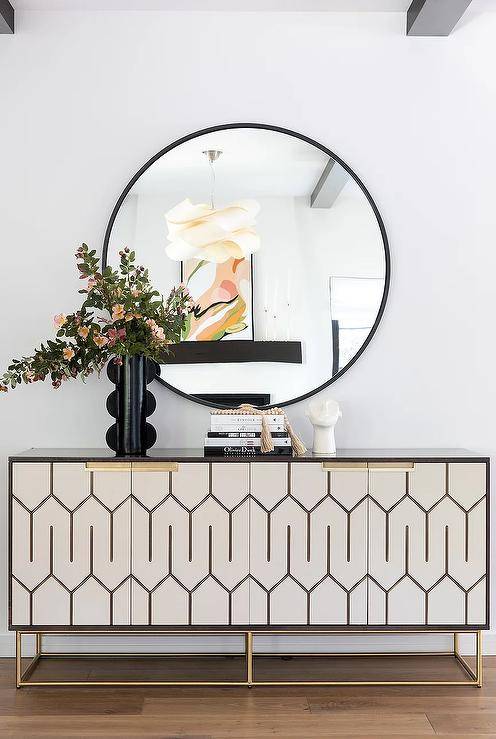 Bold mirrors and bold decor can make such a stunning impression when you first enter a home.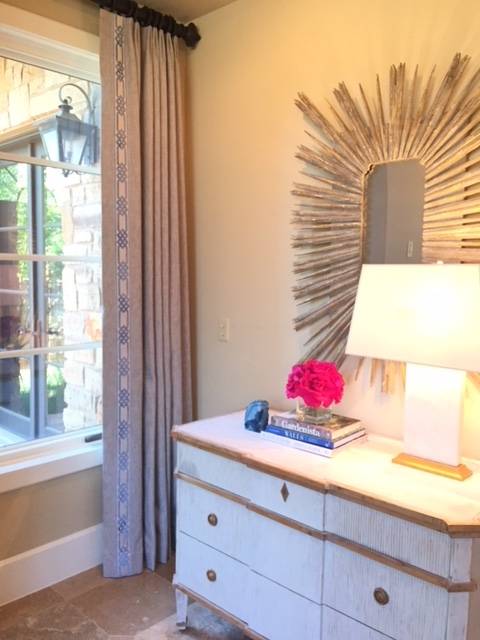 If you have a bold tile in your entryway, choose a mirror that won't compete and overpower. Let the tile be the focal point and use a mirror that will just complement the space nicely.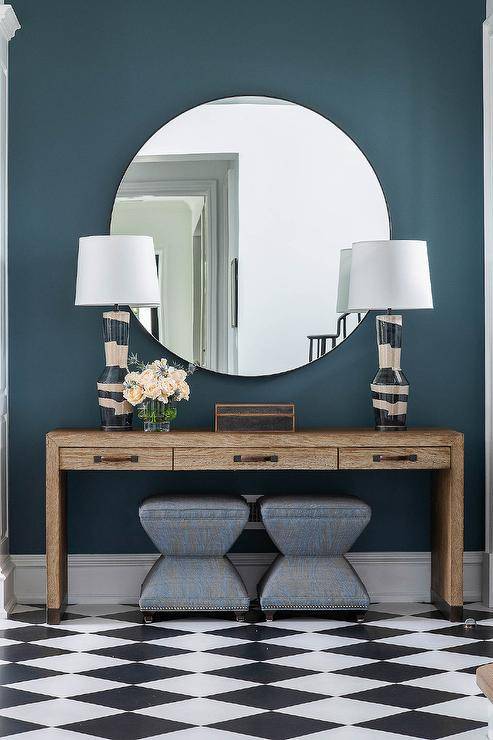 An all-glass starburst mirror is a modern and eclectic look in this entryway and totally steals the show. This mirror is a perfect fit for this space. Notice how the mirror fills the whole width of the wall. You want to avoid placing mirrors that are too small for your space.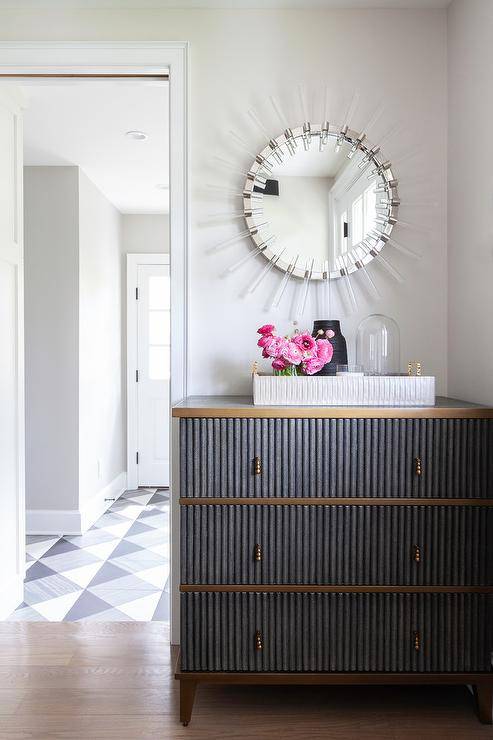 Related Article: 30 Exceptional Ideas for Decorating with a Sunburst Mirror
Go For a Cluster
Make a trio of smaller mirrors for a look that offers more dimension to your entryway. This also allows room for taller lamps or more oversized decor.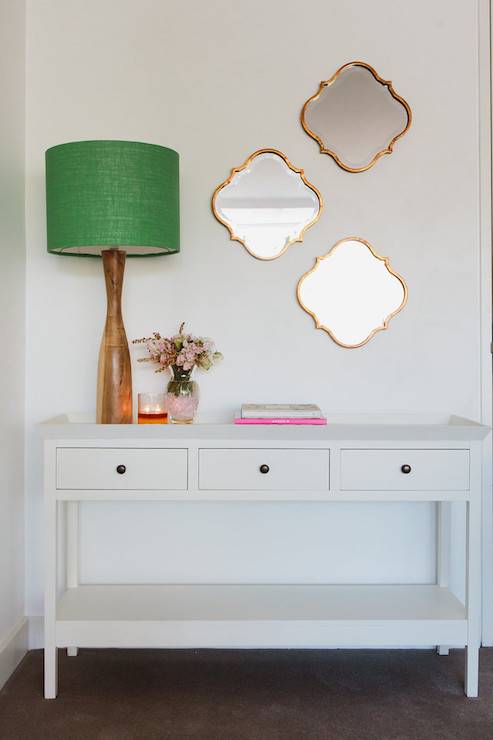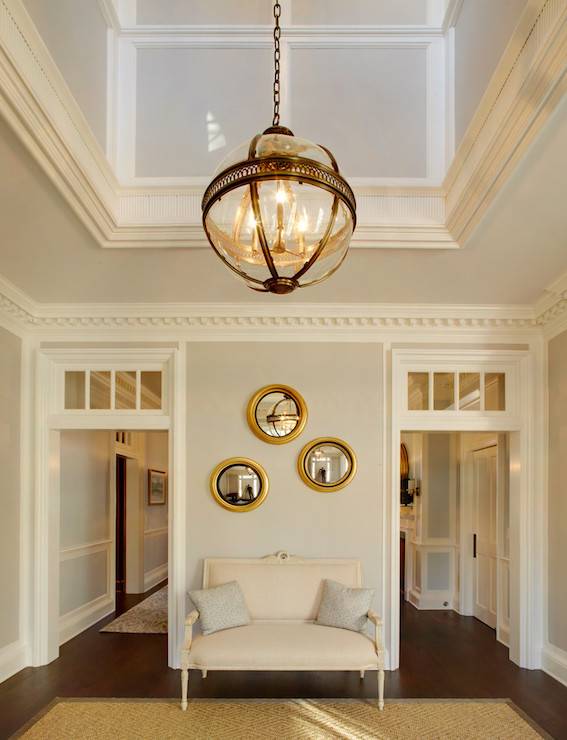 If a small cluster of mirrors is not your thing, you could also do a gallery wall of mirrors. This is a stunning display in your entryway and will generate lots of light, making it a perfect design idea for smaller entryways.
Related Article: Here's How to Create a Show-Stopping Mirror Gallery Wall
Go With Some Curves
Soften your entryway by utilizing a mirror with some soft curves. The delicate frame on this mirror and slight curves on the two upper corners are sleek yet comforting.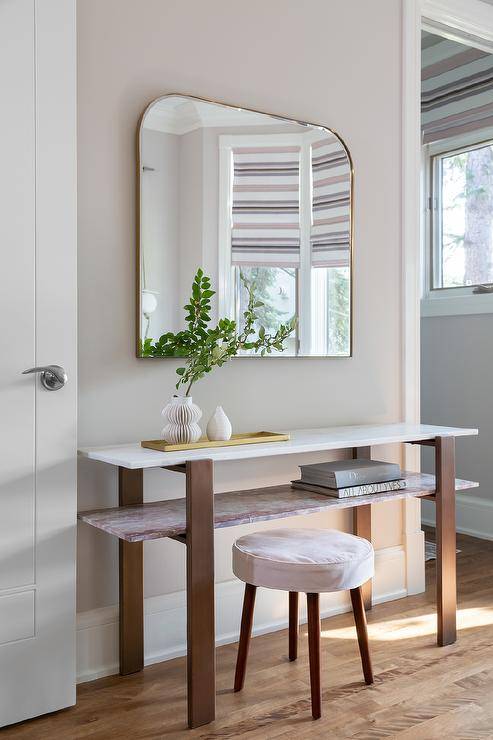 Work With What You Got
If you're fortunate enough to have a structural design, use it! This small alcove is the perfect spot for an entryway mirror and small table.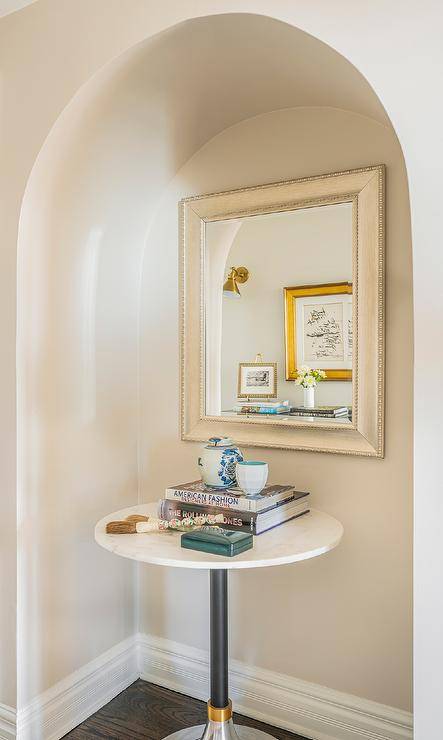 Mirrors Don't Need To Be Hung
Remember, you don't always need to hang your mirrors. These antique mirrors look stunning placed on the entryway table.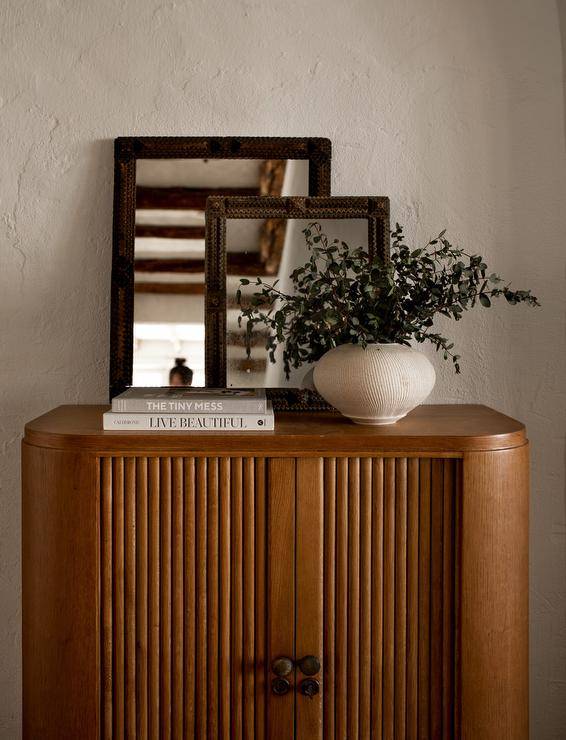 Class It Up With Gold
Gold is such a bold and classy look, and there is nothing like a chic gold mirror in an entryway. Gold mirrors are available in every shape and size, so you are sure to find one that will suit your space.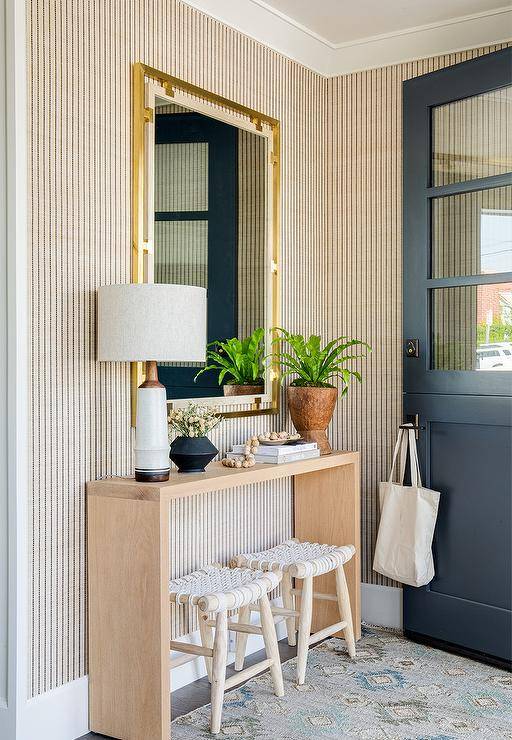 Just like other colors, there are also different hues and tones of gold. For a more antique look, you can go with a Grecian Gold which has a gold and black contrast with a smooth and mild texture.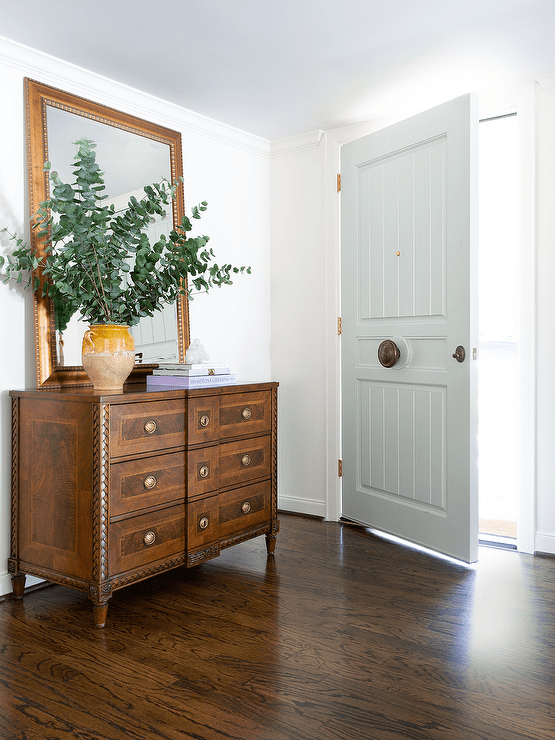 There are brighter golds which are true gold, that stand out and make a bold statement.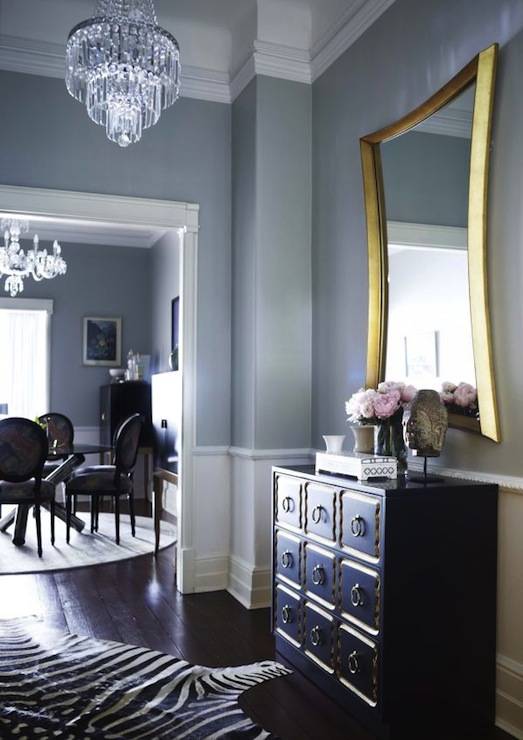 A gold mirror is also a great place to work in some ornate details. Using gold mirrors with vintage or antique furniture is also a classic look that you can't go wrong with.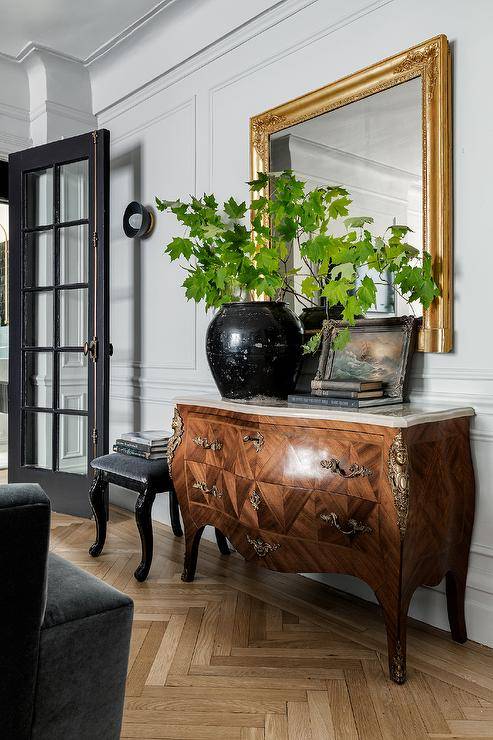 Ornate Details
Ornate details on mirrors are perfect for those that love a Victorian, antique, or shabby chic look. These mirrors can either be antiques, or you can even find some beautiful replicas.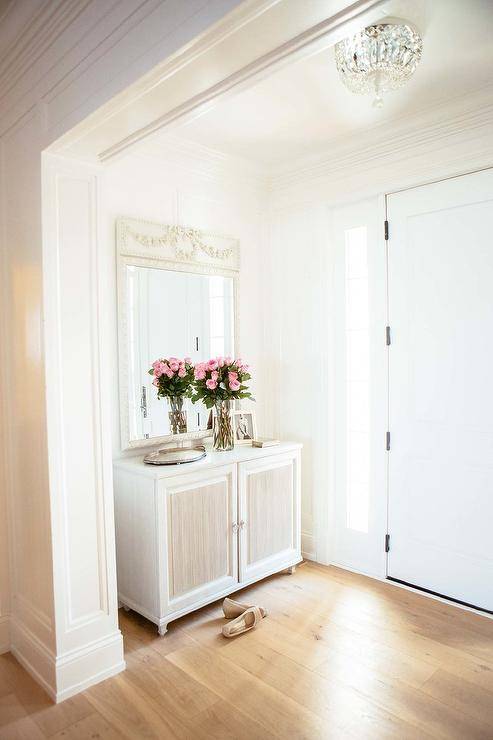 An antique vintage mirror is a gorgeous statement piece for any entryway. Keep your eyes peeled at vintage markets, antique shops, or even online for a unique vintage piece that will make a significant impact in your front entryway.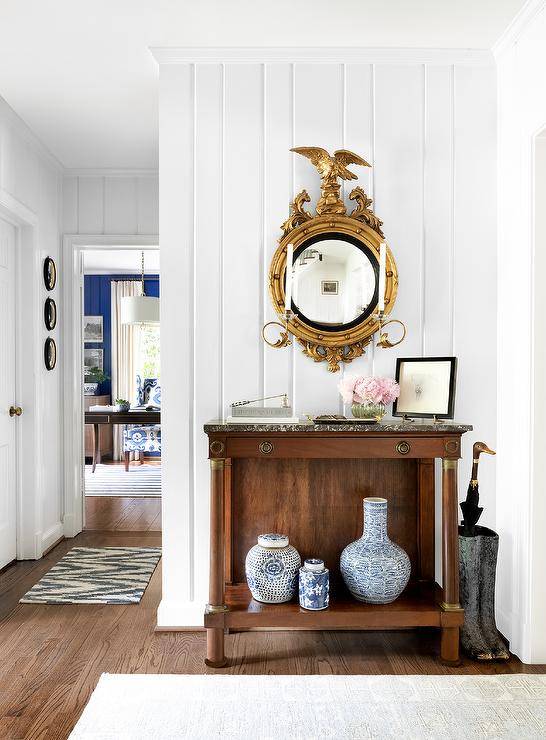 Ornate isn't always gold and antique, either. This Iron detail mirror adds a rustic industrial feel to this entryway.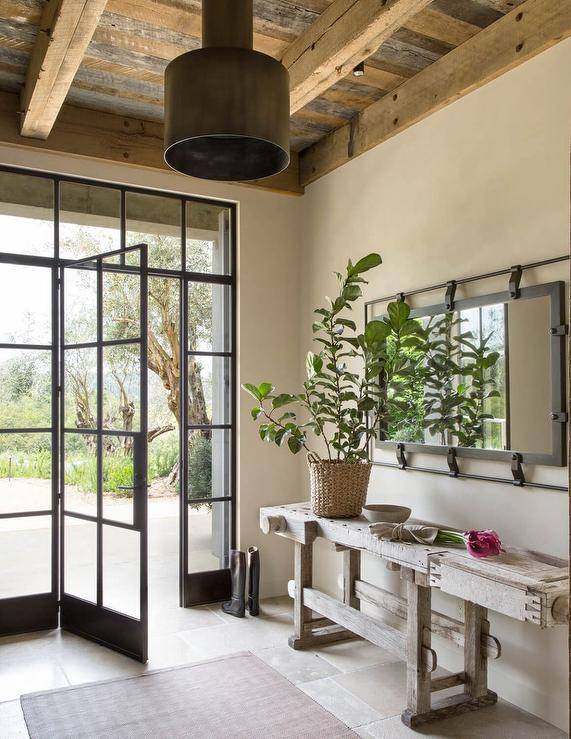 Cottage Style
To encompass a beautiful cottage style in your entryway, go simple with your mirror and allow other details to take center stage. This thin frame black round mirror makes a stunning statement but also allows the deep blue shiplap to shine as well.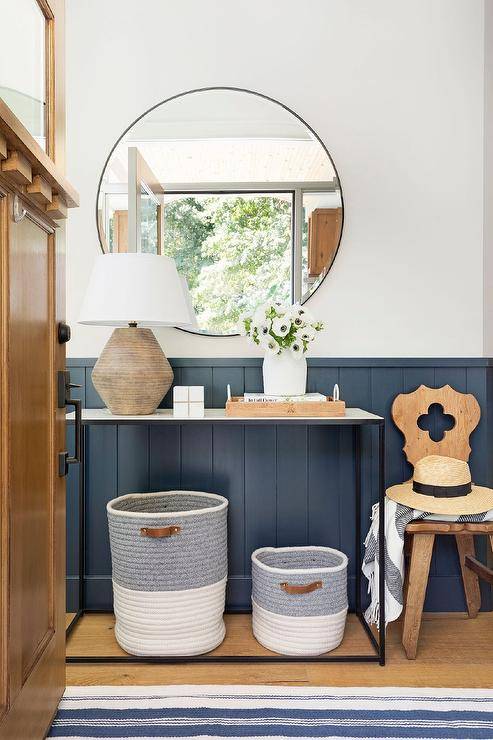 Best Tips for Hanging Mirrors
Don't hang a mirror across from clutter – the clutter will reflect in the mirror, and then all people will see is double the mess.
Don't hang your mirror directly across from the front door – When it comes to obtaining good energy in your home, you want to keep the front door prepared to welcome it inside. Feng shui dictates that if you have a mirror right across from your door in the entryway, good energy may reflect back outside. Many people want mirrors in their foyer, and that's fine; just make sure it's on a perpendicular wall that catches light instead.
Ensure your mirror is hung safely – If you're hanging a heavy mirror on drywall without the support of a stud, you need drywall anchors that can handle the weight of your mirror.
Be ready from the start – hanging a mirror can be easy if you're prepared. Gather all your hardware that you need prior to starting. This will make the job easier and stress-free.
If possible, find your studs – this will eliminate having to use an anchor for heavier mirrors.
Weigh your mirror – it's crucial to find out how much your mirror weighs before you attempt to hang it. This will ensure that it is hung properly and the screw can maintain the weight — and that you buy the suitable anchor. You can find this information on the packaging if your mirror is new.
Ready to hang is best – when looking for a mirror to purchase, check to make sure the mirror is ready to hang. Some mirrors come without hardware on the back; in this case, you will have to install your own.
Frequently Asked Questions
FAQ
Where should a mirror be placed in entryway?
You want to make a statement, so your entryway mirror should be front and center, with a few more smallish decorations next to it that will busy up the area. You want to ensure that your mirror isn't hanging too high. Get a mirror that's big enough to stretch up the wall with the bottom of the frame around 48 inches from the floor.
What is a good size for an entryway mirror?
Mirrors should be approximately the same height but can be six inches taller or shorter. The width of mirrors should be between 50- to 75 percent of the length of foyer tables.
Is it reasonable to have a mirror at the entrance?
While it's not a hard and fast rule that one must have a mirror in an entryway, it is relatively common in most houses. Mirrors are a great addition decor-wise to have in the entryway but also provide a spot to stop and have one last look at yourself before you head out for the day. For smaller entryways, mirrors will also reflect a lot of light and make the space appear larger.
Should I hang a mirror with a nail or screw?
The general rule of thumb is that you hang small picture frames with nails, and anything larger than an A1 size of paper should be hung with a screw. Also, don't forget if you are hanging into drywall with no stud, you should install an anchor first.
Will a mirror brighten my entryway?
If you want a brighter and more inviting entryway, you should definitely add a mirror. Mirrors reflect light and can make your space appear larger than it is. If you want the mirror to reflect even more light and make the entryway twice as bright, paint your entryway a light color like white or cream. Mirrors in the entryway? Always a winner! With so many different shapes and sizes, mirrors can transform and brighten up almost any entryway.
If you need more help decorating with mirrors, here are some articles that may help you out: