Your entryway is the first area of the home to greet you when you walk through the door! Many entries are short on space, so it can be difficult to choose furnishings of an appropriate size. Fret no more! Today we shine the spotlight on 5 entryway furniture ideas that bring design-fabulous flair to your home. Enjoy browsing the images below. They just might inspire an entryway makeover…
Organize It!
An entryway often pulls double duty as a storage area for purses, shoes, umbrellas and other items you regularly grab on your way out the door. It makes sense that storage and organizational furnishings are often the first pieces that come to mind when shopping for the entryway. Pottery Barn offers a range of entryway solutions, such as this Samantha 3-Piece Bench & Bookcase Entryway Set. A powerful combination of seating and storage!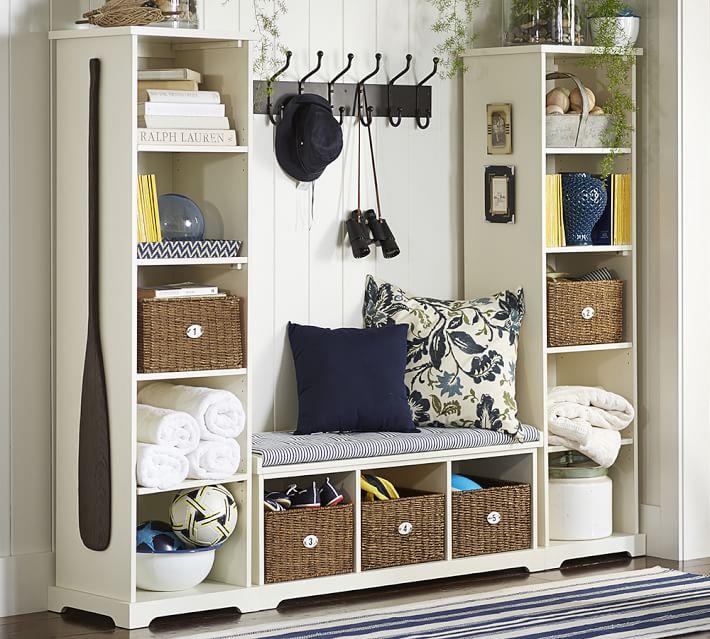 If you're going for a more eclectic look, try combining pieces of different tones, such as the storage bench and the overhead shelves. [photo by Jeff Herr, from Terracotta Design Build]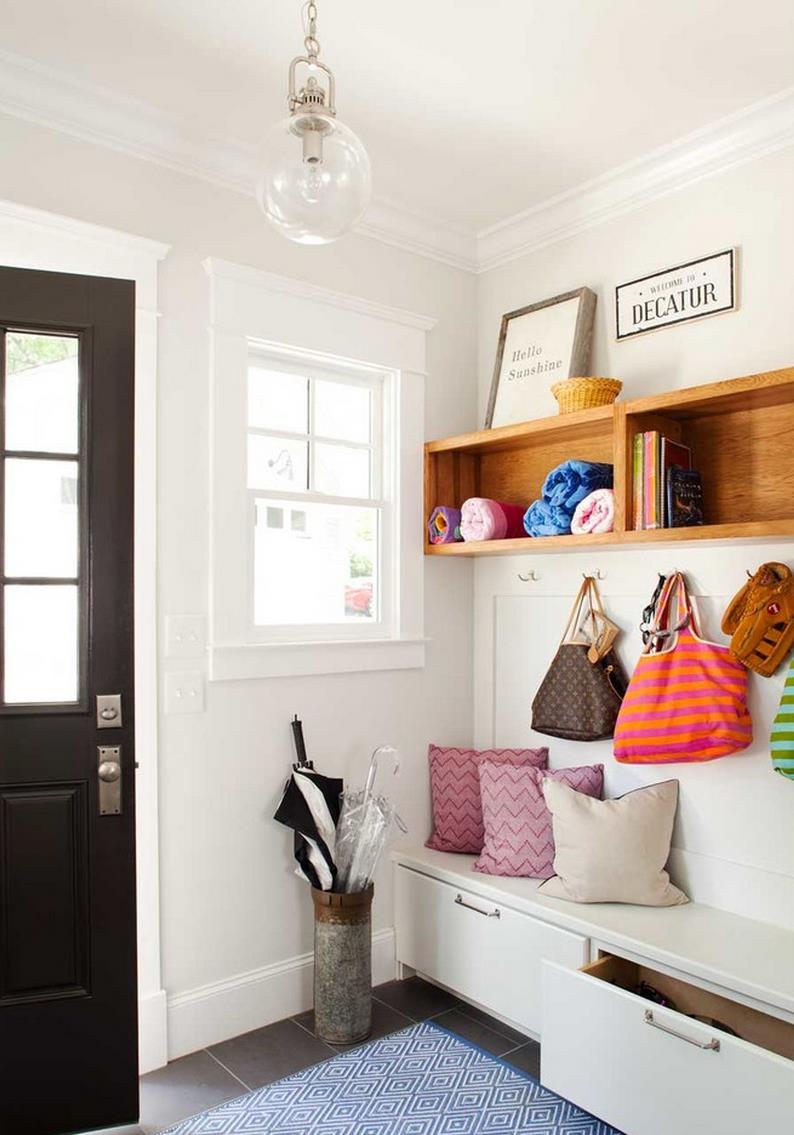 And if you're looking for a storage/organizing solution but you don't have space for a substantial piece of furniture, a row of hooks just might do the trick! After all, sometimes less is more. [photo from Benjamin Moore via Houzz]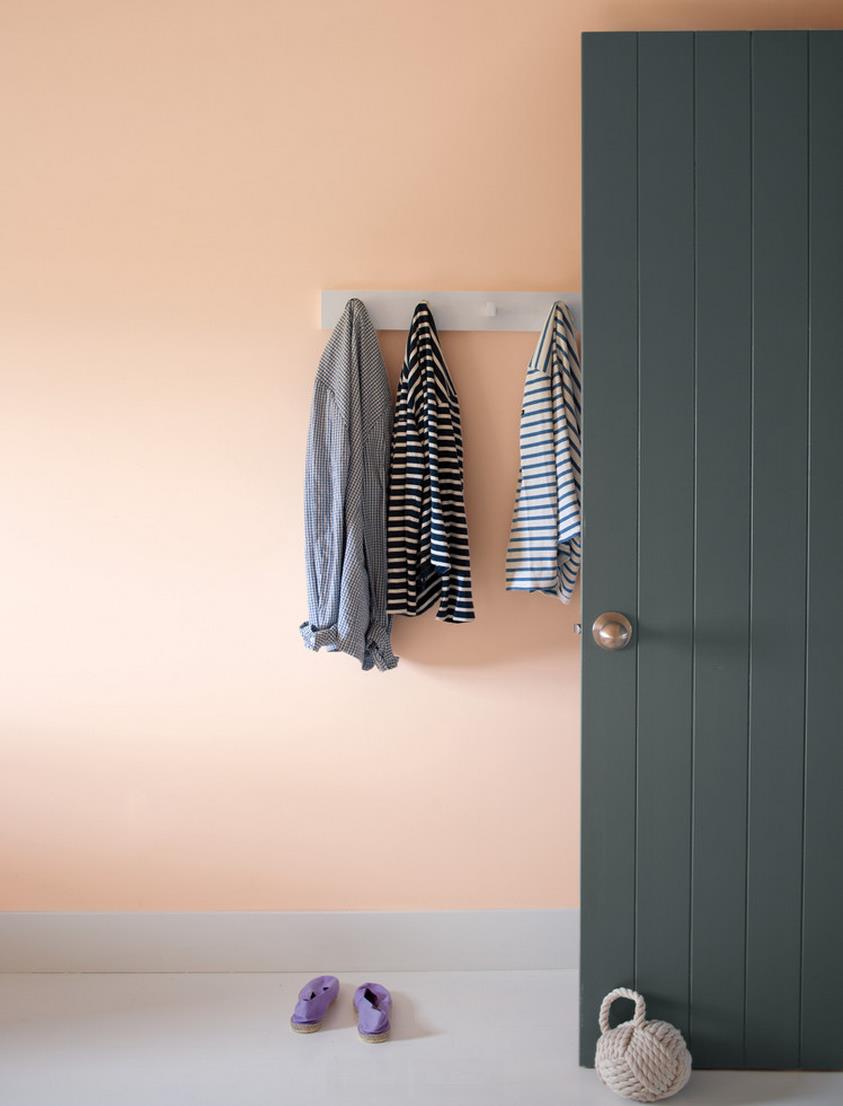 A Compact Table
A small table is a popular entryway furniture choice, as it provides an important function without taking up too much space. This Saarinen Tulip Table is the perfect choice for a large entryway with a gallery wall. Overhead pendant lighting and a zebra rug call attention to the table as a true foyer centerpiece. [photo from Lonny]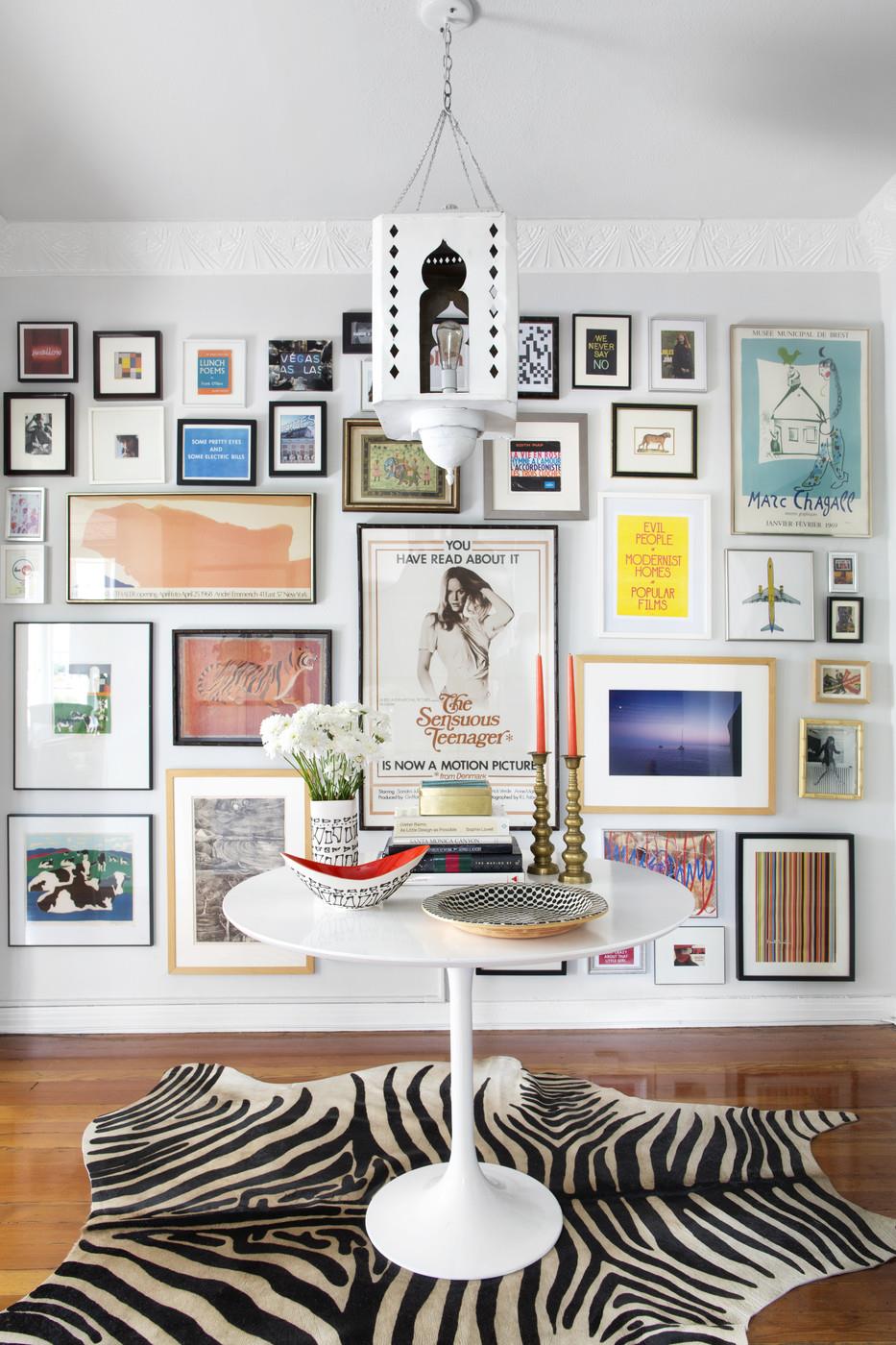 If your entryway doesn't feature a long wall that can be lined with an lean table, don't fret. Even a small wall surface will do! A tiny cabinet/table is the perfect accent for the entry below, serving as a perch for flowers and artwork. There's even room left over for a furry footstool! [from Lonny]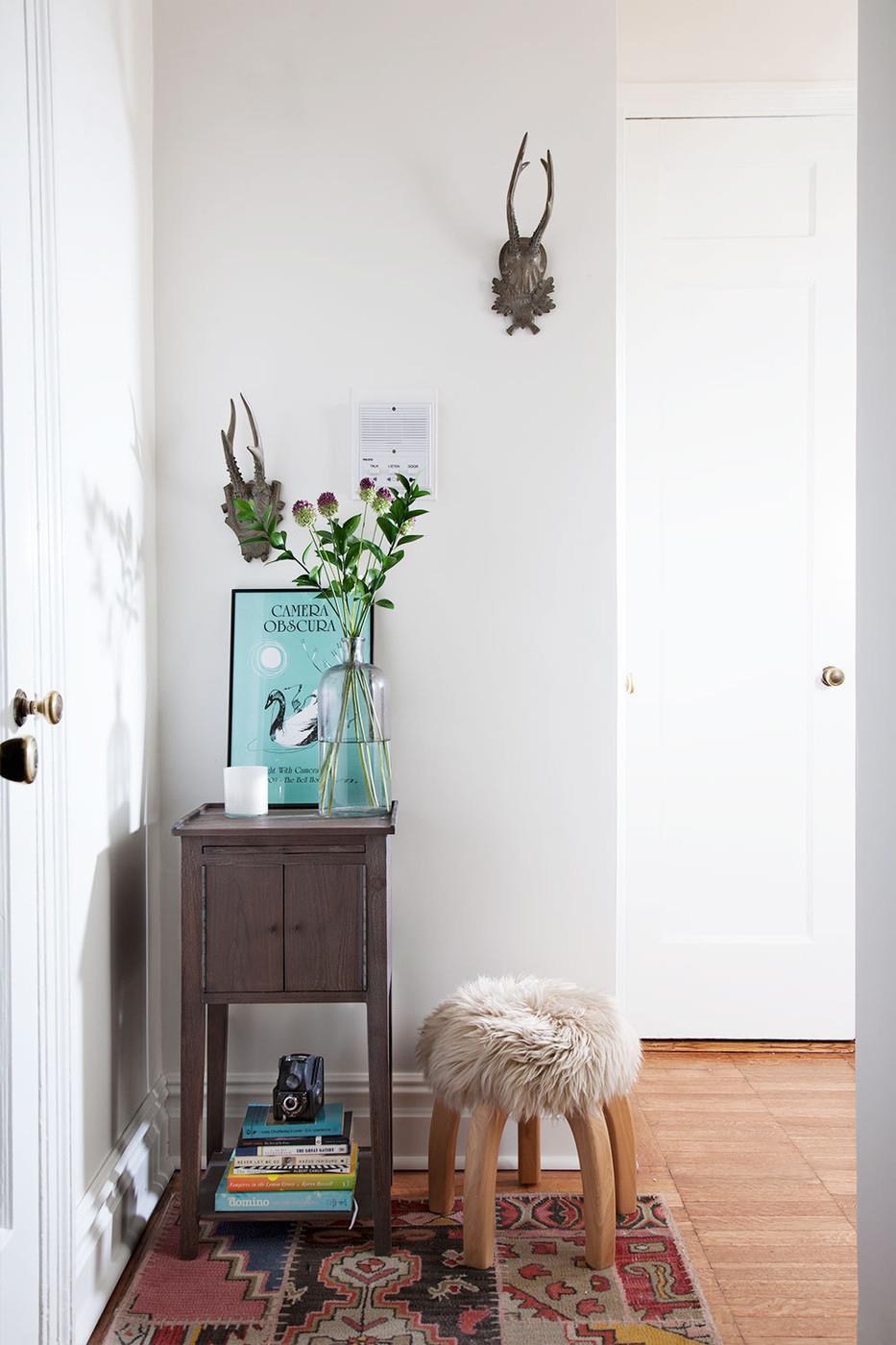 Console tables are some of the most popular entryway furniture choices, especially since they're often narrow and sit neatly against the wall. Bonus points if they feature bold colors and ornate details! [photo from Evensen Design via Houzz]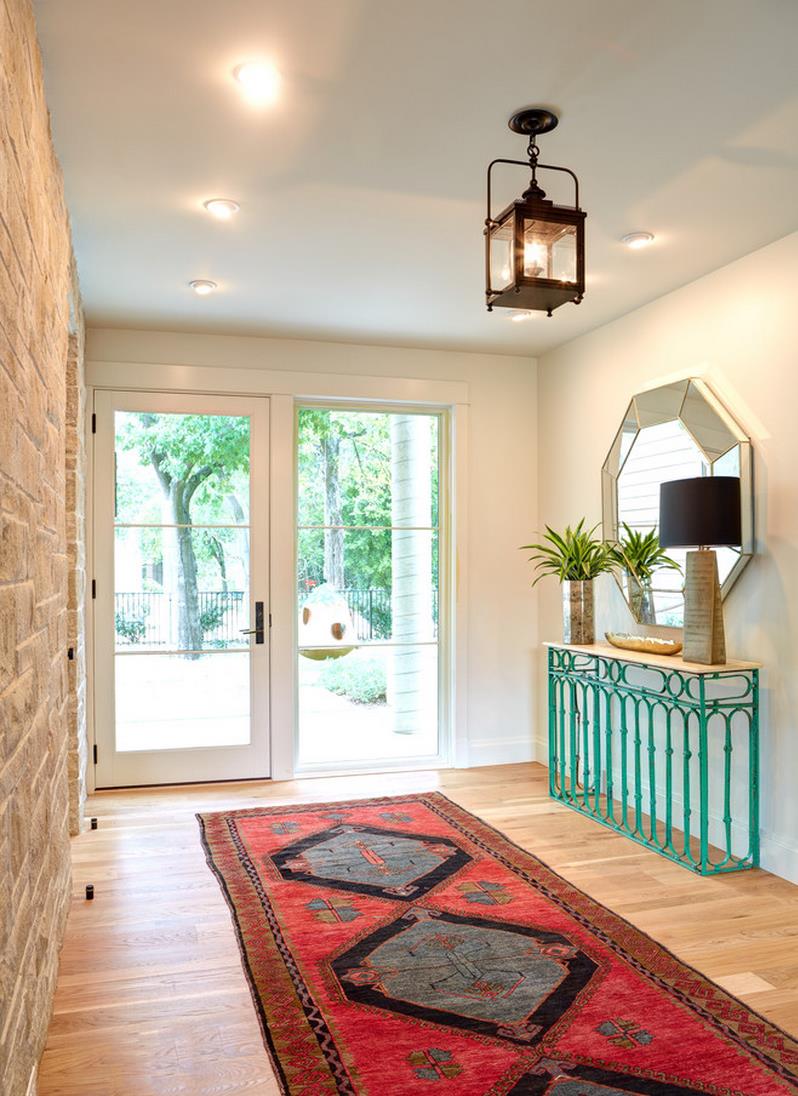 Consider an entryway table with drawers so you can utilize their storage benefits. Even better if the piece features more than one finish, like the table below! [from Lonny]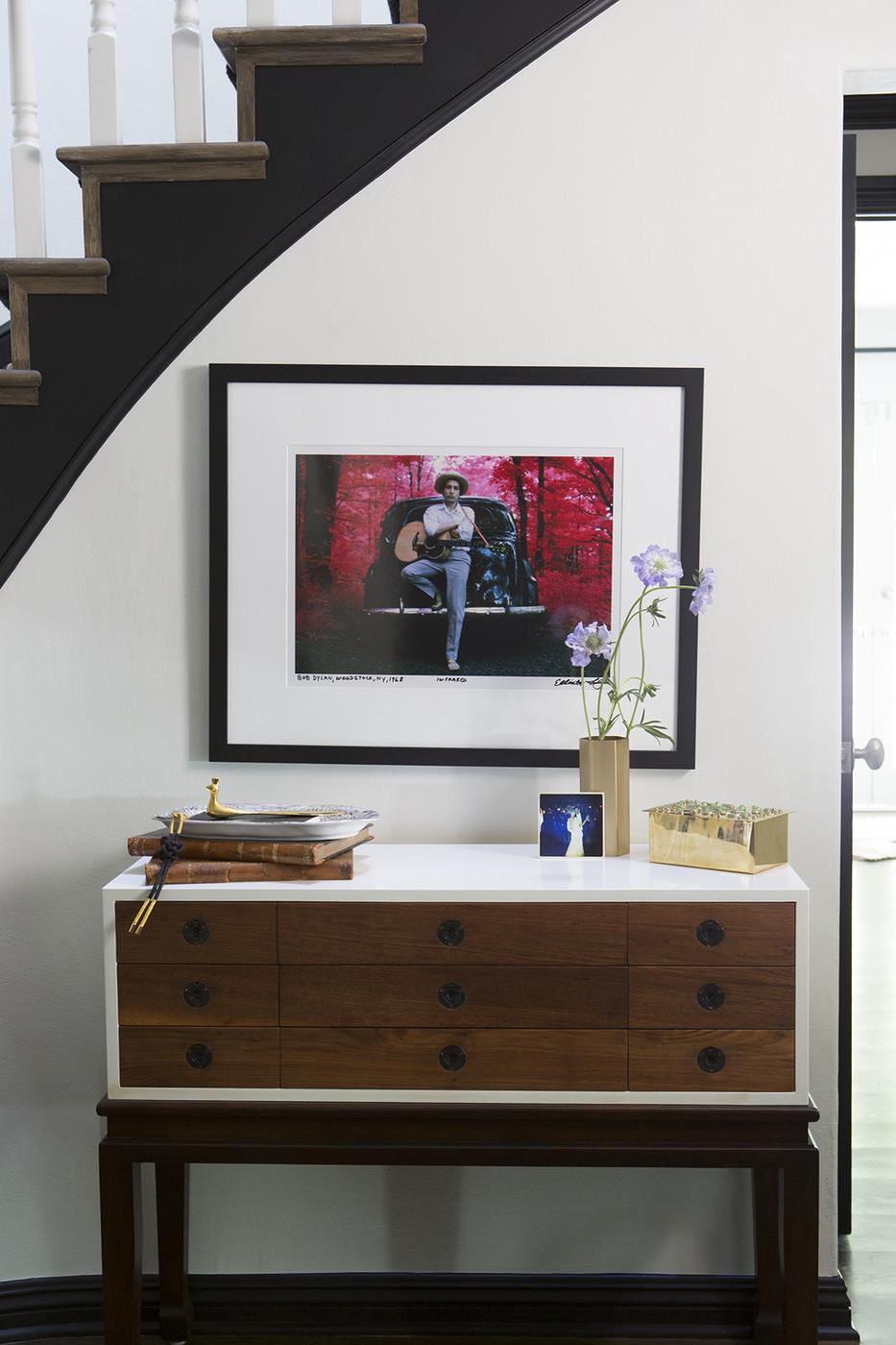 Just because a table is small doesn't mean it can't make a big impact. This red quatrefoil side table makes the most of its small form, especially since red paint enhances its unique design. [photo from Lonny]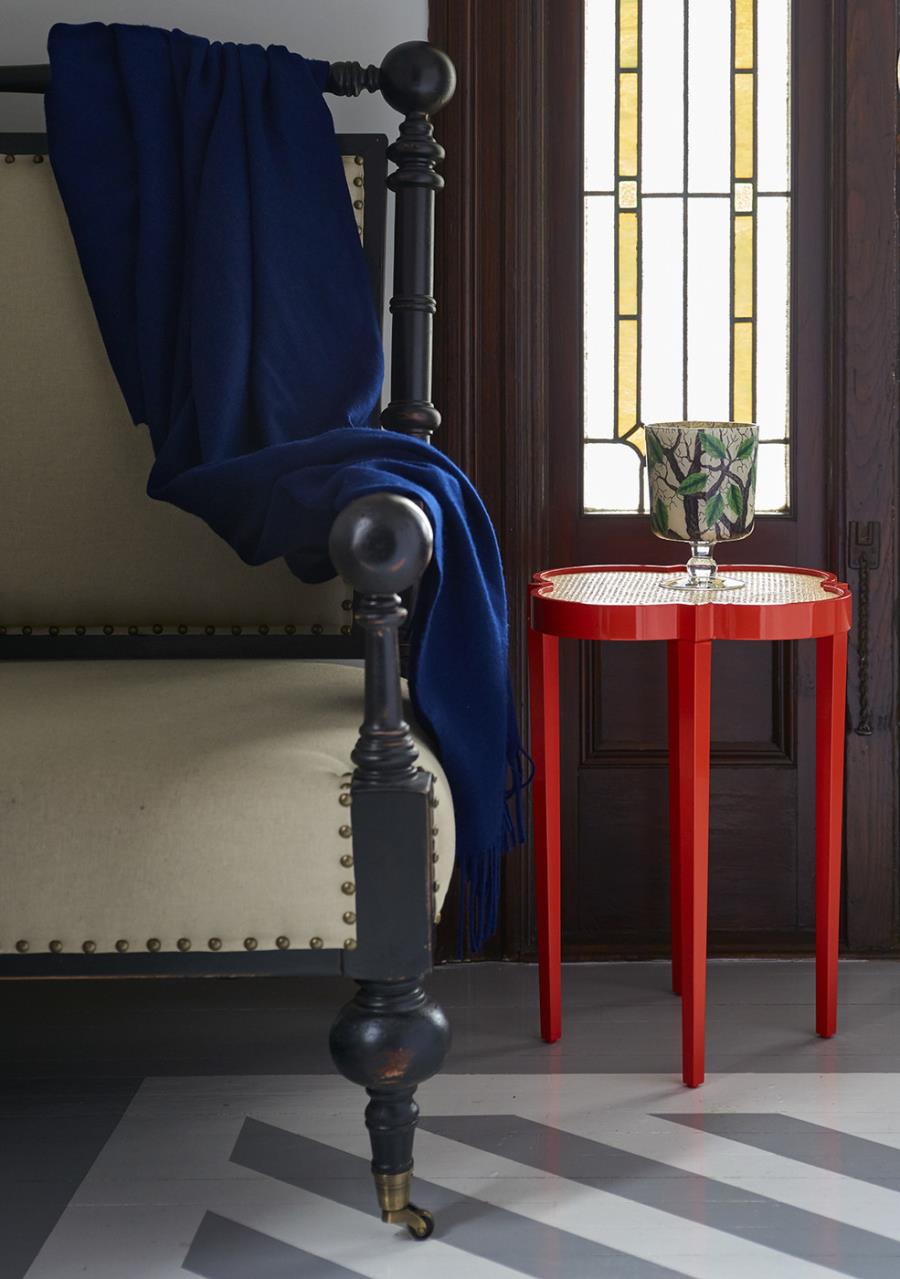 Floating Furniture
Compact furniture is fabulous, but if you don't want to use up floor space, try a floating piece, such as the console below! In fact, this floating console was custom designed by J. Weiss Design, and it has plenty of storage space for essentials and decor. [photo from Jennifer Weiss Architecture]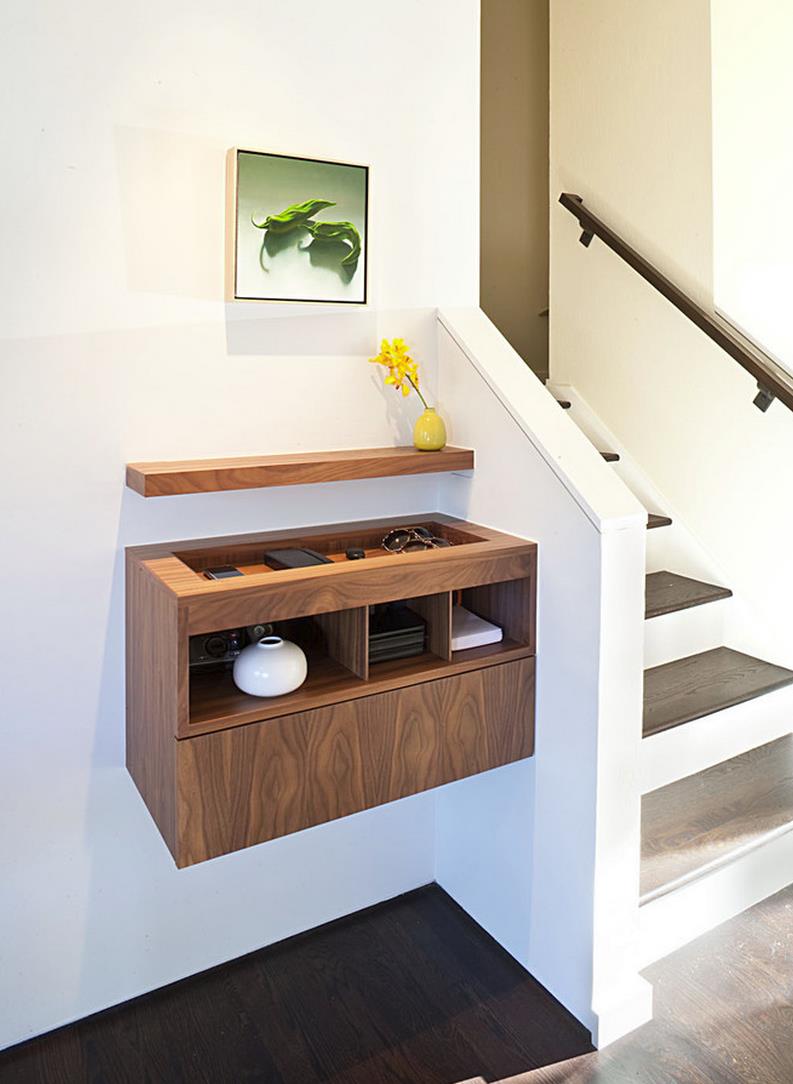 This Draper Entryway Organizer from Pottery Barn is a wall-mounted treasure that features hooks, shelf space and a drawer: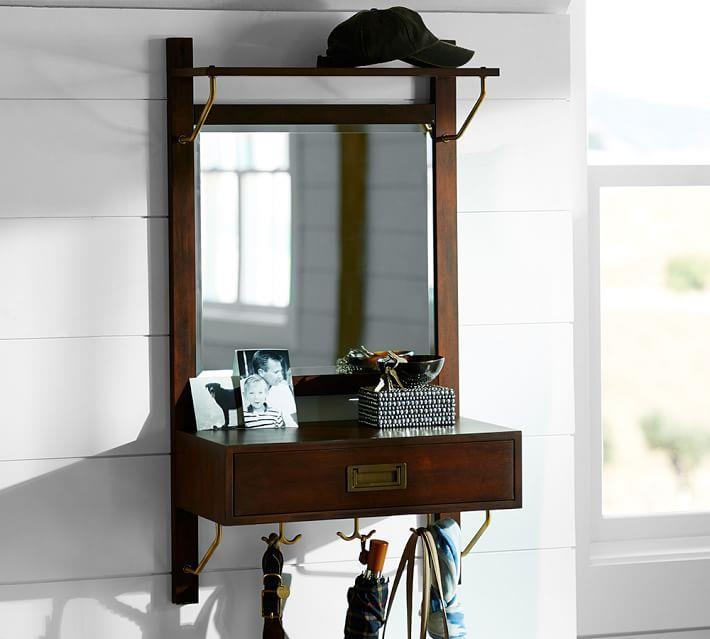 A wall-mounted shelf also does the trick, although this one seems to be more of a built-in ledge. Don't hesitate to use your ledge as a console table if push comes to shove! [photo by Jody D'Arcy, from Klopper & Davis Architects]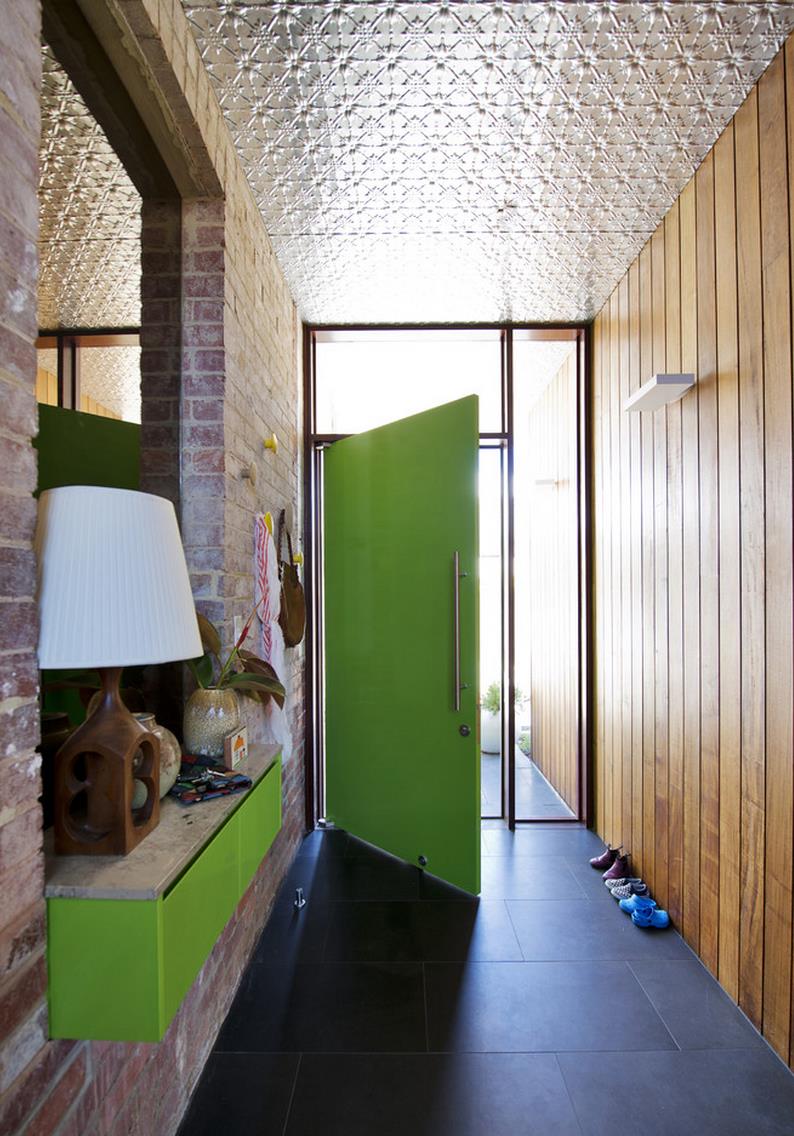 Seating Solutions
This exquisite entryway featured at Elle Decor is a showroom of treasures, but the sculptural black bench immediately grabbed our attention. Benches are ever-popular foyer seating solutions: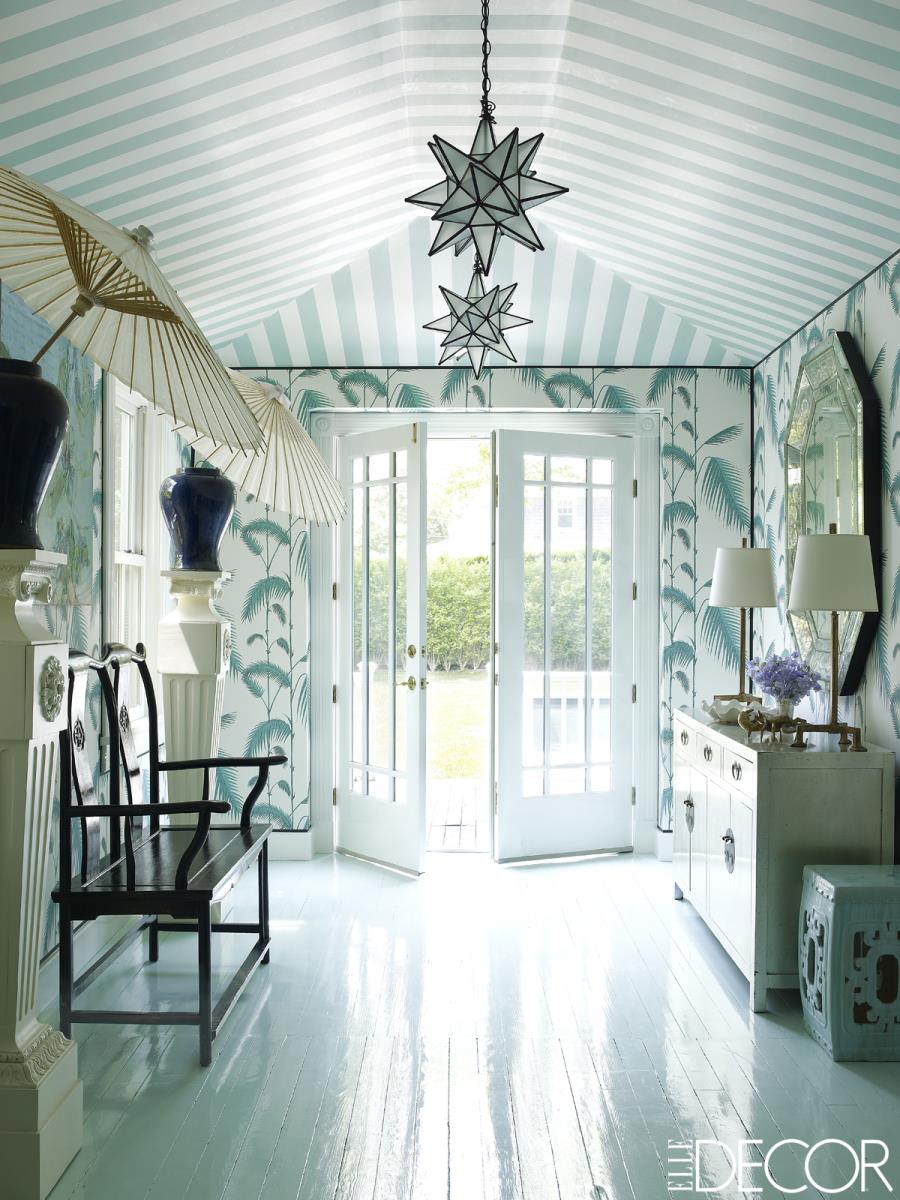 This lean slatted bench by Amber Interiors is the perfect rich-toned accent to a modern white-walled entryway. Add a round mirror, a houseplant and a rug, and you have the perfect modern welcome room!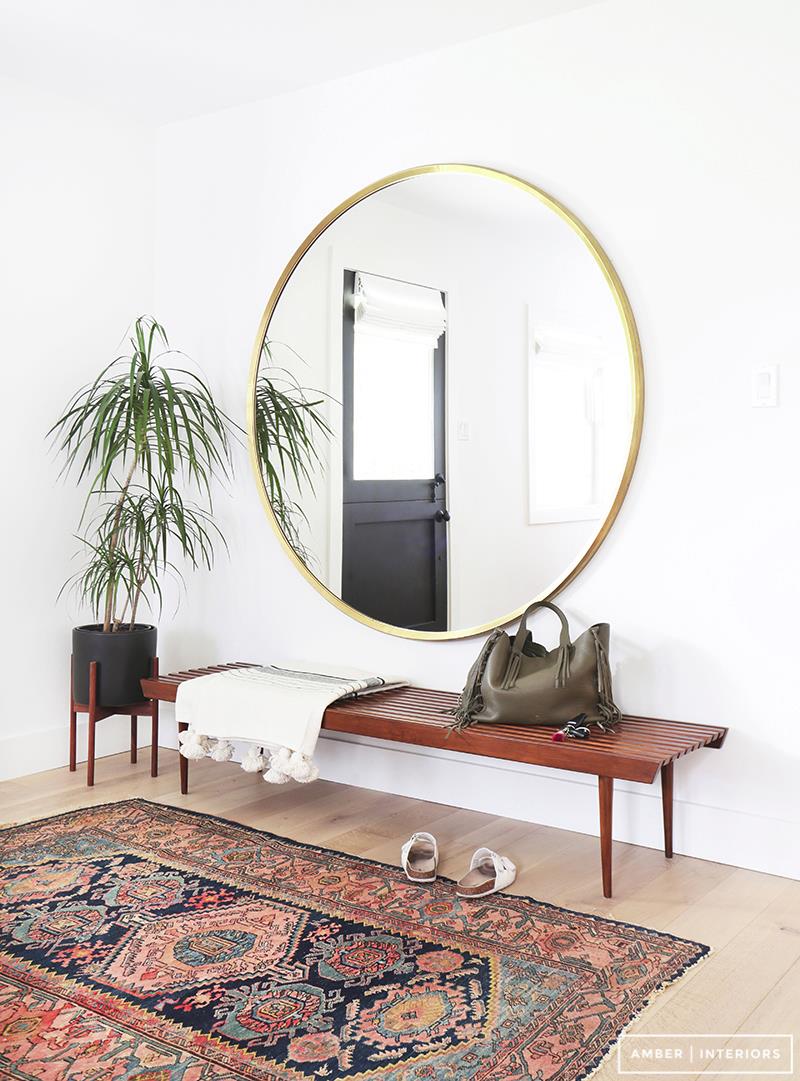 We know that benches are entryway favorites, but have you considered the possibility of a chair? If you're short on space, opt for see-through style with a Lucite piece that creates the illusion of space! The Ghost chair below is a fetching choice. [photo from Lonny]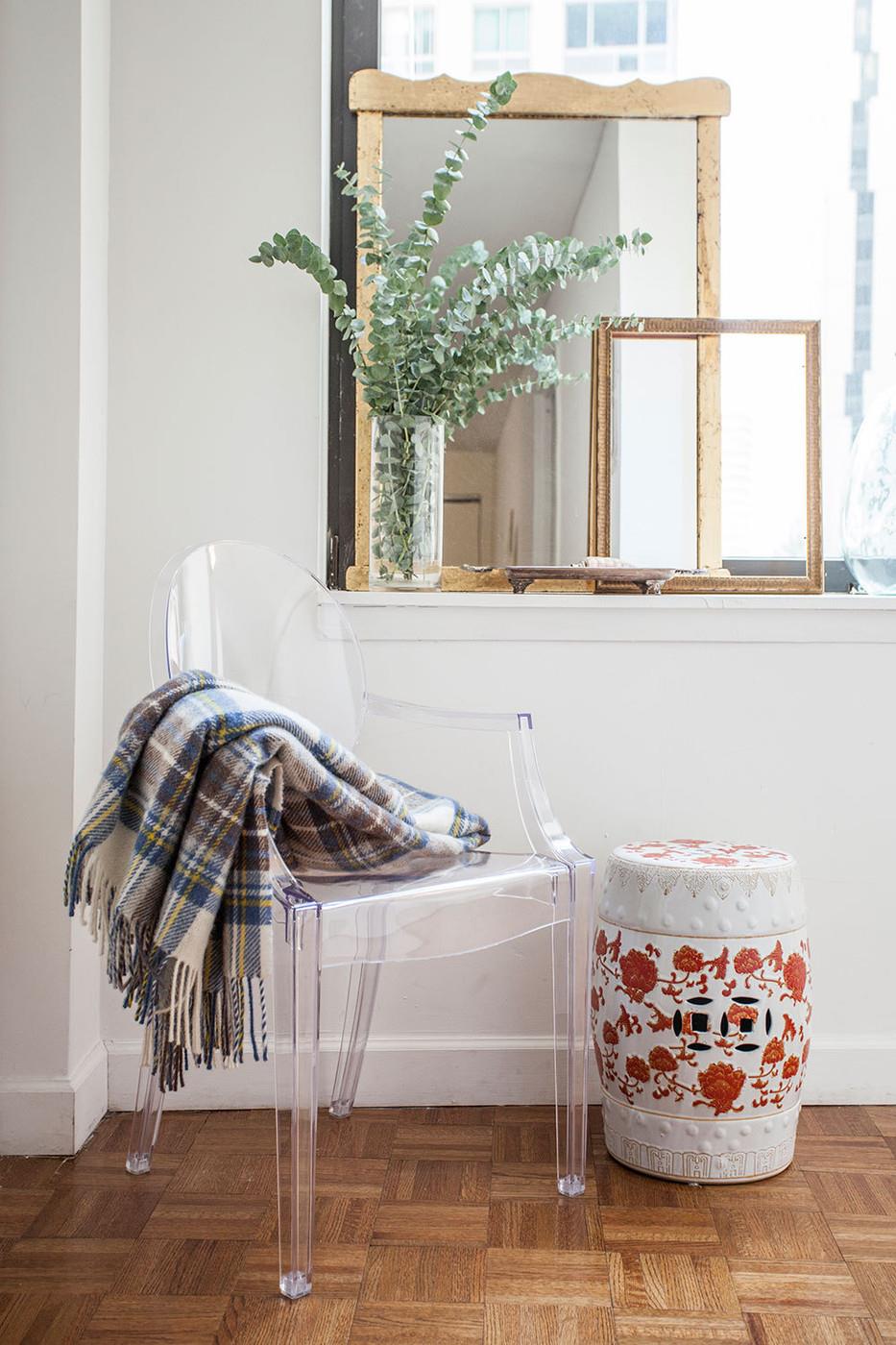 A pair of chairs can make a big impact in an entry. The wooden chairs below add richness and depth to this all-white entryway, and overhead hooks provide the perfect display space for a quartet of hats. [from Bob Greenspan Photography]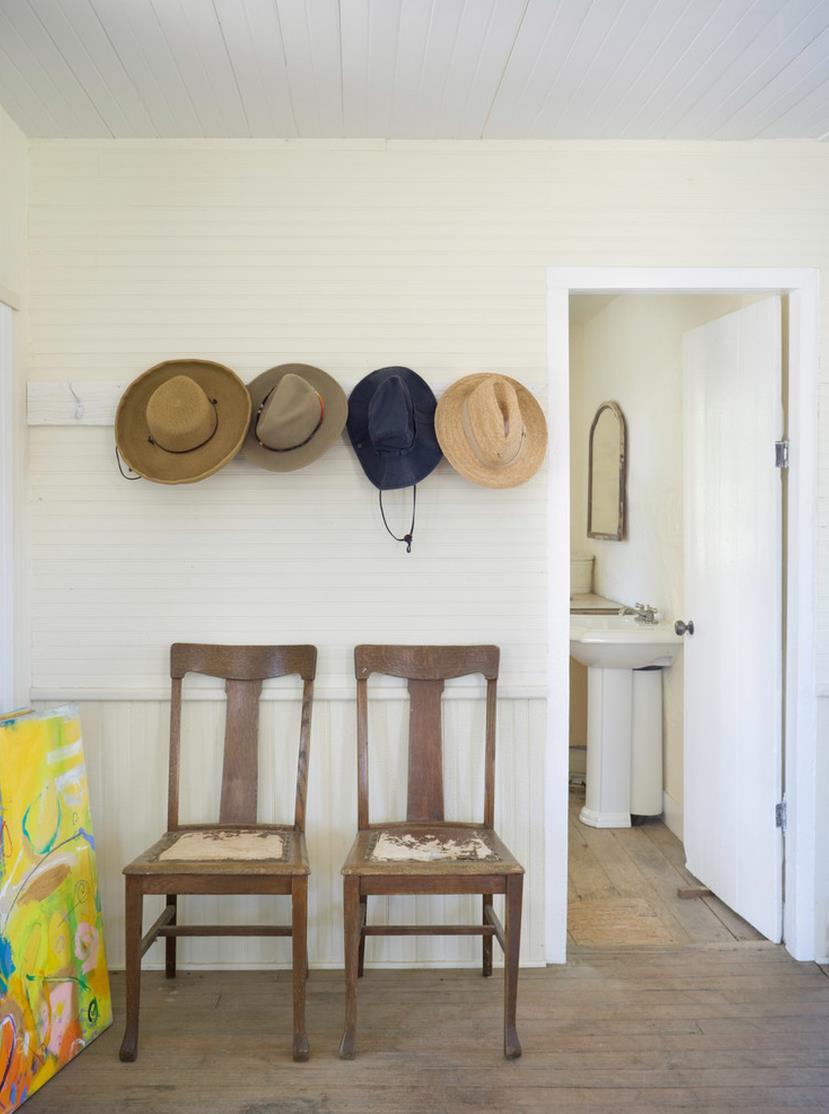 What are your entryway furniture must-haves? Share your thoughts by leaving a comment below…