It is the entry hall that leaves you with the first impressions of a home, and it is this space that your guests, friends and family get to see first before they explore the rest of the residence. It only makes sense, then, to create an entry that is stylish, elegant, inviting and reflective of your own personal style and the overall appeal of your home. Today we delve into the gorgeous and diverse world of entryways clad in wallpaper and explore how you can craft a stunning entry by just altering the walls in an efficient fashion! Entryway wallpaper can add color, pattern, texture and a whole lot more when used right.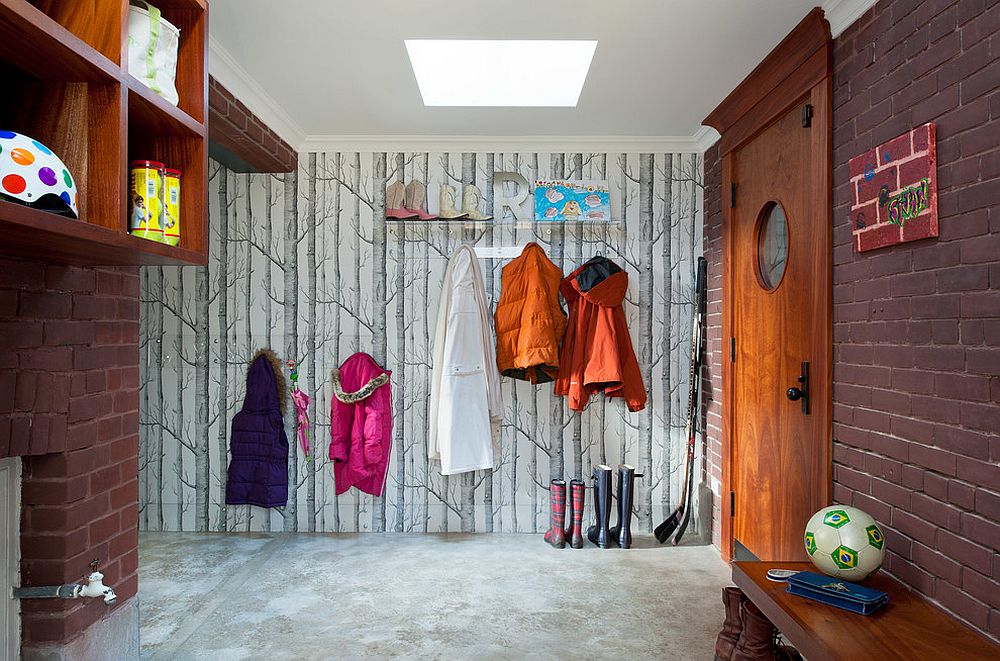 Using wallpaper in the entry hall is all about finding the right balance that works in your own home. Even the tiniest of entryways in urban apartments can benefit from the presence of wallpaper, and the endless array of choices make decorating with wallpaper even more exciting. Striking at times and understated on other occasions, here are 25 fabulous foyers that have tapped into the beauty of wallpaper –
It's All About Pattern!
One of the primary reasons why we turn to wallpaper is the ease with which it brings the walls of our homes alive by filling it with pattern. And if you wish to do the same with your entryway, choosing the right wallpaper is absolutely essential. One of the reasons for the comeback of wallpaper in the last few years has been the ability of designers and manufacturers to come up with designs that usher in pattern without disturbing the color scheme of the room. Wallpaper in neutral hues is a hit, even in the stylish contemporary foyer, as it ups contrast and pattern without altering the existing color palette.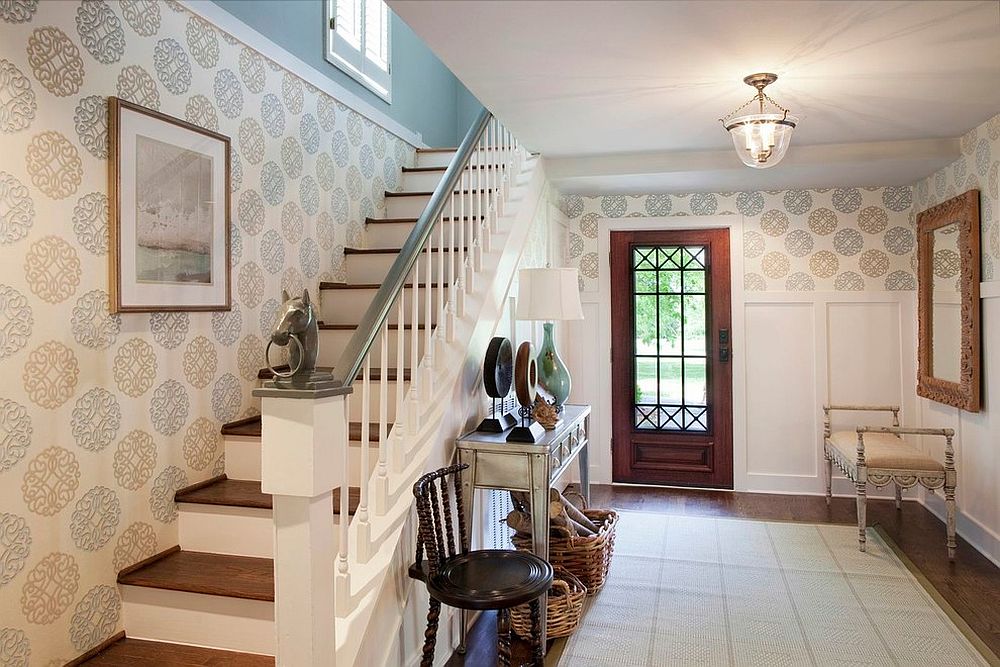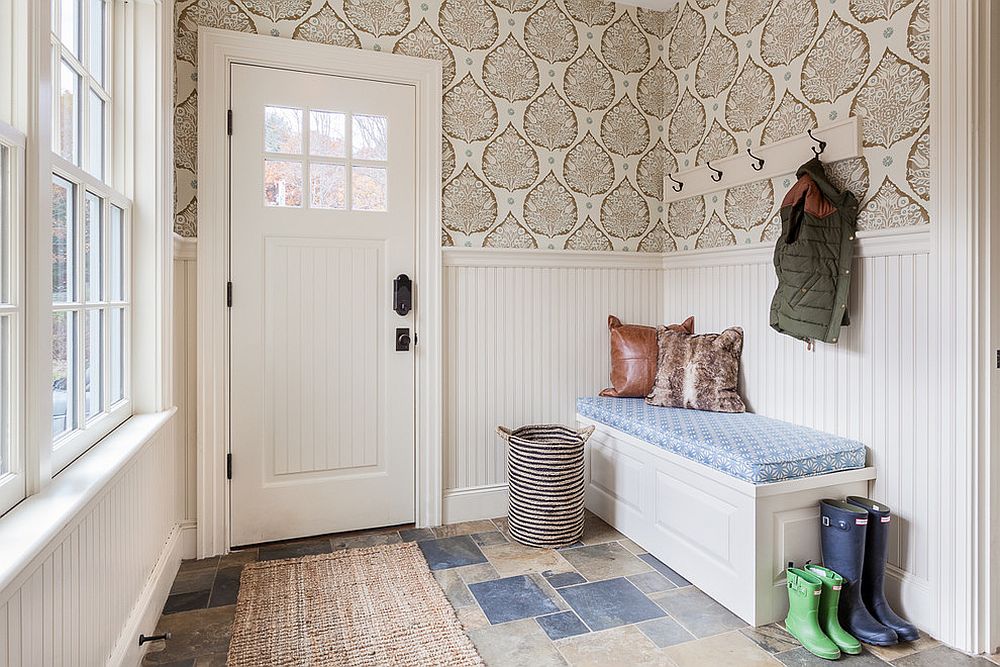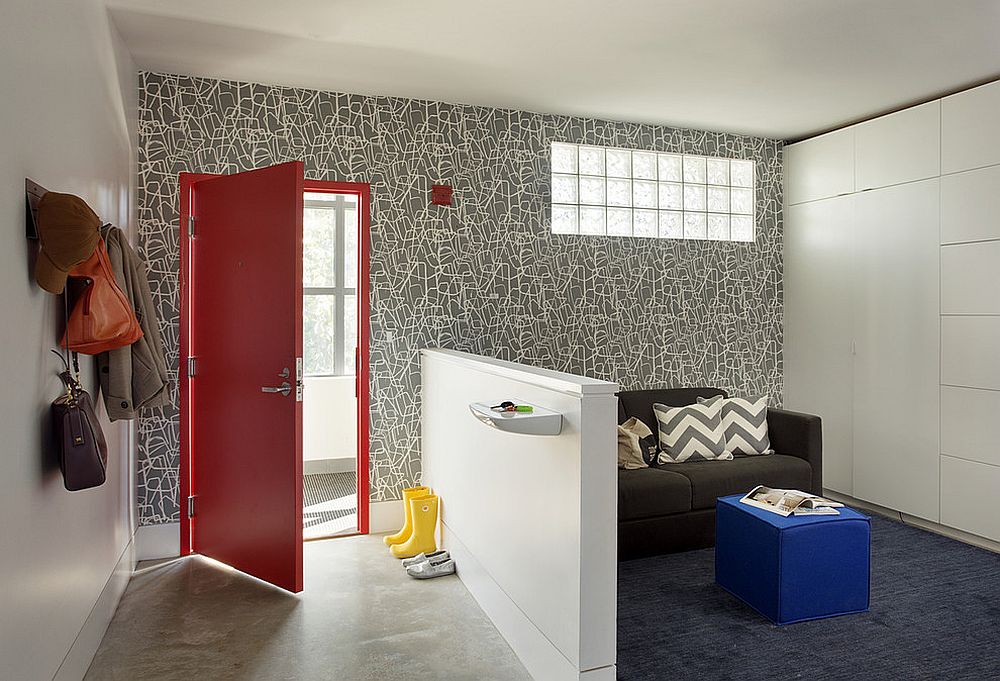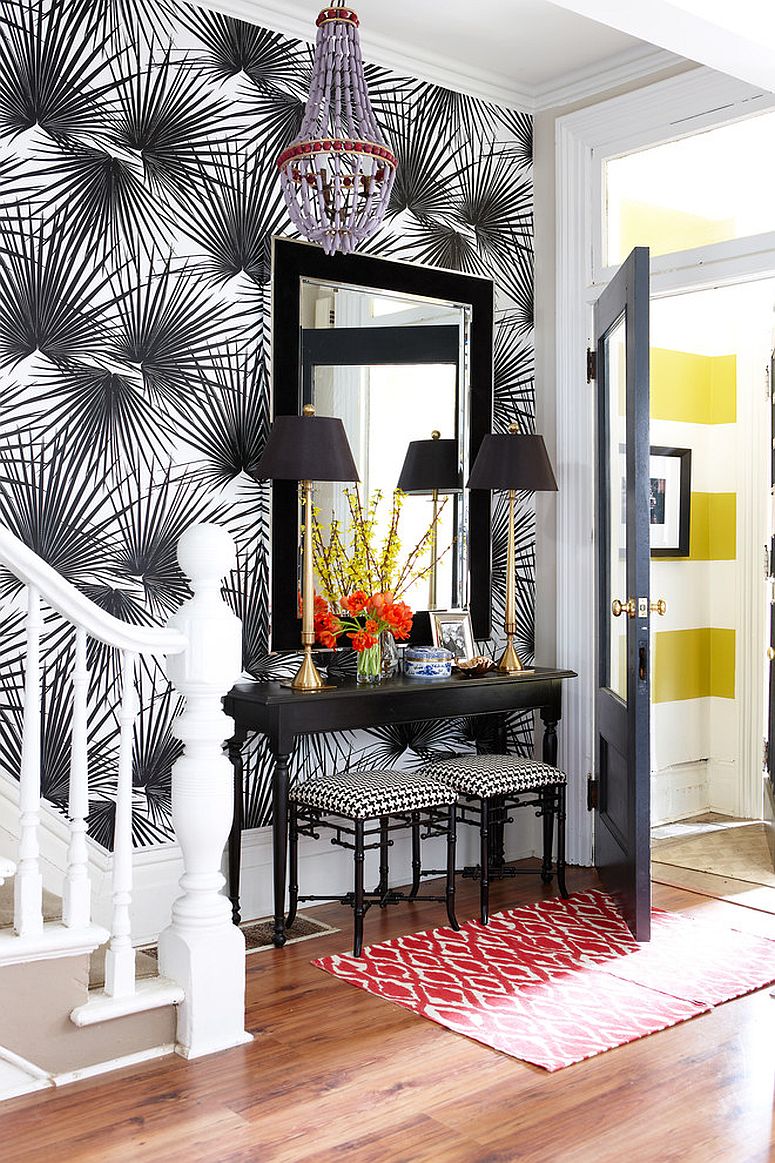 Another advantage of using wallpaper in the entryway is the ease with which it visually connects this usually small space with the living area next to it. This turns the small foyer into an extension of the living room and gives the interior a more coherent and curated appeal. Even small sections of the wall clad in wallpaper can get the job done here!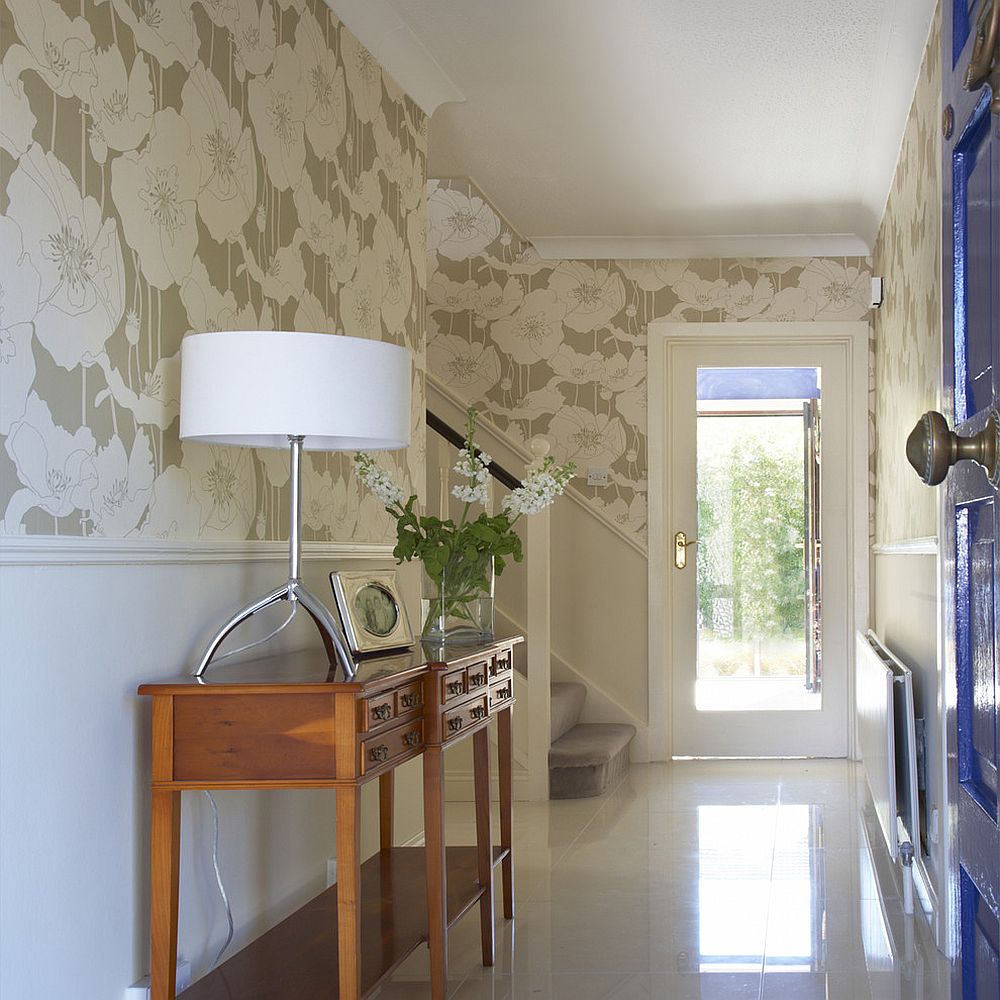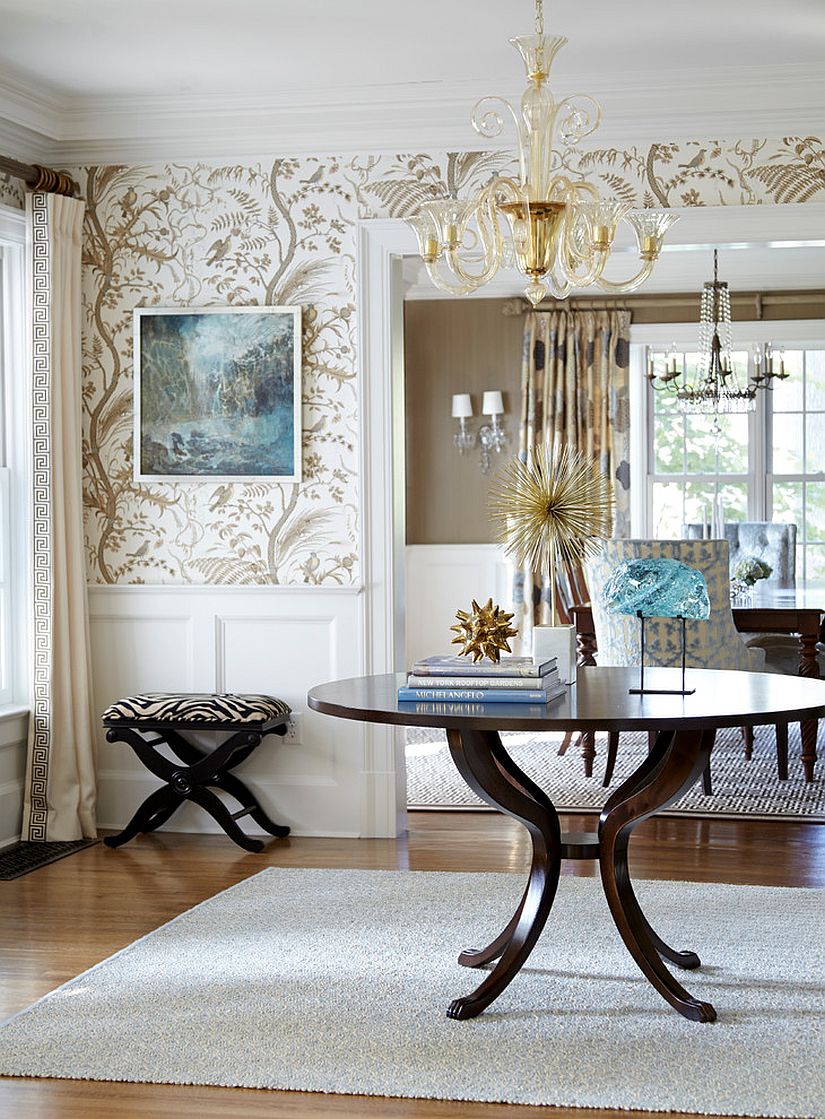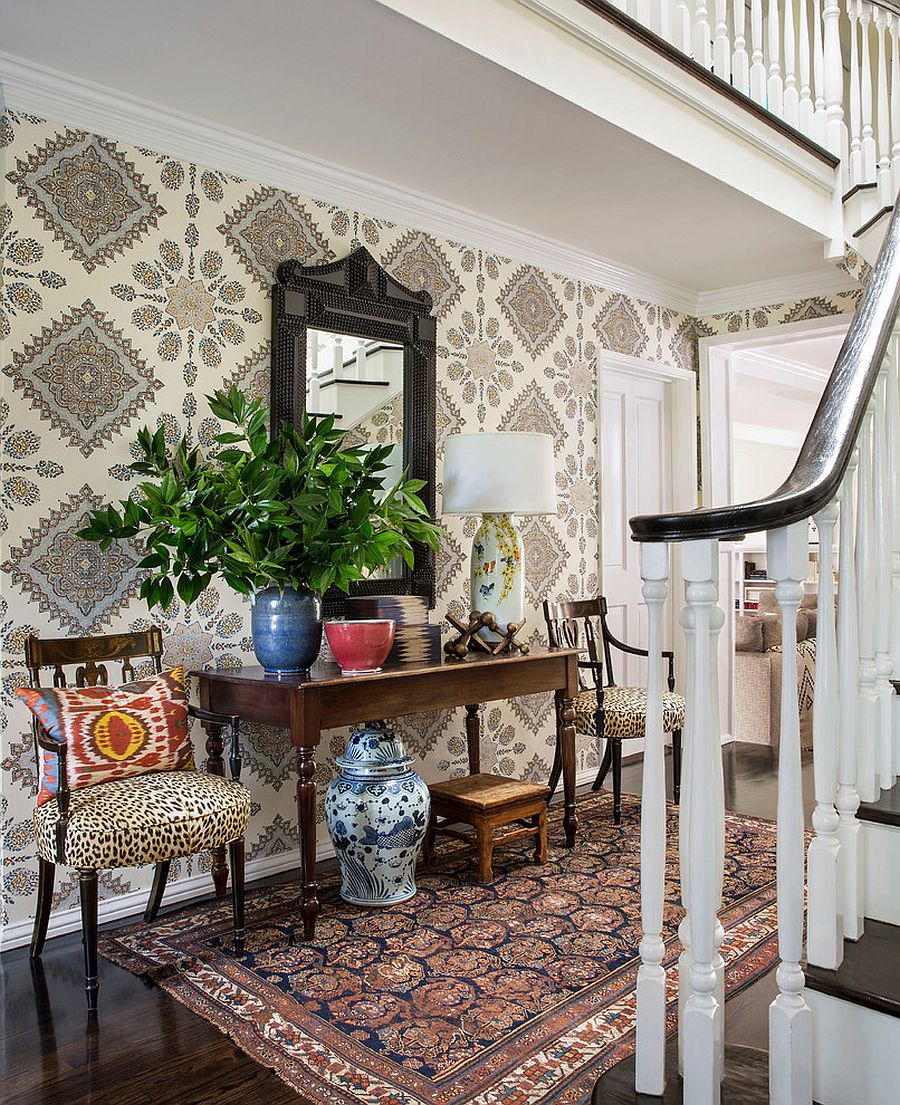 Time for Some Color
Maybe you do not want wallpaper in neutral, understated hues and are looking for something more exciting and dramatic! Not to worry, as there are plenty of options on offer here, and you can pretty much choose any color that you fancy for the entry hall. Bright reds always end up being showstoppers in any room they sit in, and a wallpaper in red is no different. It is best to use this vivacious wallpaper in moderation, while those coming in green, yellow and blue can be used more extensively. Bright purple or gold offers a sense of majestic aura, while shades of pink are generally reserved for more feminine entryways.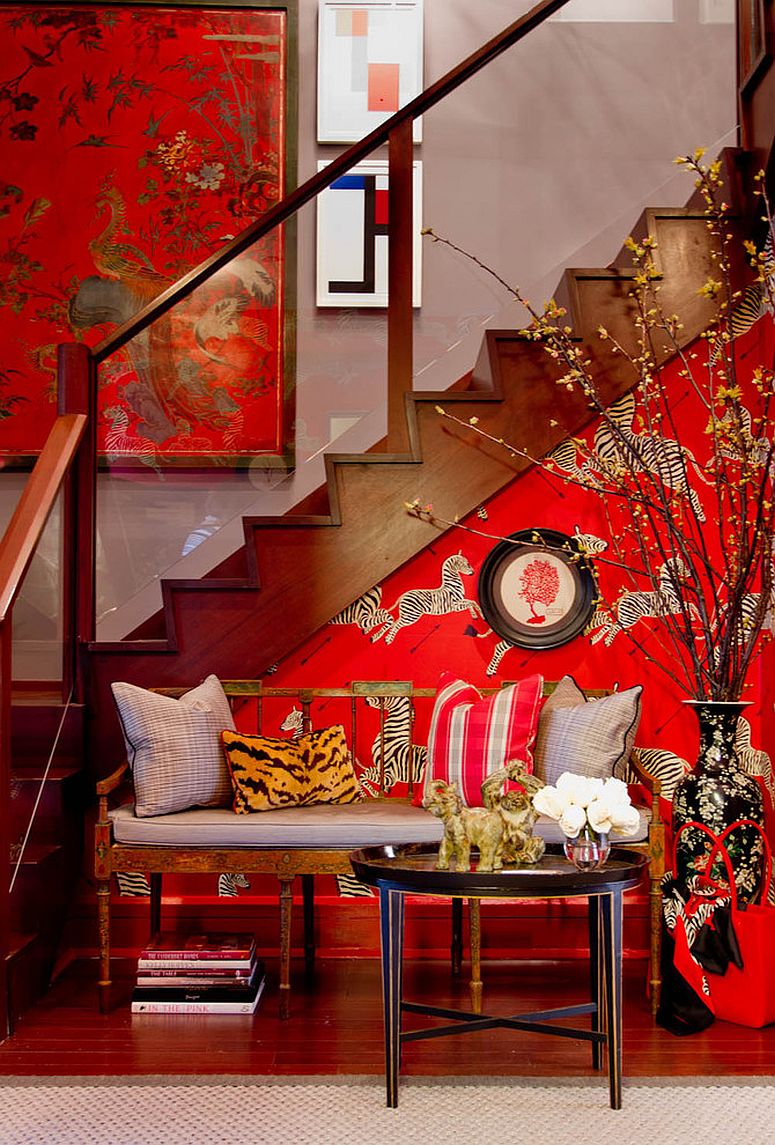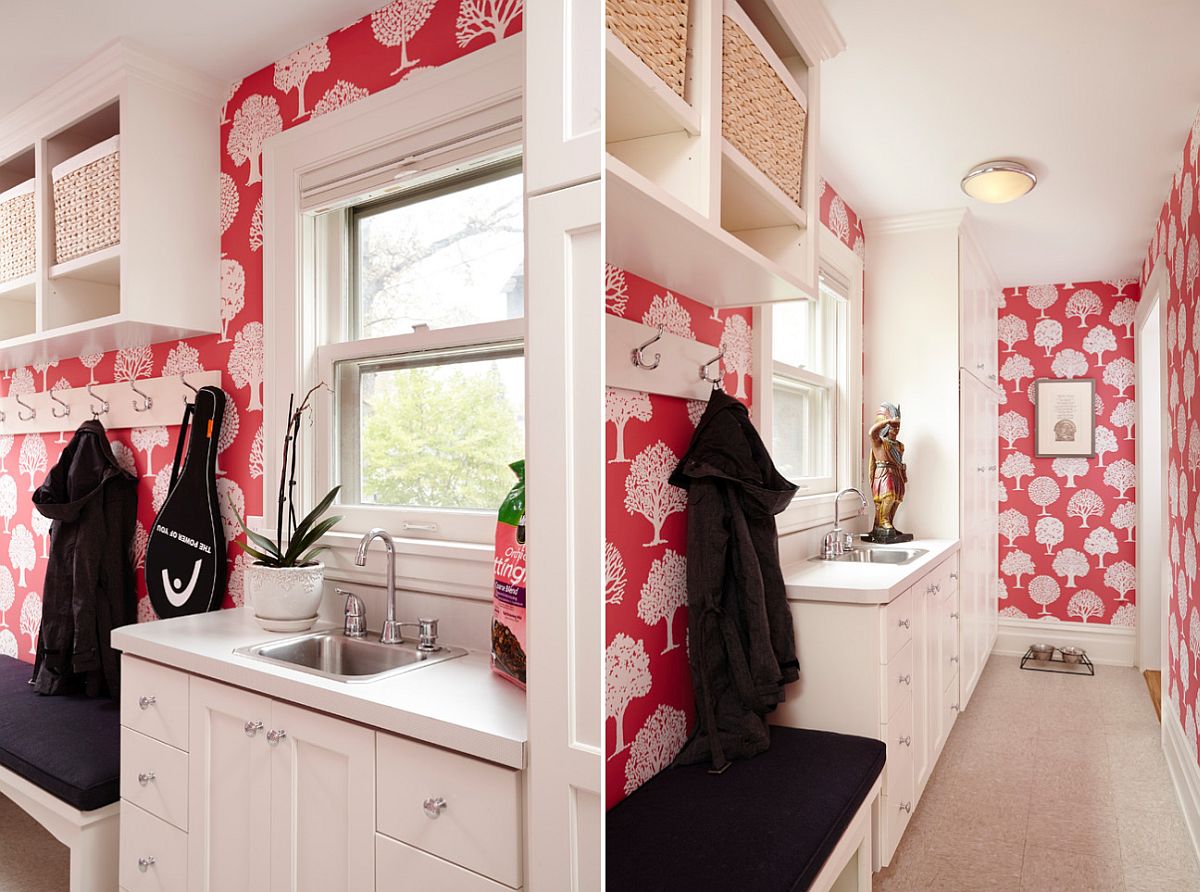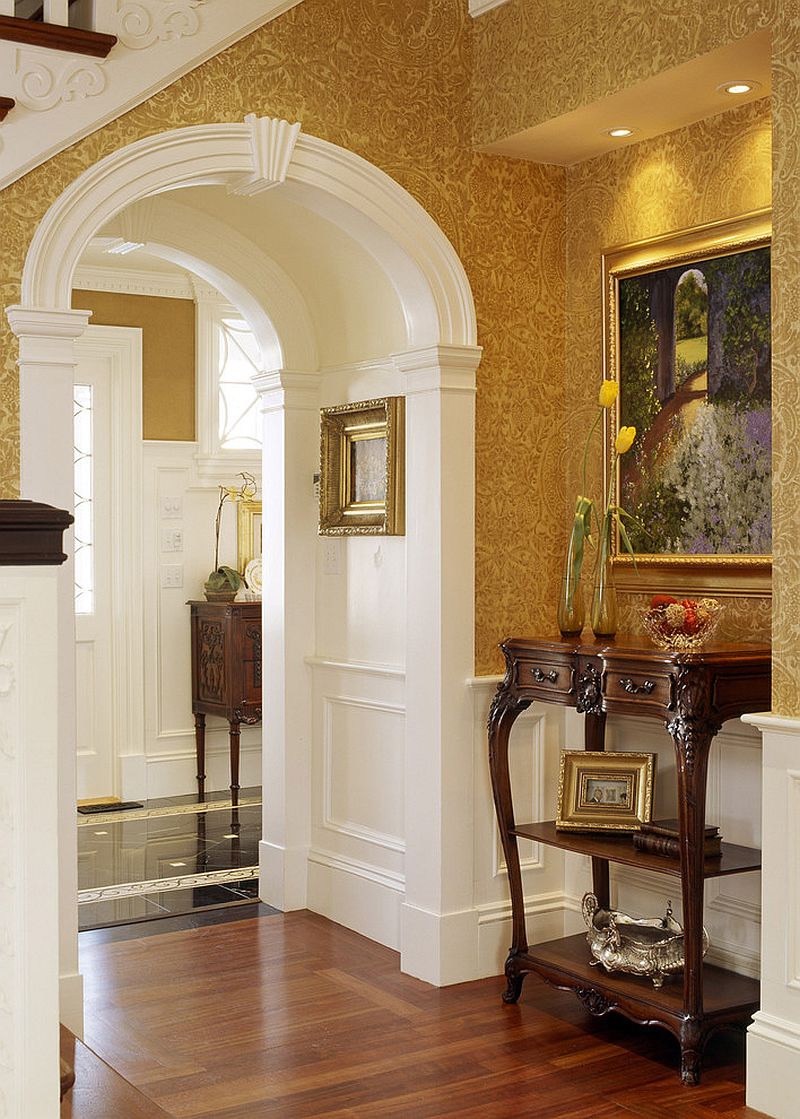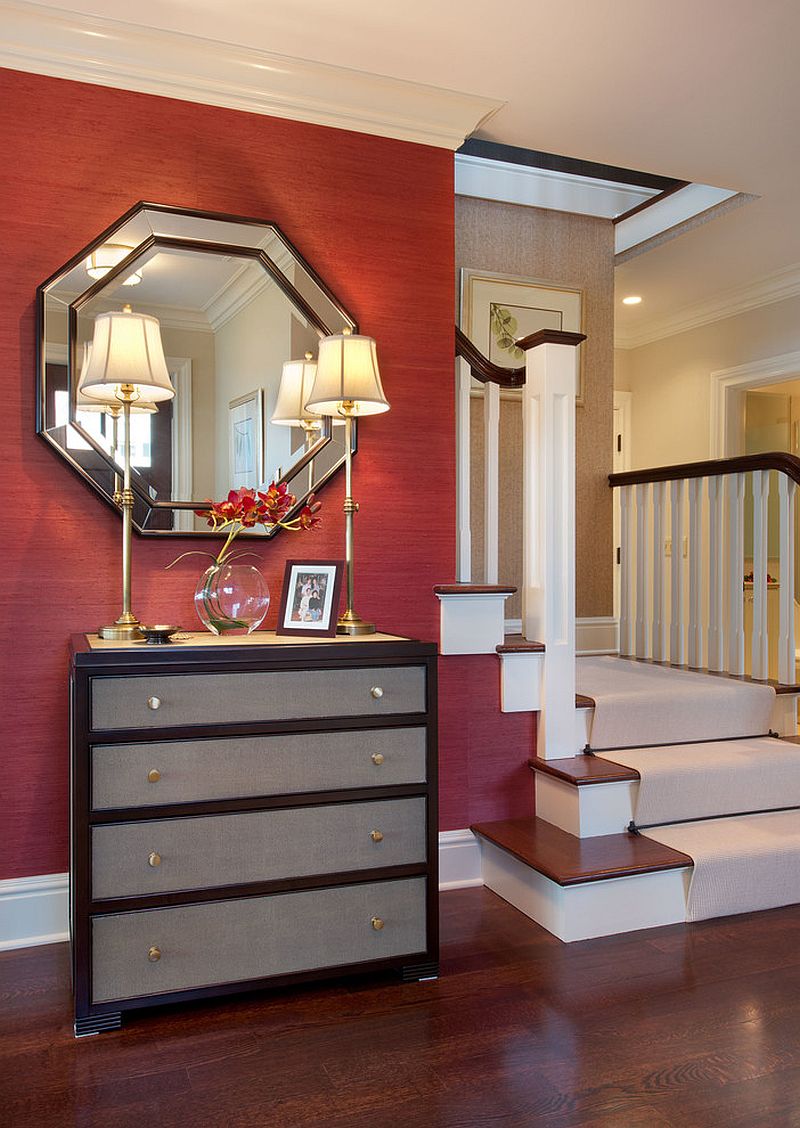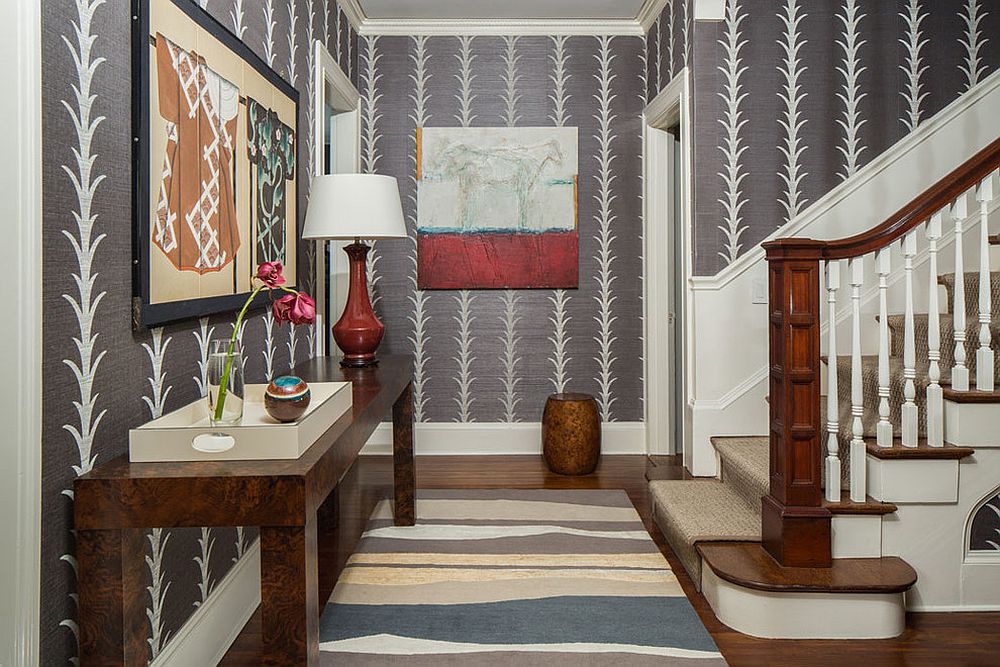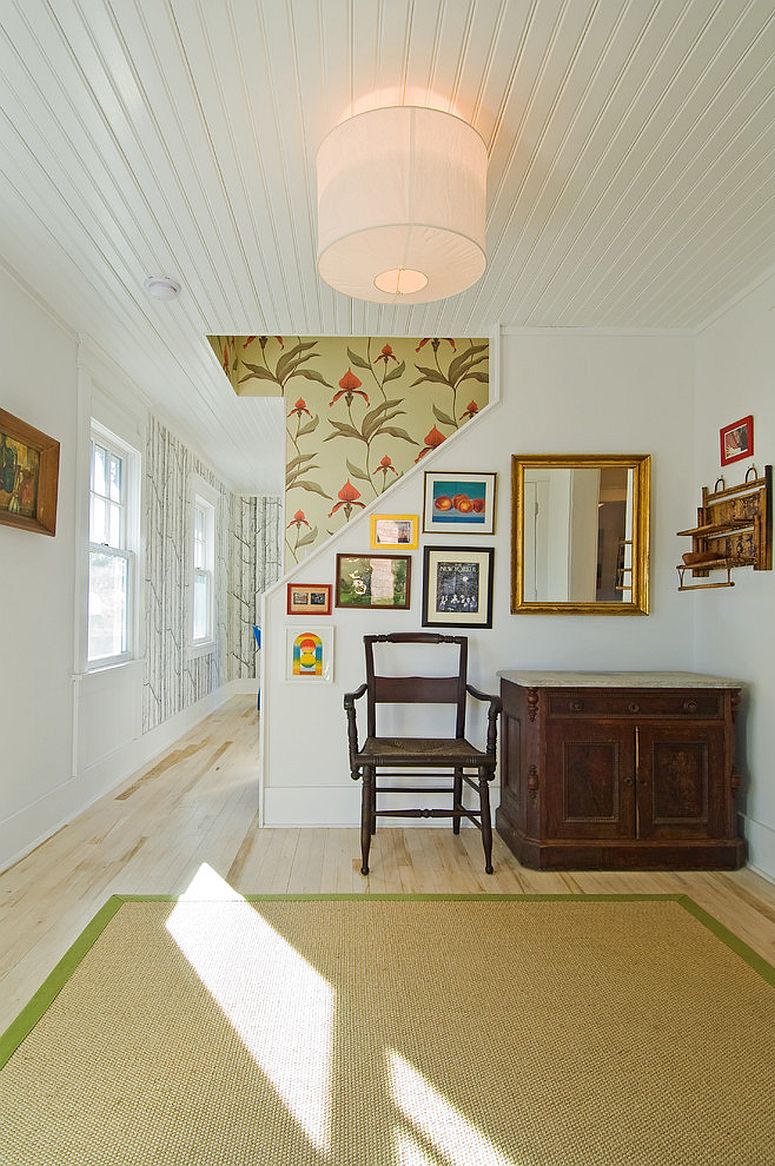 Perennial Favorites
There are some wallpaper patterns that have survived the test of time, and at the forefront of this pack is the iconic David Hicks Hexagon Wallpaper. The many other geometric patterns crafted by this master designer are also great for the foyer, while an increasingly large number of homeowners are opting for the trellis pattern. Geometric patterns allow you to combine a sense of historic past with a trendy, modern vibe, even while turning the entryway into an inviting and captivating space.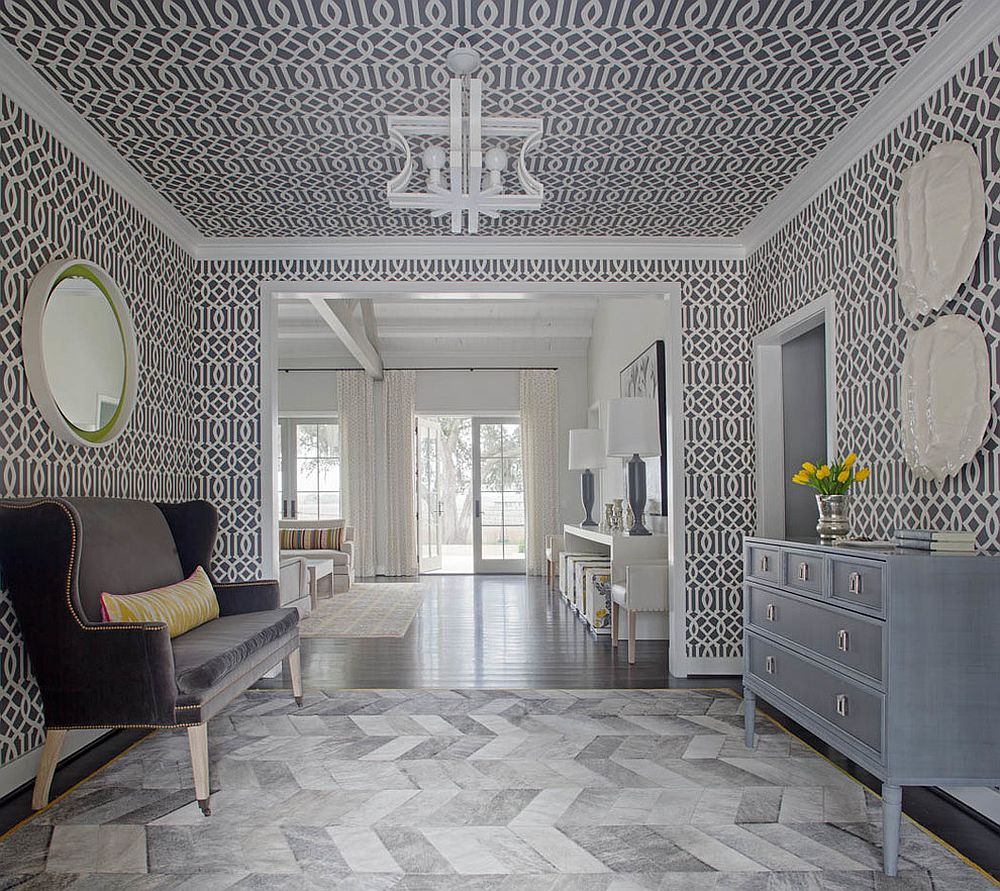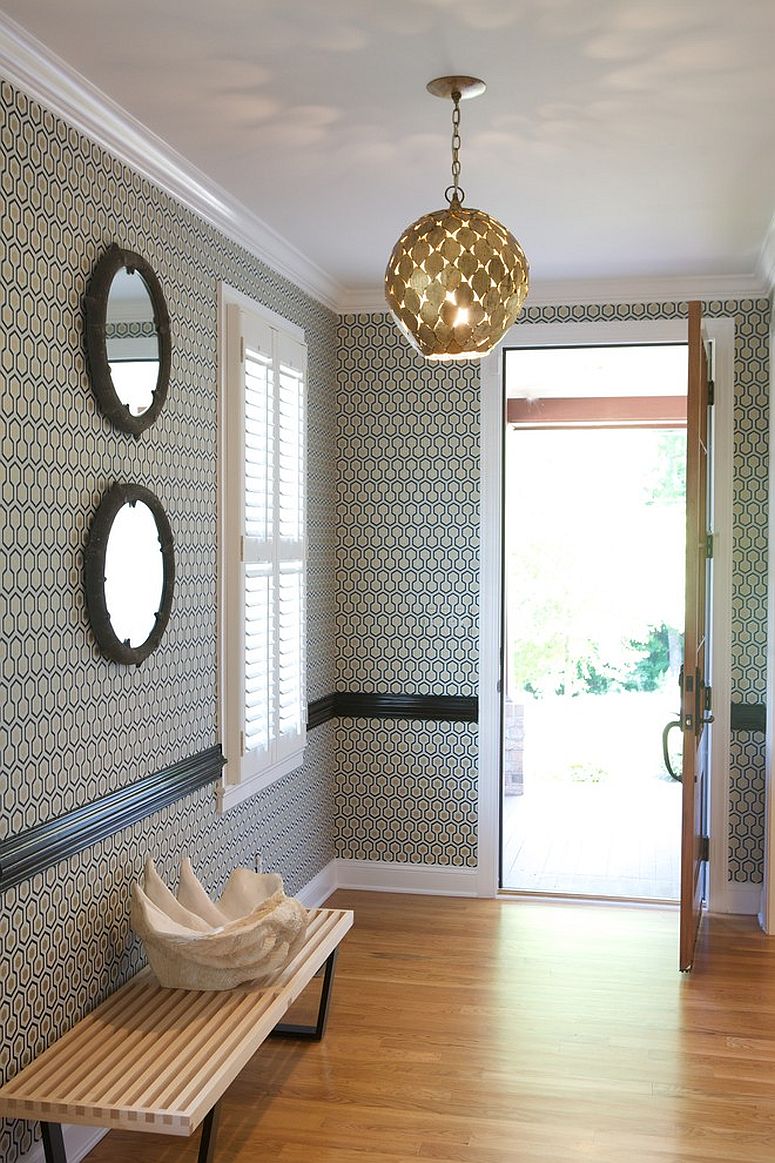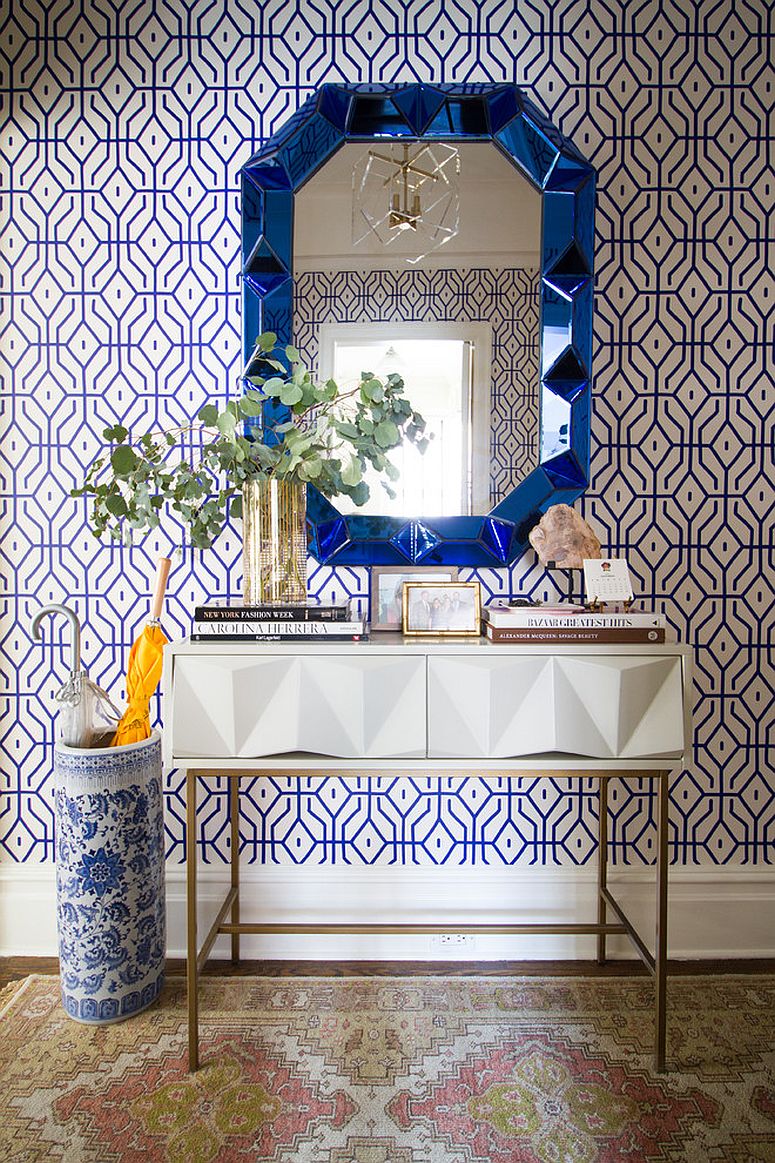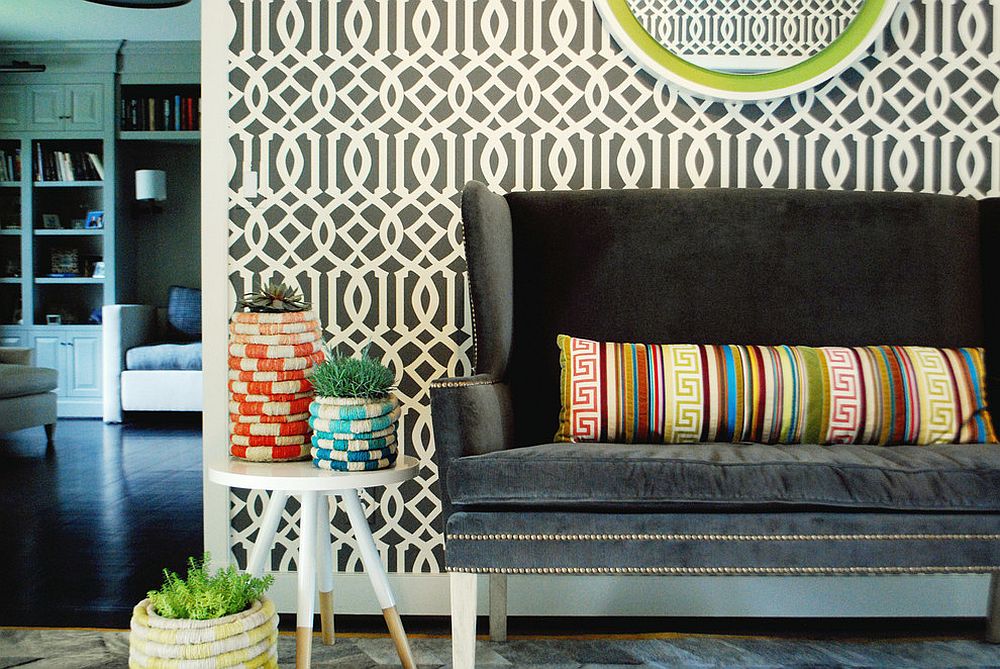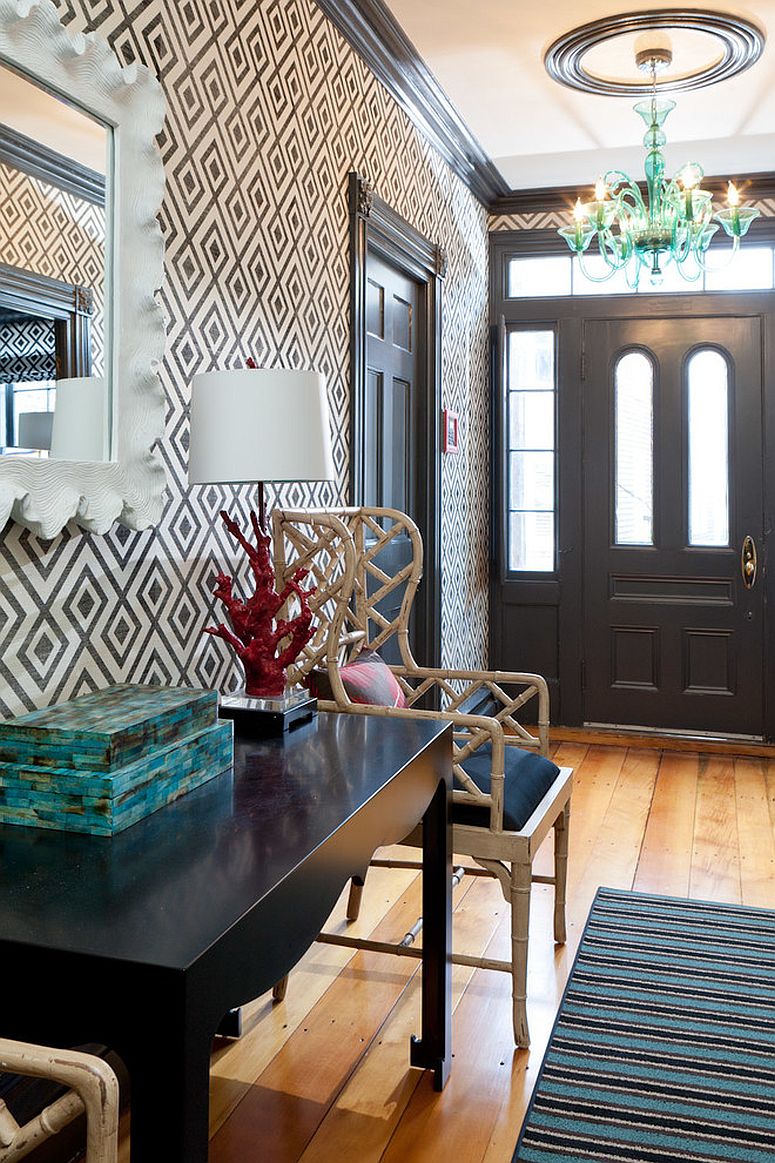 Inventive Alternatives
We love going off of the beaten path and definitely encourage our readers to do the same! Instead of buying wallpaper for the entry, why not craft one yourself and save both cash and the planet? Upcycling and decoupage projects allow you to turn everything from old newspapers and magazines to personal photographs into custom wallpaper that turns heads instantly. Those not too keen on getting their hands dirty can opt for fabulous, hand-painted wall murals that imitate the visual appeal of wallpaper to perfection. And if you really want to throw a curveball, then just move the wallpaper from the walls to the ceiling and give your entry hall a one-of-a-kind look.