It's high time you realized your house number is not for you alone. You recognize your house already but for the people who don't and are coming over for your party, they will be left driving down the street repeatedly in a bid to spot your house number or they'll probably ring up your phone one too many times. Can you even enjoy the party that way? Yes, we agree you could use some house number ideas.
For your house number sign, it needs to be big, bold, and creative. It also needs to be placed where people can see from across the road. Don't forget that with your choice, you can make the right impression even from outside your house. Let it reflect the style and taste of the occupants. We have the best creative ideas for you, coming right up.
House Number on Front Door Wreath
Putting a wreath on the front door is not out of place and it's quite noticeable. Depending on what the wreath is made of, you can add some colorful flowers to make it attention-grabbing. You can also attach cutouts of your house number on the wreath. This way, nobody ever has to miss your house again.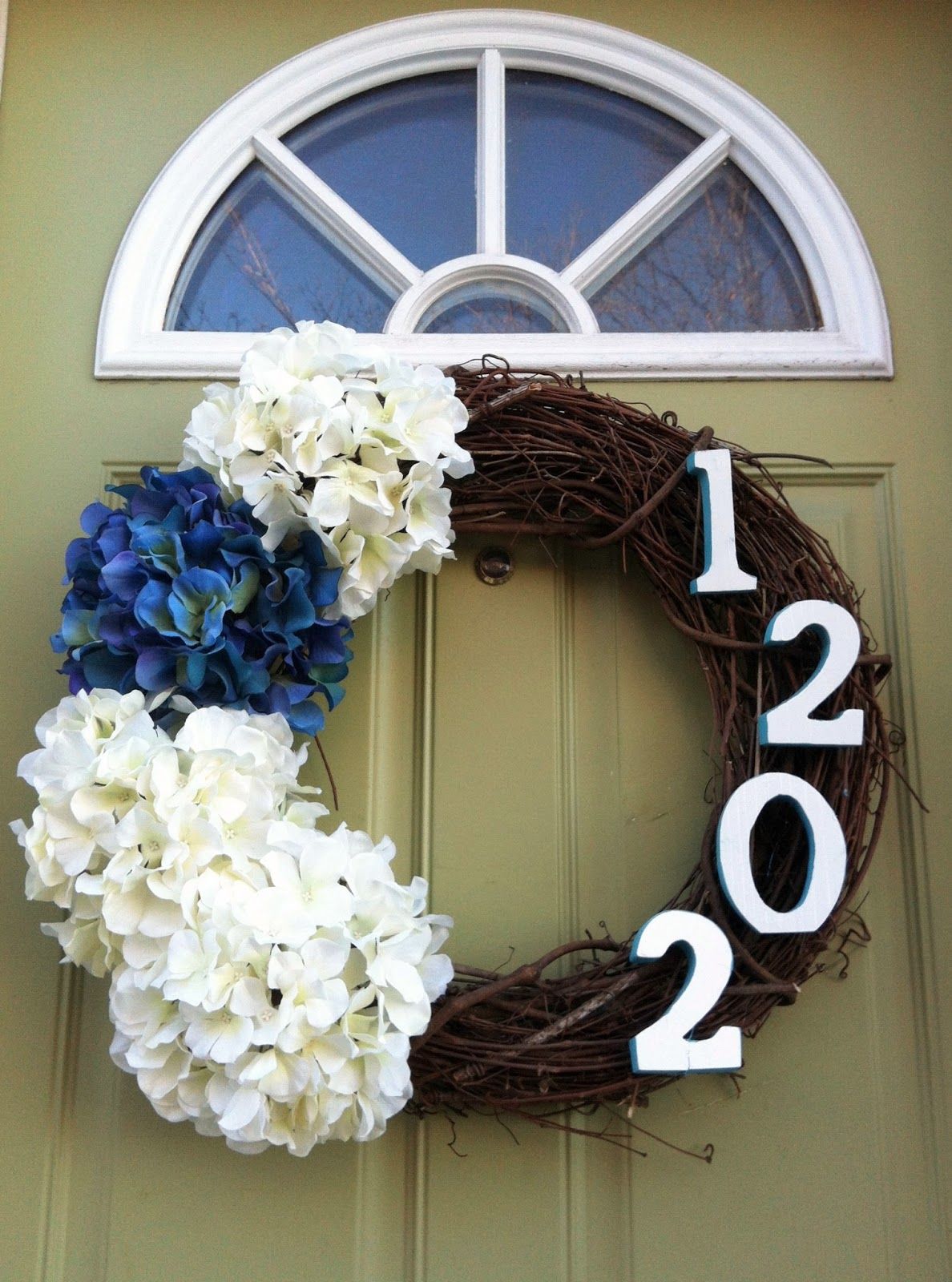 Family Initial with The House Number on It
What's the first letter of your family name? Put a giant sign of your family initial and you can screw on your house number in a contrasting color. Whoever is looking for your house can confirm it's the right place with both your house number and family initial.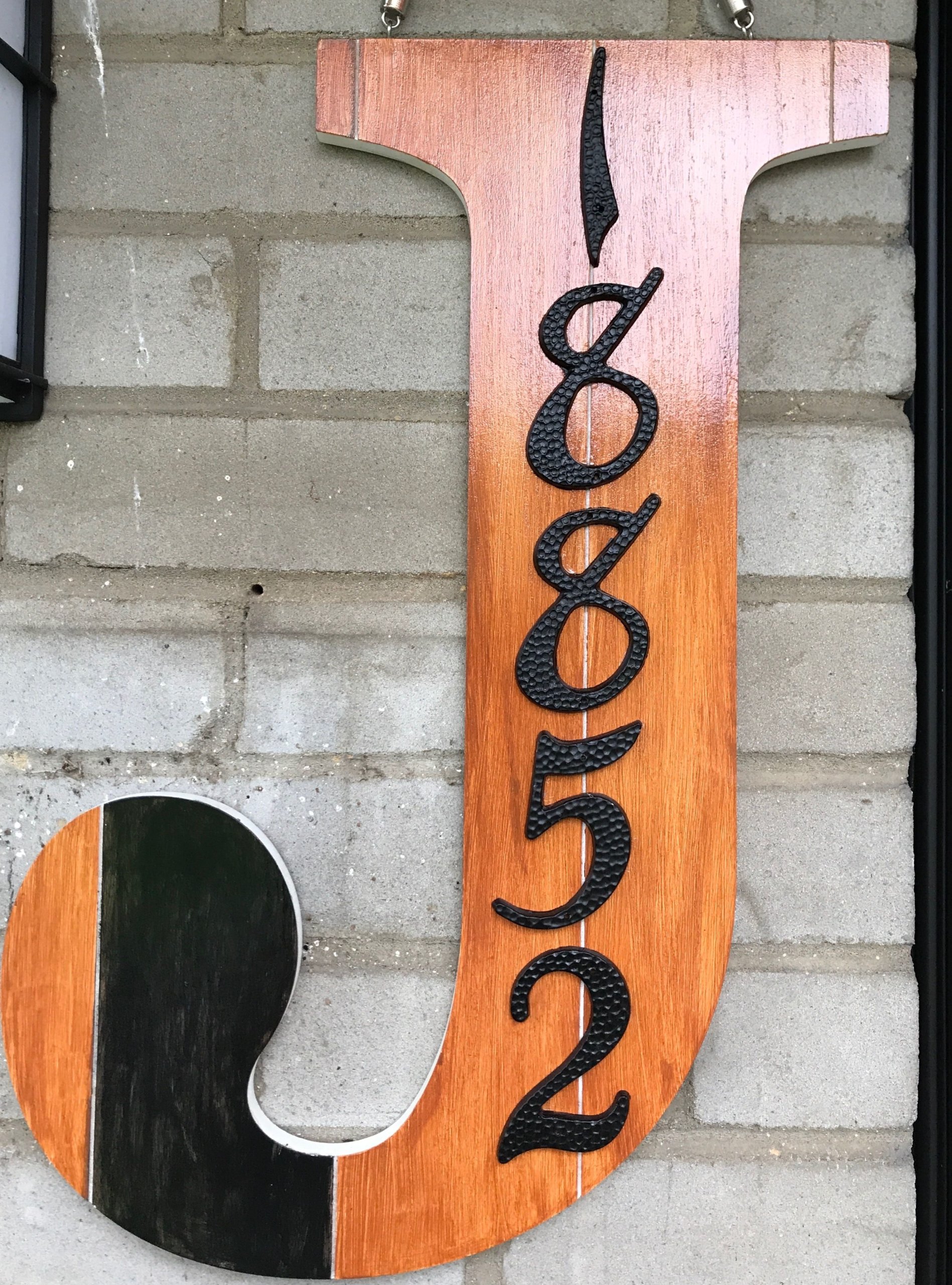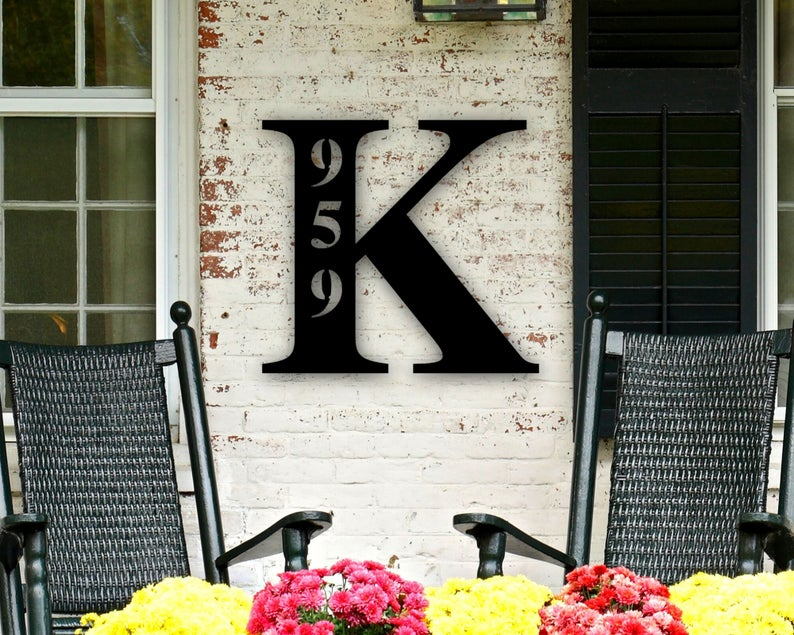 LED Backlit House Number
Nothing says modern and fun more than a backlit house number. The good thing about this is how they can be seen at any time of the day even from across the street. This sign is both beautiful and functional. It can add the extra oomph you need in your decor. You can use multi-colored LEDs which allows you to change the color whenever you want to.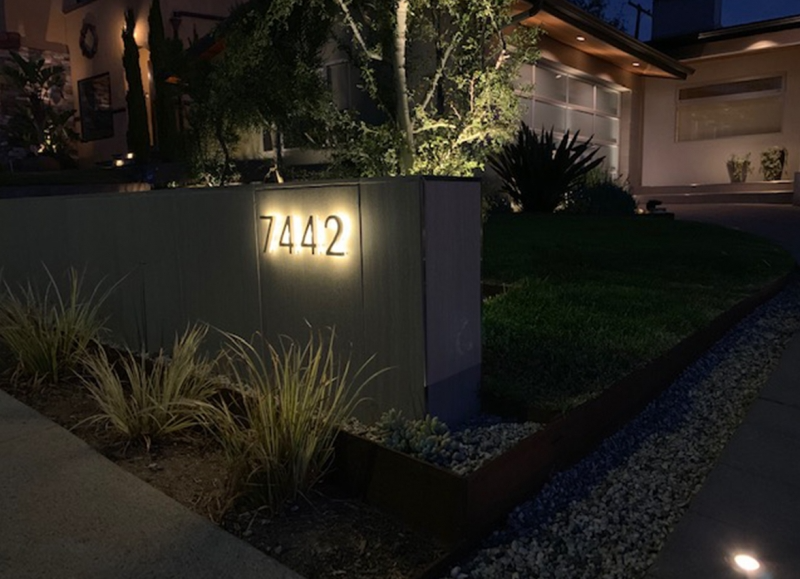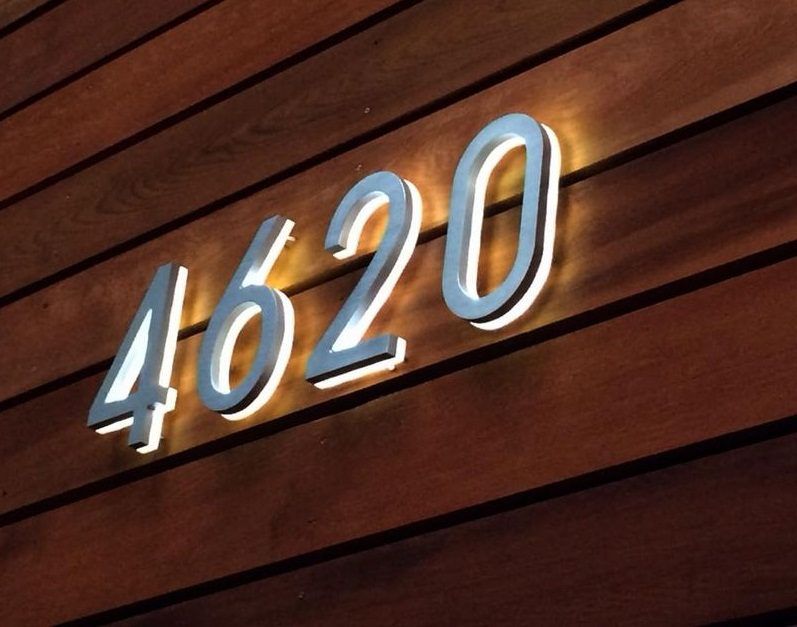 House Number on Porch Wooden Sign
If you have a porch, asides from being a place to relax outdoor, it can serve an additional purpose of directing people to your house. You can mount a wooden sign right on your porch that reads your house number. Ensure that the engraving on the sign is clearly outlined and bold.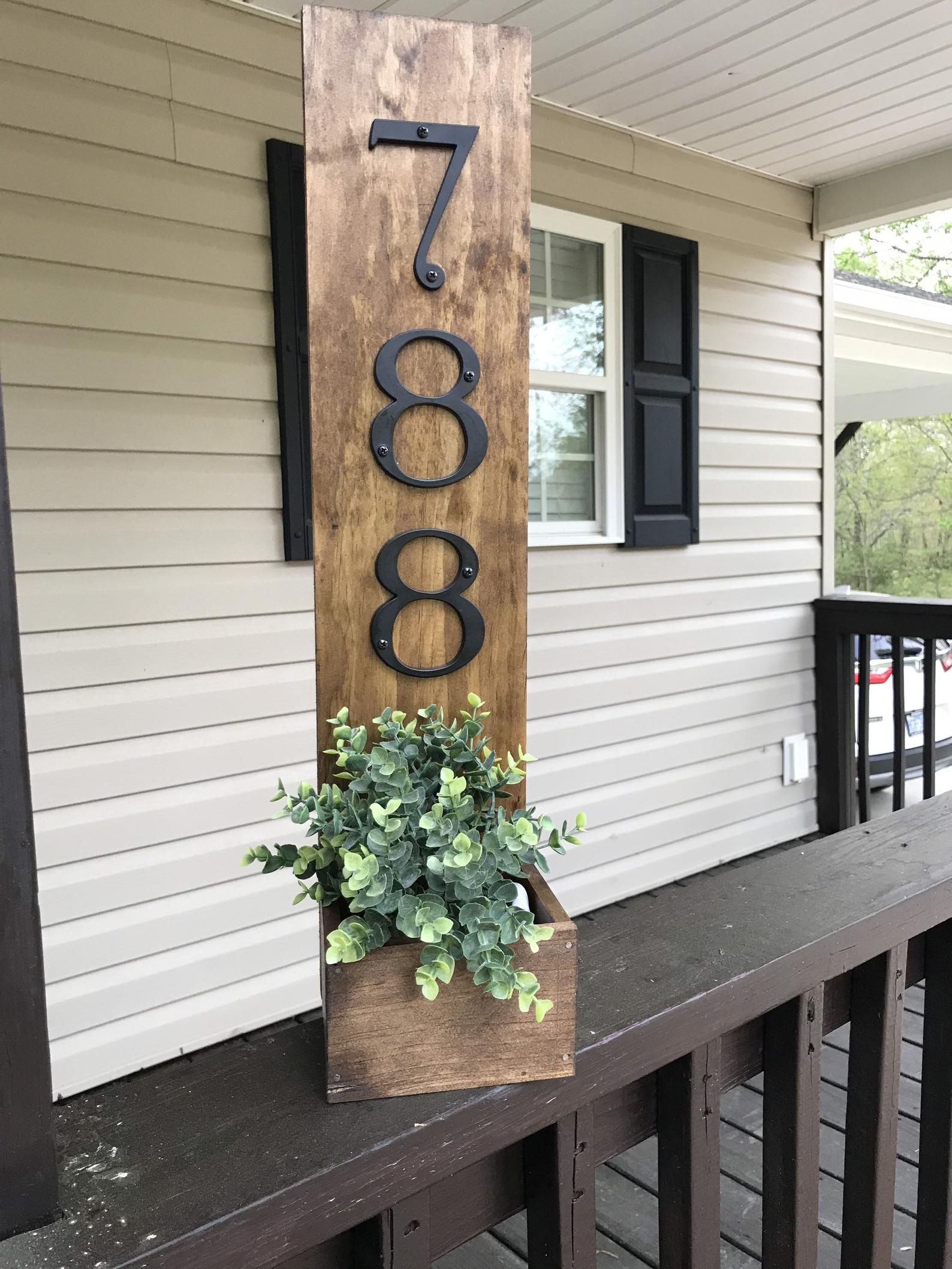 Framed House Number on Wood
Add a little bit of elegance to your house with a wooden frame. Screw on your house number on a flat wood and then frame it. How elegant it turns out depends on the kind of wood you use for the frame and the engraving on it. The frame will be exposed to natural elements so put that into consideration when picking your wood.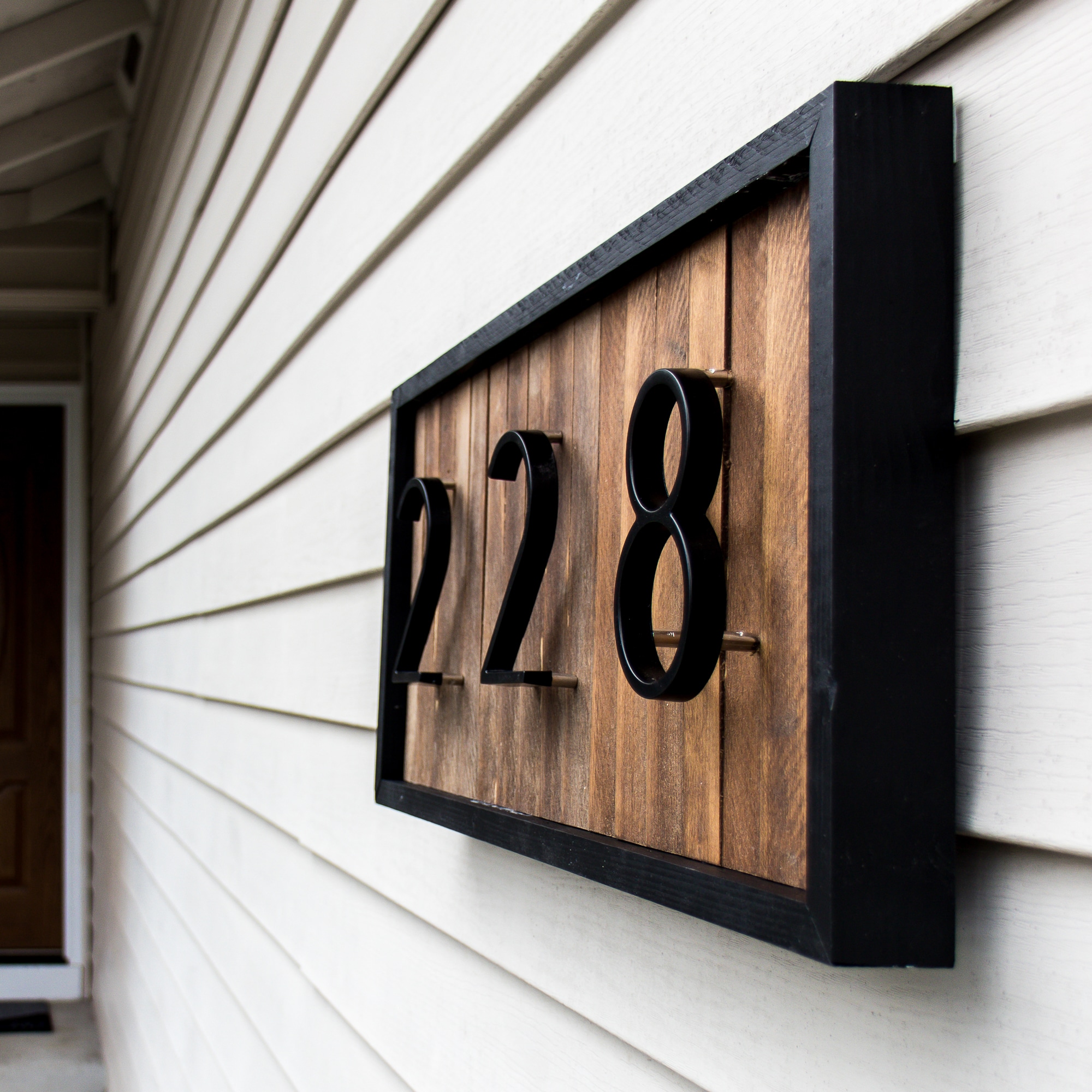 House Number Engraving on Wooden Door
This is one of the simplest house number ideas and a classy way to make your house number visible. If you have a wooden door, you should consider doing this. You might want to call a professional to help you with this but if you want to do it on your own, that's fine. Perfection is not what you're out for. Make an outline of your house number. At first, it will not be visible from afar but adding paint to the outline solves the problem.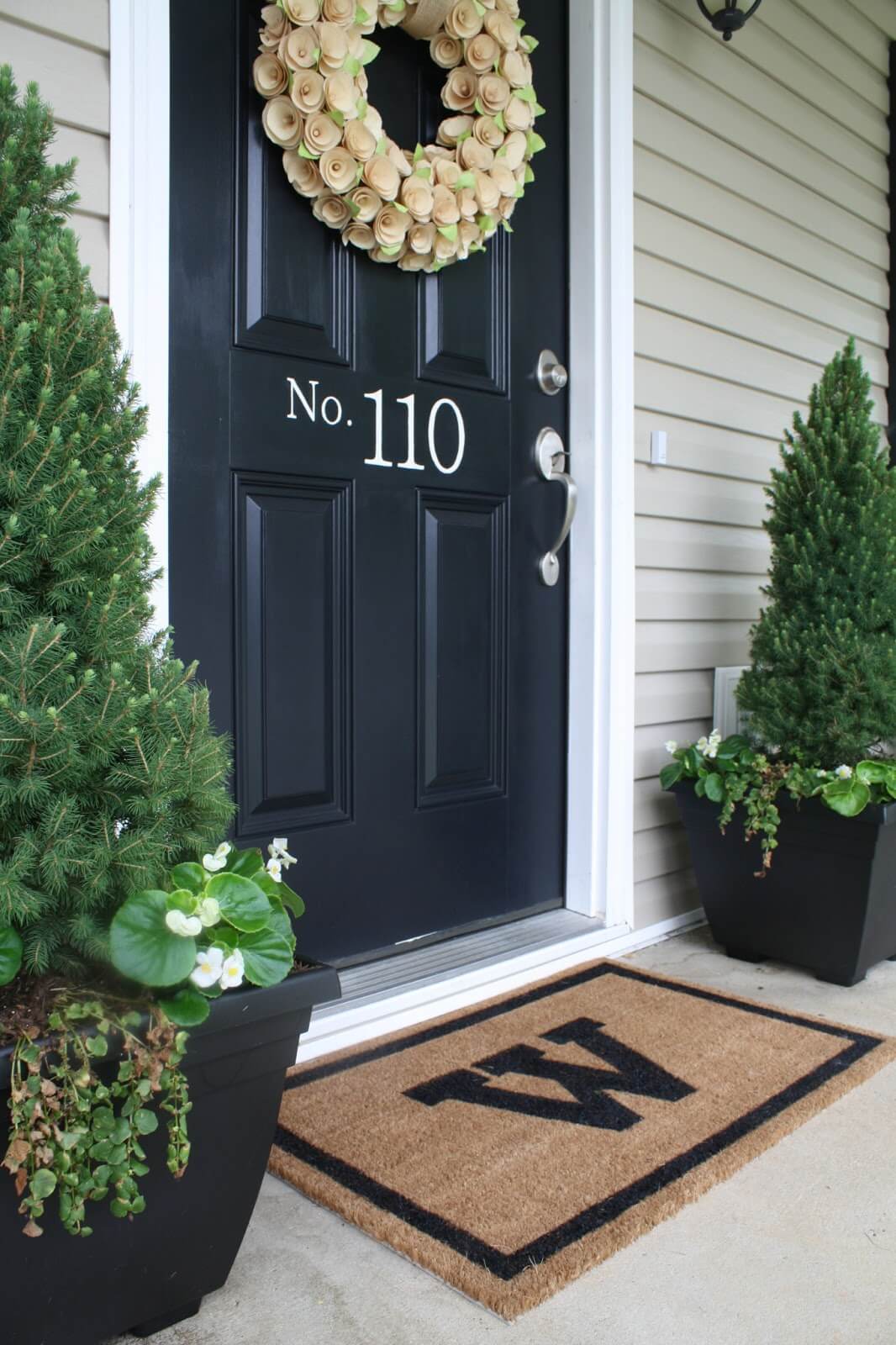 Multi-colored House Number

A pop of color is great to get a person's attention. Putting several colors together is you screaming "look at me". The multicolored number creation can be made from any material of your choice. Once you put them up, it's time to start hosting house parties and other celebrations. You will no longer be interrupted by several phone calls of people trying to find their way to you.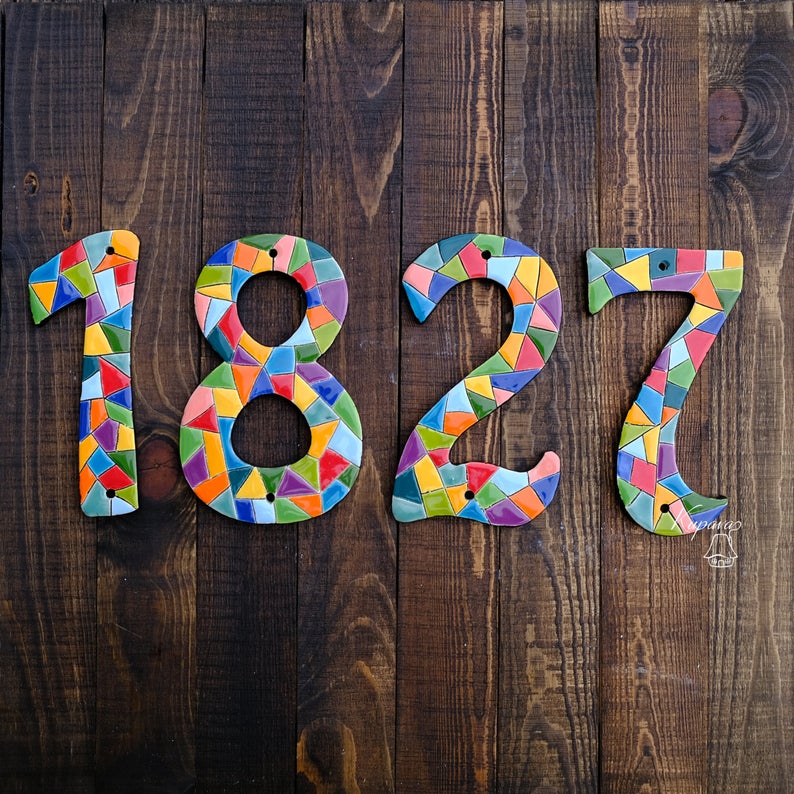 Hanging Colorful Plaque
You can have a plaque of your house number hanging on the door, window, or somewhere below the roof panel. If you're attaching it to the roof panel, ensure it is sturdy so it doesn't turn and twist with the wind. The more colorful it is, the more noticeable it will be for first-time visitors.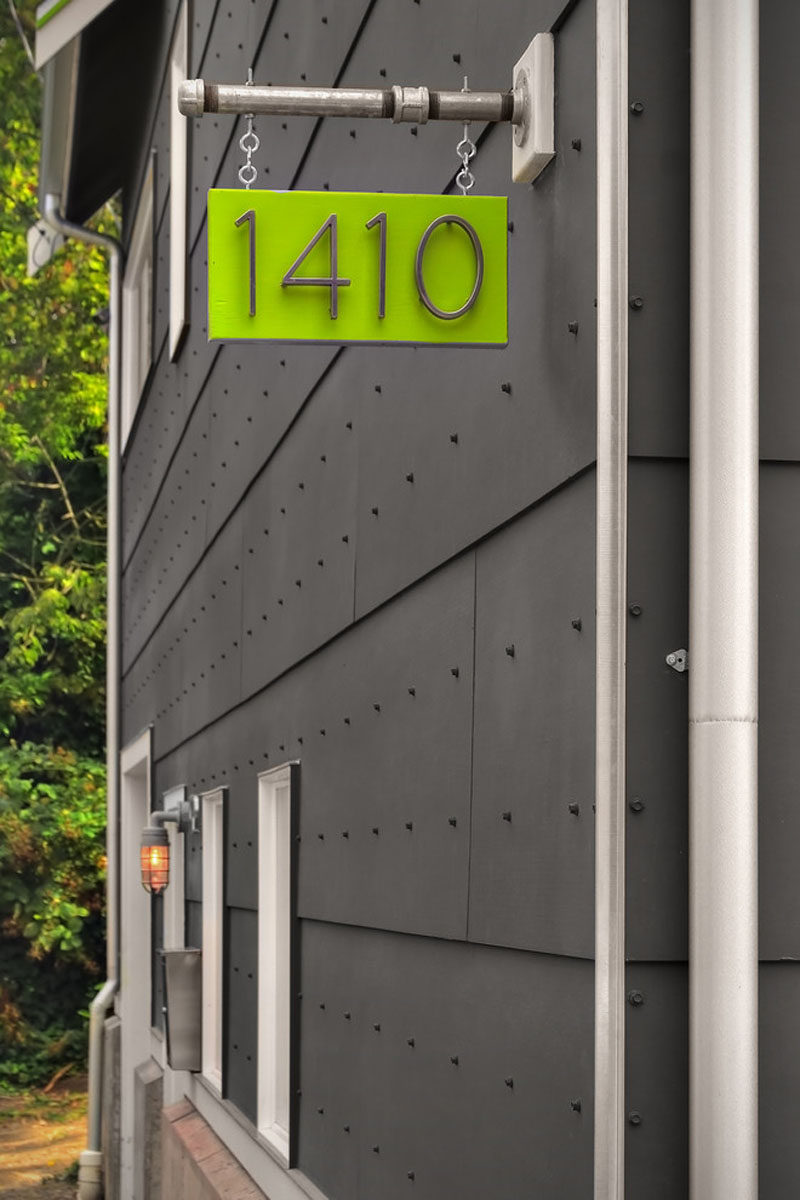 Rock Display in Front Yard
Rocks are commonly used for landscaping front yards so it is not out of place to put up a rock display in yours. One thing to note is that the rock display should not be hidden or covered by flowers or grasses. They should stand vertically and ensure the color you pick for writing the house number pops. For that, you should pick a contrasting color from that of the rock.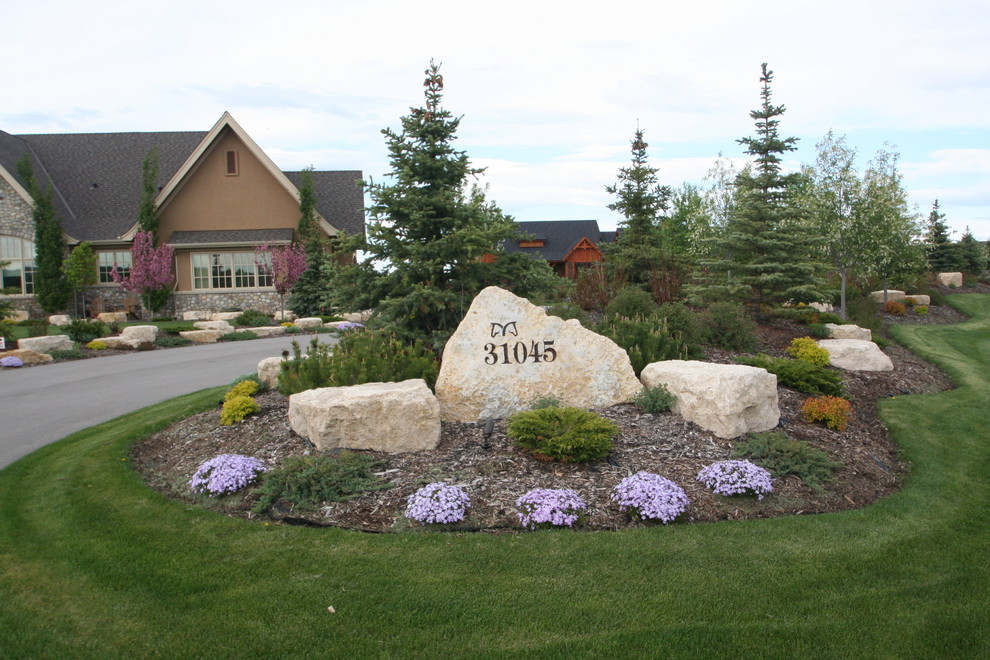 House Number on Mailbox
Your mailbox is usually in your front yard and it is very obvious to anyone looking at your house. It would be great to put your house number on the mailbox. This way, there's not a chance that anyone would miss it and you can be sure your letters won't end up with the neighbors.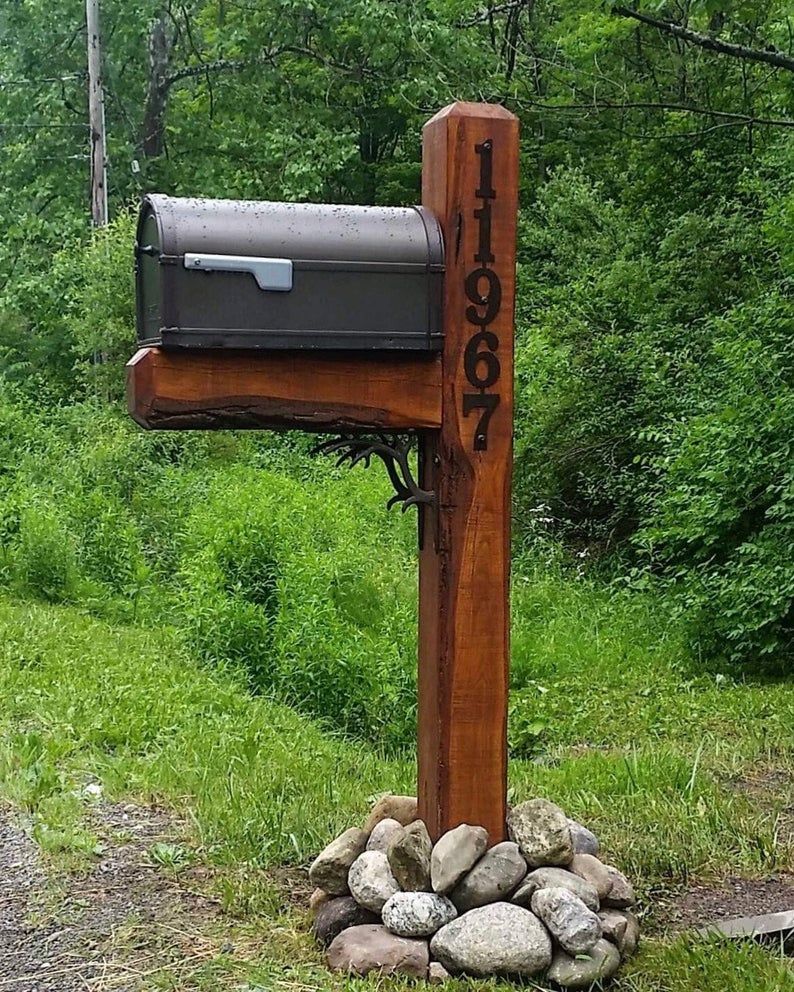 House Number Post
This is common but it presents you with the chance to show your creative side. Don't keep it as a house number post as usual. Think about hanging a flower pot or you can go bigger and hang a floral arrangement. It's totally up to you to decide. Don't forget this is supposed to reflect your taste so maybe consider using your favorite flower.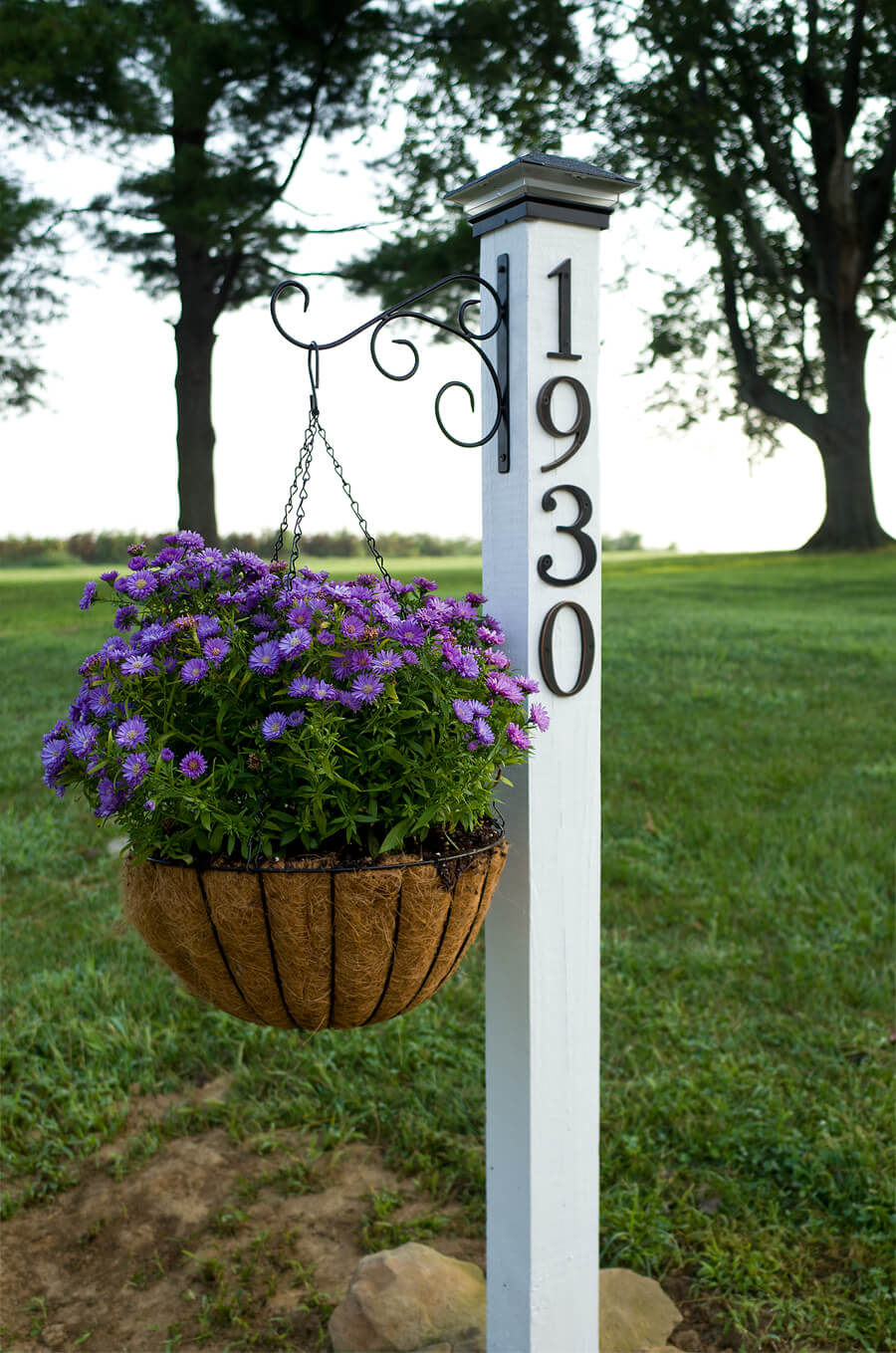 Painted Number on Front Door
When people are trying to locate a house, the front door is one of the places they check. Why don't you give them something to look at. Have your house number painted directly on your door. If you have a dark-colored door, you can use bright colored paint like white, yellow, or pink. If yours is a bright-colored door, black paint may be your best bet.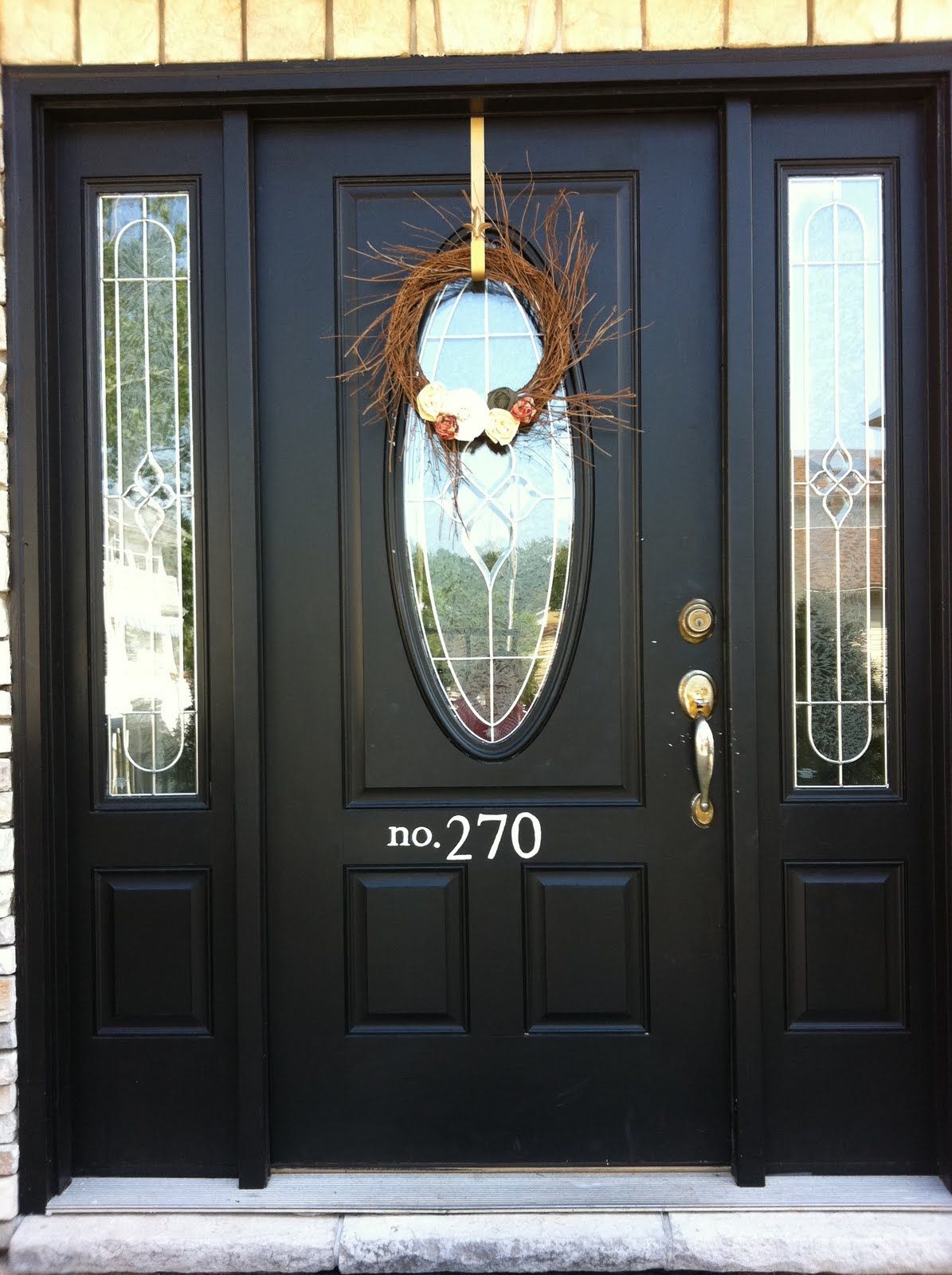 Even while you decide to get creative and put in your style, ensure that your house number sign serves its purpose – being visible. You need the mailman, the delivery agents, and even the first responders in the case of an emergency to find your house as easily as possible. These house number ideas all put that factor into consideration so it is safe to pick one out and get creative with it.