A cottage kitchen evokes a cozy and comforting feeling every time. It is light and airy with little wooden details here and there. Peeling off paints, or even distressed furniture completes its vintage aura. These charming interiors are timeless that they would seem to transport you back to those busy mornings in your mother's kitchen. If you want to achieve a light, natural and laidback kitchen, you need to count on beautiful cottage kitchen ideas to emulate the feeling.
Whether you live in a traditional country cottage and are searching for cottage kitchen ideas to complete your home or just love the cottage look — we've gathered up plenty of inspiration to help plan your interior.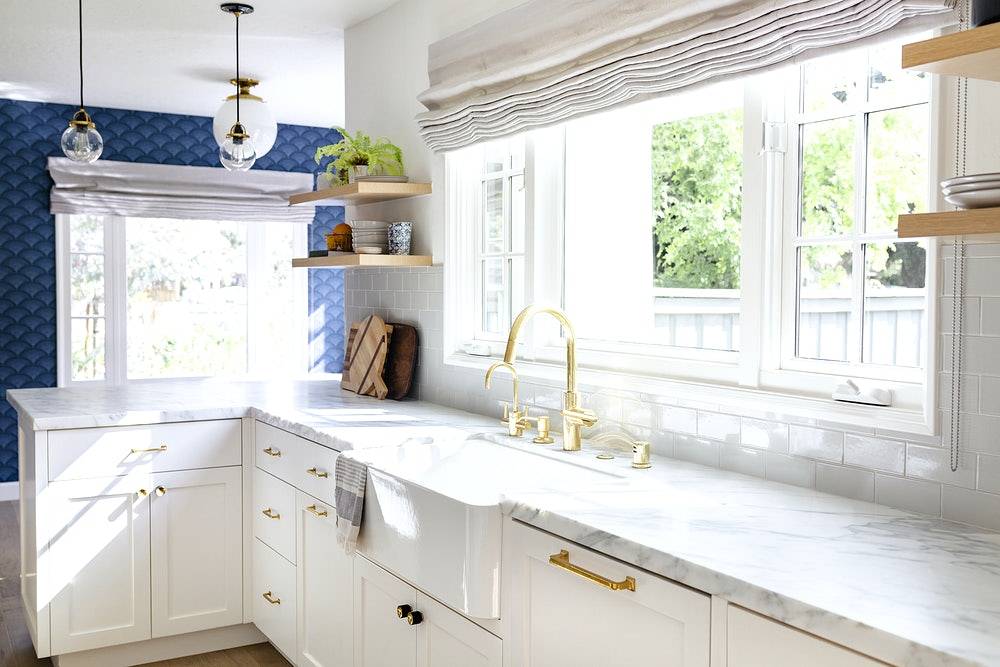 Whether you are building from scratch or doing a renovation, setting up a cottage kitchen inspiration is a fine choice. It reflects a relaxed environment that will surely inspire you to jumpstart your day. So here are a bunch of cool cottage kitchen ideas to try incorporating into your home.
Cottage kitchens are known for their authentic features. Whether stone flagstone floors, rustic ceiling beams, or weathered inglenooks, it's these elements that give cottage kitchens their remarkable charm and homey feel.
Elements of a Cottage Kitchen
Soft Colors
The cottage palette is generally light and airy, and the kitchen should follow suit. It's hard to go wrong with crisp, classic white, but soft yellow, pale turquoise, or light khaki all look renewed and appropriate as well. Try a mix of cabinetry colors: one shade on the island with a contrasting hue on the cabinets.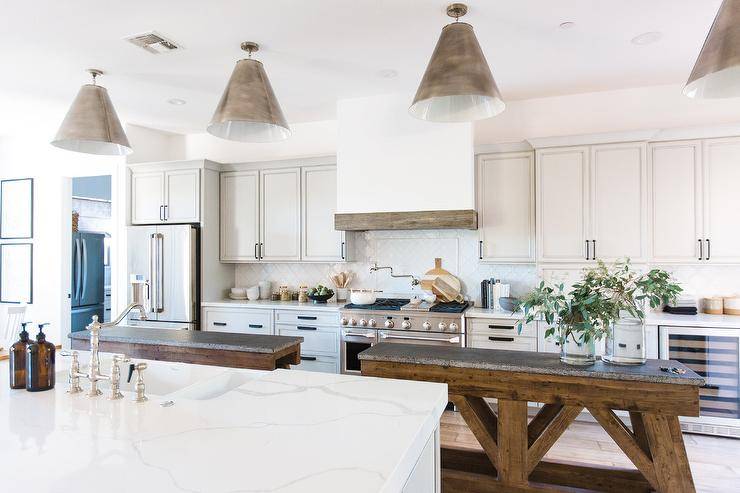 Open Shelving
Open shelving recalls the days when kitchens were more practical than decorative. This type of shelving was installed in place of traditional upper cabinetry because not only was cabinetry costly, and open shelves allowed cooks to grab dishes and tools quickly. Presently open shelves are as much about the decor as about practicality: Their openness helps make a space feel more considerable, and they often house decor in addition to kitchen implements.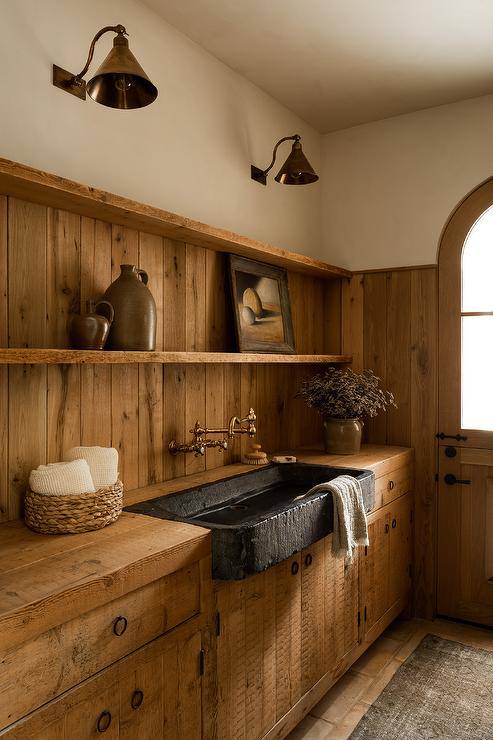 You don't have to be obsessively neat and organized for open shelving to look attractive, but you'll want to make an effort not to let clutter build. Keeping dishware to a single color creates a remarkable effect.
Beadboard
Nothing says cottage kitchen more obviously than beadboard. This grooved style of paneling warms walls and cabinetry and adds architectural interest with a minimum of commotion. You don't need much to create a cottage effect because beadboard makes such a visual impact. Go the traditional route and paint it a creamy color, choose the same hue as your cabinetry, or sand it a little for an antique, distressed look.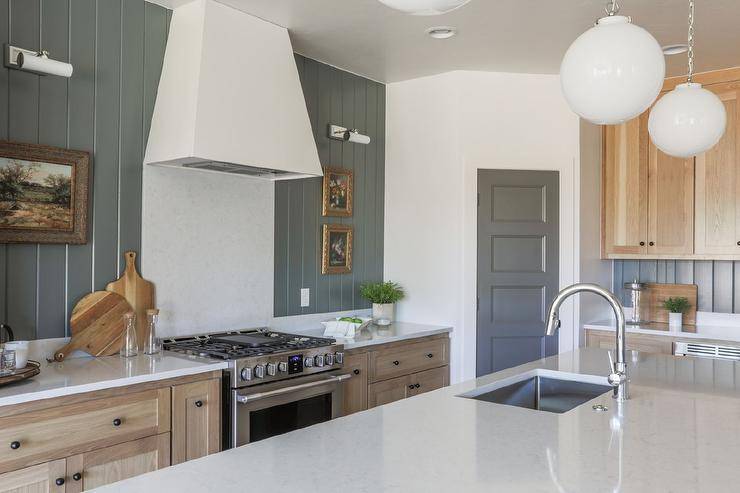 Farmhouse sinks
Farmhouse sinks also referred to as apron-front sinks, have come back in recent years. They feature a wide, shallow face and an extra-deep bowl that can accommodate large pots and pans. Farmhouse sinks form a sense of country living, yet they're simple enough to work with cleaner-lined spaces.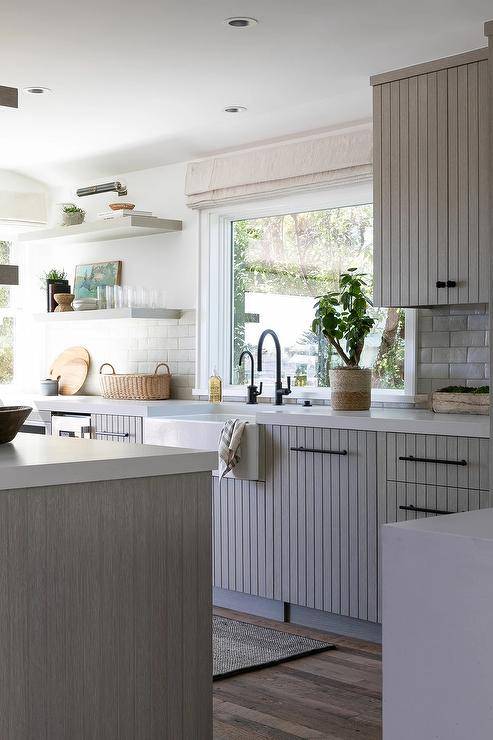 Related: Decoist Guide: How to Choose the Right Kitchen Sink
Furniture-style cabinet details
Years ago, before cabinets as we know them came into popularity, freestanding armoires, pie safes, and presses were the way to go. Reinvent that time period by adding furniture features to built-ins. Tuck bun feet beneath lower cabinets and corbels beneath upper ones, or paint a built-in hutch an opposing color to give the illusion that it isn't fixed.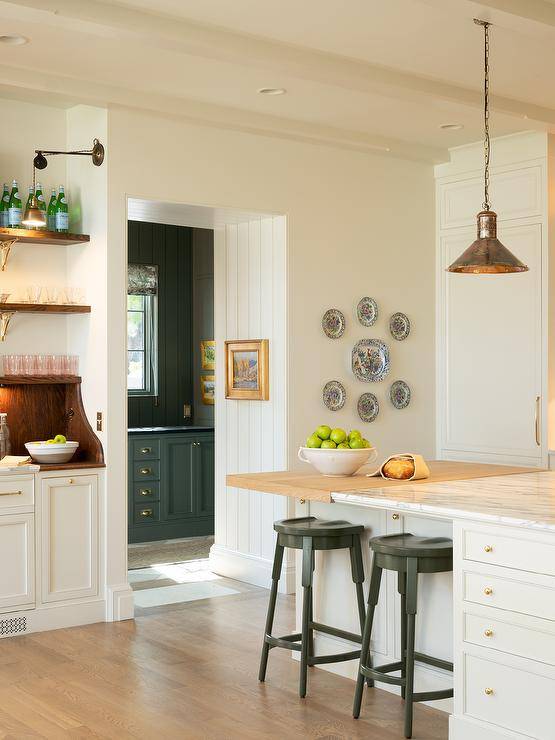 Incorporate Patina
Well-worn paint is equally wonderful on a cottage kitchen's cabinetry, floors, and furniture. Incorporate an abundance of patina into your kitchen with chippy, sanded paint that embraces imperfection.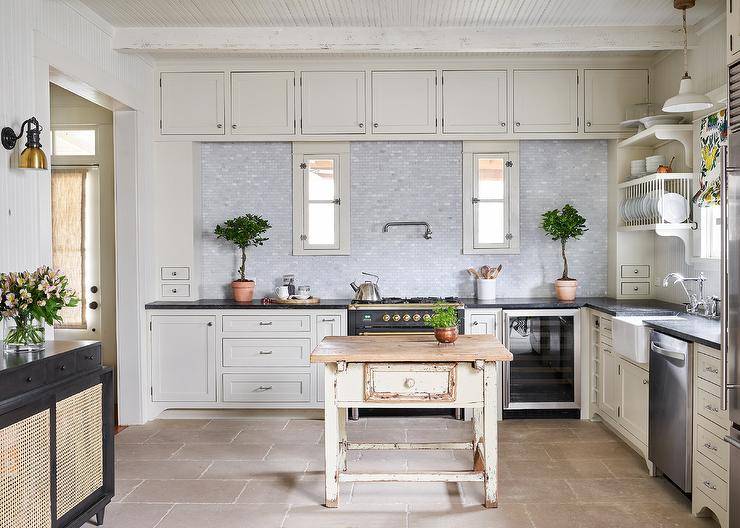 Stunning Cottage Kitchen Ideas
When thinking about cottage kitchen ideas, it's crucial to consider how pleasingly to make these characteristics shine while also creating a practical and welcoming space. Cottage isn't just a decorating style — it's an attitude. Cozy, happy, and unpretentious, it leans back to simpler times and stimulates a sense of easy, carefree living. And since the kitchen is typically among the busiest spots in the house, it makes sense to translate that perspective to your cabinetry, fixtures, appliances, and more.
A Cottage Kitchen in Muted Colors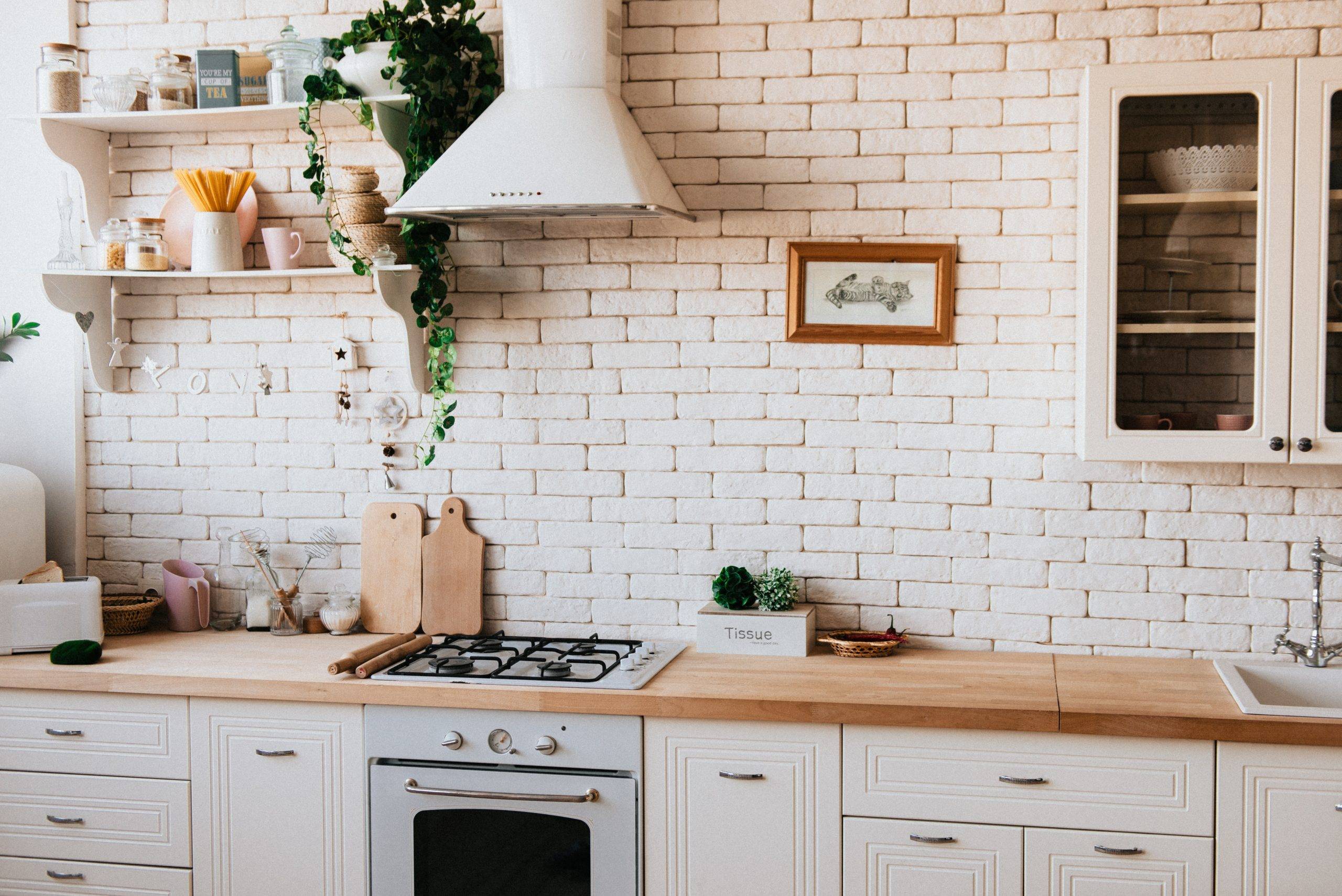 The subdued colors of this cottage kitchen convey a welcoming feel and a positive vibe. The wooden countertops complement the textured wall and cabinets very well. The floating shelf is also a nice addition for displaying memorable mementos and kitchenware. And, don't neglect the presence of the cascading vine that brings life to this wholesome kitchen!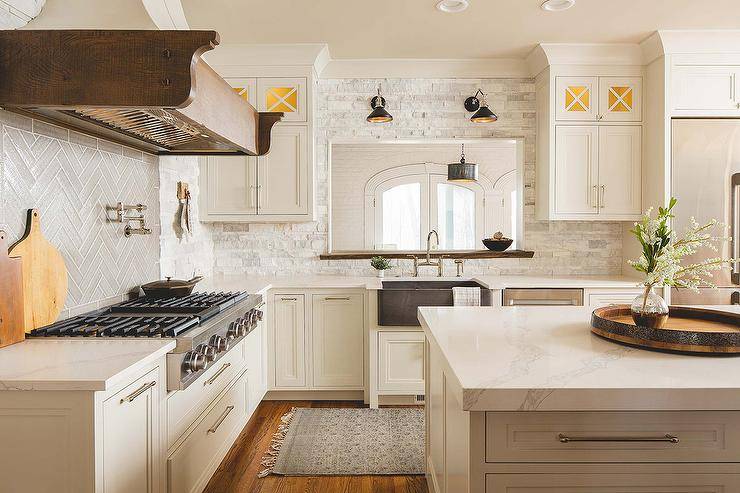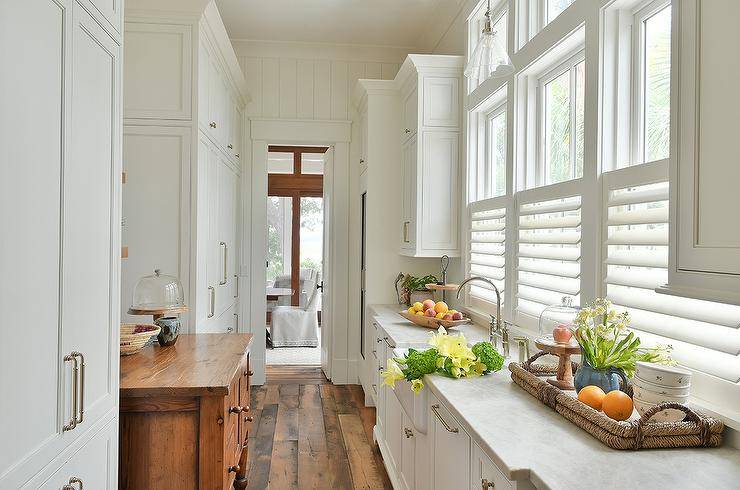 Flaunting the Old-Age Interior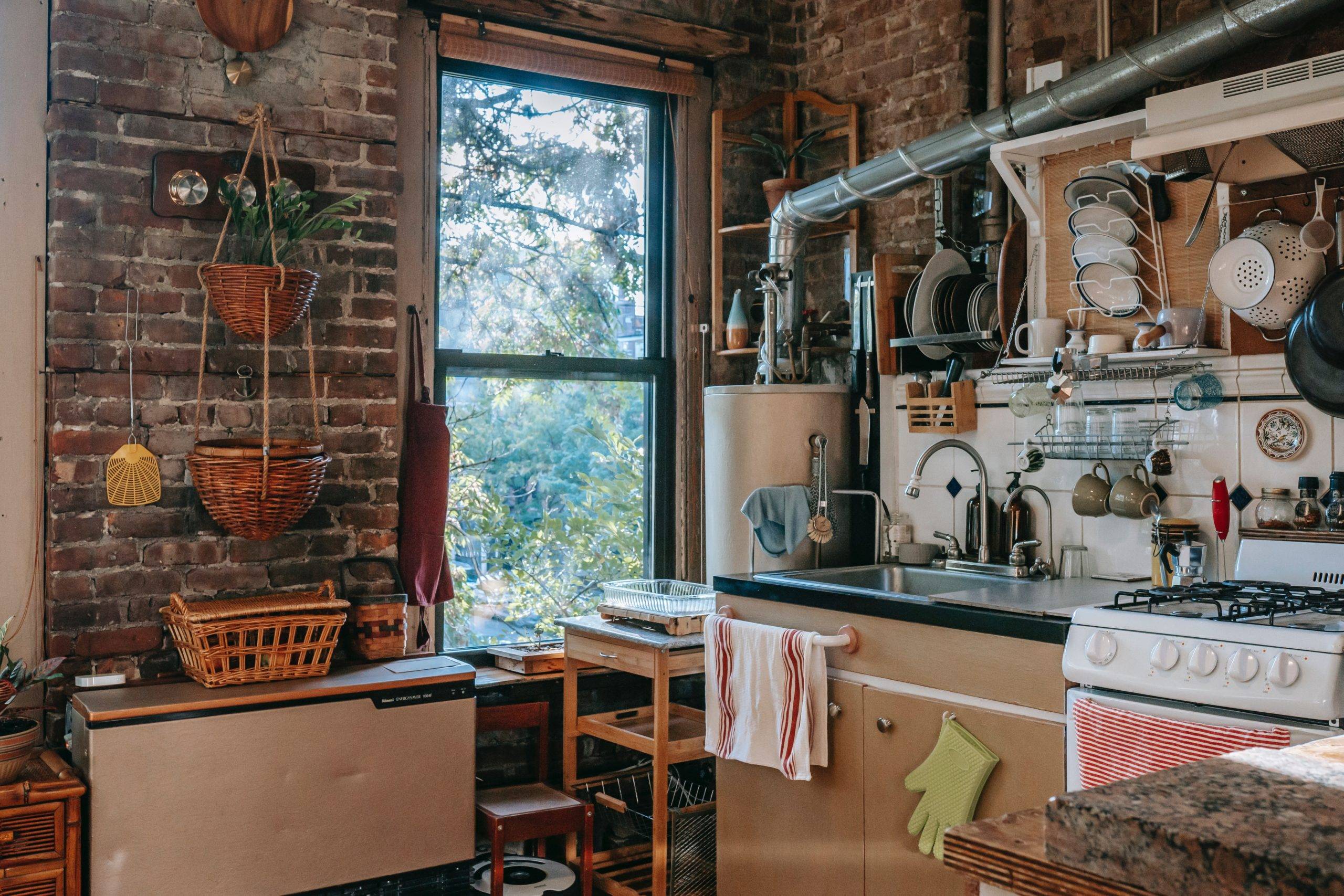 People love the ultimate feel of the timeless tradition of a cottage kitchen. That's why some homeowners are incorporating its rustic elegance even through wallpapers. But if you can afford to plaster your wall with brick and clay, that is a far more elegant display. Adding some vintage stuff like wicker baskets and old-fashioned furniture are farmhouse aesthetics you would not want to miss.
Frame its Structural Frames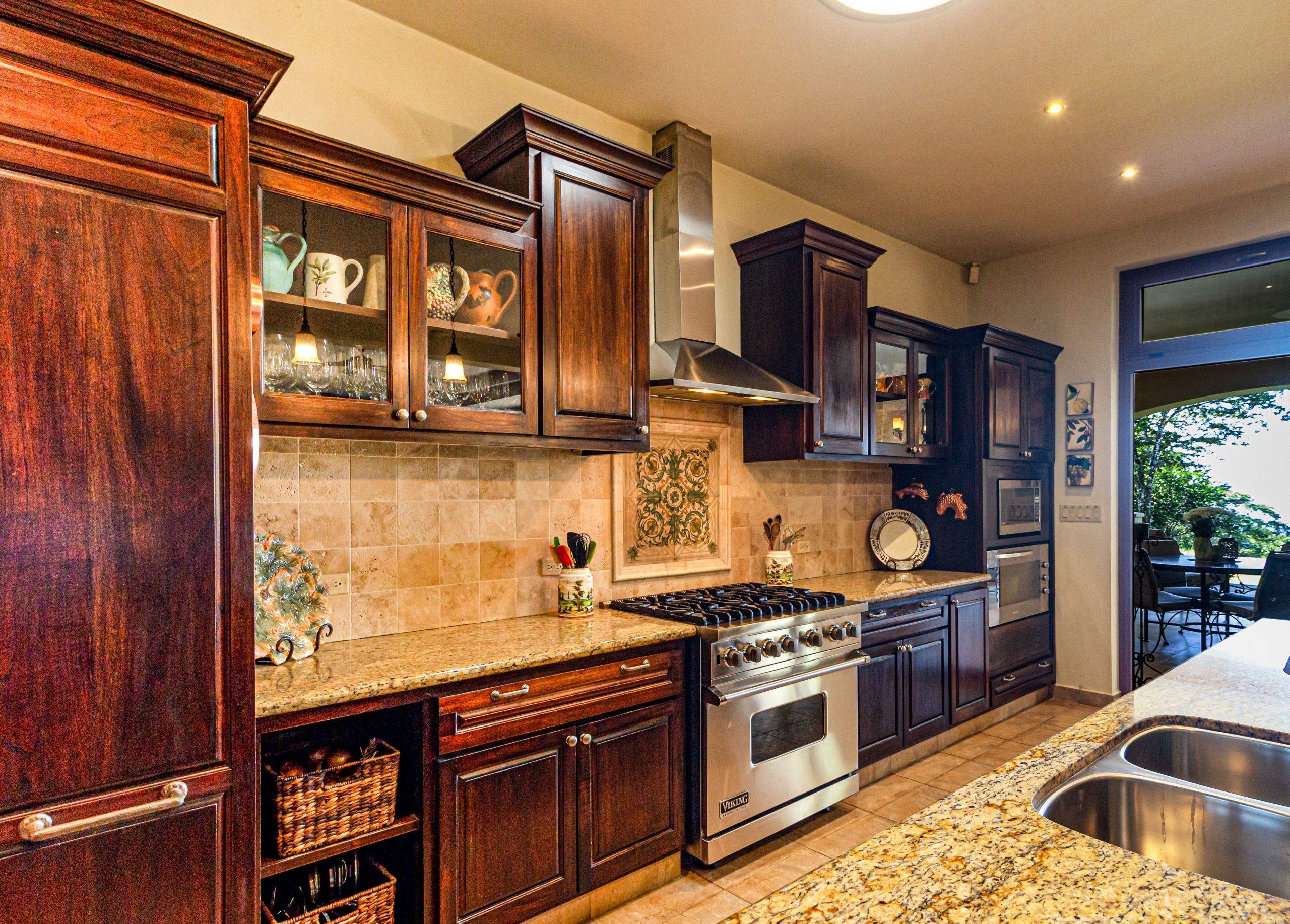 Moldings do not only seal imperfections of the wall, ceiling, or floor. It can also do so much in conveying a rustic appeal with its decorative element. This spic and span cottage kitchen exudes the elegance of a rustic kitchen. The well-framed furnishings also have something to talk about the house's resale value just by looking at it. It pairs well with the stainless-steel equipment to achieve that sleek modern cottage kitchen look.
Incorporating Woods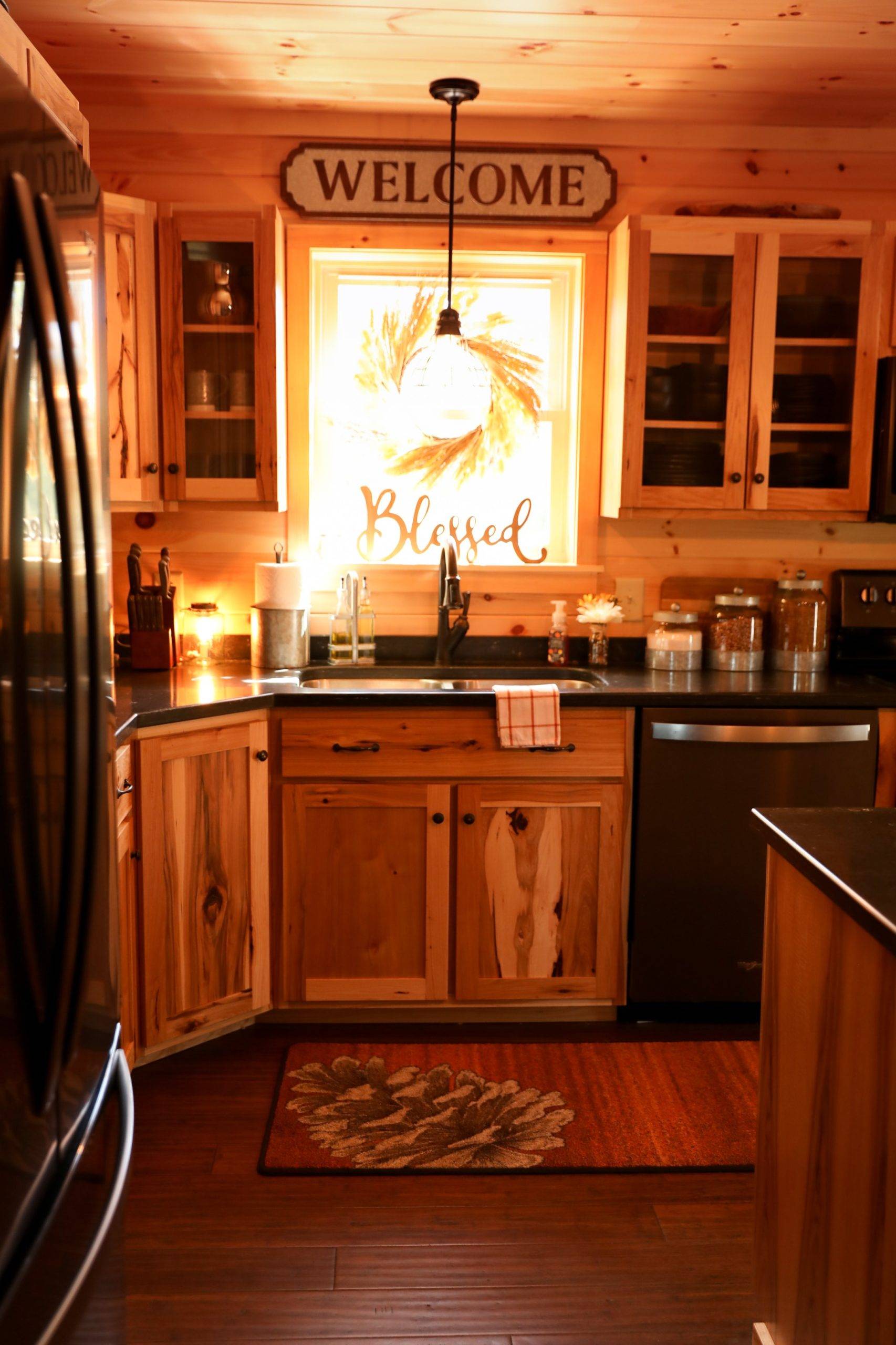 Wooden elements are the darling of farmhouses and cottages that lend it a grounded optimism. Secondly, it has all the subtle and natural colors that finish it with a touch of calmness. This is what gives the cottage kitchen a welcoming and homey feeling. To break the monotonous feel of wood, adding simple details like a rug or carpet is a great idea. You may also invest in awesome light fixtures or farmhouse window treatment.
The Whimsical Touch of Pastels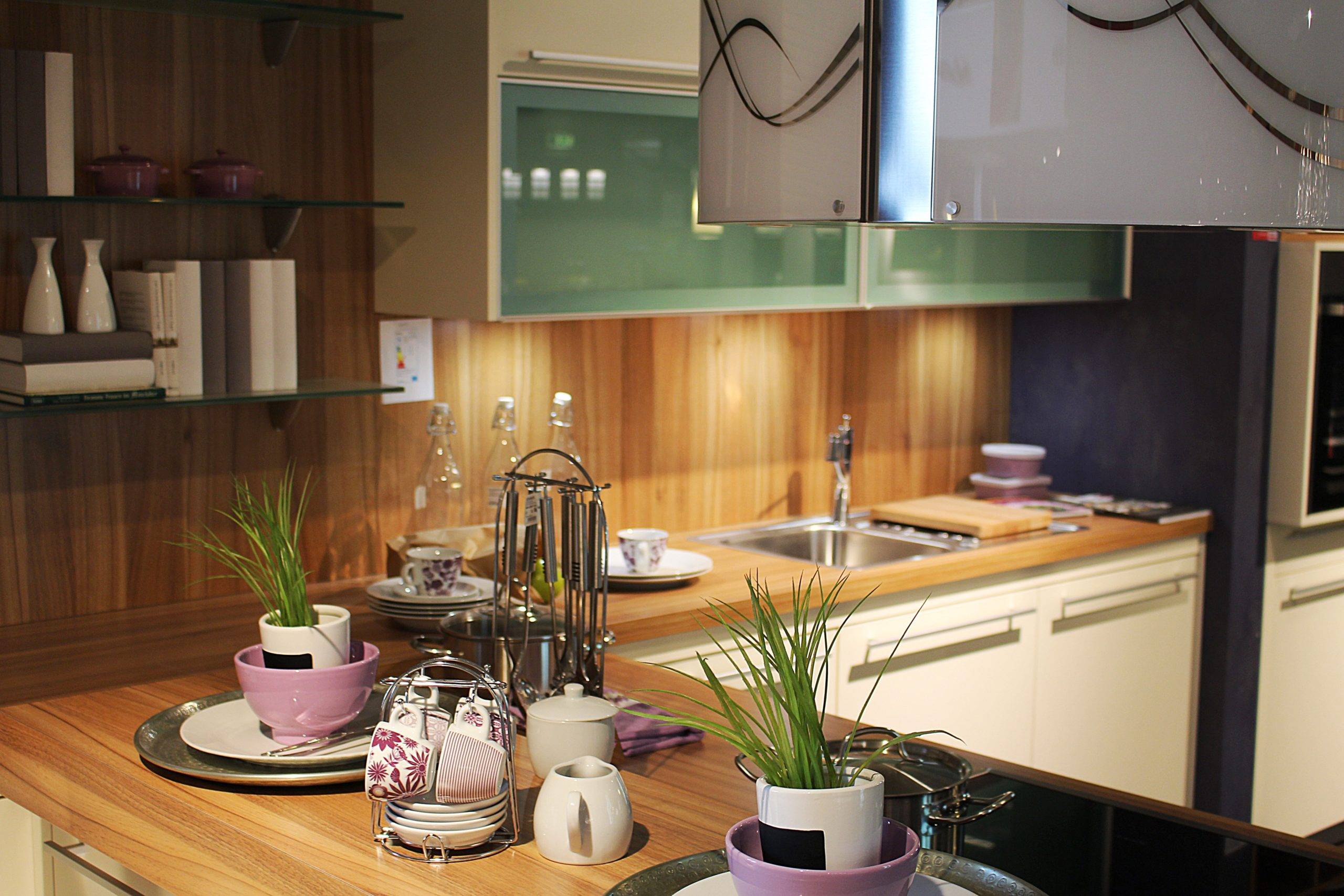 Adding some touch of colors to your cottage kitchen will not only create a mood and feel. It can also do so much in creating harmony and cohesiveness in the room. But, there is no need to plaster a dash or so of these colors in paints. Pick out kitchenware that will do the thing for you. Pastel-colored objects by the kitchen counter will add a whimsical appeal and evoke good old memories. So, give the room a visual interest even through these simple details.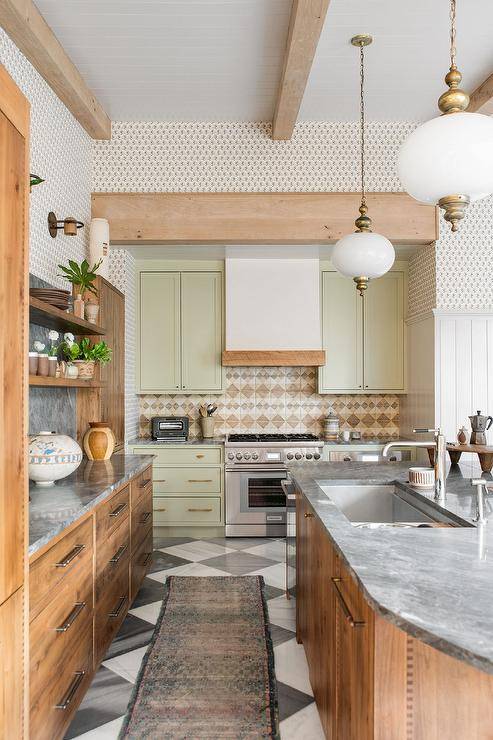 Hardwood All Over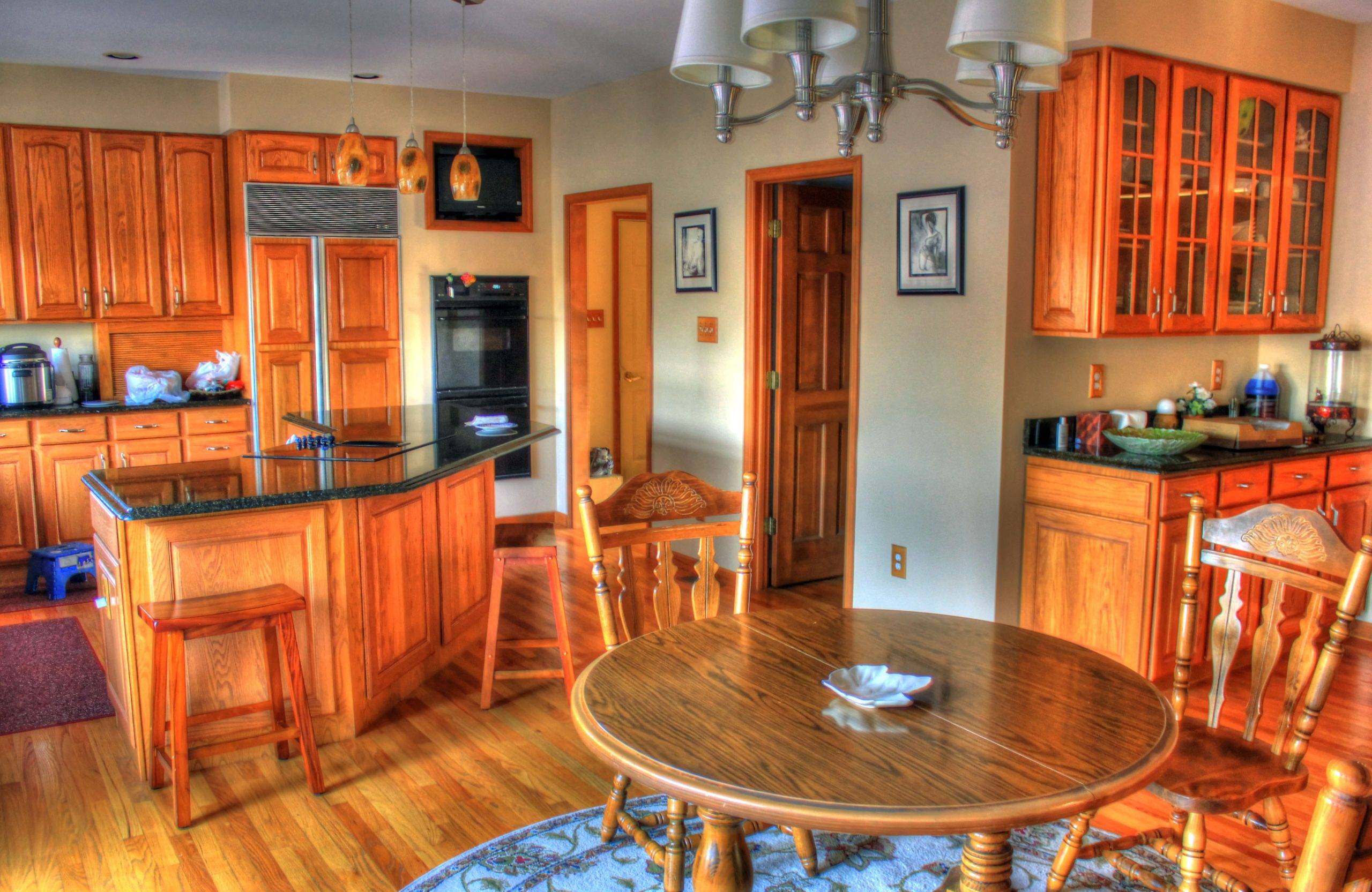 Stones and wood are distinctive materials of a cottage interior design. But employing hardwood is a vintage yet luxe idea to consider. Start with the wall or floor like this treasure trove cottage kitchen. It plays up the room's space with the nostalgic feel of wood and the rich stain of mahogany. To avoid overwhelming it with the deep earth tone, modern kitchen equipment, and countertops balance the overall feel.
Enhance the Space with Floor Details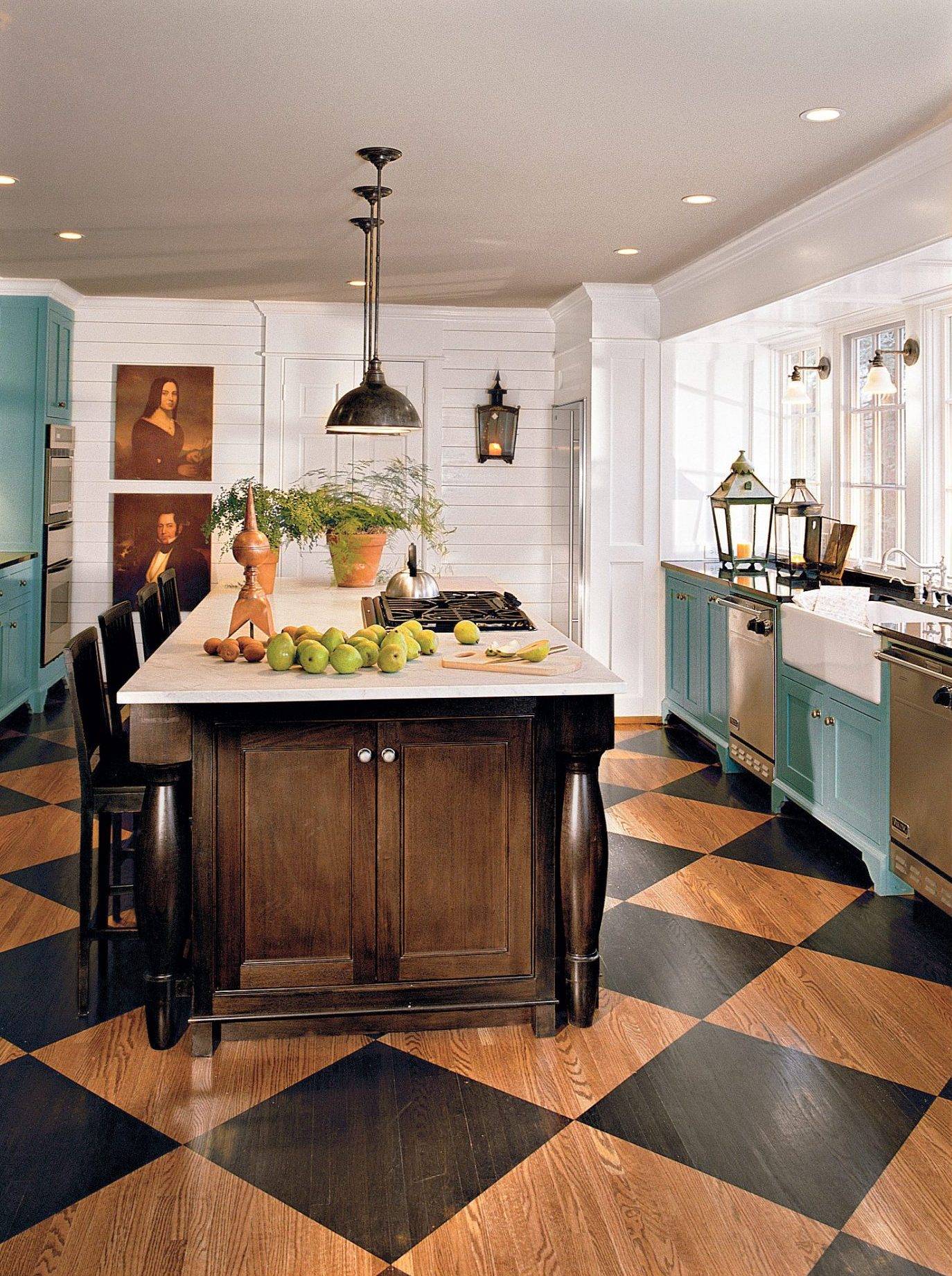 Introducing a pattern into the room will enhance its idea of space. But when done wrong, patterns will overwhelm the room. So, it is best to use it sparingly like this rustic cottage kitchen with a big, bold geometric design. It makes the room appear more expansive, alive, and appealing.
Make Use of a Kitchen Island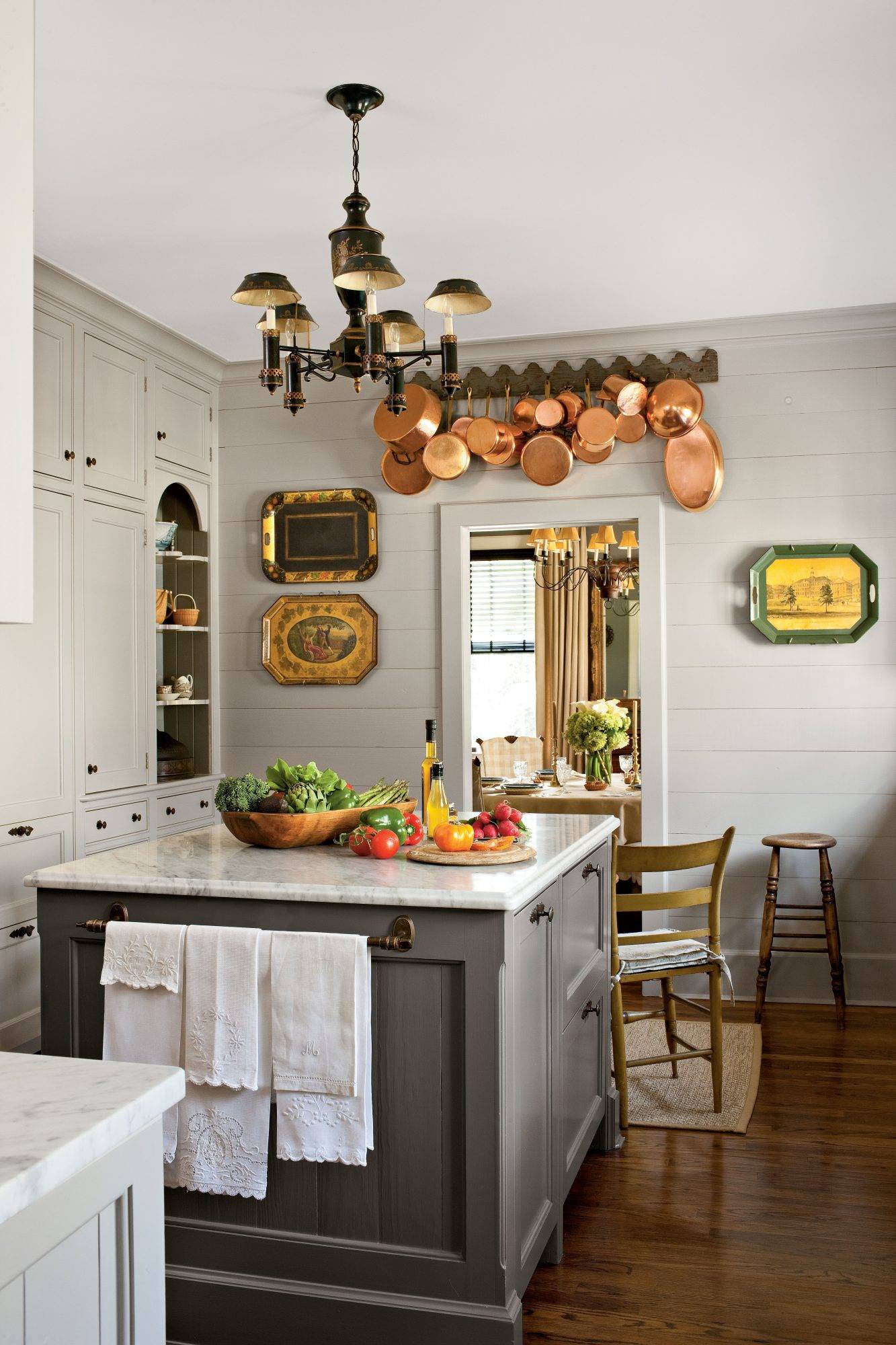 Kitchen islands are workspace hubs for enhancing the fluidity and flawlessness of the movement in a busy kitchen. But functionality aside, they are also that piece of fixture that defines a cottage kitchen. It makes the room appear more casual and comfortable. If your space allows, a kitchen island is a great idea to make a difference in a room. Even if you do have limited space, there are DIY kitchen islands you can make to make your cottage kitchen still stand out.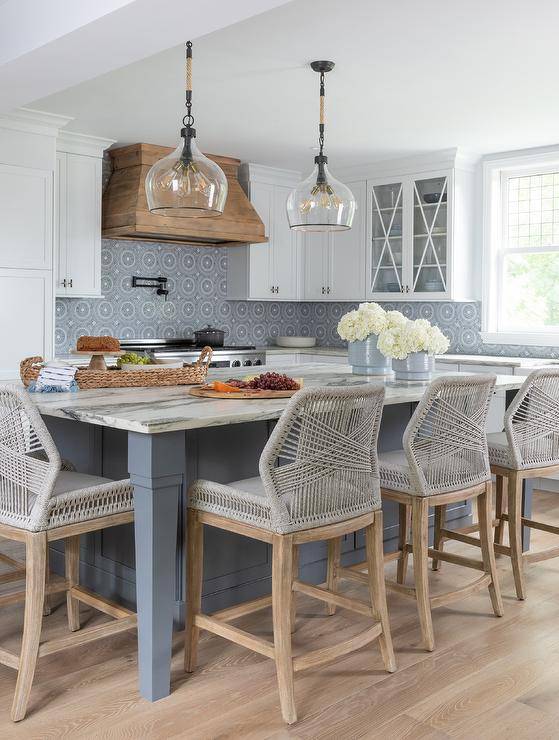 Spacious and Airy Cottage Kitchen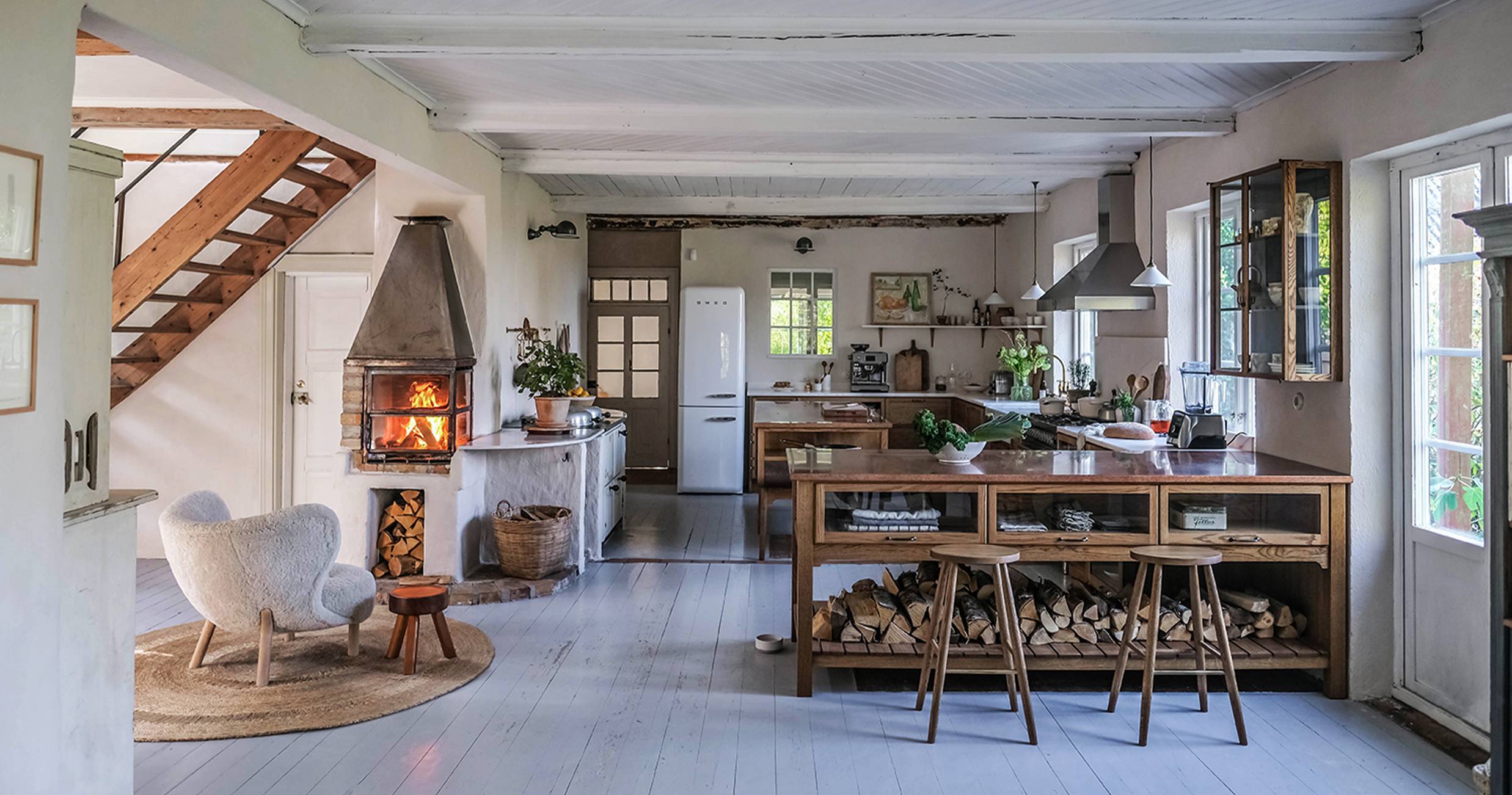 In this cottage kitchen, everything in the design sets its luxe and cohesive country look. The wooden fixtures, subtle tone, and even the plush accent chair sew together a gallery of a traditional cottage kitchen. The hearth and firewood even add to its classic and timeless features.
Give it Dimension Through Texture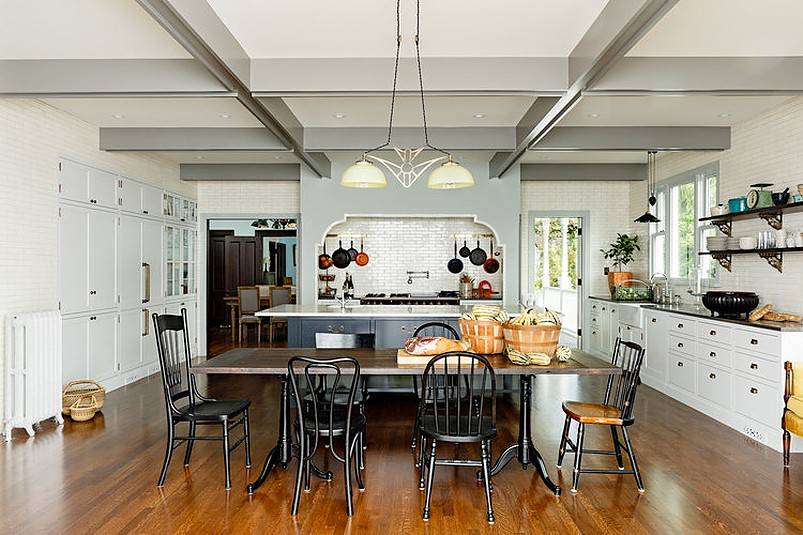 This traditional cottage kitchen gives off a subtle sense of depth and dimension. Owe it to the clever arrangement and incorporation of texture on the surface. From the glossy floor to the tactile texture of the wall, this place appears fully compact and complete. The exposed beams and quirky light fixtures are also contributory factors for this sleek and welcoming cottage kitchen.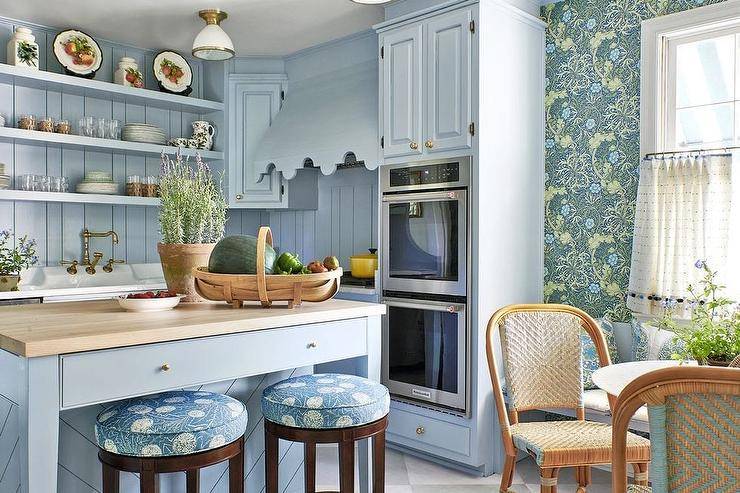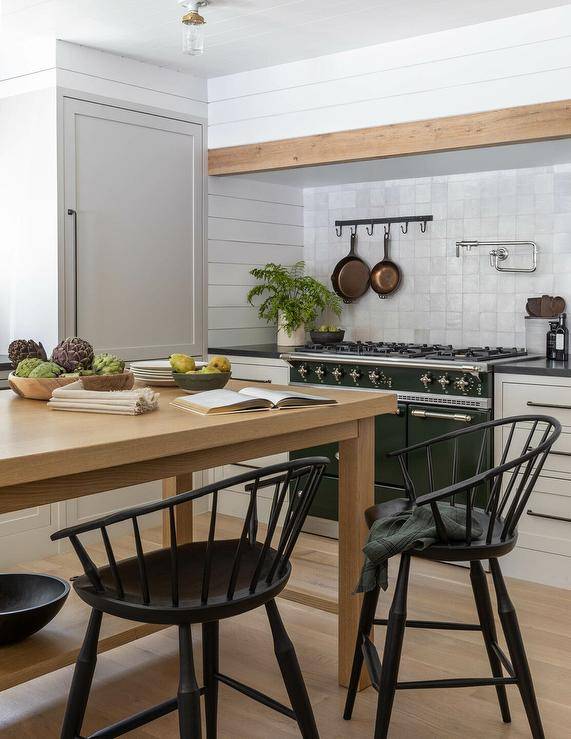 Add a Contrasting Statement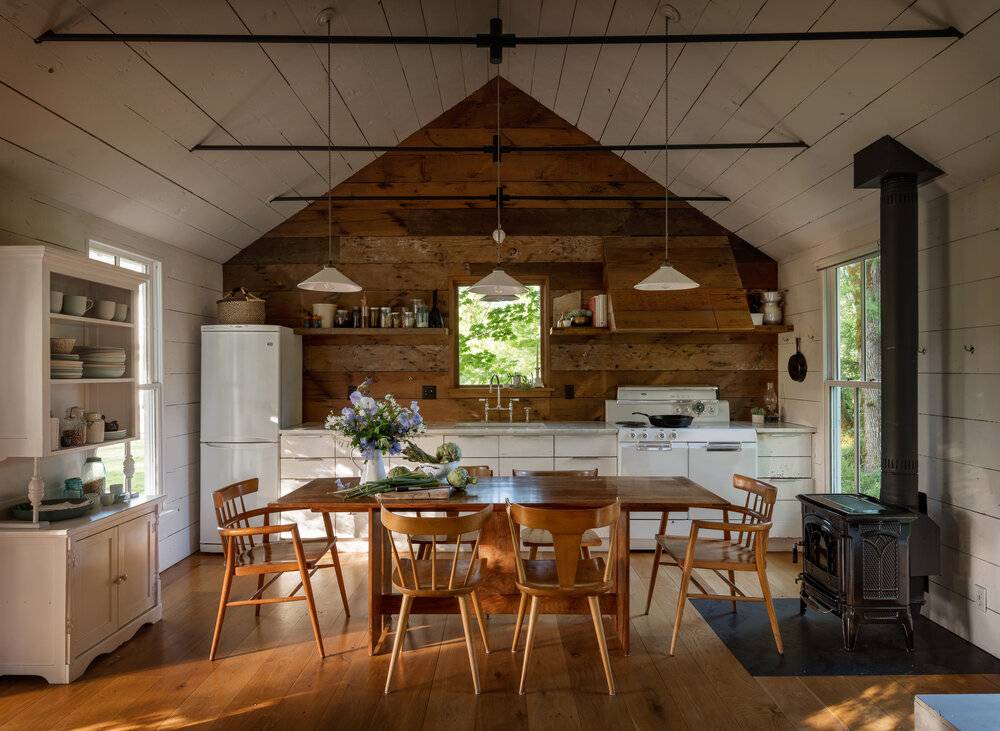 Contrasting elements create a visual impact. We are speaking partially for the wooden and white-washed paint choice of this room. The contrast between the dark and light creates a strong interesting point. The ornate lighting fixtures also add contrasts to the plain furniture. This kitchen has that antiquity and modernity blend that defines what a real cottage kitchen truly is.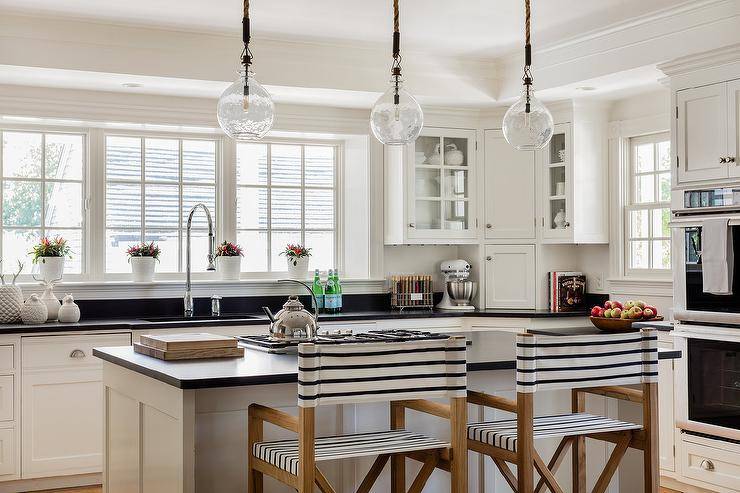 Loosen Up with Fresh Kitchen Art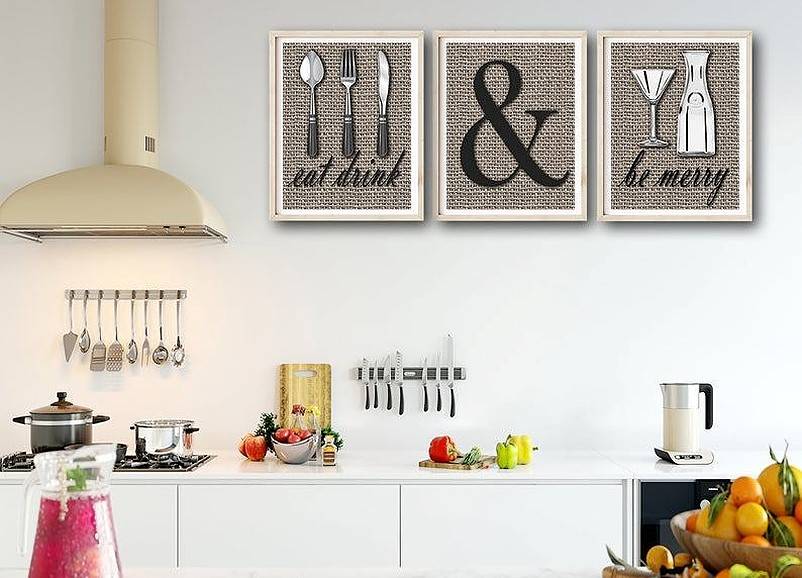 This is how you design a modern cottage kitchen with all the freshness to start the morning. The blemish-free white ensemble offers a clean, spacious, and calming peace for the room. Painting the room white is the cheapest way out of a makeover. But adding kitchen decors and wall arts makes it merrier, chic, and still sophisticated.
Upgrade the Room with Rustic Furniture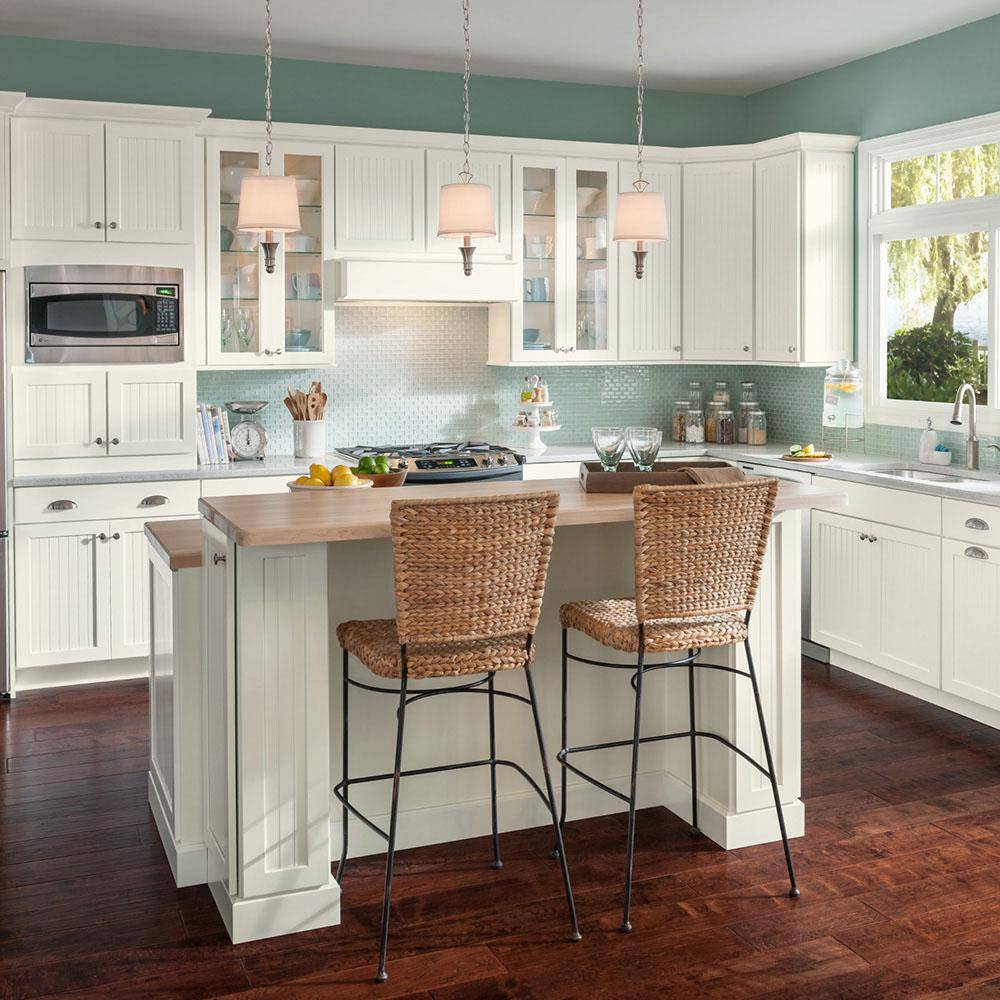 Rustic furniture is always a win in a cottage kitchen. If you want to upgrade but don't want to make a full renovation, go easy with simple furnishings. You may also opt to create a focal point of interest by dabbing some pastel hues in your kitchen wall. Get inspired by this cottage kitchen that opts for the classic white furniture, pastel turquoise wall, and wicker bar stool.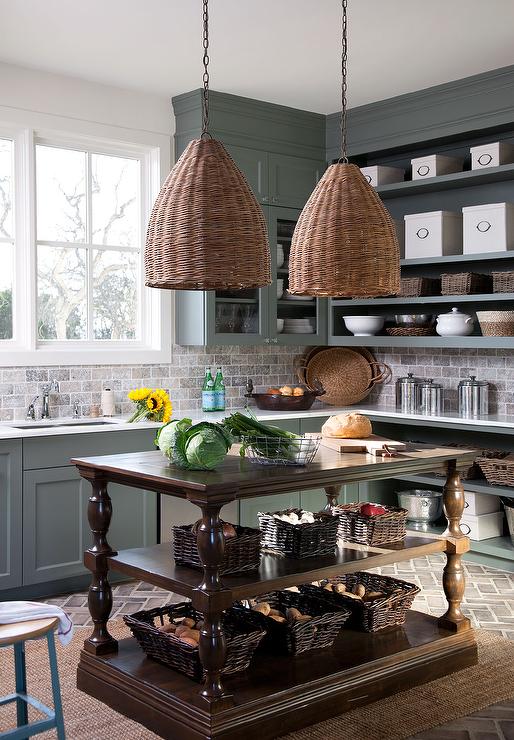 Embrace the Whole Cottage Kitchen Space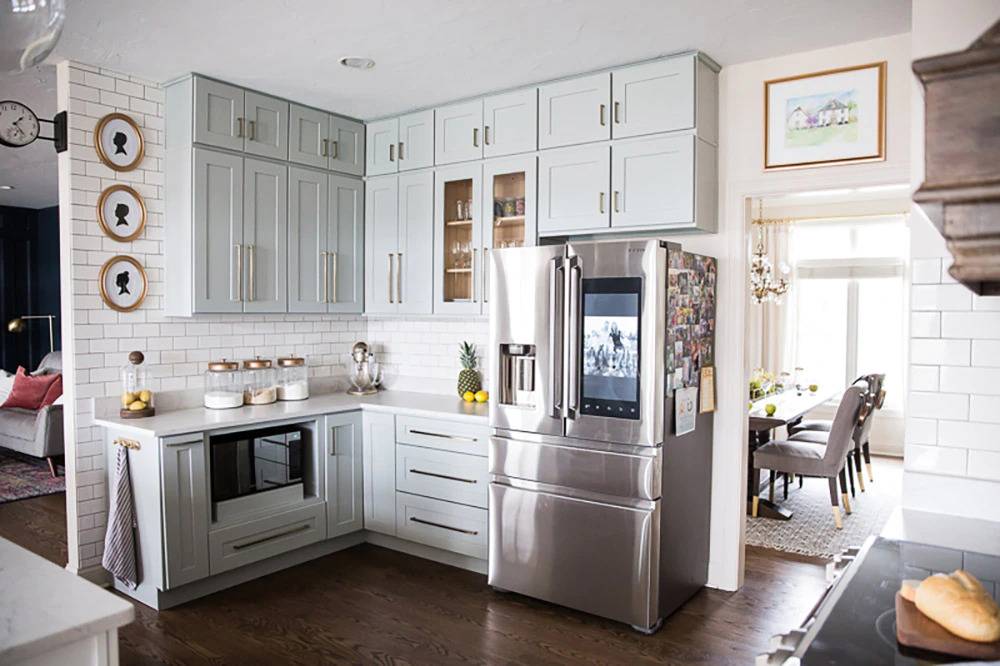 Fill your cottage kitchen with the entire personality of the countryside. Wooden hardware, sleek stainless-steel equipment, and sassy wall decors set the mood of this kitchen into an inspiring space. There are so many great details about it but without the cluttered look. You can also make use of such a variety of materials that still features a clean line. Adding some texture for depth and interest like this kitchen wall will also convey a classic cottage kitchen and home appeal.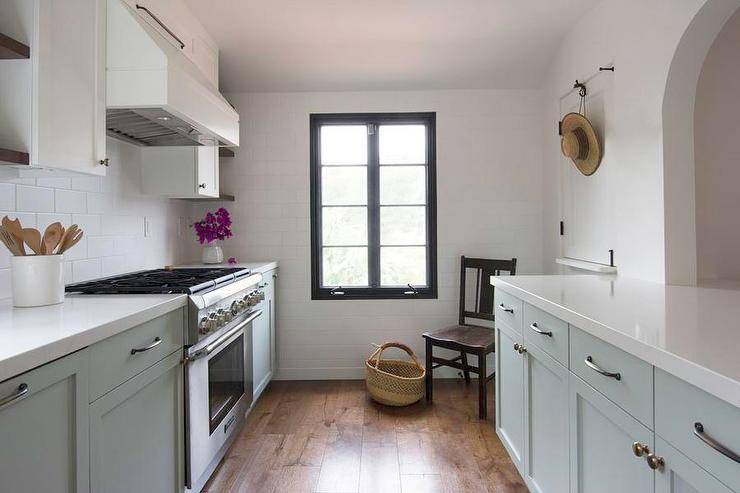 The Vintage Personality of Fabrics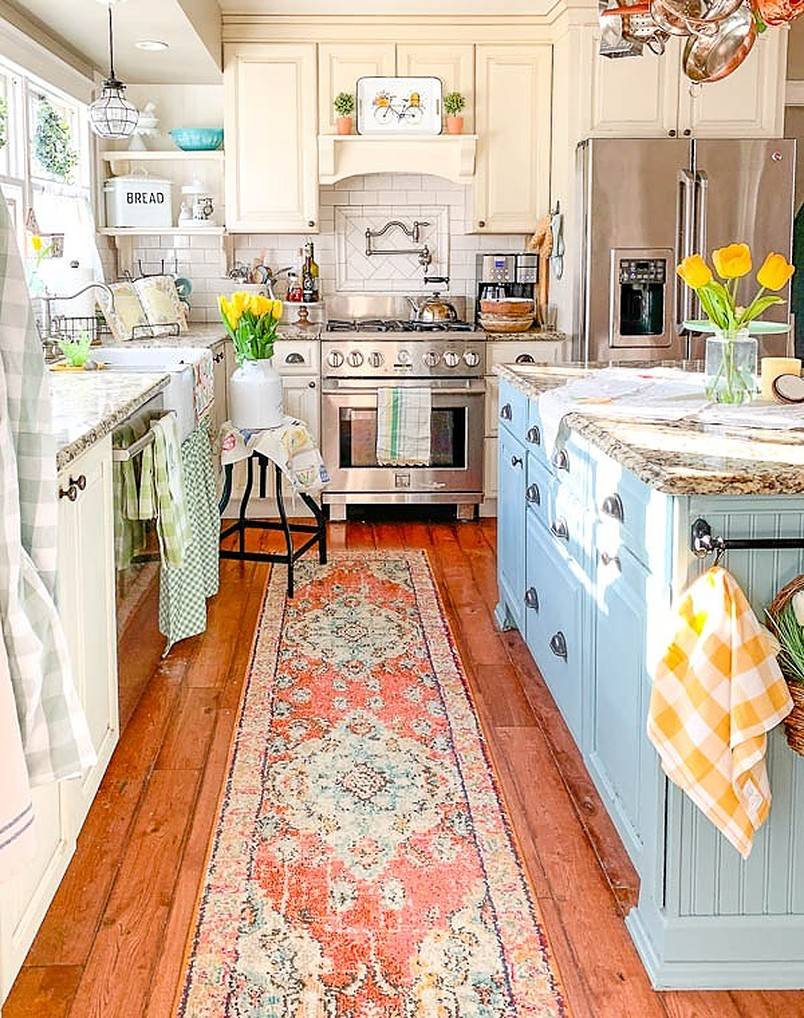 Draperies, curtains, and floor coverings are also typical in a cottage kitchen. It ranges from floral patterns, ginghams, lattice prints, stripes, or other interesting patterns. Adding a woven rug or pretty hand towels will give your kitchen its visual feature. Go bold with fabric colors to turn around the drab feel of the monotonous and understated color scheme of a cottage theme design. They are such a fun and quirky detail to add to your fabulous cottage kitchen.
Accessories Perfect for a Cottage Kitchen
Absolutely gorgeous pieces epitomize a cottage kitchen – think butler sinks, warm wood elements, stone flooring types, brushed gold and brass fixtures, a larder cupboard, and vintage-style drawer pulls. Here are some items to incorporate into your cottage kitchen that envelope the totally homey vibe of a country cottage space.
Vintage Brass Faucet
A replica vintage brass faucet is the perfect faucet for a country cottage kitchen. Add a rustic, charming look to your sink with a piece that brings an antique charm and appeal. You can get replica vintage faucets in many places, online and on sites like Amazon where they wouldn't cost you a ton and put your kitchen renovation budget over the edge.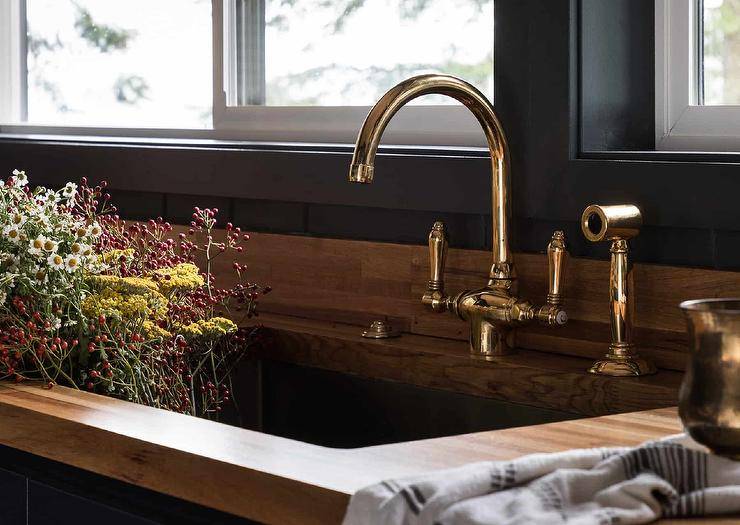 While thinking about faucets, if your kitchen will allow for it, you should consider a vintage-style pot filler, too! Since cottage style is all about practicality and convenience, having a beautiful pot filler will make it so much easier to cook in your kitchen — plus it looks stunning!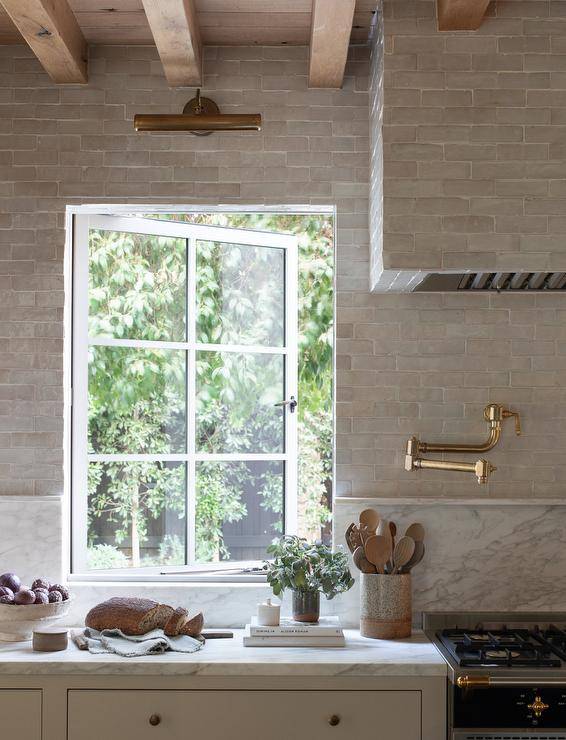 A Cottage Sideboard Hutch
A true cottage kitchen would most certainly feature a white sideboard hutch, and this one with a scalloped edge has all the makings of a perfect cottage kitchen piece. The gingham curtains make this hutch feel right at home in a country cottage kitchen.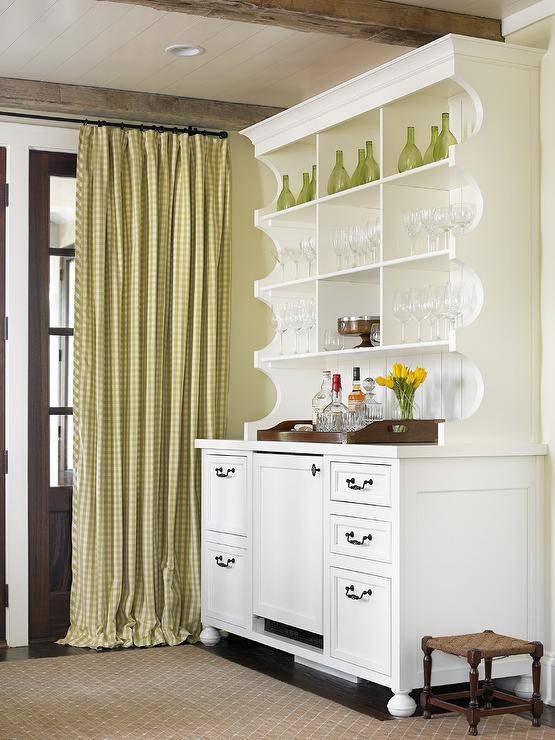 Beadboard
A way to truly embrace the cottage kitchen vibe is to incorporate some beadboard. You can mount beadboard on the wall, the backs of open cupboards, or on the side of islands.
A brass hanging towel rack also evokes true country cottage kitchen style.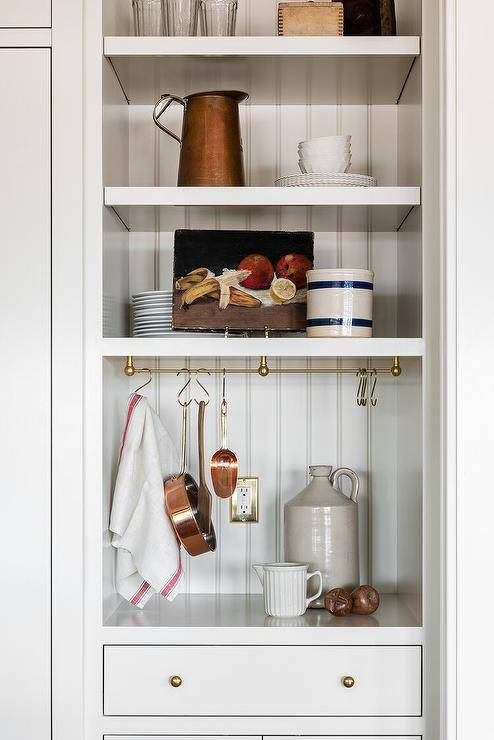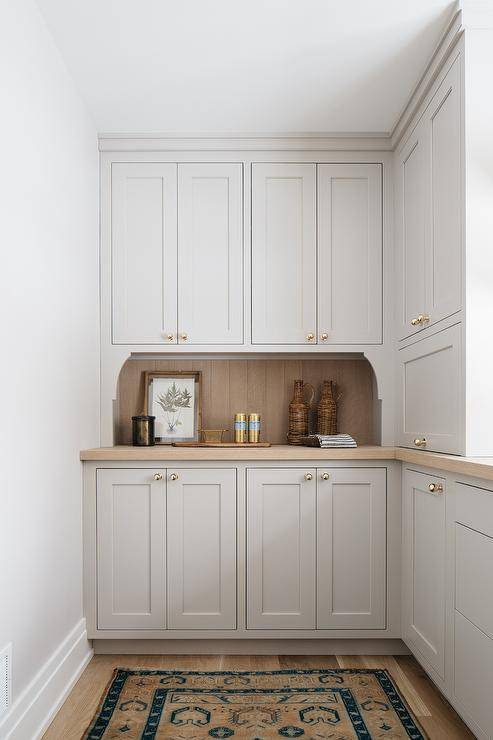 Vintage Fridge
Modern replica vintage fridges are becoming increasingly popular in the design world, and we know why! They are so charming and cute and suit perfectly in a small cottage kitchen.
Bonus if you can obtain one in a sweet color like a peach!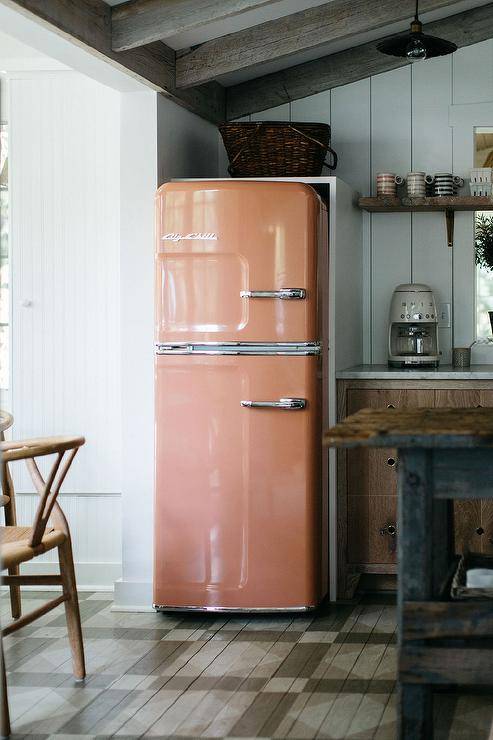 Vintage Wood Cutting Boards
Vintage wood cutting boards have become popular in all kitchen design styles, but they look especially wonderful in a cottage kitchen. If you can get your hands on some real vintage ones, you can evoke a true vibe of a cottage kitchen. If not, you can certainly get some replicas.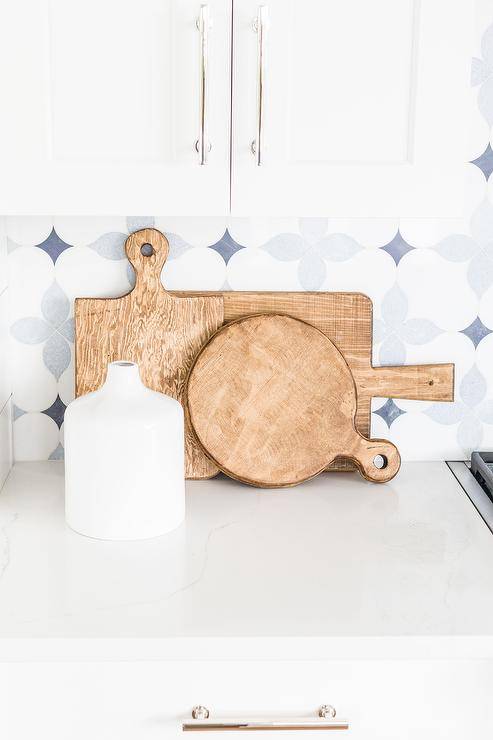 Cafe Curtains
If you're looking for a style of curtain that suits a cottage kitchen, look no further than the cafe curtain. These half curtains allow for natural like while still allowing you some privacy.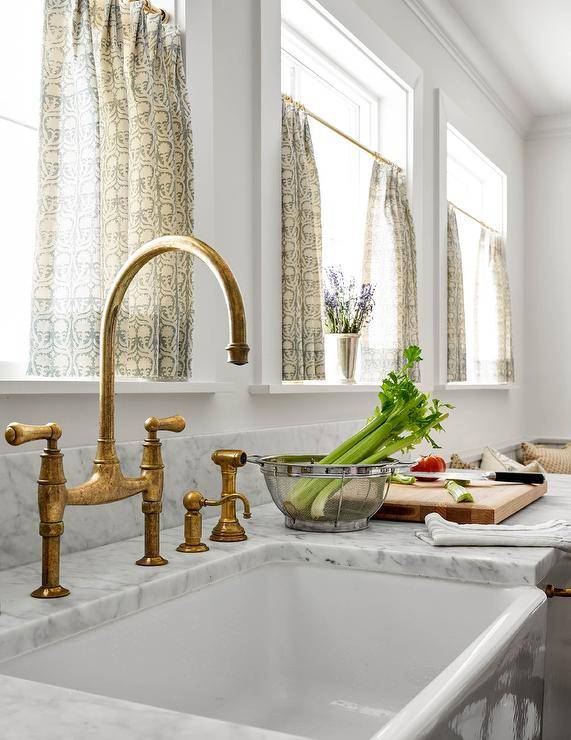 Related: Kitchen Curtain Ideas: 41 Ideas For A Beautiful Space
Seagrass Baskets
Don't waste an opportunity to showcase a country cottage style when thinking of pantry and storage. Seagrass baskets look great in a cottage kitchen, so not only can you keep your stuff organized, your kitchen will look great while you do.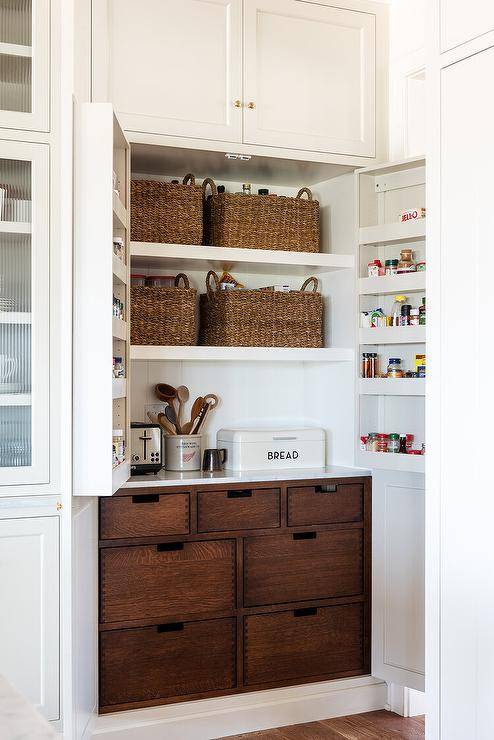 Farmhouse Sink
A farmhouse sink is a must in a cottage country kitchen. Staples like these will help elevate your style and really create the style and taste that you are after.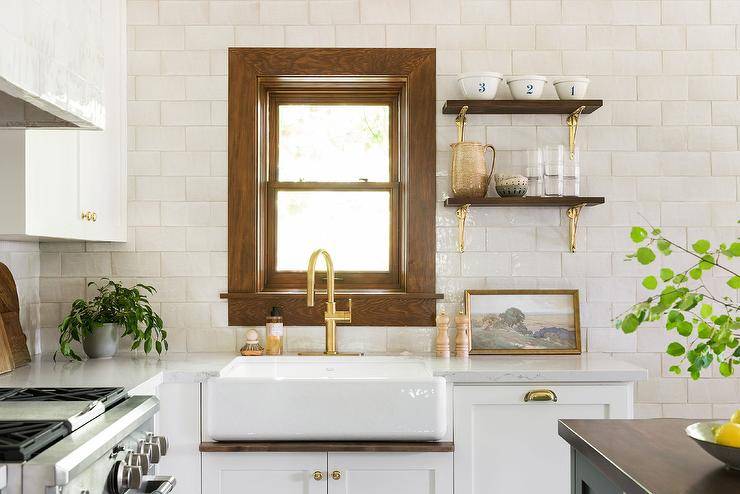 Vintage Art
Throw up some vintage art around your cottage country kitchen and when thinking about frames, remember that a cottage country kitchen leans towards warm wood tones.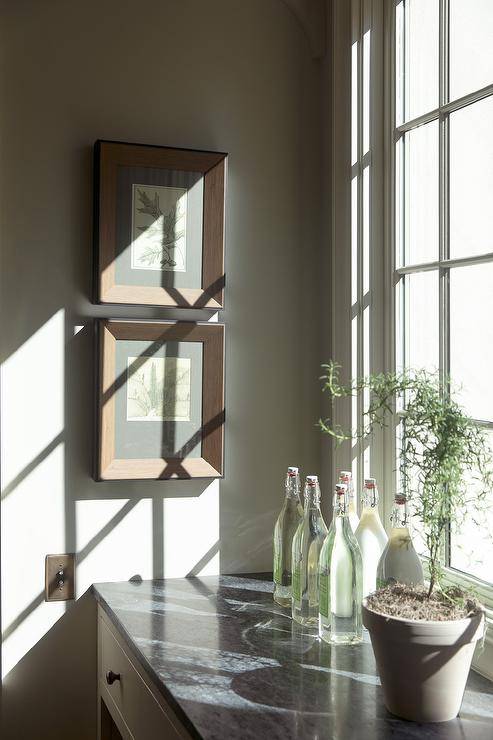 Frequently Asked Questions
FAQ
What is cottage kitchen style?
Cottage-style kitchens are where Farmhouse and Craftsman elements meet country sensibilities. Clean, often squared lines with only a bit of trim and texture are among the popular looks. The cottage style invokes practicality with a bit of charm.
What type of flooring is best for a cottage-style kitchen?
Wide-plank wood floors have an authentic cottage feel. Whether you choose a painted, stained, or natural finish, if you go with a wide plank, you're sure to invoke a cottage feel. If you want a true authentic cottage look, stick with a warm brown shade.
Is there a certain drawer pull that looks best with cottage style?
Bin-style drawer pulls or also known as cup pulls add a general-store feel to your kitchen and are a common drawer pull for a cottage kitchen. For a vintage look on cabinet doors and hinges, you can also consider glass knobs or latch-style hardware.
What is the hallmark of a cottage kitchen?
The ultimate vibe and stance of a cottage kitchen is cozy comfort. Clean, creamy colors and welcoming hues create a space where you can feel at home and a space that invokes cheeriness and convenience.
What colors should I use for a cottage kitchen?
While there is no hard or fast rule, cottage-style color schemes usually consist of white and soft pastels. But don't be scared to punch it up with a bit of bright color. Add gingham curtains in red or blue, or paint the kitchen island in an accent color such as celadon. A pop of bright yellow paint on cabinetry ensures you'll start the day with a sunny disposition.
Takeaway
The cottage kitchen brings out a naturally airy and light feel to balance the busy chores that the kitchen endures. There are different design ideas you can use to make your kitchen an inspiring one. Get started with subtle colors, and integrate vintage features. Bead boards or plank woods will also convey the classic cottage feel. But if you hate the hassle of home renovation, even vintage and ornate decors will do. If you are unsure where to begin, we hope these cottage kitchen ideas will help sort out your uncertainties.
If you need more help in the kitchen, here are some other articles you may find helpful: