Trends are forever changing, and staying in style is not always easy. When it comes to the kitchen, one can't afford to constantly change out items like islands and cabinetry to keep up with current trends. That's why it's essential when designing your kitchen to consider what styles and designs may date themselves.
We have rounded up some kitchen island trends that will stand the test of time with design styles that we love (and plan to love forever!)
Half Marble-Half Butcher Block
Get the best of both worlds for your island and design the countertop to be half marble and half butcher block. It will not overwhelm the two design styles if you plan the cabinetry for the island in a classic white, grey, or cream. Keep your hardware simple and classic, too.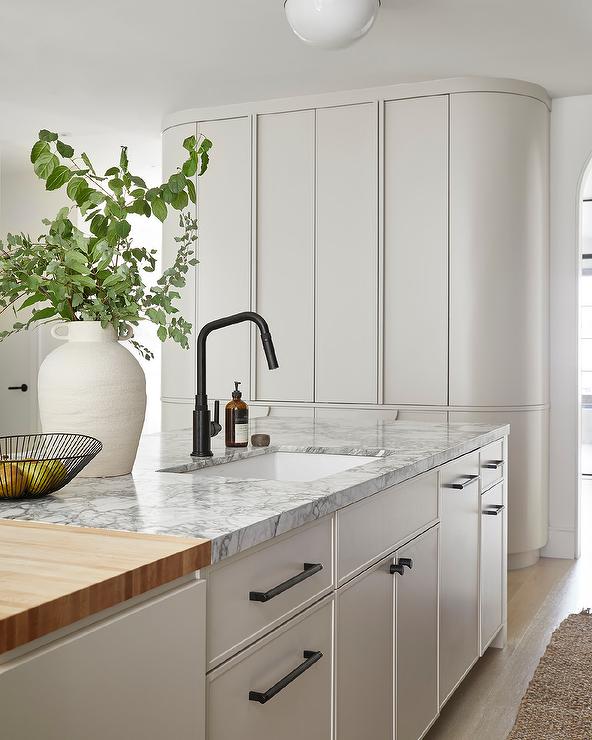 Distressed Wood
Distressed light wood islands are on trend now, and we don't see this style going out soon. It looks great with white or beige cabinetry and provides a stunning contrast right in the middle of the kitchen. It's an upgrade to the deep wood colors of the '80s and '90s that are still timeless today. This type of island works with a traditional or modern farmhouse-style of kitchen.
A distressed wood island also suits several different styles of stools, but we think this designer chose right when she opted for wicker.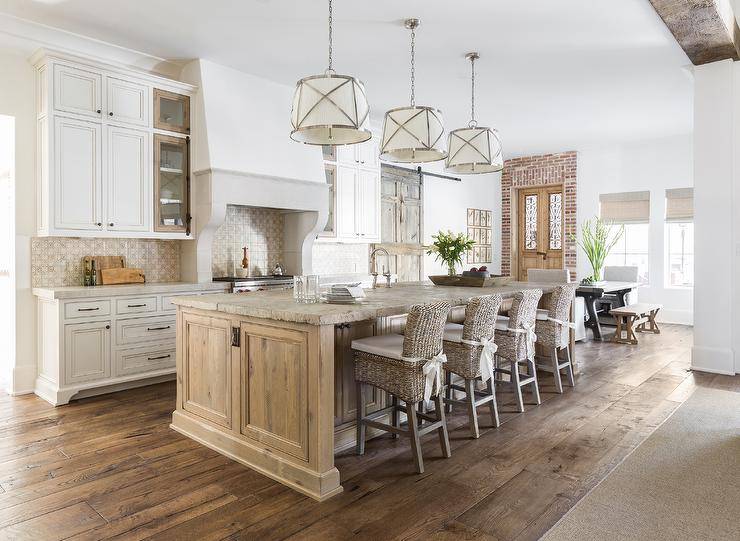 Bold Color
Some may say a bold color is not a wise choice as trends may change, but given that it is only the island here that is bold, I think this homeowner will be safe for some time. This kitchen is not too overwhelming by keeping the cabinetry and finishes white and simplistic colors. To keep your bold color timeless opt for a color that goes with as many decor styles as possible—blues and greens practically act as a neutral!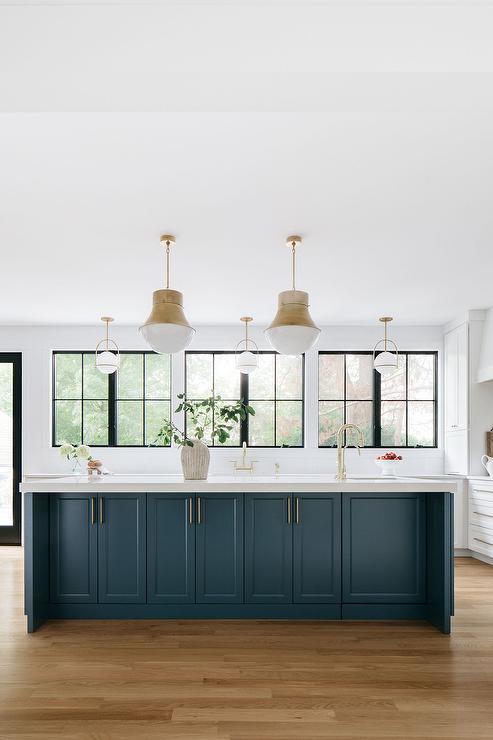 Waterfall Edge
We love an island with a beautiful waterfall edge! This style of island screams luxury and is perfect for contemporary and modern-style kitchens. With a waterfall edge, you can style your island in any color — it's sure to look great!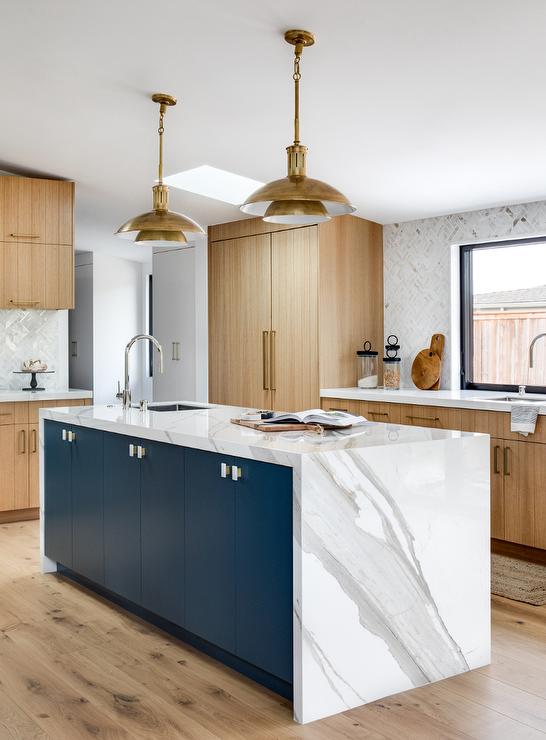 Work In A Sink
It sure is handy to have a sink on your island. It can be your main sink or even a smaller sink for hand washing. Islands especially look spectacular with a modern farmhouse-style apron sink. The faucet also becomes an attractive focal point when you have an island with a sink.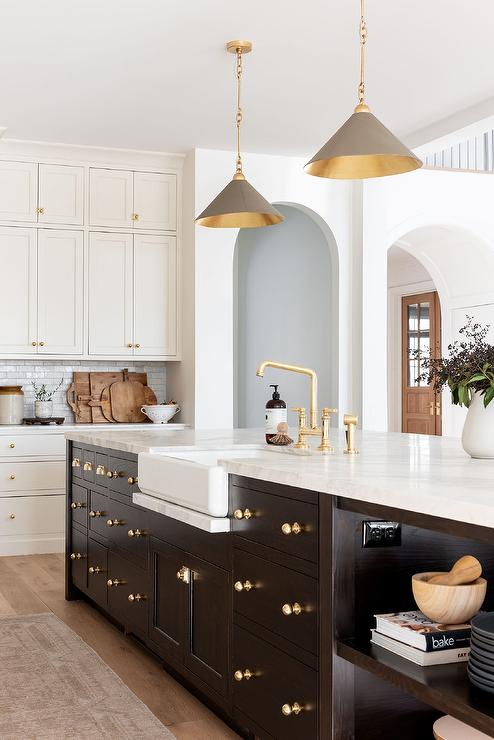 Large Posts
Make a statement with some large posts at the end of your island. This adds character to your kitchen and makes us think of Old Victorian charm in a modern, sleek and elegant way.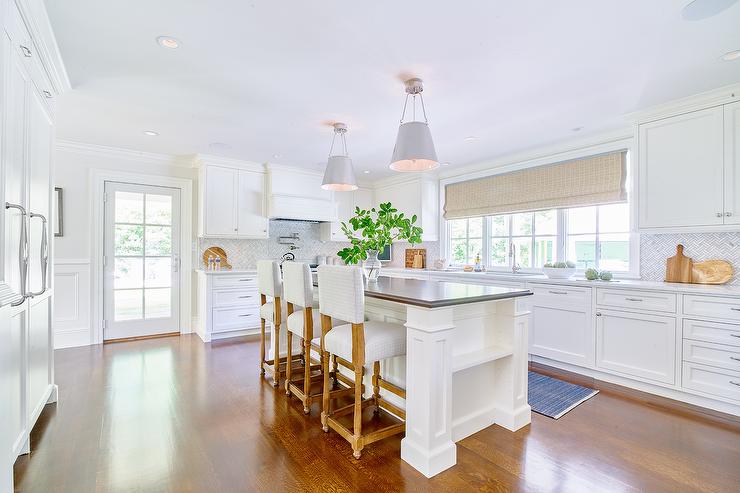 Add Your Design Style To The End
Dress up the ends of your island according to your design style. A simple framing looks excellent in minimalist style housing, or if you're into modern farmhouse, a Barn 'X' is a great way to finish off your island.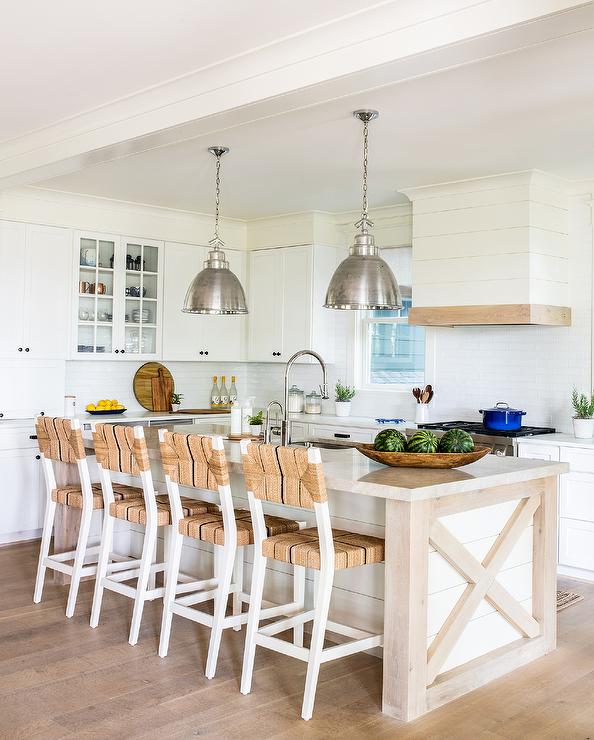 All Around Seating
Make great use of all sides of your island for seating. You can keep the underside of your island open on all sides at one end to allow for more room for seating.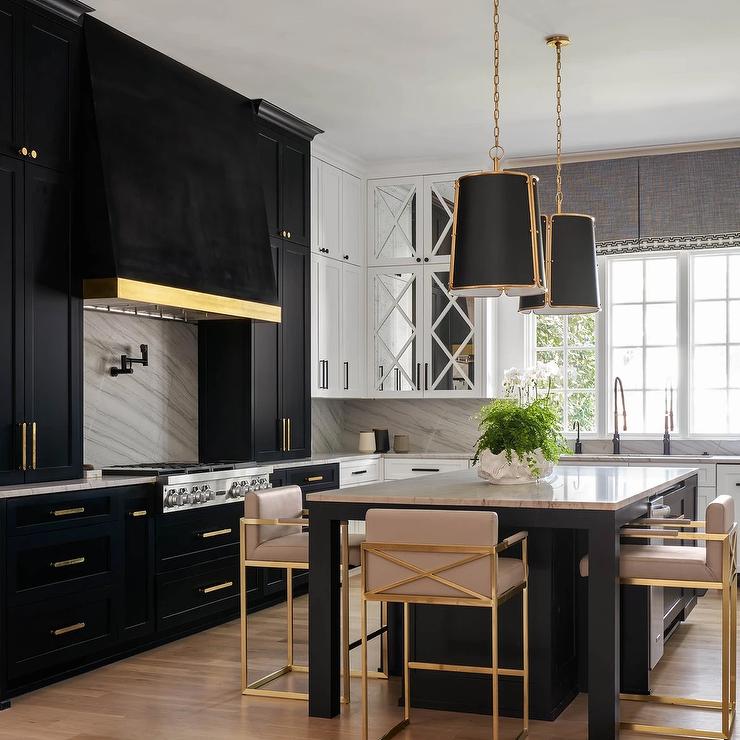 Fully Open Underneath
If storage is not an issue in your kitchen, you may consider an island completely open underneath with just open shelving. This will allow more room for decor and styling in your kitchen—a place to store pretty bowls and beautiful cookbooks.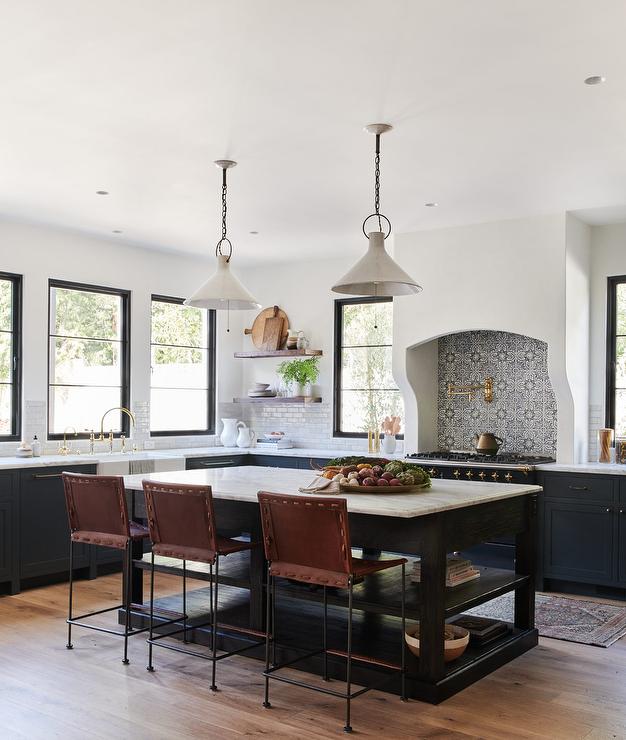 Make Use of The Backside
On the flip side of things, maybe you don't have a ton of cupboard space in your kitchen, and if this is the case, you may want to make sure of the backside of your island with some cupboards. This style of island is not only trendy but super functional, too!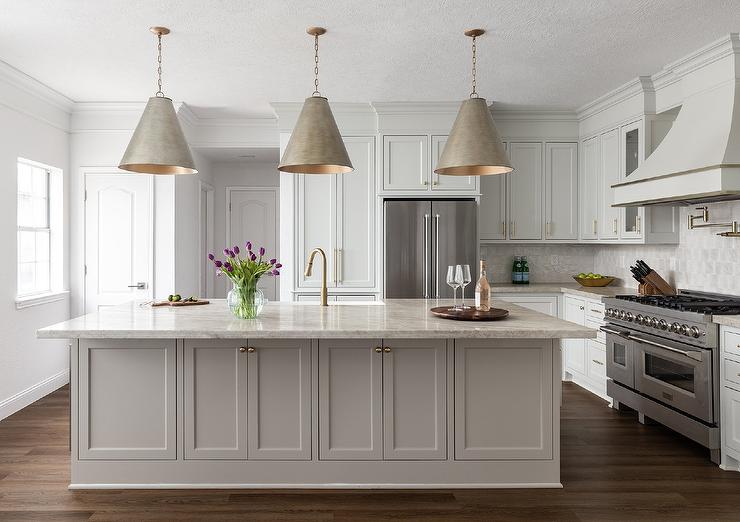 Island and Table Combo
If you have a large kitchen, consider an island/table combo. This island style is excellent for those who love to entertain in the kitchen. Your island is a "T" shape with lots of room for cooking at one end and entertaining at the other.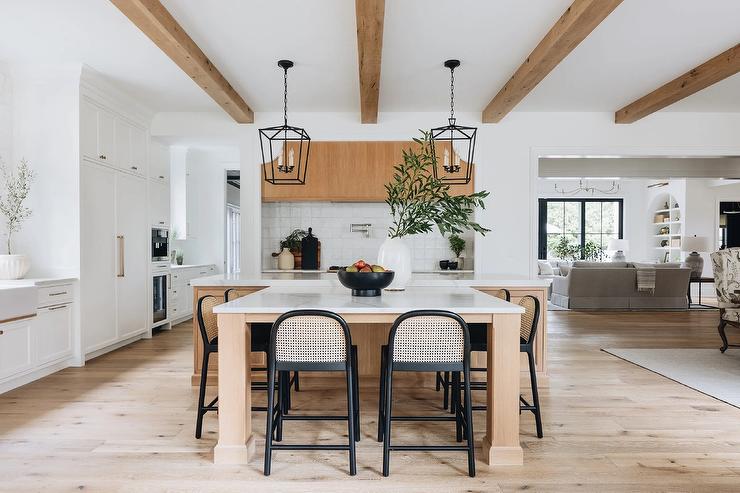 Decorative End Shelving
In a spot where you would otherwise have nothing take the opportunity to make it space to display some pretty decor in your kitchen. End shelving at the end of island is also a great spot to store cookbooks and other kitchen items that look great on display.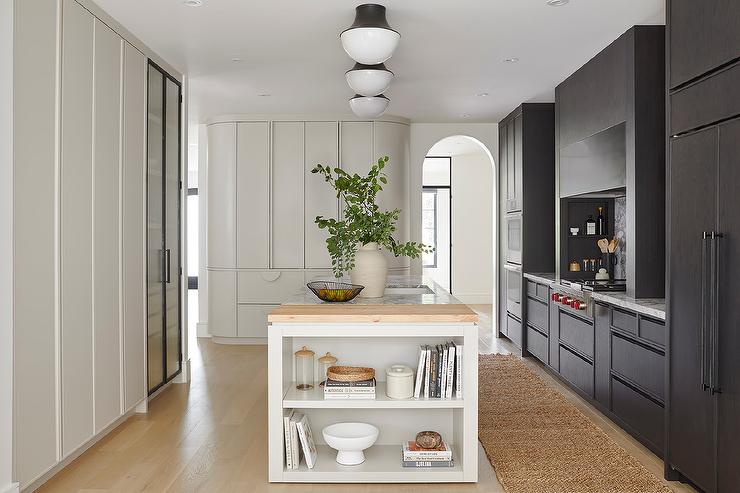 Square Island
If you are short of space and don't have the room for a large rectangular island, you can always go square. Don't fret — just because you're going square and smaller doesn't mean you can't have seating. This square island is perfect for two and makes this space feel alive.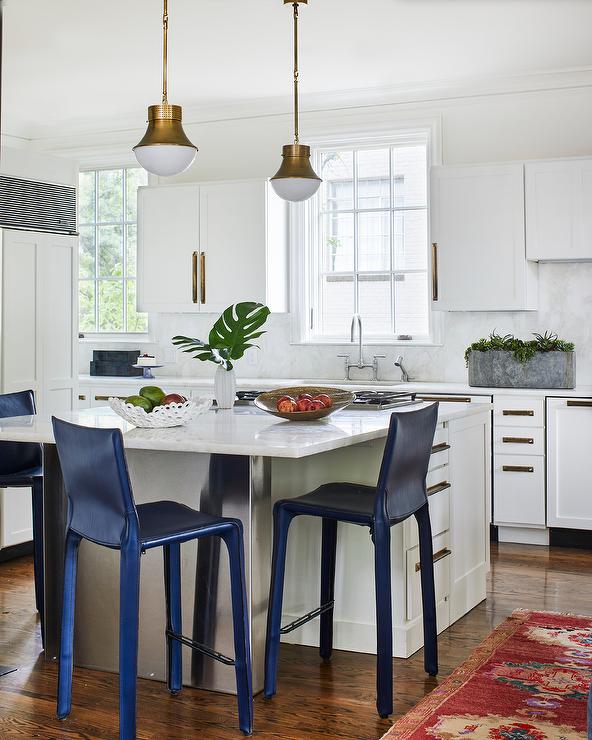 Don't Be Afraid to Mix Textures and Styles
This beauty of an island proves that you don't have to work with just one material. A mix of wood, black marble, and white tile give this island a modern and contemporary feel and makes it the star of this kitchen.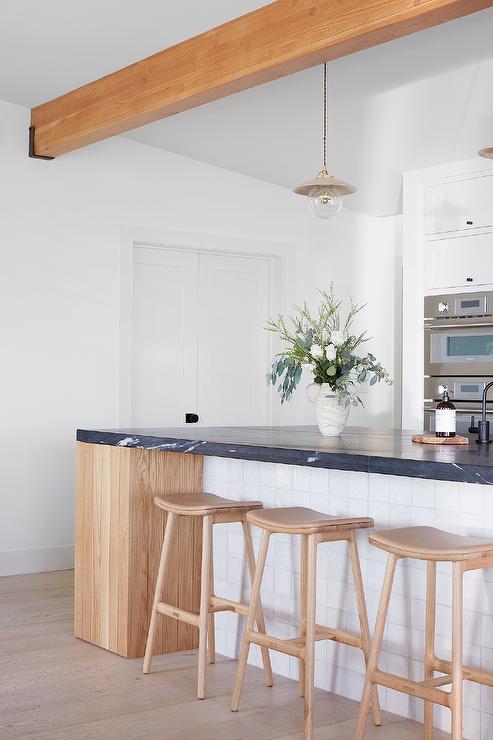 Contrasting Island
If you want your island to stand out, go for something with excellent contrast. If your cupboards are a color, try using a wood tone for your island. You can also contrast with the countertop as well.