A DIY kitchen island is a posh upgrade to any kitchen – big or small – if your space allows. They are not just a focal point in a kitchen but are also an important workspace hub. This freestanding space is an integral meal prep area. It also offers storage solutions and provides additional seating when needed. So, if you are thinking about adding one to your kitchen, do not hesitate. And with so many styles and options nowadays you don't have to rely on the stock-options from hardware stores. You can DIY a kitchen island that will perfectly fit your space.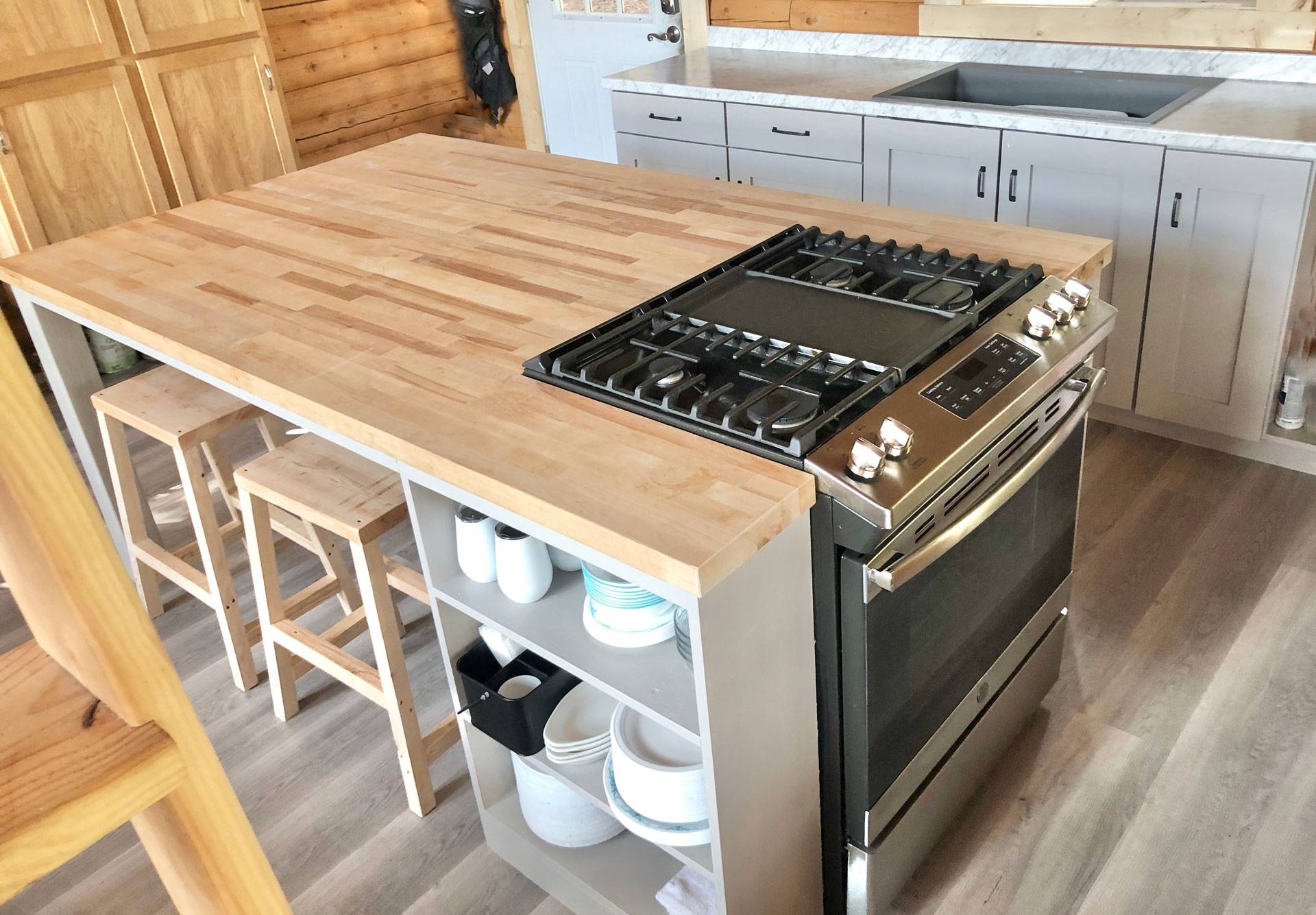 DIY Kitchen Island: Our Top Picks
A Butcher Block Kitchen Island on Wheels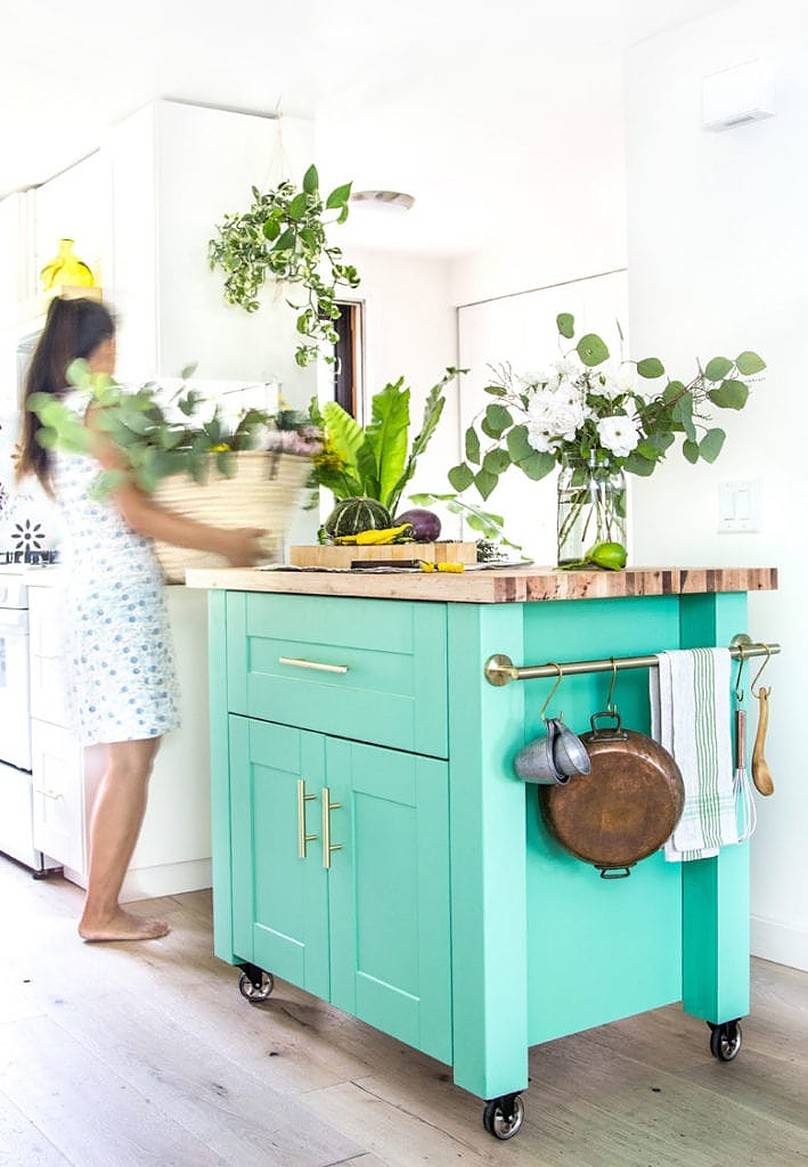 Setting your kitchen island atop some caster wheels is a practical idea. It is true if you have a small space and needs movable furniture to tidy the space up. This DIY kitchen island is made of a used cabinet with doors and drawers. The countertop is a thick maple butcher block with a grainy surface that adds an aesthetic value to the table. The stunning emerald paint further gives it a beautiful finish and makes it a standout feature within the kitchen.
A Fully-Functional DIY Kitchen Island Sounds Fun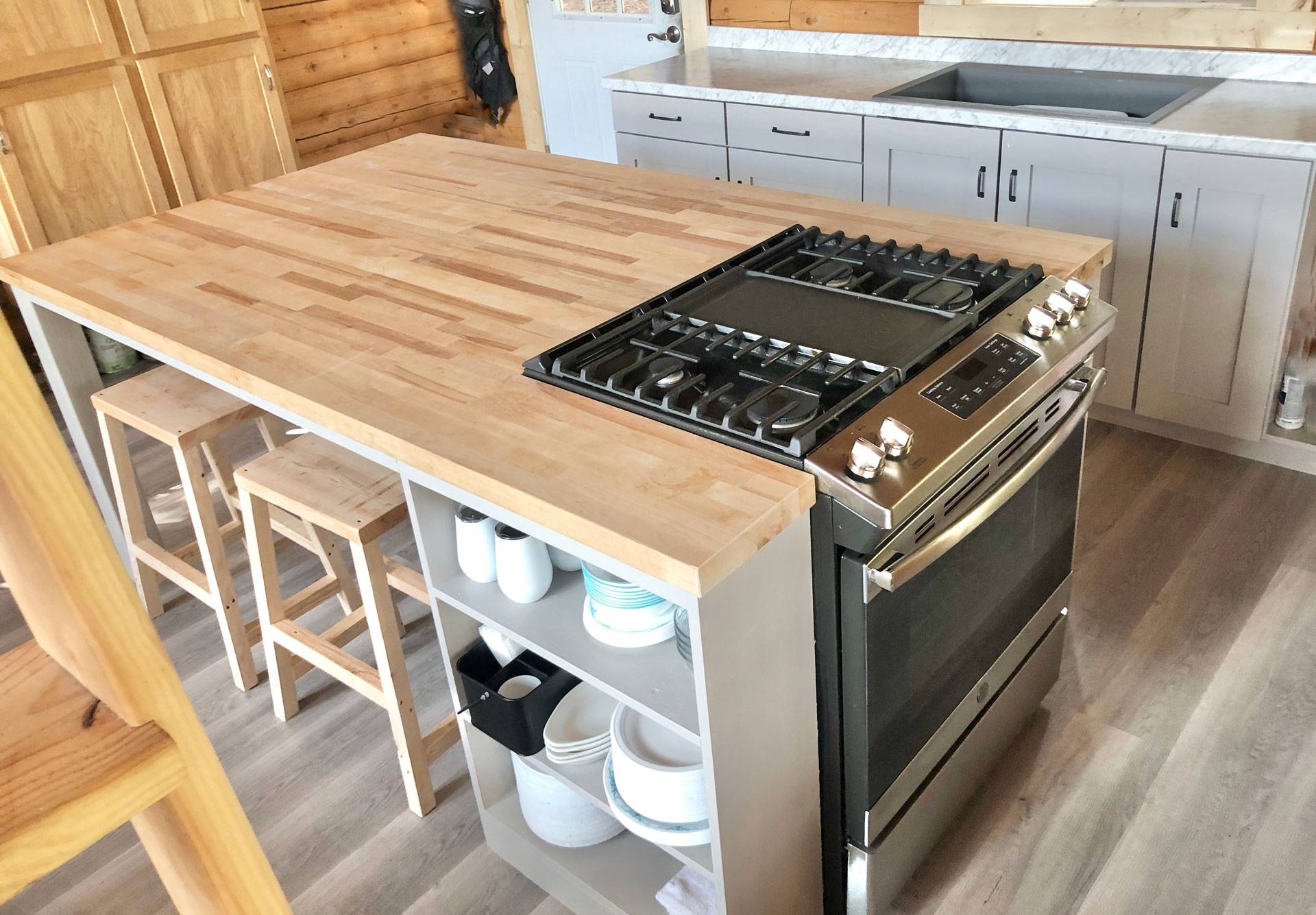 Make cooking the best part of your day with unrestricted movement around the kitchen. Build your DIY kitchen island with ample storage, which can also accommodate your cooking range. It will allow you to move flawlessly while doing your chore. By extending its length, you can add extra seating as well as turn it into a dining area. A functional DIY kitchen island like this will maximize your space and make it more lux and inspiring.
Elegant Does Not Always Mean Expensive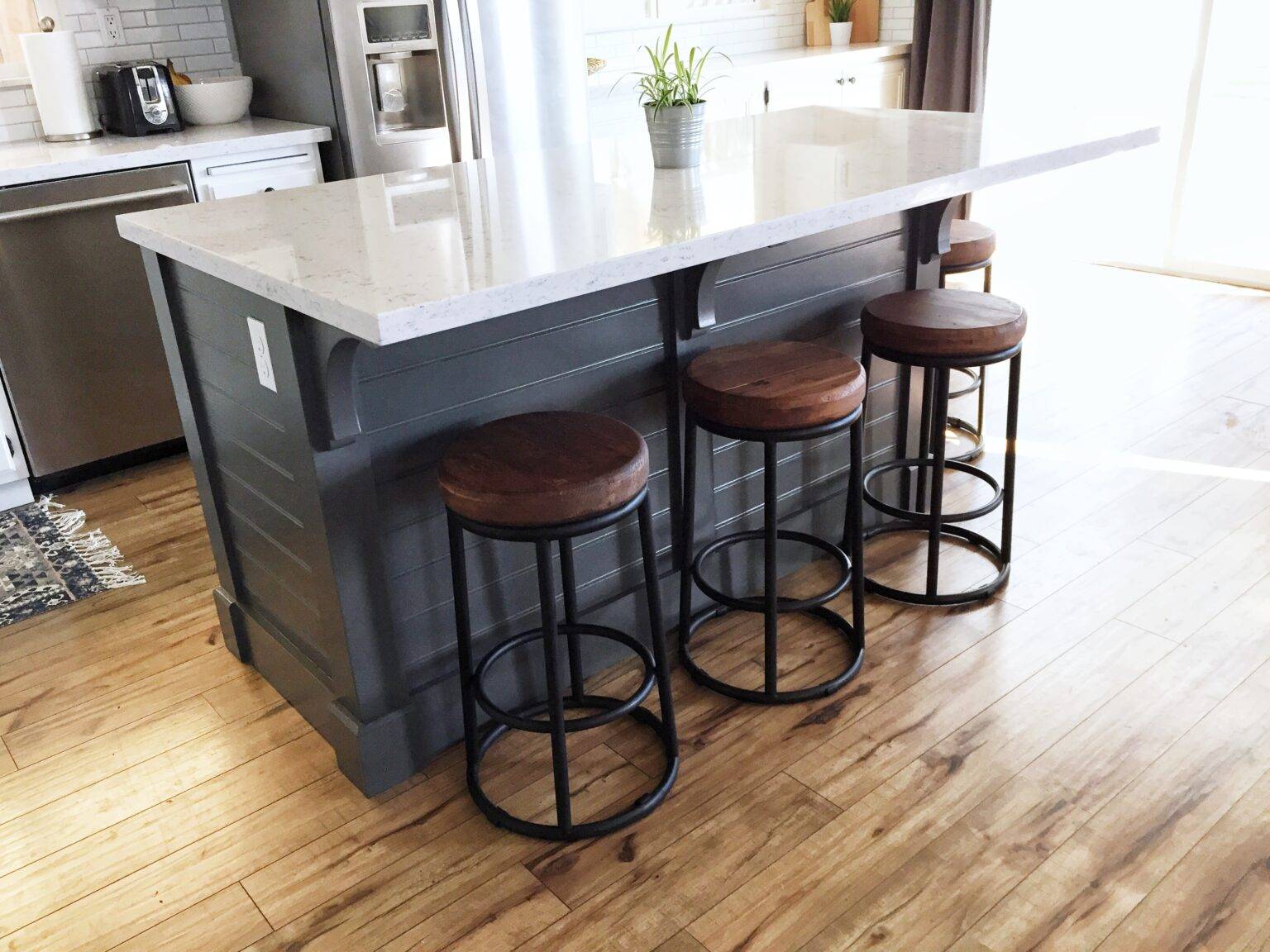 If you are trying to do something yourself, then a little carpentry skill is an advantage. Kitchen islands are costly, and there is no debate about that. But with the right material as well as some elbow grease, you can achieve the same elegance for a less price. Shiplap panels are stylish designs you can incorporate into a kitchen island. Take this sophisticated kitchen island, for example. Top it with quartz or granite, and you will have that drool-worthy kitchen ensemble your furniture shop was flaunting about.
Kitchen Island Fit for a King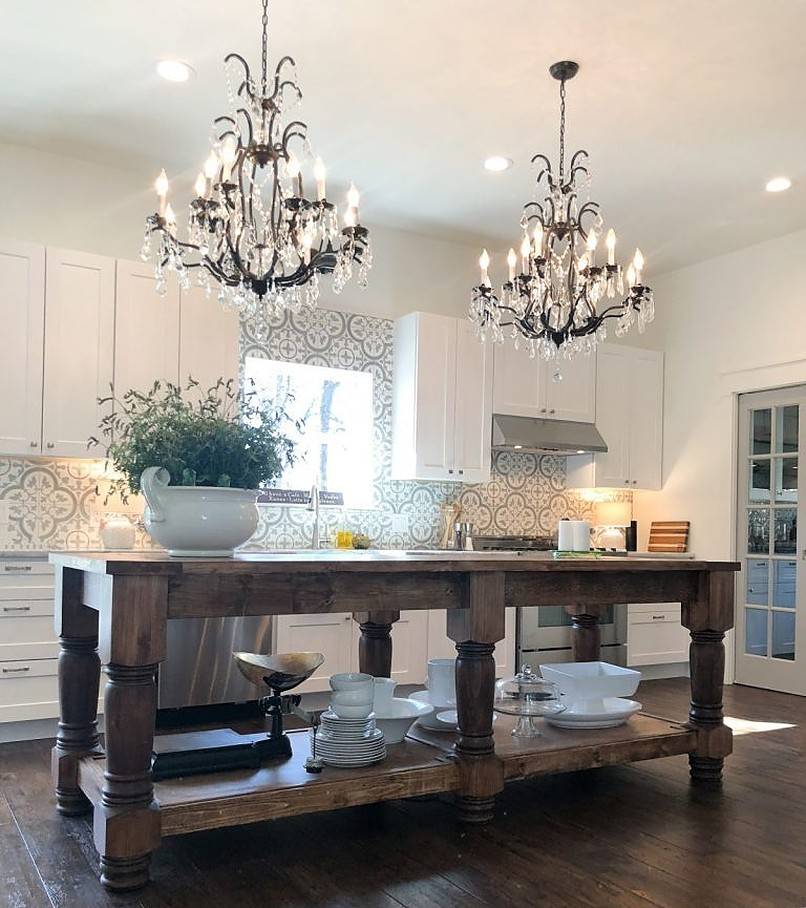 With heavy-duty pine legs, a thick countertop, and open storage, this DIY kitchen island is one of a kind. It has a solid construction and a strong wooden accent that would complement a rustic-themed kitchen. A glossy chestnut finish completes the look, which matches the kitchen floors too. Additionally, the open storage underneath is a perfect place to showcase vintage silverware and kitchenware.
DIY Makeover for your Existing Kitchen Island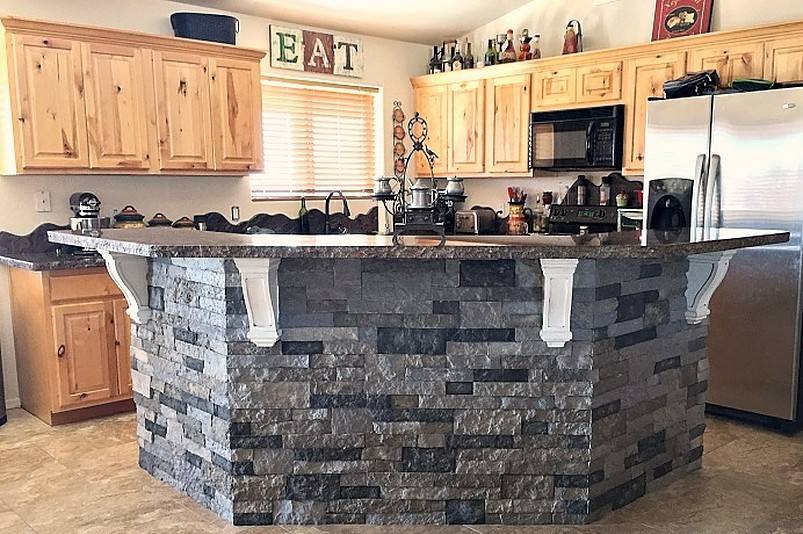 If you have a drab-looking kitchen island, a little tweak can make your space appear polished. There is no need to tear it down and start anew. You can simply strip it off, add some exciting details, and then let it boast a fresh finish. Stone tiles, in no doubt, can create quite a twist on how your kitchen island looks. This kitchen island, for example, attains its chic makeover with faux veneer stone slabs as well as rustic shelf corbels. It also exudes a rustic-modern interpretation that emphasizes its significance within the kitchen space.
A DIY Kitchen Island with Extended Countertop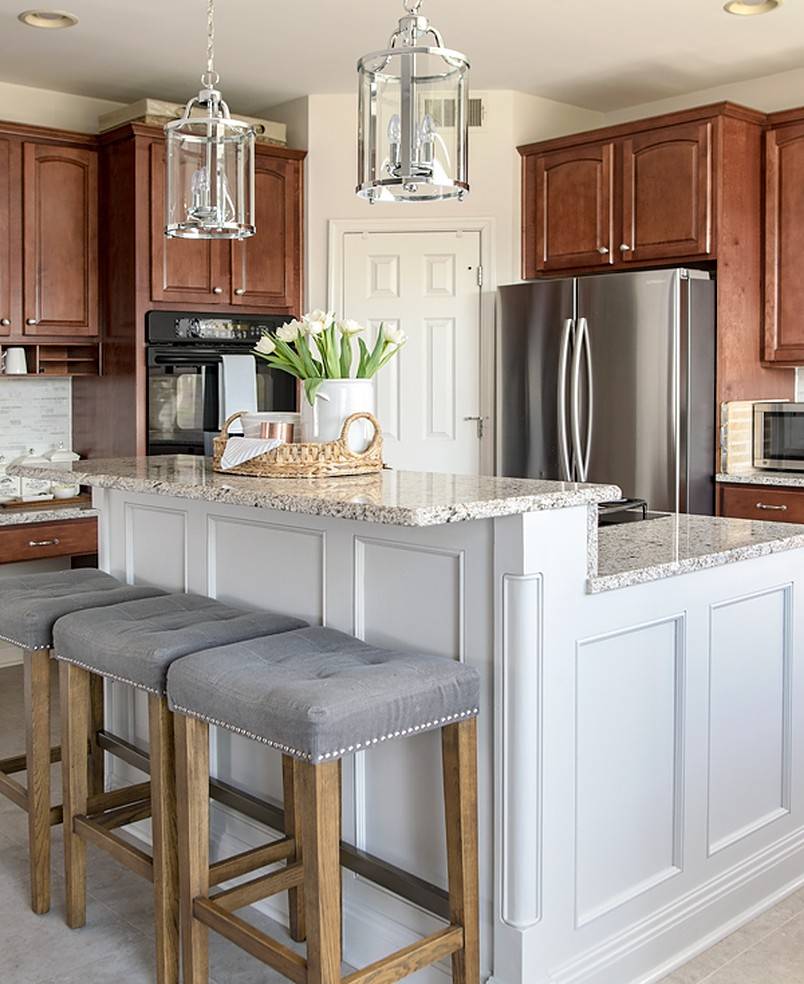 If you wish to add seating to your kitchen island for casual dining, then elevating the bar height is advantageous. For once, it conceals the clutter within your sink and acts as a room divider. If you have a sink installed, it will prevent water from splashing inevitably on the countertop. This DIY kitchen island is a sleek and stylish addition to this modern kitchen. The plush seating on the extended bar countertop also adds a formal and functional value to the design.
Customize the Kitchen Peninsula with Extra Storage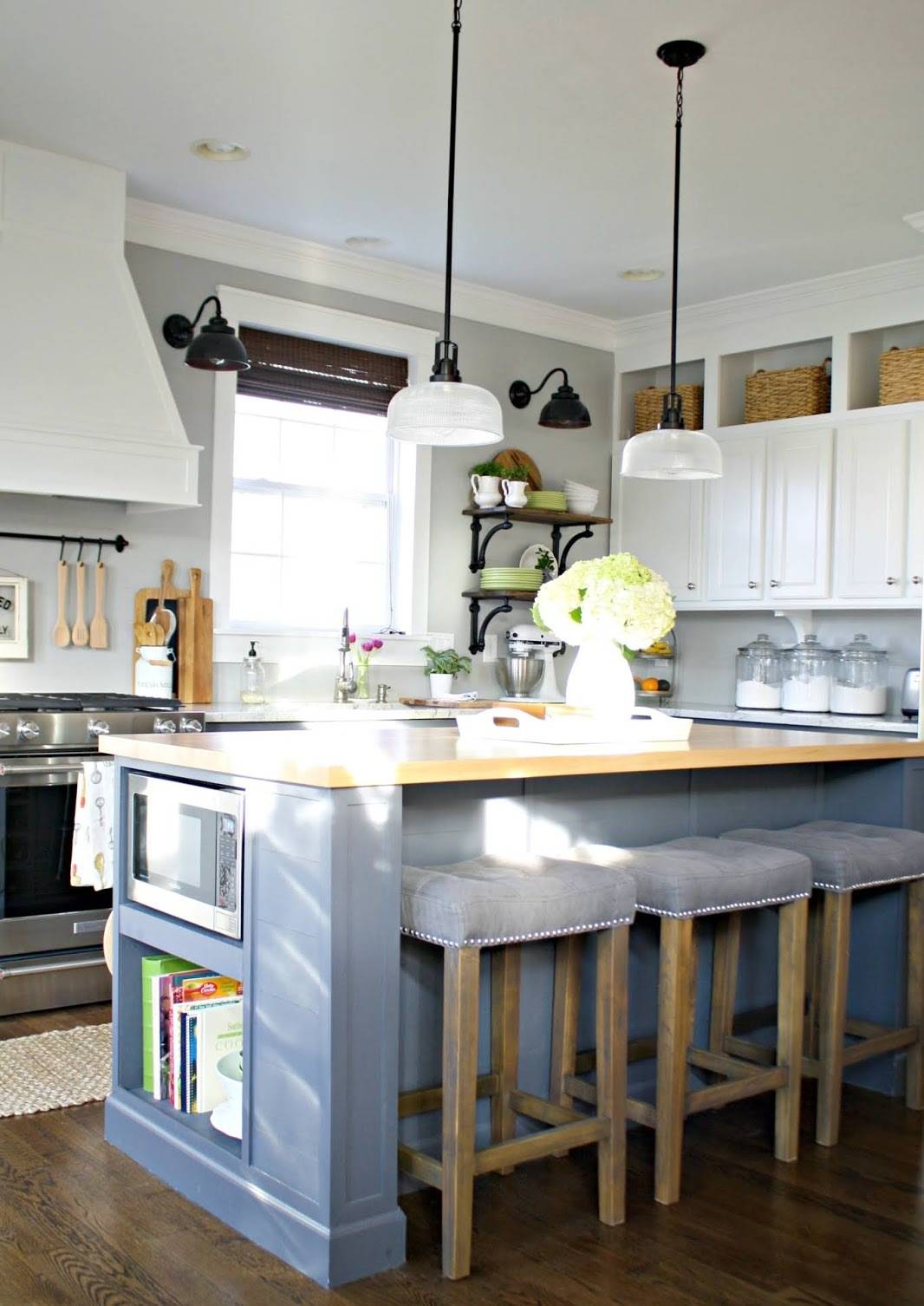 If your kitchen has a small space, you can still make it functional with a kitchen island that has maximum storage. You can turn it into a cooking center and slide your microwave in like this lux shelf. This one even has a unique bookcase underneath, if you fancy an entertainment corner. With an added high seat, this standout piece is a DIY kitchen island you can re-create.
Cottage Style Kitchen Island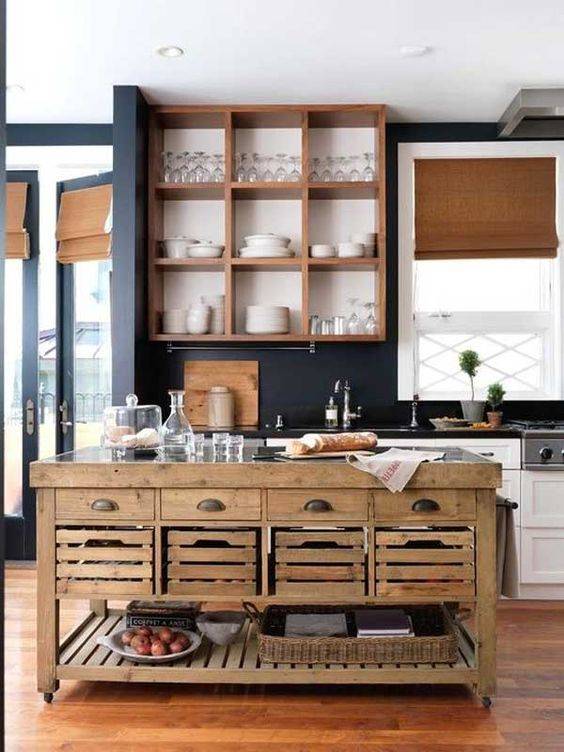 It looks a little bit old school, but this charming kitchen island adds a serious flair to this modern kitchen. It has a weathered wood and pull-out crate for under-the-counter storage. With its countryside wooden texture, this DIY kitchen island truly introduces a homey vibe for the entire space.
Repurpose an Old Desk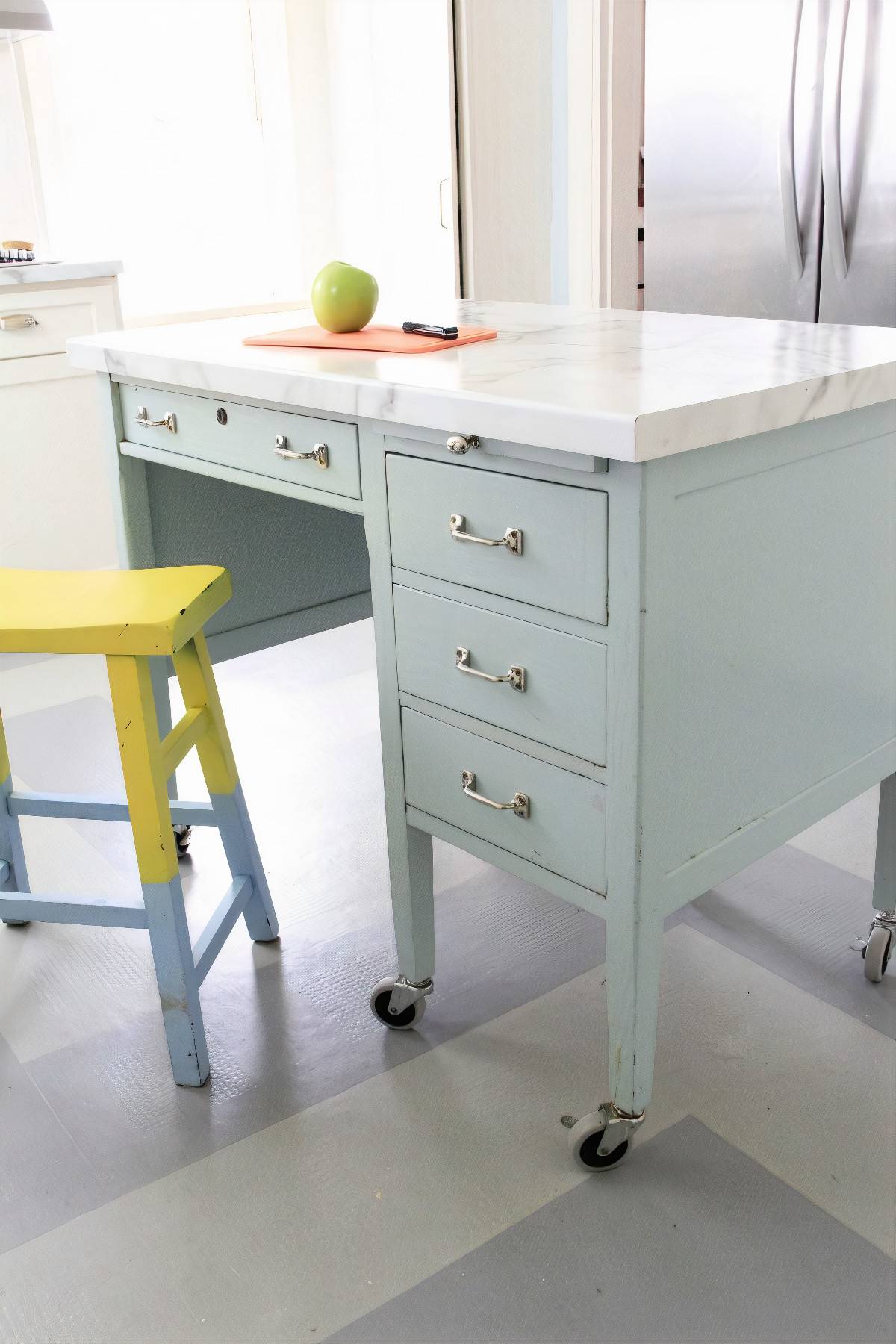 If you have a piece of old furniture lying around for disposal, you can still whisk a new life into it. Take this old desk repurposed into a DIY kitchen island, for example. A little paint, some drawer handles, and a solid countertop is all it takes to create this masterpiece. The rollers on the legs are also a cool addition if you do not want your kitchen peninsula stationary and idle.
Base Cabinets are Cool Furniture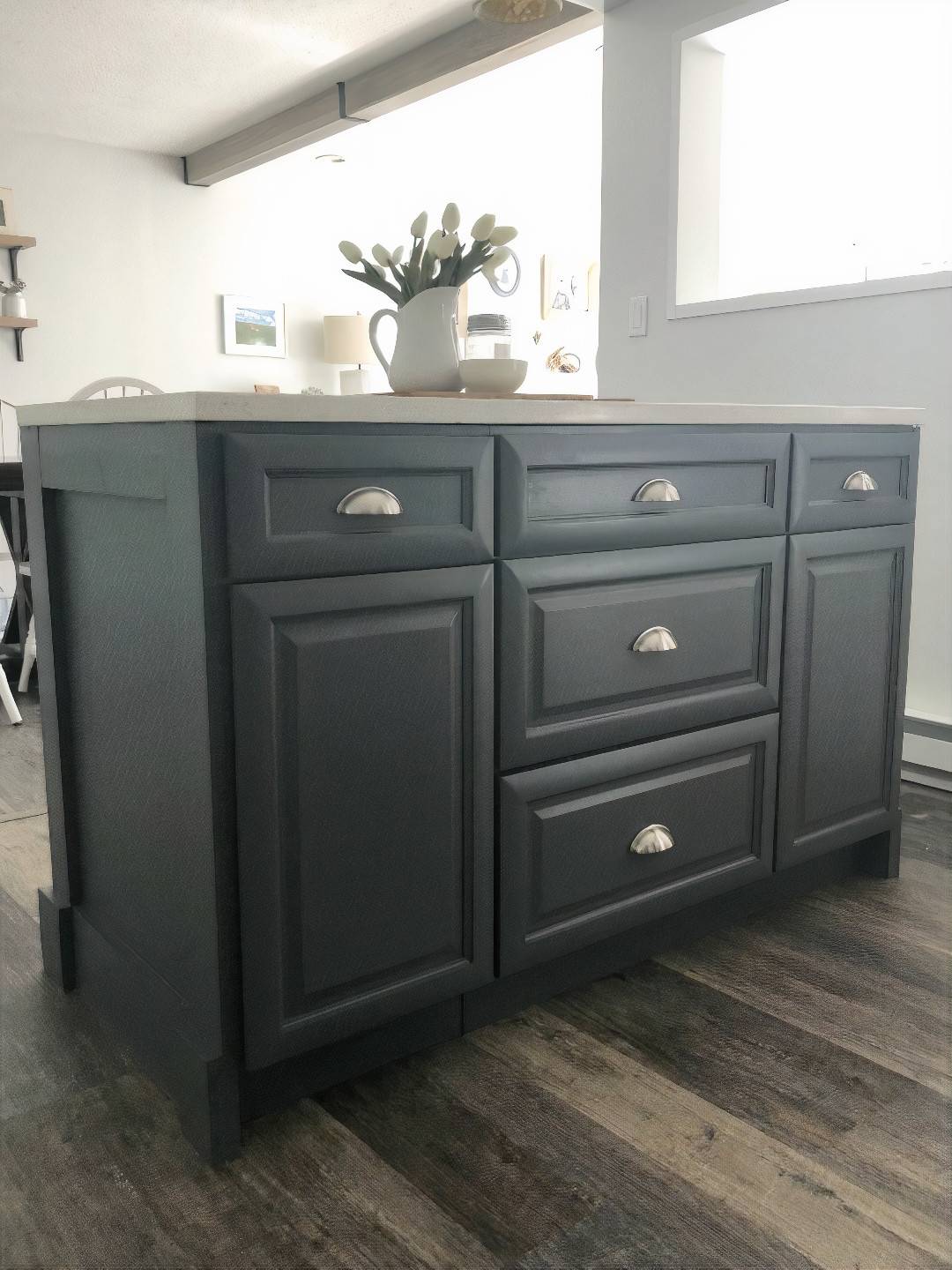 Doing your own kitchen island does not always mean starting from scratch. You can find some cheap pieces in the market, like base cabinets, that are excellent start-up projects. You can just custom-design it into a limitless project with styles that match your taste.
Rustic and Unique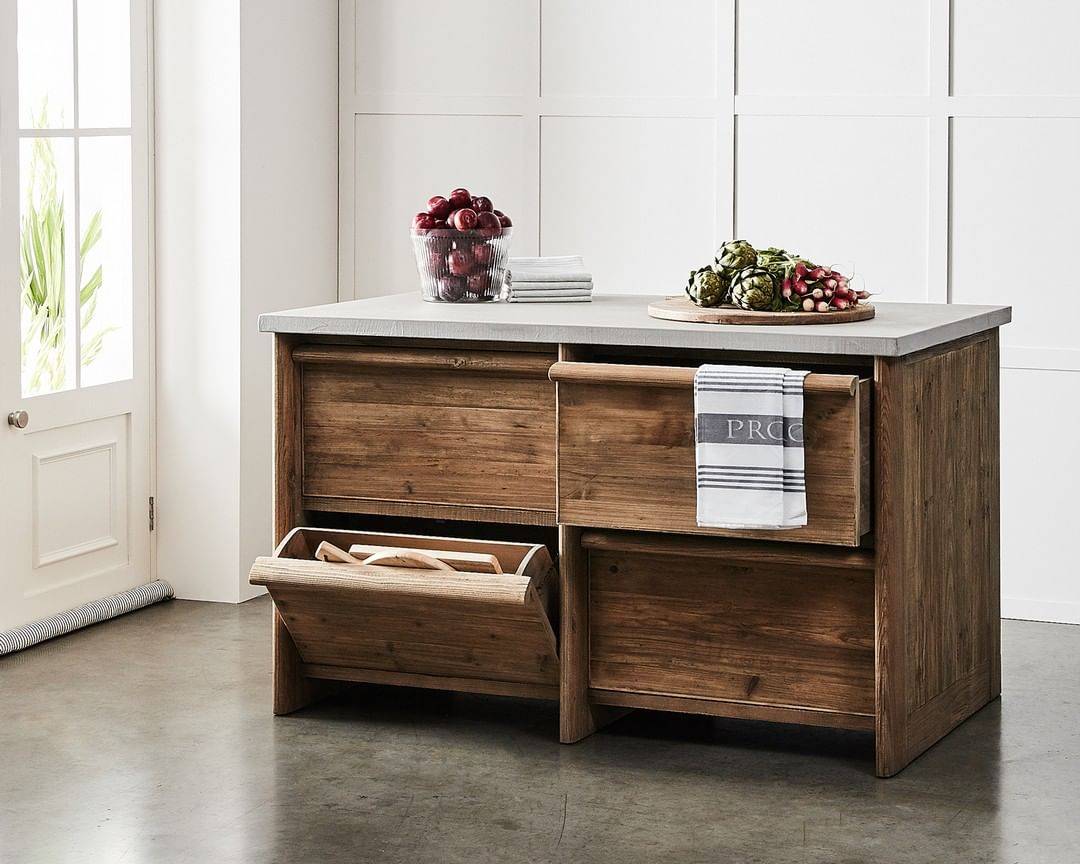 This down-to-earth DIY kitchen island had stepped up a notch in the DIY game. It has a unique pull-out drawer as a sensible storage space. It looks formal, yet still chic and elegant. You can make this from pine wood and top it with a concrete countertop. With this wood detail and modern flair, it sure is a sophisticated piece to grace your kitchen space.
Build it from Marble and Glass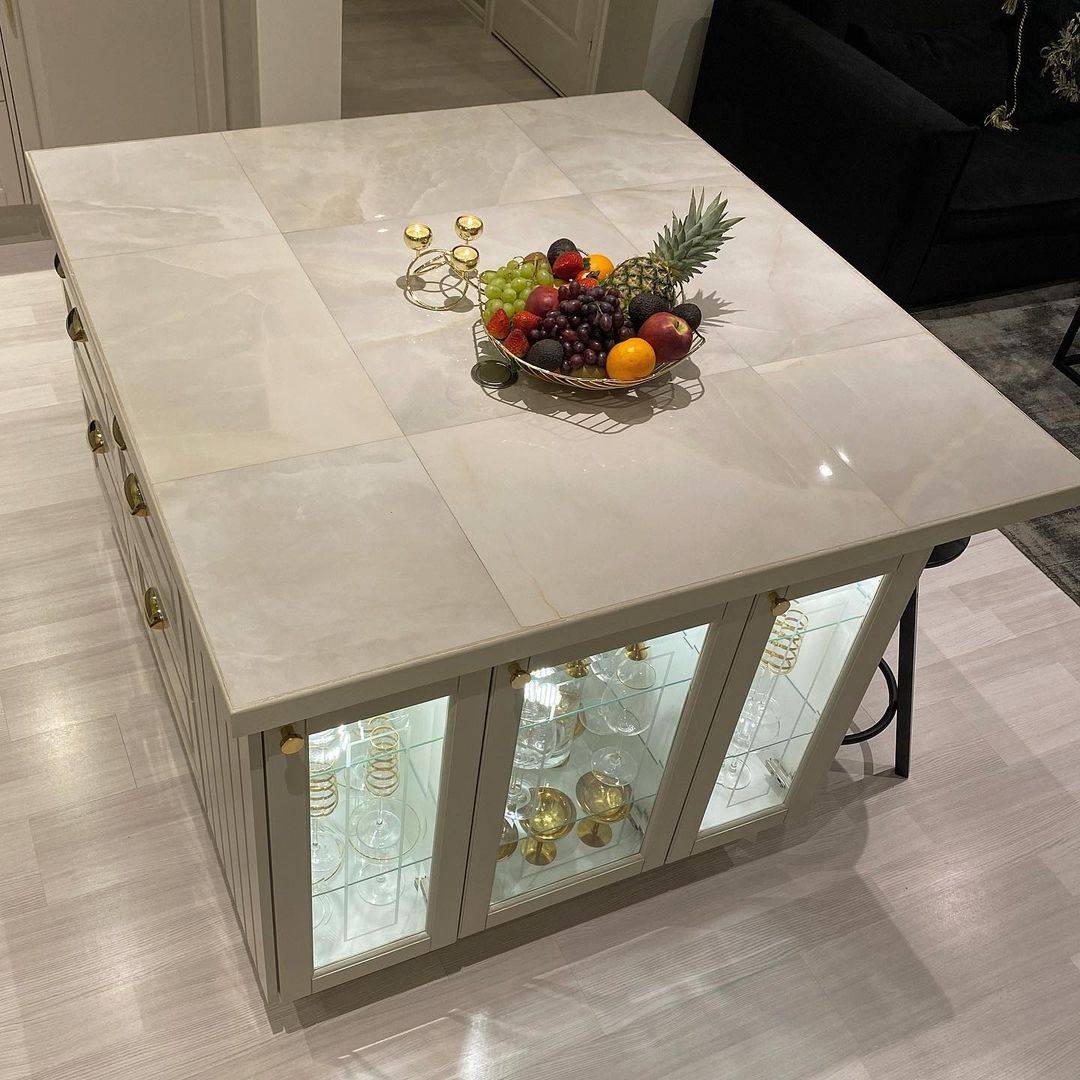 Elegance is an understatement in this exceptional DIY kitchen island. A glass display case on one side is the best place to display your kitchenware collections. The other side holds solid drawers for keeping other clutters. A marble countertop completes the look of this sophisticated but less ostentatious kitchen furniture piece.
Go Solid Wood All Over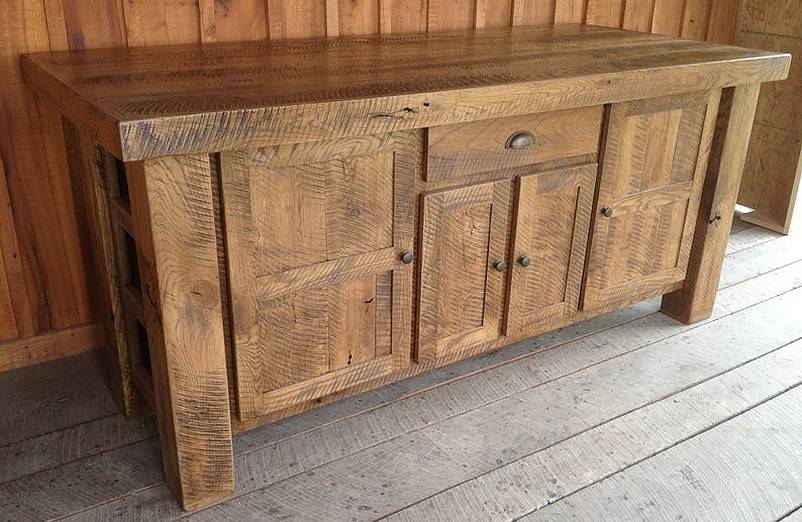 If you have a flair for vintage pieces, then an all-wood DIY kitchen island can be a satisfying venture. This handcrafted oak kitchen island is every inch rustic with its solid and textured surface and massive base legs. Seal it with brass drawer handles, and you will get that good old days' living style.
Small but Satisfyingly Functional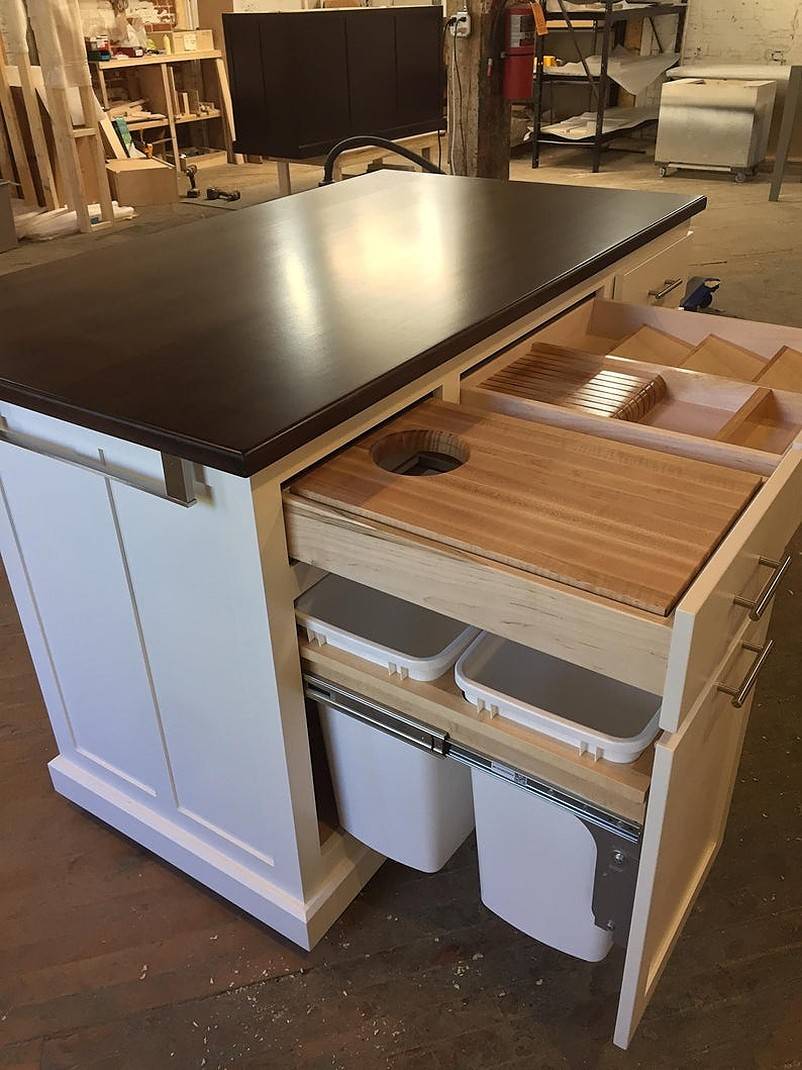 Though it may seem like a meal prep area, this kitchen island has maximum potential underneath the countertop. One side of the furniture holds the shelf for storage of sundry items. The rear end also has an overhang to accommodate seating. The front portion has pull-out drawers ingeniously designed to cater to various kitchenware and essentials. This fully-packed and full-functional DIY kitchen island is a smart piece to introduce to your kitchen space.
A Dedicated Cooking Center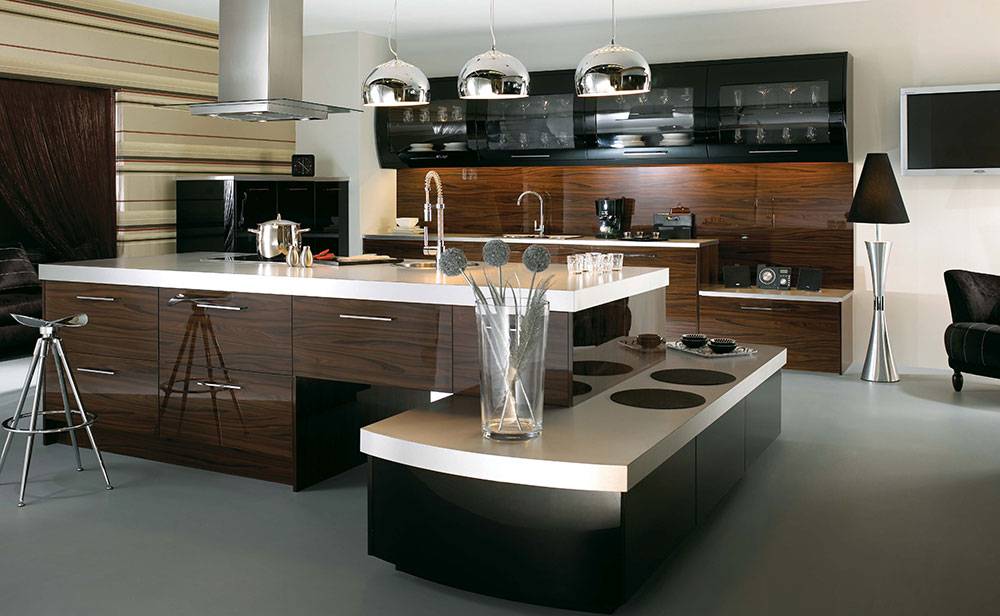 If you have a vast kitchen floor area, the DIY ideas for furniture keep rolling in. You can make the most out of it by building a dedicated cooking center. Like this slick DIY kitchen island that injects a dramatic feature into the kitchen. It makes use of every possible space with all the eye-catching hardware homeowners look forward to. Sophisticated and functional, this is an elegant piece to invest your skill and money into.
Takeaway
A DIY kitchen island will fill your space with functional features. It can also maximize the space and create a focal statement in the kitchen area. You can start building your own kitchen peninsula from scratch. Or, you may also score existing desks and cabinets that will complement your space. There are many ways to turn the heart of your home into an inspiring corner. Great inspiration can come from kitchen islands that are becoming essential furniture as well as workspace areas.