The idea of a stone wall in the bathroom is nothing new in itself and has obviously been around for ages. But the last few decades have seen homeowners move from more modest and rustic alternatives to stylish and polished options that ooze an air of opulence. While the 90s saw design and decorating trends shift towards simplicity, clean straight lines, muted colors such as beige, and a look that fits in with the idea of modernity, that has drastically changed with the turn of the millennium. Sleek, spa-inspired bathrooms are still sought-after, but today's consumer wants a blend of the contemporary and the classic – a combination that has revived the popularity of the stone wall.
When it comes to stone walls in the bathroom, few come close to the timeless allure and sheer elegance of marble. But today we take a look at inspirations beyond marble that range from the downright rustic to those that find space even in the most modern bathrooms. Organic, beautiful and unique, the stone wall in the bathroom is a showstopper in every sense of the word.
Cozy, Rustic Bathrooms
Stone walls and rustic bathrooms are almost inseparable, and they definitely bring an air of authenticity and the charm of the countryside along with them. Coupled with heavy wooden beams on the ceiling, the stone wall is often a staple in such settings, and you have a wide range of natural stones to pick from as well. Your choice of stone for the rustic bathroom wall depends on the color scheme of the bathroom, the level of maintenance that you wish to take on, and of course the budget at your disposal. Natural stone that is available locally is often the best option, as it is far more affordable, easy to acquire, and gives your rustic bathroom a truly unique, indigenous look.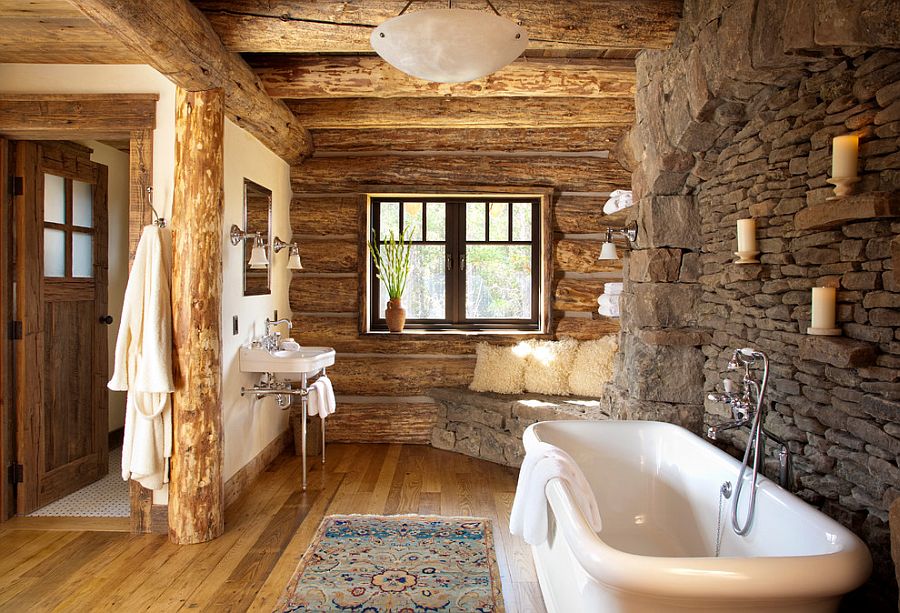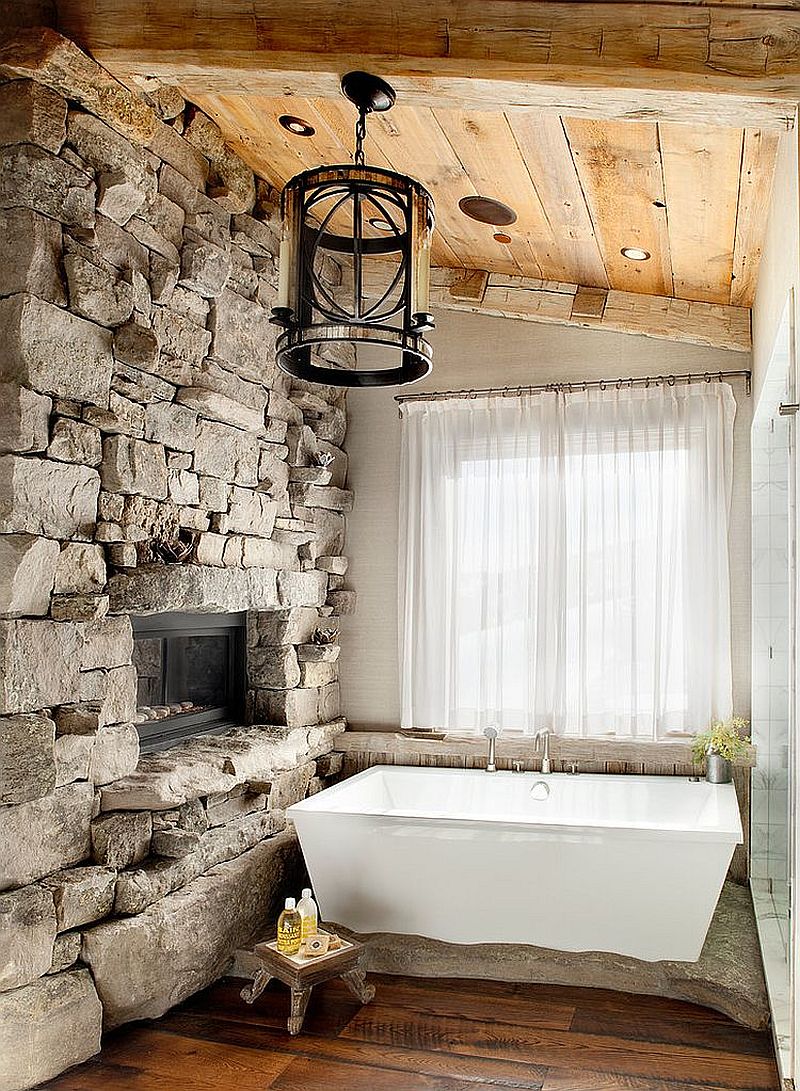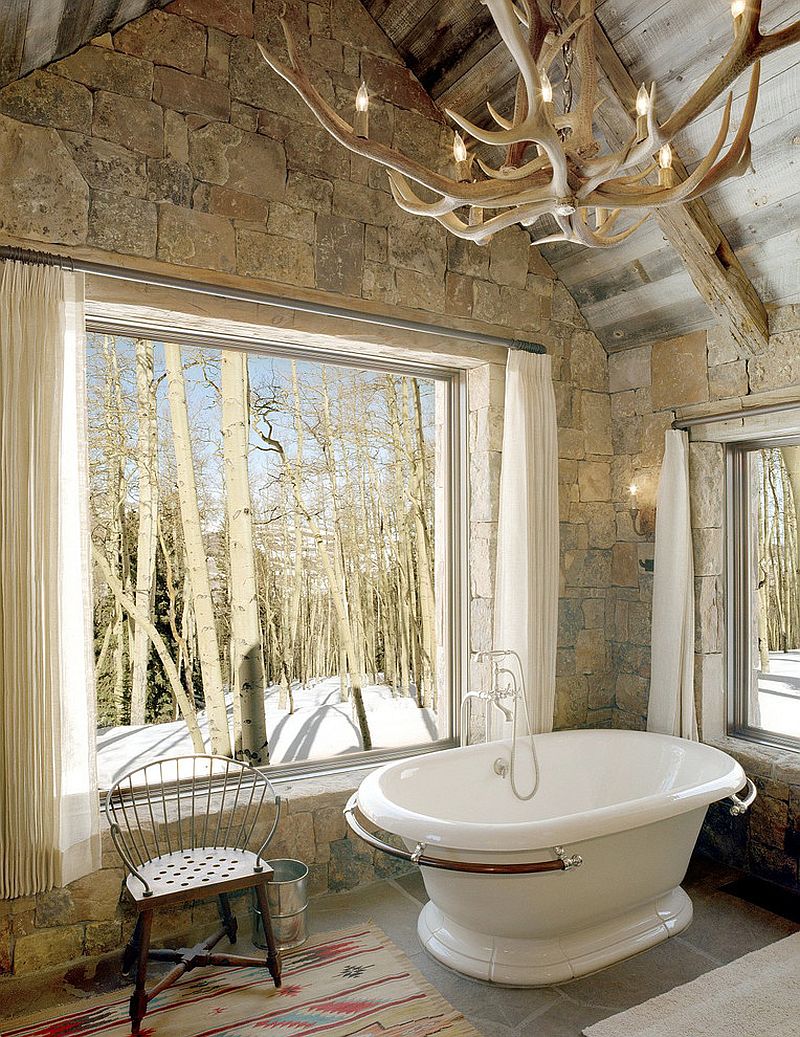 Trying to replicate the woodsy log cabin ambiance inside your bathroom? Or maybe you want a bathroom that has a relaxing and unassuming farmhouse style? Either way, the stone wall is a great fit for such spaces that aim to veer away from a polished, modern look. Throw in a custom copper or vintage bathtub, and you can spend those chilly winters taking a hot soak as you look at the snow-covered landscape outside – Who needs a trip to the nearest ski lodge with a bathroom like that at home?!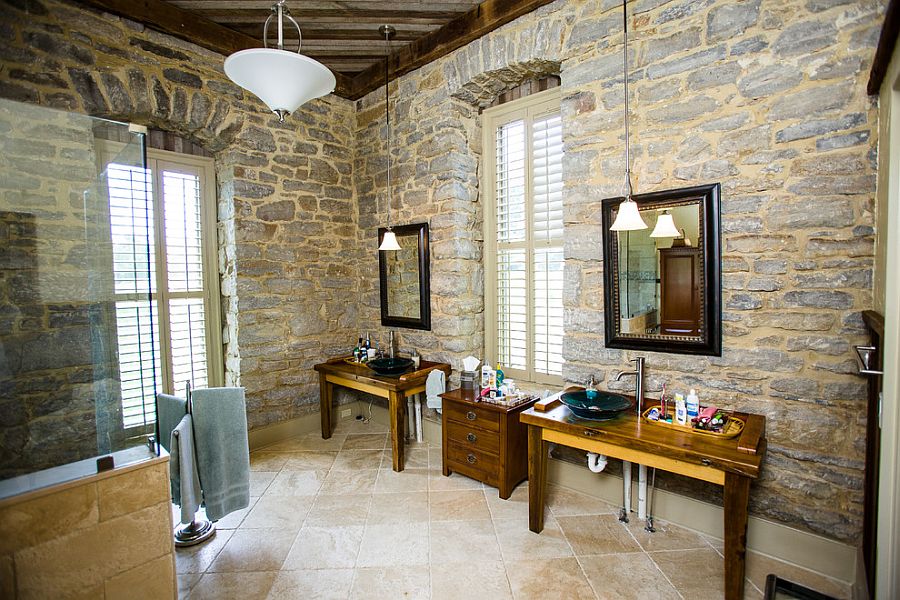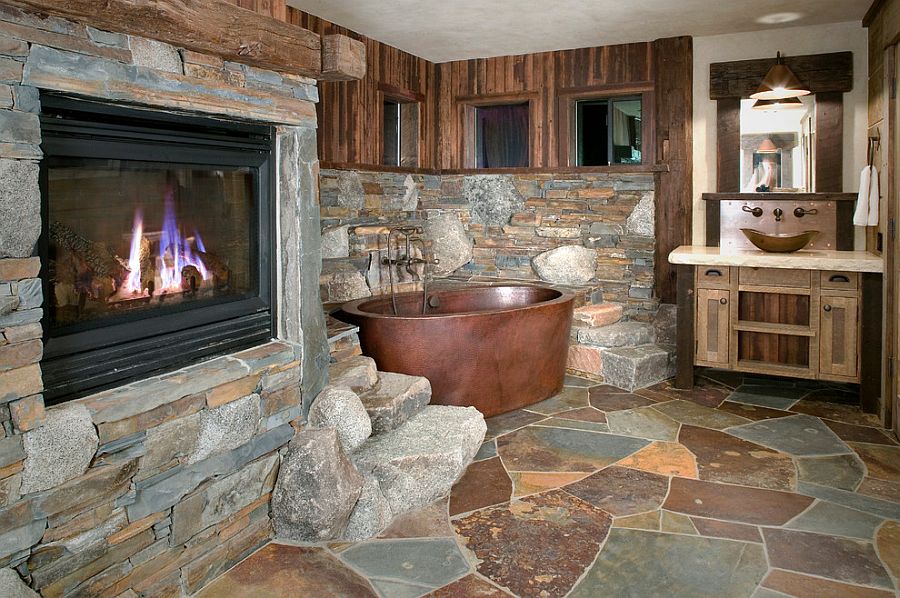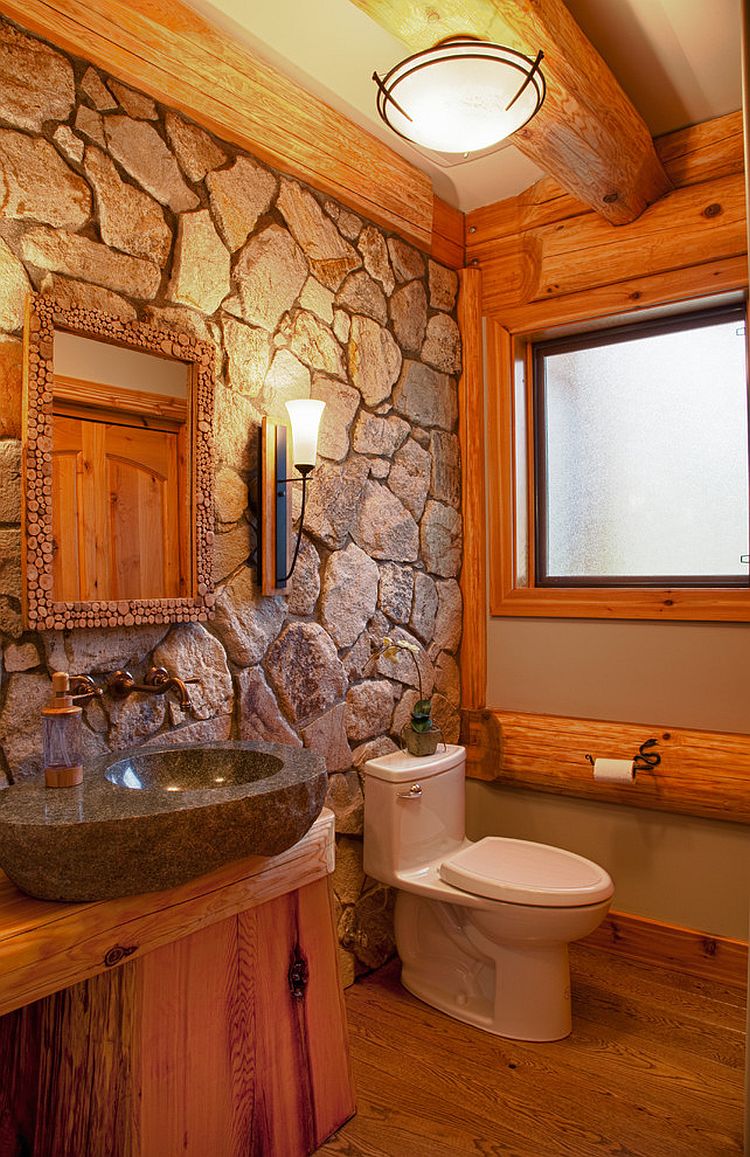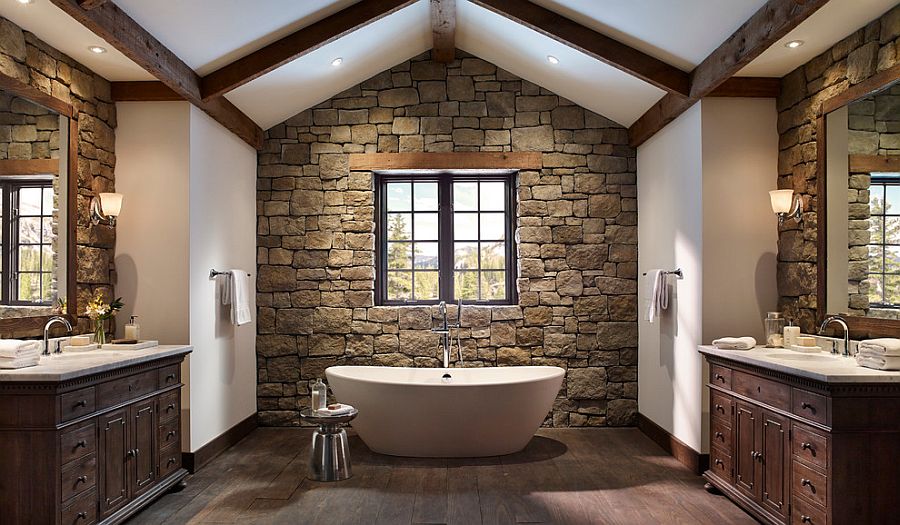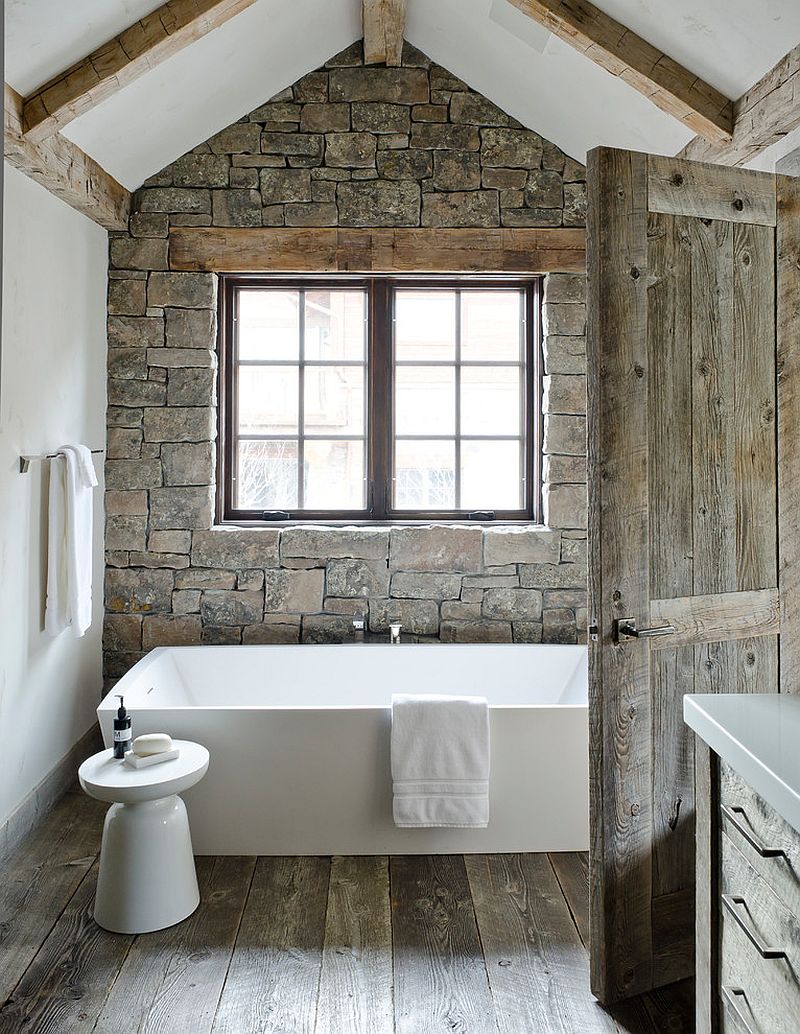 A Mesmerizing Blend of Styles
A balance between contrasting styles and textures is an approach that we absolutely love, as it showcases a hint of creativity and drives away any boredom from the bathroom design. Using a fabulous stone accent wall in the contemporary bathroom ushers in textural and visual contrast and gives the room a wonderful focal point. But think of styles beyond modern and rustic, as there is an endless world of possibilities when it comes to stone walls in the bathroom. The likes of sandstone and limestone are perfect for a Mediterranean-style bathroom, while natural fieldstone works well in modern bathrooms with rustic, farmhouse or craftsman flair.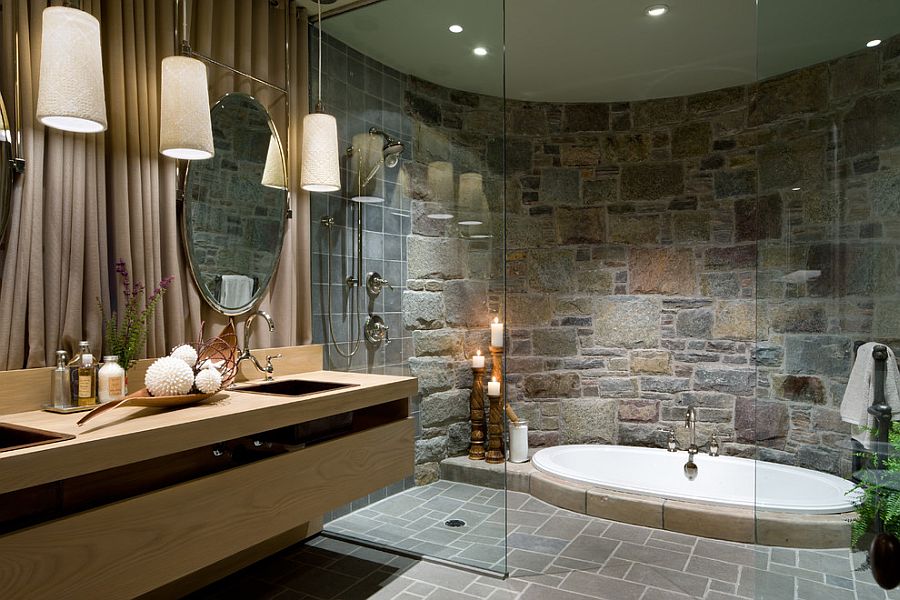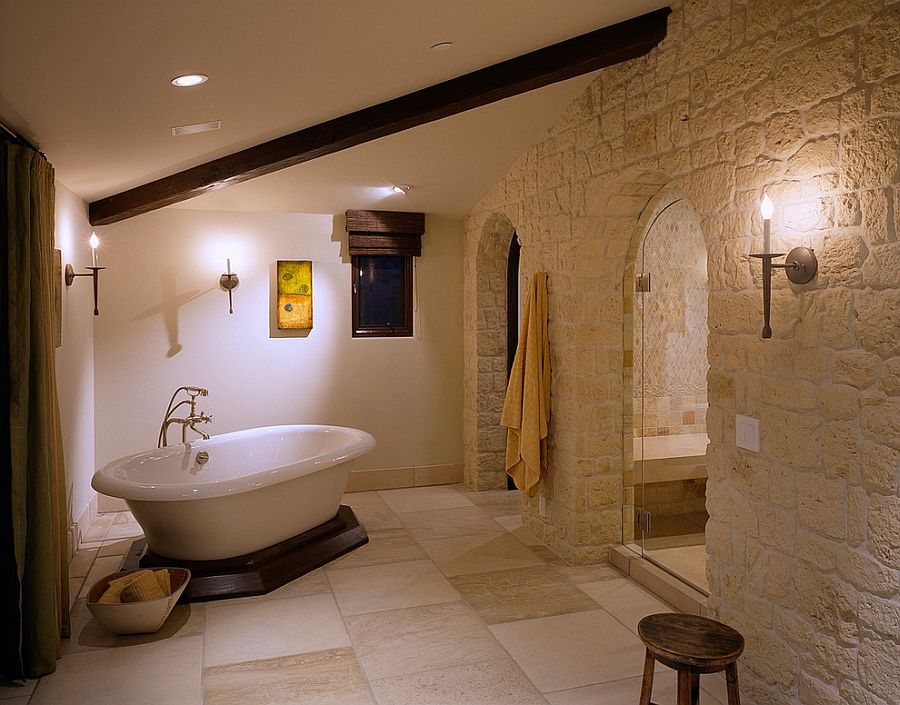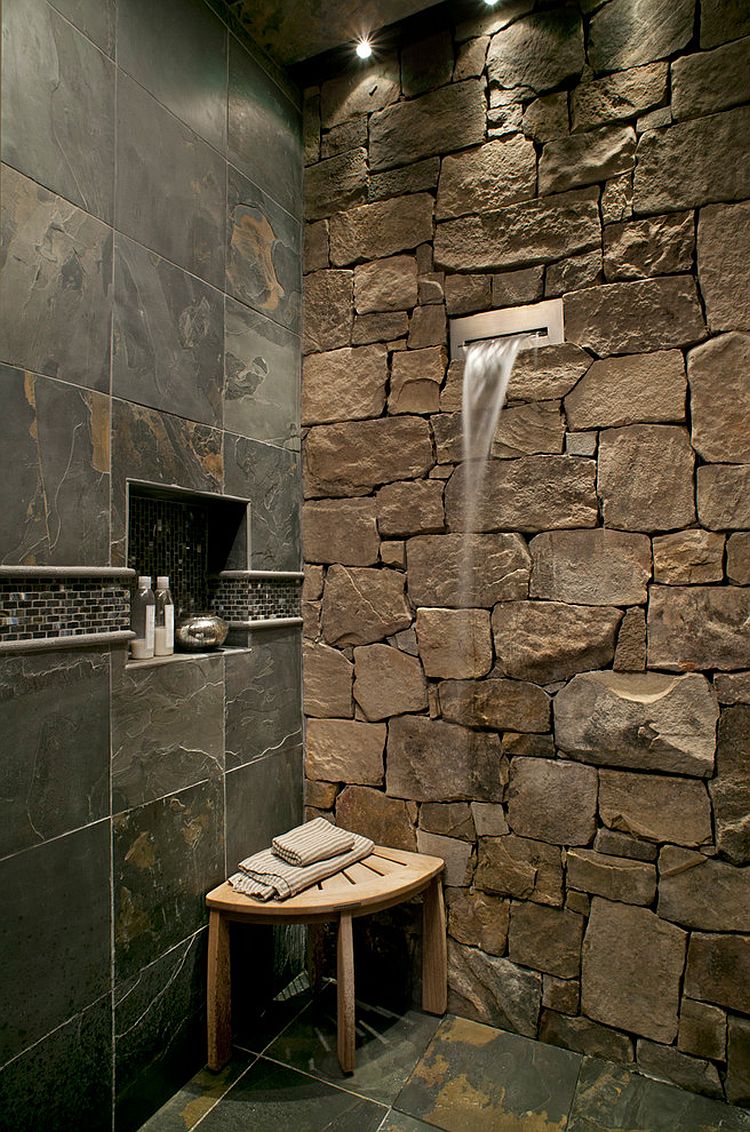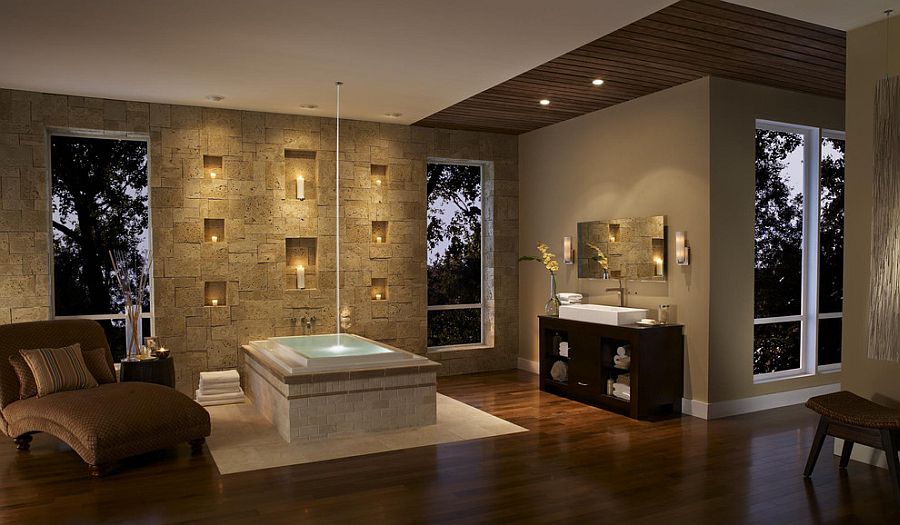 The likes of river rocks, polished pebble tiles, dark granite and lava rocks are great for the tropical bathroom, and while they might be hard to get ahold of in some parts of the world, it is still worth the effort. Keeping the stone wall in the bathroom or shower clean does take some effort, especially when you use a finish like split-face. While rough-faced stone walls add more texture to the bathroom, they often require more maintenance as well.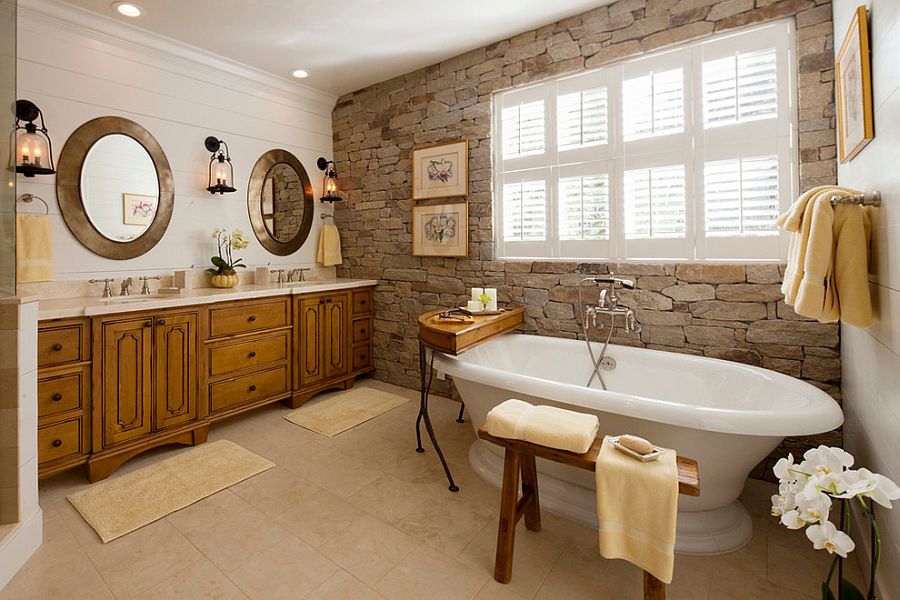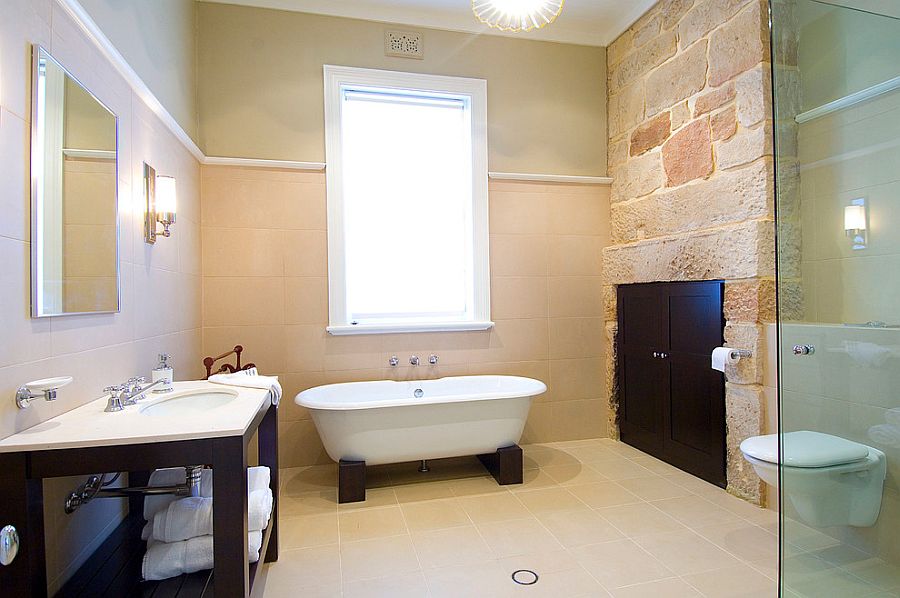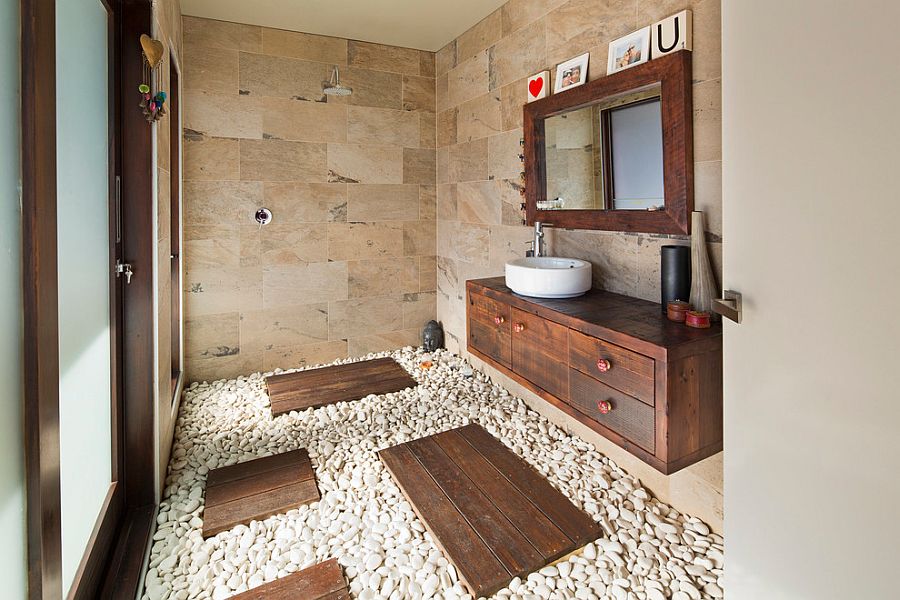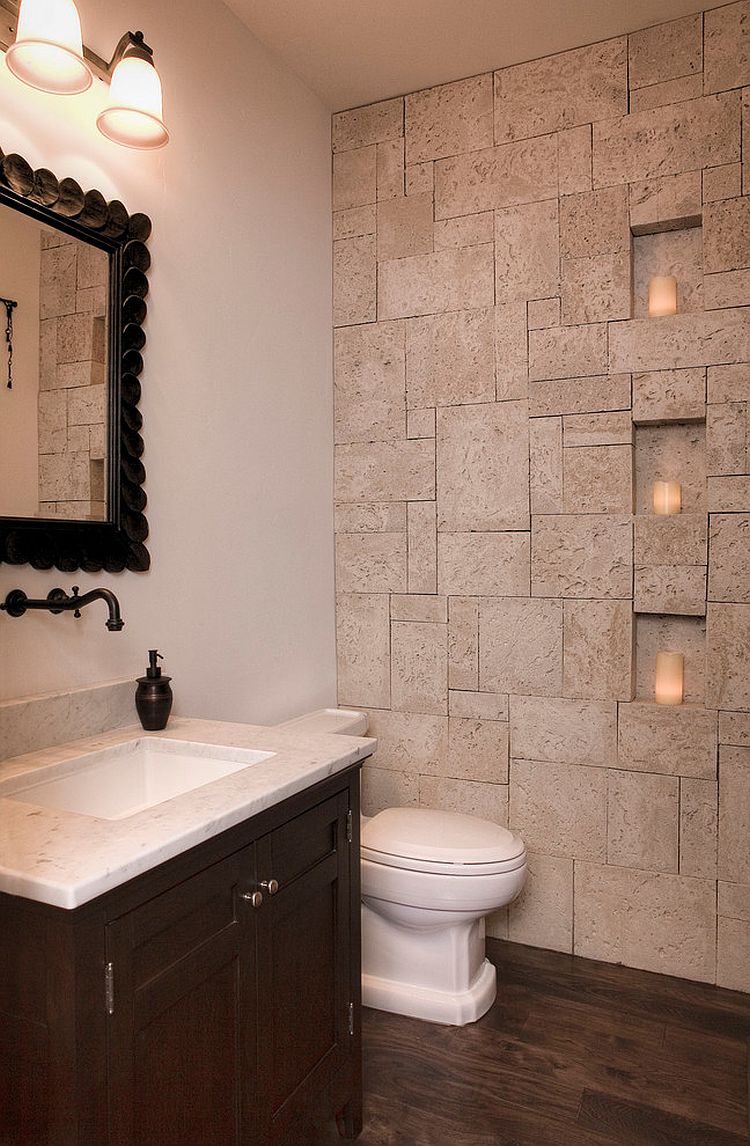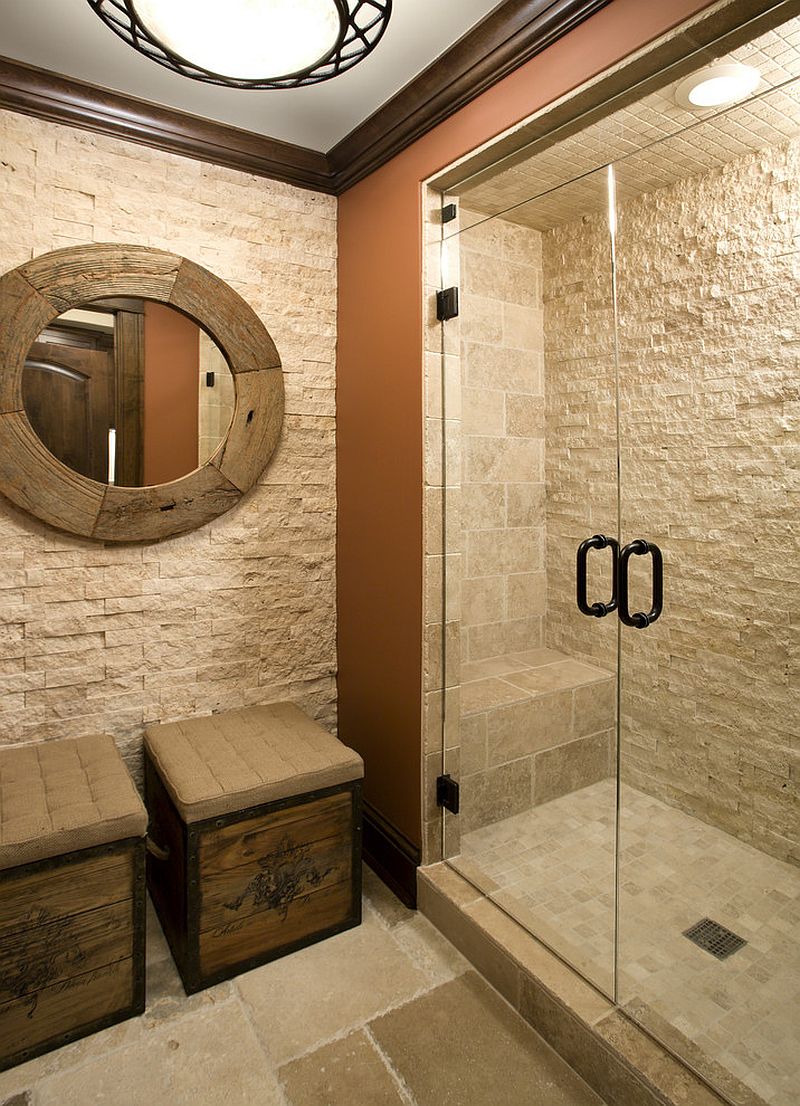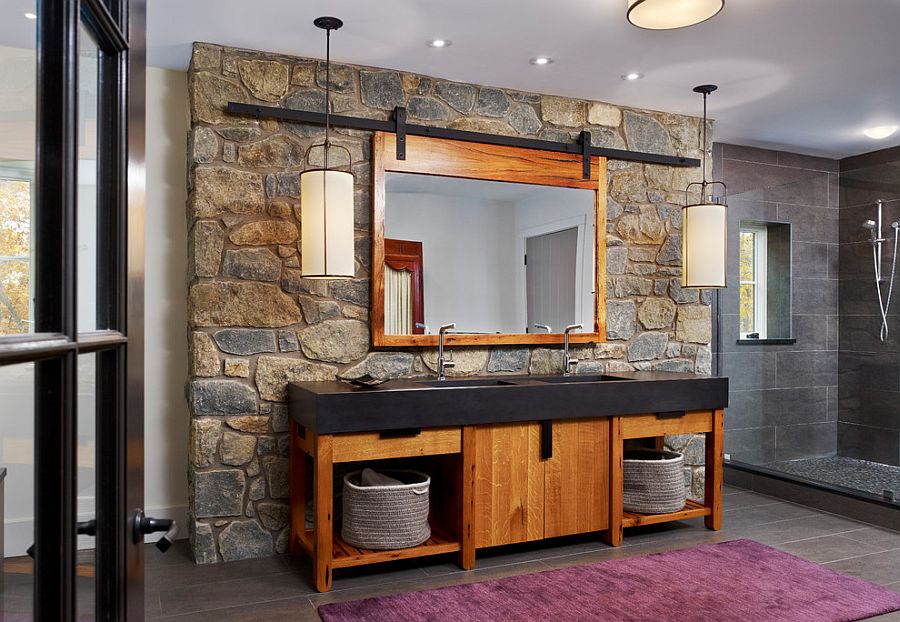 Stone Walls for the Modern Bathroom
Can a more modern bathroom set in a contemporary home play host to a fabulous stone wall, even if it is just an accent feature? Absolutely, as the many inspirations below showcase! The gorgeous wall in natural stone offers an exceptional backdrop that is still neutral and yet adds textural brilliance that more polished contemporary surfaces can ever manage to deliver. You can use natural stone for either that accent wall right behind the freestanding bathtub, or you can create a beautiful shower wall that is both captivating and resilient.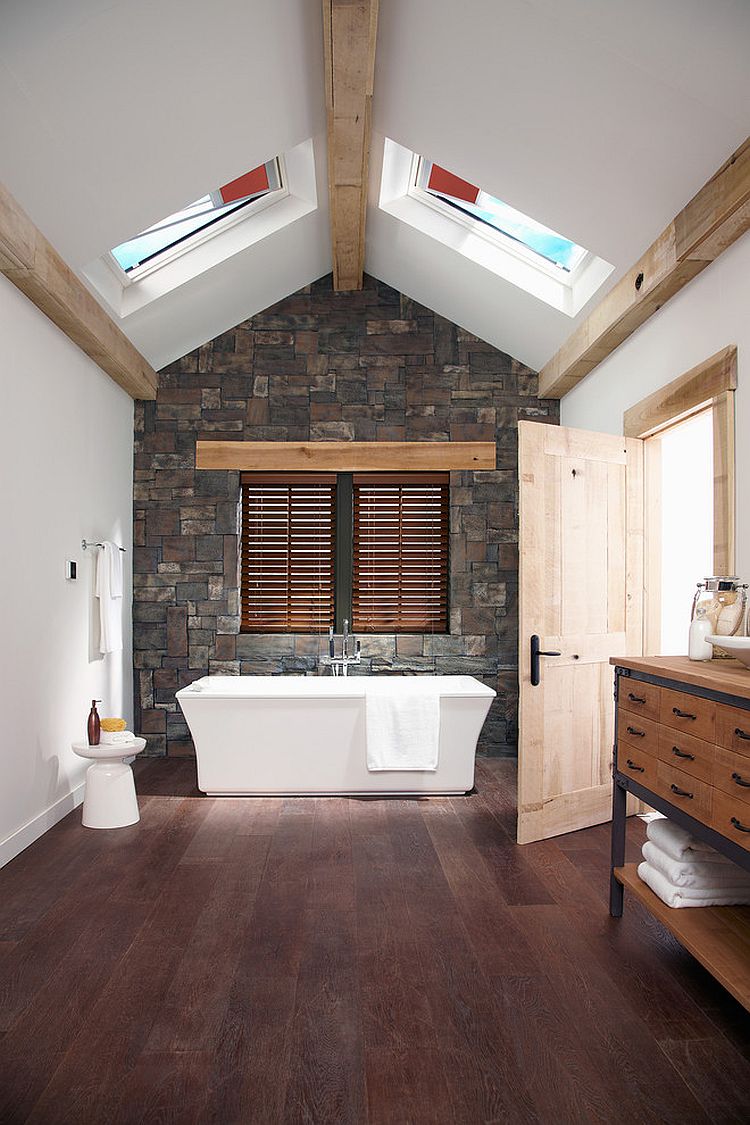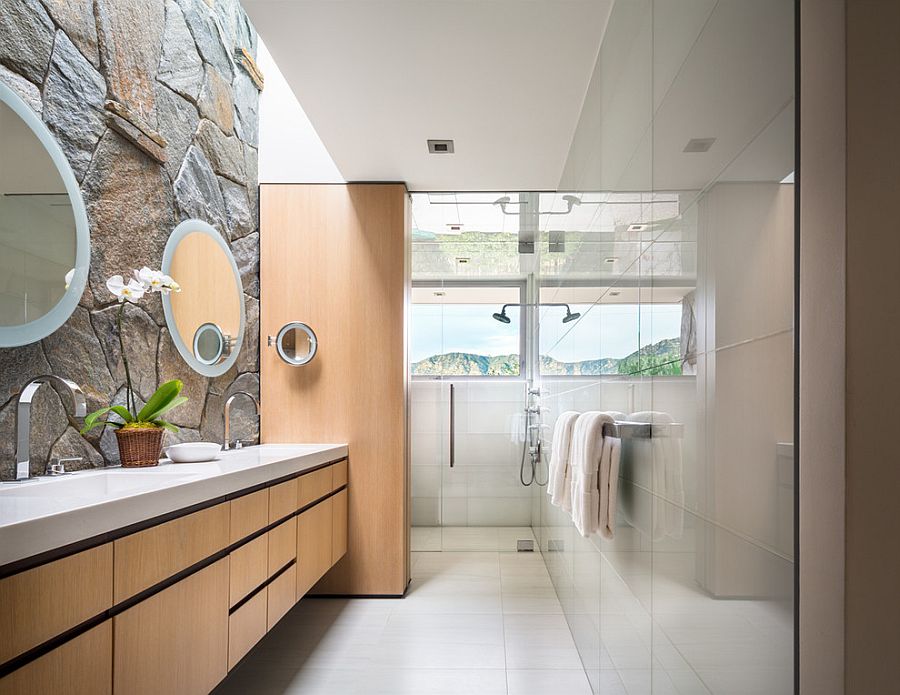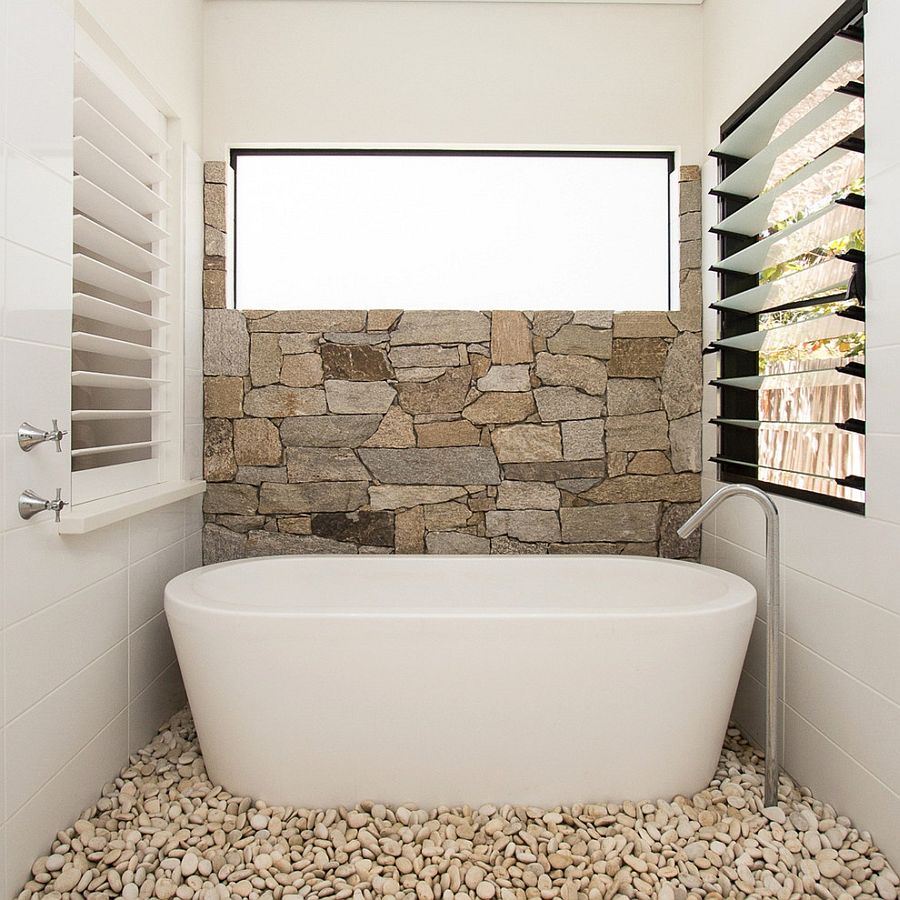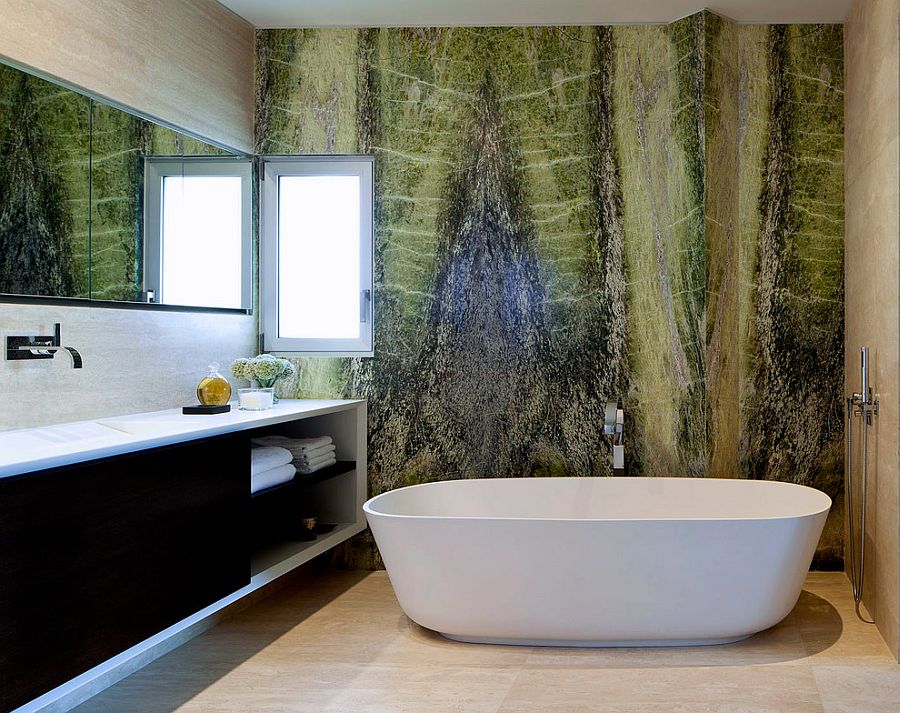 When it comes to a stone wall in the bathroom, size is not always a big constraint. Even the tiniest of modern bathrooms can feature an accent stone wall, and you can top off this exotic look with some pebbles and river stones around the bathtub to create a luxurious vibe. Irrespective of the stone, finish and size of the accent wall, you can rest assured that this will be the defining feature of your small, comfy bathroom.