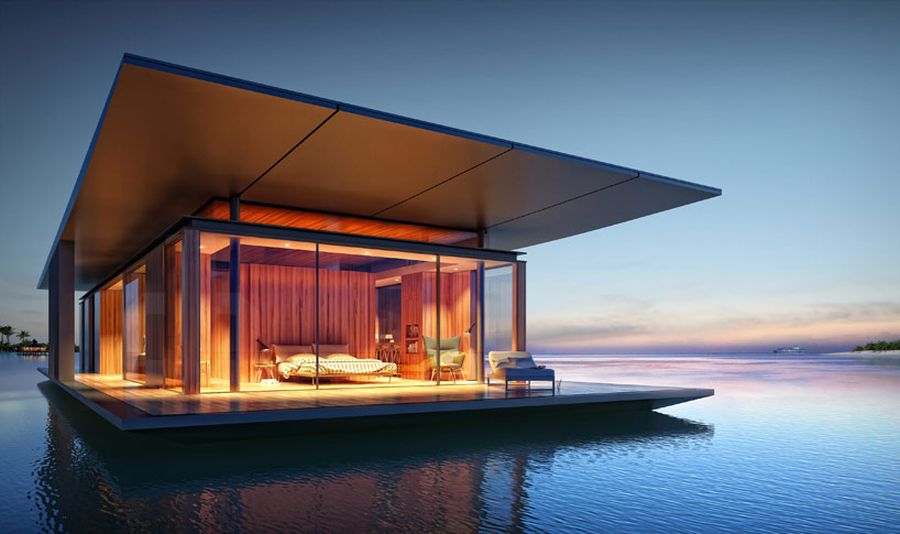 If you've always wanted to live in a waterfront home, how about taking that dream a step further with a watertop home? Perhaps that isn't the most melodious of phrases, but you know what we mean, right? Many floating homes have the option of being transported pretty much anywhere they can be docked, and unlike houses on the shore, buoyant residences are much more resilient to rising tides. Check out our selection of marvelous maritime homes below and let us know which one of them floats your boat the most.
Lavish Contemporary Homes
A former barge dating back to 1909, this buoyant Stockholm abode makes the most of its industrial past with decor that complements its seafaring features. The easy, breezy interiors are filled with light thanks to a skylight and some original porthole windows, while navy and aqua accents contrast nicely against crisp white walls.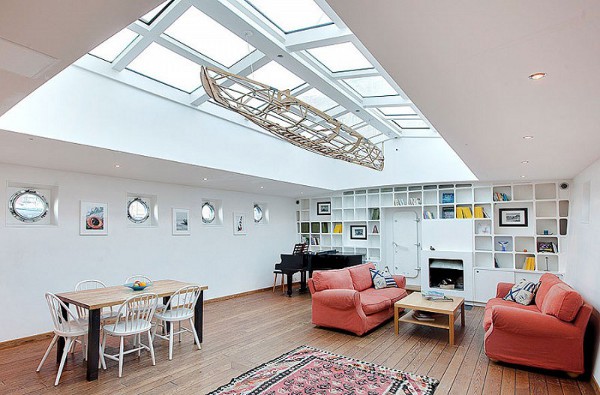 Sarah and Kimo Bertram's admiral blue maritime home in Mission Creek, San Francisco was designed by Robert Nebolon Architects and built by contractor Bart Elmer with many of the same kinds of covetable architectural elements you'd find on land. Despite its liquid foundation, the house's double-level main living space features large, dramatic windows that allow homeowners to soak in those baby blue water views.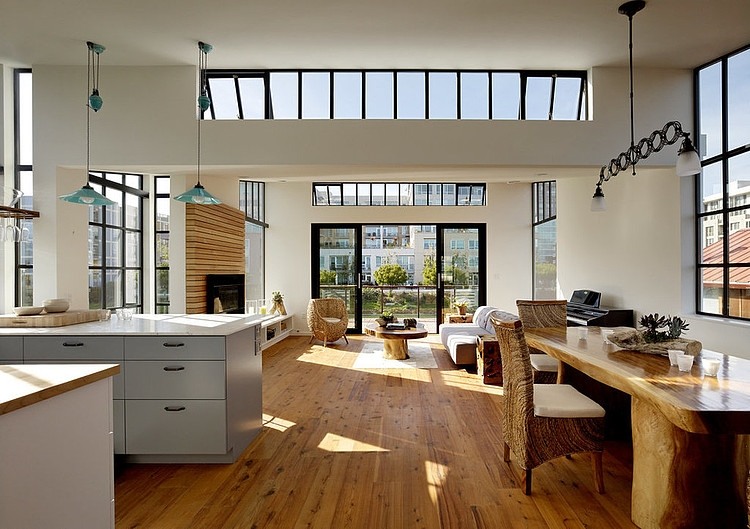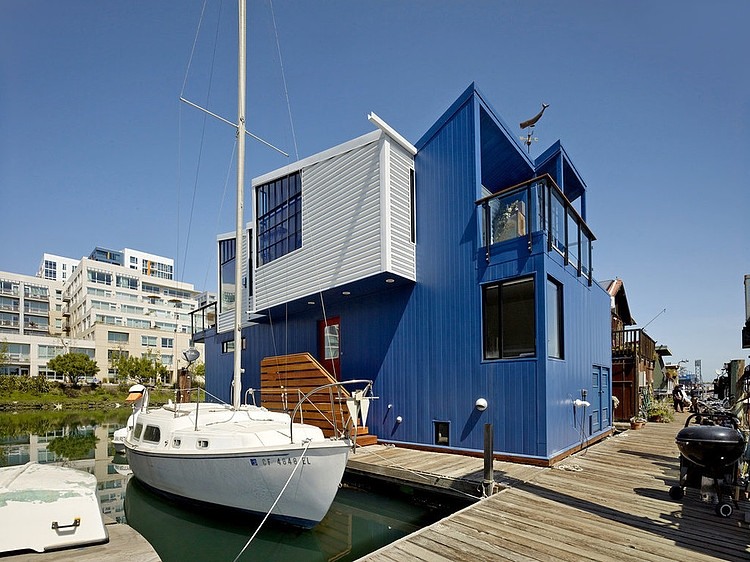 With a curvaceous silhouette reminiscent of a sail, Steeltec37's modular Aqua Floathome brings a distinct nautical vibe to Germany's Lusatian Lake District. But don't mistake it for a rusty dinghy. The metal and glass abode offers up the latest in lake-top luxury with sleek finishes and top-of-the-line modern furnishings.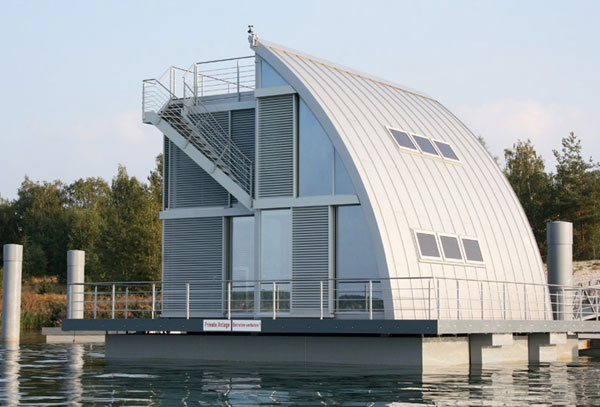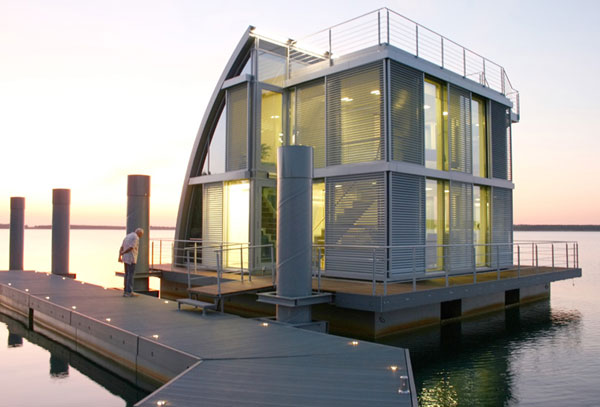 And if you're looking for something a bit softer around the edges, BMT's egg-shaped Sea-Suite might fit the bill perfectly. The oblong design was actually first developed for a cruise liner terminal in Hong Kong, but was reused to envision a series of beach homes and floating residences.

Magical Floating Getaways
This tranquil floating home may just be a concept, but we hope that Singapore-based architect Dymitr Malcewcan brings his vision to life soon. We can certainly picture ourselves taking advantage of its giant glass walls, open concept kitchen and living room, and out-of-this-world roof terrace.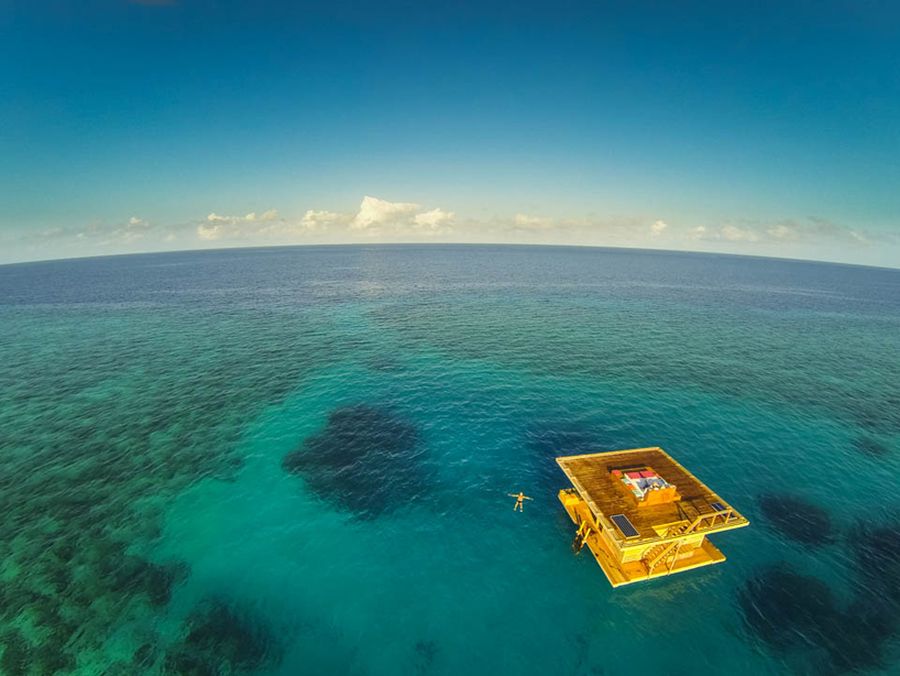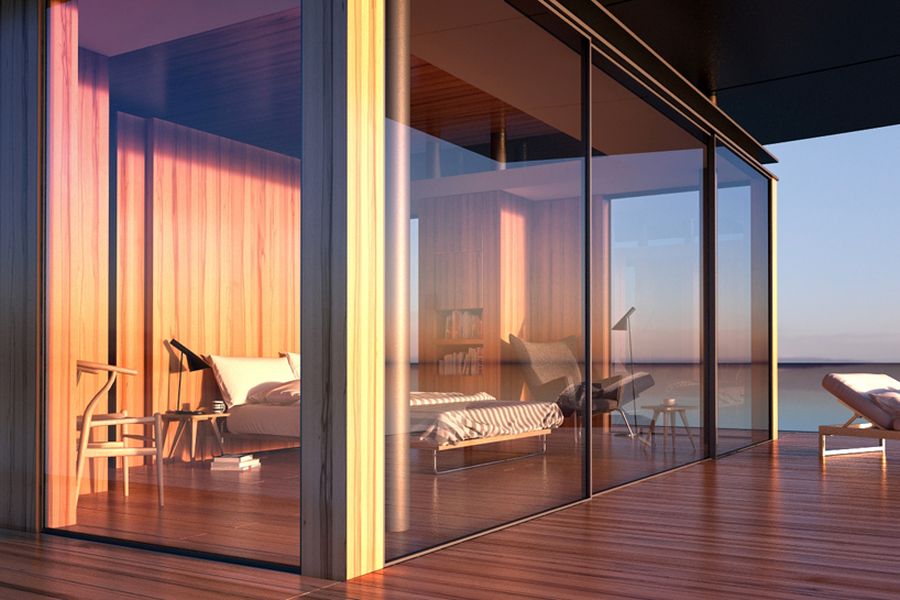 There are only a handful of accommodations in the world where you can see fishes swimming past your window, and Tanzania's Manta Resort is one of these rare treasures. This remote getaway is almost like its own waterborne island, with the chance to indulge in three separate experiences of the ocean: an underwater suite, a sea-level deck and an elevated roof terrace that will make you feel like you're on top of the world.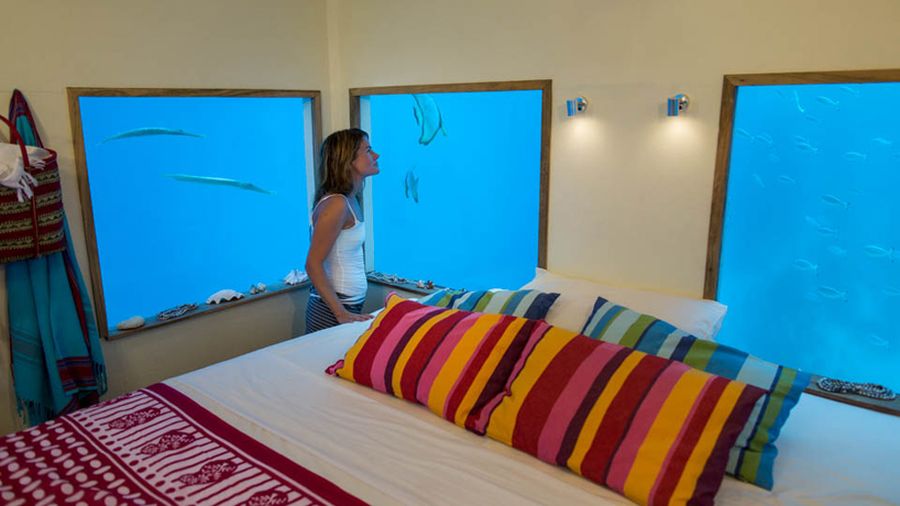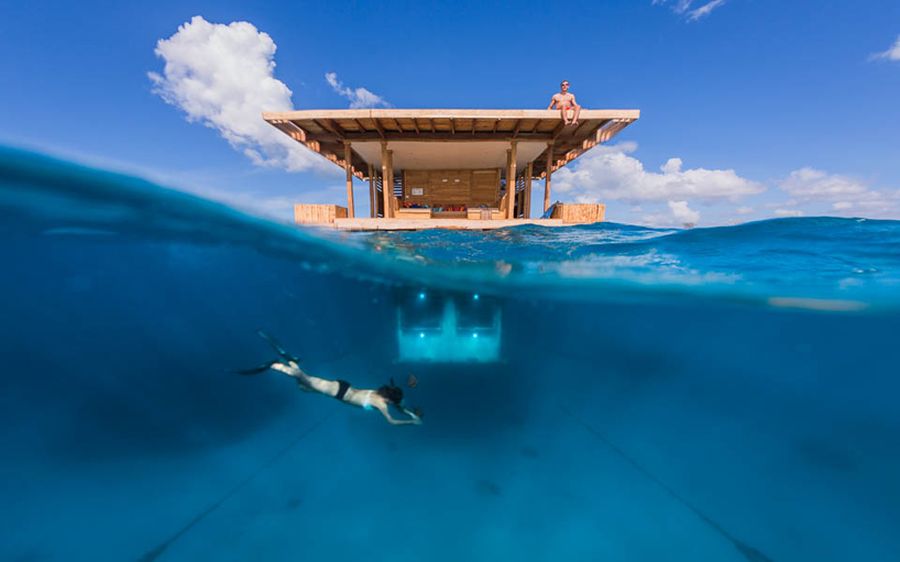 Some build love nests, and others build love islands. All love boat jokes aside, married couple Wayne Adams and Catherine King began constructing Freedom Cove, their incredible oasis on the water, back in 1992, and they've been adding to it ever since. Now the couple-made island off of the coast of Vancouver Island comprises a whopping 12 mini platforms with all sorts of amenities, from an art gallery to a greenhouse and even a dance floor!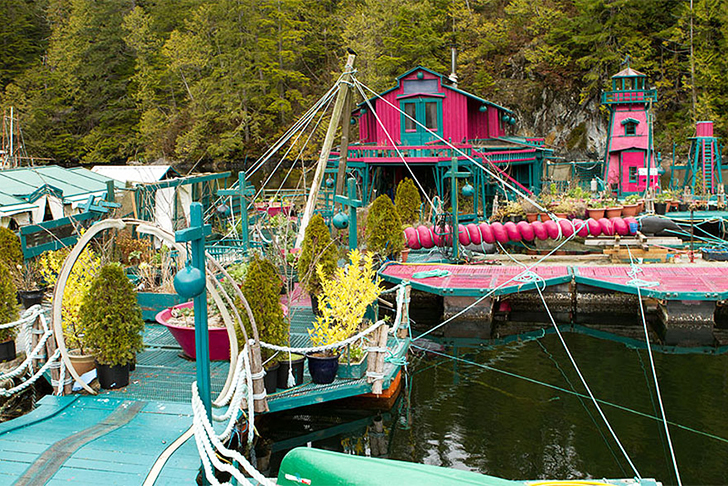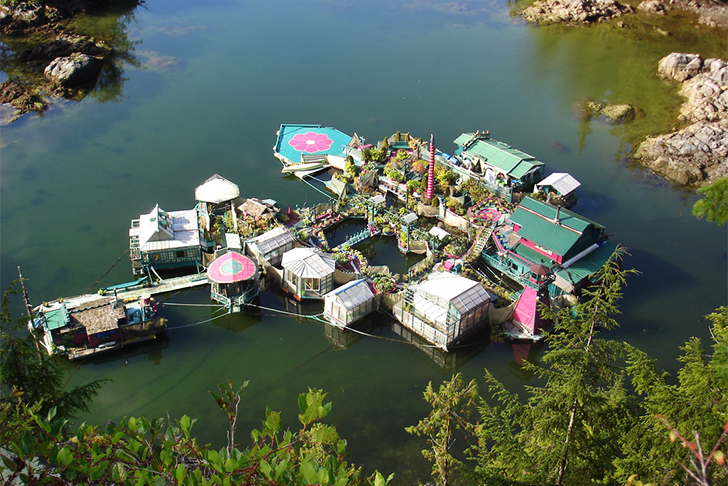 And if none of these other homes float your boat, how about designing a custom floating house of your own? Bravada Yachts specializes in crafting waterborne residences that marry luxurious finishes and amenities with the freedom of being able to take your home sailing on the seven seas. Check out all of their models here.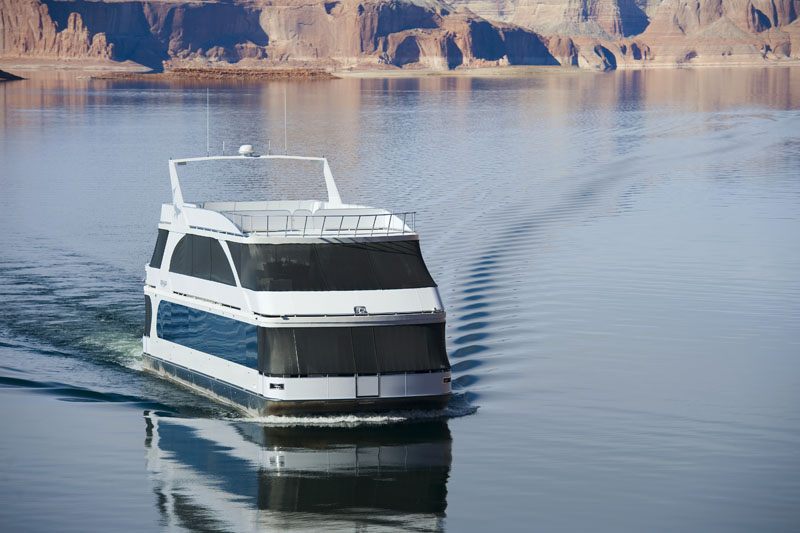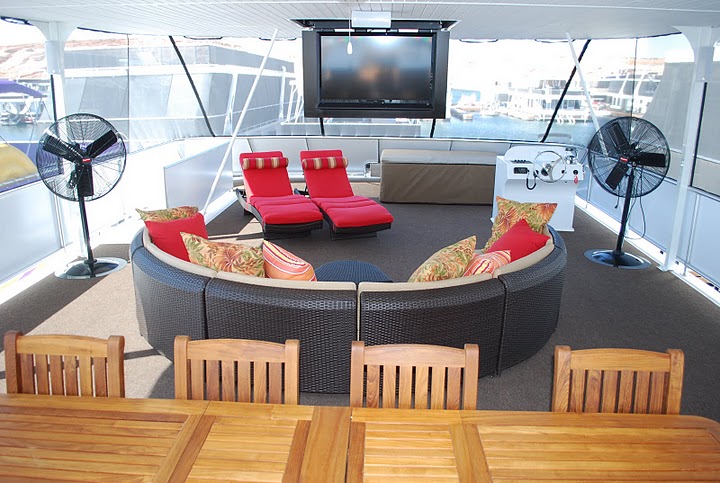 Could you imagine living in a home that's literally on the water?