Tanzania is globally renowned for its unique wildlife and the Great Migration that attracts scores of tourists to this African nation. But there is another fascinating world beyond the majestic peak of Kilimanjaro and the vast Savanna–a world filled with white sandy beaches, turquoise blue waters and stunning marine life. The Pemba Island is part of the exquisite Zanzibar archipelago, which is home to some of the finest diving spots and coral reefs on the planet. It is here that you will find The Manta Resort; a breathtaking getaway that pampers you with its very own private floating underwater hotel!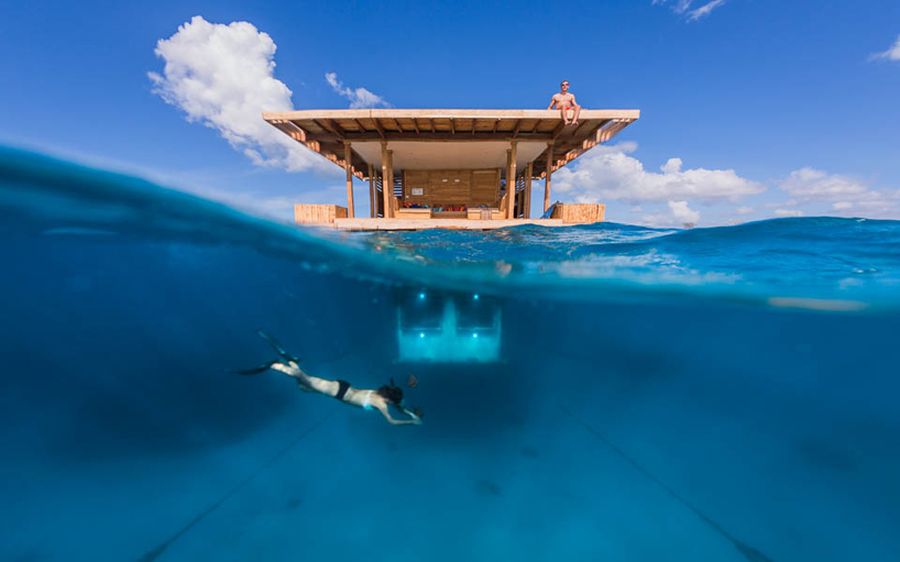 Designed by Swedish company Genberg Underwater Hotels, the fabulous getaway is anchored safely in the middle of the vast ocean, and the submerged hotel room gives you a glimpse into the brilliant marine ecosystem here. The exclusive underwater room offers three different levels that allow you to take in the many sights and sounds outside. A large landing deck at sea level doubles as an outdoor lounge, while the rooftop promises hours of magical nightlife under the clear, star-studded sky.
The submerged hotel room is obviously the highlight of this offshore experience, and the specially illuminated platform unravels a whole new world, as it attracts a variety of rare marine creatures once darkness sets in. While the room might not be lavish in itself, the view outside more than makes up for its modest design. Mesmerizing and magical, a stay at the Manta Resort underwater hotel is indeed an adventure of a lifetime!
Images courtesy of Jesper Anhede