How many times have you run over to IKEA to find a quick fix for your decorating dilemma only to be taken in by the sleek Scandinavian design? For many, it is the one-stop-shop for all their decor needs, while others tend to couple those affordable IKEA pieces with other statement additions and a few timeless furnishings to create a balanced and beautiful home. No matter which category you fall into, today's special story dedicated to the 50 best IKEA bedroom sets will leave you spellbound and probably heading for your nearest IKEA store when you are done flipping through the endless inspiration!
While most of these bedrooms use exclusively IKEA products, others cleverly add those Swedish design sensations to their existing framework to create a truly exceptional, cozy ambiance. The bedroom is a personal haven where many of us spend a third of our life. It is only natural then that you should turn this into a space that reflects your style and choices in a curated fashion. These gorgeous bedrooms surely accomplish that and a whole lot more!
1. Gorgeous Bed Frames
At the heart of every stunning bedroom is a bed that sets the tone and mood of the room and becomes the central focus of the area. Some of the gorgeous bed frames offered by IKEA range from the sleek and minimal to the rustic and Scandinavian, giving you a wide range of styles to choose from. While many homeowners concentrate on other accessories and decor in the bedroom a touch too much, they forget that at the end of the day it is indeed all about the comfy, relaxing bed that meets your specific design and ergonomic needs.
Whether it is trundle beds and those with slide-out drawers that help in tucking away the unnecessary or large double beds that serve the needs of a modern couple, you have models that fit in with almost any style that you can imagine. Many of the fabulous bed frames from the 2015 catalog go a step further and allow you to customize the headboard as well. In fact, those looking for a plush headboard with additional storage can bring home the lovely BRIMNES headboard without splurging on a brand new bed frame.
2. Small IKEA Bedroom Designs
These are perennial favorites across the world – from small attic and studio apartments to dorm rooms all over the globe. Just because you are short on space and wish to maximize the square footage does not mean that you need to sacrifice style, and these ingenious IKEA bedroom compositions showcase precisely that. Loft bed frames can be used to turn that tiny dorm room into a living room, bedroom and kitchen at the same time, while smart storage units, cabinets and side tables ensure that you can keep this common space a lot more organized. When it comes to small bedroom designs, versatile IKEA solutions and their smart Scandinavian form is truly top notch.
3. Trendy Wardrobes & Bedroom Storage
Bedroom furniture design is not just about the bed alone, and for those who tend to splurge on a fashionable clothes collection, the need for a versatile, convenient and ample storage space is a must. Be it sorting out and arranging a truckload of clothes and shoes or displaying your small collection with panache, the wide range of cabinets, chests with drawers, and open units with clothes storage systems and hangers get it all done. Standalone dressing tables and wall-mounted shelves make it even more convenient to expand your bedroom storage without much fuss.
4. Cozy Bedding and More
Moving on from storage options and bed frames, it is the turn of duvets, pillows, cushions and comforters to steal the spotlight. This is a section of the IKEA Bedroom Zone that we absolutely adore, as a simple change in bedding can alter the entire appeal of your bedroom in an instant. You need not spend an inordinate amount of time or cash to get this done, and you can simply switch out these new additions whenever you get bored. Adding excitement, color, geometric pattern and sometimes tranquil calm to the bedroom, the range of bedding and textiles from IKEA offers endless skins for your hip bedroom.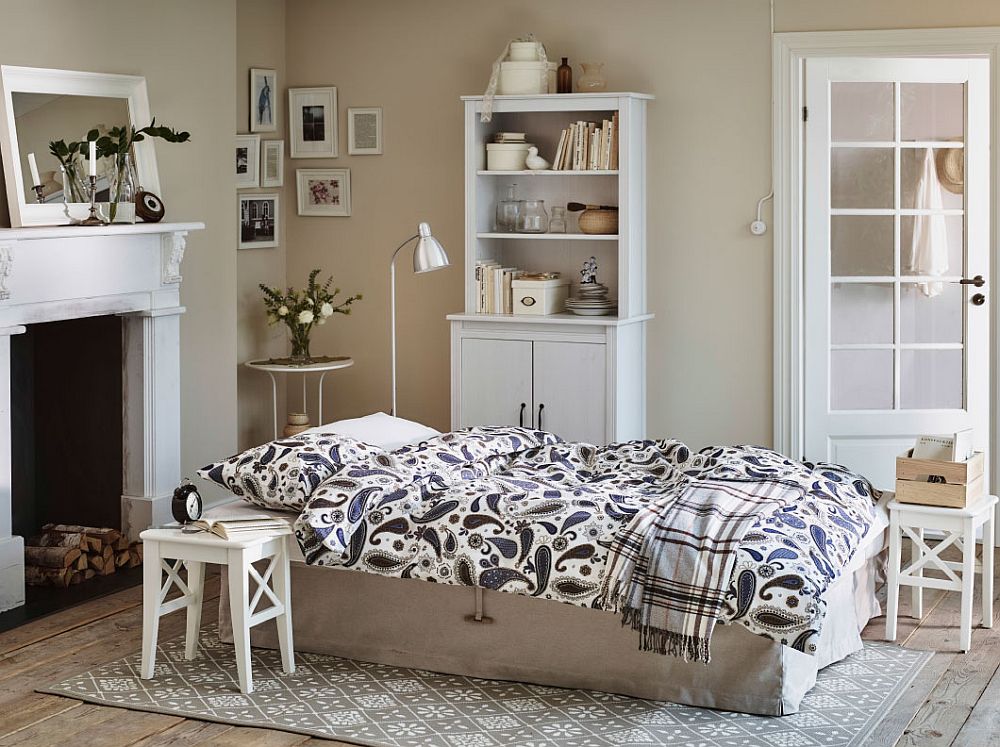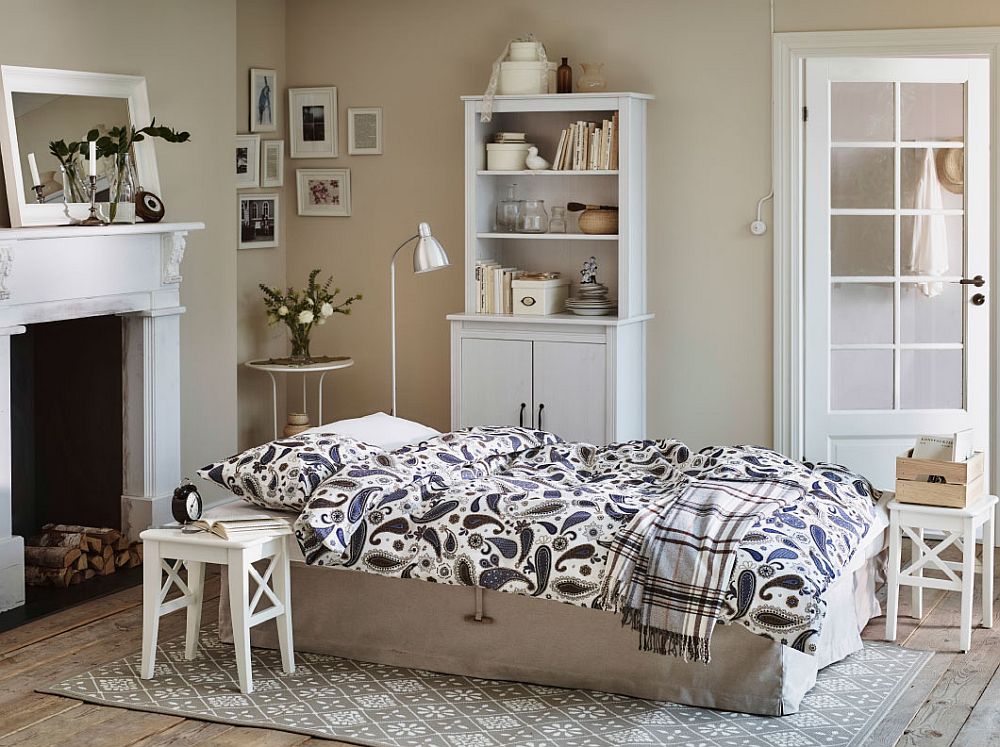 5. Setting the Mood!
Never forget the little details when it comes to shaping the perfect bedroom! IKEA is indeed the perfect place to find these fascinating finishing touches that will transform the bedroom from a very good one to something that is truly one of a kind and full of personality. A couple of sconces instead of the traditional bedside lamps, a sparkling floor lamp for a personalized reading nook in the corner, or gorgeous pendants that usher in a transcendental aura; take your pick at your nearest IKEA store and revel in the radiance! Plush rugs and snazzy mirrors add that final oomph that your tasteful, peaceful bedroom needs.