Have you ever walked into a room and said to yourself, "This space needs something"? Perhaps it's a room in your own home! You may have wondered about the possibility of getting a new sofa, a new piece of wall art, or even a new coat of paint… But what if all you needed was a new floor lamp? Believe it or not, sometimes an eye-catching lighting item can be the finishing touch that a space truly needs.
Today we feature 20 rooms that creatively incorporate lighting in the form of a floor lamp. You might even argue that the floor lamps below steal the show… Not only have we rounded up the best interiors we could find, we've included helpful links to purchasing information when possible. Check out the images below, then tell us about your favorite lamps by leaving a comment at the end of the post…
Vertical Floor Lamps
Some floor lamps sweep across a room in one dramatic curve. By contrast, our first set of floor lamps are more vertically oriented, making their mark right where they stand. Take the Cast Floor Lamp from CB2, which adds a glowing industrial look to the space below with its 3-foot shade: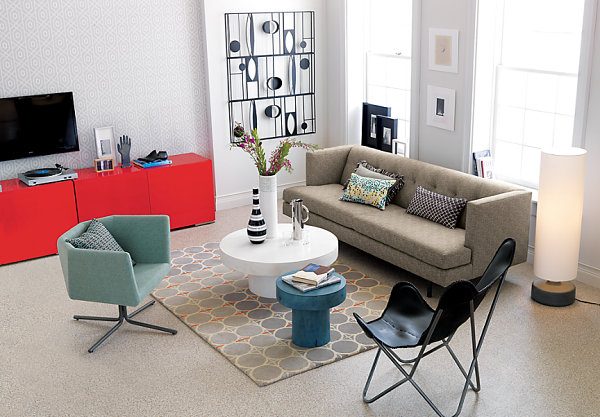 This next lamp may be vertically oriented, but it's not short on curves! It's the Cigar Floor Lamp, originally designed by George Nelson (currently available at YLighting). It really pops against the mustard gold wall, adding a retro look to this space while mirroring the rounded look of the sofa. [photo by Tara Bussema for Houzz]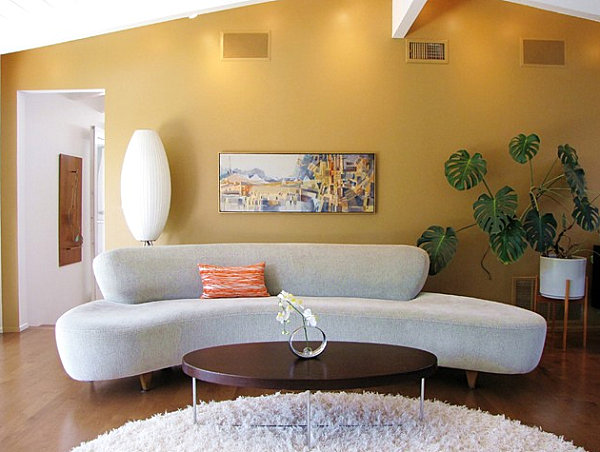 You might think that the wallpaper is star of this retro-modern space… However, we think the featured Excel Floor Lamp by Roll & Hill (available at YLighting) really steals the spotlight! [photo by Annie Schlechter via Houzz]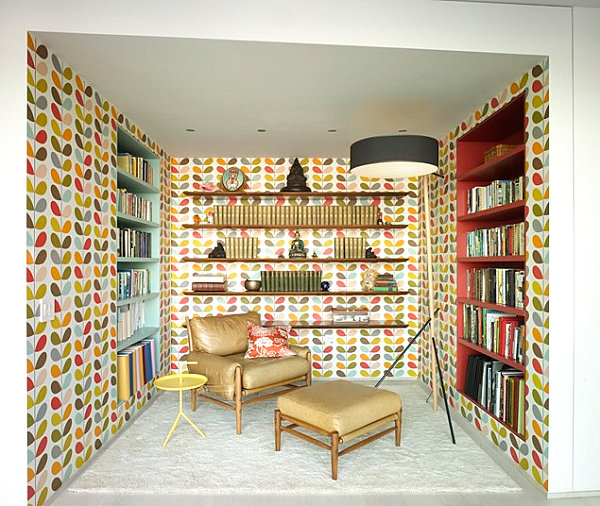 There's something crisp about a bright room with white accents. Which is why we love this Turned Floor Lamp from West Elm, complete with a high-gloss finish. But it's not just the color that grabs our attention… It's the way curves and ridges combine to create a lovely silhouette that takes center stage: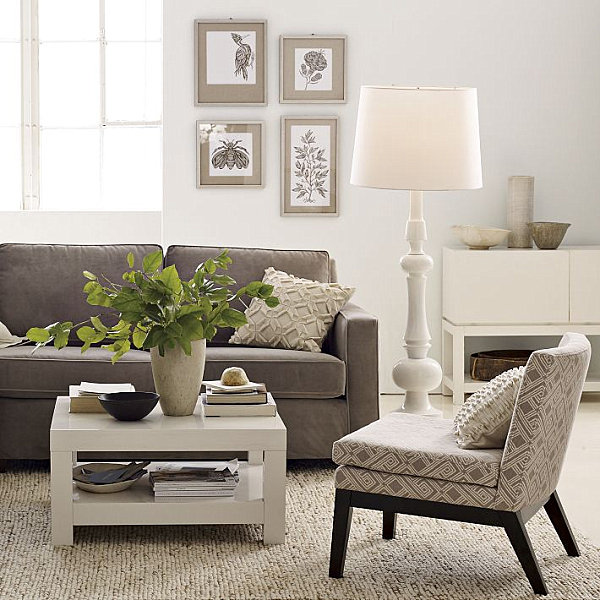 In the tradition of a beaded necklaces, the Abacus Floor Lamp from West Elm features a string of glass orbs united around a stem with an antique bronze finish. The striking shade and glistening shine demand to be noticed in this living area filled with neutral shades…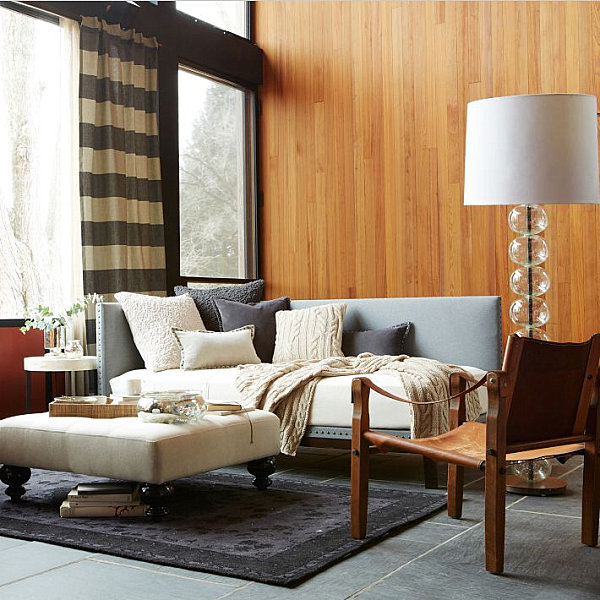 Our next featured floor lamp boasts a bit of 1940s style, as well as a trio of spotlights. Crafted of steel with a hi-gloss carbon powder coat finish, the lamp's gleam will capture your attention if its striking lighting arrangement doesn't catch your eye first! It's the Signal Floor Lamp from CB2: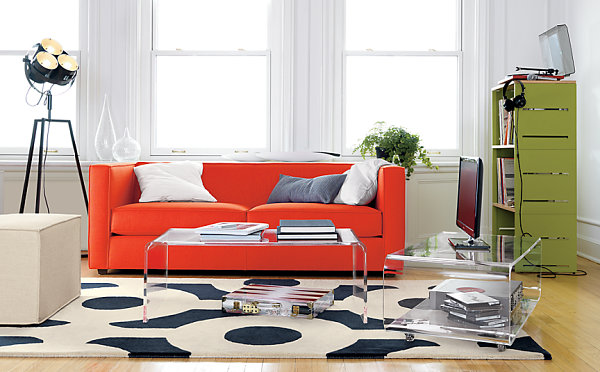 Three pivoting adjustable heads make a statement as part of the Cole Multi-Arm Task Floor Lamp from Pottery Barn. There's just something industrial about this piece, and it truly makes its mark on the traditional pale gray space below. In fact, if you're decorating a room in neutral shades, why not punctuate it with something this interesting?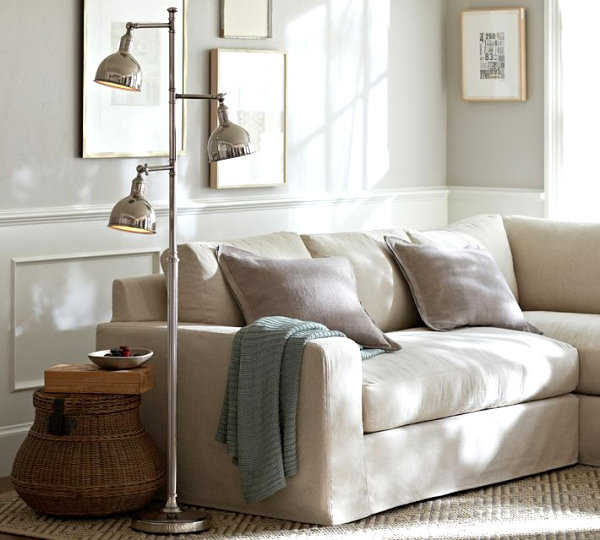 A glass shade is the standout feature of the lamp below, which takes a slight departure from a strictly vertical orientation with its angled arm. It's the Adjustable Glass Floor Lamp from West Elm, complete with an antique bronze finish. We think the bulb, perfectly visible through the transparent glass cylinder that surrounds it, is the real standout!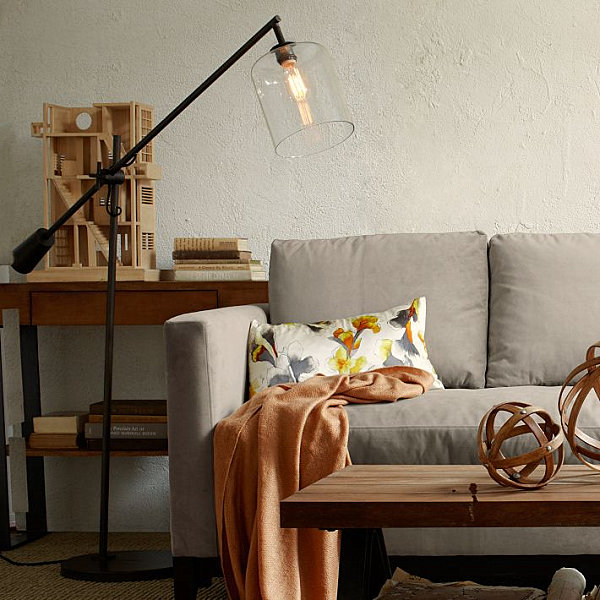 OK, so this next featured space isn't exactly a room in the home. But it's certainly an outdoor living area. And doesn't' it make sense that a space this large would need some lighting? Why not go big with the Indoor/Outdoor floor lamp in glossy thermoplastic expansion by Usona. If white is too subtle for you, note that the piece is available in black and orange as well!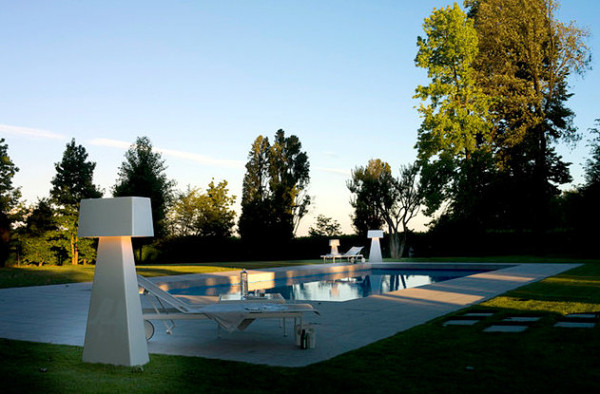 Curved Floor Lamps
From the straight lines to the curve… The featured lamps below are mesmerizing, thanks to their curved construction. Like this classic Arco Floor Lamp, designed in 1962 by Achille Castiglioni and his brother Pier Giacomo. Available at Design Within Reach, the piece has a swiveling shade that extends eight feet, illuminating whatever rests beneath it. [from Segev Photography]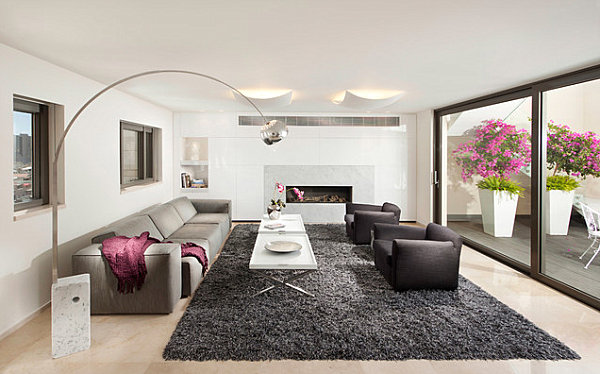 In a similar fashion, the Steel Arc Floor Lamp has a stainless steel finish, as well as a stainless steel mesh shade in a warm, earthy shade. There's an abundance of glowing neutral tones in this space. It simply needed a large, curved piece to take the lead… [from Narofsky]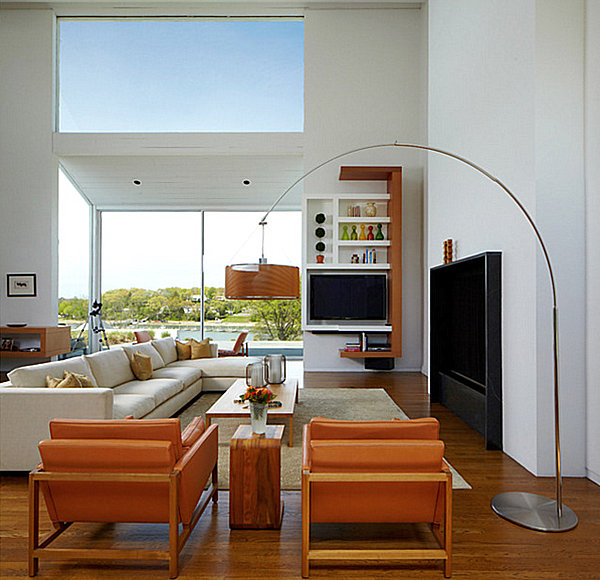 Don't think that warm golden tones are the only ones that benefit from a little floor lamp flair! This curved lamp with a round drum shade is spectacular in black–the perfect complement to a black and gray space with a touch of red. [from Kitchen and Residential Design]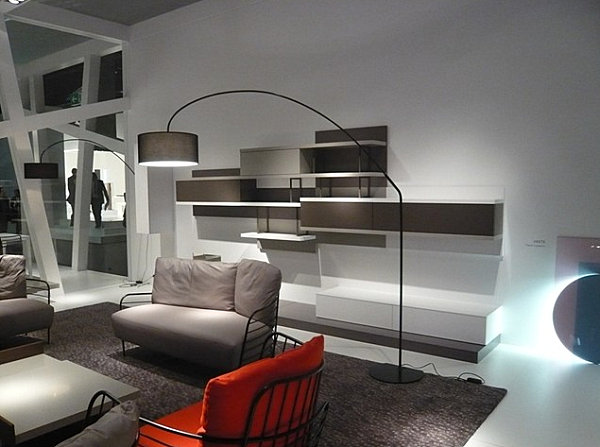 Or you can go with white! In fact, this white floor lamp brightens up the space it inhabits, especially since gray and wooden accents dominate the room. The lamp brings out the color of the walls, reminding us that it's OK to be crisp in a space filled with rich tones. [photo by Heather Merenda for Houzz]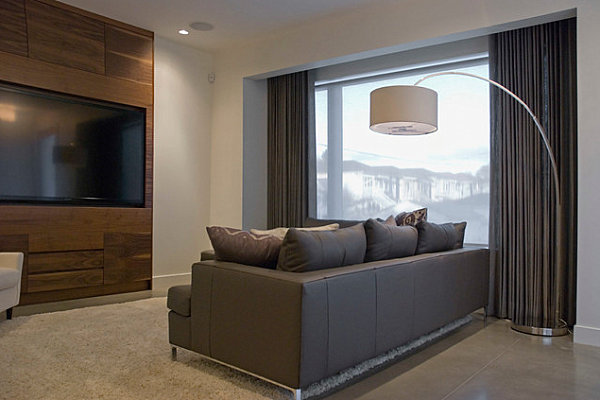 There's something unusual about the floor lamp below, which features a candy cane curve and a bulb that gets noticed. In fact, the piece has an architectural quality that takes its lead from the other unique artifacts in the room, such as the spherical collectible that rests on the desk below. [from Coddington Design]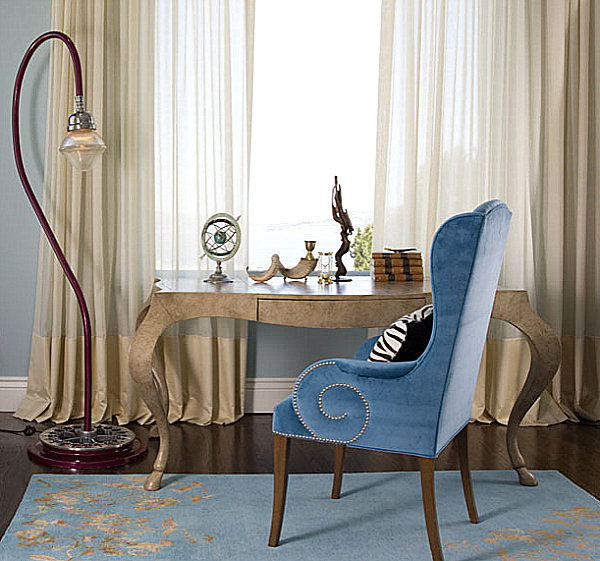 A similar curve can be seen in the Roman Ring Floor Lamp by Alison Berger, available at Holly Hunt. Once again, we see a room of neutral tones and the power of a glass and metal lamp to take the cake, especially when the product design is this creative… [photo by Matthew Millman Photography for Moroso Construction]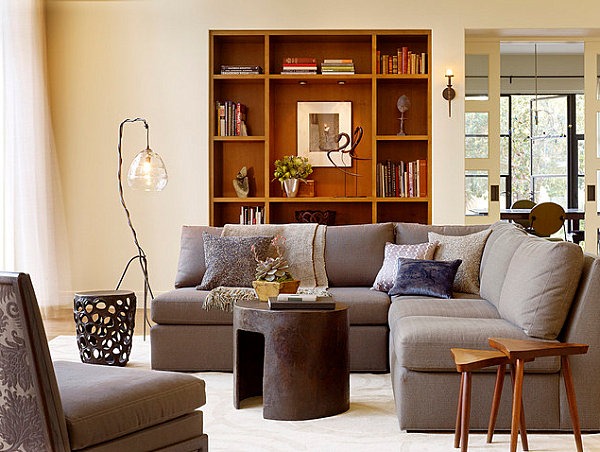 Colorful Floor Lamps
We end with a set of colorful floor lamps that truly impress! Who could have seen the light blue floor lamp coming in this first featured space? And that's what makes its presence so unforgettable. In fact, this room from Design-OD also delights with a plush royal blue sofa and other artistic touches. But that lamp… Is there anything more divine?!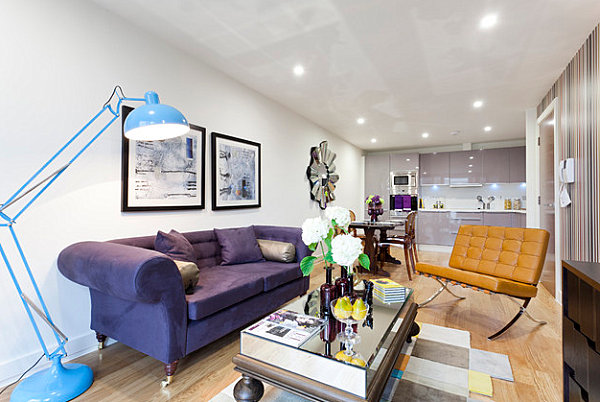 This John Peacock Floor Lamp from CB2 is subtle… Except that it has a rectangular steel base coated in a hi-gloss peacock finish! And let's not forget that white cotton box shade. In fact, combining this lamp with red-orange accents like the fiery sofa below is a great way to enjoy one of the leading trends of the upcoming fall season: the combination of red and blue.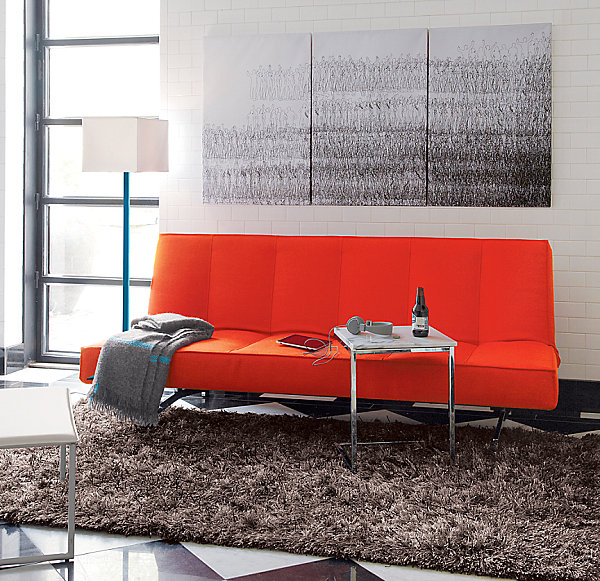 Speaking of fiery hues, the Atomic Lobster Arc Floor Lamp from CB2 is stunning with its chrome base and lobster disc (which features a white interior). Use it to add a brilliant pop of color to your space, as shown in the mustard gold room below. Note the way it complements tones like Kelly green, sapphire blue, olive and teal: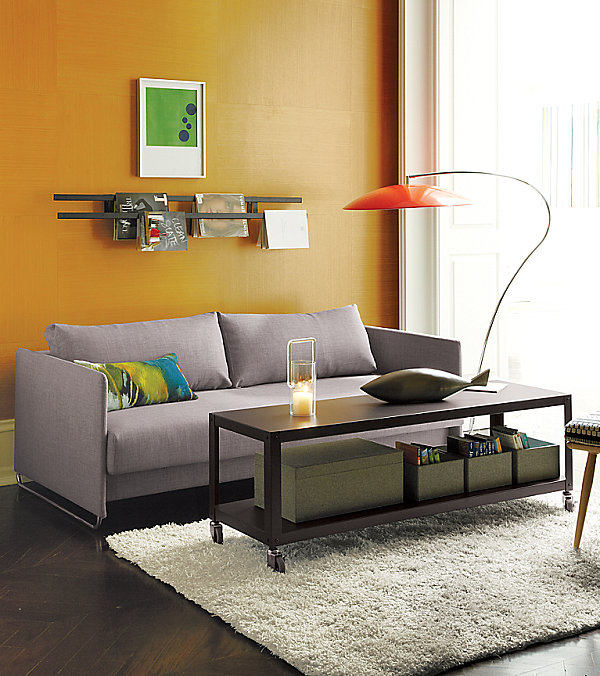 Red can also be a great way to tie everything together in a room that features a LOT of the color. Like the wallpapered space below from from Liz Levin Interiors. What better way to illuminate the room than with a red-based lamp that boasts a white shade?!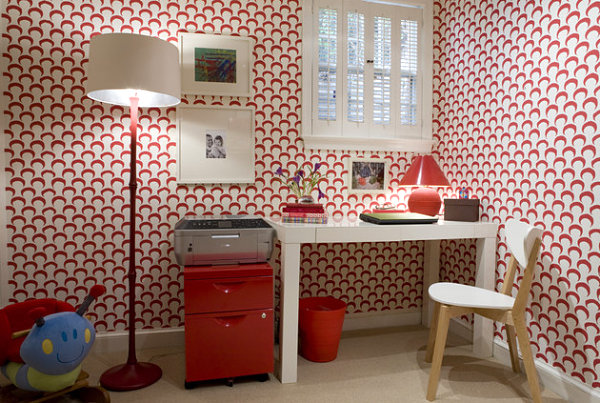 Finally, we see a red zigzag lamp in a room featuring a range of hues, from gray and teal blue to yellow and mint green. But it's the red that truly stands out, and the unique shape of this lighting piece is the true star of the room, don't you think?!… [from Beccy Smart Photography]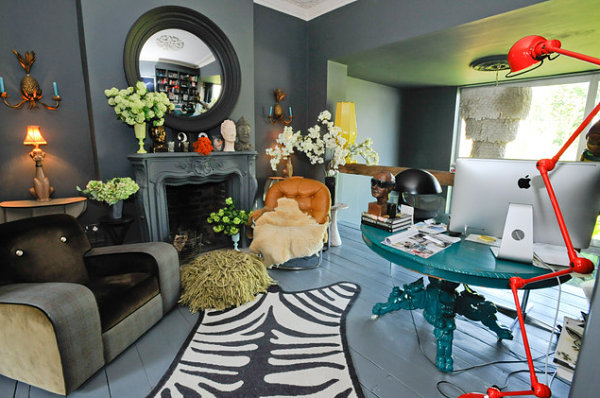 Tell us about your favorite floor lamps above. Is there an item that caught your eye? Do you own one of these pieces? Share your thoughts about your lighting style and how it complements your space. Leave a comment below…