The charm of gray is something that simply refuses to go away, and the world of interior design has fully tapped into the potential of this hot neutral in the last few years. Gray is the 'go to' color for designers and homeowners across the globe these days, and it has definitely replaced the white and beige trend of the 90s and early 2000s. What was initially dubbed a passing fad has now turned into a lasting 'style statement', and if you have not already dipped into the magic of gray, then 2015 is definitely the time to get started. And today we are shining the spotlight on gray in the dining room.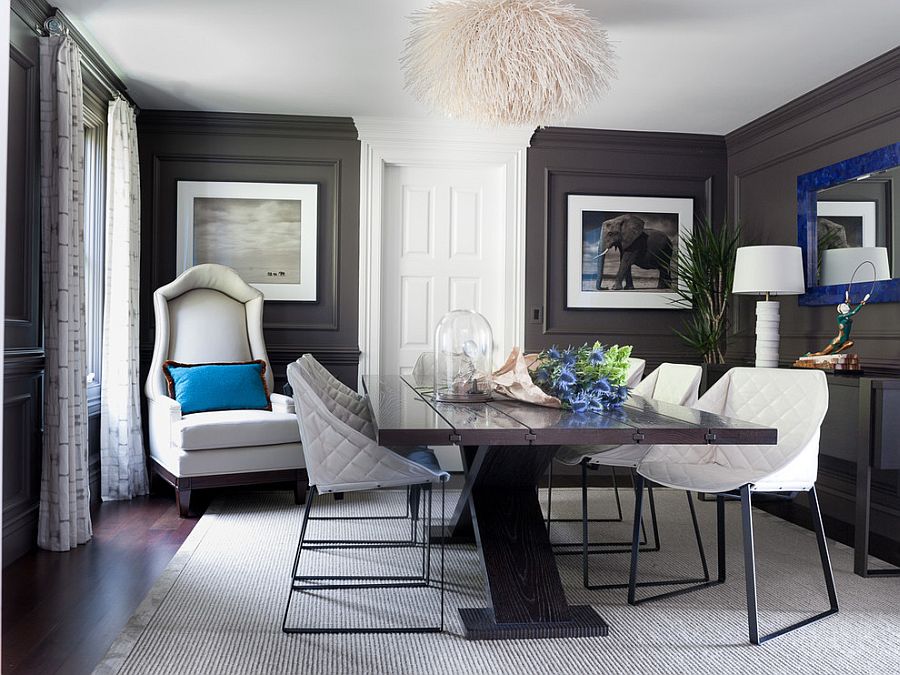 Gray and the dining room might seem like an unusual combination at first, but as you will see below, there are plenty of ways that the color can be used to create a gorgeous dining space that varies from the formal to the playful in style.
Stylish Shades of Gray
The many versatile shades of gray ensure that you can easily use it as both a soothing, neutral backdrop and a stylish, dark hue that highlights the architectural features of your choice in the dining room. Many homeowners prefer a tone-on-tone approach to gray, as it is easy to work with, gives the room visual intrigue and breaks away from monotony. Picking a shade of gray for your dining room depends on a variety of factors, including the size of the space, the available natural light, and even the climate of the city you live in. That's right, if you happen to reside in a wet, dreary corner of London where heavy rains and cloudy days are all too common, we suggest you stay away from dark gray walls!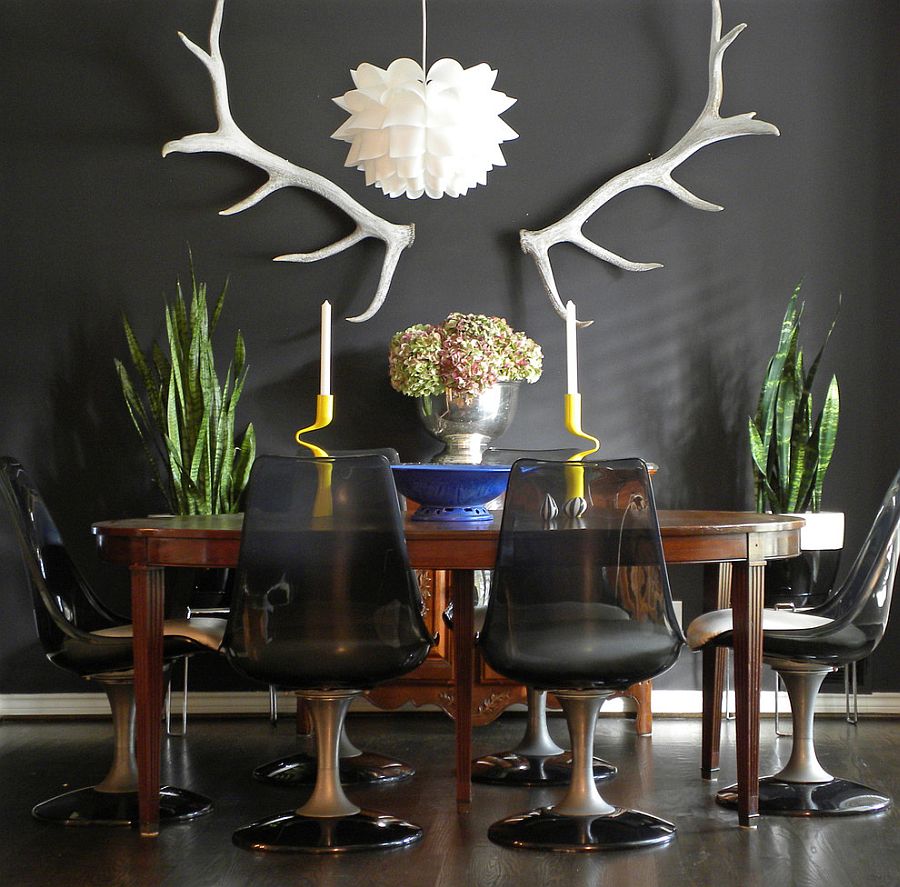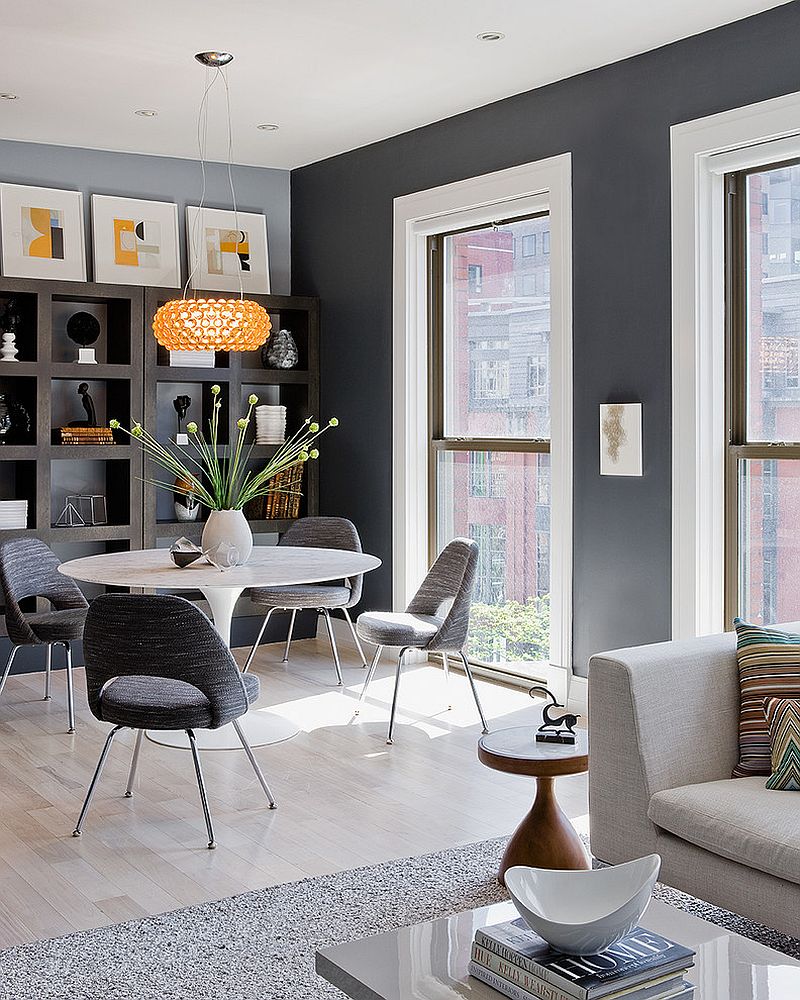 Walls in lighter gray give the room a less serious and more cheerful look, and such rooms seem far more inviting on cold, dark winter nights. Those living in the tropics and blessed with ample sunlight all year long can use the darker shades of gray with far more freedom, as natural light and wonderful ventilation balance the setting perfectly.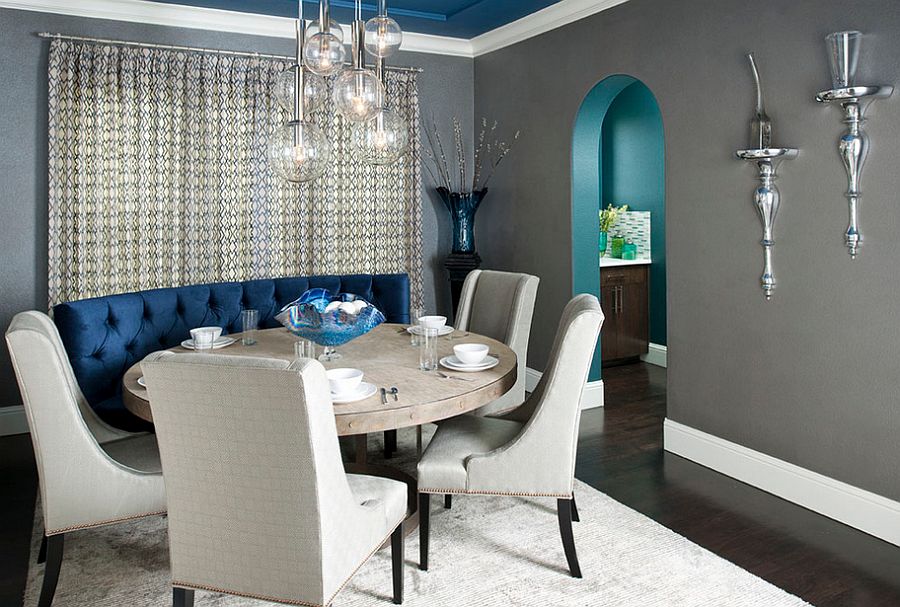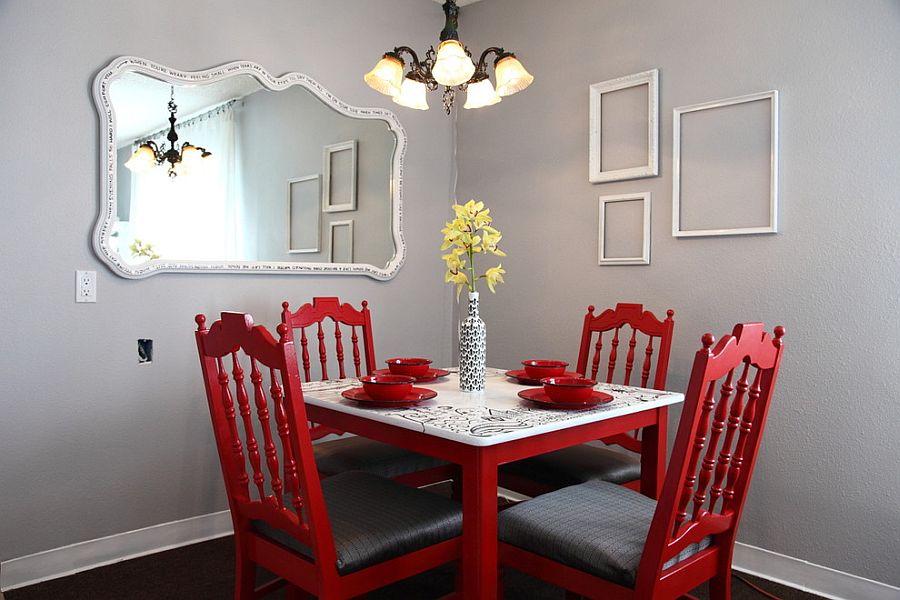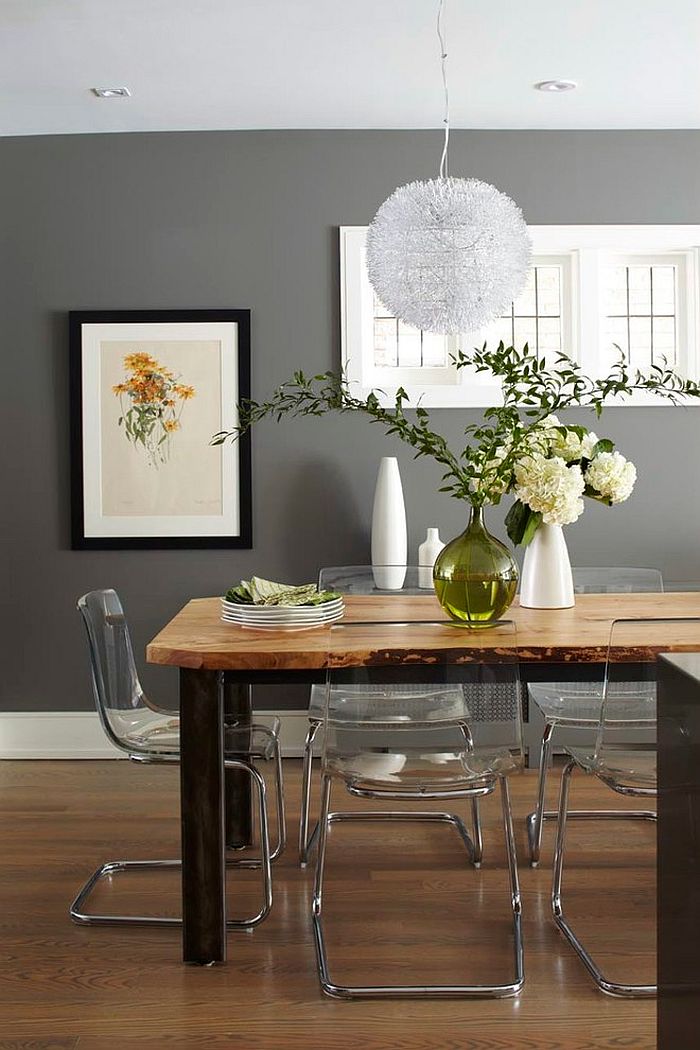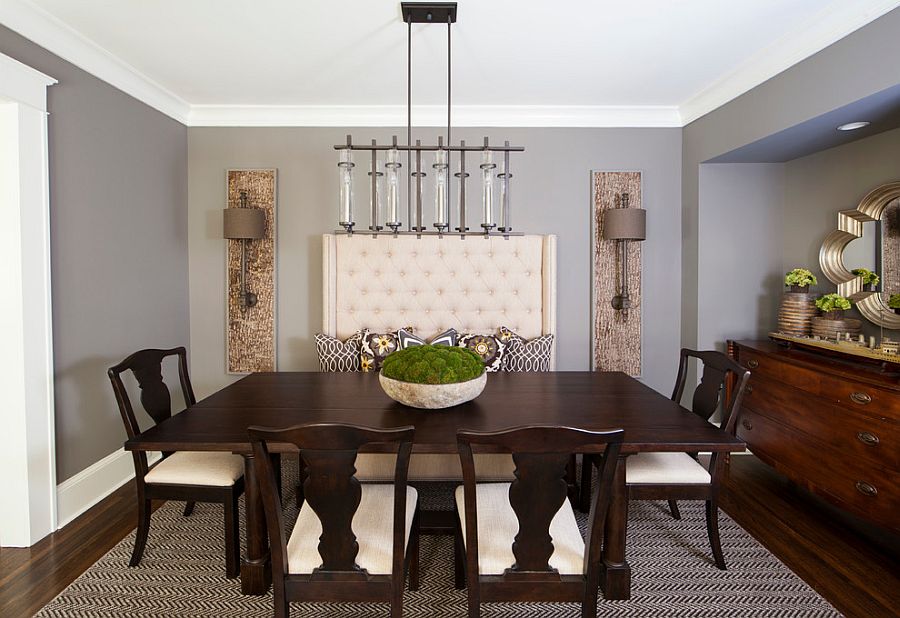 Texture and Pattern
Adding gray to the dining room does not naturally equate to a paint bucket, as some people tend to believe. Think of other equally impressive ways of adding gray to the room. If we were talking about red or yellow dining room ideas, this would be the point where we would talk about chairs, accents and vases. But with gray, this seems far less appealing. Instead use elegant gray wallpaper and grasscloth wallcovering to bring both color and texture to the room in a distinctive way. Stripes in gray are another popular choice, and by creating a lovely neutral backdrop you can let your favorite accent additions in bright colors shine through.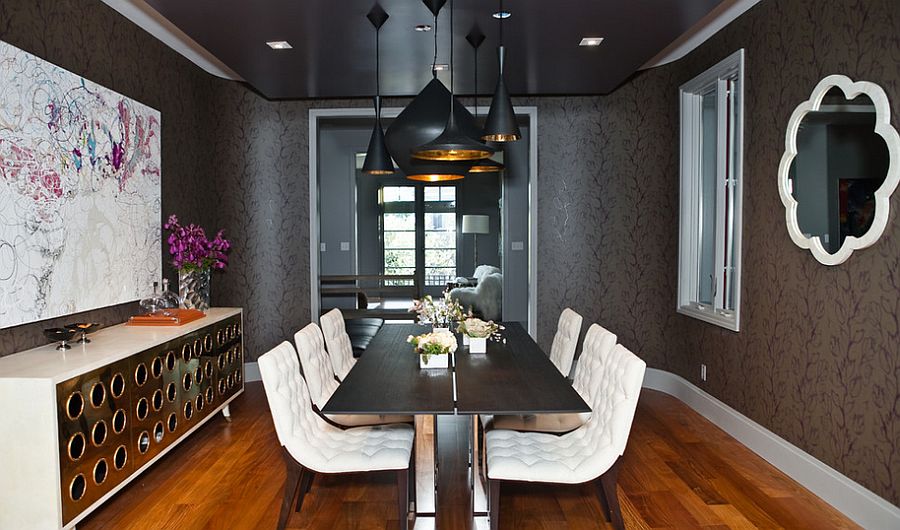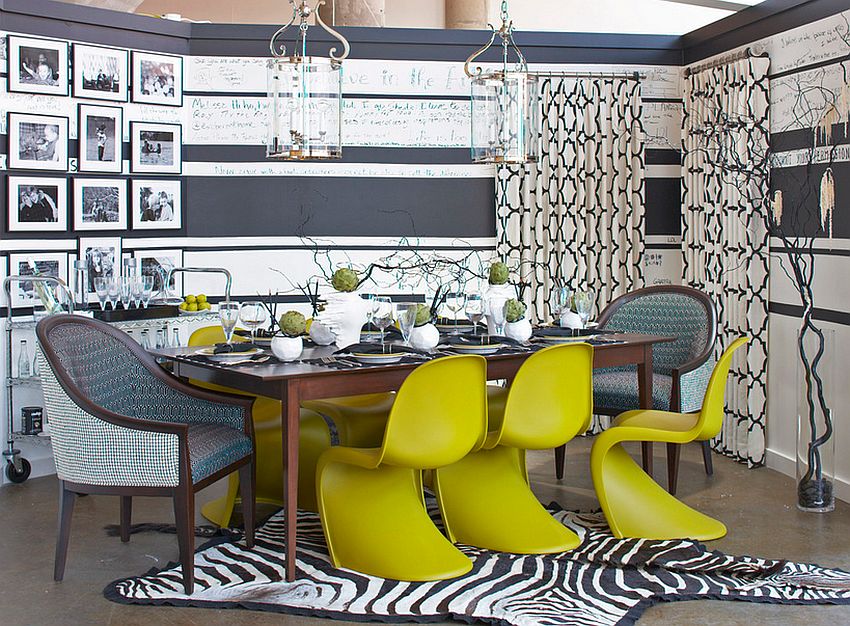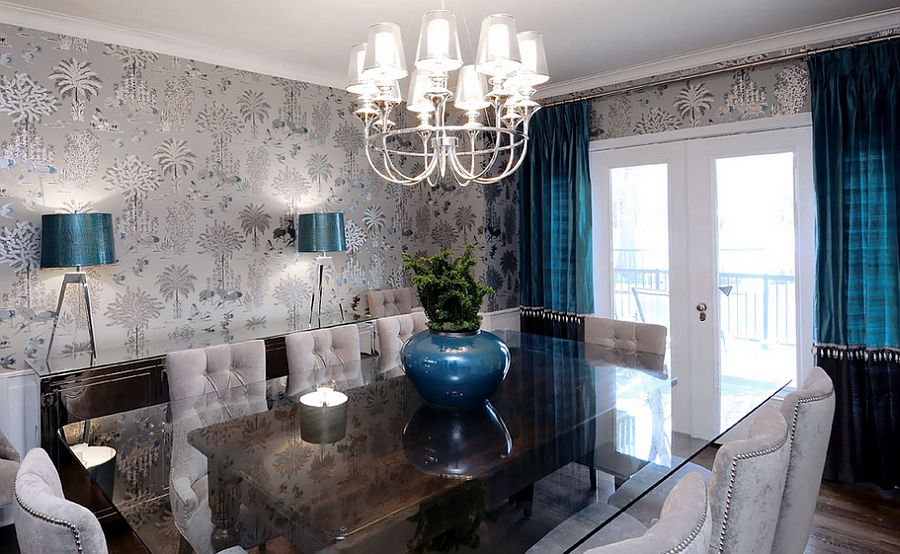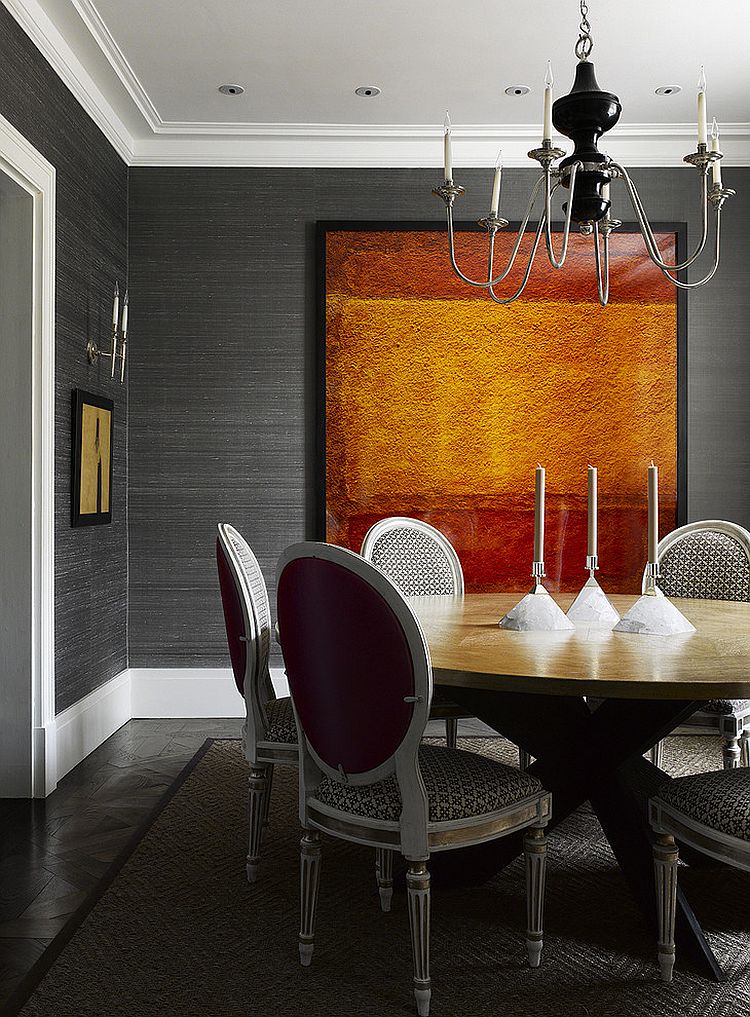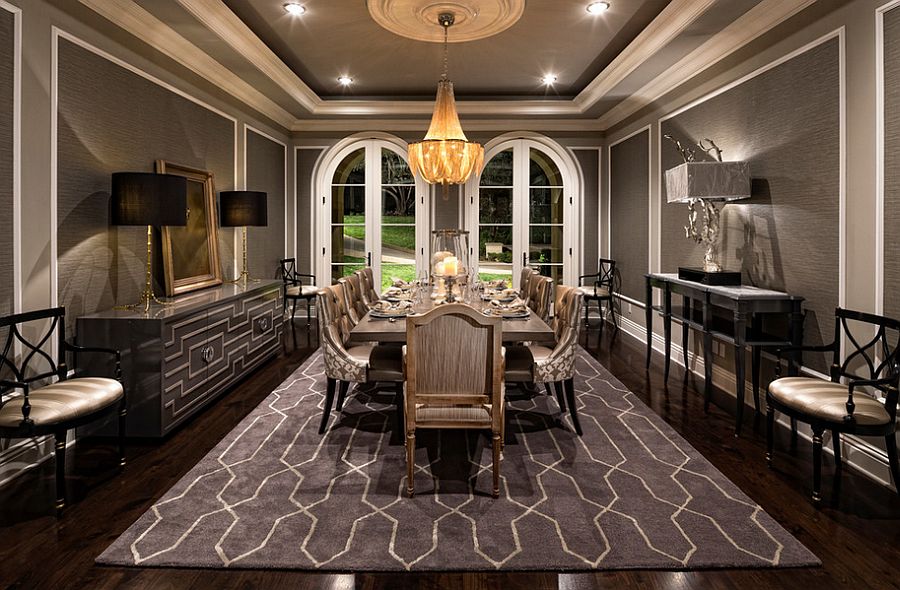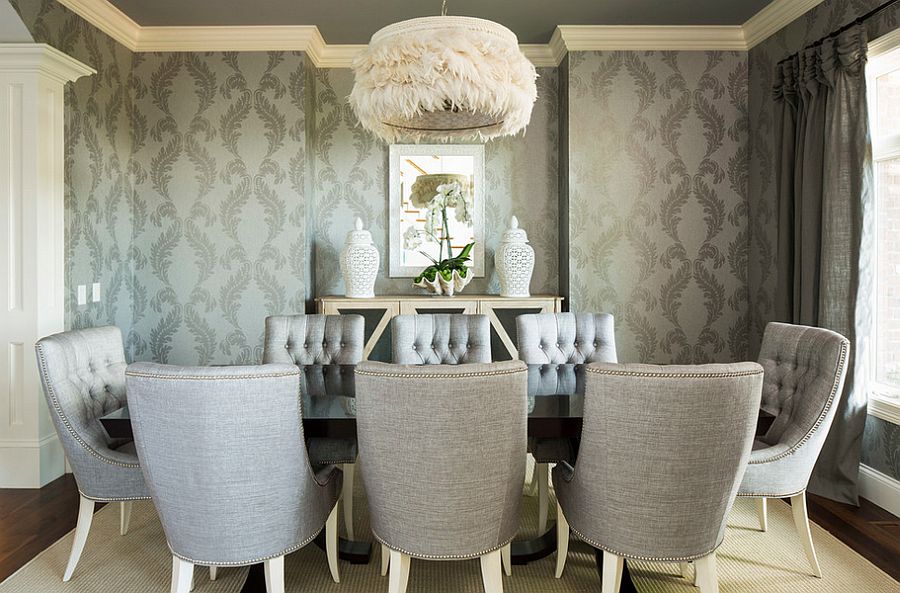 Throw in Some White
Much like plain white or beige walls, a backdrop that is completely draped in gray can be difficult to pull off and will soon seem boring. While you might be looking at gray as an alternative to white, do not completely discard the latter. Instead, use white to cleverly delineate spaces and give better definition to the gray dining room. White trims are incredibly popular in gray dining spaces, as they bring along with them a sense of refinement and elegance. Use white judiciously and in a limited manner to enhance the appeal of gray in the room.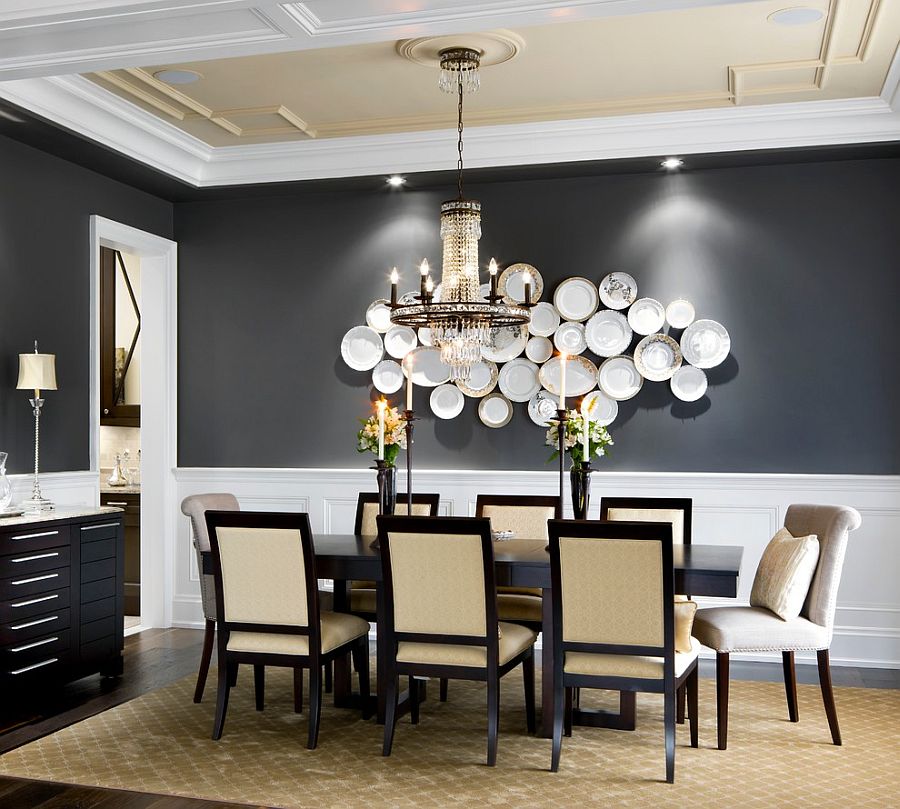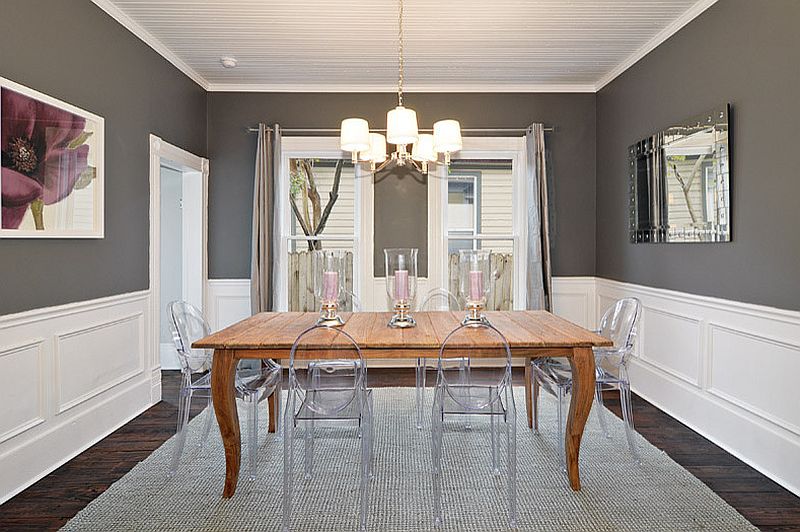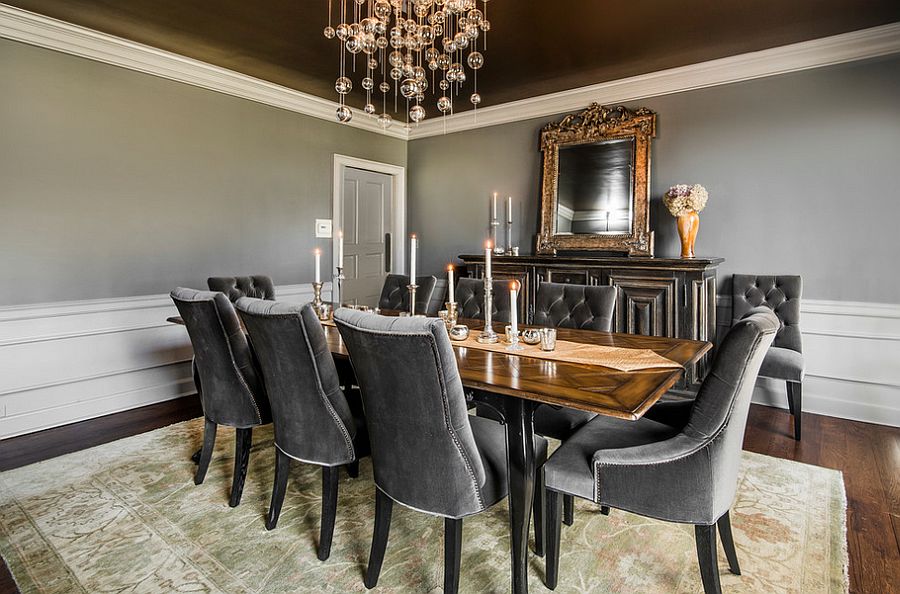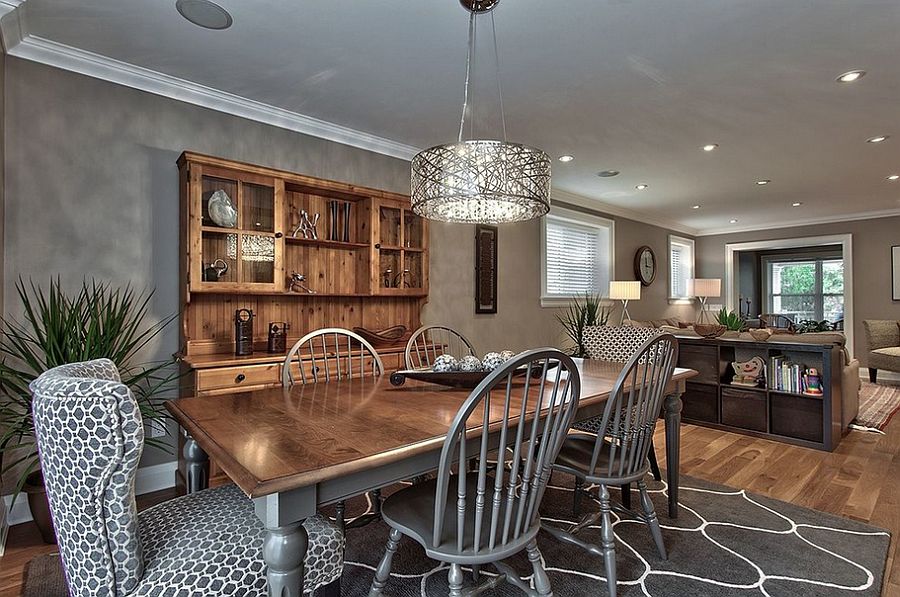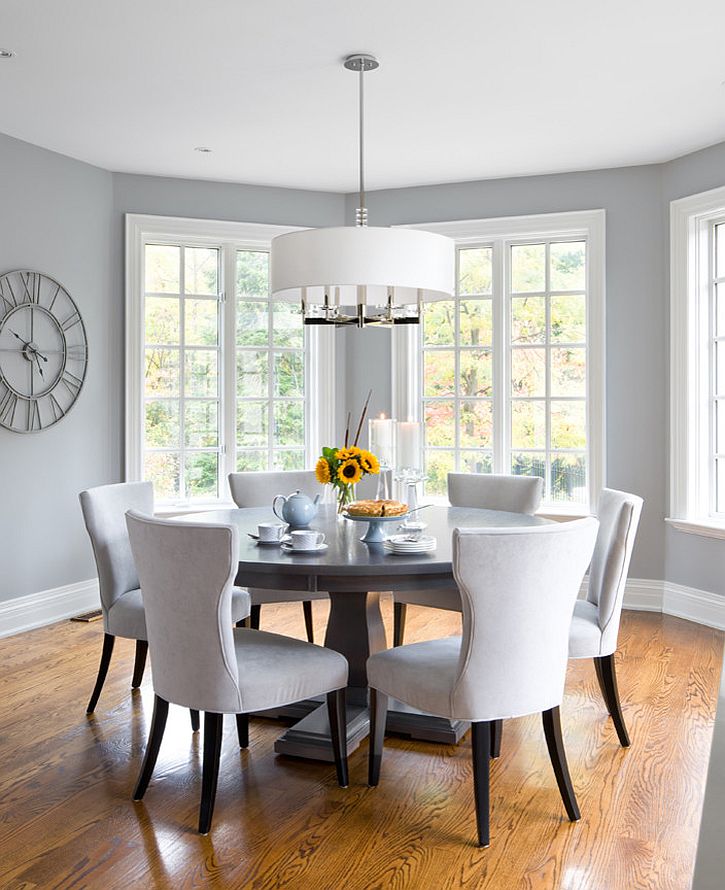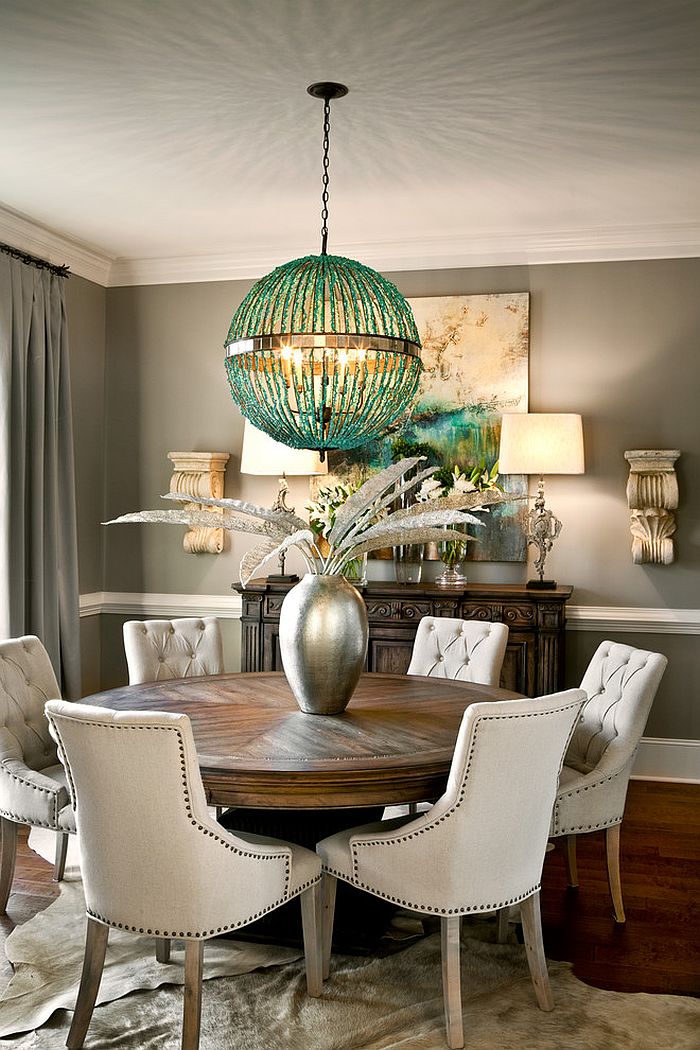 Lighting and Beyond
We already talked about the importance of natural lighting when it comes to gray dining rooms, but artificial lighting fixtures are equally vital. Since the gray background in the dining room offers a lovely canvas, think of your lighting choices as standalone decor additions that will make a big impact even when they are not switched on. Combine lovely pendant lighting or chandeliers even with ambient lighting to ensure that there are no dark corners. Throw in a rug in gray or even some velvety drapes to complete a look of opulence.