Let there be light in the dark of winter! Today's post is dedicated to pendant lighting trends. As you'll see, it's interesting how these trends reflect larger design trends in the realm of interiors. Like jewelry for your home, pendant lights give the rooms they adorn the perfect finishing touch. Not to mention, they provide much-needed illumination. From retro-style pendant lamps to compact pieces that pack a lot of style into their petite forms, check out the standout trends and selections below…
The Retro Effect
We couldn't write a pendant lighting post that didn't begin with the pendant light king himself–Tom Dixon! Read more about this design icon here, and check out some of his stunning creations below. Note the collection of Mirror Ball Gold Pendants in the upper left corner of the photo, complete with sleek, two-tone spherical style:
There's something both retro and modern about Mirror Ball Gold, which is no surprise, considering this lighting was originally inspired by disco balls and space helmets. To apply shine to this piece, a thin layer of metal is vaporized onto the inside surface of the globe.
Mirror Ball is available in several different sizes. Purchase one, or hang them in a group. Below we see the pendants with a silver finish. Dixon's lighting is the perfect example of today's retro pendant light trend. Designers have embraced the challenge of putting a new spin on designs from decades past.
Spherical pendant lamps can't help but evoke a sleek retro look. The Soneca Frosted Pendant Light from CB2 was designed by Robert and Cortney Novogratz. Its form was inspired by a pair of antique lamps the couple bought on their first trip to Brazil. A stainless steel fixture meets a frosted acrylic globe in an unforgettable combination of materials:
The Boja Pendant Lamp from IKEA has a '70s-meets-'80s vibe. Can't you see this hanging in the kitchen of The Golden Girls? Rattan is the material of choice here, and the addition of a steel ceiling cup creates a modern update. [image on the right from One Sunday Morning]
Compact Selections
One of today's most popular pendant light trends is compact lighting. The design realm is currently obsessed with small but strong lighting statements. Plus, if you're looking for something a bit more grand, you can buy multiples and hang them in groups! Below we see Prism Pendants from West Elm, which showcase geo forms in metal and glass.
Here's another look. Note how the pendant is a larger version of the terrariums on the dresser next to the bed. Learn more about these faceted terrariums here.
Once again we see retro flair, this time in compact form with the Krannel/Gille Glass Pendant. Industrial style comes to life, thanks to metal, ceramic and a glass shade in a milk finish:
There's power in numbers when it comes to compact lighting! Below we see an array of selections from Room & Board featuring glassy forms, some with metallic details:
It was only a matter of time before crystal entered the realm of pendant lighting. And the Crystal Pendant below puts a faceted spin on a material that is often seen as outdated or traditional. Which is exactly what makes this piece from West Elm so alluring!
For awhile now, we at Decoist have been quite taken with the lighting of onefortythree. The Shaded Pendant Lamps below are a beautiful marriage of metal shades and cloth twisted cords. A variety of color variations are available, as is a plug-in option:
The Brass Dome Large Pendant from Dwell Studio is more compact that large, yet it definitely makes a big statement. Plus, its classic form and chic shine make it versatile–it's the perfect way to dress up the space of your choice, even a child's room! A copper-plated interior adds a touch of unexpected contrast.
Here's one more listing from onefortythree… Say hello to the minimal yet eye-catching Color Pendant Lamps, featuring powder-coated sockets in a variety of color possibilities. It's tempting to order a group of these beautifully designed pendants, but something tells us one could stand on its own just fine!
The Latest in Pendant Lighting
We end with a few selections that showcase emerging trends in the world of pendant lighting. One such trend: displaying a collection of sculptural pendants. Designers like Tom Dixon make this easy for us by creating collections such as the Beat collection, shown below.
Another trend that's growing strong and developing in interesting directions is the use of mixed materials. These Cloak Pendant Lamps from Room & Board feature porcelain shades with aged brass and walnut detailing. Add a braided cord, and you have design perfection:
What's new in the realm of pendant lighting materials? Apparently plants! The Frida Pendant Light and Diego Pendant Light from CB2 bring a beachy vibe home, thanks to the use of dyed and braided tropical palm. In fact, these pieces are made by skilled artisans living in Southern Mexico.
Here's another shot of the palm pendant lights, which helps give a sense of size, scale and color. Note how well the pieces work in a modern interior:
We'll end by shining the spotlight on the Candlestick Pendant Light from CB2, which reminds us that sculptural design is continuing to evolve in the realm of pendant lighting. So is the use of intricate bulbs to add a dash of unexpected style!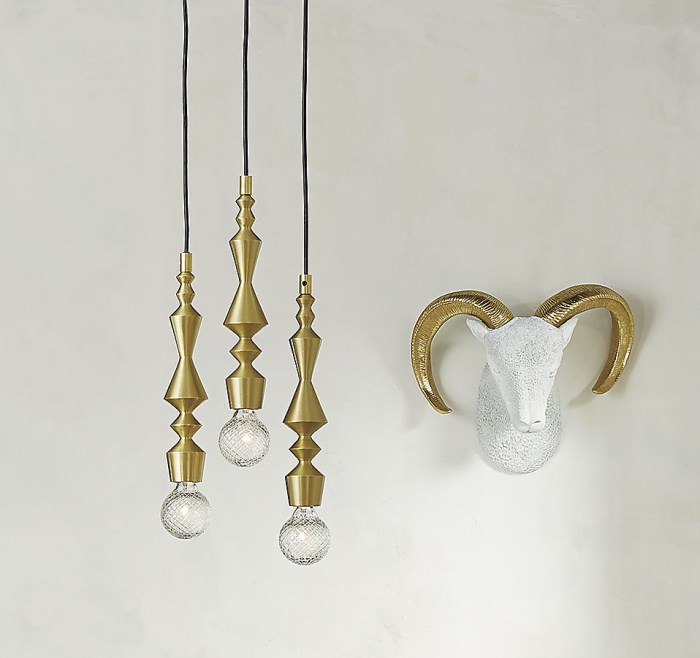 Now that you've seen some of today's top pendant lighting trends, are you ready to add some illumination to your interior? Which selections above caught your eye? Share your thoughts by leaving a comment below…