Fun, attention-seeking, energetic and at times immensely hard to work with, orange is a color that stimulates activity and is full of life. That makes it one of the best colors for the home office, especially if you need some help from the room to kicks-start your day at work! While decorating with this bright and bold color can be risky, get it right, and it will turn the home office into a stylish, cheerful space full of personality. And its many shades ensure that it can both double as a brilliant accent hue and also a cool, engaging backdrop in the room.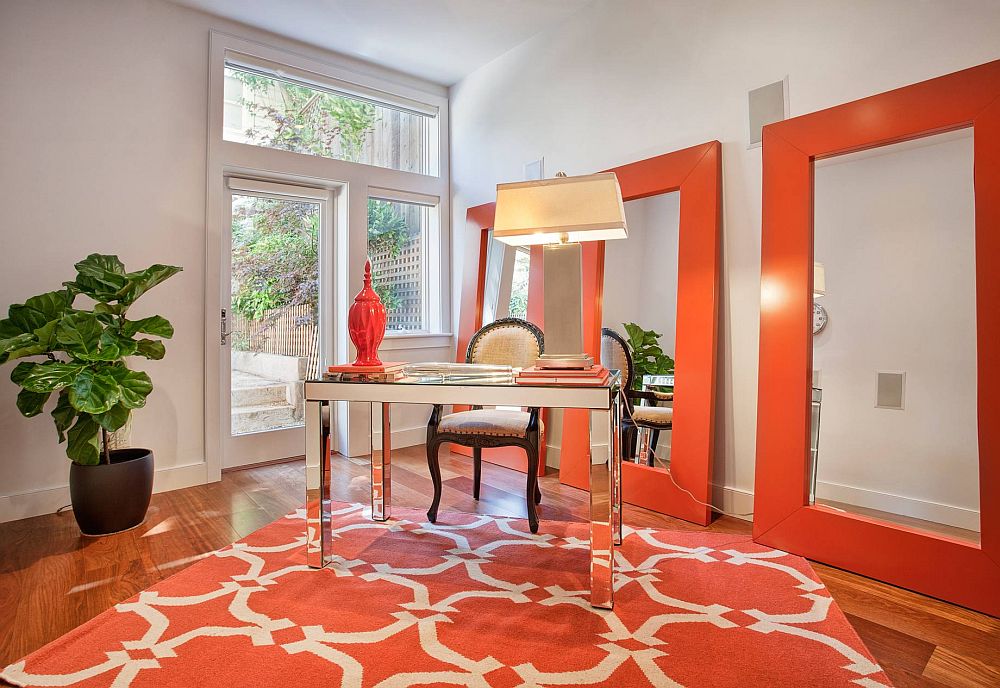 Orange in the home office has become one of the hottest decorating trends in recent times, and it shows no sign of fading away. There are plenty of ways that you can add a dash of orange to even your existing living room to hop on this funky bandwagon! The 25 gorgeous home offices showcased here will show how to use orange in the home office with chic elegance and a touch of panache!
A Splash of Orange
If you are planning on using orange extensively and as the backdrop for your home office, it is advisable to pick a shade that is mellow and has a matte finish. Mellow orange shades give the room the warmth of yellow along with the energy of red while seemingly providing the perfect balance between the two. While some homeowners might be bold enough to incorporate reddish-orange with a glossy finish in a widespread manner, remember that spending a whole day working from such a home office could be a bit overwhelming and also unappealing in the long run.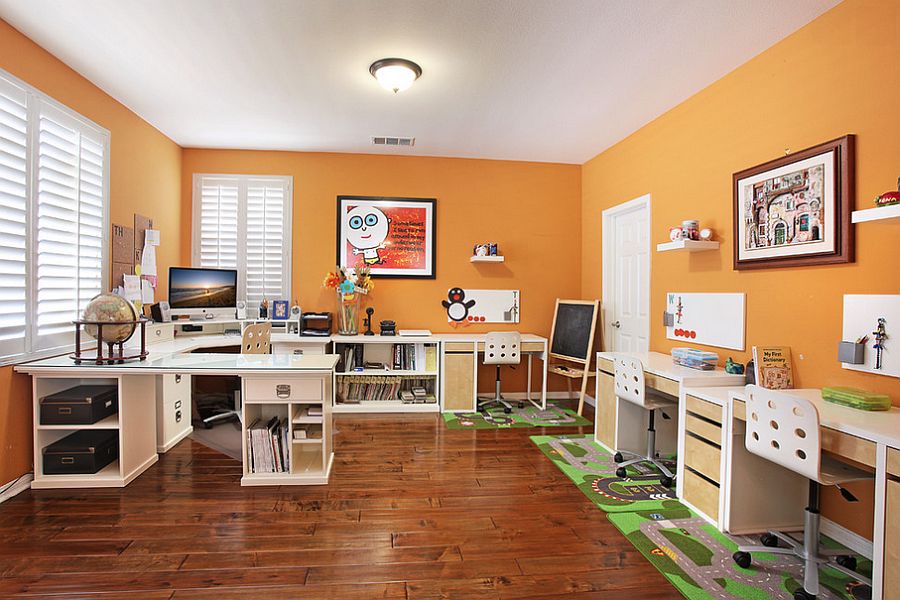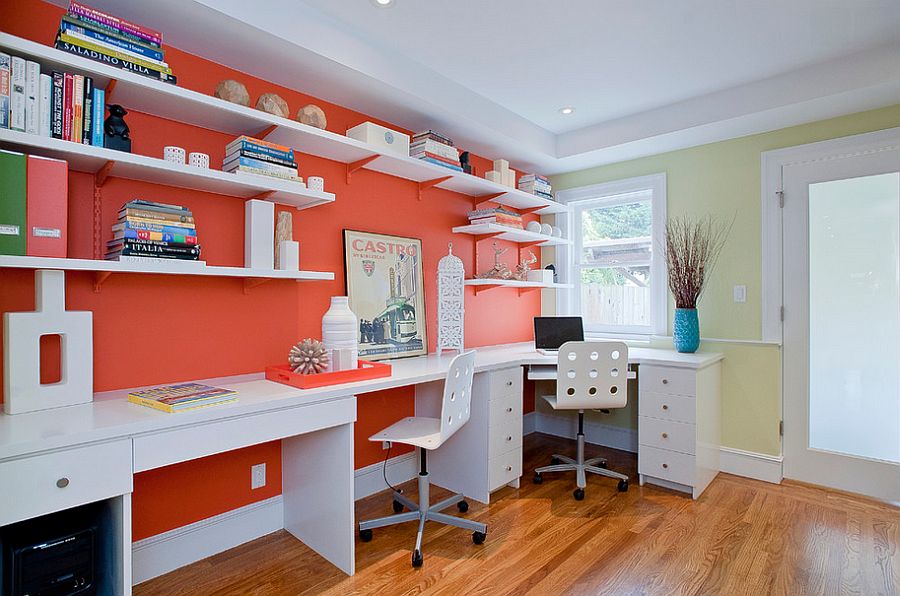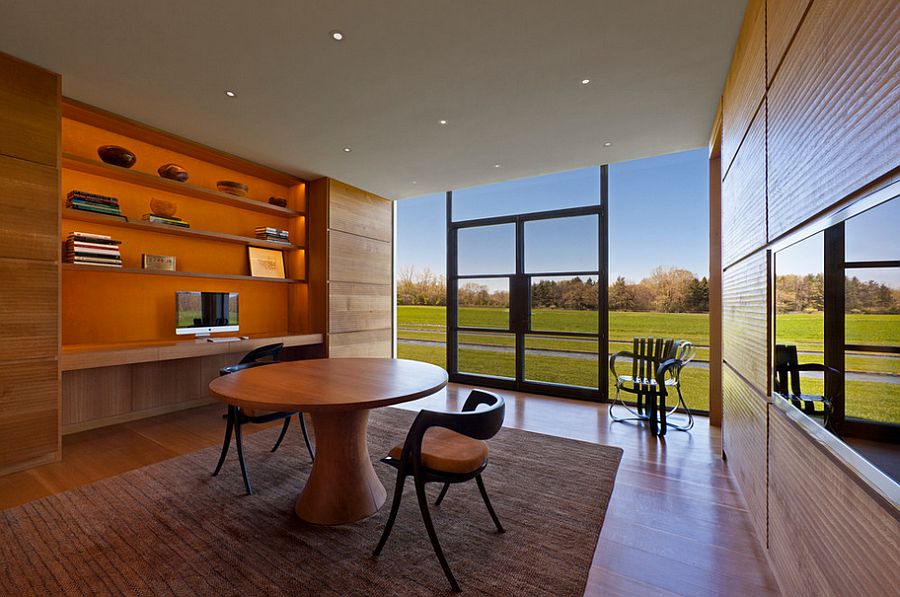 A burnt orange wall with texture is absolutely perfect for those looking to use rustic, traditional, industrial or even farmhouse styles. Walls are obviously the easiest way to usher in color in the room, but that does not mean you are limited to paint. Think of a lovely wallpaper that you enjoy or grasscloth wallcovering in orange, which add both pattern and texture to the trendy home office.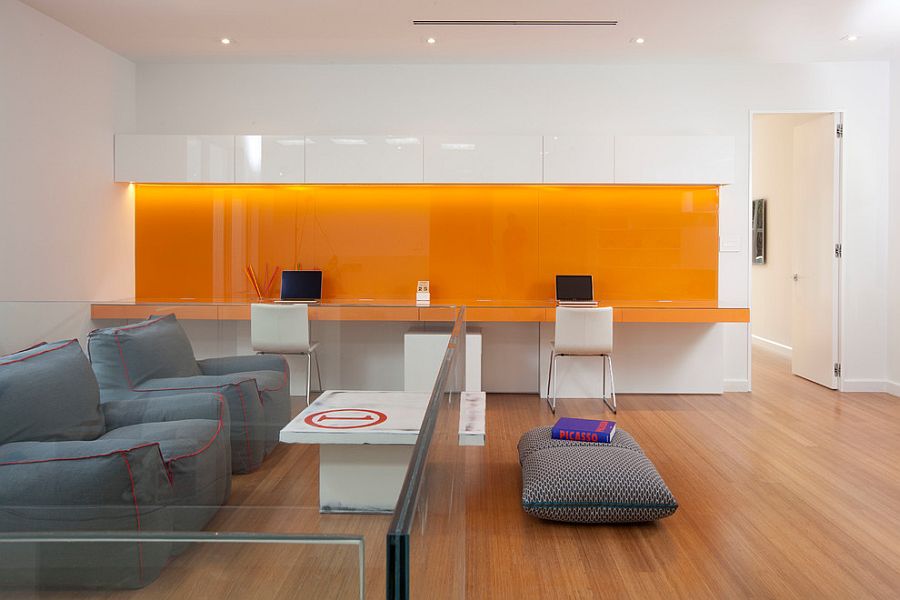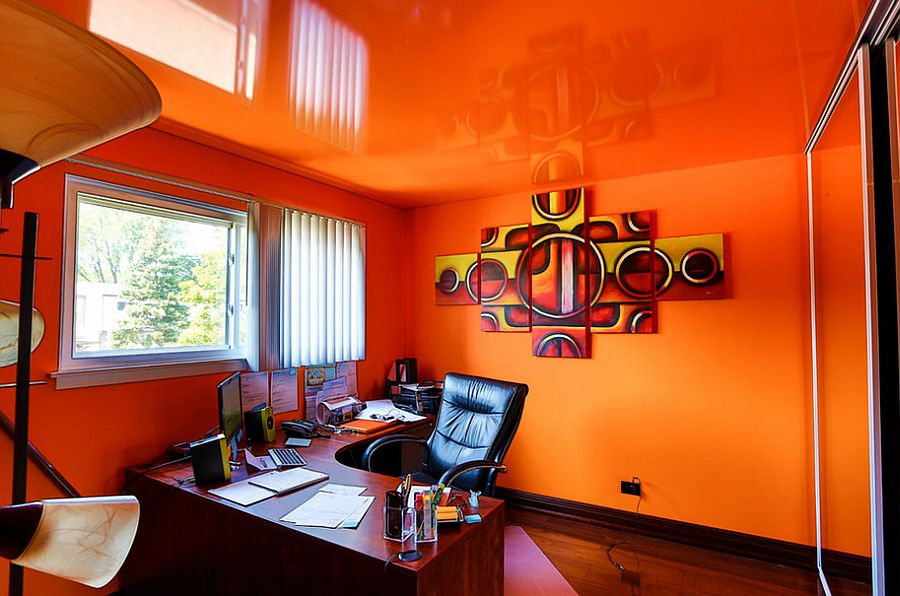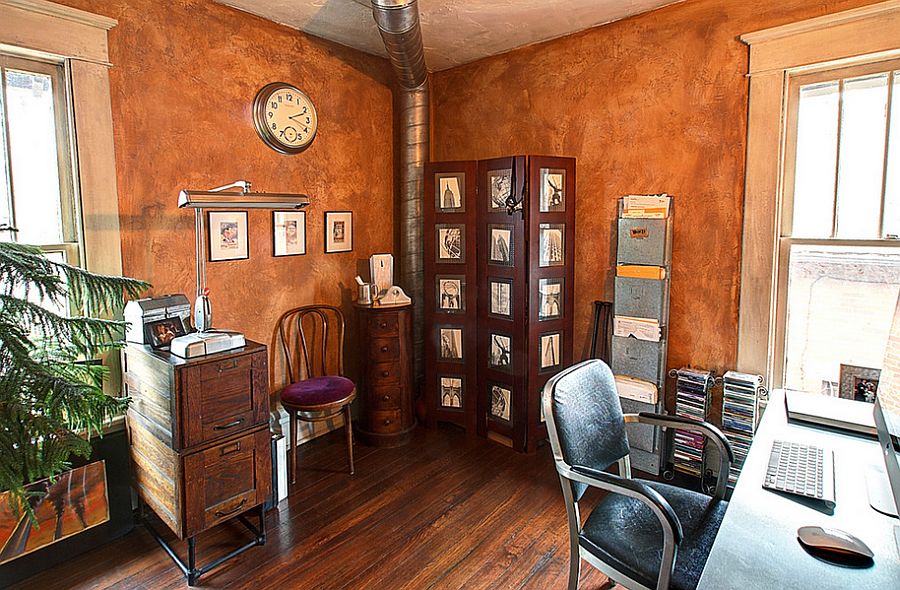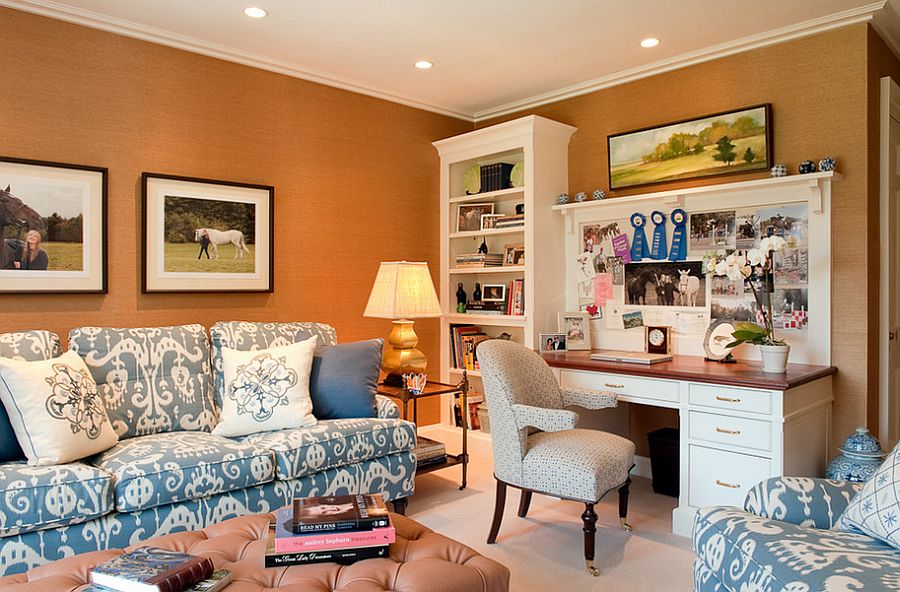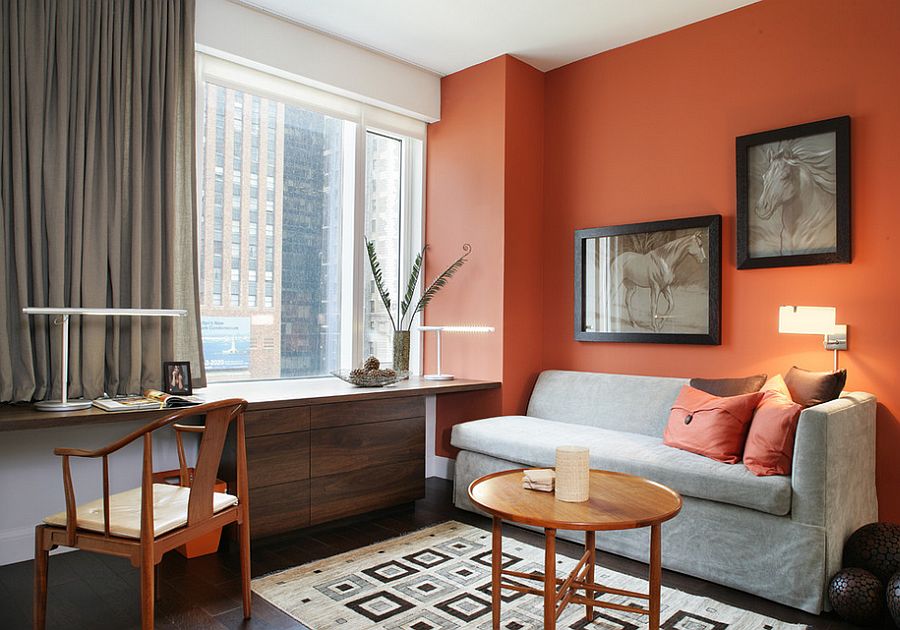 Think Beyond the Walls
Unlike in the case of the bedroom or the kitchen, a home office gives you plenty of opportunities to add color to the space without actually disturbing the cool, neutral backdrop. This is definitely the best approach for those who either have color commitment issues or prefer to switch between accent colors seasonally. Think of a snazzy orange desk that becomes the focal point in the room, or add a much needed file cabinet in brilliant orange to usher in a healthy dose of color. You will be surprised by how well orange works with neutral colors like gray and beige and also with other bolder hues like blue, turquoise, yellow and even black.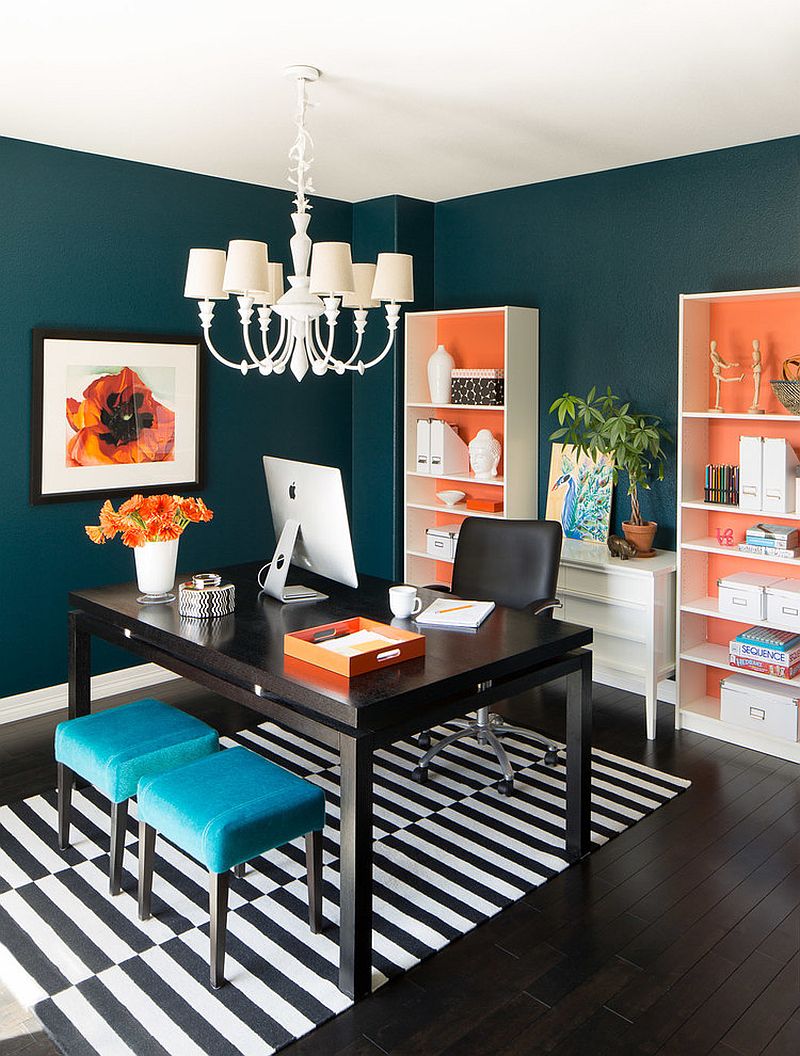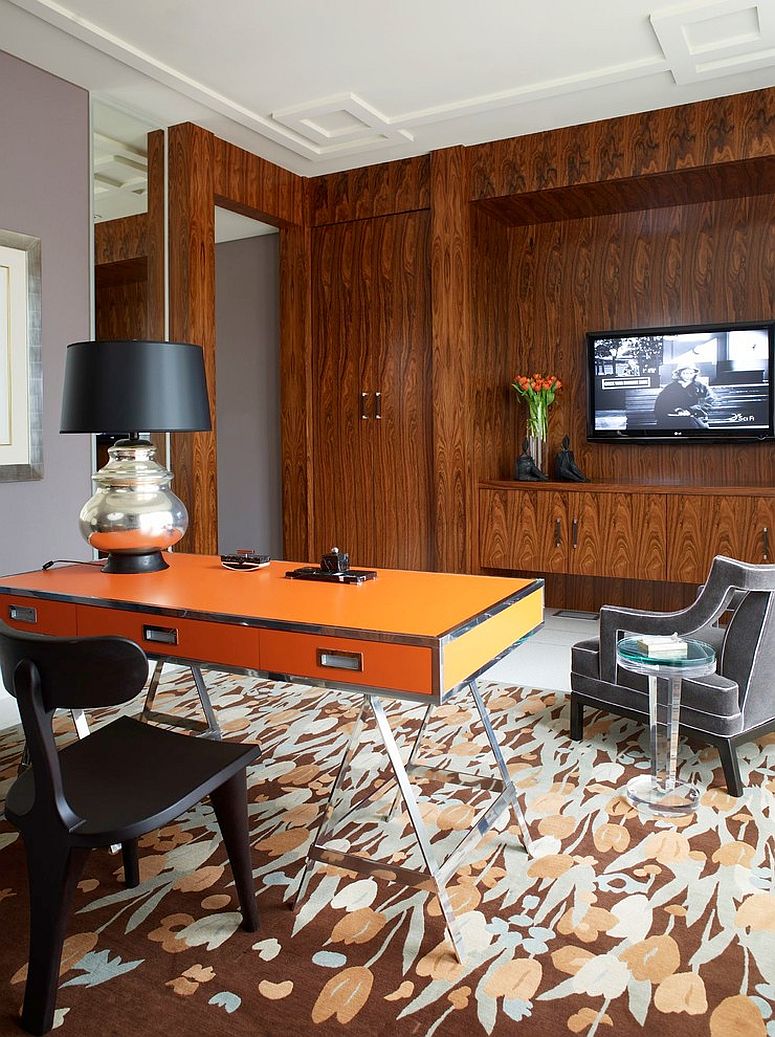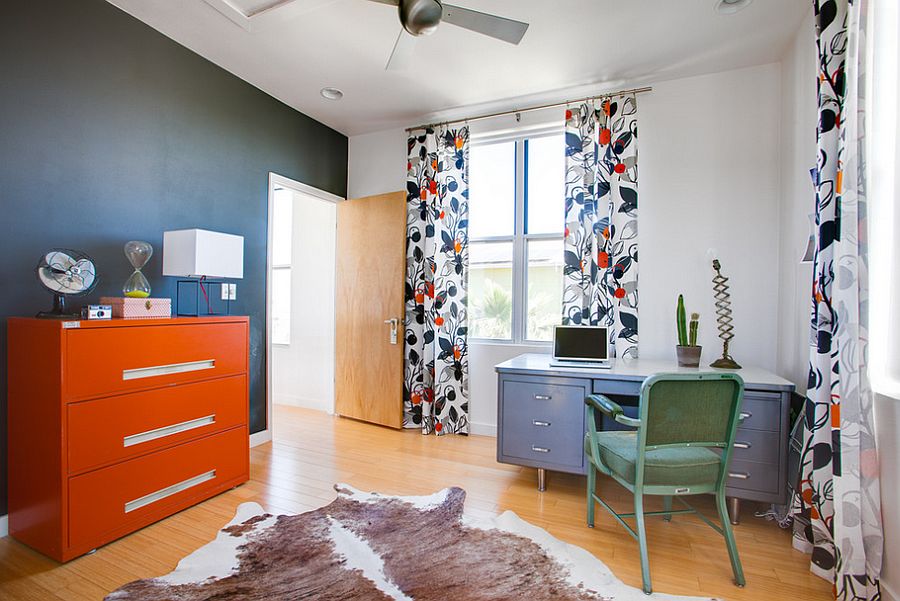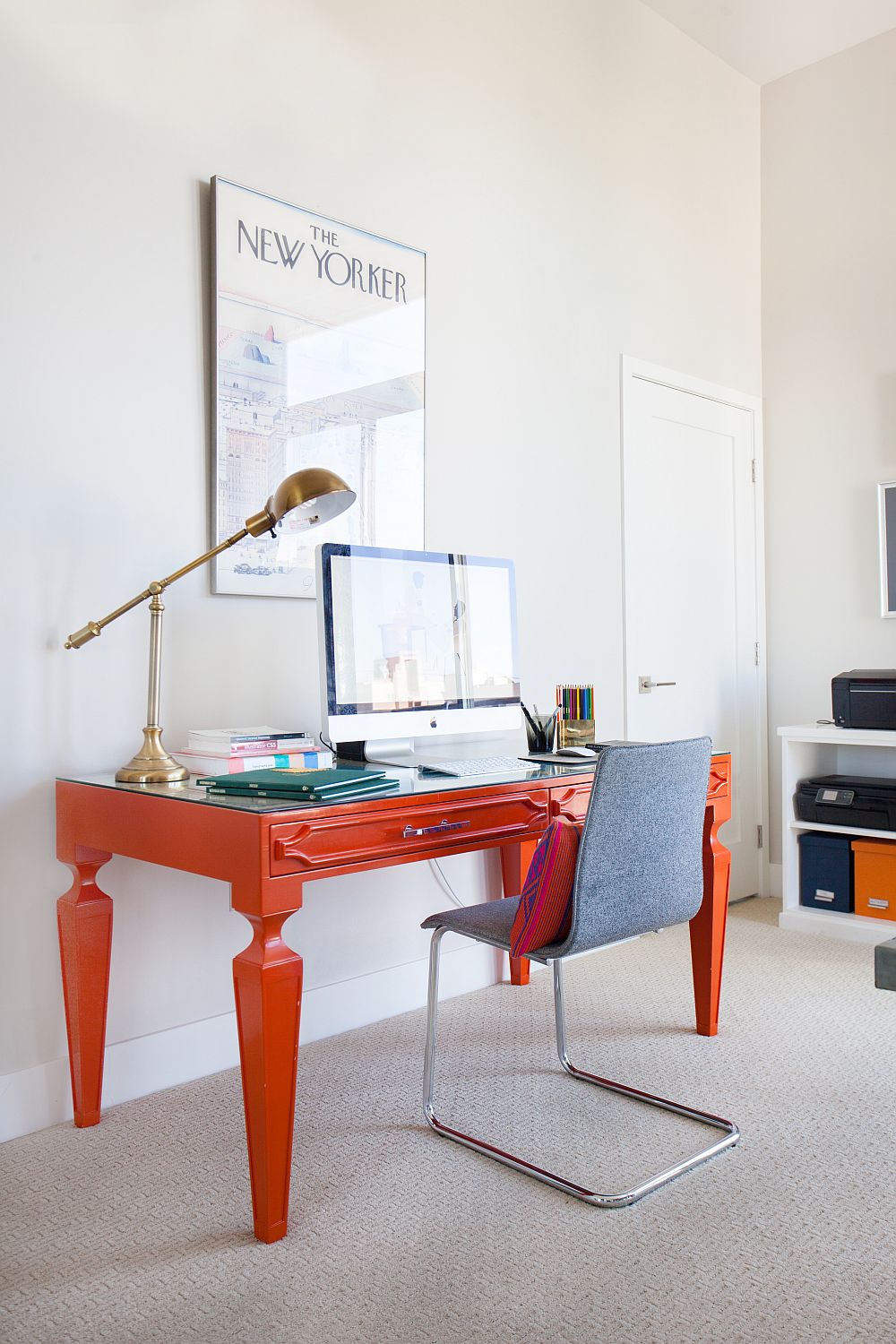 The home office is a space where several little elements can come together to add an orangey aura to the room without making it an overwhelming affair. A plush rug with an orange geometric pattern, drapes that complement this hue, a table lamp with orange and gray stripes, a couple of cool ottomans in Crayola and carefully placed accessories can all come together to alter the ambiance of the room without drenching it in the color. Keeping the backdrop as neutral as possible helps in really highlighting these additions and creating the best visual impact. It is all about finding the right orange furniture!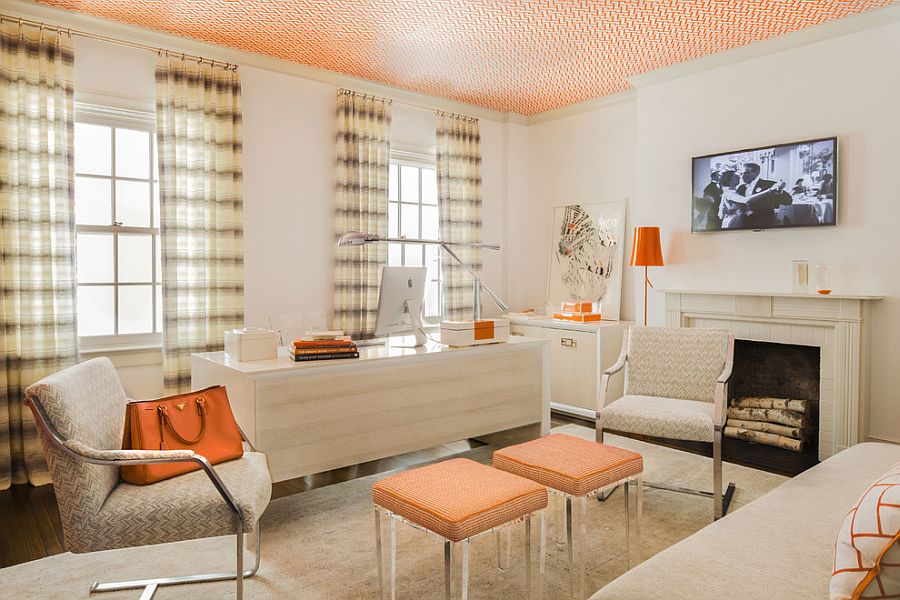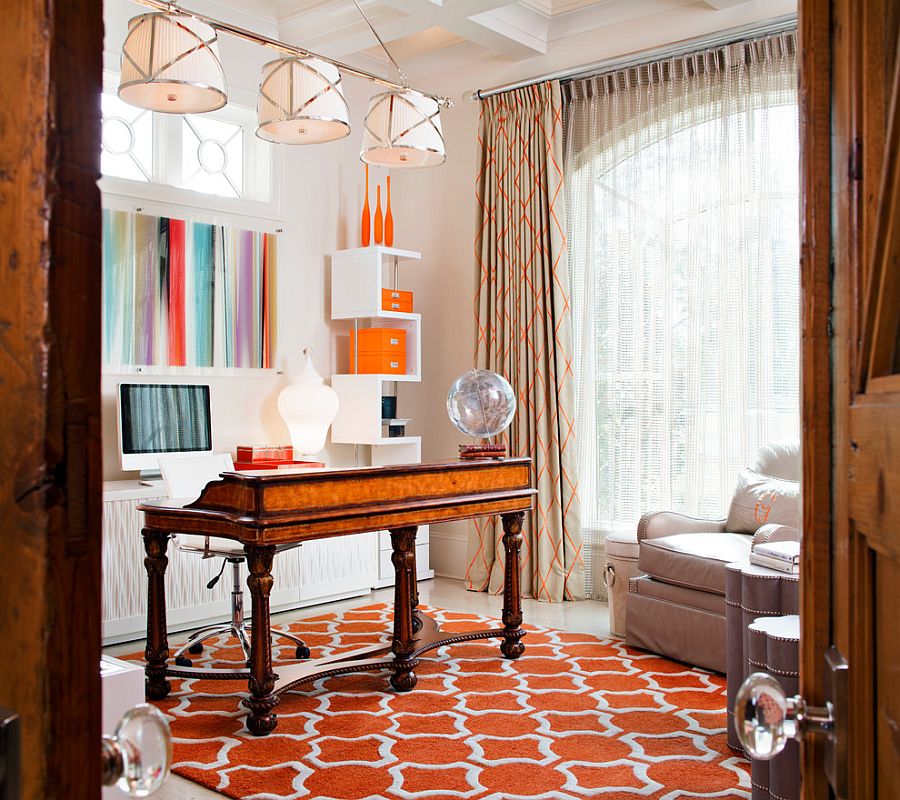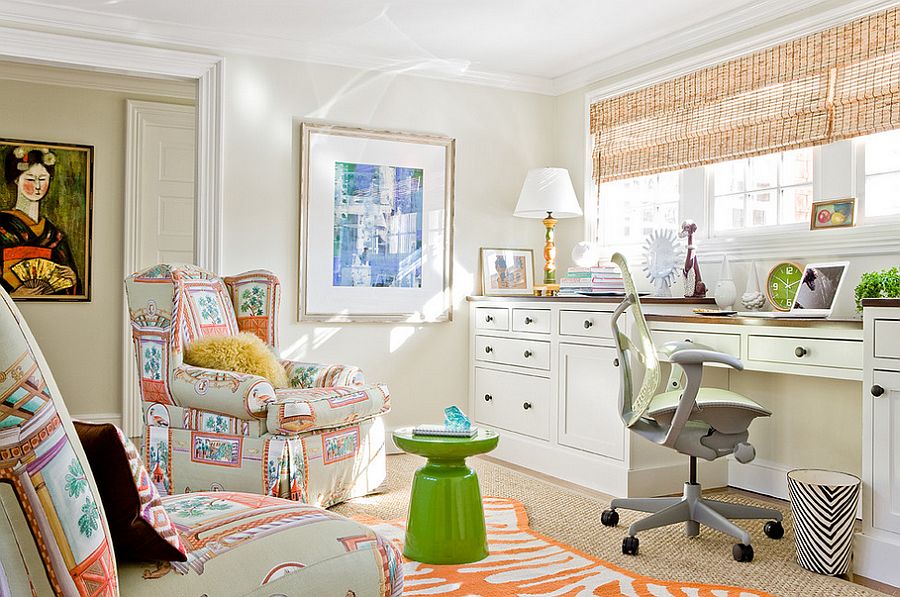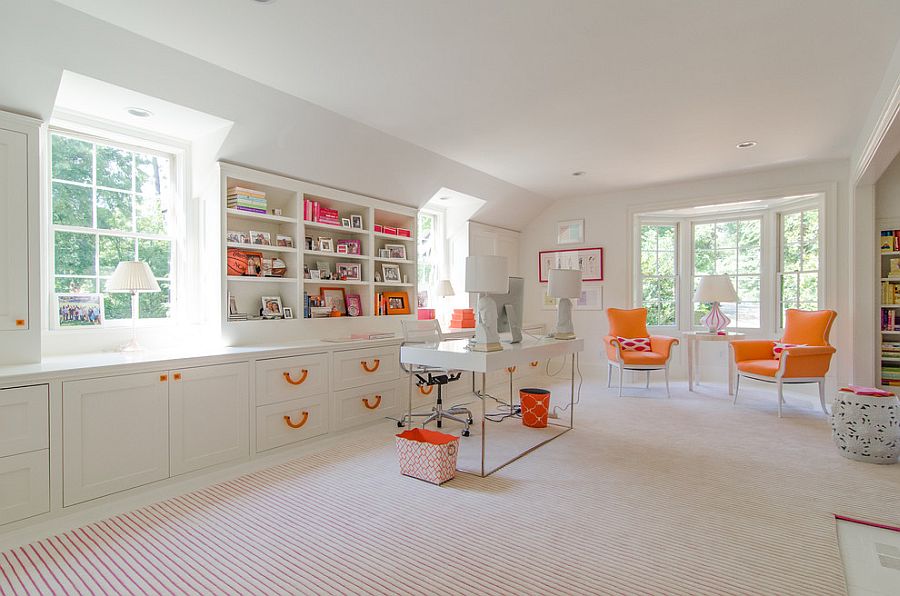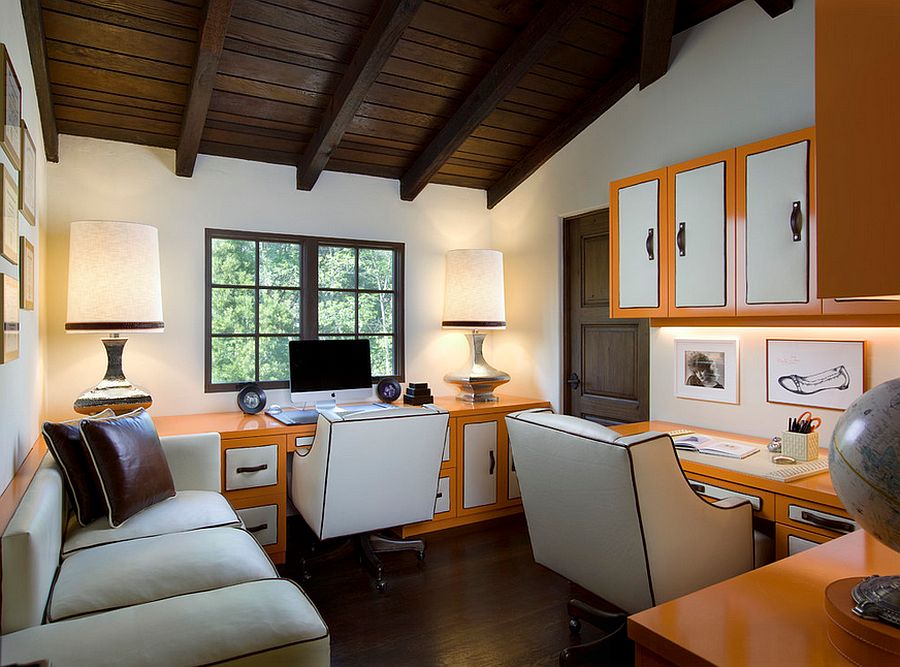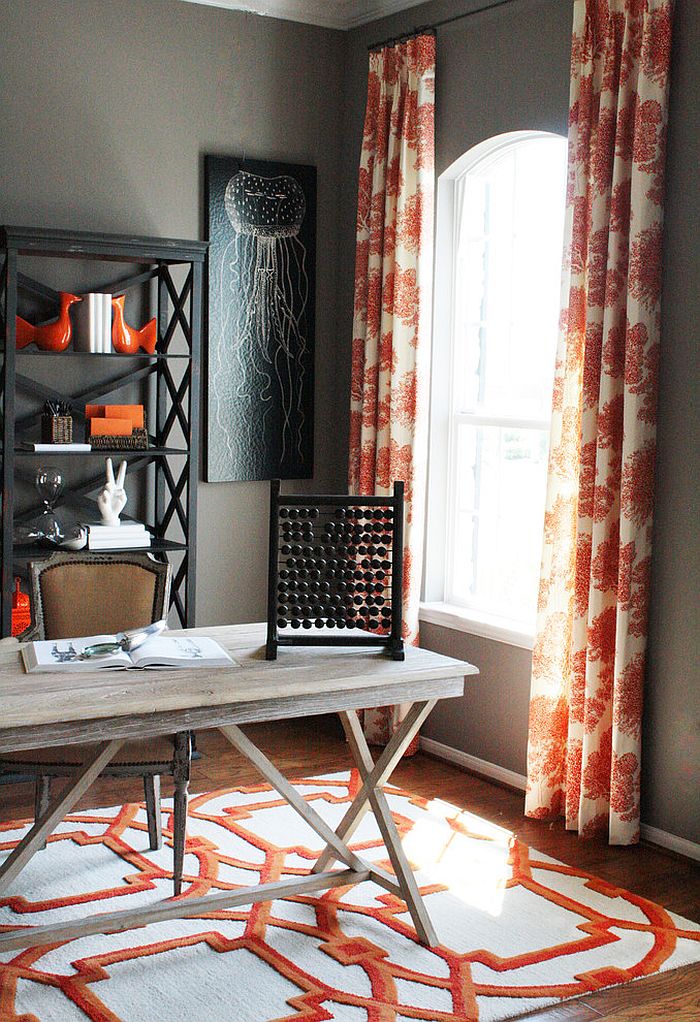 Ergonomic Small Wonders!
Do not limit yourself to decorating clichés and stay away from orange simply because you have a small home office. Many homeowners are opting these days for functional workspaces that take up a corner in the bedroom, kitchen or even the hallway to get the job done. Even large empty closets are being turned into fabulous workstations, and orange is absolutely perfect for such spaces. It delineates the area from the rest of the bedroom or kitchen in an elegant yet distinct fashion and also brings a touch of playfulness. When using orange in small areas, make sure that it is coupled with cooler, neutral shades and do not use more than two or three colors for the best results.