As we head into long, cold winter nights, the idea of sun-filled days seems all the more alluring. Bringing elegance, cheerfulness and warmth to the bright days filled with sunshine is yellow. From creating cozy, intimate settings to enlivening dull interiors filled with neutral colors, yellow can work its magic in many different ways. The various shades and hues of yellow range from rich greenish-yellows to subtle mellow yellow, and each one brings a unique dimension to the room. With the holidays being all about friends, family, guests and dinners, the dining room is the perfect place to usher in a bit of yellow goodness!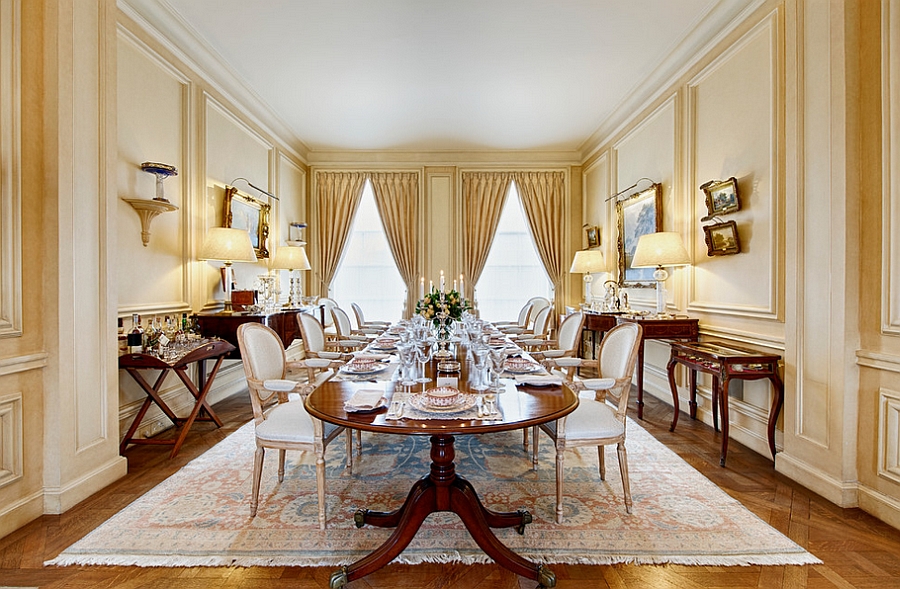 Adding yellow to the dining room can seem a touch intimidating at times, especially if you pick bright, rich shades of the color. Yet there are plenty of fun ways to fill the room with the radiant glow of yellow without going overboard. All you need is a bit of imagination and a love for yellow!
1. Turn Towards the Walls
The easiest and often the most obvious choice is to paint the dining room walls yellow. You can either choose to use yellow as an accent shade here or as the backdrop color. The perception that darker shades of yellow are preferred for accent additions and lighter ones make better wall colors is more a myth than a reality. While using yellow on the walls of the dining room, lighting plays a very important role in shaping the overall ambiance. So feel free to use a bolder hue of yellow for the walls in a small dining room, but make sure that it is beautifully and evenly lit.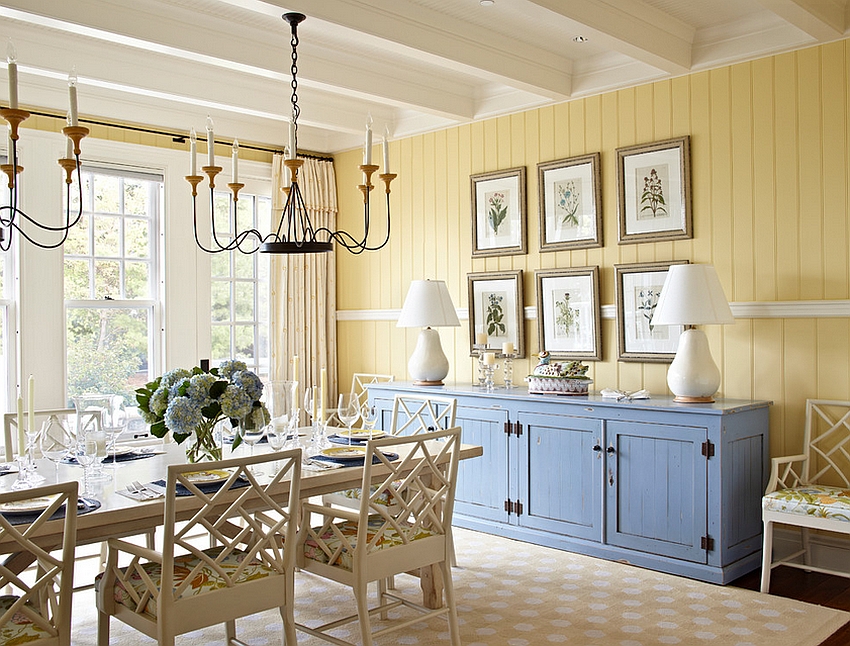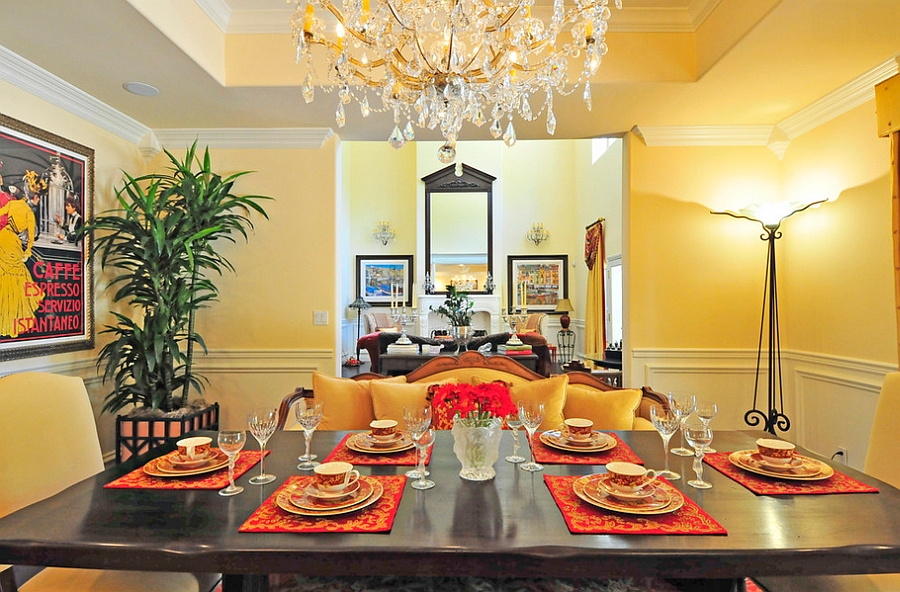 2. A Colorful Ceiling
The idea of using a different color for the walls and giving the ceiling a 'yellow makeover' allows you to move away from the mundane. As you see with the two dining rooms below, ceilings painted in yellow can make a big difference to the overall mood of the room, even when the walls are painted white or gray. A beautiful rug in matching yellow further enhances this look. If you are not too keen on a rug in yellow, then repeat the color of the ceiling in a few other places using shelves or decor to create a more beautiful dining space.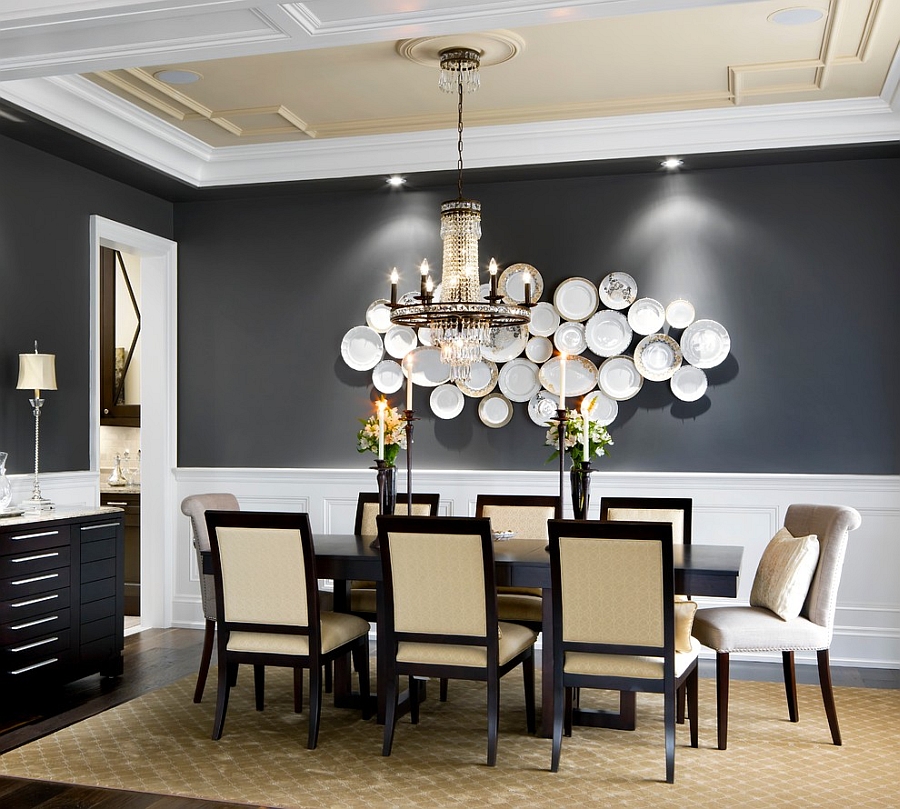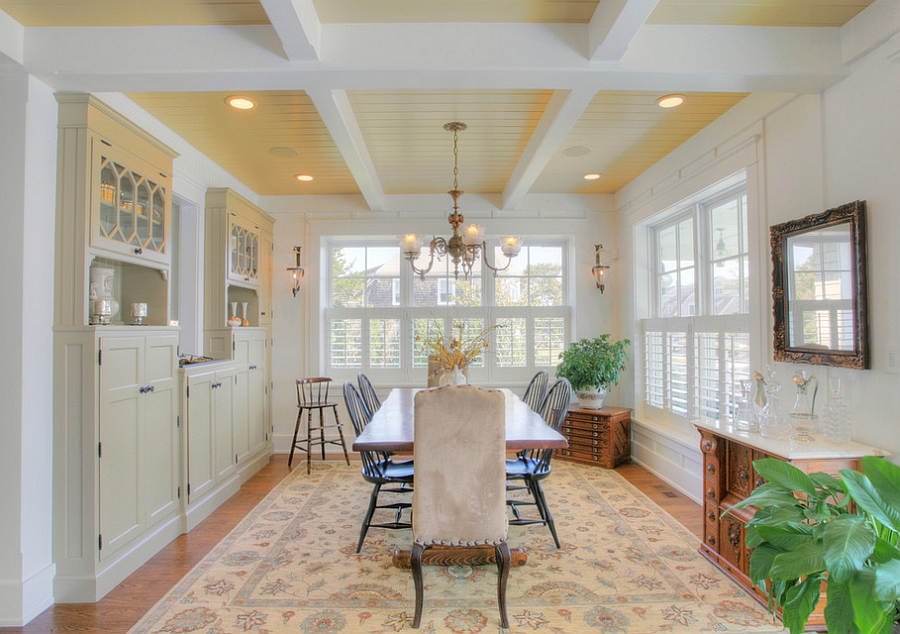 3. Plush Seating and a Dashing Table
While adding a chair in yellow to a room can be viewed as an accent addition that you can do away with if you are not too happy with the look, in the dining room it is simply not an option! If you want to add bright pops of yellow using dining table chairs, make sure that you absolutely love them. You can start off by bringing home just one of these and mixing them up with your existing dining table chairs to create a more eclectic look. Plush yellow chairs make a big visual impact and instantly elevate the aura of the dining room.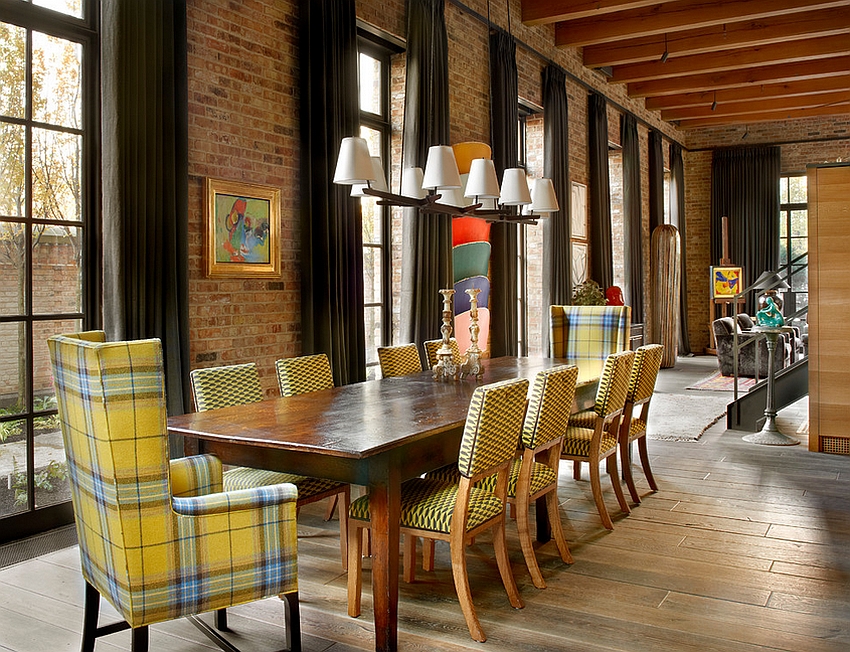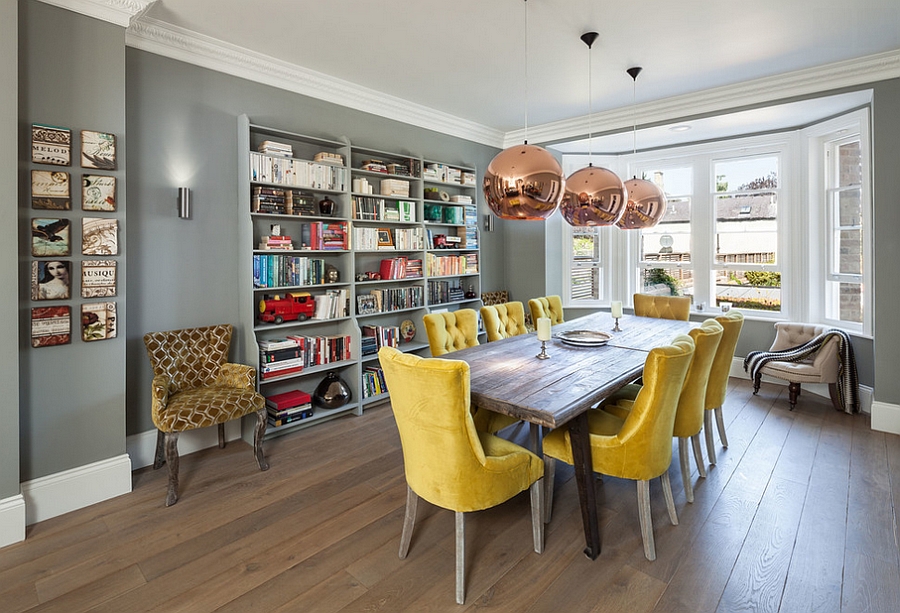 4. Drapes and Wallpaper
Yellow drapes bring a look of luxury and elegance that is simply unmatched. In fact, with the holiday season already upon us, picking ones that lend a hint of golden allure to the room is an even more apt choice. Gorgeous yellow drapes will improve the insulation of the dining room, and you can use lovely white sheers as an additional layer that can take over during summers! Apart from drapes, wallpaper and wallcoverings in yellow are a great way of adding color, pattern and even texture to the dining room.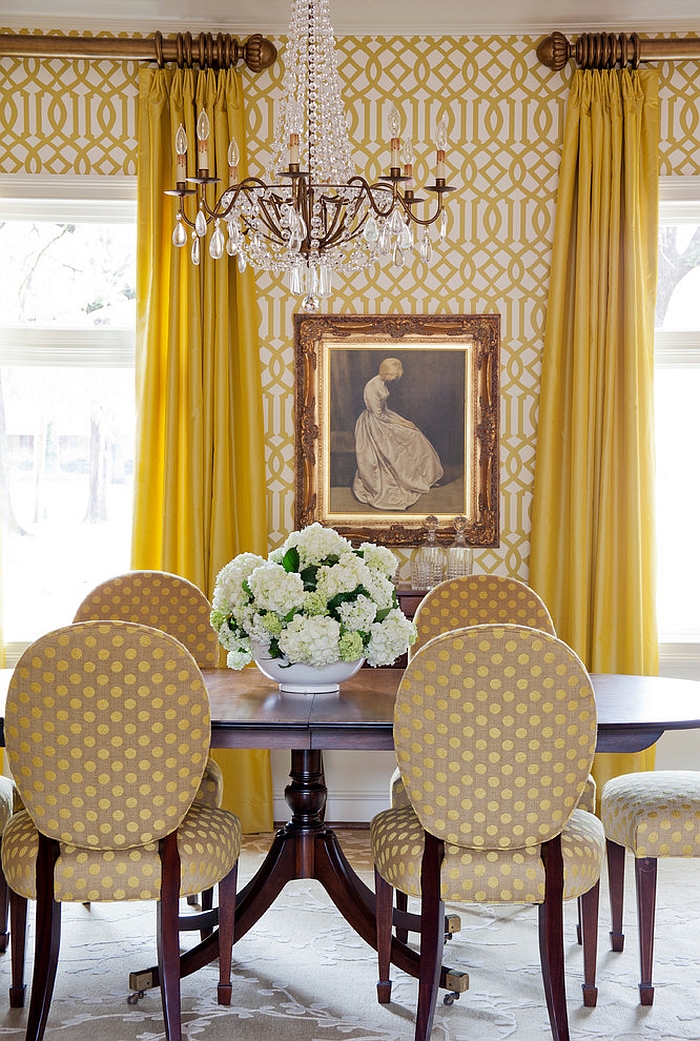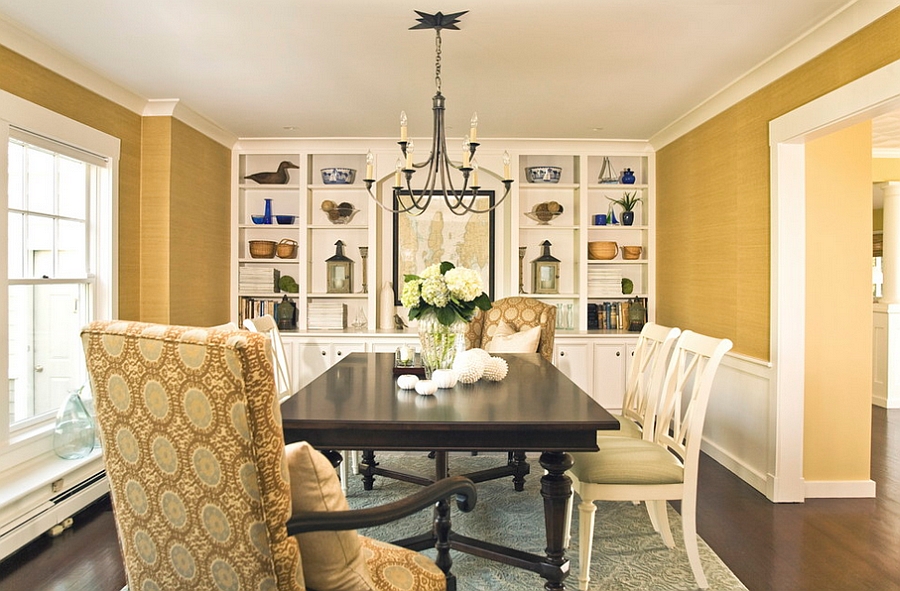 A yellow dining room does not mean a space where yellow always dominates. The smart use of a rug with a yellow pattern in this room is a perfect example of how it can work with other bold colors in the dining space.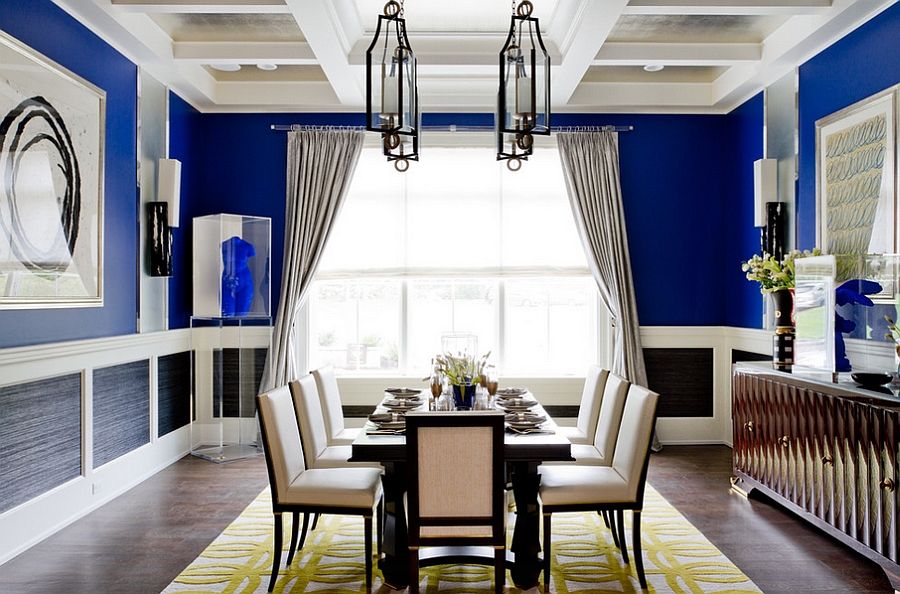 5. A Touch of Black
Black and yellow is a timeless combination that simply never fails. While black anchors the dining room visually, yellow fills it with energy and merriness. The smart color combination works across a variety of styles ranging from the rustic to the contemporary. Whether you want to mix up black and yellow dining table chairs or use the colors along with black, this is a color palette that simply never disappoints!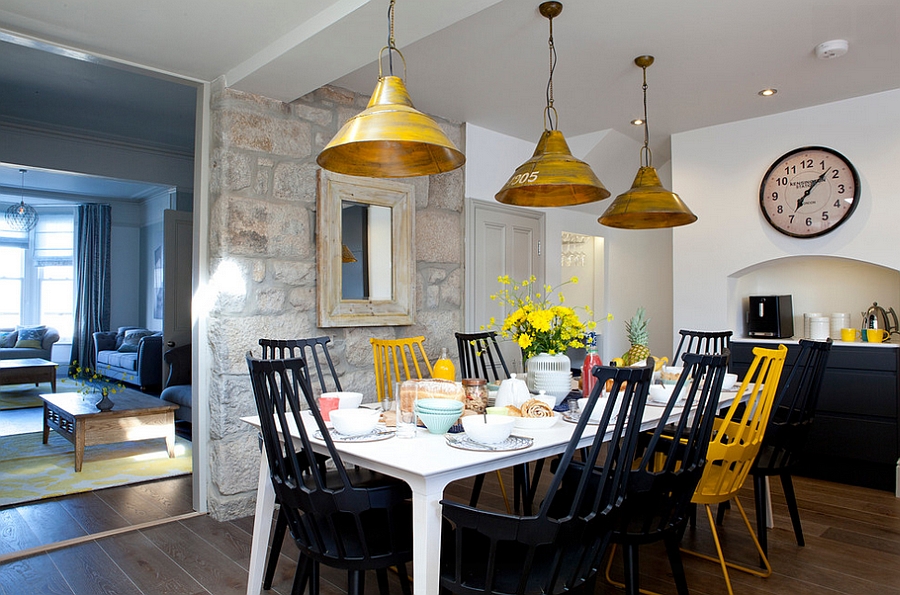 6. It's all About Lighting!
Lighting fixtures can add a lot more to the dining room beyond the obvious. A sculptural floor lamp or gorgeous pendant in dazzling yellow might be all your dining room needs for a sunny update. Yellow lighting fixtures instantly become the focal point of the room, and by using decor and accessories in a similar hue, one can add yellow without actually turning to paint. From deep orangey yellows to glittering golden hues, always pick a shade that you are comfortable with.