Rugs and throw pillows never lie. That's why one of my favorite ways to check out the latest trendy patterns is to browse these accents and accessories! Rugs can reflect and forecast trends, from the ever-evolving chevron pattern to the latest in geo style. Hoping for a glimpse at summer's most popular motifs? Today we highlight our favorites and explore just how patterned rugs can influence our summer decor choices. Enjoy!
Bold Geometry Is Summer-Fresh!
Let's begin with a little geometry lesson–crisp, bold geo patterns are perfect for summer! They are eye-catching and fresh, which are two qualities that truly shine when the weather turns sunny. Below we see an array of selections from West Elm:
Anyone else notice the abundance of triangle-motif geo patterns this season?! Actually, triangles have been hot for awhile now, and they show no sign of disappearing. Do simple geometric forms every really go out of style?! I think not. Check out the Pembetatu Cotton Dhurrie Rug from CB2 in the next featured image. Very kaleidoscopic!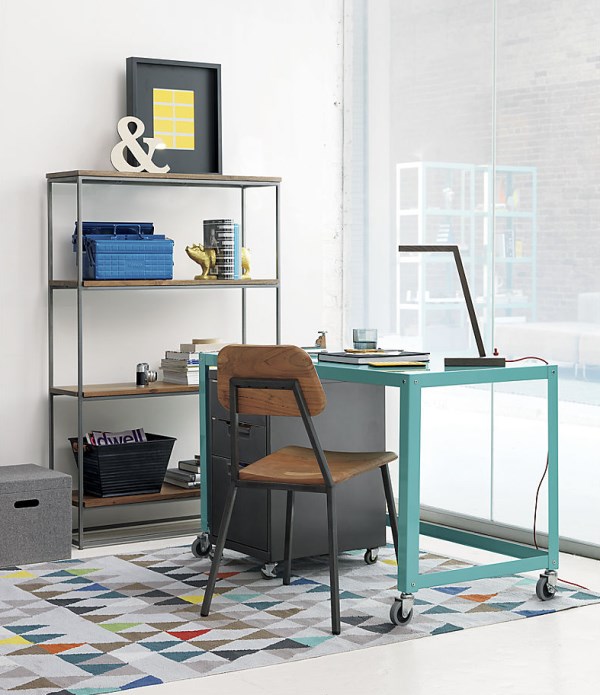 Bring on the bold! The Effrain Rug from Crate & Barrel is made from yarn recycled from South Indian textile mills. This geo rug definitely has an earthy quality. Stay tuned for more on earthy motifs later in the post…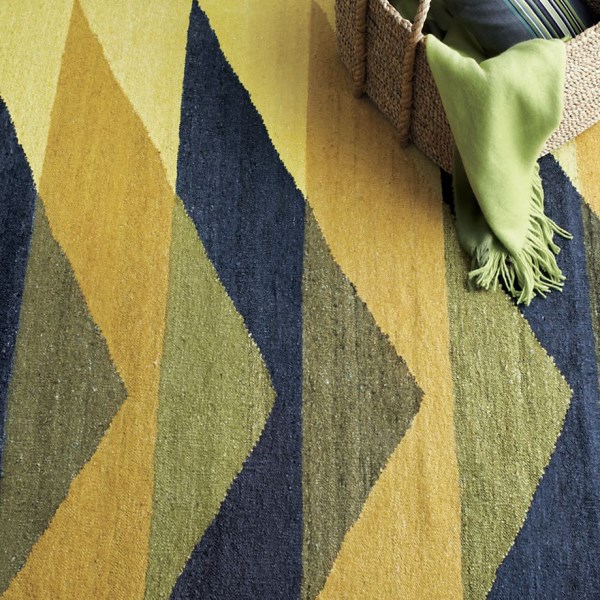 It's hard not to love the wide array of geometric rugs available at Jonathan Adler. They're so vivid and sharp. Not to mention, they have the power to beautifully anchor your interior. And what better way to usher in the vibrant, colorful season of summer than by displaying vibrant, colorful rugs?!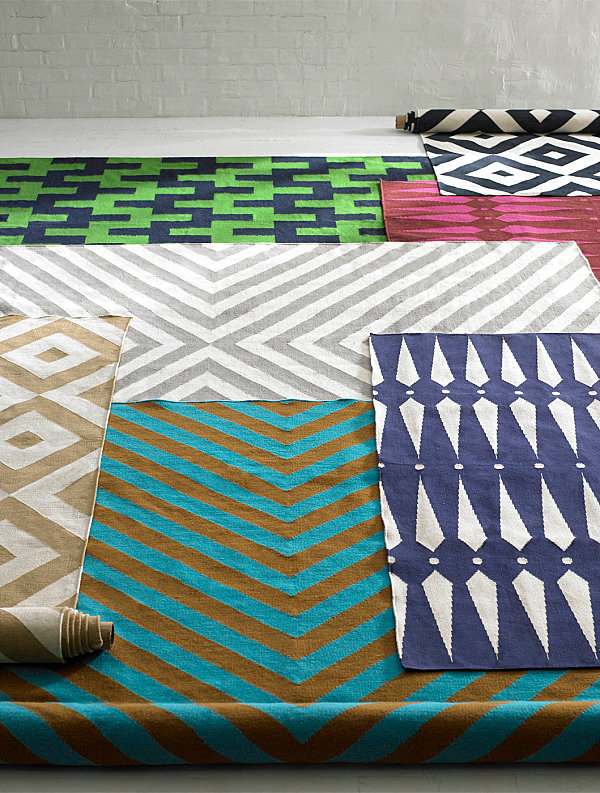 Stripes Never Go Out of Style
Summer style lesson #2: Stripes are always in season! That's because they are undeniably classic. But don't think that striped patterns never evolve. These Offset Stripe Wool Dhurrie rugs from West Elm are the perfect example of staggered stripey style. A wonderful update on a beloved motif: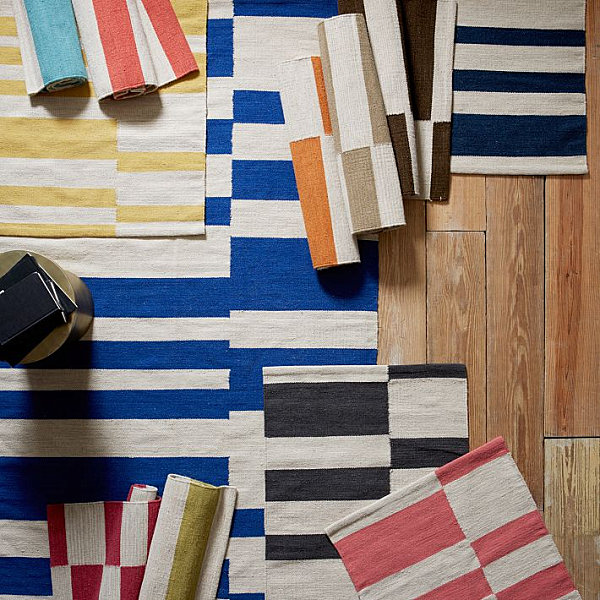 Then again, classic stripes never disappoint! One of the most popular color combos when it comes to stripes: black and white. The Olin Black Rug from Crate & Barrel features black and ivory bands in uniform strips.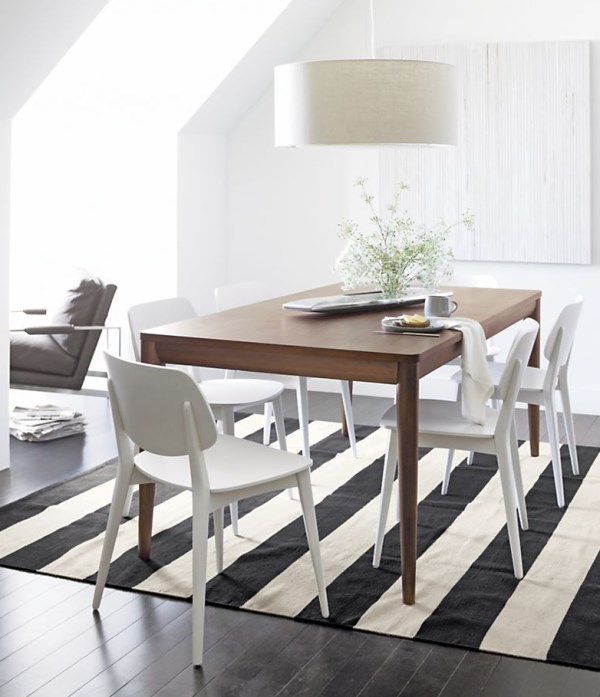 Striped rugs remind us that nautical style doesn't have to be confined to summer. In fact, many of today's most popular striped patterns feature a variety of hues, including this Colorstep Stripe Cotton Dhurrie Rug in Black and Peach Rose from West Elm: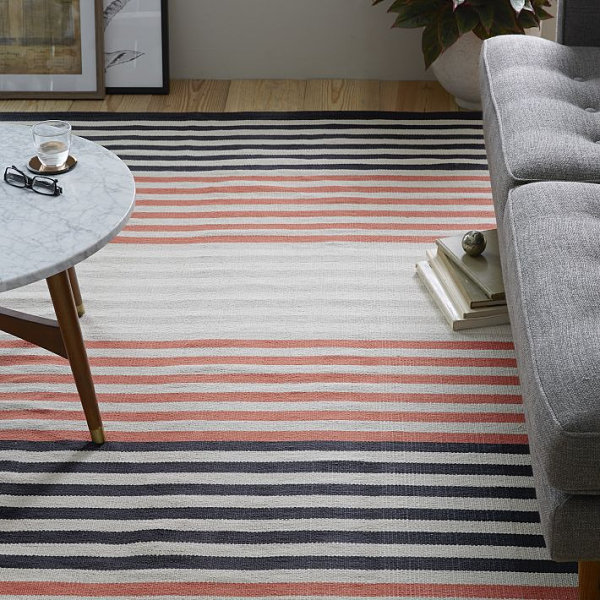 Stripes of varying widths are visually rich. And feel free to bring on the bright colors for summer, then let them be radiant all year. This 9-Stripe Dhurrie Runner from West Elm is the perfect accent for a modern entryway like the one below: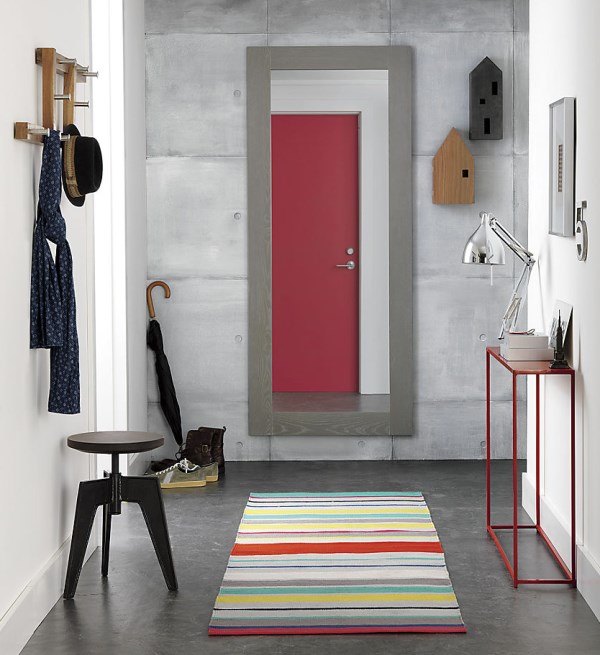 Today's most popular striped patterns definitely incorporate the top trends. For example, there's a touch of ombre in this Bold Red Stripe Rug from Crate & Barrel, in addition to a dash of neutral!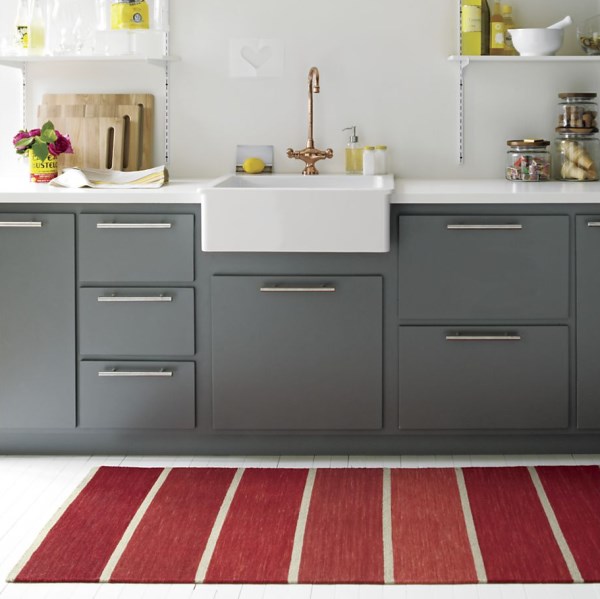 Earthy Is the New Modern
Here's another summer style lesson for you: "earthy" can be the perfect complement to a modern space! In fact, many of today's top trends incorporate earthy elements. No wonder so many geo patterns have a tribal look! Not to mention, earthy motifs are perfect for summer, as they evoke an easy-breezy style that perfectly complements the warm weather. This Heenalu Jute Rug from CB2 channels a time gone by with its crochet-like effect and circular design: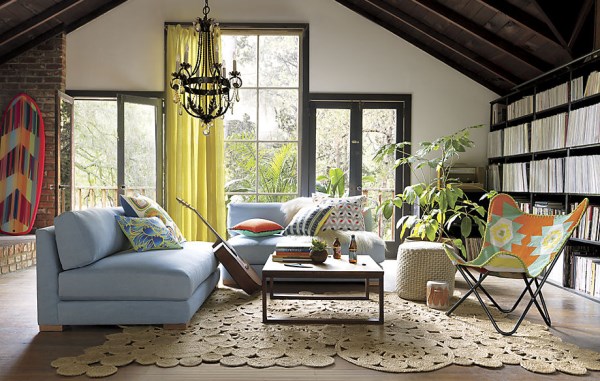 Earthy can also go luxe, especially when bamboo silk is involved. Say hello to the Jonathan Adler for Kravet Brown Vertebrae Area Rug, which is crafted of undyed natural hemp. And soft bamboo silk, of course!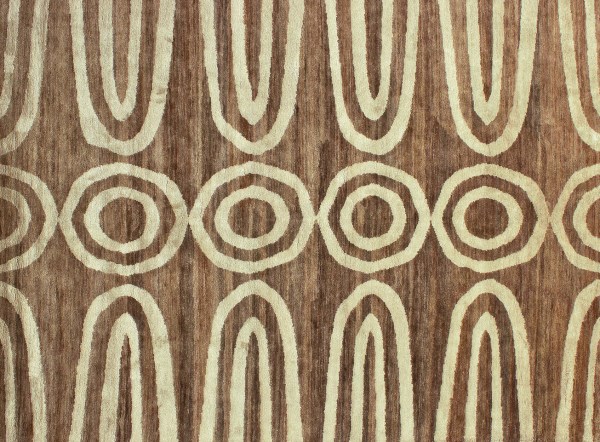 Just because it's earthy doesn't mean it can't be colorful. In fact, earthy + color = the perfect summer combination! This Muku Cotton Dhurrie Rug from CB2 showcases chevron zigzags and radiant stripes.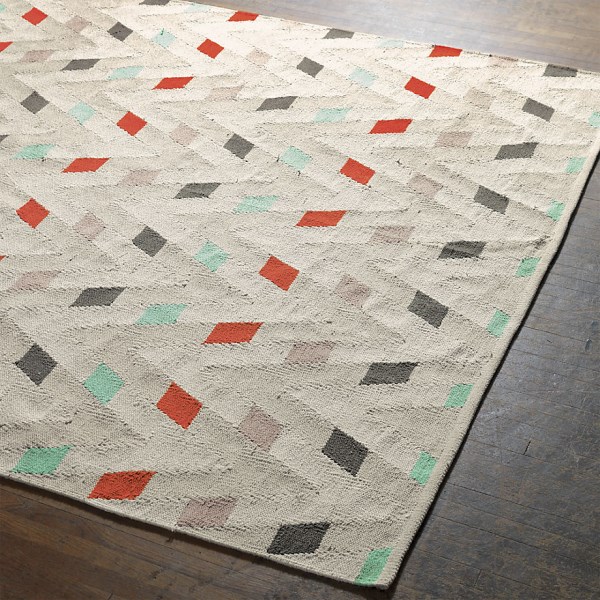 These earthy rugs from Crate & Barrel have an undeniable woven look. Plus, the small scale of the stripes and patterns makes them the perfect choice for anchoring a room: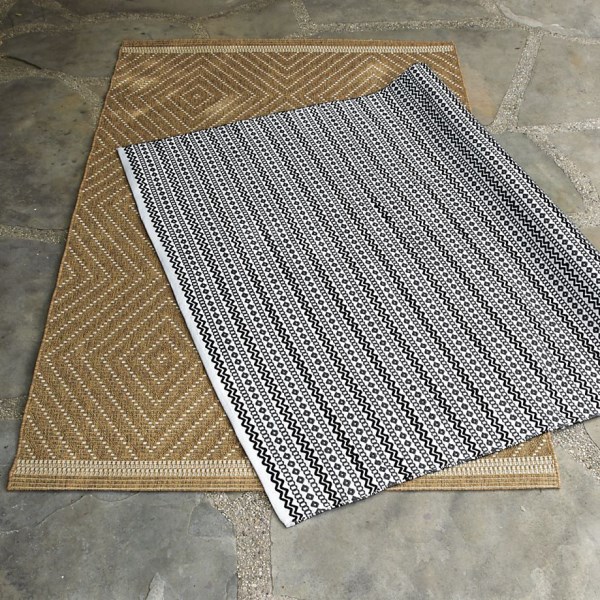 Earthy style can be exhibited through patterns that evoke natural materials, including stone. This Magical Thinking Rock Handmade Rug from Urban Outfitters features a marbleized motif that mimics the bands of rocks and minerals: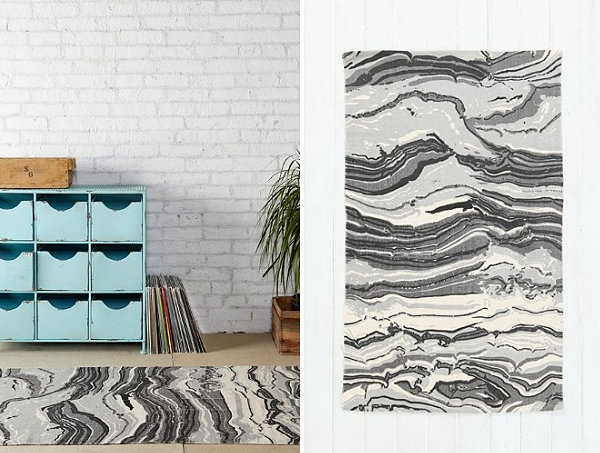 Summer Motif Are Stylish All Year Long
We end with a series of rugs that convey a strong message: you can celebrate the magic of summer year-round at home! Isn't this Stamped Scallop Rug from Urban Outfitters nautically fabulous?! But as shown in the image below (left), it doesn't have to be confined to summery interiors. This rug is right at home in modern eclectic spaces.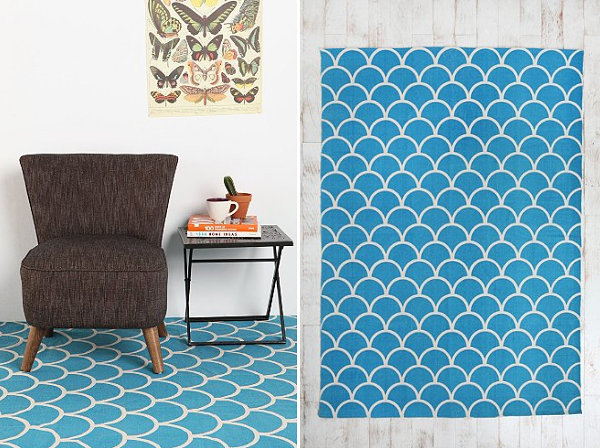 Rugs in shades of sea blue are soothing in any space, regardless of the season. This Arzu Studio Hope Milestone Hand-Knotted Rug from Pottery Barn is crafted from pure wool and woven by Afghan artisans: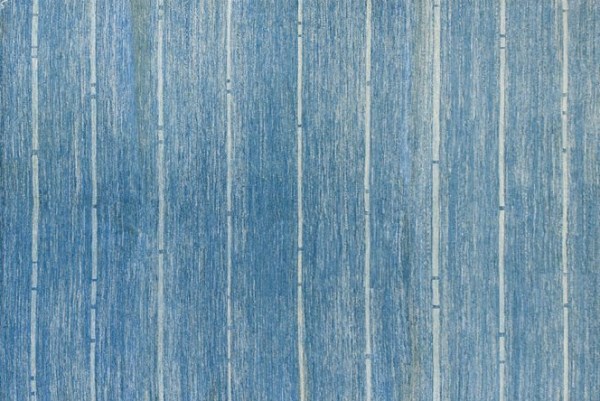 Anchors away! Yes, you can even display blatantly nautical rugs well past the summer months, especially if your interior is as crisp and playful as the one below. The Junior Anchor Peruvian Llama Flat Weave Rug from Jonathan Adler is crafted of wool that comes from llamas raised in the Andes.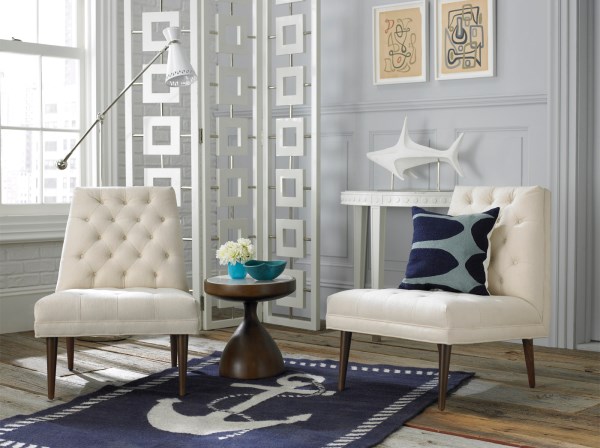 Another summery element that never goes out of style?! Seagrass! It's durable, and it goes with everything. This Fireworks Custom Color-Bound Seagrass Rug in Cardinal Red from Pottery Barn is lined in a bold hue that really makes it pop.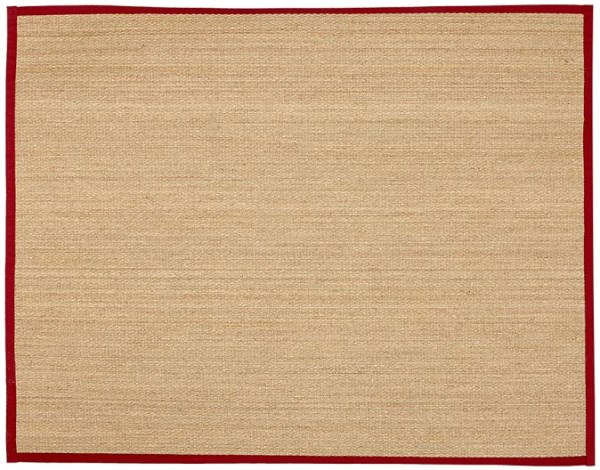 Feeling like heading to the beach after seeing today's top picks?! When you get back from a day in the sun, maybe you can approach your interior with a whole new vibe–one that reflects today's top patterns and the bright, relaxed feel of summertime.