Spring is here, and summer is on the way! Kate here, and one of my favorite ways to celebrate new seasons is to revel in the slew of new decor offerings that inevitably surface just in time for the change in weather. Plus, a new season is a great opportunity for a decor refresher. If you're in the market for a fresh purchase or two, today's post highlights everything from furniture and lighting to tabletop accents and outdoor finds. And we're showcasing the best of spring, plus a summer decor preview! Happy shopping!
Spring and Summer Furniture Finds
Let's start big! Getting organized isn't always fun. But it CAN be if you employ a stunning off-the-floor piece that will display your decor as well as keep your room tidy. Say hello to the Royal System Shelving Unit C from Design Within Reach, designed by self-taught inventor Poul Cadovius in the 1940s. Back in production and available exclusively at DWR, it's perfect for a range of spaces, from entryways and bedrooms to living and dining rooms.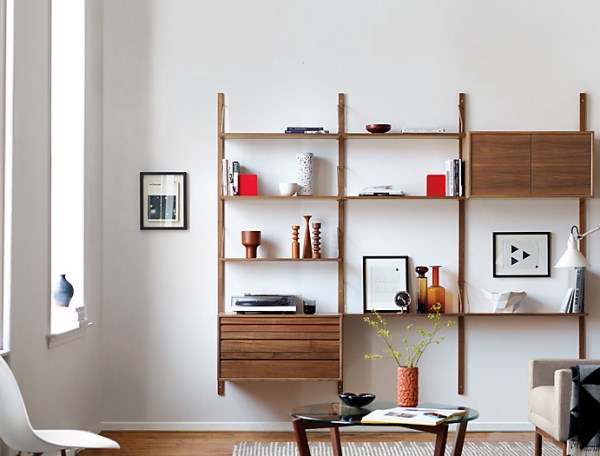 New season–new splash of color! And these Lucinda Orange Stacking Chairs from CB2 get the job done. Yes, they're really stackable. And they're also comfy. Plus, with a vivid orange powdercoat, they're sure to get noticed.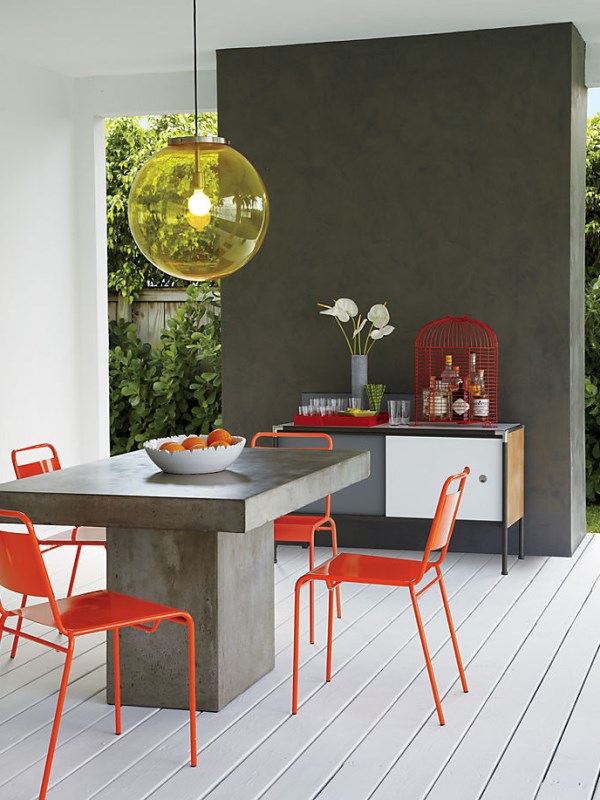 When you first open your eyes at the beginning of the day, don't you want to see something crisp, bright and tidy?! It's hard to beat the Min Bedside Table with Pedestal Base from Design Within Reach, from furniture designer Luciano Bertoncini. Made in Italy, this piece also features a sleek drawer that's perfect for concealing small necessities.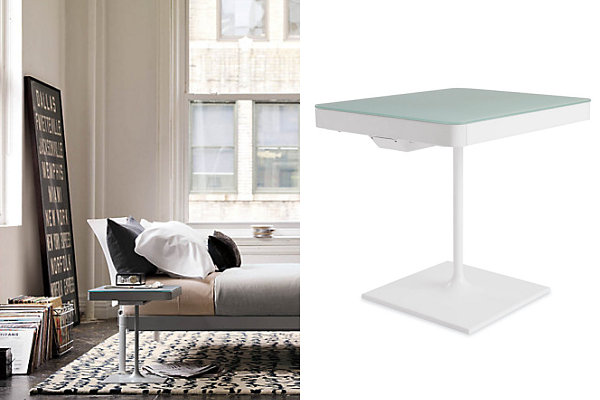 Did I mention that many of today's featured finds speak to the latest trends?! This Penelope Nightstand from West Elm is no exception. The piece has a Mid-century look, thanks to its angled, tapered legs. And that marble top is very of-the-moment (and simultaneously timeless).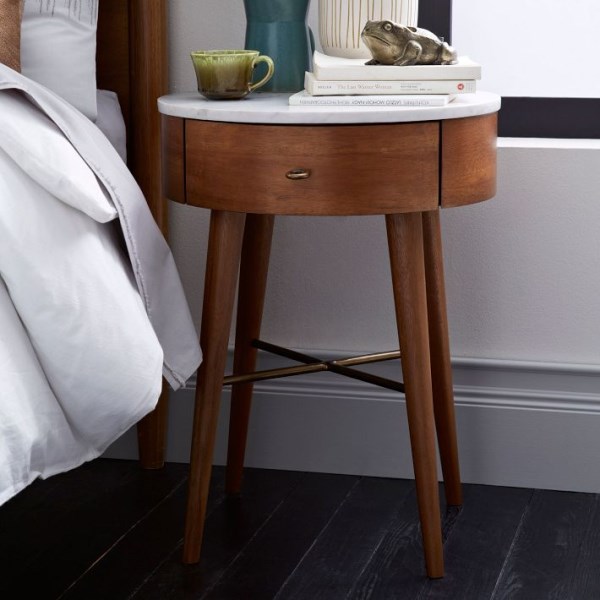 Speaking of on-trend finds, this season it's all about wire furnishings. This black wire basket and top from ferm LIVING pops against light walls, forming a striking, geometric silhouette.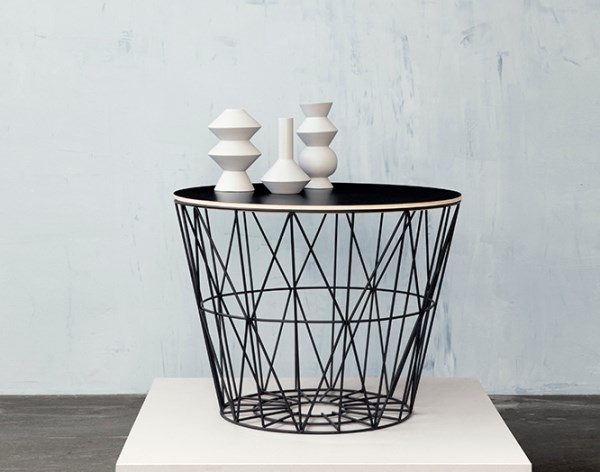 I can't deny the fact that I love slanted wooden accents. My house showcases a fireplace lined in "outdated" slanted wood, and it's one of my very favorite features of home. As you can imagine, I'm thrilled with the current chevron wood pattern that's finding its way to a variety of pieces, from cabinets to headboards. This Alexa Bed from West Elm is one of the season's hottest picks: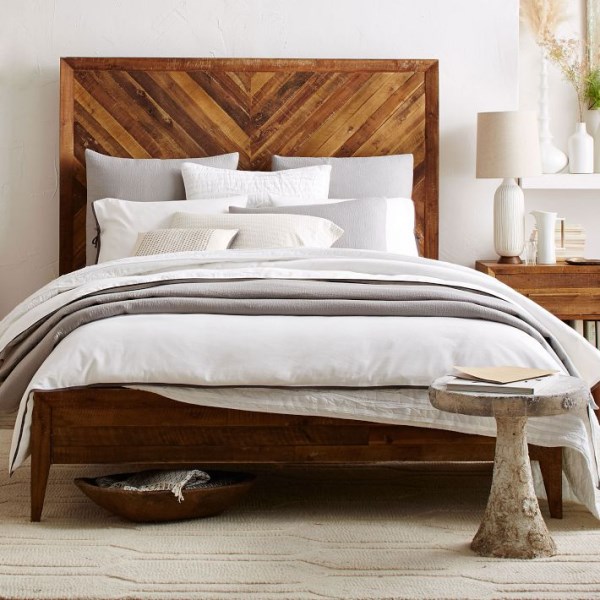 New Lighting Options
Many of the homes in my neighborhood were built in the '80s. The outdoor lighting on front patios and back porches is globular, sleek and modern. Like the slanted wood mentioned above, it looks like spherical lighting is back in style! This Globe Pendant in Milk Finish from West Elm combines milky glass with gleaming metal. Purchase one for a bold statement, or hang them in pairs and groups.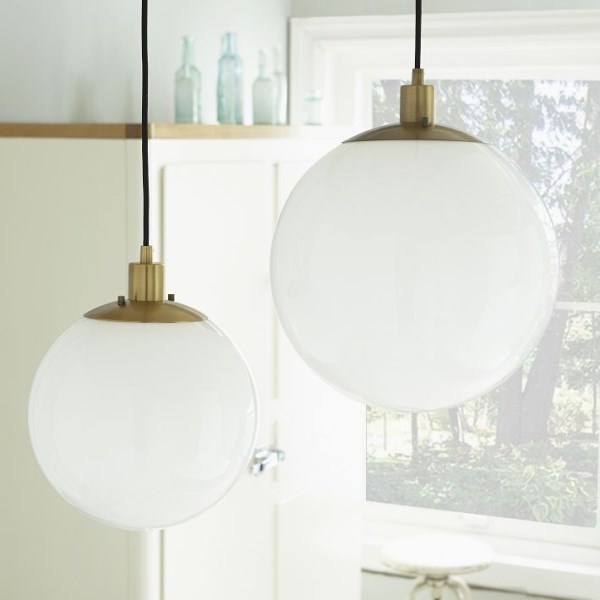 Yellow is vivid, sunny and attention-grabbing. Plus, it can't help but make us smile. This Webster Yellow Pendant Lamp from Crate & Barrel combines powdercoated metal and clear glass in a versatile design that complements modern and classic spaces alike.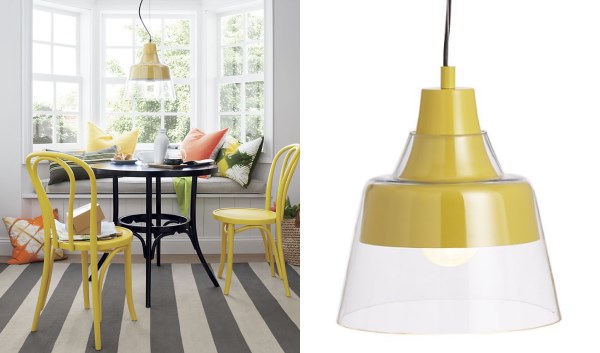 Nothing says "summer" like a pendant light accented with shells. Especially when a floral filigree is involved! The Kai Shell Pendant from Pottery Barn is an intricate, glowing lighting solution that blends fiberglass resin with hand-cut shells to create the perfect tropical statement.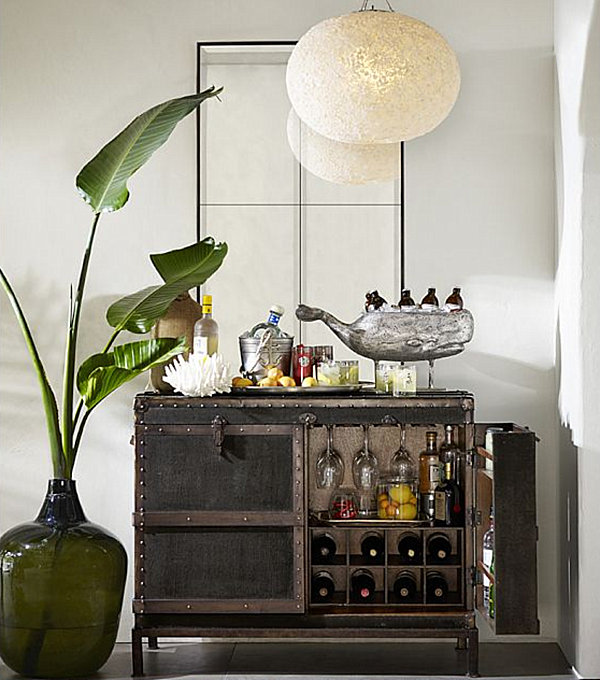 Decorative Accents for Spring and Summer
Let's talk accents, starting with eye-catching pillows in bold patterns. These Wool Fabrique Cushions from Darkroom are crafted in the Balkans using traditional weaving techniques. Their vibrant designs are whimsical, a bit '80s (channeling Memphis-Milano style), and perfect for earthy and modern spaces alike.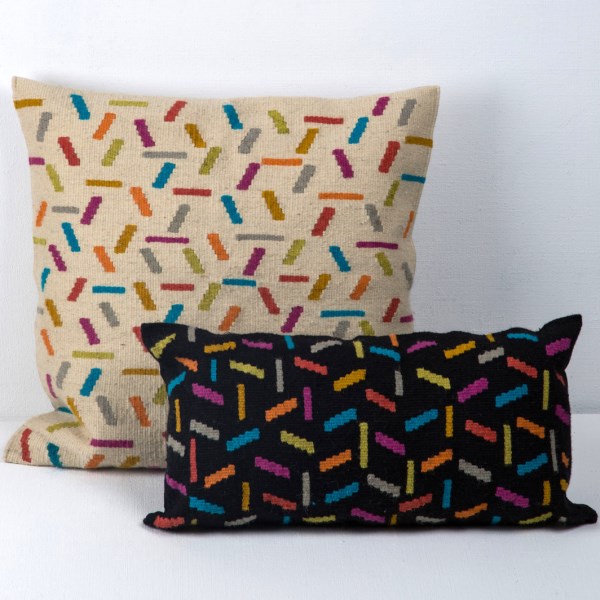 Why not celebrate the colors of the sea this summer? This Cerulean Sea Bowl from Terrain is a gorgeous shade of blue. Hand-shaped in Portugal, it can easily become the focal point of the room.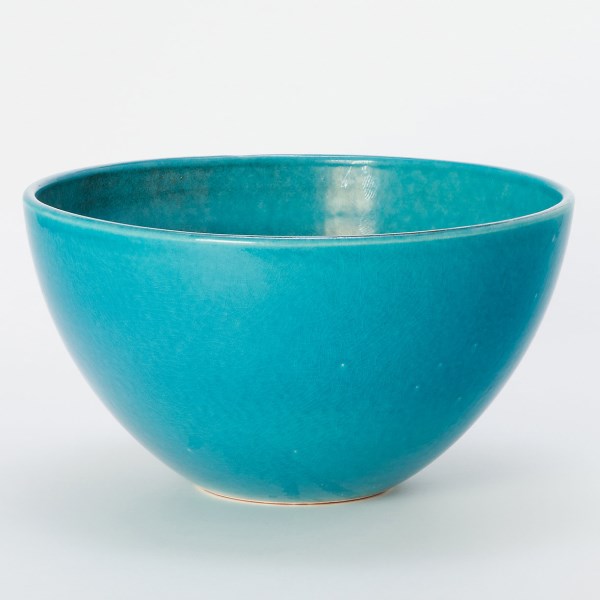 Ready for some '50s kitsch?! These Tiki Stacking Glasses from West Elm are absolutely perfect for summer. Bring on the tropical punch! Each glass is tinted with a hint of color, and the best part is the stackable feature! Kind of like a totem pole…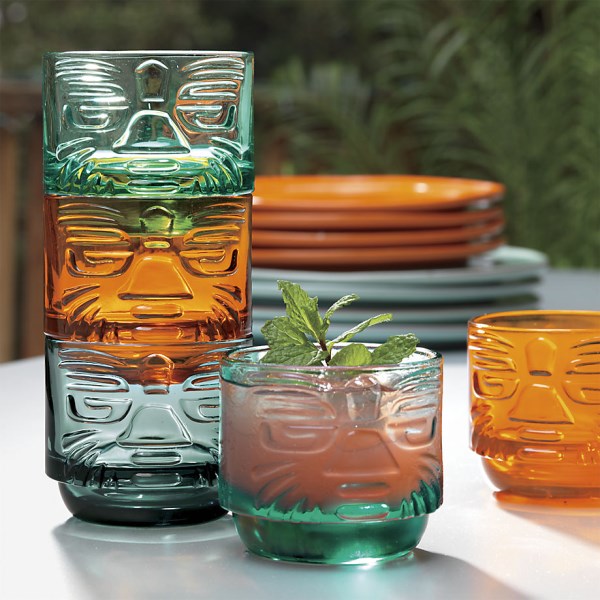 If you're into gardening and serving fresh food, you'll love this Set f 6 Seed Packet Plates from Crate & Barrel. Great for appetizers (such as the veggies below), these plates celebrate spring color and summer's bounty with their modern designs.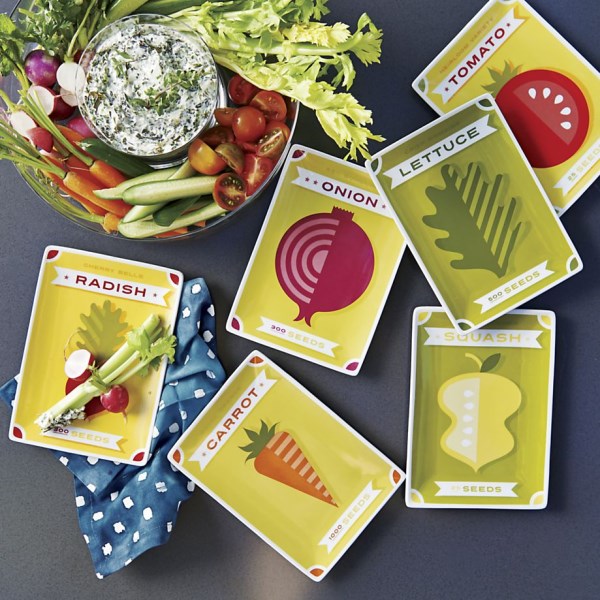 Have you noticed that whales are having a design moment? Yes, these mammals are making a comeback just in time for summer, and the Whale Tail Sculptures below (from West Elm) are a great way to celebrate the trend. Soapstone and brass are the materials of choice: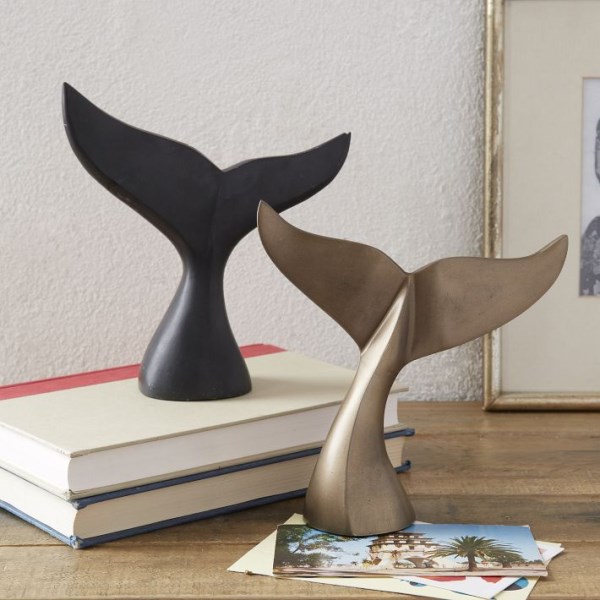 New Outdoor Decor
I'll end today's post with an array of new finds for the outdoors. Host a knockout garden party with these White Filigree Lanterns from Terrain, which celebrate the best of clean forms and intricate details. They're whitewashed. They're globular. And they cast amazing shadows on indoor and outdoor spaces alike when filled with candles!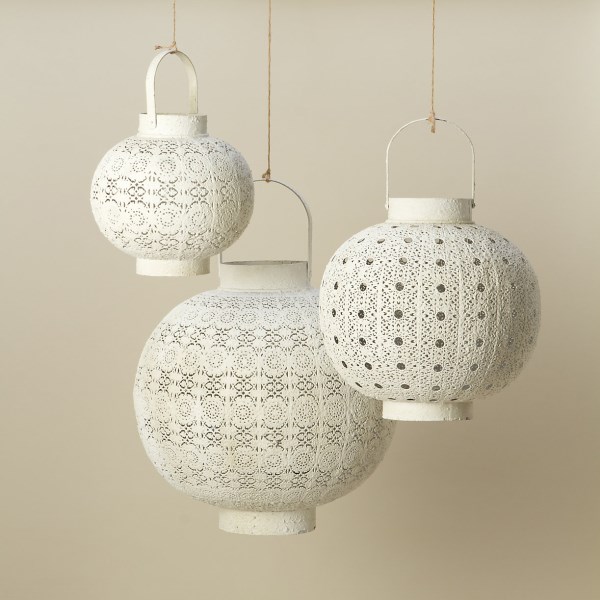 Nothing says "summer" like classic stripes. Green and white make the perfect refreshing combination! This Rugby Stripe Outdoor Rug from Terrain is a hand-woven mat that's ideal for patios, porches and entryways.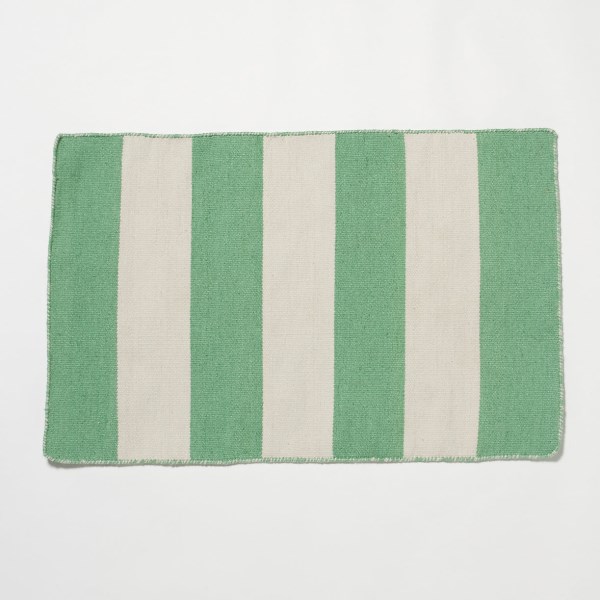 Fresh, fruity and bright, the Party Watermelon Outdoor Pillow from Crate & Barrel is definitely festive! Designed by Paola Navone, it boasts sketched watermelon slices and a weather-resistant polyester fabric.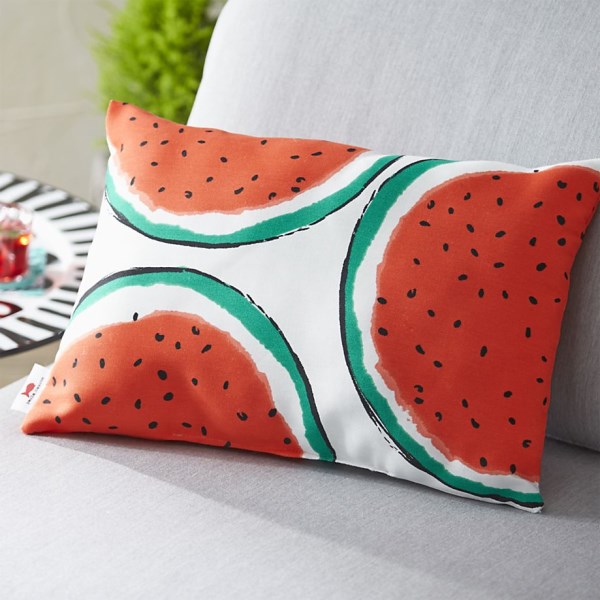 For a special homage to summer that's both stylish and eclectic, zone in on these Bodhi Planters from CB2. Use them as vases. Use them as planters. Use them to evoke your favorite moments at the beach. They're both functional and fun!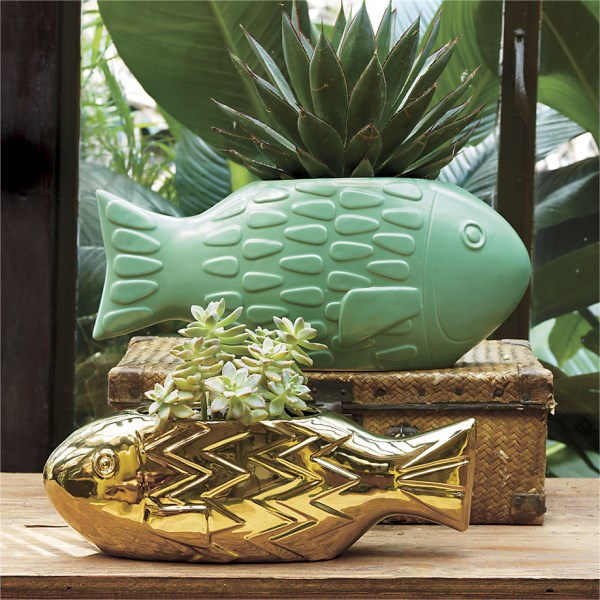 Need a focal point for your outdoor space? How fabulous is this Large Ball Planter from Crate & Barrel?! The rounded form is unusual, grounding and modern. And as you can see in the image below, it beautifully complements short and tall greenery alike!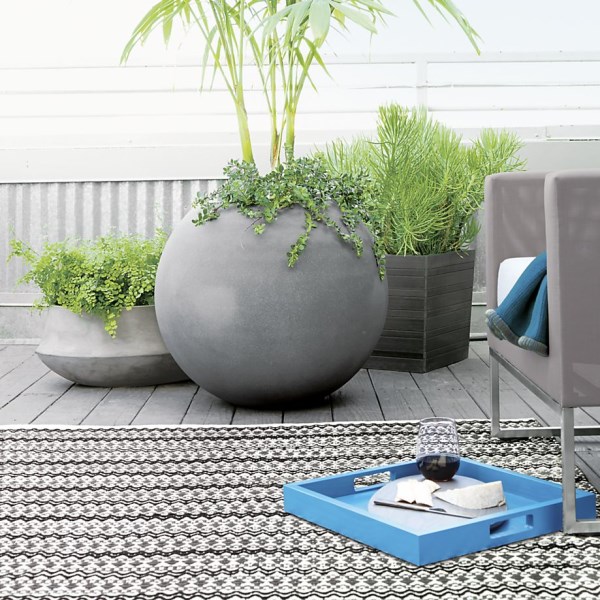 I'll end with one of my favorite new discoveries, although it's hardly a new offering. As mentioned in last week's post on adding shade and serenity to your outdoor space, I recently spent some time at Austin's Hotel San Jose. On a beautiful spring evening, the breeze was that perfect blend of warm and cool, the music was mellow, and each table boasted a Red Globe Candle Holder that glowed in the night air. Seriously, these substantial outdoor accents are absolutely radiant. And deliciously modern! You can'imagine how happy I was after discovering that you can buy them online (and in person at the hotel)…
I hope today's post has given you some fresh decor ideas for spring and summer. I now have a new wish list for the upcoming months. There's nothing like warm weather and the thrill of discovering hot design finds!