Geo. Multifaceted. Sculptural. This month at Decoist, we're showcasing today's top design trends, from marble decor to the combination of brass and glass. Today we highlight the magic that occurs when wooden materials combine with geometric design. Some call it geo style. We call it pure design bliss!
The look: minimalist and colorful, with a return to angular forms and bold hues. Geometric decor blends well with tribal design, and the two styles are often combined for an eclectic look that's undeniably modern. And refreshingly simple. Perhaps it's a reaction to the glossy formality of the Hollywood Regency revival, which peaked a few years ago. Now it's all about geometric design, especially when wooden materials are used…
Functional Geometric Wooden Pieces
We start with geometric wooden pieces that are as functional as they are stylish. This Wooden Kitchen Trivet from Etsy shop HooknSaw can be used as a trivet, a hot pad, a centerpiece or a wall hanging. The trivet's raised diamonds add dimension and depth while allowing air to circulate underneath any pans that rest on the surface of the piece.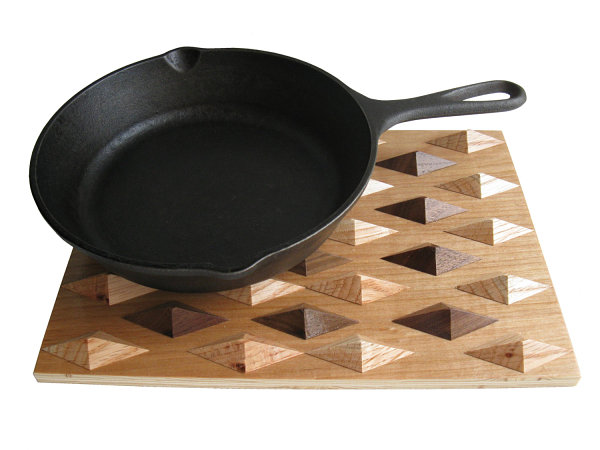 We all need cutting boards. Why not buy a few and make a skyline on your kitchen counter? These oak cutting boards from ferm LIVING were inspired by the view from Copenhagen rooftops. Each board pulls double duty as both a culinary tool and a key piece in the wooden skyline that results when you place several of these next to one another on your kitchen counter: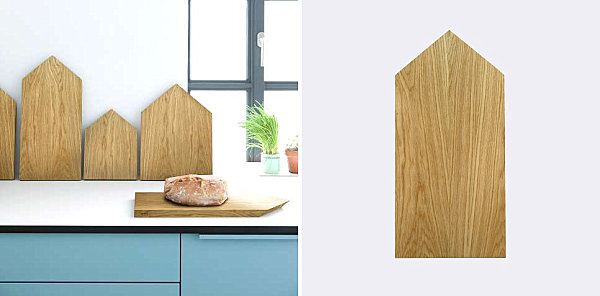 For a similar look, check out Studio from ferm LIVING–a wooden shelf that adds a dash of color to your wall. You can even use the shelf as a wall-mounted bedside table to hold an alarm clock and a book. Smoked oak veneer is the material of choice, and a painted back welcomes colors such as mint and blue. Purchase one or buy several and arrange them in skyline formation, as shown below…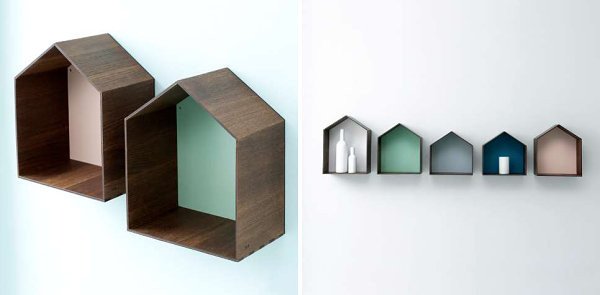 There are several reasons we love this Magical Thinking Geo Shelf from Urban Outfitters, from the slanted wooden panels that line the back to the zigzag pattern that forms the interior shelving. This piece stands out on its own, or it can be purchased in multiples and displayed in a group.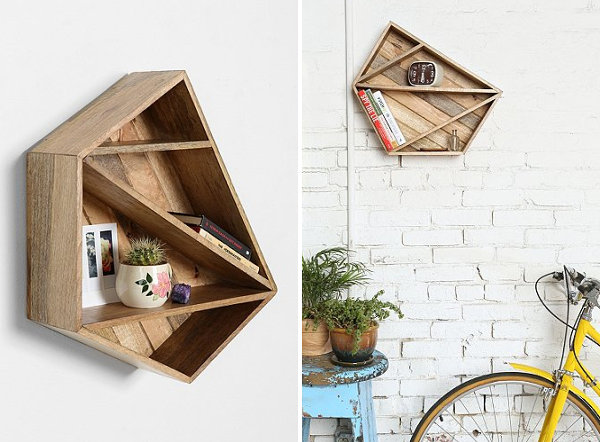 The Prism Brackets + Shelving combo from West Elm features a simple wooden shelf and iron geometric brackets in a black finish. In fact, the Prism Brackets have geometric supports that change shape from different angles! A perfect combination of wood and metal geometry…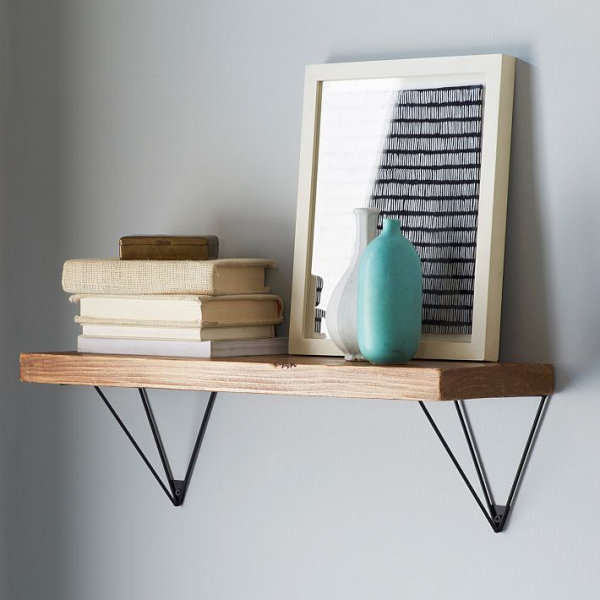 What could be more functional than a planter? And these days a planter is a great excuse to make a stylish splash. This Geometric Wooden Planter from Urban Outfitters is crafted from recycled wood, then topped with a protective non-toxic finish. The grain of the wood is undeniably eye-catching, along with the planter's facets.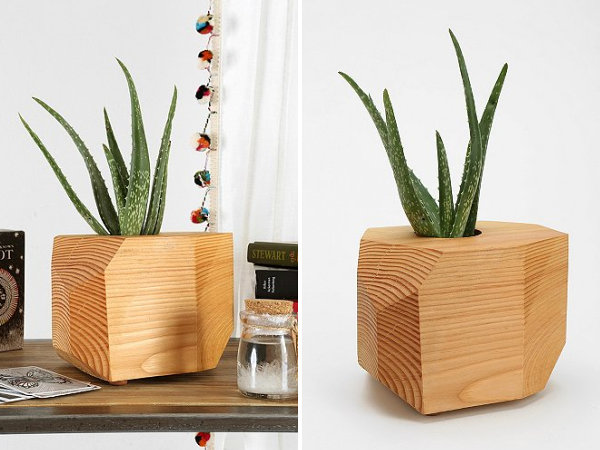 Decorative Wooden Pieces With Geometric Style
Need an artistic statement for your tabletop or shelf? This 3-Piece Mango Wood Guardian Set from CB2 is crafted of plantation-grown solid sustainable mango wood. Select facets are embellished with vibrant hues such as cyan, chartreuse and orange. The contrast between the wood and the radiant color is quite striking: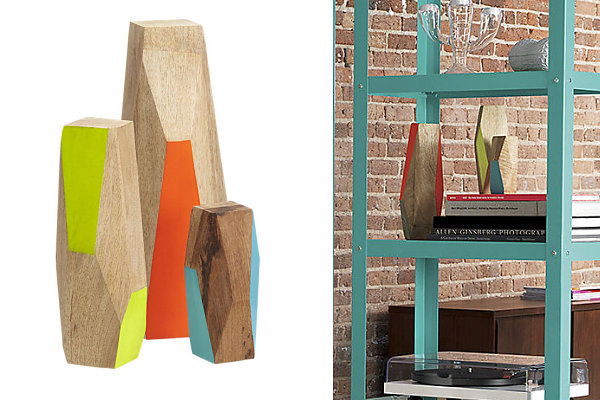 Or you can add sculptural style with a series of candle holders, such as these Geometric Wood Candle Holders from Etsy shop ShadeonShape. Purchase a set of 3 in peachy tones to celebrate the appeal of faceted pine wood painted in shades of white and coral.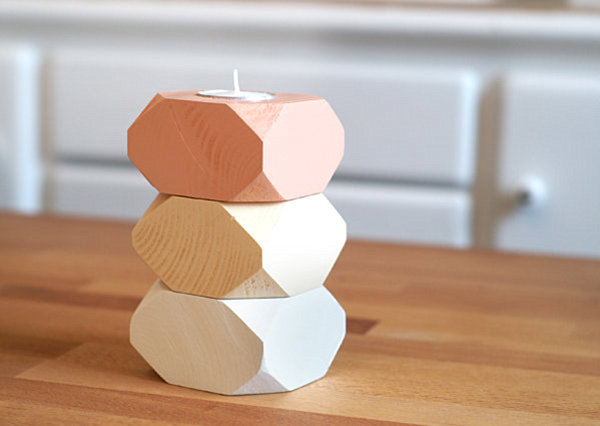 These VARIA Wood Candle Holders from Etsy shop Boga Home are handpainted with a geometric gold and green pattern. Another fun feature: You can change the shape of your tealight holder with ease, thanks to separate pieces that can be arranged in a variety of stylish configurations.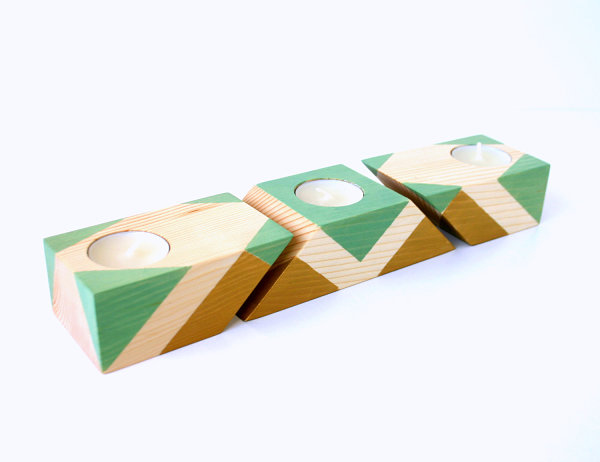 The chic simplicity of the triangle is at the heart of these DIY Triangle Table Number Holders, which can also be used to display photos in lieu of frames. Check out a full tutorial at Ruffled: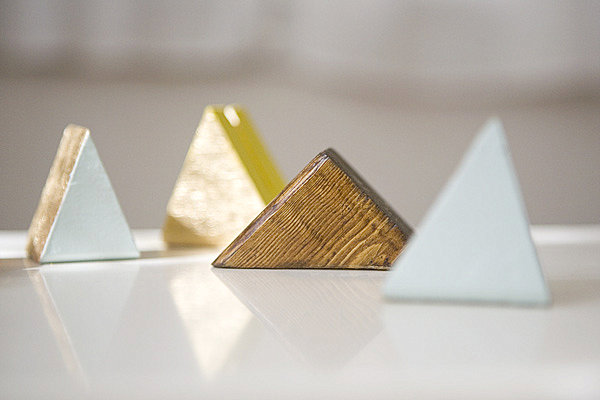 Create your own sculptural geo form with these Modern Geometric Wooden Cube Blocks from Etsy shop Cabin & Moss. That's right–it's a hand painted geometric wooden cube set! And with colors like pink, orange, metallic gold, yellow, turquoise, black and white at your disposal, you can create some pretty colorful configurations…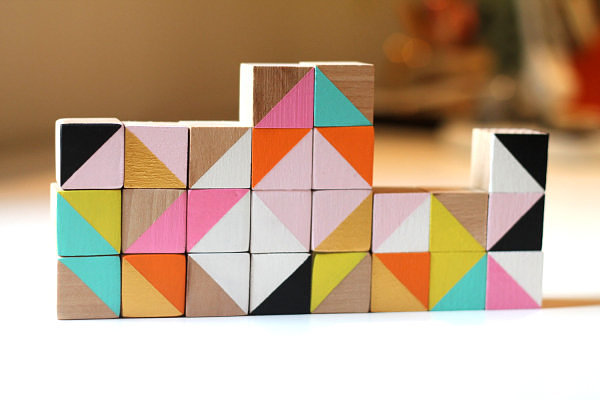 Wooden Geometric Furniture
We now turn our attention to colorful geometric furniture. We can't take our eyes off this vibrant chair, a collaboration between Glass Hill and David David. It's The Phillips Chair, re-made in white beech and enhanced with a bold hand-drawn geometric pattern: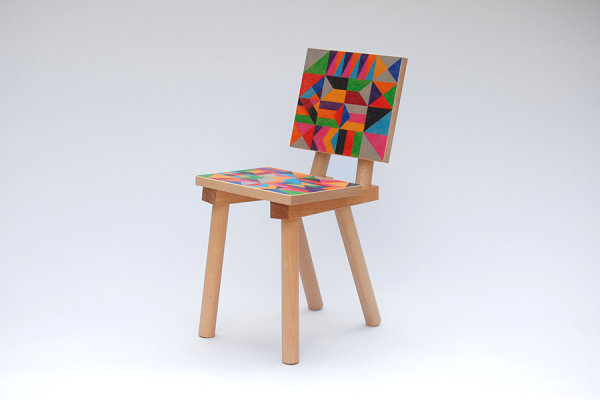 Possibly the showpiece of CB2's new collection, the Stella Cabinet (shown below) features bold stripes in a colorful abstract herringbone floor pattern. Designed by Ceci Thompson, the piece is crafted of engineered wood with white oak veneer and features three interior shelves.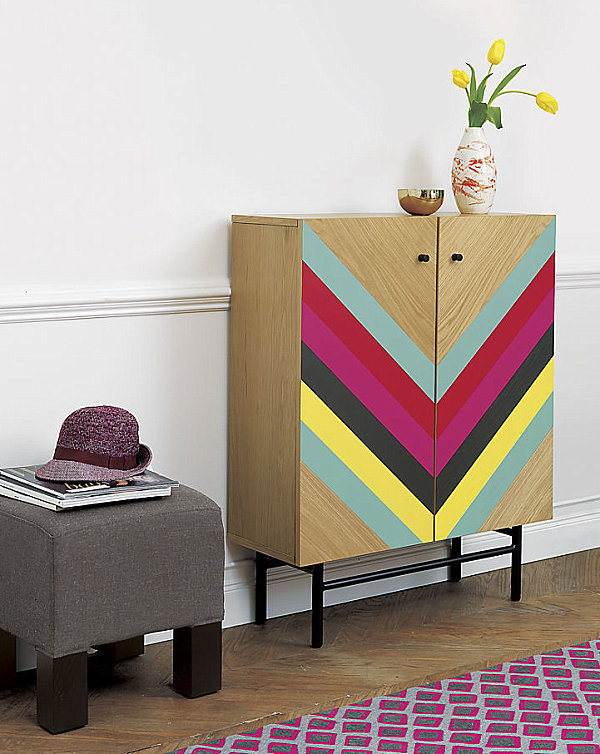 A reclaimed pine top and angular iron legs make this Angled Base Coffee Table from West Elm a truly stylish piece. The table is substantial without being heavy–the perfect marriage of wood and airy geometry!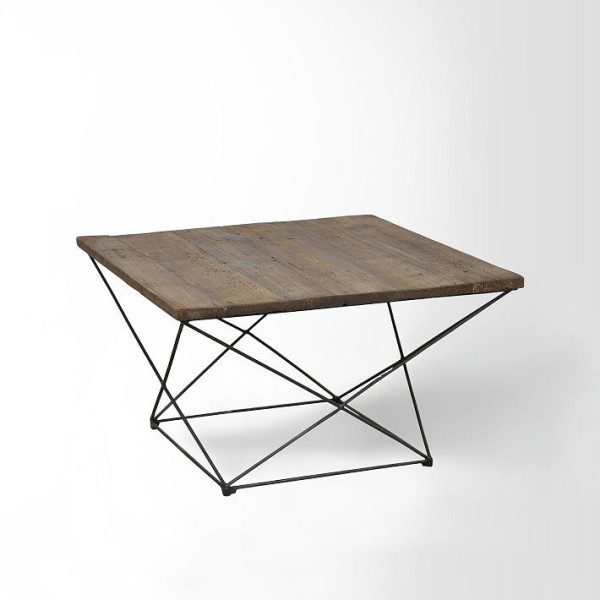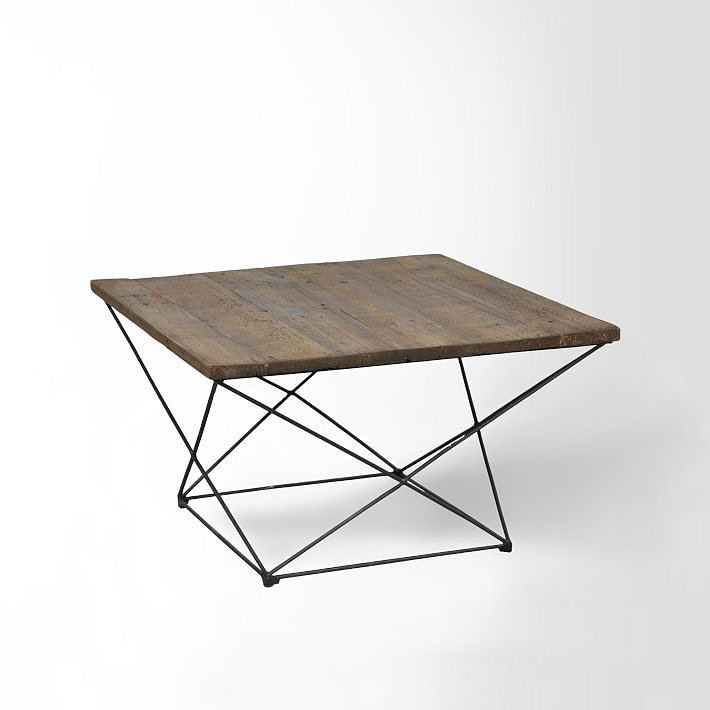 Geometric Pendant Lights Featuring Wood
We end today's post with a trio of lighting options that bring wooden geo style home. For a bright dose of color, check out the Two-Tone Pendant Lamp from onefortythree. A powder-coated socket with real wood veneer presents an array of colorful choices…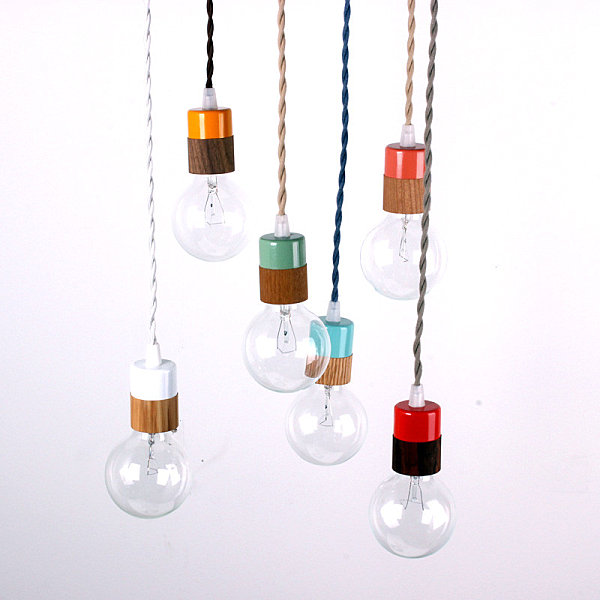 Plantation-grown sustainable shesham wood in a swirling design of light-to-dark tones gives the SLoft Pendant Lamp from CB2 its signature look. So does its tapered glass shade that boasts a bit of geometry…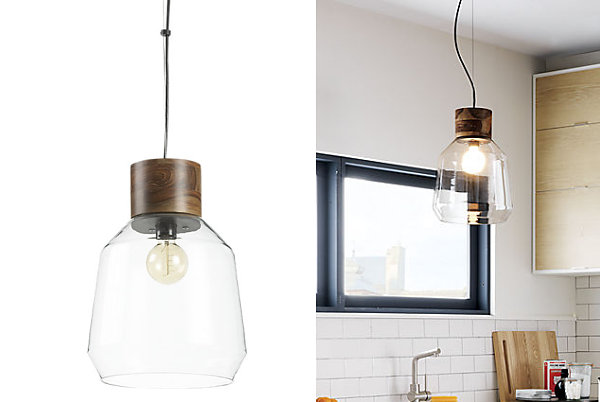 For a bold geometric statement, pick up a Wood Polyhedron Pendant from Restoration Hardware and prominently display it in your home! A symmetrical pendant featuring triangular forms is brought to life with the help of natural oak: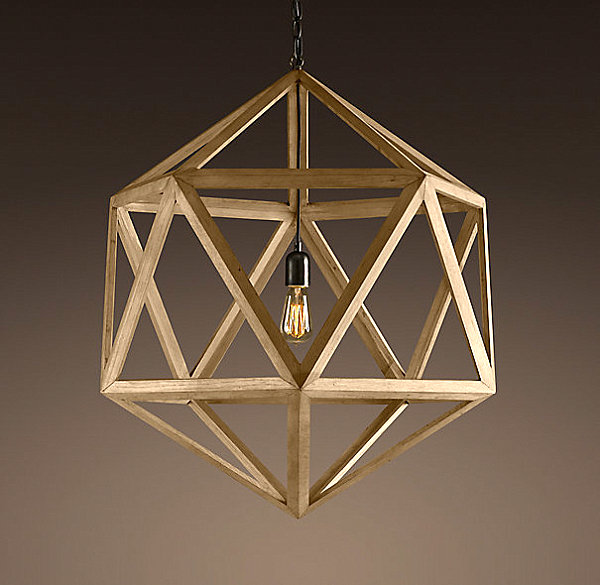 Something magical happens when geo style meets wooden materials, don't you think?! Would you welcome geometric pieces into your home? Are you drawn to geometric furniture, lighting or decor? Share your thoughts by leaving a comment below…